Most Remote Jobs per US State in 2022
Ever since the pandemic and the first quarter of 2020, the dynamics of remote work have drastically changed.

In the USA, more and more employees are switching towards flexible schedules leading to emerging remote trends. Research suggests that there has been a 33% increase in remote jobs in the US from the period May 2020 – June 2022 onwards.
To analyze this trend, the team at nTask looked at the jobs available per State and calculated the percentage of those remote jobs.

According to our research, California is leading in remote jobs, with 13.67% of remote jobs available. Followed by Texas with 8.53% of remote jobs and New York being the third in line with 6.42% of remote jobs available.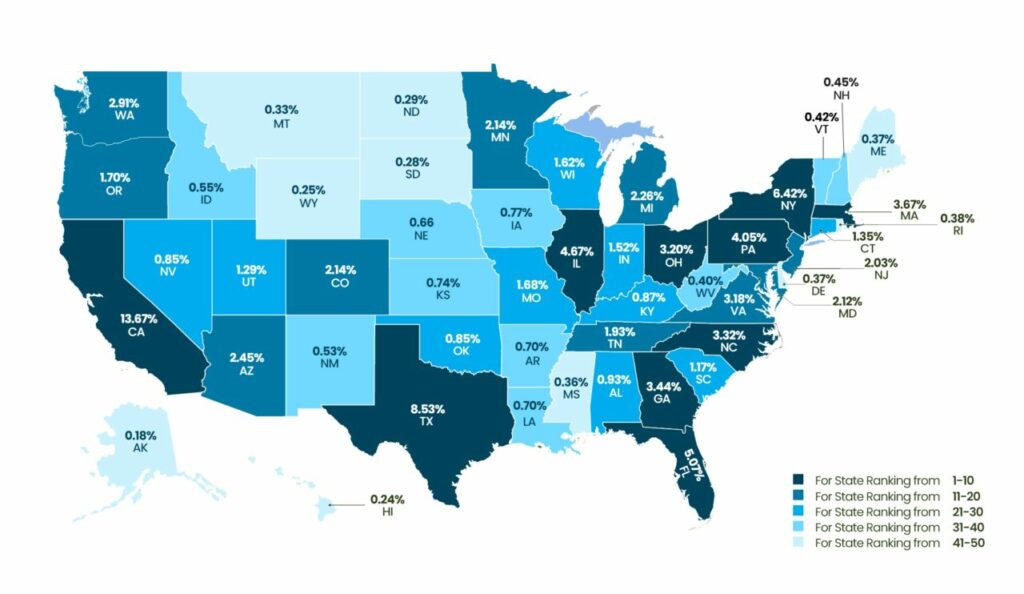 Key Insights
The State of Alaska stands at the lowest percentage (0.18%) of remote jobs, followed by Montana at 0.33%, and Minnesota at 0.36%.
Maine currently stands at 0.37%. Meanwhile, the States of Pennsylvania, Illinois, Ohio, and North Carolina showcase a balance preposition of 4.05%, 4.67%, 3.20%, and 3.32%.
According to a US Remote Work Survey, 83% of employers say that their company's shift to remote work has succeeded.
Two-thirds of remote workers say they choose to work from home, and 64% said it made achieving work-life balance easier.
Remote jobs are increasingly becoming a trend across 50 US States, alongside a high success probability.