Customers are the biggest asset of a company, in short, the drivers of your business. However, you can choose to drive them in the right direction with Zendesk Project Management software.
Even though, Zendesk is known as a customer management app. However, customer service goes beyond just handling customers. It involves teams and businesses as well. To drive your customers in the right direction, you need a team of experts. Zendesk lets you manage your team productivity and workflow in the most effective manner. Thus, you can call it Zendesk Project Management as well.
In this blog, you will get to know all you need to about Zendesk Project Management starting from what it really is, features and pricing as well.
Thus, buckle up for a ride full of knowledge and exploration!
What is Zendesk Software?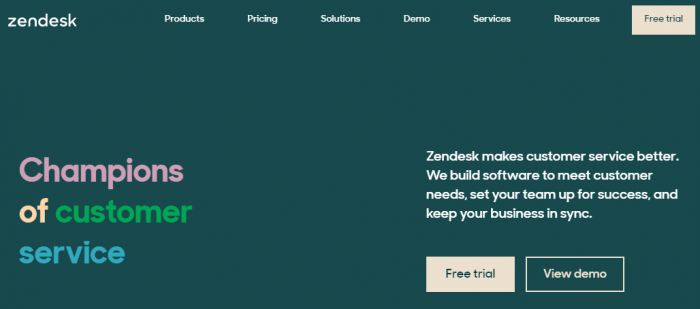 Zendesk is an all-in-one customer service software. It is used as a help desk system by over 170,000 customers. It has been reported that companies that use Zendesk achieve a 95% higher customer satisfaction rate (Zendesk). Thus, it is a great place to know your customers on a broader level.
Zendesk allows you to manage all your customer's queries in one place and ultimately solve them effectively. The software has hundreds of advanced features. The goal of Zendesk is to assist customers or organizations with self-service as well as collecting upfront customer information.
Moreover, it is suitable for all types of businesses whether it is small businesses, HR companies or retailers, etc. Therefore, it is a powerful and flexible software that clamber up with business as it grows. The ticketing system in Zendesk is a powerful feature to collect upfront information on who your customers are what do they need. So, let's get into the details of Zendesk's myriad range of features.
Know what your customers want the most and what your company does the best. Focus on where those two meets. ~ Kevin Stirtz
Benefits of using Zendesk
Zendesk has a wide range of benefits. Some of the important ones are:
Messaging
This feature allows messaging via desktop, mobile app as well as social media channels for a better customer experience. Moreover, the 24/7 customizable messaging bot service allows for faster service and improved customer interaction.
Seamless Support Anywhere
The seamless support feature uses the right channels, location, and context to direct customers in the right direction.
Personalized service
It helps to provide tailored services to the customers through its ticketing service. The ticketing service allows the agents to have access to customers' history, information, and past transaction in Zendesk. Thus, providing tailored services to each customer as per their needs.
Agent productivity
The institutive interface, triggers, automation, or macros help to organize and manage tickets in a more effective manner. This helps the agents to spend less time manually managing the tickets and repetitive tasks thus increasing productivity.
Self-service
Increase customer satisfaction with Zendesk's self-service solution. The AI answer bot and customer space are a few ways of doing that.
Analytics
Another benefit is improving customer experience through the information collected on each customer.
Extensibility
Extend Zendesk by integrating other systems. It includes embeddable, apps as well as API's
Zendesk Features
Zendesk has a wide range of features to collaborate with your stakeholders effectively. Thus, Zendesk project management makes it easier for teams to collaborate and stay connected.
Zendesk ticketing system turns all your customer's or stakeholders' conversations into tickets. The assigned team member gets connected with the client on all social platforms. It is a great way to maintain the best customer experience by managing many tasks across many tickets.
Instant messaging and live chat features allow you to reach your customers instantly on all channels 24/7.
Self-service is a great way of retaining customers. Customers tend to like it when they can instantly solve their problems at hand rather than wait for an agent to get back. Thus, the Zendesk help center lets you do that effectively.
At Zendesk 80% of calls are answered in 60 seconds or less. Thus, the voice feature allows customers to provide personalized solutions to complex issues instantly.
Community forums allow customers to help one another from their expertise. Connect and collaborate by creating space.
This feature allows improving stakeholder/customers experience through proper data and analytics. Thus, it becomes easier to analyze how they interact and what are their experiences.
It's one of the best features in Zendesk. Answer bots are there to provide faster service to customers. Moreover, these bots can also be customized easily without any code. Thus, the AI lets the bit know when you seek the help of an agent and directs you to it.
Cloud security, application security, and product security are ensured in Zendesk project management software.
Zendesk Products
Zendesk for services includes complete customer service management. It allows you to reach out to your customers anywhere at any time. Thus, it is one of the best software to manage, retain and interact with your customers.
Manage sales effectively with an all-in-one Zendesk for sales. The sales team is usually juggling a lot but Zendesk allows you to manage all that and boost productivity as well as customer experience.
Zendesk Sunshine gives you a complete picture of your customer data in one place. It is a flexible and modern CRM platform. Moreover, in Zendesk sunshine you can also customize agent workspace to keep them organized, save time and streamline workflow.
Zendesk marketplace is a great place to grow your business by finding the right apps, integrations, and partners. Thus, increase agent productivity and streamlining your workflow at the Zendesk marketplace.
Zendesk Solutions
Zendesk project management and CRM software is a central hub for all types of businesses. It provides solutions for each industry. Zendesk solutions include:
Enterprise
Small and medium businesses
Startups
Internal Help Desk
industries
Zendesk Pricing
Here is a list of Zendesk Pricing:
Zendesk for Services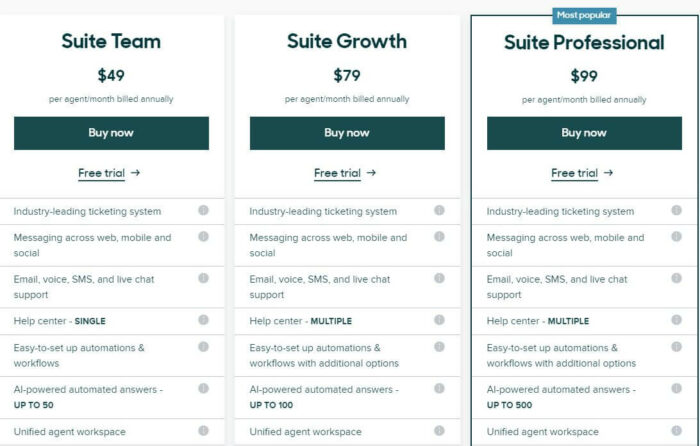 The pricing for the Zendesk Services is as follows:
Foundational Support: $19 per agent/month billed annually. Includes: Email, Twitter, and Facebook
Suite Team: $49 per agent/month billed annually. Includes: Industry-leading ticketing system, Messaging across web, mobile and social, Email, voice, SMS, and live chat support, and much more.
Suite Growth: $79 per agent/month billed annually. Includes: Industry-leading ticketing system, AI-powered knowledge management, Customizable ticket layouts, Light access licenses, Service Level Agreement (SLA) management, Multilingual support and content, and much more.
Suite Professional: $99 per agent/month billed annually. Includes: Industry-leading ticketing system, Unified agent workspace, Out-of-the-box reporting and analytics, data and file storage,1,000+ apps and integrations, and much more.
Zendesk for sales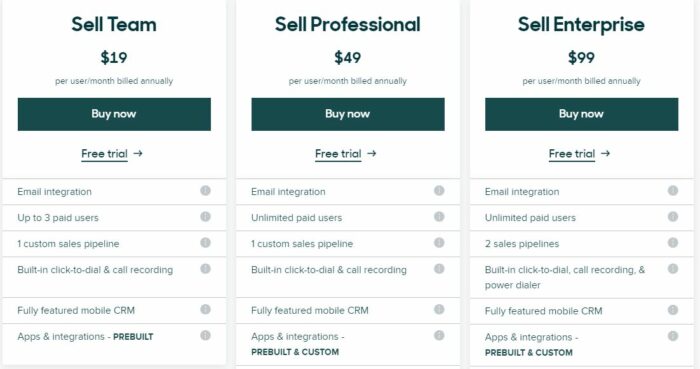 The pricing for Zendesk sales is as follows:
Sell Team: $19 per user/month billed annually. Includes: Email integration, up to 3 paid users, 1 custom sales pipeline, Built-in click-to-dial & call recording, fully-featured mobile CRM, Apps & integrations.
Sell Professional: $49 per user/month billed annually. Includes: Email integration, Unlimited paid users, 1 custom sales pipeline, Built-in click-to-dial & call recording, fully-featured mobile CRM, Apps & integrations, Personalized bulk emailing, Unlimited email templates, and much more.
Sell Enterprise: $99 per user/month billed annually. Includes: Email integration, Unlimited paid users,2 sales pipelines, Built-in click-to-dial, call recording, & power dialer, fully-featured mobile CRM, Sales goals & forecasting, Unlimited custom fields, and much more
Ready For Zendesk!
So, there you have it! All you needed to know about Zendesk Project Management Software. Thus, utilize Zendesk to manage all your tasks and teams by managing your stakeholders effectively.
It is indeed a great platform for managing and keeping track of your stakeholders/customers' needs and requirements. Moreover, we all know that the first step to a successful business is "Knowing your audience". Therefore, let Zendesk assist you with it.
Hope you liked the blog! Let us know if we missed out on something! Good Luck!
---
Also Read: