We know that you're here to explore different Zendesk alternatives, but before that there's something you should know. Nowadays, we know how difficult it can get to manage complex business aspects.
The internet has many different management tools that can help you interact with your customers better, assign tasks in an appropriate manner, and handle the resources effectively. Among them, Zendesk stands at a prominent spot!
Zendesk is clearly a reliable and efficient help desk management platform, but if that's the case then why is there a need for Zendesk alternatives? We can say that the platform does every management task quite smoothly but it can't be the best for every type of business, team, and project manager.
Different types of businesses need different types of tools having specific features for their management sector. You have to pick these tools responsibly as all your confidential customer records, business progress, and other data would be stored in them.
In this blog, we'll be suggesting some preferred management tools that can be used as Zendesk alternatives.
Reasons for Going to Zendesk Alternative
Zendesk is no doubt one of the go-to options for many when seeking a customer service enhancement app, and not without good reason. Zendesk's features such as multi-channel support, good integration with all mainstream apps, and proper analytics have earned Zendesk a good reputation in the customer service sector.
However, Zendesk is not without its flaws and so there are several reasons why one would need to look for a Zendesk alternative.
1. Expensive plans
Zendesk is popular, and with popularity comes a steep increase in prices. The initial $5 per month may seem like an affordable option, but the lowest plan lacks several key features that professionals cannot afford to lose.
When moving to higher, more expensive plans, many buyers can get confused by the number of options available and the vast differences between plans, which often leads to the buyer making the wrong choice.
2. Complicated to use
Zendesk users often complain about the complexity of using the software. The platform is overloaded with information and functions, therefore it might take a long time to understand everything and get started.
Depending on your business goals, there's a chance you won't even need half of the dashboards, sections, buttons, and everything else provided. Navigating through them, however, to get to what you need might take a while.
3. Basic plans lack important features
Most startups lean towards the basic plan of Zendesk because of the affordable price, however, Zendesk's basic plan lacks the essential features one wants in such an app.
Going with the basic app will make buyers miss out on service features such as a self-service customer portal, customizable ticket layouts, Ai-powered knowledge management, completely customizable dashboards, and the list goes on. For getting access to any of these features, the buyer must opt for the more expensive plans.
4. Lack of control over customers' data
Since we are talking about a customer service app, the way the customer's data is handled play's a very important role when choosing such an app. Zendesk being a SaaS-based system handles all the data on its own servers which means they are completely in control of the data.
Now, this poses two problems. The first is that your customer's data might stay on Zendesk's servers even after the deletion of your account. The other problem is that if a breach happens on any of their servers, then that could spell a wave of problems for your own company as well.
5 Best Zendesk Alternatives
Now that we have thoroughly analyzed all the ups and downs of Zendesk, you must have got a thorough idea about the necessity of the alternative platforms.
We have compiled some of the best customer and resource management solutions available in the market that you can consider as notable replacements.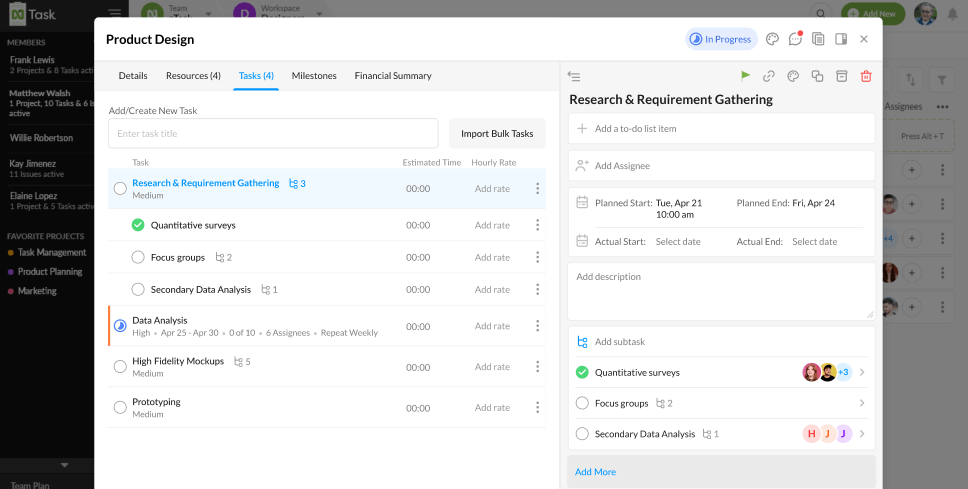 The first tool in the list of our alternatives is nTask being one of the most effective task management and customer service platforms. It is designed specifically to cater to a variety of requirements not only on a team level but individually as well.
nTask provides a simple to use and interactive user interface that lets you test all the helpful features, that make it a premium solution among all the different tools in the market. You can assess your customer engagement progress and the growth statistics to help you determine future strategies. With this platform, you have the accessibility to create a task with different iterative settings. You can either assign it once for all, update it after every interval, or set deadlines for every particular task. Moreover, you can create checklists and Gantt Charts based on priority tasks so that they can be easily monitored.
You can stay updated with the progress with automatic syncing for monitoring all the primary team reminders for saving extra effort or time. This app also helps you stay in sync with updates and keeps you and your team on track through reminders and alerts.
Key Features
Although there are many eminent factors that give nTask the upper hand, we'll be mentioning only a few of those features:
Simple GUI with a variety of different modules.
Mobile application designed for all smartphones supporting Android and iOS.
A highly secured platform enabling two-factor authentication for accessing the dashboard.
Built-in resources like progress charts, checklists, timelines, and Gantt charts.
Creating, managing, dedicating, prioritizing, and sharing different projects and tasks among team members.
Scheduling based on the current preference including single-time and recurring meetings.
Keep track of daily tasks with alerts and reminders.
Specified workspaces with parallel organizing and tracking features.
Allows integration with third-party software including Zoom, Slack, Zapier, etc.
Pricing
You can avail the services of nTask at the following prices.
Trial: Free of cost. Unlimited meetings, progress reports, workspaces, tasks, etc.
Premium: $3 per month. Gantt charts, unlimited project resources with other advanced features.
Business: $8 per month. All the premium features with additional permissions, risk matrix, and risk tackling resources.
Try an affordable Zendesk alternative

Assign tasks, create projects, manage teams, and clients efficiently. Sign up today!
2. Zoho Desk

A tool with good integration capabilities, Zoho Desk is a great alternative to Zendesk as it offers everything Zendesk offers only with much more value for money. They even have a free plan where buyers can check out all the basic features and see if the app is the right one for them, and once they are satisfied, they can move to higher plans with more features.
With features such as detailed analytics, integration with several apps, and versatility in billing, all offered at half the price of Zendesk is quite a bargain and one of the main reasons why many prefer this alternative over Zendesk.
Key Features
Some of the highlighted features from Zoho Desk are mentioned as follows:
Ultra-wide customization domain with every price chart.
Different components can be easily updated and renamed, while modules can be disabled and rearranged.
Efficient management with automated workflow operations.
An extensive list of features with a minimal interface.
Extra reporting and analytical capabilities.
Integration with other products authorized by the Zoho platform.
Pricing
Trial: Free of cost. Enables up to three agents with a wide knowledge base, customer support, mobile applications, and multiple languages Chabot.
Standard: $14 per month. Management features based on products, multiple social platforms, public records, and customizable themes.
Professional: $23 per month. Team management resources, automated timesheet, and basic procedural management tools.
Enterprise: $40 per month. Live meetings, usage of AI, customizable help center, multiple brands under one dashboard.
Related:
25 Best Zoho Alternatives to Use
3. HubSpot

When it comes to service management HubSpot gives tough competition to Zendesk as the former offers a wide range of marketing and site-building tools that can help both startups and large-scale businesses.
HubSpot's main attraction is how it has integrated all these tools and bundled them into its 'Service Hub'. This hub ensures that everything you need stays in one place with a user-friendly interface to help make tasks easier. Since the hub is quite easy to use and master, users of HubSpot can spend more of their time doing productive work, managing tickets, and solving problems.
The downside of HubSpot is that it can be quite costly depending on which package you choose, sometimes even more than Zendesk. However, they do offer a free option that although lacks several important features, does allow you to keep all your customer requests in one place which can help the team work on these requests more efficiently.
Key Features
Offers many efficient performance resources with even a free version
An easily understandable mechanism, smooth dashboard, and intuitive UI
Advance email integration features with additional supporting tools
Periodic reporting with contact upgrading resulting in effective conversions
Allows you to integrate with famous email service providers online like Outlook, Gmail, and more.
Pricing
Starter: $45 per month. Supporting 1000 marketing contacts to integrate unlimited emails
Professional: $800 per month. Supporting 2000 marketing contacts with customer care and two language support, ideal for small businesses.
Enterprise: $3200 per month. Supporting 10000 marketing contacts with multiple language email integration is best for multinational corporations.
4. Helpjuice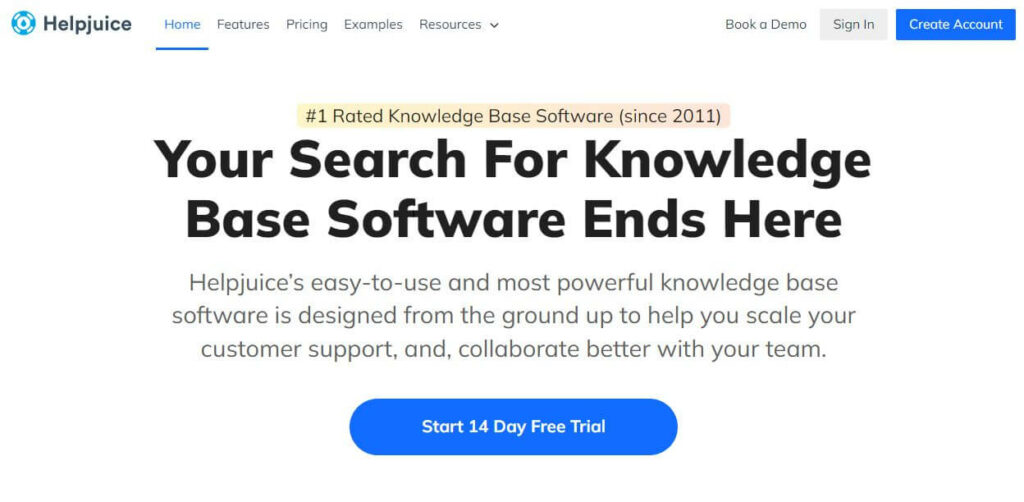 Helpjuice works a little differently than the other Zendesk alternatives mentioned here. This customer service software helps your team to collaborate better as it allows for the creation of completely customizable knowledge bases. These knowledge bases can be used by both customers and employees which makes them highly versatile.
Helpjuice also enables several users to work simultaneously on a single document at the same time. This means that while one person is editing a single document, other employees can also make improvements to the document without having to wait, saving time in the whole process.
Customers also benefit a lot from the way documents are handled in Helpjuice. Tags can be added by agents to documents categorizing them and making them easier to find. Additionally, document browsing becomes even easier through Helpjuice's search capabilities that help customers find what they need in a matter of seconds.
Apart from all of this, the usual analytics and detailed reports are also offered by Helpjuice based on customer queries, providing important insights that can aid in prioritizing the customers' needs further.
Key Features
Helpjuice has many prominent characteristics that can help you in different circumstances as listed below:
Custom and intuitive user interface with beginner-friendly mechanics.
Tactically fulfills all the designated tasks without any hurdle.
Progress reports and timesheets help to analyze customer approach
Unlimited text customization options and formatting features with editor panel.
Editing and uploading every type of media including photos, videos, etc.
Allows integration with Chrome, Slack, Zapier, and more.
Strong analytics featuring search reports, blog insights, and salesforce progress.
Minimum 5 minutes average time with an up-to-date knowledge base for customer support.
Pricing
Starter: $120 per month. Usable for up to 4 individuals with advanced customer support, free customization option with dashboard
Run up: $200 per month. Usable for up to 16 individuals or one small team with additional started features
Premium Limited: $289 per month. Usable for up to 60 individuals or one large department with all features from the run-up price tag.
Premium Unlimited: $499 per month. For unlimited numbers of users or the entire organization with unlimited resources and all premium features.
5. Freshdesk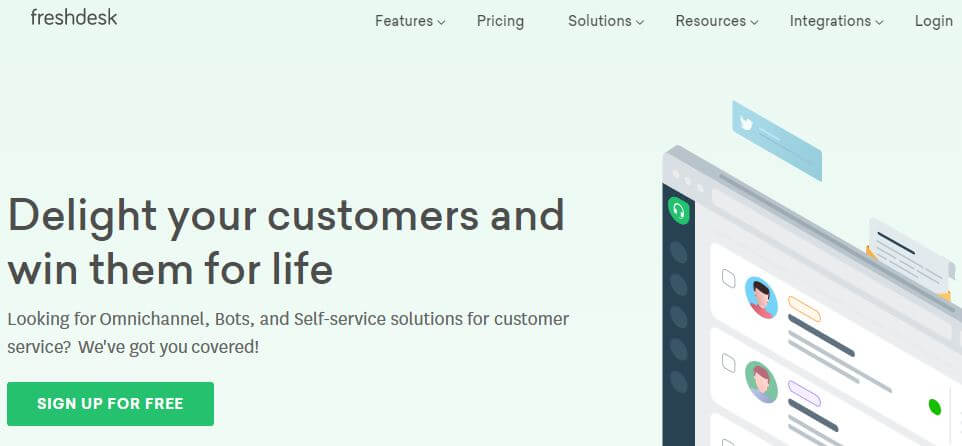 Those looking for apps that focus on both affordability and usability should give Freshdesk a chance. Freshdesk offers automation that eases the customer handling process. Features such as prioritization of certain inquiries based on how important they are, automatic ticket delivery, and auto-responders, all lighten the load on employees when handling customers who can then focus on finding ways to improve the customer's experience.
One particular feature that stands out of Freshdesk is the agent 'collision detection' which makes sure that no two employees work on a single inquiry, helping in properly managing the workforce. Freshdesk's knowledge base can also be updated on the go-through information or documentation uploaded by either the customer or the agent.
Key Features
User-friendly interface with exclusive features.
Mobile applications supporting iOS and Android devices on all pricing levels
Ideal for small businesses and startups seeking help desks
Easily exportable data with accessible reporting features.
Advanced security options for personal and customer data protection.
Pricing
Trial: Free. Including unlimited agents just for getting started with the mechanics
Growth: $18 per month. For single-user meant for assessing notable progress
Pro: $59 per month. Advanced management resources with the multilingual help desk.
Conclusion
We have highlighted the top Zendesk alternatives you can use today. Let us know what is your favorite desk management platform in the comments, or write to us at info@ntaskmanager.com.
---
Additional Resources: