If you have been associated with the project management industry in any capacity, you would know that the field is showered with new software solutions every day.
Each of these project management software companies wants to prove its worth by flashing exciting new features in an effort to attract customers.
But not everything, that's new, is going to be the solution to your project management requirements. You need a tool that has been tried and tested in the market and has emerged victorious.
In this article, we are going to talk about software that matches that description perfectly. This one's called: Wrike, and here's why it's worth trying right now! Read on…
What is Wrike?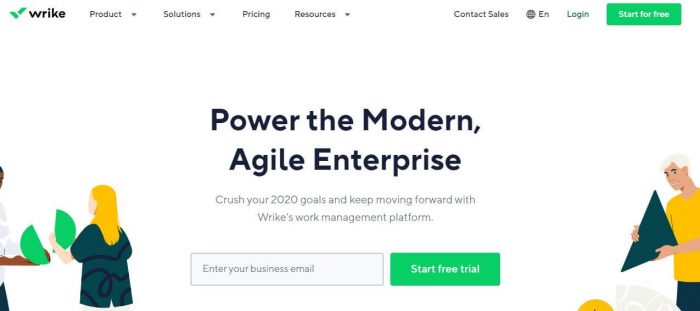 One of the most influential veterans in the game, Wrike is a fan favorite for more than 17 years now.
It is an amazing project management application that has helped countless teams in performing their PM activities seamlessly.
The Wrike app has an incredibly interactive interface that is full of different features that you can customize according to your project requirements.
The software also helps you to accelerate the delivery of all of the different projects in your roster and manage your budget efficiently, so that you don't waste any of your resources.
Wrike also helps you in time-tracking all of your tasks and processes in real-time which helps you manage your team members more efficiently, whether they are on-site or working remotely.
Product Features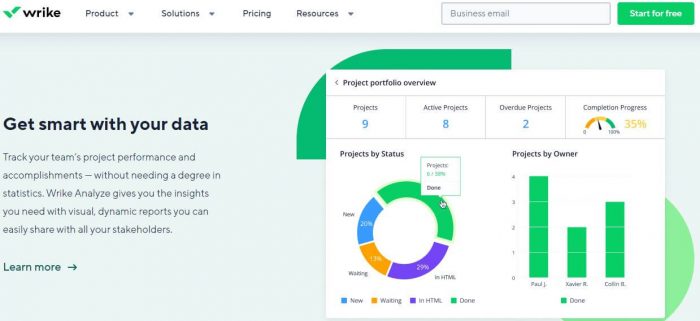 Some of the other features that the Wrike project management application provides are:
Asset management
Branded workspace
Data encryption
Email synchronization
Calendar synchronization
File management
File version control
Built-in time-tracker
Calendar
Calendar management
Collaborative workspace
Custom calendars for vacations, sick leave, etc.
Dashboard creation
Personal dashboard
Prioritizing
Project reporting
Project tracking
Real-time reporting
Assignment tracking
Automatic backup
Data backups
Due date tracking
Bug tracking
Let's take a look at some of Wrike's project management features in detail.
1. Taking Collaboration to a Whole New Level
With Wrike as your daily driver, you can drastically improve your company's communication channels.
This will help you and your team members to be on the same page about the project development process at all times.
What Wrike does regarding communication is that you can interact with all of the different tasks and processes displayed in the interface, in real-time.
This helps the team members to see the work that their peers are doing, alongside their own, forming a sort of information hub that the manager can track to assess the staff performance.
Another important advantage of this improvement in communication is that, when one team's work is handed off to some other team, they can easily understand it by the discussions that have happened before and from all of the attached documents that were shared during those discussions.
2. Improved Time-Tracking
Using the Wrike project management application, you can achieve greater levels of time-tracking, which isn't possible with many software in the market.
What Wrike does is that it allows you to assign a specific task to an employee in real-time and you can add the associated due date to the task and start the time counter.
You can also time-track the tasks using Wrike by manually inputting the time to the counter if you are not able to log-in the time, live.
3. Bug Tracking
Just like nTask, Wrike can help you identify any bugs and scope creeps from the very start of the project development process.
The application is well-equipped with different detection and security features that protect your projects from being damaged in the future.
Looking for apps like Wrike? Check this out:
The 12 Best Free Wrike Alternatives To Use in 2022 (Free & Trial)
Usability
Wrike project management software has an amazing interface that enhances the usability of the application. Let's discuss the different qualities of the UI that make the app so great.
1. Intuitiveness
When you access the application for the first time you notice that the interface is very clean and minimal.
There is a search tab where you can easily search all of the different tasks and processes included in the project.
From the top bar, you can go straight to the inbox where you can access all of the different messages and interactions regarding the project, and its tasks and processes.
Also, you can access the sections 'My Work' and 'Dashboards' sections to quickly monitor the development process of the project.
From the left bar, you can access all of the different sections depending on the type of project that you are developing.
For example, you will see sections like companies, product launches, information about teams, information about sales, different operations of the development process, and all of the different templates that you have uploaded to the software.
There is also a filter bar in the left tab where you can filter your searches according to 'Assigned', 'Tasks To Do', 'Task Type', and 'Author', etc.
All of these different sections and features increase the intuitiveness of the application, which ultimately improves the usability factor of the application.
2. Drag and Drop Function
Wrike also has an incredible drag and drop functionality which allows you to manage all of the different activities with just some mouse clicks and keyboard shortcuts.
This functionality is quite handy and drastically improves the usability factor of the application.
Wrike Pricing Plan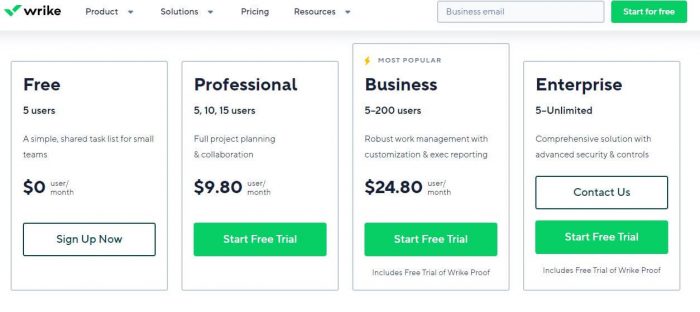 Just like nTask, Wrike is software that was designed to cater to all types of companies whether they are small, big, or enterprises.
These companies can have any number of users and teams, and Wrike will take care of them, no questions asked.
How much does Wrike cost?
There are a few different pricing plans that Wrike offers. Let's take a look at some of them.
1. Free Version
In this version, Wrike offers to support up to 5 team members per team.
That number might seem small to some of the users out there, but Wrike offers an unlimited number of collaborators to keep them happy.
In this version, you get a reasonable amount of storage I.e. 32 GB. Some limitations of this version are that you don't get some crucial project management features like:
Gantt Charts
Time-tracking widget
Dashboards
Subtasks
Bulk actions
Task dependencies
2. Business Version
This version can be purchased for a reasonable price of $24.80/user/month. If you want to purchase this plan for a team of 5 people for a whole year, then it is going to cost you about $1,488/year.
That price is quite steep but what you get in it is the storage to house over 500 GB of data, and other features like:
Salesforce integration
Calendar
User groups and permissions
Time-tracking
Templates
3. Marketing Version
This is a special version of the Wrike PM software which was specially designed for marketers and their marketing activities in mind.
You get different add-ons in this version like:
Wrike Proof, which is used for approvals and proofing of different feedback that the stakeholders provide
Wrike Publish, which is used by creators to publish all of their work activities online
Wrike's Business-grade plan
Adobe Creative Cloud Extension
If you want to purchase this version of Wrike, then contact the company directly.
4. Professional Services Version
The next version of this amazing software is the one that was specifically designed with Professional services in mind. The Wrike for Professional Services pricing is as below:
The pricing plan for this version starts at $588/ year for a 5-person team and you can even increase the number of team members from 5 to 15 at the price of $1,764/year.
It is mostly like the free plan but there are some unique features in it, that are not available in the free version. They are:
15 Gb storage
Shareable Dashboards
Microsoft Excel Integrations
Common Questions on Wrike Project Management App
1. What are some of the ways in which Wrike can be used?
What is Wrike used for? Here's a list of some of the ways that people have used Wrike.
Only focus on completed work via Notification Settings
Transfer client information with Folder Info & Permissions
Separate client-appropriate information with Subfolders
Respect sensitive HR issues with Private Folders
Forget Folder organization and just use Tags
Only focus on completed work via Notification Settings
Store email templates in a "Templates" Folder
Stalk interesting tasks with Private Folders
2. Is Wrike a Cloud-based Application?
Yes, the software has an amazing cloud-based database, which you and your team can access from anywhere around the world.
3. Which Companies use Wrike?
There are over 100 companies that use Wrike as their daily project management software. Some of the notable ones are:
Conclusion
Wrike is an incredible project management software that allows you to perform all of your PM activities seamlessly so that you can improve the productivity of your team and bring more value to the company.
If you have any suggestions about the article or about anything that we may have missed, then feel free to contact us.