To be super successful, your organization must be efficient, agile, and productive as well as put an emphasis over managing the internal processes that involve your most essential asset – your employees. High performing employees empower the organization to find their true potential and maximize the profitability.
With the rapid and modern digital transformation of the workforce, it is becoming highly difficult for HR teams to manage all the employees effectively. As the processes grow, evolve and modernize, the challenges around staffing and scheduling are becoming increasingly complex.
To optimize these operations, companies must invest in a workplace management software that offers automated solutions to everyday tasks performed by the employees.
What is Workplace management software?
Workplace management software is a digital tool that allows you to plan, track, organize and review both the projects as well as non-projects tasks to enhance your business results and the team performance. It is an essential software for any organization that wants to enable hybrid work to a flexible workforce.
Any workplace platforms help companies to create a more flexible, safer, and more delightful employees workplace experiences. It helps to streamline the day to day process that get in the way of operations. The key elements are managing a hybrid workforce, employee workplace experience, extensibility and ease of use.
Let's take a look at the top 8 workplace management tools of 2023.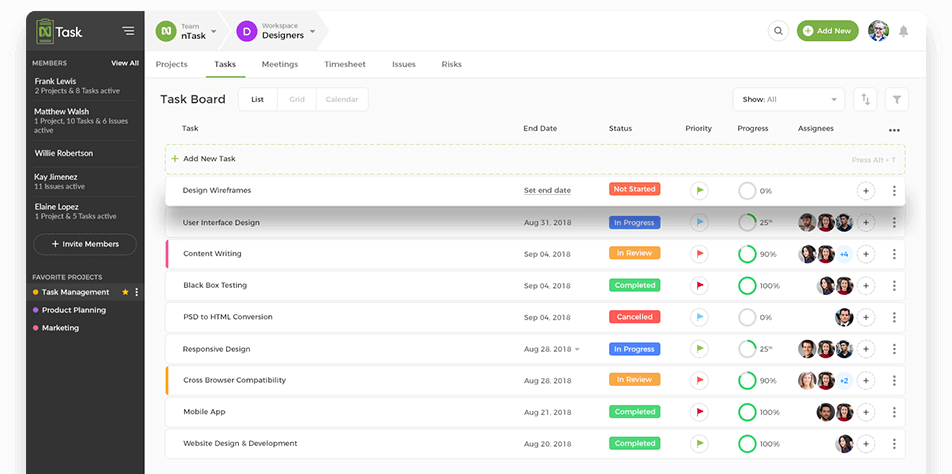 nTask is one of the top workplace management software. The tool offers a smooth interface that allows users to navigate through the tool without any disruptions. nTask comes with a wide range of workplace management features that add up to its functionality. It is an attractive choice for teams looking for a versatile workplace management tool.
nTask also offers visual management tools so that the teams can easily get an overview of their progress in the project. You can conveniently use the tools for the simplest of tasks or challenging projects while managing everything from the very beginning to completion.
Key Features
Task management and resource allocation
To-do list and time tracking
Customization features
Multiple integrations with third-party tools
Progress tracking
Financial summaries
Budget management and two-step authentication security
Pricing
Basic Plan – Free forever
Premium Plan – $3 per user per month
Business plan – $8 per user per month
Enterprise plan – Custom pricing
2. HubSpot Task Management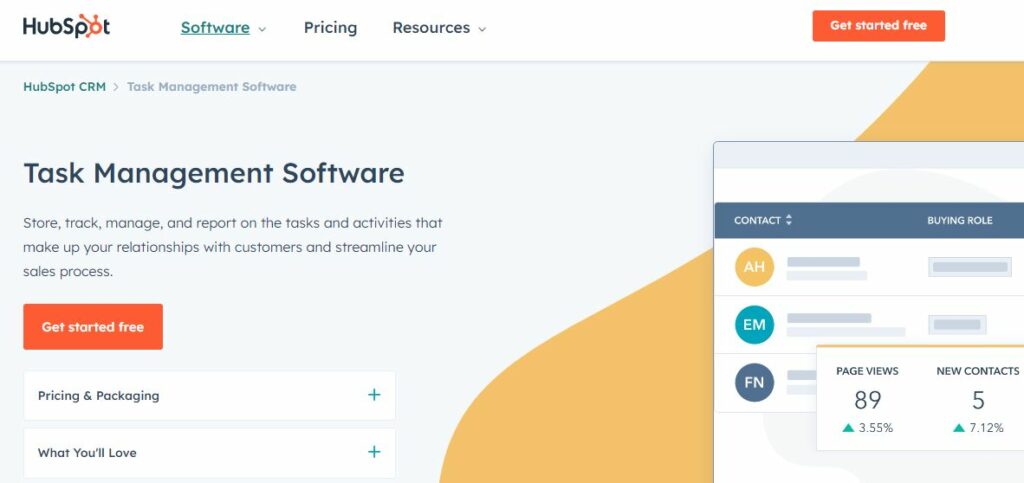 HubSpot task management is an exceptional software and decided to upscale the game for everyone. The software is itself included in its customer relationship management (CRM) suite, and it is aimed at helping you move along the sales funnel conveniently.
You can easily create workflows to automatically schedule new tasks after you complete the ongoing tasks. Set up daily reminders, compare your performance to the past data and keep track of everything in one place. HubSpot focuses heavily on integrations, so if you are looking to pair it with other apps, chances are HubSpot is going to work with it.
Key Features
Automatically syncs data.
Integrations with hundreds of applications.
Easy track creation
Progress tracking
Strong CRM base
Task queues
Pricing
Offers a free plan, as well as a free trial.
The premium plan starts from $45/per month
Related:
HubSpot Project Management| Everything You Need To Get Started
3. Basecamp

Basecamp is another popular task management tool that you can easily use to manage tasks of multiple projects simultaneously. The tool is quite well-known for its ability to make teams more productive and better organized.
With Basecamp, you can easily manage people, tasks, files, documents as well as deadlines without any challenges or disruptions. The software allows you and your team to stay on the same page with everyone using direct messages and group chats. It is super-easy to set up projects and add team members, drag and drop files to upload them, bookmark to-do lists, comment directly on the task lists, etc.
Key Features
Activity view allows managers to see everything related to project tasks
Create to-do lists and choose assignees and set due dates for tasks
Easily share documents and files
Automate Check-ins
Pricing
Basecamp offers a 14-day trial for the regular version and a 30-day trial for the Business version.
The Business plan costs around $99 per month/flatly.
4. Bit.ai

Bit.ai is an exceptional document collaboration and task management tool that allows you to easily create, store, organize, share and collaborate tasks in one central location. You can create workspaces around projects, teams, and other departments to keep your documents organized.
With smart workspaces, you can ensure that the right team members have access to the right documents at the right time, with a smooth flow of information. You can also conveniently invite your team and collaborate over Bit using documents, real-time editing, online comments, mentions, and more.
Key Features
Folders and workspaces to keep the data organized and safe
Real-time collaboration with team members
Content and knowledge management capabilities
Simple and intuitive interface
Minimalistic and user-friendly interface
Pricing
Free plan for up to 5 members
The standard plan costs around $8/member/month
The Business plan costs $15/member/month
5. Trello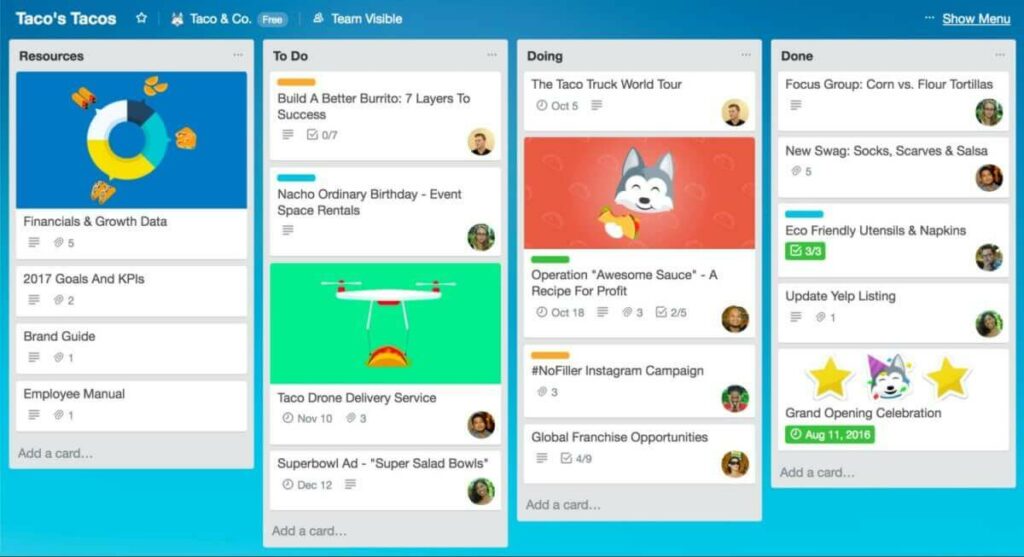 Trello is one of the most popular and solid project management tool that uses a Kanban board to keep track of what needs to be done. It is a great platform to check a project's progress, by keeping track of subtasks and dependencies. The platform makes it possible for you to get the minute details of project tasks with its boards, lists, and cards.
The tool remains exceptional that you can conveniently organize and prioritize projects in a flexible and rewarding way. The minimalist design of Trello allows exploiting features right away with little to prior experience using a simple task management application. It is super-easy to create custom workflows for each project and segregate the whole project into various boards as well.
Key Features
Offers a minimalistic board view
Unlimited Trello cards
No-Code Automations
Power-Ups
Great overview of tasks and projects
Plenty of dashboard customization options
Integration with several third-party applications
Pricing
Offers a 14-day free trial for new users
Paid plan starts from $10/per user/per month/billed annually
Check this out:
Slack Vs Trello: Settling The Debate For Good
6. Any.do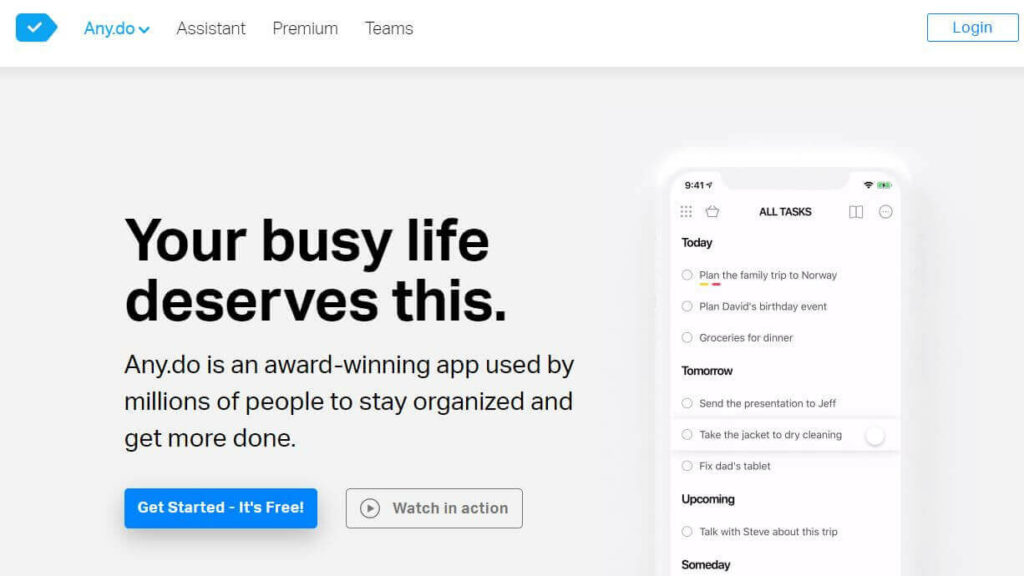 Any.do is an interesting to-do list as well as a task management app. Any.do help to easily label items as today, tomorrow, and upcoming, giving a quick overview of the tasks that you need to complete. Any.do is a cloud-based task management solution that is suitable for small to midsize businesses.
Any.do enable users to manage both the team projects and personal goals in a single interface. Projects can be easily streamlined into tasks and color tagged to help users differentiate their goals. The solution allows the assignment of due dates to their tasks, enabling users to prioritize to-do lists. Any.do comes with productive collaboration that enables list sharing with monitoring progress and integrated project management tools.
Key Features
Calendar and time tracking add-ons
To-do lists reminders
Daily planner to organize and prioritize to-dos
Android and iOS mobile apps
Unlimited attachments
Location-based reminders
Customized recurring tasks
Task color-coding to organize work tasks
Pricing
Free for the basic plan
The paid plan starts from $2.99/month/per user
7. TaskQue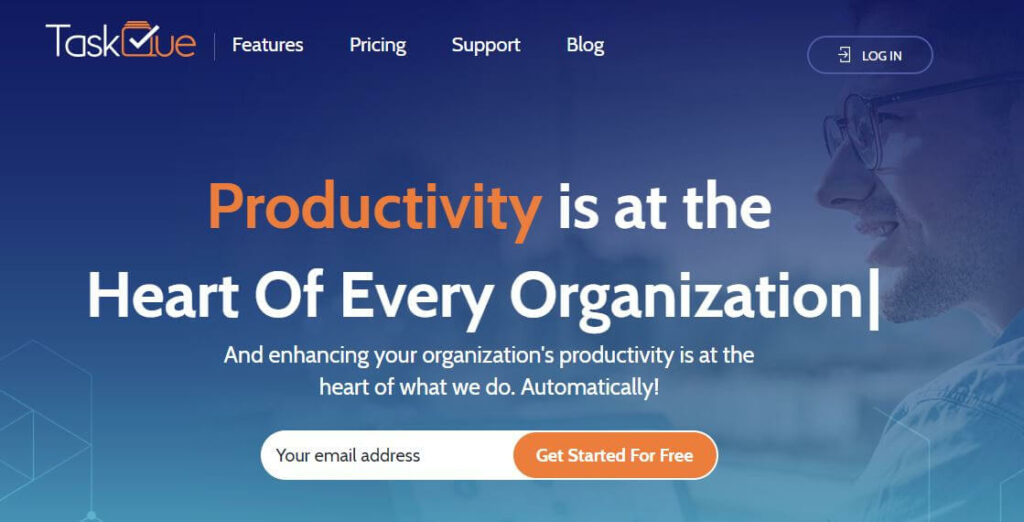 TaskQue is one of the best task managers that is a step up over a regular to-do list app. It is a great tool for resource management and can assign tasks to the next available team member. It is a robust task management app that optimized team productivity by effectively utilizing the resources through an intelligent mechanism built into the system.
TaskQue is one of the task management tools that support and increase transparency within an organization. It allows for a convenient and easy team collaboration that helps to boost productivity. It offers an effective task assignment process that automatically assigns tasks to the available resources. It works well for teams working on similar functions with similar skill sets. Instead of a broad management tool with no focus, Taskque can do your work in no time instead!
Key Features
Automatic task assignment
Discussions and collaboration
Calendar update
A powerful to-do list app
Pricing
Offers a free plan as well.
Free to $5/user per month
8. ProProfs Projects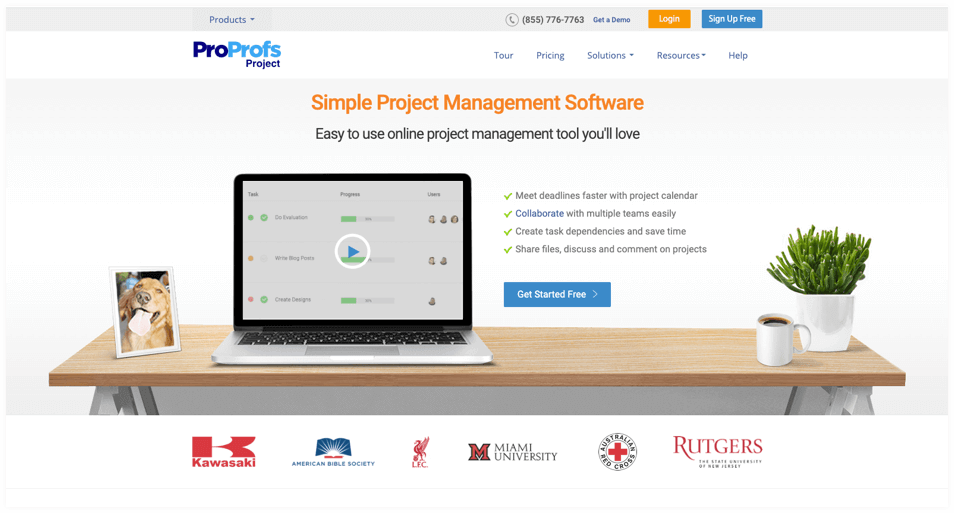 ProProfs Projects is an all-in-one and power-packed workplace management software that helps you effectively manage and easily prioritize tasks. The tool can easily centralize all your processes and easily assign and track tasks from a single location. You can easily create customized workflows to stay ahead of tasks.
The software offers a collaborative workspace to keep all your teams on the same page and track the project's progress throughout. ProProfs also offers AI-powered insightful reports to get a detailed summary of task progress and status to identify gaps and fix them.
Key Features
Multiple views for diverse projects
Real-time notifications and alerts
Actionable reports
Automation for recurring tasks
Great workflow customization
Task prioritization
Interactive Gantt charts and Kanban boards
Drag and drop interface
Pricing
Offers a free trial for up to 7 days.
Subscription starts from $19/month, billed annually.
Offers offer subscription per user $2/month, billed annually.
Why do you need workplace management software for your organization?
A work management tool helps to reunite all the functions and functionalities you need to execute and monitor your work from start to finish and keep your resources, costs, and time frames balanced. Some of the top features include,
Advanced task management – Easily create and assign tasks, manage priorities, and track your team's work to stay within budgets and deadlines.
File storing and sharing – You can use the tool as a centralized workplace to securely store all the documents and images to access them whenever you need to.
Time management – Track work hours, share time reports and create timesheets to identify the potential bottlenecks in your workflow and keep your clients in the feedback loop.
Reporting Capabilities – Create and send reports on time, costs, and resources to oversee progress, update your clients, and spot potential problems.
Centralized communication – Teams collaborate through the message boards or the discussion threads, leave comments, and receive notifications whenever a change occurs to a task to stay up to date.
Tying it All Up
In a nutshell, work management software is a tool that allows you to plan, monitor, organize, review and report both the project and non-project activities to support the team's performances and results. This solution offers more flexibility than a project management tool, allowing you to work and monitor your results beyond a project's set dates, without any client, budget, or other constraints.
The workplace management solution integrates task management, communication, file storage and sharing, time management, resource management, and reporting capabilities under one app. This reduces the costs and helps you balance your resources, budgets, and time intervals for all project-based duties and non-project ones.
We have discussed all the top workplace management tools for you to choose from, pick the one that suits your preferences now and make your decision!
---
You May Also Like: