Project management is a complex task that requires the use of a variety of tools and software. But which workflow tools are the best for project management? In this blog, we'll outline the top 10 workflow tools for project management, based on their features, importance, and popularity.
After reading this blog, you'll be able to make an informed decision about which workflow tool is best for your needs. So don't wait – start using workflow tools today to manage your projects more effectively!
What is workflow management software?
Project management is a critical task for any business. By using workflow management software, you can streamline and organize processes and tasks to ensure that your projects are on track and completed on time. There are different types of software available, so it's important to select the right one for your needs.
Some of the most popular types of workflow management software include process management, project management, and team collaboration software. It's important to understand how each one works before making a purchase, in order to get the most out of your workflow management software.
How to Choose a workflow management software?
Choosing the right workflow management software is essential for project management success. Before making your purchase, be sure to understand what you need it for. This includes determining which features are most important to you, such as project tracking, team collaboration, and resource scheduling.
Once you know what you need, you can check reviews to find the best software for your needs. Finally, make sure to download and try out the software before making a purchase decision. You'll be glad you did!
Features to look for in workflow tools
When it comes to managing projects, having the right workflow tool is essential. The software should have a variety of features to help you streamline your workflow and keep track of progress. It should also have a user-friendly interface so you don't have to spend hours learning complex commands or codes.
In addition, make sure the tool has features like deadline management, task management, and project tracking. Furthermore, check for tools that have integrations with other software and devices, so you can work more efficiently. And finally, consider the pricing of the tool before making a purchase.
Top 10 Workflows Tools For Project Management
Project management can be a daunting task, but with the right tool, it can be a lot easier. There are many workflow tools examples on the market, so it's important to find the right one for your needs. Make sure to test out the tool before using it in a real project situation, as some may require additional setup time. Once you have the tool installed and configured the way you want, it's time to get to work.
To streamline the process, create profiles for each client or team member and keep track of their progress throughout the project with ease. Don't forget to take a break now and then – it's hard to stay focused when everything is on the line!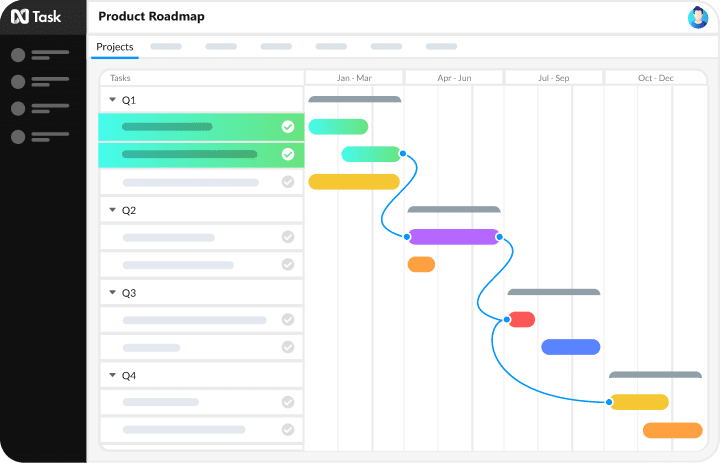 Project management can be a daunting task, but with the help of the right tools, it can be a lot less of a hassle. nTask is one such tool that is ideal for organizing and tracking your projects. It also has features that make it easy to share files and notes with team members.
However, the best part is that nTask can track progress over time, which can help you optimize your workflow and deliver results faster. So, if you're looking for an efficient project management solution, nTask should be at the top of your list!
Features
Simplify your work life with nTask.
Take your work with you wherever you go with the help of nTask.
Organize your work and stay on top of deadlines with nTask.
Easily share tasks with colleagues or clients to get them done as quickly as possible.
Manage your time and get more done in less time by using nTask.
nTask is a task management app that allows users to easily manage and track their projects.
It includes a wide range of features such as time tracking, project planning, messaging, and collaboration.
The app is versatile and can be used for both personal and professional use.
There are various integrations available that make it easy to connect with other apps and devices.
Integrations
nTask integration gives users access to a variety of different services, including:
Simplified collaboration: With nTask's integration capabilities, users can easily share and assign tasks across different platforms without having to tediously copy and paste information multiple times.
Integrated tracking: Since all task data is stored within the nTask platform, users always have access to complete details regarding each task – including deadlines and statuses. This ensures that tasks are completed on time and in accordance with expectations.
Cross-platform compatibility: nTask works well with both desktop (Mac & PC)and mobile devices (iOS & Android). This means that employees can use whichever device they prefer to get their work done!
If you're looking for a solution that will help you manage your workflow more efficiently, then look no further than nTask!
Calendar: Tasks can be added to calendars for future reference.
To-Do List: Tasks can be added to to-do lists for future completion.
Notes: Notes can be taken while working on a task, and can then be accessed later when needed.
Pricing
There are various pricing plans available for nTask:
Free forever plan
Premium plan at $3/user per month
Business plan at $8/user per month
Enterprise plan with custom pricing
2. Monday.com

Managing workflows in visually appealing software makes the work look easier for project teams. One of the best tools for project workflows is Monday.com. It offers templates, assigns tasks, and more to help streamline the process.
Additionally, it can be used to collaborate with other professionals on projects. With efficient tools like these, you can make the difference between success and failure. So start using them today and see the difference!
Features
Stay organized and on top of your work schedule with Monday.com.
Get ahead of the pack by using our tools and resources to stay organized and on top of your work schedule.
Easily find what you're looking for with our easy-to-use search engine, or browse through our different categories to find the information you need.
Be informed and up-to-date with all the latest news and events from Monday., so you can make the most out of your day!
Monday.com is a one-stop shop for your daily needs, from work to play.
Stay organized and up-to-date on all the latest news with our comprehensive coverage of the world's most important stories.
Be in control of your schedule with our easy-to-use calendar that lets you plan your day ahead.
Integrations
Integrating Monday.com with other services can help businesses increase their reach and traffic, as well as improve customer engagement. Here are some of the most popular integrations:
Google AdWords: Many businesses use Google AdWords to bid on ads and generate leads from search engine results pages (SERPs).
Social media integration: Connecting Monday.com to your social media accounts allows you to share company updates and promotional materials directly on Facebook, Twitter, LinkedIn, and more! This way, people all over the world can engage with your brand without leaving home!
Ecommerce platforms: Integrating Monday.Com into your eCommerce platform lets you sell products directly from within the website using shopping cart functionality or checkout flows that support various payment methods (including PayPal). This helps reduce complexity for buyers while also maximizing security measures for both yourself and your customers!
Pricing
Monday.com's most popular plan, their Standard plan, costs $10 per user per month with a minimum of three users.
3. ClickUp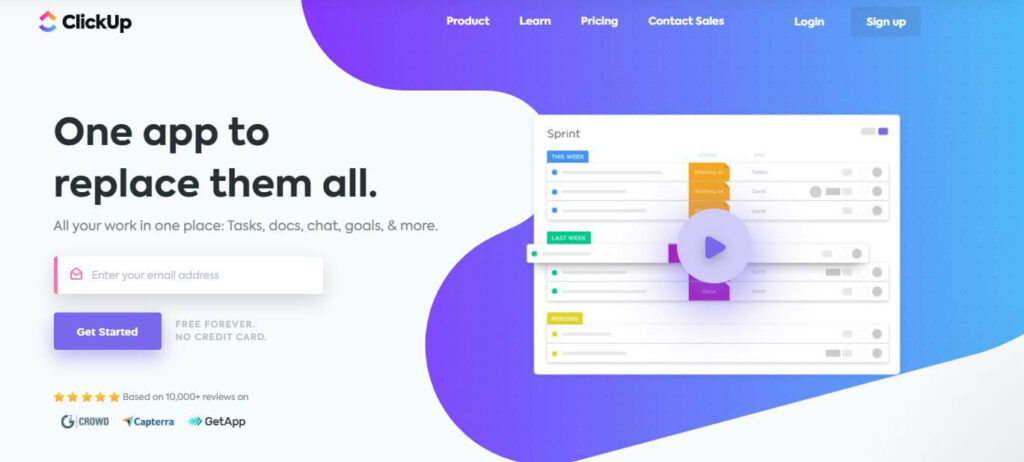 Nailing projects on time, and organizing complex workflows requires big efforts, but with the help of ClickUp, it can be a lot easier. This platform makes it easy to track and manage your projects from a single platform. You can also use it to collaborate with team members to shorten the timeline for your project goals.
Additionally, access reports and analytics that will help you see how well you're performing on each step of your project. Plus, with task lists that are customizable, you'll be able to keep everything under control. So go ahead and get organized today with ClickUp!
Features
Track your website's traffic and conversions on the go with ClickUp.
Get insights into what brings people to your site, and make changes based on that data.
Improve your website's SEO by optimizing it for better search engine visibility.
Easily create or join a webinar to learn more about how ClickUp can improve your business!
Boost your website's traffic and conversions with our powerful marketing tools.
Get more leads from your website in no time with our easy-to-use lead capture forms.
Convert more leads into customers with our powerful sales funnel strategies.
Improve the efficiency of your workflow with our user-friendly tools and resources
Integrations
There are a few different ways that ClickUp integrations can work:
One-time integration: This type of integration sends an automated email to all your subscribers every time someone clicks on an email from your list in their inbox. This allows you to track which emails are working best and improve the effectiveness of your campaigns accordingly.
Email Subscription: You can also opt for an email subscription integration, which sends an email to your subscribers every time someone adds or updates a contact in their contact list on your website. This helps you keep track of who's interested in what you have to offer and optimize engagement rates accordingly.
Lead capture: You can also choose to have a lead capture integration, which passively captures all leads that come through your website from emails sent via ClickUp integrations. This way, you don't have to spend any extra time tracking down leads – they're automatically captured and stored for you!
Pricing
Apart from the free plan, ClickUp offers two payment plans for its customers, unlimited and business. So, you can choose to pay annually or monthly.
4. Trello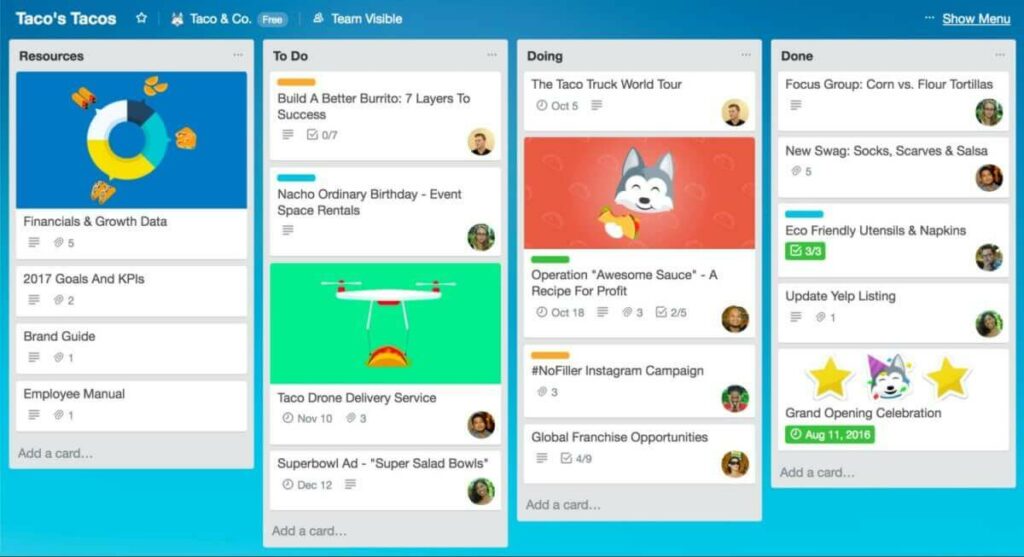 Project workflow management can be a lot of work, but Trello can make it a lot easier. This tool is easy to use and collaborative, making it great for team collaboration. It has features like boards, cards, labels, and checklists, which make it an efficient tool for tracking and managing projects. Projects can be organized into lists so everything is easily accessible and tracked.
Additionally, Trello offers integrations with tools like Asana and Zendesk, which makes coordination even easier. So, whether you're managing a small project or a big one, Trello is a great tool to use!
Features
Manage projects and tasks with ease – Trello is the perfect tool for managing your work and home life.
Collaborate with coworkers and friends by sharing boards and projects with them.
Stay organized and in control of your projects by using Trello's easy-to-use features.
Keep track of everything from project to task with Trello's detailed tracking features
Trello is a project management software that helps you manage tasks, boards, and lists in an easy and efficient way.
Keep everything organized with Trello – your tasks, boards, and lists are all neatly organized on one platform.
Access your information anytime, anywhere – Trello makes it easy to access your information no matter where you are.
Stay on top of what's happening with Trello – get updates for new features and changes as they happen!
Integrations
Here are some of the most popular Trello integrations:
Gmail: Using Gmail's inboxes as boards makes it easy to keep track of messages related to your projects. You can add Aspect Calendars to each board so you always know when deadlines are looming and tasks have been completed.
Google Drive: With Trello, you can automatically upload files related to your Trello boards into Google Drive (so they're easily accessible from any computer). This eliminates the need for extra storage space on your server or Dropbox account and means you can work on multiple boards at once without worrying about file compatibility issues.
Slack: Teams who use Slack often find that using its chat feature helps them stay organized and communicate effectively between members of their team. For example, Slack's ChatOps integration lets teams send commands directly from Slack channels rather than having to email them around or post them in dedicated threads on the forum.
Pricing
Trello costs nothing for its free plan but also has three paid plans: Standard ($5 per user, per month), Premium ($10 per user, per month), and Enterprise ($17.50 per user, per month).
5. Asana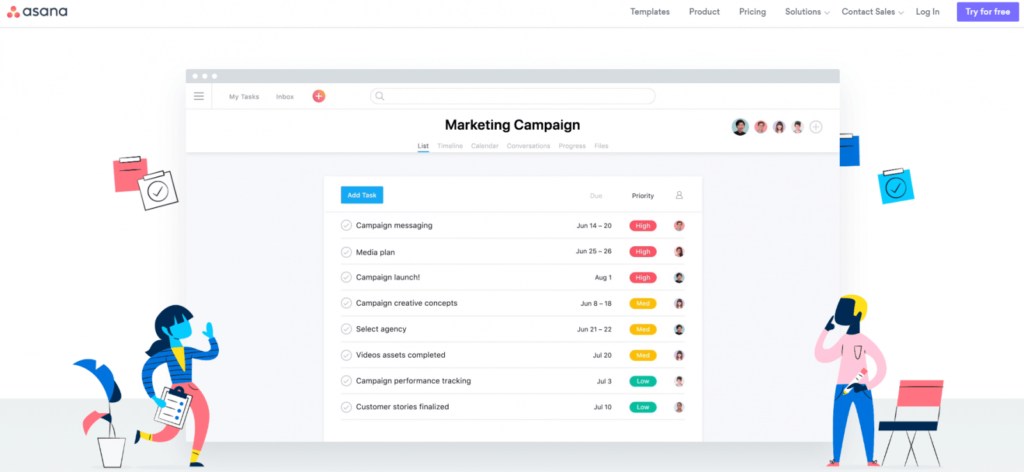 No project is too big or small for Asana. It's a great tool for project management because it's easy to use and fits any workflow. Plus, the project tracker allows you to keep track of all the details related to your projects – from the start date to the completion date.
Asana is the perfect tool for any project management enthusiast, be it business professionals or home-based bakers. Thanks, Asana!
Features
Asana includes powerful collaboration tools, which can be used to share files, images, and snippets of text with teammates or clients. This helps everyone stay on the same page and ensures that all tasks are completed as scheduled.
Asana's task boards make it easy to see what is currently being worked on by multiple team members at once. This provides an overview of the entire digital workflow tools so you can identify any potential problems early on.
The Kanban feature allows you to create boards based on specific stages in your product development process (i.e., prototype, design, beta testing). This enables you to track progress more efficiently and prevents duplicate work from happening unnecessarily
Asana integrates with many other applications, including Google Drive, Slack, Trello, GitHub, Amazon S3, Zapier, Outlook Express, Gmail, Facebook Messenger, Microsoft Office 365 (including Project Online), Salesforce CRM, and more!
Integrations
Here are some of the most popular Asana integrations:
Google Drive – You can add comments, file versions, and tasks to Google Drive files just like any other task in Asana. This integration makes collaboration between team members much easier!
Slack – Teams using Slack can easily communicate through message threads and rich media messages associated with each task or project item. This integration ensures that all team members are up to date on progress and deadlines, no matter where they are located!
GitHub – Tasks assigned to repositories on GitHub can be synced directly into Asana so that everyone involved knows what needs to be done & when it needs to be done. New commits will also get pushed automatically to your repository's branch in Asana!
Pricing
Asana pricing starts at $10.99/user/month for Premium access and $24.99/user/month for the Business plan. There's also a free Asana tier.
Related:
The 33 Best Free Asana Alternatives
6. SmartSheet

There's no doubt that project management is a skill set that is in high demand these days. That's why people love SmartSheet – it's a great tool for managing tasks and deadlines. Not only does it keep track of everything, but it also provides helpful resource pages, such as templates and checklists, so you can get the most out of your projects.
Its drag-and-drop feature makes creating task lists easy and efficient. In addition, SmartSheet provides real-time updates and notifications, so you always know what's going on. With SmartSheet as your go-to tool for project management, everything will move faster and be more organized – making your workflows smoother and more efficient!
Features
Create precise reports that focus on specific areas of interest. For example, you could create a report focused on sales activity across different regions or departments within your company.
Use charts and graphs to easily see patterns and trends in your data. This will help you make more informed decisions about investments, marketing strategies, etc..
Create unique templates or build your own reports from scratch using our intuitive drag-and-drop interface.
Share reports with other members of your team for collaborative feedback and analysis
Integrations
Here are some of the most popular SmartSheet integrations:
Google Sheets: This integration allows you to export your data from SmartSheet into Google Sheets for further analysis. You can also use this integration to create reports based on your data in Google Sheets.
Salesforce: With this integration, you can automatically add new rows of data from SmartSheet into your sales records in Salesforce CRM. You can also embed charts and graphs from SmartSheet within Salesforce emails, presentations, and dashboards.
Slack: Using this Integration, you can quickly view updates on changes made to any row or column in a table in Slack without having to leave the app! Simply type "/smartsheet" followed by the name of the table or field you want to see updates for (for example "/smartsheet customers").
Pricing
Smartsheet pricing starts at $7 per month for the Pro tier or $25/user/month for Business plan features, with a 30-day free trial to begin.
7. ProcessStreet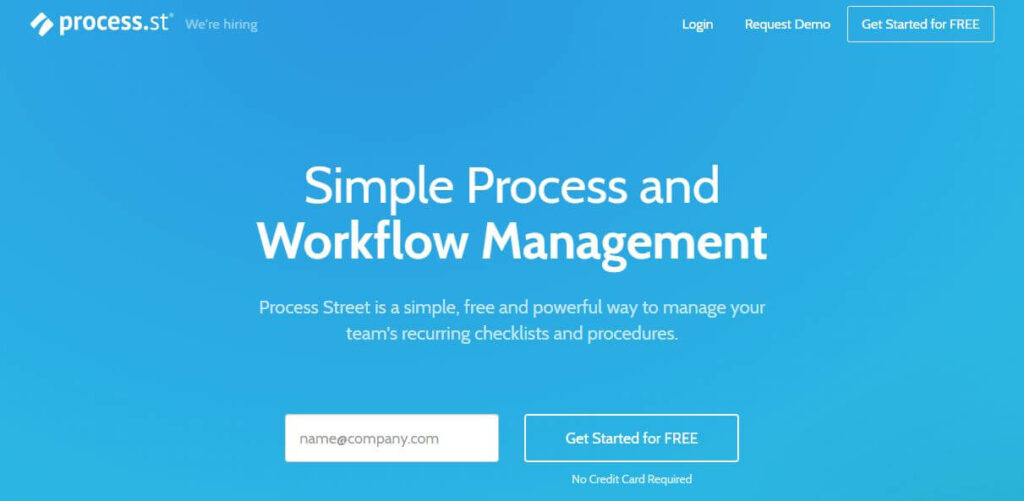 ProcessStreet is the next workflow tool that can help you simplify your recurring procedures and tasks. The online platform offers a wide range of templates that can help you get started. It also comes with tools to help improve your workflow, like an integrated chat feature.
Additionally, Process Street offers a great platform for collaboration, allowing you to ask questions and get feedback from other users on projects. Overall, Process Street is a great tool for managing complex projects efficiently!
Features
A user-friendly interface that's perfect for small businesses.
An intuitive workflow system that makes process planning quick and easy.
Automated email notifications to keep you up to date on your processes.
Customizable reports that help you track progress and identify areas of improvement.
Easily assign tasks and responsibilities to team members or employees.
Share files with teammates easily using file-sharing tools like Dropbox or Google Drive; use chat features to communicate within teams while working on projects; get updates about discussions in real-time as they happen.
Integrations
Here are five of the most popular ProcessStreet integrations:
Google Sheets – Connect Process Street's data fields with your Google Sheets data in order to automate common tasks such as process mapping or workflow planning.
Salesforce – Use Process Street's pipelines and workflows to manage sales activity in Salesforce CRM systems.
Zendesk – Use Process Street's approvals and notifications features to keep track of customer interactions from within Zendesk support queues.
Mailchimp – Automated email marketing campaigns with Auto Responders, triggered emails, and more from within your MailChimp account.
Twitter – Gain insights into how your tweets are performing by using TweetTrackerTM, which allows you not only to monitor engagement but also identify influencers and potential customers
Pricing
Pricing is an important part of any business, and it's crucial to have a system in place that allows you to manage projects effectively. With ProcessStreet, you can easily create a workflow for your team and track the progress of each project. You can also choose from different pricing plans that fit your budget and needs. The premium plan includes features like collaboration tools and automatic updates.
8. beSlick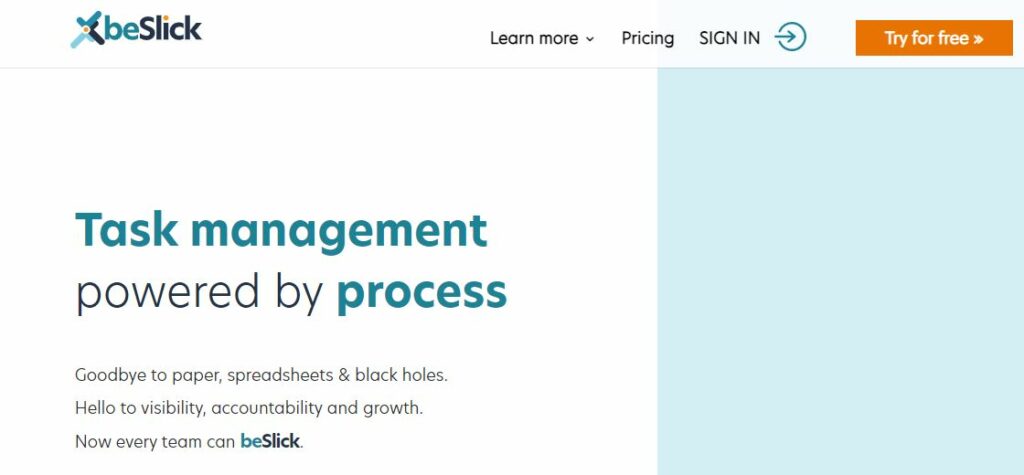 No project is too big or too small for beSlick. It's the perfect tool for managing project deadlines and keeping track of work progress. With its cross-platform compatibility, it's easy to use no matter which device you're using. In addition, be sure to check out beSlick's document-creation capabilities! It makes creating or editing documents a breeze.
Whether you need to create a project plan, track team member progress, or manage project resources, beSlick has you covered. So, what are you waiting for? Get started with BeSlick today and make your projects a breeze!
Features
Visual Composer, this drag & drop builder lets you easily create custom content sections or pages with just a few clicks. You can even add form fields for easy submission of data!
Add any widget you want to your site without having to worry about coding or installing third-party plugins. Simply select the type of widget you need, enter a short description, and beSlick will take care of the rest!
beSlick was created in English first but supports translations into more than 20 languages so that everyone can use it no matter where they are in the world.
Create separate profiles for each of your business's social media channels (Facebook, Twitter, LinkedIn, etc.), so you can easily see which ones are performing best.
Easily respond to comments on individual posts or across all your accounts at once using our commenting system.
Integrations
Increased reach: With beSlick, your business can easily access Facebook, Twitter, LinkedIn, Google+, and other social media platforms. This allows you to share your latest blog post or campaign on all of your favorite channels at once!
Easier management: When using BeSlick's toolsets, you can automate tasks such as publishing new content on social media outlets, sending out automated emails based on customer interaction data from lead capture forms, and more. This saves time and energy while saving you money in costs associated with traditional marketing methods (such as website design fees or ad campaigns).
Flexible integration: Be slick offers integrations with dozens of popular marketing automation platforms including MailChimp, Salesforce CRM, AWeber, Hootsuite, UpWork, GetResponse, and many more! This means that no matter what type of business you run – digital or physical – we've got an integration tailored just for you!
Pricing
The plan is for $10 per month, but you get 2 months free if you pay annually.
9. Vogsy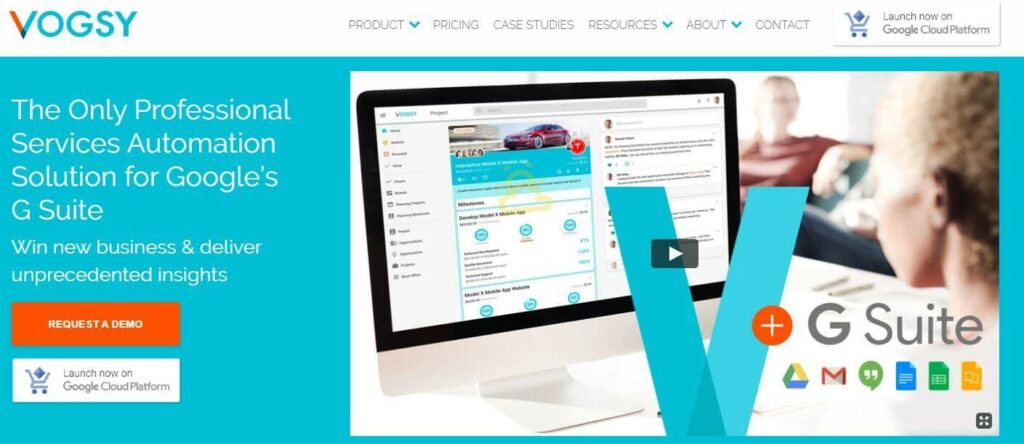 Task and workflow management is a tough job for service businesses, but with the help of Vogsy, it can smooth out the complexities. This tool integrates with many different software programs, making it easy to keep track of all the tasks and milestones associated with your project. Additionally, you can use Vogsy as an online tracker, so you never lose track of your progress.
Customize your workflow to make sure everything is done in the most efficient manner possible! In the end, Vogsy is a great tool that will help you manage your projects in an efficient and effective manner.
Features
Content can be easily created and managed from one centralized location.
Engagement can be tracked across all platforms (web pages, posts, tweets, etc.) for analysis purposes.
Performance metrics can be analyzed to determine how effective your campaigns have been relative to your goals.
Advanced noise reduction technology, which helps eliminate background noise and unwanted sounds from your footage;
The ability to add text or graphics to your videos;
An automatic chroma key feature, which allows you to create high-quality green screenshots without having any prior knowledge about video production;
Premium Lighting Effects, which give your videos a polished appearance and help them stand out from the crowd.
Integrations
Some examples of the types of integrations we offer include:
Email Marketing Integration: Send automated email campaigns based on specific actions taken by users like registrations or purchases made from your website or app.
Social Media Management Integration: Easily connect with social media platforms like Facebook, Twitter, LinkedIn, and more so you can track all activity related to your brand or product in one place.
CRM (Customer Relationship Management) Integration: Monitor customer interactions across different channels like contact forms or chatbots so you can keep track of feedback and respond quickly in case any issues arise.
Pricing
Apart from the free plan, Vogsy offers Light, Full, and Super Plan. Starting from $11 per month.
10. Nifty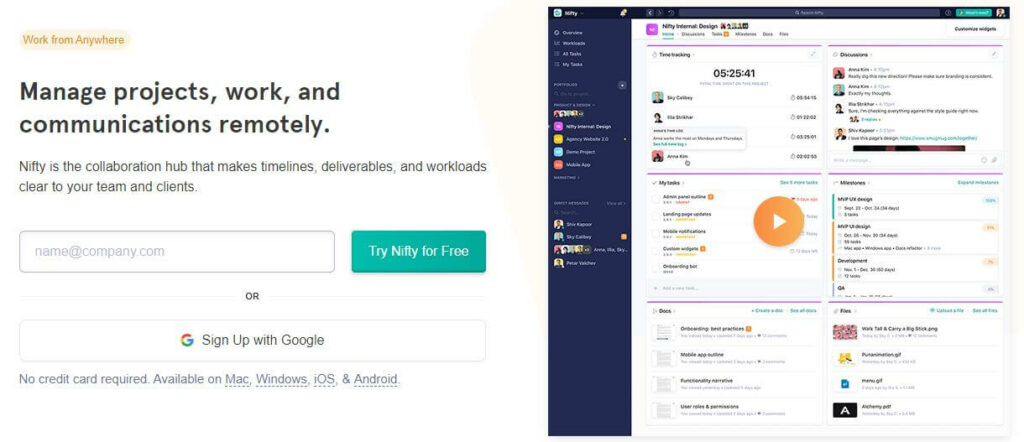 Nifty is a great tool that helps you manage project files and tasks, track your progress, and stay on schedule. The easy-to-use interface makes it perfect for anyone new to project management.
With Nifty, you'll be able to stay on top of your deadlines and meet everyone's expectations! So go ahead and give it a try – your work and team management will thank you for it!
Features
Dynamic page reloading (aka "slow pagination") allows users to scroll down without having to wait for each page to load, and it works even on mobile devices;
Our responsive website design adapts automatically to different screen sizes, ensuring that everyone can comfortably view your content;
Our lightning-fast loading times mean that you won't have to suffer through long waits while pages load up.
Multilingual support means that you can easily translate your site into any language desired – no need for expensive translation fees or time-consuming localization effort
Integrations
Nifty offers a wide range of integration options, including:
eCommerce: It can help you create an online store from scratch or integrate an existing one into your website. eCommerce solutions include everything from shopping cart functionality to custom shipping options.
CRM: Customer Relationship Management (CRM) integration services allow you to keep track of all relevant information about your customers in one place. This can be helpful not just for marketing purposes, but also for billing and refund management!
Social Media: If you're using social media platforms like Twitter or Facebook as part of your business strategy, it can help you connect them with your website automatically. This way, followers who visit your site will see updates from their favorite social media accounts right on the page!
Pricing
Nifty offer a free plan and the rest starts from $39 per month.
The importance of using workflow tools for project management
Project management can be a daunting task, but the right tools can make the process much easier. A workflow tool like Project Management Office (PMO) can help you keep track of tasks, milestones, and deadlines. Additionally, it makes it easier to communicate with team members and stakeholders.
Furthermore, using a tool like PMO can help you avoid project failures and save you time and money on your projects. So, why not give workflow tools a try and see how they can help you streamline your project management process?
Why Is nTask The Best Workflow tool?
Managing a project can be a tough task, but with the help of a workflow tool like nTask, the process can be streamlined and made easier. nTask is a great tool for managing large projects with a team of people. It's easy to use and has an intuitive interface that makes it simple to follow.
Additionally, the drag-and-drop feature makes organizing tasks fast and easy. What's more, nTask includes built-in collaboration features so you can work with teammates effortlessly. Whether you're a business owner or an individual with a project deadline, nTask is the tool for you!
Frequently Asked Questions
How do workflow tools work?
Workflow tools help in managing a project by automating and organizing tasks. They keep track of deadlines, milestones, and changes made to the project plan, all while keeping you organized and on track. Some popular workflow tools include Asana, Trello, Basecamp, and Jira.
What are the four types of workflow?
There are four main types of workflow: sequential, concurrent, adaptive, and distributed. Sequential workflows involve completing one task after another in a prescribed order. Concurrent workflows allow multiple tasks to run simultaneously with no impact on each other.
Adaptive workflow software automatically adjusts its behavior according to the current state of a project's files and data. Distributed workflow systems allow different workers or teams to share resources and collaborate on projects together.
How do I create a workflow plan?
The first step in creating a workflow plan is to determine the goal of your project. After that, you need to gather all of the necessary information. This includes gathering information about the project itself, such as its scope, timeline, and objectives. You also need to identify any stakeholders involved in the project and figure out their roles and responsibilities.
Once you have gathered all of the necessary information, it's time to create milestones and tasks. Milestones indicate important points along the way of your project and tasks are specific tasks or actions that need to be completed in order for your project to reach its goal. Finally, assign roles and responsibilities based on who will be working on your project and when they should start/finish their work. This will ensure that everyone is on track and completing their assigned tasks within the given timeframe.
Conclusion
In this post, we discussed the 10 most useful project management workflow tools that can boost productivity to a new level in no time. However, it's not just about your productivity but also about taking care of each aspect from planning to the closing of a project efficiently.
That is why it's important to use only the right tool at the right time in order to ensure efficiency as well as accuracy in your tasks. In case you are still confused regarding which tool should be used for what, just try out all the above-listed ones to get started!