Are you looking for the best work management platform to help you stay organized, on time, and on track? We've got you covered! Here is your guide to the top 10 work management platforms of 2023.
We'll show you which ones are the most effective and user-friendly so that you can make the best decision for your team. Read on to learn more!
What are Work Management Platforms?
Work management platforms provide a centralized hub to coordinate teams and tasks. By providing online tools, they help to streamline the workflow of projects, manage tasks and resources efficiently, track progress in real-time, and ensure that everyone is on the same page. This allows organizations to save time, cut costs, boost productivity and remain focused on growth.
A work management platform can integrate with other software systems so that teams have access to the most up-to-date information without switching between applications or manually entering data multiple times.
Workflows can be automated to speed up processes even further while standardizing quality assurance practices across departments.
Moreover, it provides powerful reporting capabilities that make analyzing data easier than ever before along with numerous other benefits like improved communication between team members and greater organizational visibility into project progress.
Depending on the size of an organization's workforce and its specific requirements, work management software includes a variety of features such as,
Task lists for assigning jobs
Calendars for scheduling
Project forms for creating templates
Conversations for internal chats
File sharing with version control options
Integration with existing applications like document collaboration tools or customer relationship management (CRM) applications
Issue tracking via ticketing systems
Dashboards for reporting purposes
Analytics tools for measuring performance metrics from goals being met down to individual employee performance.
In conclusion, by implementing a work management platform you can gain insights into how effectively your business is running as well as optimize each process so your team better collaborates & communicates at every step in order to make sure projects are completed successfully within budget & deadlines
List of The Top 10 Work Management Platforms
The growth of technology in modern times has revolutionized the way businesses and organizations operate. This is especially true when it comes to managing tasks and projects.
Employees no longer need to be in the same room to collaborate or delegate; they can do so virtually with the help of work management suite.
These software programs allow people to communicate, organize, track progress, plan resources, evaluate performance, and more – all under one roof. With such a powerful tool comes a lot of options, which can be bewildering for businesses looking for just the right platform for their needs.
To help narrow down the search process and make finding the perfect program easier, we compiled this list of the top 10 work management platforms that offer reliable services at an affordable price point.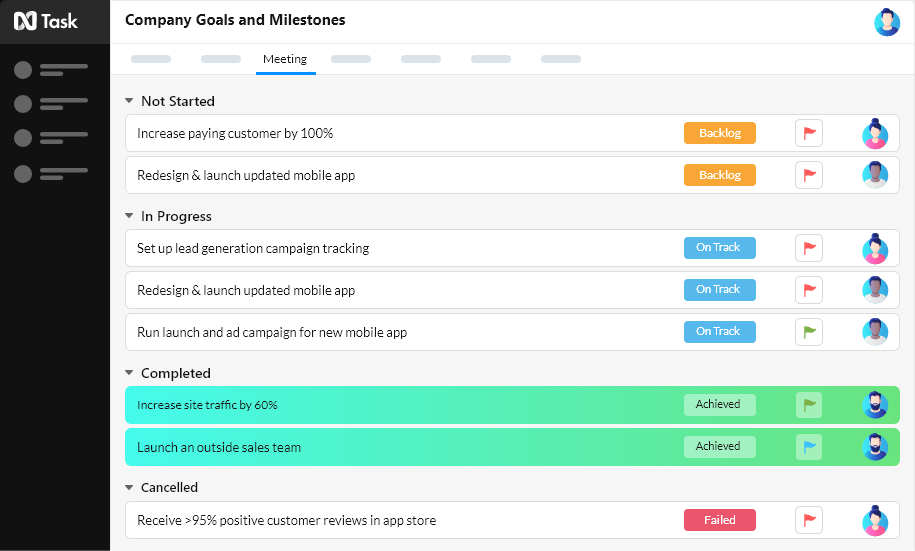 nTask work management platform is a comprehensive software solution designed to help businesses streamline the task of managing their workloads. The platform enables organizations to assign and track the progress of projects, tasks, and other due dates.
It makes it easier for managers to stay on top of everyone's assignments in one place and quickly view which tasks are being completed and at what rate. With an intuitive user interface, users can create new tasks, delegate them as needed and set deadlines while keeping everyone accountable with assigned timeframes.
The platform allows supervisors to prioritize their own personal task lists while also viewing team-related objectives. It offers a plethora of features that allow users to assign ownership over each task created so that no one on the team is left behind or unappreciated for their efforts.
Additionally, the Work Management Platform provides a visual bar graph that tracks all project assignments from start to finish for better oversight by project managers.
This feature can be modified or filtered according to specific criteria in order for individuals or teams to measure performance levels based on predetermined parameters such as budgeting or scheduling deadlines.
Regular updates are pushed out onto the system allowing employees across departments access vital information about current projects without having to search through multiple emails or documents searching for old files containing outdated information.
Furthermore, the nTask integrates with popular messaging solutions like Slack ensuring all categorized project conversations remain centralized within this powerful piece of software utility allowing staff members up-to-date interaction between them no matter where they're located geographically speaking.
Key Features
Project Management: The task work management platform has a project management feature that allows users to create and manage projects with ease. It also allows users to assign tasks to their team members, set deadlines, track progress, and measure performance at the end of each project.
Collaboration: This platform also enables users to collaborate effectively on tasks by allowing collaboration among team members in real-time and providing access to shared resources.
Resource Planning: The task work management platform provides tools for resource planning which helps teams plan ahead for upcoming projects so they can allocate resources efficiently and save time on the overall project timeline. It also gives an overview of all available task pipeline stages so teams can identify what's coming up next or potential bottlenecks in the workflow quickly.
Reports & Analytics: In addition, this tool provides reports & analytics features that allow teams to gain valuable insights into project performance based on various key metrics like time spent per task or the number of outstanding tasks, etc., as well as drill down into task details such as duration and assigned resource information, etc.
Automation: Lastly, this tool also supports process automation which lets teams automate repeatable processes within the system like sending out emails or updating other applications when specific conditions are met – thus saving precious time while maintaining data accuracy at all times!
Pros
Increased productivity – nTask helps maximize the efficiency of employees by automating manual processes, allowing them to focus more on productive tasks
Automation of administrative tasks – This tool can automate mundane tasks such as assigning projects or tracking time spent on a project
Clearly defined structures and processes – With work management solutions it is easy for firms to clearly define team structure and project workflow ensuring optimal utilization of resources
Detailed insights and analytics – With in-depth data generated from the tool, employers are able to have detailed insights into their teams and projects helping them make well-informed decisions.
Streamlining collaboration among remote teams – The tool allows for communication between remote teams in different parts of the world making coordination effortless.
Pricing
Premium $3/user/month
Business $8/user/month
Enterprise/custom/pricing
Customer Ratings
Work Management For Better
Collaboration With nTask
2. ProofHub

ProofHub is a comprehensive work management platform that helps businesses and teams manage projects and tasks. It provides users with an easy-to-use platform to better coordinate, organize, and plan their workflow. With its user-friendly UI, users can easily access their project documents, tasks, and conversations with fellow colleagues for smooth collaboration.
The ProofHub includes a comprehensive suite of project and time management tools such as a Gantt chart view for detailed planning of the team's timeline; task lists for sorting key activities by priority; Kanban board views that give managers a live overview of what's happening at any given moment; reminders to keep members updated on deadlines; custom workflows that allow individuals or teams to set up automated processes which are triggered by certain actions.
In addition, there are other useful features such as progress tracking which allows managers or owners to see how far along each project is in real-time while monitoring its efficiency through reports such as burndown charts.
And auto-sync capability keeps all personnel on the same page by updating changes across all devices instantaneously so everyone has access to important information whenever they need it.
The workflow also accommodates end clients who may not have accounts on ProofHub because they can view relevant documentation from outside links provided directly from the portal itself instead.
Overall, ProofHub is an easy-to-use online system that helps manage efficiently all aspects related to projects & tasks in one central place – giving everyone involved more time & energy dedicated towards productivity goals instead of struggling over subpar manual processes!
Key Features
Team Management: This feature allows you to manage your team in one place, by assigning tasks and roles to different members. It also enables tracking of project progress and evaluating the performance of the team members.
Time Tracking: With ProofHub's efficient time tracking feature, you can easily monitor how much time is being spent on specific projects or tasks. You can also set limits on how much time individual team members or groups should be allowed to spend on a task or project.
Collaboration Tools: The platform provides collaborative tools such as discussions, shared comments, file sharing, and Gantt charts to help teams communicate effectively while working together on the same project or task.
Task Management: This feature simplifies organizing tasks into lists that are sorted based on deadlines, priorities, etc., making it easy for teams to track their progress and deadlines efficiently without missing any milestone dates.
Reporting & Analytics: With this feature, you can get valuable insights from reports generated from ProofHub's powerful analytics dashboard which helps with improving overall productivity levels in business operations.
Pros
Easy to use: ProofHub provides an intuitive interface that is easy and very accessible. This makes it simpler for users to set up projects, manage tasks, store data, and collaborate with the team.
Workflow automation: Automation of processes within the workflow eliminates manual labor associated with task management, enabling teams and individuals to work efficiently and faster.
Multi-platform support: Teams can access their project management platform from any device they like – desktop, mobile, or tablet – as long as they have a consistent internet connection.
Pricing
Essential $45/month
Ultimate Control $89/month
Customer Ratings
3. Todoist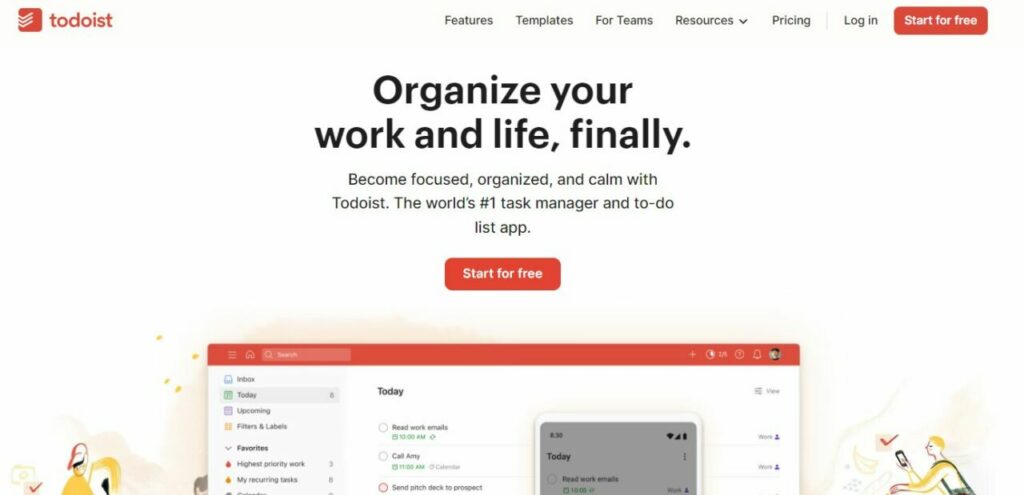 Todoist is an easy-to-use, powerful work management solution designed to help teams of all sizes undertake any task. It allows teams to collaborate and manage their workload from one place. The app has a user-friendly interface which makes it easy for users to get started quickly and work efficiently.
With Todoist, teams can track projects, assign tasks to individuals or groups, set deadlines and priorities, as well as view project updates at a glance. Teams can also chat in real-time using the built-in chat feature. This helps foster better collaboration amongst members making it easier for them to stay on top of tasks and stay up-to-date with the progress of their projects.
The app provides interactive features such as setting reminders so that users never miss important deadlines or events related to their team's project(s). Besides this, users are able to create multiple projects within Todoist so they can keep track of different tasks that need to be done across different teams or departments simultaneously.
Todoist also ensures every member is on the same page when it comes to understanding what needs doing if they need help completing certain tasks – thus ensuring no delays in completing work assigned by other members.
Additionally, because Todoist offers cloud storage support, users have access to everything from anywhere at any time – no matter where they are working from – enabling them to quickly start work without worrying about having all the necessary file information saved together in one place before beginning a new project task inside the platform itself.
Key Features
Task Management – Todoist's task manager helps you assign, prioritize, and keep track of tasks from start to finish. You can assign due dates and reminders, set recurring tasks, add comments, email notifications for team members when a task is assigned or completed, tag individual members in comments on tasks, and filter task lists by project or date range for easier viewing.
Collaboration – Teams can easily communicate with each other by commenting on tasks or projects within Todoist's workspace or via direct chat messages. Team Members can also share files related to specific projects within the platform so everyone has access to the most up-to-date information.
Milestones & Progress Tracking – Set project milestones that are marked off as they are achieved in order to stay on top of larger goals while still encouraging productivity every step of the way through smaller achievable checkboxes real-time viewable team progress dashboard detailing what needs attention now what's next in the queue plus how far along something is towards completion
Automated Workflows – Automatically create custom workflows based on certain triggers such as when someone assigns a new project member creating a notification assuring nothing gets left behind further automating your workflow by connecting many popular third-party applications like Dropbox, Slack, GitHub, Microsoft Office, Google Calendar, Salesforce, Trello and many more into customized processes that eliminate any manual data entry cumbersome copy pasting chore.
Reporting & Analytics – Easily generate detailed reports which break down everything from task assignments completion rates, estimated hours worked per person per day/month, average cycle times between stages, etc… giving your organization insight into exactly where time effort resources are being invested.
Pros
Easy to use: Todoist is designed with a simple and intuitive user interface, making it easy for teams of any size and skill level to get up and running quickly.
Team collaboration: Todoist makes it easy for your team to share tasks, collaborate on projects, assign work, and keep track of progress in real-time.
Mobile access: The app can be accessed from anywhere — including on mobile devices — giving team members the ability to stay connected no matter where they are.
Visual organization: With its powerful task visualization tools, Todoist lets you create custom views of your project data so that you can quickly see what needs attention at a glance.
Pricing
Free – $0/user/month
Pro $4/user/month
Business $6/user/month
Customer Ratings
4. Any.do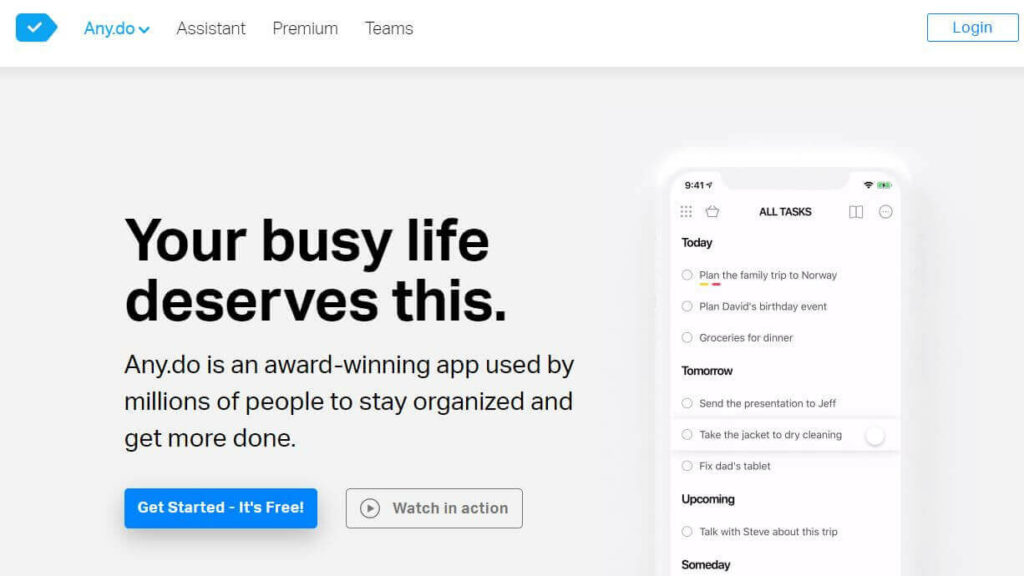 Any.do is a teamwork management app that helps teams boost productivity by providing comprehensive tools for project and task planning, collaboration, and communication.
The app works seamlessly with Google Docs, Sheets, Hangouts, Dropbox, Asana, and other popular platforms to allow users to easily share documents, collaborate on tasks and keep team members informed about the status of projects in real time.
With Any.do drag-and-drop interface and user-friendly design it's easy for teams of all sizes to quickly delegate tasks, track progress or reorder priorities as needed –– giving managers more control over how their teams work together.
At the core of Any.do is its Task Management feature that keeps users organized by allowing them to create different task lists for each member of the team or a single list that contains all tasks assigned to everyone on the team at once – making it easy to add new assignments or transfer completed ones from one person's list to another without any hassle.
Any assignment added can be annotated with details such as start dates/times, end dates/times, or deadlines in order to maintain clear expectations between members throughout their project timeline. Additionally, with reminders added to each assignment, everything will never get missed again!
For easier collaboration between members Any.do also comes equipped with several built-in chats where conversations can be held privately amongst select group members as well as public chats that any member can join in on so everyone stays up-to-date regardless of whether they are working remotely or right next door!
By leveraging these chat features it is now even simpler for teams around the world to communicate efficiently while eliminating potential conflicts due to conflicting opinions during critical decision-making moments when fast reliable input matters most.
Overall if you're looking for a simple yet feature-packed tool tailored towards boosting team productivity then you should definitely give this app a try!
Key Features
Task Management: Any.do offers a range of powerful task-management tools that help users coordinate projects, assign tasks to members and deadlines, and track progress.
Collaborative Calendar: The app also allows teams to make use of a built-in calendar so everyone can stay organized and informed on project timelines, meetings, upcoming events, availability, and more
Team Chat: With Any.do, users in real-time with their colleagues via an integrated chat platform for easy messaging and sharing files within the conversation threads.
Advanced Reporting & Analytics Tools: Team leaders will be able to analyze performance metrics for each member or group activity through the advanced reporting features offered by this app which helps in making accurate decisions to optimize their workflow
File Sharing & Storage: Teams will have access to video conferencing features as well as file-sharing that allows them to securely upload documents from anywhere.
Pros
Easy to use: Any.do has a user-friendly interface that makes it easy to create and manage tasks and projects.
Collaboration: With Any.do, you can easily collaborate with your team members in real time with chat, comments, and notifications features.
Flexibility: You can customize the app according to your team's needs by creating custom workflows, assigning labels, setting due dates, and more.
Cross Platform Support: Any.do is available for both mobile devices (iOS & Android) and web browsers so that you can access your information from anywhere at any time.
Pricing
1 month/ $5.99/month
6 months/$4.49/month
12 months/$2.99/month
Customer Ratings
5. Chanty

Chanty is a leading work management platform that helps teams to manage projects and tasks effectively. It brings all communication, notes, tasks, and files into one clean, organized workspace.
Chanty encourages meaningful conversations between team members to solve problems quickly. It equips the whole team with access to discussions, documents, files, and tasks so they can stay on top of their work in real-time.
The goal of Chanty is to make life easier for people who need to stay connected while working remotely or in different locations. With its intuitive design and straightforward interface, it's easy for users of all levels of experience to navigate the platform within minutes. The system also has a mobile app available on iOS and Android devices so you can take your project conversations wherever you go.
Chanty offers an array of different features such as task management tools where users are able to assign tasks easily across teams or keep track of individual records; its chat feature pings team members immediately when messages are sent; document sharing capabilities allow teams to store important documents related to projects or assignments; collaborative workspaces let groups brainstorm ideas together over video calls or group chats.
All these features come together with free storage space of up to 10GB which ensures smooth project management without any hiccups in execution due to data-crunching situations even after years of usage!
Key Features
Task Delegation: Chanty's task delegation feature enables users to assign tasks to their team members, classify and prioritize tasks, set deadlines for each of them, assign resources, and quickly delegate tasks with just a few clicks.
Team Discussions: With Chanty, users can create private or public channels which enable conversations across various topics on one platform.
Calendar Management: The calendar in Chanty allows users to organize and plan their day-to-day schedules as well as long-term plans in a more productive way with easy drag & drop features along with full view integration of all the upcoming events as well as reminders set by other members within the teams they are part of.
File Sharing: There is an option for users to securely share files among their teams right within the platform itself without having to use any third-party applications or tools.
Project Tracking: The project tracking feature provides timely insights about any project timeline and progress that lets managers have track visibility over specific projects going on in real-time.
Pros
Seamless collaboration: The Chanty work management platform allows teams to easily and effectively collaborate on projects, tasks, conversations, files, and more.
Increased efficiency: By centralizing work in one place, automation is enabled to speed up the completion of tasks and helps ensure no tasks are overlooked or forgotten.
Improved communication: Chanty's messaging platform encourages better communication between team members which leads to less miscommunication and more productive conversations.
Pricing
Free $0/month
Business $3/month
Customer Ratings
6. HubSpot Task Management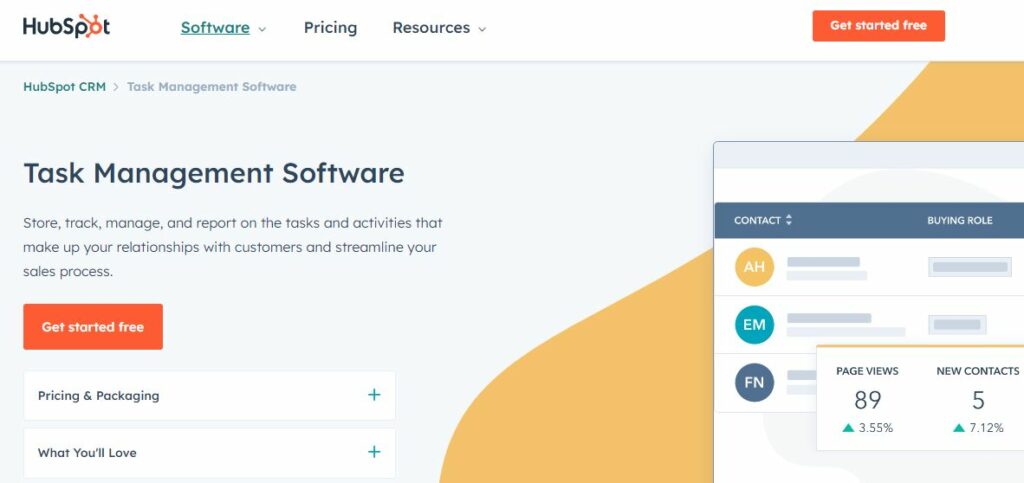 HubSpot Task Management is a comprehensive work management platform that helps organizations collaborate and optimize their workflow. It allows teams to easily create, assign, and prioritize tasks, track progress in real-time, and integrate with other tools for maximum efficiency.
This powerful tool provides visibility into all the projects being worked on in one convenient place, so everyone knows what's going on in the organization at any given moment. Additionally, HubSpot Task Management makes it simple to keep up with deadlines and ensure that goals are met by providing at-a-glance reminders of when projects will be due.
The platform also has powerful analytics features that allow you to monitor who's working on what project across your team or the entire company. By tracking task completion rate over time as well as what resources are needed to complete each task, HubSpot helps you identify opportunities for process improvement or areas where additional training may be necessary. Plus, its insights help you set realistic timelines that won't bog down productivity due to unforeseen challenges.
In addition to managing tasks in one central hub, HubSpot Task Management enables collaboration across multiple platforms and sync data from external sources like spreadsheets or databases with ease—all without ever having to leave the application itself! Plus users can access their tasks anywhere using a mobile app or desktop interface for ultimate convenience & flexibility. On top of all this organizational goodness? An intuitive user experience makes getting started a breeze!
Key Features
Task Organization: Users can create tasks, organize them into lists or buckets, and assign them to team members. Follow-up reminders notify when tasks are overdue or need to be addressed.
Automated Workflows: Create automated workflows that follow forms through different stages with automatic notifications for each stage as well as end-of-process alerts.
Visual Reporting: Easily view task metrics in real-time including individual performance history, trending workloads, and overall project performance metrics on a live dashboard interface.
Customization Tools: Create custom fields, modify workflows, and adjust settings which allow users to customize the platform based on their specific needs and preferences for collaboration processes in one centralized location.
Third-Party Integrations: Sync your teams' existing applications such as Dropbox, Salesforce, Slack, or Microsoft Teams with HubSpot Task Management's seamless integration capabilities so everyone is working off of one unified platform with constant updates between each system automatically pushing changes downstream without delay.
Pros
Easily integrate with other HubSpot tools and products, providing a streamlined experience for your workflow.
Streamline tasks with drag-and-drop to-do lists and customizable templates.
Features robust task management capabilities including assigning tasks, setting deadlines, and tracking progress.
Ability to break down complex projects into smaller tasks that are easier to manage.
Automatically generate reports on task completion rates as well as overall team performance, allowing for better decision-making.
Pricing
Professional $800/month
Enterprise $3600/month
Customer Ratings
7. Taskque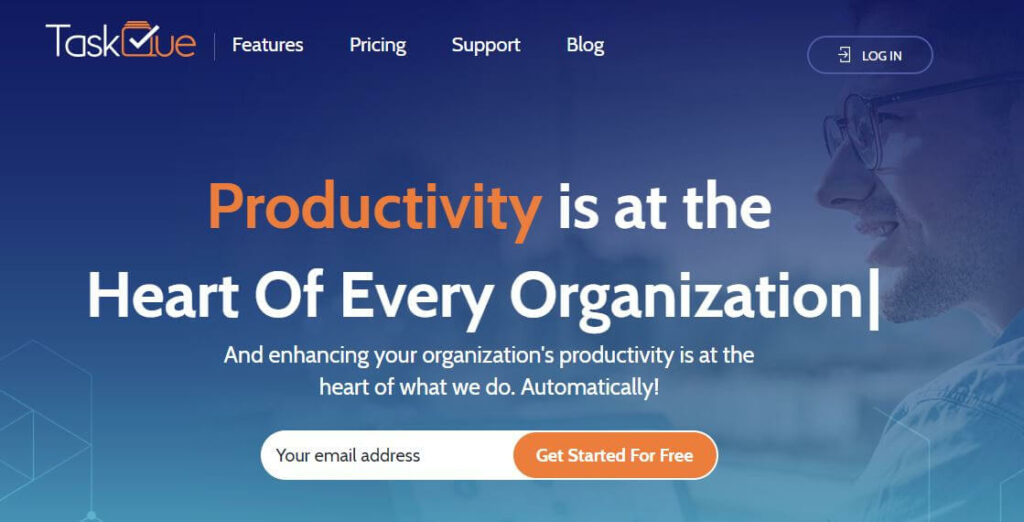 Taskque is an innovative work management platform designed to make it easier for teams of all sizes to collaborate and communicate efficiently. This cutting-edge solution uses a combination of automation, analytics, and machine learning capabilities to deliver a seamless experience that increases team productivity.
Taskque's main features include task assignments, notifications, personal workspace, multiple project views, conversational integration with popular chat apps such as Slack and Skype, collaboration tools like To-do lists and shared calendars, comment boards for feedback, and discussion forums between team members.
Taskque allows users to break big tasks into smaller ones which improve workflow efficiency by easily organizing complex projects. The ability to quickly assign tasks across different team members or departments in seconds using the drag-and-drop feature along with automated progress tracking makes it faster than ever before.
Additionally, the platform allows users to access their files from anywhere even without an internet connection as everything will be synced in real-time enabling easy collaboration with colleagues on the go.
Moreover, Taskque's AI-assisted analytics feature helps automate mundane activities so that users can focus on critical aspects of their business operations; thereby improving overall efficiency significantly over traditional manual methods used by most organizations today.
Additionally, this tool provides complete visibility into every member's workload allowing companies to better manage resources more effectively while driving governance while at the same time making sure everybody has seen what they are supposed to do when they should deliver it carefully checked against company standards & policies.
Key Features
Task Management: The Taskque work management platform provides an efficient and effective task management system allowing users to easily create, assign and track tasks with precision.
Collaboration: With Taskque's collaboration features, users can ensure teams are well coordinated by creating project boards where everyone can post updates easily and quickly and comment on each other's posts as needed.
Data Analysis And Reports: Track the performance of your teams through custom reports showing everything from time spent on projects to utilization levels among employees working across various departments or locations within an organization.
Integrations: With industry-leading integrations like Microsoft Bot Framework you are able to add powerful automation which actively engages members of your team throughout the work cycle.
Security & Compliance: The platform comes with advanced security features such as OAuth authentication making sure data remains secure behind company walls while robust compliance standards built into the platform ensure any sensitive organization-related data remains safe at all times.
Pros
Automated reminders: Users can set up automated reminders that will send notifications about upcoming deadlines or tasks which helps them stay on top of projects without having to manually monitor them.
Advanced analytics: Taskque provides advanced analytics features such as customizable reports and dashboards which allow users to monitor progress at a glance while making sure they are meeting key objectives.
Real-time collaboration: Taskque enables team members to communicate in real-time, share documents or other information, assign tasks, and notify each other of project updates in an efficient manner.
Pricing
Basic $0/month
Business $5/month
Customer Ratings
8. Flow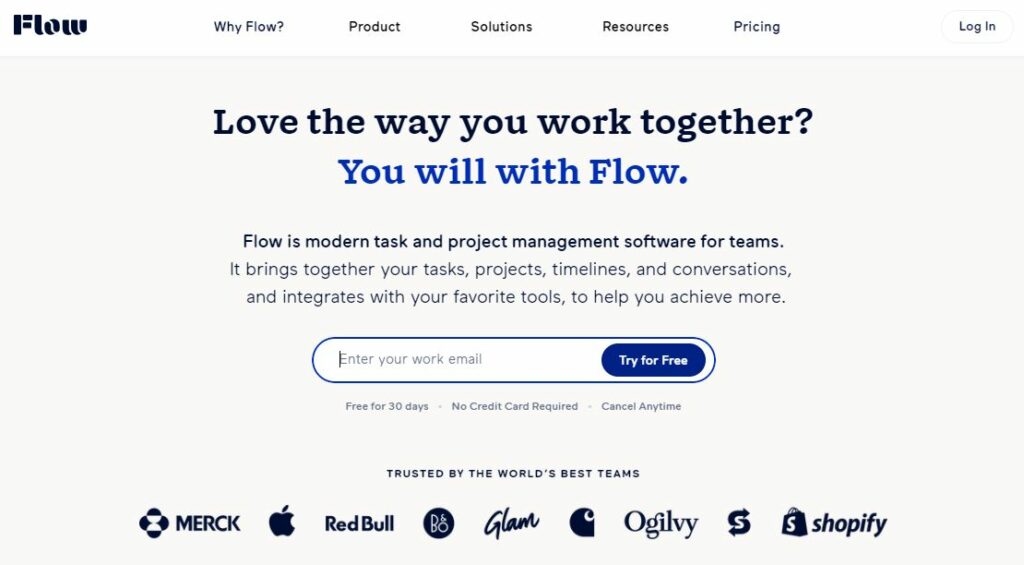 Flow work management platform is an online system that helps to streamline and organize the day-to-day operations of businesses. This platform provides companies with a variety of tools that allow them to manage their workflow.
Flow work management platforms offer users features like task automation, data visualization, and collaboration capabilities. These features enable organizations to handle tasks more efficiently and reduce manual effort in tedious operations.
For example, when dealing with customer service matters, having a reliable flow work management platform can help significantly reduce response times and improve customer satisfaction. Through this type of software, businesses are able to quickly assign customer inquiries or complaints to the right person who can address them promptly.
With automated processes built into the system such as automatic email notifications or scheduled follow-ups on outstanding issues, customers will be able to receive quicker responses and have their queries resolved effectively in less time than it would take if handled manually by employees.
In addition, data visualization capability from these platforms assists companies in making decisions based on accurate insights from collected data over time which can prove invaluable for strategic planning purposes.
With detailed information about user activities available at their fingertips on the flow work management platforms, teams are provided with better visibility and tracking capabilities that empower them to plan out upcoming tasks better or detect problems early before they get worse allowing for improvements faster than ever before possible without manual analysis efforts involved each step of the way.
Key Features
Collaboration Tools: Flow's work management platform provides an array of collaboration tools that enable teams to stay organized and connected.
Customization Options: Flow's platform allows users to customize their workspaces with individualized views and preferences so they can focus on their projects and tasks more effectively.
Task Management Features: Flow enables users to track every step of a project with features like due date tracking, task descriptions, assigning owners for tasks, automated notifications when changes are made, and the ability to add subtasks within different stages of the process.
Analytic Tools: The platform also has robust reporting options that provide teams with real-time insights into progress across products so they can make smart decisions quickly.
Automated Alerts: With automated alerts built into the system users are informed when something needs attention without having to actively check in each time a new task is created; this helps streamline communication between teams while increasing efficiency and accountability within processes at the same time!
Pros
Improved visibility: A dedicated workflow management platform offers real-time views into all projects and tasks, enabling teams to quickly identify bottlenecks and allocate resources accordingly.
Centralized collaboration: This type of platform creates a centralized hub for teams to share information, communicate with each other, and access important files and documents in one place.
Automated processes: Workflows can be programmed in advance with automated triggers based on certain parameters being met, reducing manual effort and speeding up the entire process from start to finish.
Time savings: Automation helps reduce the amount of time spent on mundane tasks such as data entry or notifications by streamlining those processes. Teams can then focus their efforts where it matters most.
Pricing
Basic $6/user/month
Plus $8/user/month
Pro $10/user/month
Customer Ratings
9. Hitask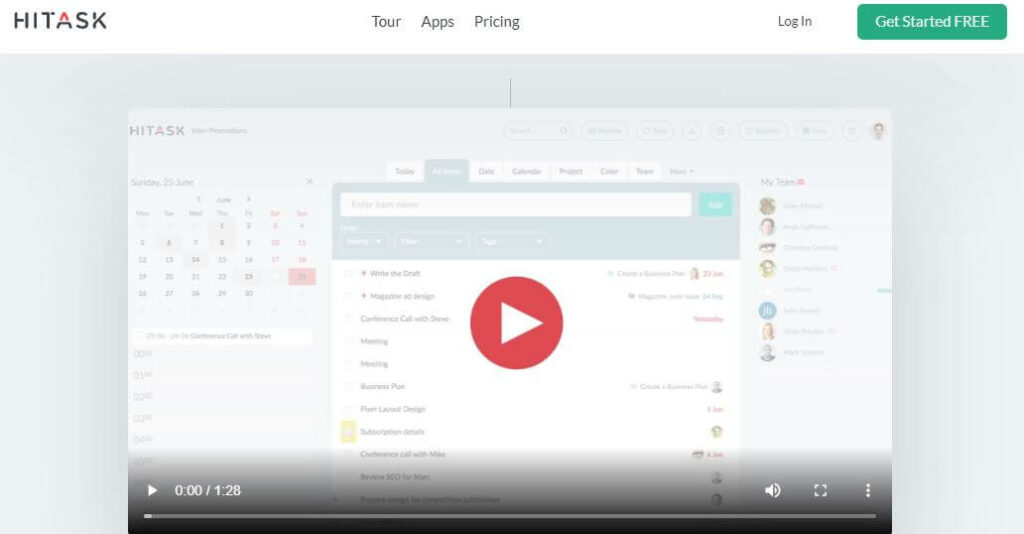 Hitask is a powerful and intuitive work management platform that streamlines everyday tasks. It allows users to create projects quickly, assign members to their projects, set due dates, and track progress in real-time.
With Hitask, team members can collaborate on assignments through various features such as task lists, comment boxes, file attachments, and more. The platform's user-friendly design helps teams to coordinate tasks easily so they can stay on top of their respective workloads.
Projects can be assigned using the "Drag & Drop" feature or simply by entering the necessary details on the project creation page. Users can also color code tasks with different colors; this allows them to differentiate between them easily and accurately identify those that require immediate attention or those that need further review before being moved forward into another stage of completion.
Once a project is established, Hitask's timeline view is an ideal tool for visually representing task progression—this way you can monitor where there are gaps in workflow or when milestones have been accomplished over time.
Team members will also be able to discuss any questions or issues directly within the comment box allowing for real-time communication during active collaborations resulting in efficient problem-solving methods and increased productivity among collaborators alike!
In addition to its effective collaboration tools, Hitask provides users with activity log insights that provide valuable data points on who completed which task and when—allowing you to fully analyze team performance afterward as well as midpoint checkups along the way! In terms of security measures taken by the developers at Hitask—the platform encrypts all confidential data using Secure Socket Layer (SSL) for maximum protection from external threats and disturbances.
Key Features
Hitask provides a comprehensive and intuitive user interface that makes it easy for users to manage tasks, access shared documents, collaborate with team members, and stay organized.
It comes with an Instant Messaging tool that allows team members to communicate in real-time about tasks and projects anywhere in the world.
The platform also includes features such as task assigning, sharing files and attachments, commenting on tasks, filtering tasks by project or due date, inviting teammates to join a task or project, setting milestones & deadlines, creating subtasks or notes, tagging important items within a task list, search based on criteria you specify.
One of the best features of Hitask is its integration with multiple other tools like Google Calendar, Dropbox, etc., enabling users to synchronize their workflows with their favorite apps so they can get more done in less time.
Lastly, Hitask offers an Advanced Security system to ensure the confidentiality of data through encryption of stored data at rest as well as protects all communication between your devices and our servers by using TLS 1.2 protocol over HTTPS connections respectively.
Pros
Hitask is an efficient and easy-to-use work management platform.
It allows you to conveniently create tasks, assign them to designated users, track their progress and completion rate, collaborate in real-time with your team members as well as manage projects from start to finish.
It has a user-friendly interface which enables users of all levels to quickly navigate the system.
It also offers email reminders for upcoming deadlines so that tasks are completed on time.
Pricing
Team Free – Free
Team Business – $5/month
Enterprise – $20/month
Customer Ratings
10. Trello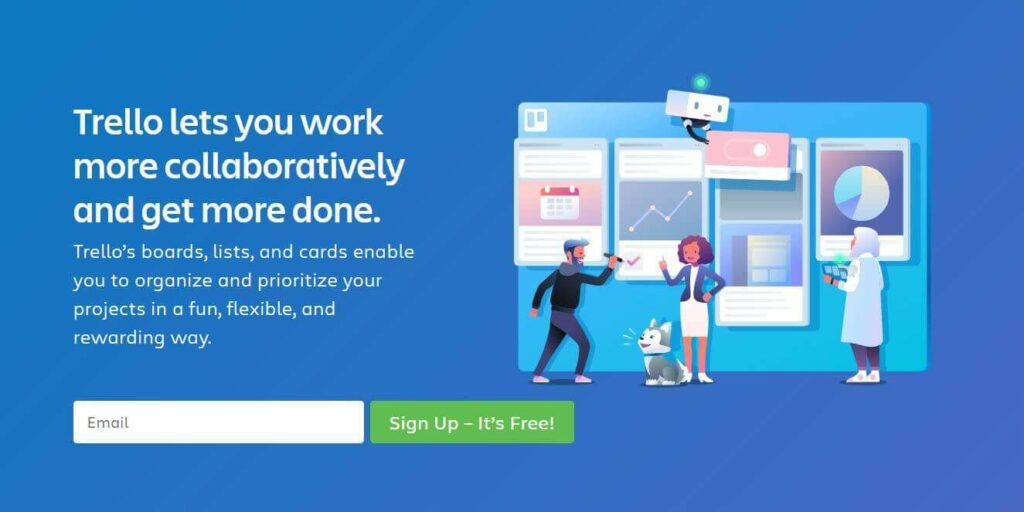 Trello is an online work management platform that helps businesses, teams, and individuals stay organized and productive. It offers a variety of features to help users manage their projects efficiently and effectively. Trello utilizes boards, lists, cards, and labels to allow users to visually drag and drop tasks into the appropriate category or priority level.
By combining various digital tools such as conversation threads, checklists, image uploads, deadlines, due dates, and more within each card on the board; teams are able to easily access all relevant information related to tasks while managing progress at a glance.
The main objective behind the development of Trello is to help project members break large goals down into smaller chunks by creating multiple boards for different areas such as marketing campaigns or product launches.
This enables team members to focus on specific areas instead of having too many projects open at once when managing larger initiatives. The platform also allows users to assign tasks among team members with ease in order for them complete respective milestones on time.
Additionally, it has an intuitive calendar feature that allows users to plan events ahead of time according to their schedule availability, thus better coordinating activities throughout departments without much effort from other staff.
Trello's robust notification system helps ensure everyone stays up-to-date about new developments ensuring no task falls through the cracks during the execution process Across teams can share their ideas in dedicated conversations instead of clogging up inboxes with emails regarding certain topics relevant only to certain peers.
Key Features
Boards: Users can create boards according to their projects or tasks and add members to them so they can collaborate with them on the project simultaneously. Each board consists of lists, labels, attachments, and checklists that can further break down the tasks within the project.
Automation Rules: Automation Rules enable users to automate certain tasks on a specified condition like an action added to one list, moving automatically to another list when completed by a team member, etc., thus saving time and effort for manual actions across boards.
Calendar View: Trello provides a calendar view wherein all user's tasks are presented in a timeline helping users prioritize their activities easily as per urgency or due date assigned for each task or activity etc.
Activity Logs & Notifications: Activity logs provide information about who made changes on the card or checklist like who added whom into the group etc., while notifications help users update with relevant changes done by others on their cards instantly so everyone is kept on track regarding updates made on specific cards assigned to them externally as well as internally among members.
Search & Filtering Capabilities: The search function allows board members to look up content based upon keywords associated with each card or list items helping save time wasted scrolling through stacks of entries to find relevant items faster.
Pros
Reliable and Secure: Trello utilizes industry-standard encryption and authentication protocols to ensure the security of its users' data.
Easy to Use Interface: Trello has a clean, intuitive, drag-and-drop interface that makes it easy for teams to create tasks and track progress.
Comprehensive Features: Trello comes with a range of features, such as file sharing, task management, collaboration tools, and third-party integrations that help teams manage their workflow efficiently.
Pricing
Free – $0/month
Standard – $5/month
Premium – $10/month
Enterprise – $17.50/month
Customer Ratings
Related:
Slack vs Trello 2023: Settling the Debate for Good
Conclusion
In conclusion, the 10 best work management platforms of 2023 provide a range of innovative and powerful tools to help businesses maximize their productivity. They are all easy to use, intuitive, and feature-rich so you can find one that meets your needs.
Whether you are looking for a comprehensive platform or just need something simple and straightforward, there is an option out there for everyone. With these top 10 platforms in mind, you'll be able to make an informed decision about which one will suit your business the best.