No matter how meticulously you plan your project, issues are bound to arise at one point or another. But remember, issues are slight dips in your progress, not complete full stops. With proper forecasting and timely detection of the problem, you can quickly develop a solution and get back on track in no time.
When you encounter an issue, you must create an issue log to keep track of the problem. Besides that, having an issue log means that you can assign a resource to the issue, track the progress and ensure that it is resolved within time.
This post will take you on an exciting journey where you'll learn everything about issues, issue logs, and much more. Hop on!
What Is an Issue in Project Management?
Basic questions first, what is an issue in project management? An issue is anything significant that hinders the progress of your project. It could be a conflict, inconsistency, or any problem that hurts your project.
Numerous issues can arise during your project. They are, however, categorized into three main types:
A problem, e.g., a resource, might have to withdraw from the project. You will have to find another resource ready to fill in the seat immediately in such a case.
Off-specification, i.e., the addition of something new to the project's scope. For example, an off-specification would be adding a search bar when the original design did not have any.
Change request, i.e., when the concerned party asks to change something within the project's scope. For example, changing the color of the interface, etc.
The inability to deal with and resolve issues in time can lead to disastrous outcomes. While some problems can have minor impacts, such as slight delays in delivery, etc., others can ruin your whole project, rendering it a complete failure.
Risk Vs. Issues
Frequently, project issues are confused with risks; here's how NK Shrivastava, a project management professional differentiates between the two:
"Risk is an event that has not happened yet but may; an issue is something that already has happened. The main differences are related to timing and probability.
Because of these differences, the language used to describe risks is future tense: "If this happens, then this will be impacted." The language used in the present tense for issues: "We have this problem. How should we deal with it?"
Since risks are events that are likely to occur, PMs are usually more prepared to tackle them. They already set appropriate risk management techniques to make sure none of the risks, if they occur, impact the actual flow of work. Plus, PMs can always be on the lookout for risks to ensure they are always one step ahead.
Issues, on the other hand, need immediate action. Delay or failure to resolve the issue can become a hindrance to the further progress of your project.
What Is an Issue Log in Project Management?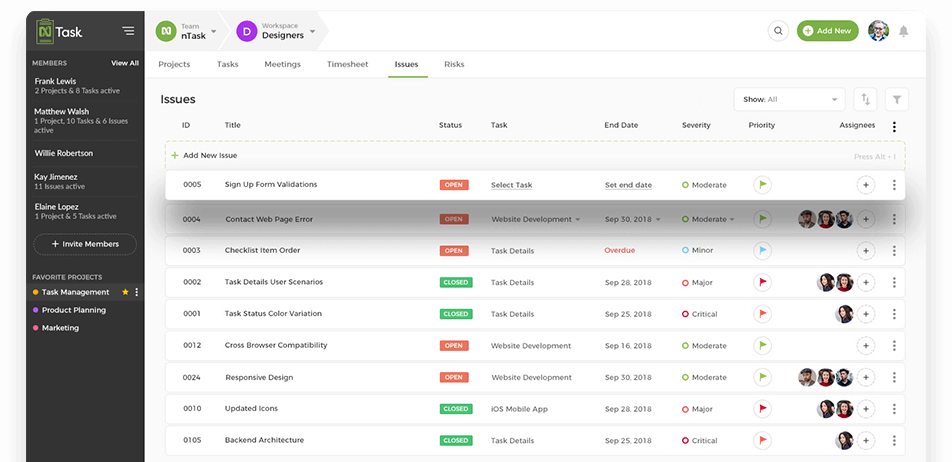 An issue log is a register or a spreadsheet that allows project managers to keep an eye on all the issues that arise in a project.
The log is not only a place for storing information about each issue but is also a great way for reporting and communicating on different issues. Once an issue is added to the issue log, it is tracked from its very identification till its resolution.
Moreover, the log also keeps track of the resource assigned to the resource. That way PMs can make sure that the employee is working on resolving the issue. Another important function of the log is to keep PMs updated about the immediate status of the issue. They can also prioritize an issue to make sure that it gets resolved first.
PMs log it in the register and monitor it regularly until it is resolved whenever an issue crops up. You can use a simple Excel sheet to make your very own issue log, but a better solution would be to integrate your log with a good project management tool. This ensures that everything is in one place, you have quick access to all the data you need, and you don't have to hop around so much.
Things Included in an Issue Log:
Issue logs must have all the relevant details of an issue. Usually, a log has the following components:
Issue name or number: Issues are usually very different, so they have to be assigned different names or numbers to maintain that distinction. Plus, there is almost always more than one issue, assigning a name or number ensures that the issues do not get mixed up.
Type of issue: Defining the type of issue can help streamline your search for an appropriate solution.
Issue status: Since you have to track issues, you must be aware of the status of the issue at all times.
Issue description: Provide all the information you can about the issue and list all the details so that the person responsible for the issue has a clear understanding of the issue and can work out a solution quickly.
Priority status: We already mentioned that a project can encounter more than one issue, and you have to resolve each and every one of them. But that does not mean you have to do it all at once. Instead, you can assign priority status to each issue to make sure the ones more important get resolved first and so on and so forth.
Reported by: You should also know about the member who identified the issue, he can play a crucial role in developing a solution for the problem.
Open date: Keep track of the date the issue was reported so that you have a time frame in mind for when the issue has to be resolved.
Close date: Close date is the date when the issue is deemed resolved. The data from open and close dates can help you forecast the time frame for when a similar problem arises in the future.
Comments: Add comments, for example, how was the issue resolved, what triggered it, etc. This can prepare you for when you encounter a similar problem.
Assigned to: Whatever issue you face during the course of a project, you have to assign a resource to it. The resource will be responsible for solving the issue. It is important to assign a resource since you do not want delays or failures. The person assigned to the issue will make sure that it is resolved within the specified time.
Solution: Keep a record of the solution that helped resolve the issue. Whenever you encounter a similar problem, you can just see your issue log and easily identify the right solution for the problem.
Adding all these details does not only mean that you will resolve only one issue, but it also comes in handy for future projects. The data recorded will ready you for any such issues in the future. You will be prepared to deal with the problem before it harms your project. Plus, you will try to avoid the things that triggered the issue.
Benefits Of an Issue Log:
Issue logs are a way of recording and learning from mistakes. Here are a few benefits of issue logs that might help you understand how efficient it is:
Helps you track the issue from the start till the end
Provides a visual overview of all the issues in a project, helping you keep tabs on all the issues at once
Helps identify issues for the future.
Record issue resolution for your growth and learning
Keep an eye on the health of the project
Improves communication between team members
Makes it easy to assign issues to the right resources and improves accountability
Helps in team building
Helps save time and improves the productivity of the team
Makes it easier to resolve issues and deliver end products on time
Helps enhance the quality of the project
We are sure there you will identify a lot more benefits once you start using a log in your organization (let us know how it went by writing to us here)
Creating An Issue Log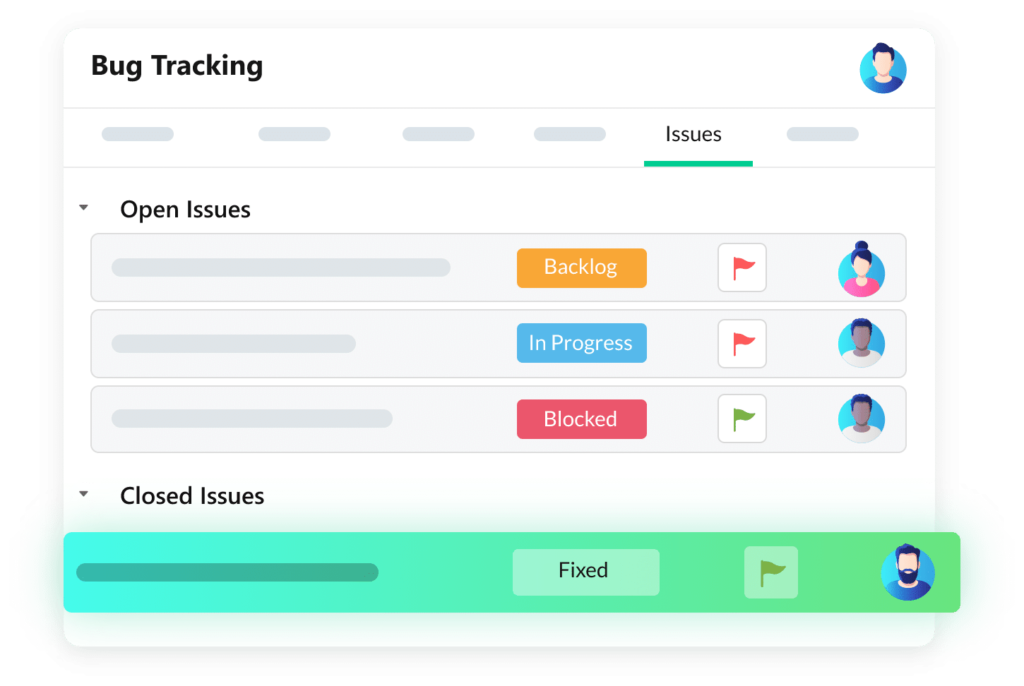 Here's a step-by-step guide on how you can create a log of your own:
Step 1: Choose a tool to make a spreadsheet or excel sheet. If you are a small team of 5 or fewer members, then creating an excel sheet might be the right decision for you. However, if you are a larger team, consider using a specially designed tool since it will save your time and effort. You can also take the help of a project management tool to create a log.
Step 2: Once you have a tool in your hand, you can create an ID system to ensure that each issue has a unique ID and is easily searchable and retrievable.
Step 3: You might also want to custom-build the categories of your issue log. You can add as many categories as you like and keep everything organized. It also allows you to personalize your log according to the requirements of your organization and your personal preferences.
Step 4: Now that you have a log, you can start adding information. Fill in the categories for each issue and keep coming back to it, to make sure issues are getting resolved as soon as possible.
Step 5: If you are using an issue management tool, set automatic alerts for specific occasions. For example, when the status of an issue is changed, etc. This will keep you updated with every development in the project.
Conclusion:
Having an issue log makes your work a lot easier and simpler. Moreover, if you are using a project management tool like nTask, your worries will be reduced considerably. 
nTask, with its unique features, streamlines the process for you, making it easier to record and track the problem. Its notification and reminders keep you updated on the developments in the project. Moreover, its multiple management modules ensure you have all the solutions for your management needs.
Demos and 14 days of free trial add icing to this delicious cake! Furthermore, nTask is a relatively inexpensive option, considering that it offers a Basic package, free of cost. Even its priced plans start at just $3 per month.
---
Find more relevant resources here: