Regardless of how much planning you do, whenever you are executing a project, you may still face plenty of challenges. The idea is that you will eventually want to have the tools in place that helps to assess the requirements.
Understanding whether or not your project is on the right track with effective progress is important and how to do that is pretty simple. A gap analysis is a method of assessing performance to determine whether business objectives are being met or not. It can be of great help and it is not much difficult to understand.
Let's learn all about how gap analysis can help your business.
What is Gap Analysis?

Gap analysis is a process that a project manager commonly uses to compare the current performance versus the future expected performance. It is a formal study of how a business is currently performing and where it plans to go in the near future.
Any business is going to profit a lot from this, regardless if a company is meeting expectations or utilizing its resources in a good manner. There are multiple perspectives that can be analyzed, from business to business, product management, information technology, and much more.
Using a gap analysis template means that we understand where the company stands right now as well as its current activity. It's important to do this, especially when the stakes are super high, it can be only conducted when you want to know how the project is progressing. Few factors that affect this performance include capital investment, resource planning, technology, etc.
A gap analysis identifies the gaps between the optimized allocation and integration of resources to the current allocation level. It is by doing such things that a gateway towards betterment and success is eventually built. Real-time data will help you understand your loopholes and help to improve the progress of your project.
How to perform a Gap Analysis?
While doing a gap analysis, you need to ask yourself a few questions, where do you currently stand, where do you wish to be and how do you plan on getting there? There is no quick portion to get improvements but a roadmap to enhance progress.
Let's take a look at four basic steps that you must take while conducting a gap analysis.
1. Identify the Current State
The first step is understanding where you stand currently. The increase in data usage helps organizations identify how they are performing. You can get this data from different departments including sales, marketing, finance, etc., and track them to understand your current position.
Collect all the qualitative and quantitative information, such as what your team interprets and methodologies. This helps to generate specific data points to assess your position and performance. Identifying the current state helps to create a more realistic action plan.
You can also check whether or not progress is being made in the destined area or not, identify the loophole or the gap, and change the direction accordingly. If you are confused about where to start, start by collecting every data that you can, as the more you gather, the sharper the picture of your current state becomes.
2. Identify your future destination
The main purpose behind gap analysis is to identify where you want to go and adjust your current activities according to that goal. As a project lead, you must find goals that your company is trying to achieve. Setting goals helps to give your company a sense of direction and where your company wants to go.
To get there, you must know about your current state with a reasonable timeframe to get from here to the goal you have set for yourself. A future goal is one of the best things you can set for an organization. In order to reach it, a lot of effort needs to be performed.
When you are doing a gap analysis for your strategic plan, check all the relevant details, the best place is to look at the targets on your plan. These goals can vary anywhere from two to five years. Even after the smallest of milestones, ask yourself where you are now as compared to the previous month and revert back to the data you have collected.
3. Identify the Gaps
Once you know where you are headed and from where you started, the gap and space between those two points become the execution part. It is the gap between those two parts that you must cover in order to reach your target. You must figure out why there is a gap and you need to be very specific about it. Do not lie to yourself.  
Dig deeper into the two areas and you will understand why the gap happened in the first place. If your quarterly sales are 20,000 units less than what you initially planned, determine why it happened? Are there issues in your workforce? Is your product/service performing well? Are there quality issues? Ask yourself these questions that are applicable to your business and answer them honestly.
4. Identify how you will bridge the gap
After you understand the gaps that exist, your next step should be to analyze the differences between those spaces. You have implemented the due diligence, but now is the time to act. You identified there is a gap? Great. It's time to close it now.
It is important to understand why they keep on happening and what you need to do to get closer to your future destination and objectives. Decide the factors that you must change and prepare the steps needed for that. Create a start date and an end date for each of your steps and when you want the gaps to be resolved. Consider the cost of implementation for each step as well, as you might not have the resources to achieve it.
Deadlines are important as when you don't have one, it will get overlooked or ignored. After all the hard work, do not neglect the follow-through. Follow up on all the improvements you are making with a gap analysis. Remember not to close all the gaps at once, don't put too much stress on any organization as it's going to break.
How can a Gap analysis help you?
The main purpose of a gap analysis is to control and understand the different aspects of a project with data, here are some of the reasons why it's important and how it can help you organize:
Gap analysis helps to find out any loopholes or future shortcomings in your organization. It makes it easier to quantify or identify them in the long run. Also assists in making further improvements.
Gap analysis enhances the effectiveness and efficiency of your business. It will highlight anything unusual that is going on. Once the identification is done, you can channel down your resources towards steps that are more crucial.
You can use gap analysis to compare present activities with your future goals. Knowing details about how each of your activities is performing is important to understand your future growth.
Using a gap analysis procedure helps to have an overview of the entire organization and its functions. This helps the project managers to determine whether the company has enough resources to meet its mission.
The gap analysis also shows that you will have more data and insights on how to do better. For instance, when it is used in manufacturing, it can help to manage the cost resources.
What happens after a gap analysis?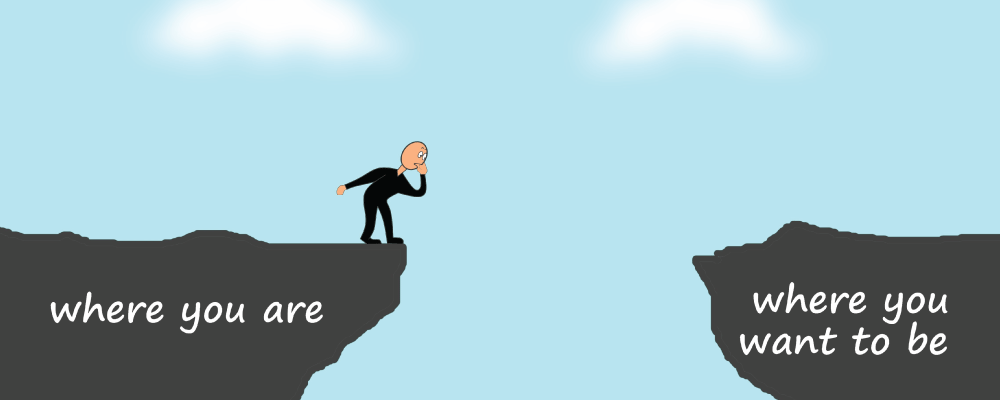 Now that you must have emerged from your gap analysis with good ideas, identified your performance gaps and how you can conveniently address them. However, ideas are nothing without execution. Continuing with those ideas is far more challenging than people anticipate, especially when they don't have a solid way to measure and manage the progress over time.
Never step after the ideation stage, a complete gap analysis has future steps as well, consider them as practical steps of getting the job done. Here is what happens after the gap analysis.
First Step: Select a framework that helps organize your plans.
Once the gap analysis identifies the problem area, a framework will assist you in mapping them. Frameworks help to summarize the essential points of your plan and help you stay organized. It helps organizations to visualize why they are doing, what they are doing, especially all the activities towards a specific goal.
Second Step: Design your framework with the goals, objectives, and projects identified in the gap analysis
Start filling up the gaps in your framework with information, some of which will be determined in the gap analysis.
Goals – In the second step of the gap analysis, you must identify and mark where you would like to be in terms of performance. These are called your goals objectively.
Objectives – Objectives are often the indicators that signal how well you are accomplishing these goals, you must select one or two such objectives for each of your goals.
Projects – Often referred to as the 'initiatives', projects are usually the action plan that you must develop to achieve all these plans. The last step focuses on the solutions to close the gap, those solutions will eventually become the projects you undertake. Most organizations implement one or two initiatives for every goal you select.
Third Step: Put your plan into action and track down your progress
After the first two steps, now is the time to launch your plan and periodically evaluate how things are going. Ensure that you have allocated all the required resources to carry out the plan, and communicate it to everyone in your organization.
As they say, half the solution lies in the details. Tracking your performance can be a complicated task, so you must find a way to manage the strategy execution process. Most organizations use performance management software, like nTask, to monitor their progress towards the goal. A performance management tool helps to allow companies to track the number of metrics related to strategic projects to sustain their activities over the long term.
What are the benefits of using a performance management system?
There are a number of solid reasons why organizations must a performance management system alongside gap analysis. Let's take a look at a few of them,
Greater Consistency – The selection of employees, transfer, and promotion or action becomes more consistent.
Organizational impact – Once the organization becomes goal-focused, more milestones will be achieved. Hence contributing to more success and profits.
Motivation – All the organization's employees are likely to get more motivated, performance-based metrics will help to identify the best employees and reward them accordingly.
Make your gap analysis procedure come to life
A gap analysis is a worthy practice, however, it must be accompanied by an actual plan for improvement. All the further progress lies in the additional work and objectives that get completed over time. Tracking is part of that incremental work, not only does it show how well you are doing, but also reveals whether or not you are making the right decision.
If your projects are on pace, that's amazing, however, if they are not, then you may have to assess whether you are taking the right steps or not, to begin with.