As an agile project manager, you must have come up with the question what is critical path analysis project management?
Right?
If you're still looking for an easy and detailed answer to it, you've come to the right spot. Critical path analysis has been a part of project planning for a long time now. It has helped many companies over the years to maintain effective deadlines and keep their projects running as per the schedule.
Thus, in this blog, we've also written a full guide on critical path analysis project management, its importance, its history, how it would help teams, 6 quick steps to find a critical path, and how to create a critical path with nTask.
So, fasten your seatbelts because your flight on critical path analysis is ready to take off.
What is Critical Path Analysis (CPA) in Project Management?
Critical Path Analysis can be described as"
"The resource-utilization algorithm in project management to map out all the tasks necessary to complete a project. Sometimes it is also referred to as the longest path of tasks necessary to complete a project."
Thus, Critical path analysis (CPM) consists of various activities known as critical activities dependent on one another. A delay in one will cause the whole project to be delayed.
So, we can assess from this that a critical path is more like a route that, if followed rightly, would help us reach our destination or successful execution of the project. And missing one turn will take you to the wrong destination.
Therefore, it has been a popular project management method for a long time now. Project managers use it to streamline and automate their workflows.
However, one must wonder why we need to have a critical path method in project management.
What is the Critical Path Analysis in Project Management Importance?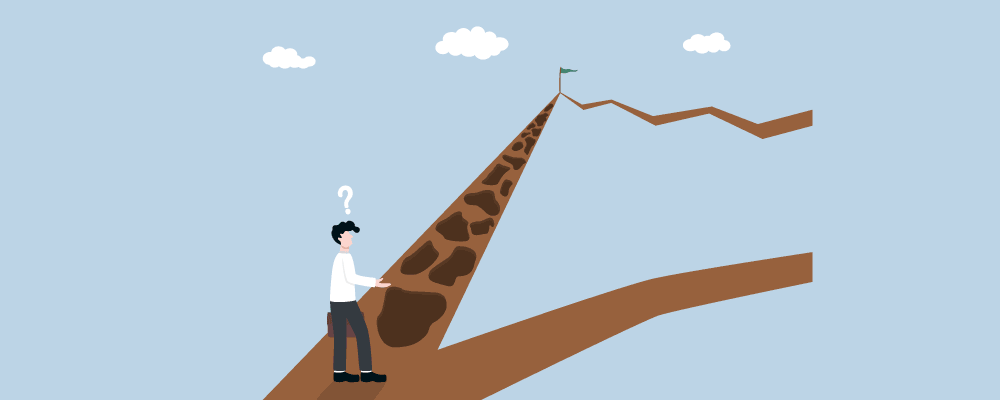 Missing deadlines and losing track of time can cause many problems. Most of the time, the overburden of tasks sometimes makes it hard for project managers to keep track and follow deadlines. It will stress the whole team and lead to unhappy customers or stakeholders. This is why the critical path method is frequently used in project planning.
Some of the key benefits of the critical path method are:
It provides a practical path or roadmap to complete all the tasks.
It helps to maintain deadlines.
It helps in forecasting risks and issues.
It offers effective visualization of all the charges.
It helps in establishing effective deadlines for each task.
It provides aid to visualize progress.
Thus, it is essential to have such information at the beginning of the project. It helps project managers give accurate information to the stakeholders on project completion time and the resources and budget required for its execution.
What is the History of Critical Path Analysis in Project Management?
This method was developed by Morgan R. Walker and James E. Kelly in the 1950s. Its idea was to estimate task duration and bring the delayed tasks back on track. However, it is used mostly to identify important tasks and maintain project deadlines. The techniques of the method are closely related to the Program Evaluation and Review Technique (PERT).
How would Critical Path Analysis Help Teams?
Well, of course, critical path analysis bears a lot of benefits to your team. So, let's look at some of its key benefits for your development team.
1. Transparency and Better Scheduling
Usually, the critical path method is displayed using Gantt Charts. These charts provide your team with a compelling visualization of various aspects of their project. It includes the tasks in progress, completed or not yet started. Therefore, by creating task dependencies and assigning start and end dates to each task, project managers and the whole team can effectively view all the activities related to the project.
Moreover, it also displays the amount of time to be spent on completing each task. Thus, transparency is increased through better scheduling and shortened deadlines.
2. Better Planning
A good team is a team that is proactive, vigilant, and punctual. With critical path analysis, your team can achieve all of these attributes.
The visualization also helps teams plan their tasks ahead of time and know what's coming their way. Moreover, it also gives them ample time to brainstorm and generate creative ideas to complete a certain task. Thus, it reduces the stress of surprise tasks and works overload. 
Teams can also get notified of the project bottlenecks and resolve them timely. Moreover, automated workflow helps them stay on track and experience better connectivity.
3. Increased Collaboration
Since the on-screen visualization of all the project tasks is visible to everyone, it motivates the team members to collaborate and share ideas effectively. Moreover, the use of project management tools helps teams share files and docs easily among different groups. 
What are the 6 quick steps to find a Critical Path?
This all may sound like a lot of information to take in. Thus, before we go any further, here are the 6 quick steps to find the critical path.
List down all the tasks in detail with accurate start and end dates.
Create functional task dependencies for the project.
Create a network diagram with the help of Gantt Charts.
Set estimated task completion durations.
Find the critical path.
Make practical calculations for the flow.
How to do Critical Path Analysis with nTask?
nTask is an all-in-one project management software to handle your business operations without any hitch.
It covers all aspects of your project, from planning to post-execution. It has various features that can help you automate and streamline your workflows effectively.
Whether it is task management, resource allocation, risk management, budgeting, Gantt charts, or timeline and timesheets, nTask is your one-stop software to handle it all.
With nTask Gantt charts, you can do a practical Critical Path Analysis to stay on track and keep up with the deadlines.
Here is a step-by-step procedure on critical path analysis project management with nTask.
Step: 1
Firstly, create a workspace under the name of your project. Just click on the "Add New Project" Tab and name your project. We have used "Testing" for now.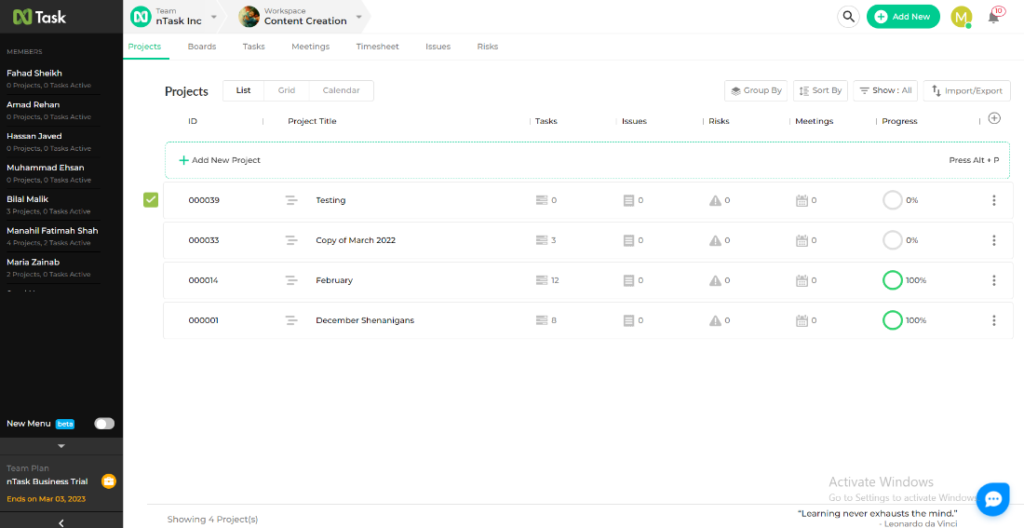 Step: 2
Once you've created a separate project space, click on it to assign tasks. Scroll your mouse to the "task" tab and double-click it to assign tasks to your whole team. You can create as many tasks as you want in it.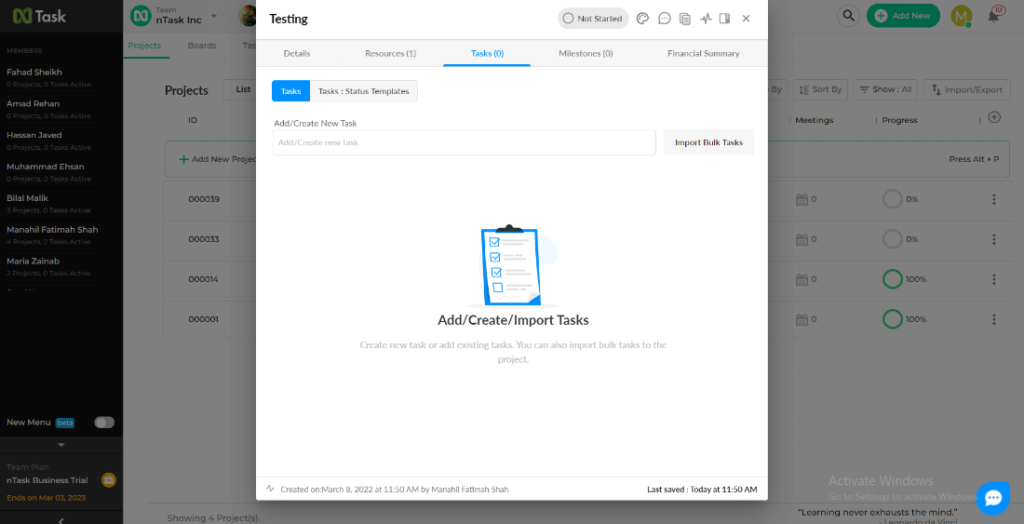 Step: 3
Click on the task created to identify the planned start and end date. You can also add the assignee's name and any other important information like some tips or links. Moreover, your team members can also add the actual start and end date to better track real vs. planned progress.
Follow the same process for all the tasks that you want to create.
Below you can see how to set the dates for each task. Click on the "select date" tab and enter your desired dates.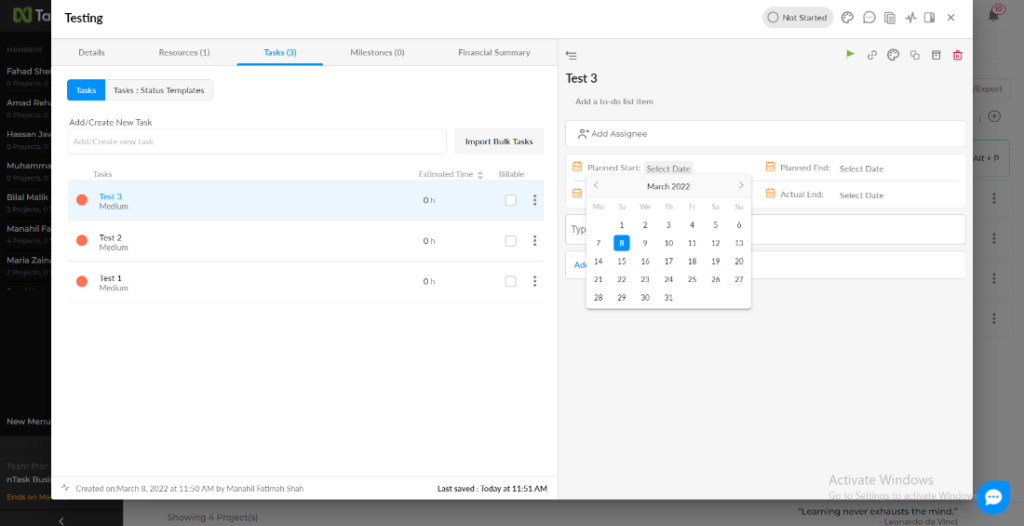 Step: 4 
In addition to that, you can also add the status of each task. For example, in progress, in review, completed, and canceled. The color of the bar would change accordingly.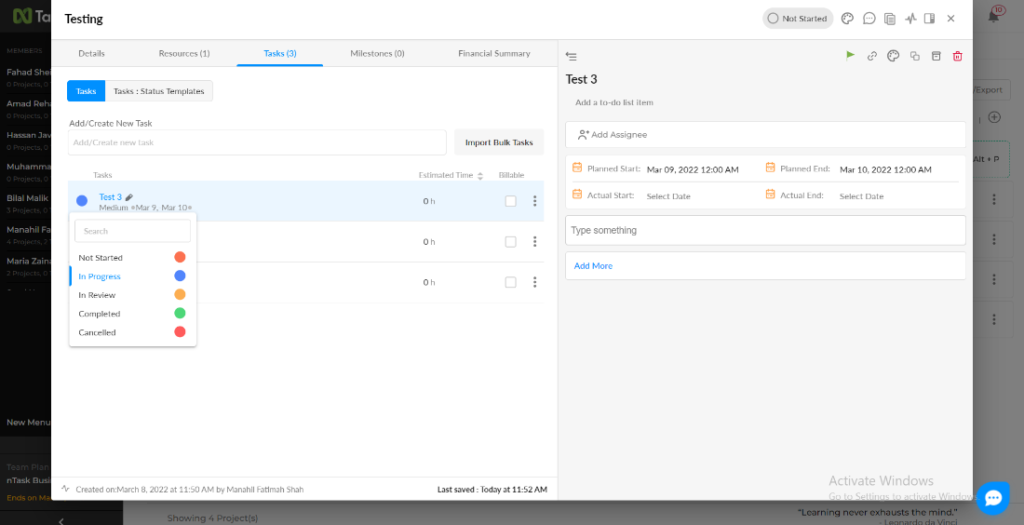 Step: 5
Close the task window and go back to the "Projects" tab. Scroll down your arrow to the three bars beside your project named "Testing." A pop-up would appear indicating "Project Gantt." Click on it.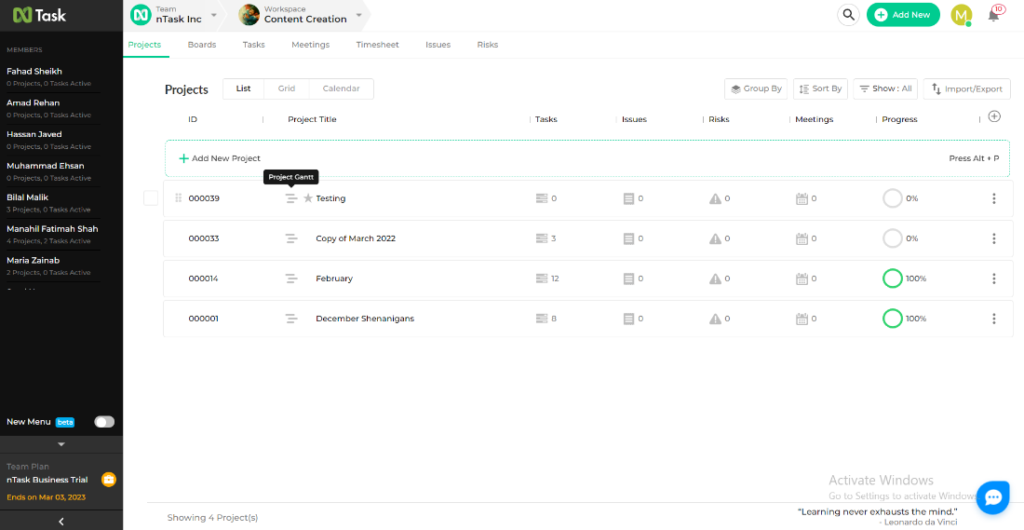 Step: 6
You will see something like this. Now create Task dependencies to automate your flow.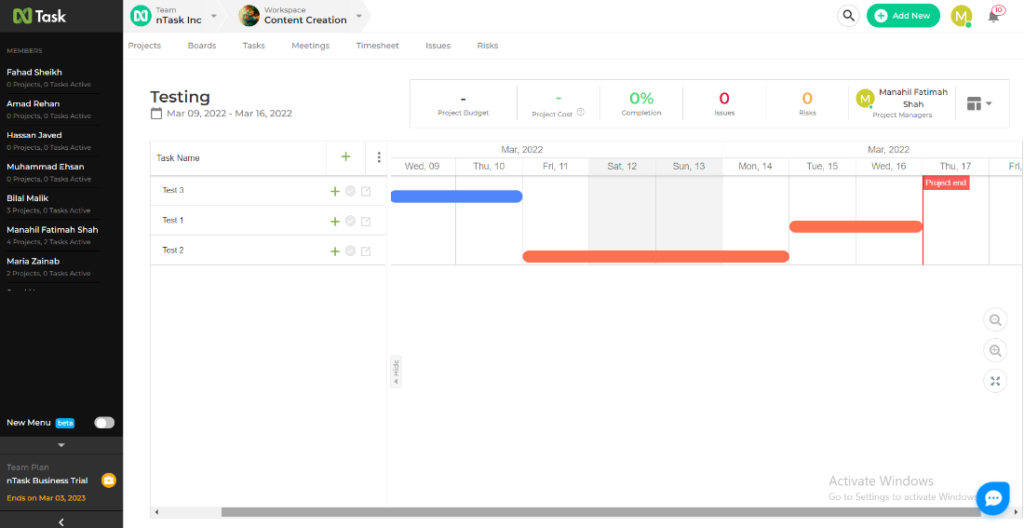 Just click on the small black circle next to each bar and drag it with a task you want to create dependency on.
Check out our step-by-step guide on critical path development through nTask.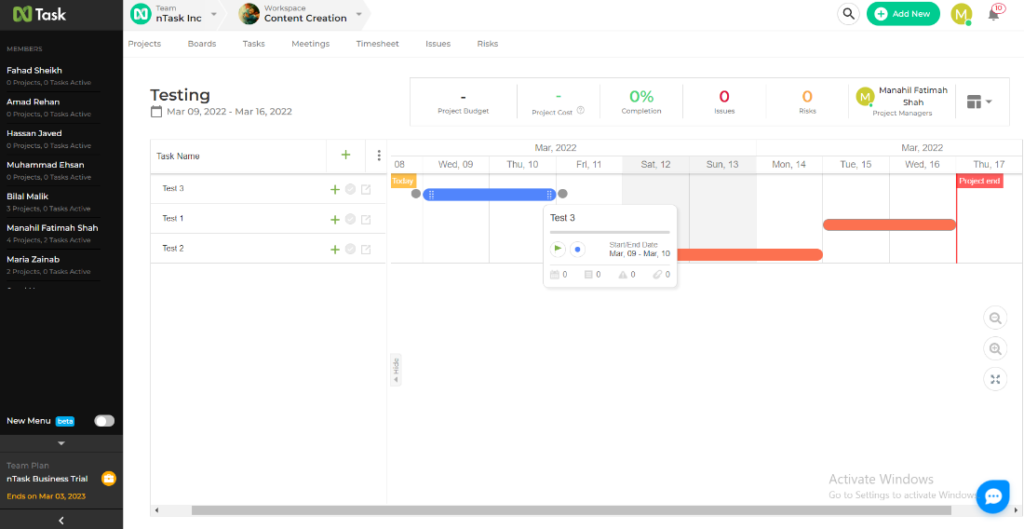 Your Gantt Chart will look like this once you've created task dependencies. The next step is to develop its Critical Path.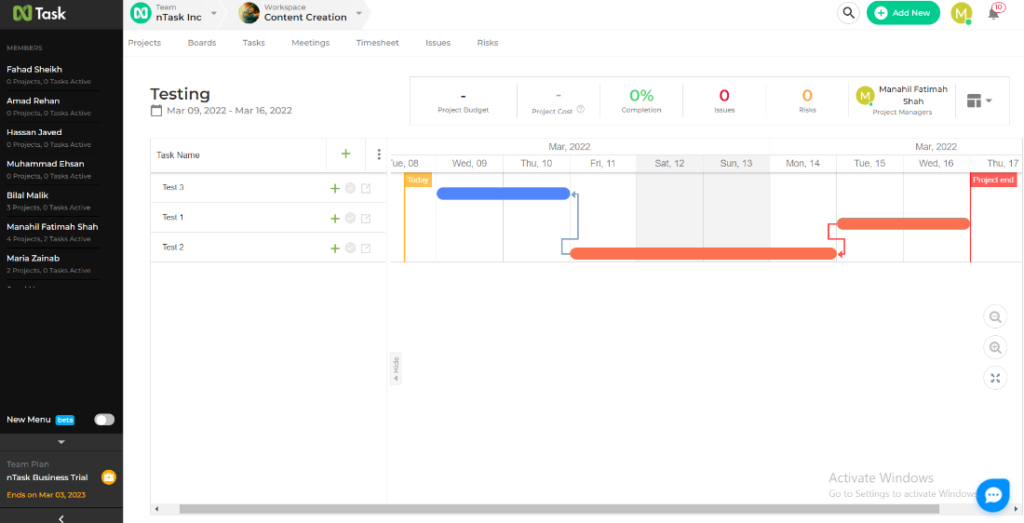 Step: 7
Scroll your arrow to the three boxes in the top right corner. Double click on it. A small menu will appear. Select the Critical Path option. Once you've selected it, it'll have a blue bar.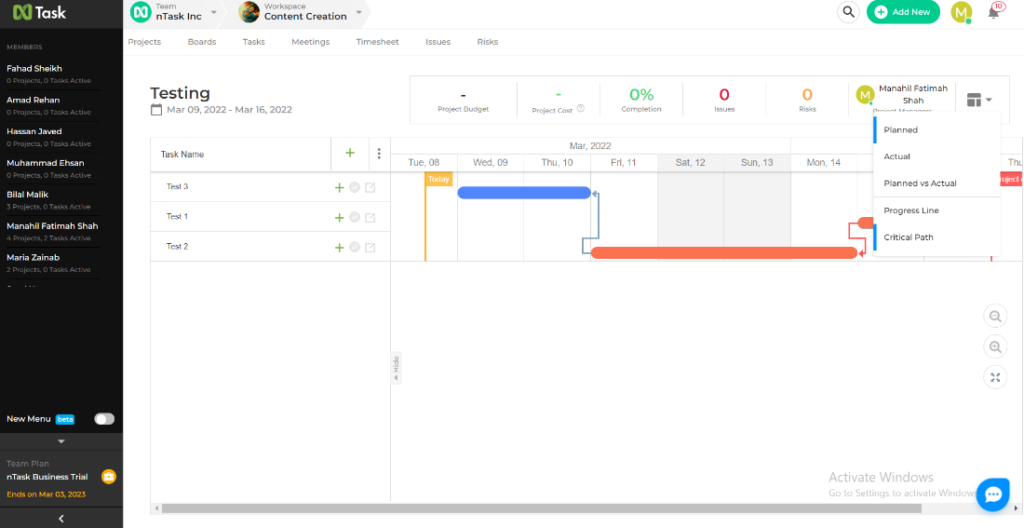 Voila! You've created an automated workflow with critical path analysis. Throughout your project, the critical path will help you identify the project delays and suggest the shortest possible path to complete your project within the set deadline.
That wasn't that hard, right?
If you still have any queries, you can try it yourself with the 14-day free trial or request a demo to get personalized help. 
Key Takeaways!
So, let's list down all the key takeaways on what critical path analysis project management:
Critical path analysis provides a roadmap for every task to be completed.
It helps to identify the tasks that are dependent on each other.
It also provides a proper schedule for completing the tasks and the overall project.
The dependencies help to create realistic deadlines.
It is the best method to handle complex projects efficiently and find the best possible route for their completion.
Using project management software would help to ease the processes.
Conclusion
Thus, apply the critical path analysis method to your team and get them on track.
Handle your projects better with more agility and streamlining of automated workflows. It is high time to become a part of the game.
Good luck.
More Blogs You May Like: