In the wake of Covid-19, the world shifted to other modes of working to accommodate the changing circumstances. Remote work, slowly but gradually, became a norm wherein team members contributed to the team from their homes.
To further strengthen the team, we started coming up with tools and techniques to keep the teams together. The goal was to find a way for all team members to get together and work in collaboration. From daily scheduled online meetings to frequent check-ins, employee monitoring, and much more, we tried everything under the sun to maintain a harmonious work environment.
But ask yourself, is working together the real goal or working efficiently the actual aim you wish to achieve? What is the significance of 100 percent attendance or team members' presence? What if you can get good results without working synchronously?
Asynchronous work, in opposition to synchronous working, is a more viable solution for remote and hybrid working. In this post, we will introduce the asynchronous mode of working to you and how you can use this mode of working to optimize your performance in 2023.
Let's start with the basics.
What Is Asynchronous Work?
Asynchronous work, simply put, is when teams do not align their work hours. The method does not rely on real-time communication and collaboration. Instead, members work at their convenience. One hundred percent attendance is not necessary for asynchronous work. 
Team members do not have to wait for online meetings or adjust their work hours to fit the team's schedule. Everyone can work on his own time. The alignment of aims and goals is the main aim here, not the alignment of the schedule.
Instead of pushing employees to participate in a meeting or keeping them awake for long hours just so they can take part in a group discussion, the methodology focuses on incorporating flexibility. Employees are free to work on their projects in their time zones.
The biggest advantage of asynchronous working is that employees from different time zones can become a part of the team and contribute towards the development and growth of the team. Synchronous working, in opposition, does not give this leeway to employees working from different time zones.
Furthermore, it allows employees to get access to information and data whenever they want. They can plan and organize their schedule according to their convenience.
With this mode of working, employees can:
Reply to emails at their convenience
Log in to work whenever they want
Adjust their schedule according to their requirements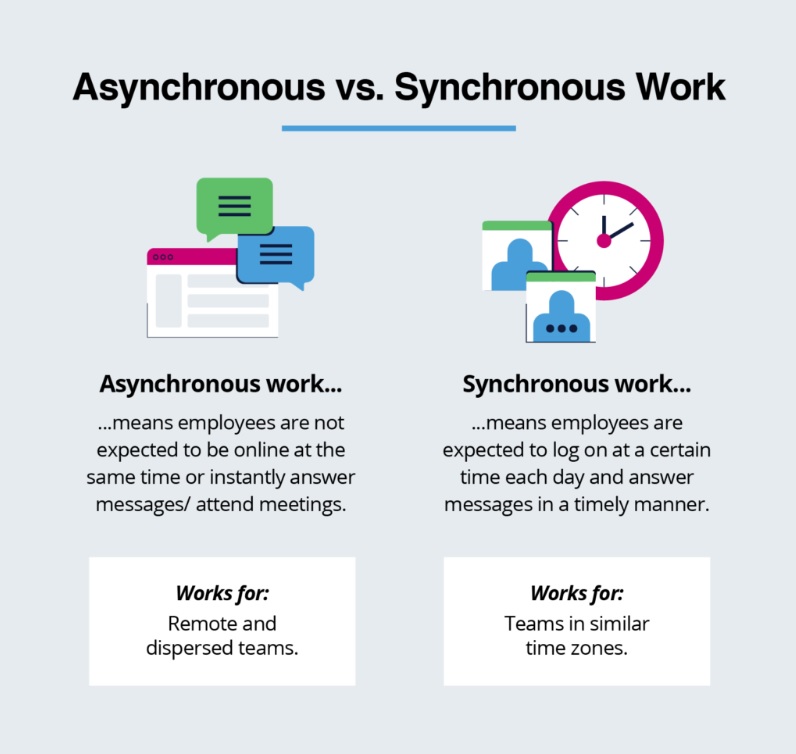 Asynchronous Vs Synchronous Work –
The Differences 
We are used to our 9 to 5 schedules, going to work at a certain time and returning home at a specific time. While synchronous work demands that you stick to a schedule strictly, things can get out of hand if the team you are working with is scattered all over the world i.e., working remotely.
Fortunately, working asynchronously gives you the freedom to create your own schedule. You no longer have to stick to a specific plan and have ample flexibility in your work.
Team working synchronously using communication in real-time. If they work in an office, they schedule daily or monthly meetings. Online meetings are scheduled if they are working remotely. No matter this or that, ultimately, all team members get together at one point in time to discuss the proceedings.  
Asynchronous teams, however, adopt a different approach. Employees' real-time interaction is not a necessity. In fact, teams that communicate asynchronously have the freedom to communicate at their convenience. Here are a few examples of synchronous and asynchronous working, respectively, that will further help you understand the differences:
Requires employees' real-time attendance and participation
Requires instant communication
Employees are forced to follow a specific schedule
Less flexible, more strict
Working asynchronously, in contrast:
Does not require real-time participation
Employees can answer emails, messages, etc. at their convenience
Employees can plan and organize their tasks according to their requirements
More flexible and accommodating
---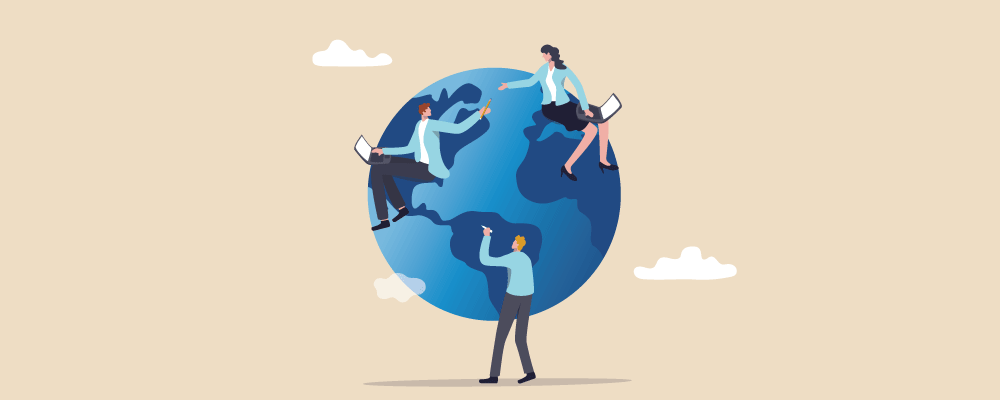 Why Is It Important to Incorporate Asynchronous Working in Your Business?
While synchronous working was a norm for centuries and produced good results, times are changing now. We can no longer stay bound to our screens from 9 to 5, nor is it feasible to attend daily meetings in person.
The most significant disadvantage of working remotely is that time zones do not align, and employees must adjust their schedules to join a meeting. This, sometimes, means waking before dawn or staying awake till morning. Fortunately, working asynchronously allows you to adjust your schedule at your convenience.  
So, no matter which time zones employees work in, collaborating and coordinating are not a problem.  
This working mode eliminates various barriers that threaten to limit your business' growth. With the flexibility of this working mode, companies can employ individuals from different parts of the world. 
With their expertise and skills, these individuals can bring more value to your team. Their contribution to the team may also increase your efficiency and productivity.  
Also, with the flexibility offered by asynchronous work, employees have more freedom. It may help them optimize their performance and significantly impact their progress.  
Overall, working asynchronously can dynamically change how you work, bringing better changes to the team.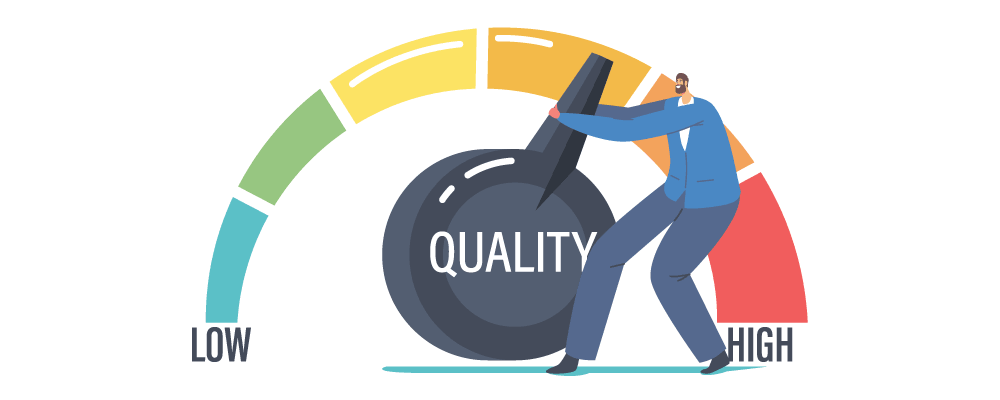 What Are the Benefits of Working Asynchronously?
Working asynchronously has its perks for employees and managers. Here is a list of advantages you can gain by adopting this mode of working in your business: 
1 – Focused Attention: 
Meetings and discussions bring clarity. That said, sometimes, these meetings and discussions can seriously affect your productivity by interrupting your work at random hours.  
One of the biggest disadvantages of these interruptions is that it breaks your train of thought and the flow of work, generally, and getting back to the same work mindset takes time and effort. While working asynchronously, you have no obligations to respond to emails or texts or attend scheduled meetings.  
In contrast, you have the freedom to reply to emails and messages at your convenience. This means you can focus your attention on the task at hand without anything hindering your progress. With full attention mode in place, you can complete the task much more quickly and easily. 
2 – More Flexibility:
The asynchronous working mode allows you to plan and organize your workflow according to your convenience. You are not bound to follow a particular schedule set by your company. Since real-time attendance is not an issue, you can: 
Check and reply to messages and emails at your convenience
Sign off as soon as your work is done
Log in whenever you want
Choose how to spend your workday
Increased Satisfaction:
Employee satisfaction is the key to better results. Employees who are satisfied with their work environment are generally more productive than employees who are not satisfied with their work environment. Workplace satisfaction increases productivity by 31 percent.
Job satisfaction also means lower employee turnover and loyalty towards the organization. Employees that are happy with their workplace are less likely to quit. Also, since asynchronous is focused on the output rather than the time invested, employees can dedicate as much time as the task demands. 
They can sign off if they can complete their task on time or stay signed up if it requires more time for completion. Overall, employees control their schedules and how work is done. 
3 – Increased Efficiency and Productivity:
Increasing efficiency and productivity means more profits and is, as such, a goal of all businesses. The more efficient and productive a team is, the better the results they produce.
Asynchronous mode is beneficial in the way that it gives teams the freedom to create and organize their workflows. They are not forced to stick to a plan. The ability to work freely helps optimize their performance.
They can work during the hours that are most convenient for them or communicate whenever they need. Not only does it save precious hours but it also improves their productivity beyond leaps and bounds. 
When employees are put in the front seat, they are more in control of their work and how it progresses. With the reins in their hands, the employees can exercise their expertise and skills freely to accomplish the organizational goals.
Overall, asynchronous working is the recipe for better productivity and efficiency at all levels; individual, team, and organizational.
4 – Reduces Stress:
The overwhelming number of meetings and long hours of discussion in synchronous working contribute to employee burnout.
The thought that you have to attend a meeting in so and so minutes or that you need to reply to an email within a certain time can put a strain on your nerves, leading to physical and mental health problems.  
With an asynchronous working mode, however, employees are free of such liability. They have freedom and flexibility and own their responsibilities. This, in turn, relieves their nerves and lifts the weight on their shoulders. 
The employees stay stress-free and physically fit around the year.
How To Turn Your Mode of Work into Asynchronous Working?
Now that you understand the basics, importance, and benefits of this mode of working, it is time to look into how you can adopt it into your business. Here's how you can transform your workplace: 
Clarify goals and objectives from the get-go. Make sure all individuals on your team have a clear understanding of the organizational goals.
Rather than scheduling daily meetings, turn to other modes of communication and reduce the frequency of meetings to accommodate employees from different parts of the world.
Use relevant tools and techniques to reduce the burden on your shoulders. Tools such as nTask, Slack, etc., can help you get into the asynchronous mode of working without spending extra effort or time.
Communicate with your team to ensure everyone is on the same page and goals are aligned. Train employees on how to communicate asynchronously and maintain a smooth flow of communication. 
Plan and organize workflows to increase your efficiency. Organized work help teams stay on course and are effective in helping teams accomplish their goals effectively.
Change The Way You Work Now!
By now, you must know how asynchronous work can transform your workplace. Not only is it helpful for the employees, but it also produces favorable results for the top management and the organization.
Once you shift to asynchronous mode, you will realize that the pros outweigh the other options. Adopt this mode of working and transform your business for the better.