No one likes working in a mismanaged, confused, unfocused and unorganized environment. True, right? Planning is the core principle of a project. So, are you confused about what a project plan is in business?
Well then, you've come to the right spot. As tempting as it might sound to be overly spontaneous and impromptu with your project execution, going ahead without a plan can lead to various dangers. For example, resource allocations, cost estimation or time management, etc. Such situations not only increase the chances of having unsatisfied stakeholders but also of unhappy teams.
Thus, let's get into the depth of a business project through this blog and kick off on managing your projects better.
In this blog, you'll see what a project plan is, its importance, essential components, the five stages of a project, how to create a project plan, and how to use software to create a plan.
So, scroll down and dive into the sea of information now!
What is a Project Plan in Business?
A project plan in business can be defined as:
"It can be defined as the series of processes that are to be taken for the execution of the project. A project plan includes risk management, task management, resource management, and cost management considerations. It also keeps in view the project's scope, goals, and objectives."
Thus, it is the first and most essential stage of successful project execution. It has a detailed roadmap on the project's what, how, where, why, and when. It is also known as a project management plan.
The project plan aims to create an adequately structured guideline to ensure that all the project stages and requirements are adequately met and covered, respectively.
However, to create a result-driven plan, you need to know some essentials and follow those as well.
So, are you wondering why you need a plan anyway? Well, here is an answer to your why!
Why is a Project Plan in Business Important?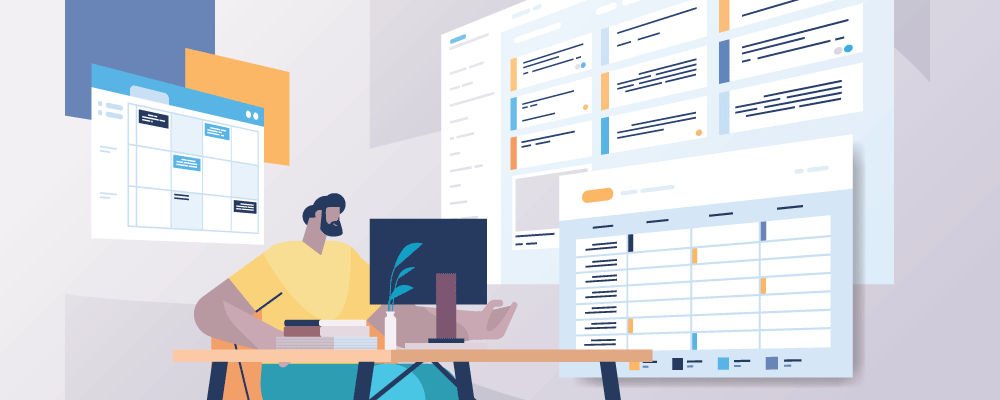 A project plan in business is the core of determining the success and failure of a project. Planning is something that, if done rightly, can-do wonders and, if done wrong, can sink the whole ship in no time.
Some of the critical aspects of a project plan are:
It helps in the streamline of the workflow
It helps to achieve better organization of projects
It helps to increase efficiency
Better time management
Clarity on the goals and objectives of the project
It helps to manage the budget and resources
It aids to achieve better management of risks
Stakeholders' demands are met very effectively.
The whole team is clear on their roles and responsibilities.
Now, let's start by mentioning some of the important components included in the project plan in business.
Essential Components included in a Project Plan
So, here is a list of the essential components included in a project plan.
Project Overview: It provides an overall summary of the project, including its goals, objectives, stakeholders, resources, and cost constraints.
Statement of Work: It details project scope, deliverables, timeline, milestones, and tasks.
Work Breakdown Structure (WBS): The breakdown of the project scope into multiple tasks or deliverables necessary to finish a project.
Project Management Software: It allows you to use a project plan template to automate various aspects of your project, including resource management, task management, risk management, timeline management, etc.
So, now we've got a bit of clarity on a project plan in business, but there are some important aspects to cover to create a perfect project plan for your business.
The 5 phases of a project lifecycle
Typically, there are 5 main stages through which a project pass. These include:
Initiation – Defining the goals and objectives. It generally answers what is needed to put the plan into action.
Planning – It includes the details of the project scope. It provides specifics on the tasks needed to be done and the allocation of resources who'd do them.
Execution– Creation of deliverables. It is the longest and the most critical stage of the project planning lifecycle.
Monitoring – Checking if the project is going according to the timeline. Thus, it ensures the smooth flow of the project as per the set plan.
Closing and Review — This is the last stage and includes transferring the deliverables to the client and reviewing the failures and successes.
How to create a project plan in business?
Your project plan is like your savior boat. Any holes in it will sink the whole ship. Thus, you need to create it to avoid any unpredicted events or the chance of missing deadlines.
To create a perfect project plan, you must follow the steps mentioned below
1. Executive Summary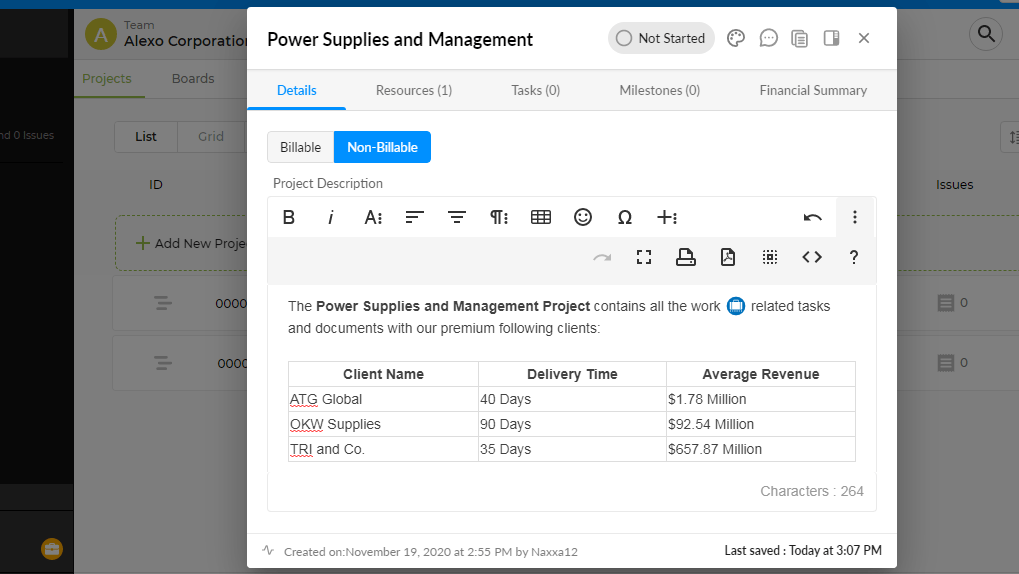 Start with writing the executive summary of the project. It should include the project objectives, goals, scope, deliverables, etc.
2. Stakeholder Analysis
Describe your internal and external stakeholders and their roles in the project. Most project managers don't pay importance to this aspect in the initial stages of the project, leading to various problems later on.
3. Set Goals
The next important step in creating a project plan is setting effective goals. When you plan something, be clear on what you hope to achieve out of it. You can use the SMART goals strategy to define goals better. According to SMART goals, your goals should be Specific, Measurable, Achievable, Relevant, and Time-Bound.
Setting practical goals at the project planning stage would help the whole team stage be focused and result-driven.
4. Set Task Priorities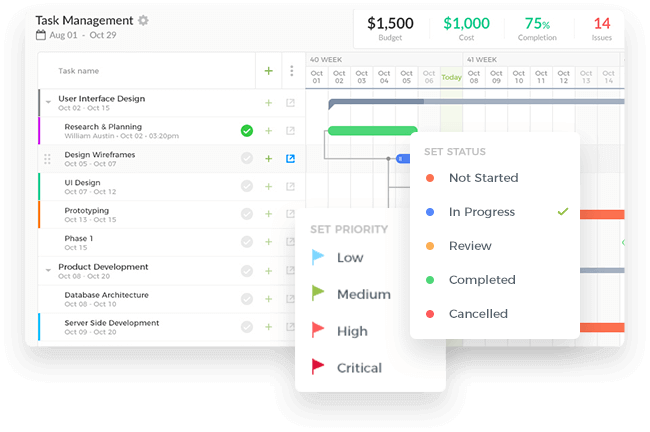 Once you are clear on the project's goals, list down all the tasks needed to achieve those goals. You can use Gantt Chart task dependencies to map out the estimated timelines and resources required to complete the project.
5. Create a Timeline
The next step is to set up realistic timelines for completing each task and the total project. While creating timelines, make sure to spare some time for unpredicted risks and additional requirements by the stakeholders.
6. Resource Allocation
While planning your project, list down all the internal and external resources needed for the execution of the project. It should include all internal, external material, and non-material resources.
7. Risk Management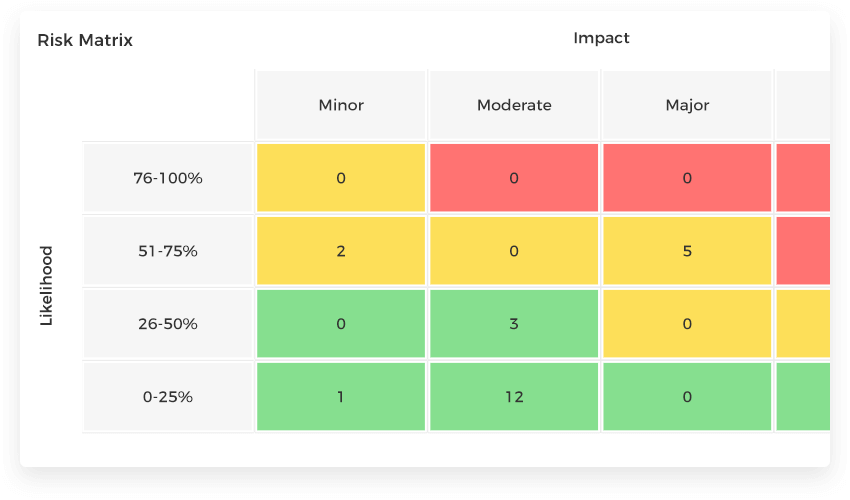 A project is vulnerable to all internal and external risks; therefore, creating a risk management plan is the next step. Estimate all the possible risks and save your team from surprise risks and issues later.
8. Define Budget
Mostly, projects face problems of budget constraints. Therefore, defining the budget at the project planning stage is necessary. You can use the cost estimation process to evaluate the total amount needed to complete the project.
9. Communicate
The next step is to communicate and share the whole plan with your team and stakeholders.
10. Reevaluate
Once you have jotted down all the essentials of a project plan, reassess it once to find out if anything went missing or if there were any miscalculations.
11. Evaluation
On completing the project, make sure to evaluate the whole project to find out the loopholes. Try to improve by making necessary amendments to future projects and learning from your mistakes.
Using Project Management Software to create a project plan in business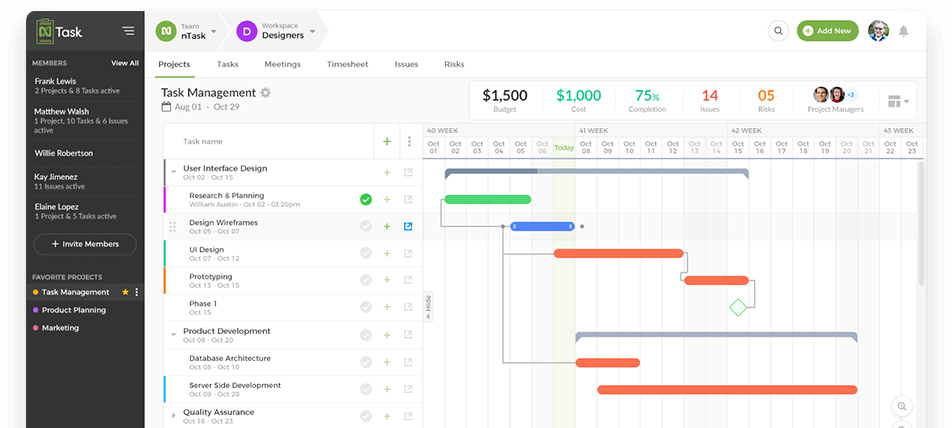 Now we are clear on what is a project plan in business. So, let's see how to utilize project management software effectively to optimize your plan.
Having project management software can help you speed up your work in many ways. It will help organize, manage, set dependencies, create budgets, etc., through automated and flexible ways.
Moreover, project management software is also a great tool for establishing transparency, administering tasks, tracking key factors, storing all the data, and forecasting the risks and challenges.
Below is a step-by-step guide on the essential features needed in project management software to create an effective project plan. We recommend you use nTask to streamline and automate your workflows.
1. Gantt Charts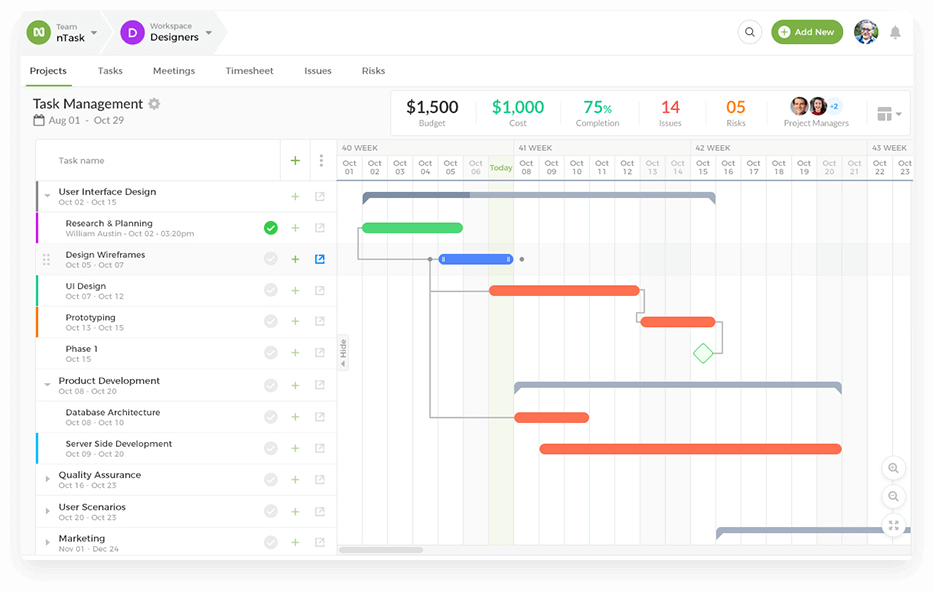 Gantt charts help you create a better plan through effective visualization of all the tasks and the team members' availability. With nTask Gantt charts, you can also create a critical path and describe the budget, total amount spent, and possible risks. In addition to this, creating task dependencies is also valuable for creating a smooth project flow.
2. Timeline Management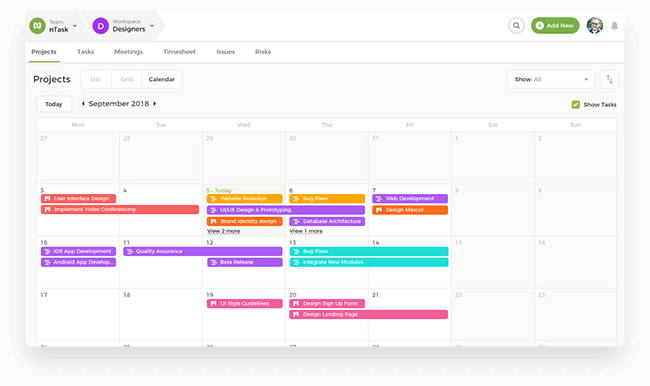 Add effective timelines to all the tasks and calculate the estimated time needed to complete the project. This would help you evaluate the total budget required and come up with a tentative date for the completion of the project.
With nTask timeline management, you can manage resources for non-billable initiatives, set automatic web timers, receive real-time notifications, etc.
3. Setup Milestones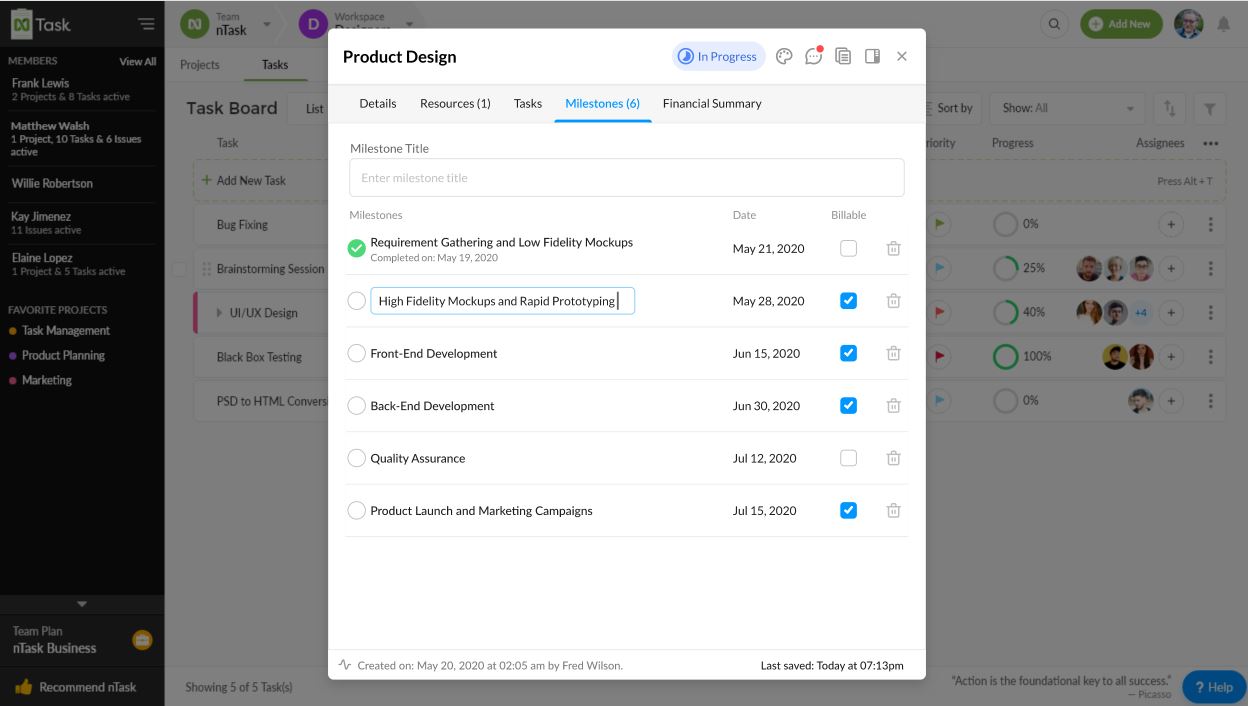 nTask also allows you to set up milestones to help measure the progress of the project or the end of one phase of the project and the beginning of another. They are a great way to identify the bottlenecks in your project plan and devise feasible solutions to overcome those at the planning stage of your project.
4. Collaboration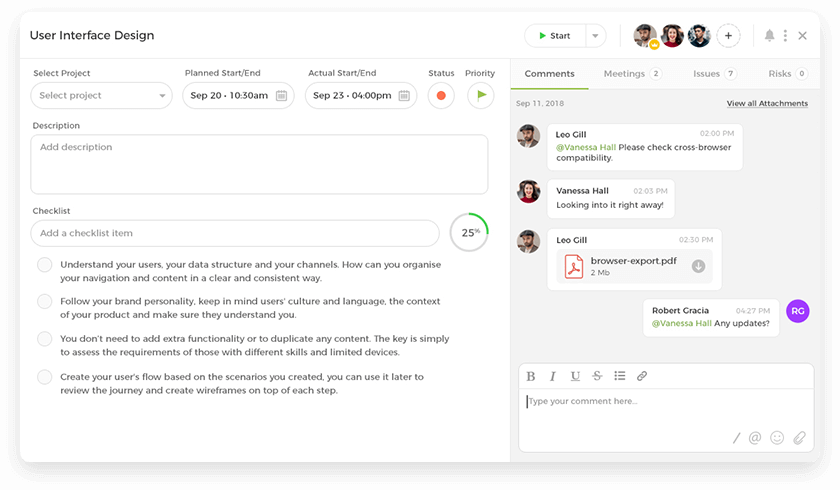 Lastly, project planning requires a lot of interaction and connectivity between the whole team and the stakeholders. Thus, use nTask to collaborate with your team and stakeholders while using a single dashboard. You can chat privately, share documents and files, and gain effective feedback from the stakeholders.
Conclusion
Thus, having an effective project plan, organized, focused, and well managed is vital for achieving projects goals and objectives and meeting the demands of the stakeholders.
Therefore, we hope that this blog has helped you gain more insights into what a project plan is in business and its importance for the project's success.
Moreover, project management software will help you automate your processes and create an effective plan in just a few clicks. So, why not have one now right away?
You can sign up for a 14-day free trial or request a demo for nTask now.
---
Also see: