Imagine starting your week with completely no idea of what's coming ahead. Does it just put you off when you're loaded with tons of tasks all of a sudden? Well, a weekly project planner can solve that issue easily. 
Having a weekly project planner will lead you to accomplish more and feel more active and energetic throughout the week. 
Honestly, having no idea what's coming on your way for the whole is a great bummer and mostly leads the team members to experience lethargies at the start of the week.
Therefore, we're here to guide you on the benefits of having a weekly project planner as well as 5 simple steps to create your planner while using nTask.
So, are you ready?
What is a weekly project planner?
A weekly project planner can be defined as:
"A weekly planner is a to-do list of all the activities to be finished in a week. It is more of a visual roadmap of what you're supposed to in the upcoming week."
Thus, it helps in planning and staying proactive. It may sound like a tedious task to do however it has a lot of benefits.
Why do we need a weekly project planner?
Having a weekly project planner is great if you want to keep your team productive and organized for the whole week. Some of the key benefits of it are:
1. Steady Workflow
Having a planner for the whole week can help you in having staying motivated. Because honestly, we all have those moments where we are not in the mood to work and feel low. 
However, a weekly planner lets you all the tasks in line along with their deadlines and keeps you activated throughout the week to maintain a steady workflow.
2. Increased Transparency 
Another important benefit of having a weekly project planner is increased transparency. You are aware of what you and your team are supposed to do and there is no chance of missing deadlines.
The whole team is working towards their goals and there is no ambiguity.
3. Increased Productivity  
A motivated Monday always sounds better than a lazy Monday, right?
Somehow having a lazy Monday, makes the whole week dull. Thus, a weekly project planner helps to lick off your Mondays with full energy and a week full of productivity.
Knowing what you're supposed to do helps you to plan your execution plan accordingly. 
4. Better Execution
The hassle of missing deadlines and late submissions gets reduced since you already know your tasks that are to be submitted by the end of the week Thus, you plan your execution stages accordingly.
Use Project Management Software as a weekly project planner
Well, now you must be wondering how to plan your project for a week.
The use of physical boards and spreadsheets is too old school now. Therefore, project management software is a great platform for you to plan and create an optimized workflow. 
Wondering how?
Project management software provides a single dashboard for your whole team to view their task in one place. Moreover, you can create effective deadlines and track the progress of your whole team. Whether it is adjusting budgets or getting real-time notifications, project management software is your one-stop for all.
Thus, in this blog, we'll show you a glimpse of your weekly project planner with nTask. 
nTask is an all-in-one solution provider to manage all your project management tasks effectively. It helps teams to organize, streamline and manage their tasks with great agility and flexibility. The best part is that nTask is extremely user-friendly and cost-effective. Thus, you don't have to worry about not being able to find your way around it. 
Still, below we've shared a step-by-step guide on how to create your weekly project planner with nTask.
So, follow these five steps and you'll be all set to dive into a week full of productivity and energy.
5 Steps to Create Your Weekly Project Planner with nTask
So, are you ready to start creating your weekly project planner?
Here we go!
Step 1: Create a Project Board
The first step is to create a project board under the name "Weekly Planner" to begin assigning tasks to your whole team. Just click on the option "Boards" and create a new board with the name you wish to have.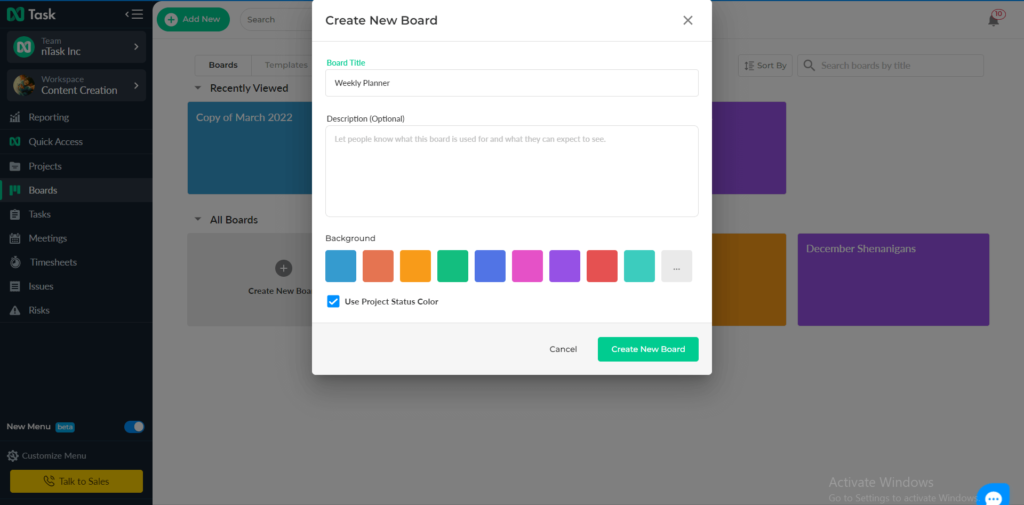 Once you've created the new board, you'll enter into a dashboard like the one shown below. It is the Kanban board view. Firstly, we'll create tasks here and then show you different ways of visualization for showing your weekly project planner.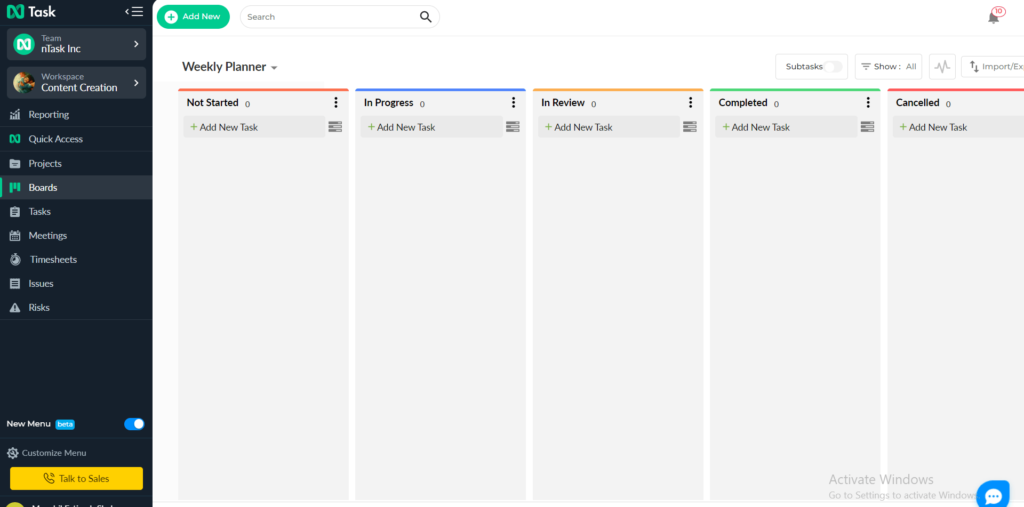 Step 2: Assign Tasks
Click on the "Add/New Task" option to assign tasks to your team members. It can be the name of the person to whom you want to assign the task or simply the name of the task too.
In this example, we've chosen three members which are Derek, Peter, and Susan.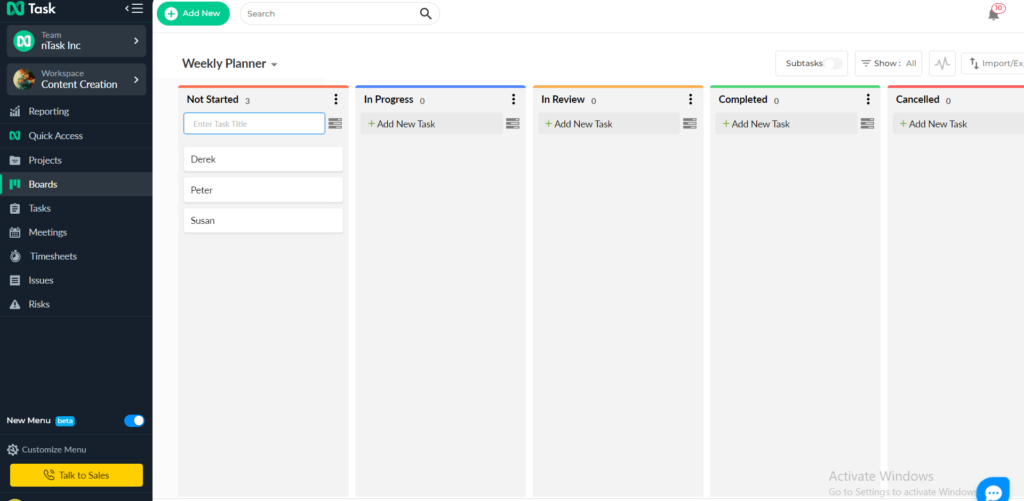 Step 3: Create the Task
Click on the name of the person you want to assign the task to. A pop-up window will appear. Start with setting the planned start date and planned end date which in our case would be a week.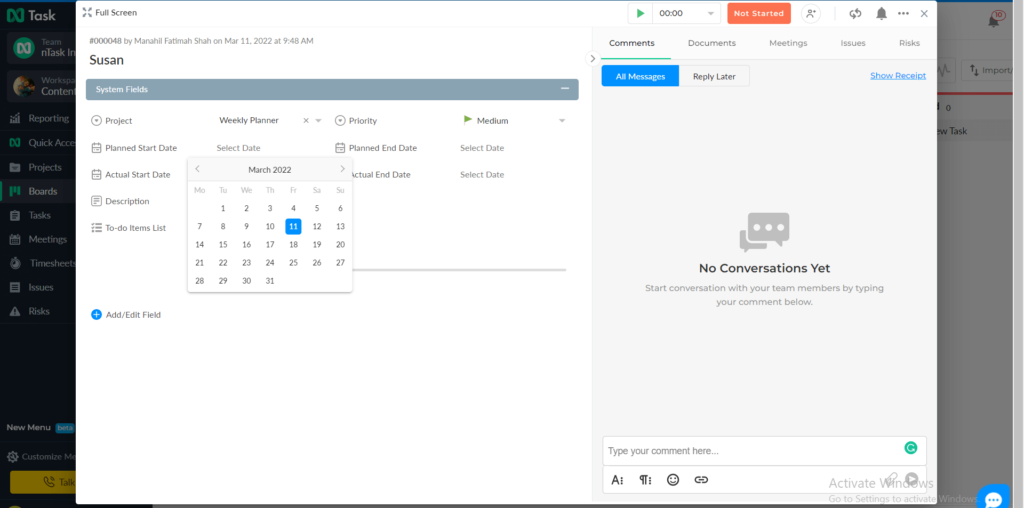 Next, add any description or instructions in the description tab. Like "Content for Mr. XX". Move your cursor to the To-do items list and write the tasks you want to be completed during the week. You can add in a separate end date for each task and the name of the person who is assigning it as well.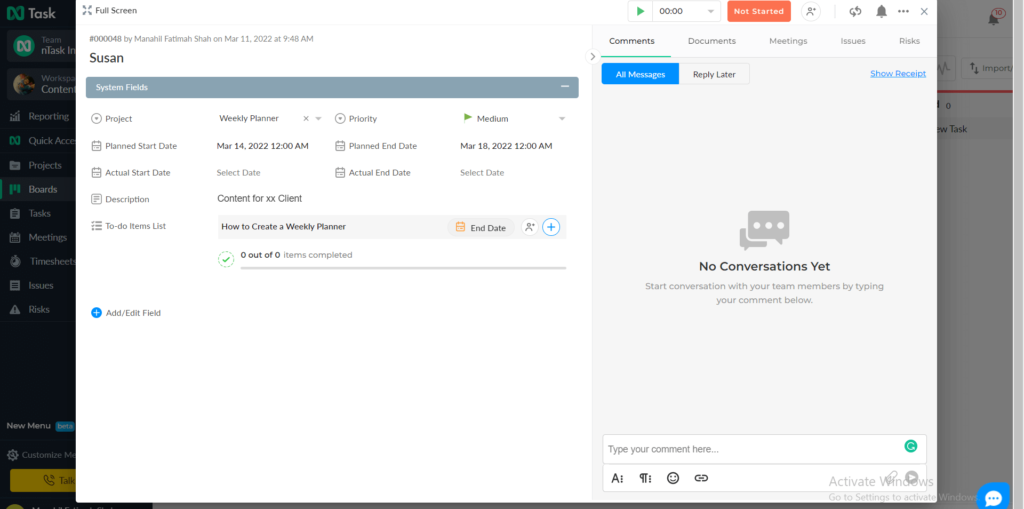 Here is a glimpse of another task we've created using the To-do items list. You can also set the priority level of each task from Critical, High, Medium, and Low as per the urgency of it. 
On the right side you'd see a conversation area, team members can chat effectively with each other and the project managers in case of any ambiguities.
Moreover, you can also add reference links or documents for your team members. And change the progress status from Not started to, in progress, in review, completed, or canceled.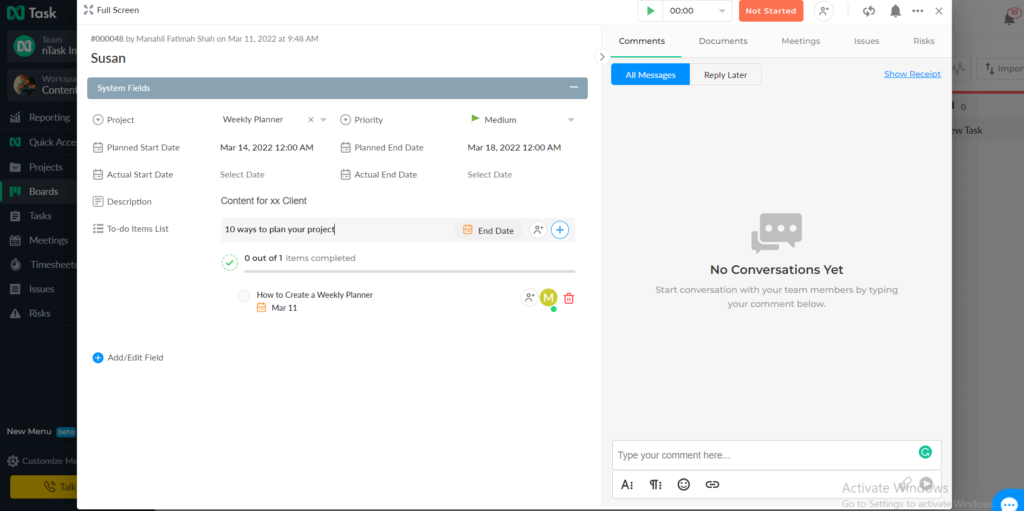 Once the team member changes his/her progress status, the tasks will automatically move on to the next column.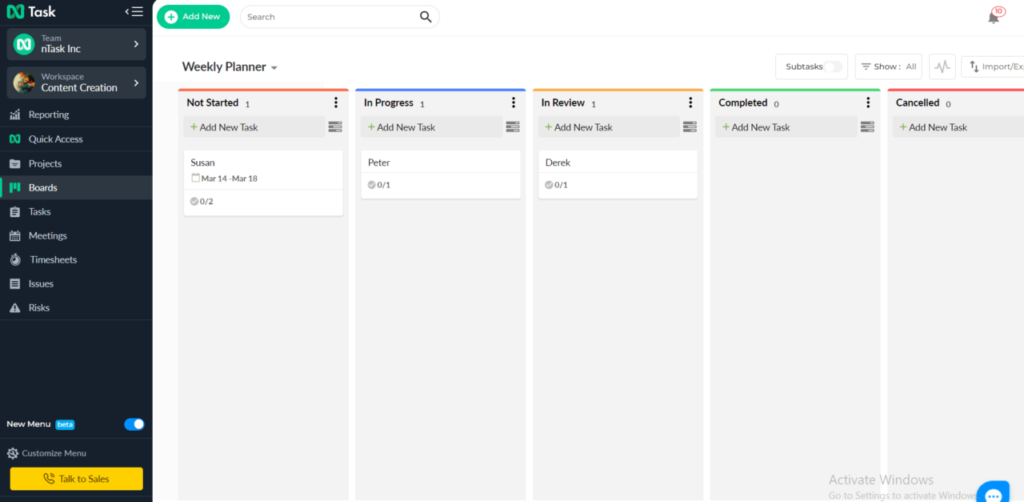 Step 4: Gantt Chart View
You can also view the same progress using a Gantt Chart as well. It is the graphical representation of all the tasks. Gantt charts also allow you to create dependencies. Read our full guide to create Gantt chart dependencies in a few minutes.
Go to the "Projects" in the left column. You'll see your project named "weekly planner". Click on the three bars next to it and you'll enter your Gantt Chart visualization dashboard.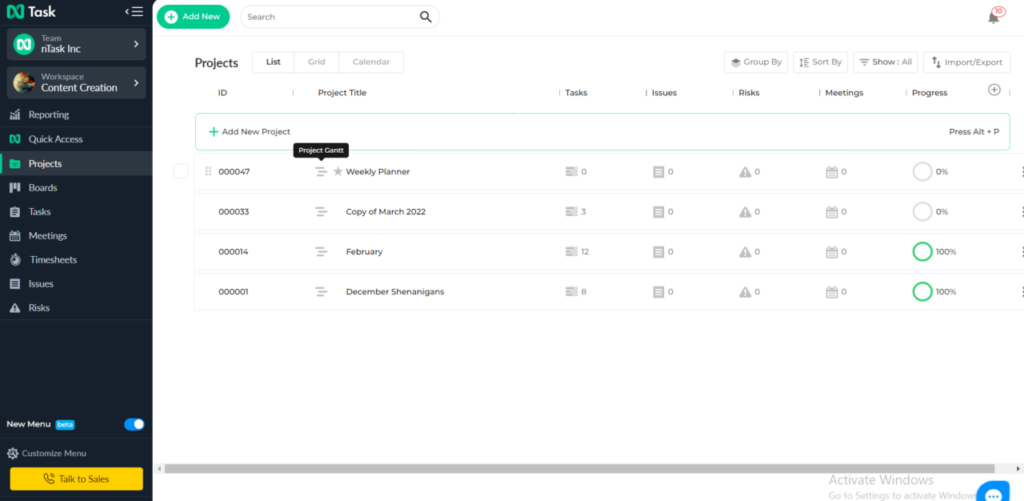 The three-colored bar represents the progress status of each task. You can also view the project completion percentage, issues or risks, and project budget or costs here. Moreover, by clicking on the member's name you can edit the task from here as well.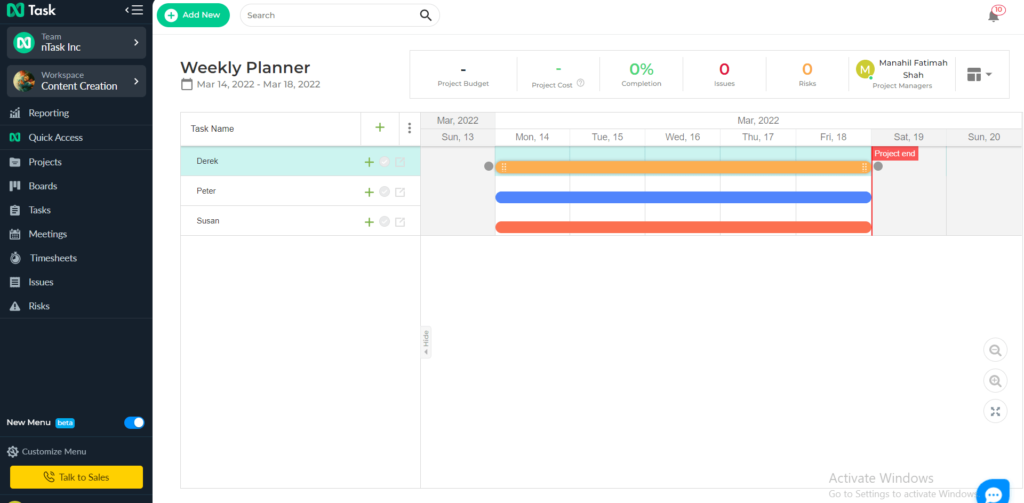 Step 5: Task View
Another effective way of your viewing your project planner is with the task view. Click on the "Tasks" option in the left column and you'll enter the following area. 
You can view the status of each task and make any edits effectively.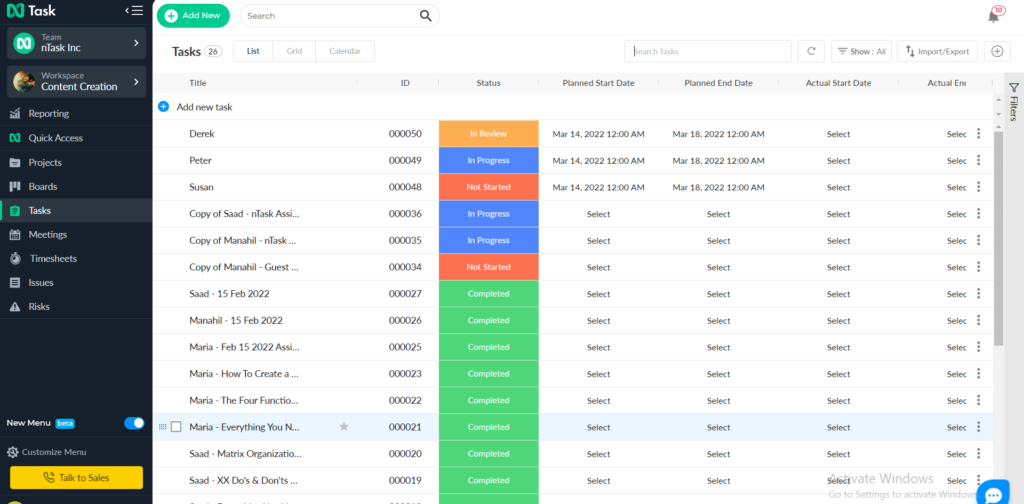 You can also choose the "Grid" option from the top. It will give you the completion percentage of each task and other relevant information.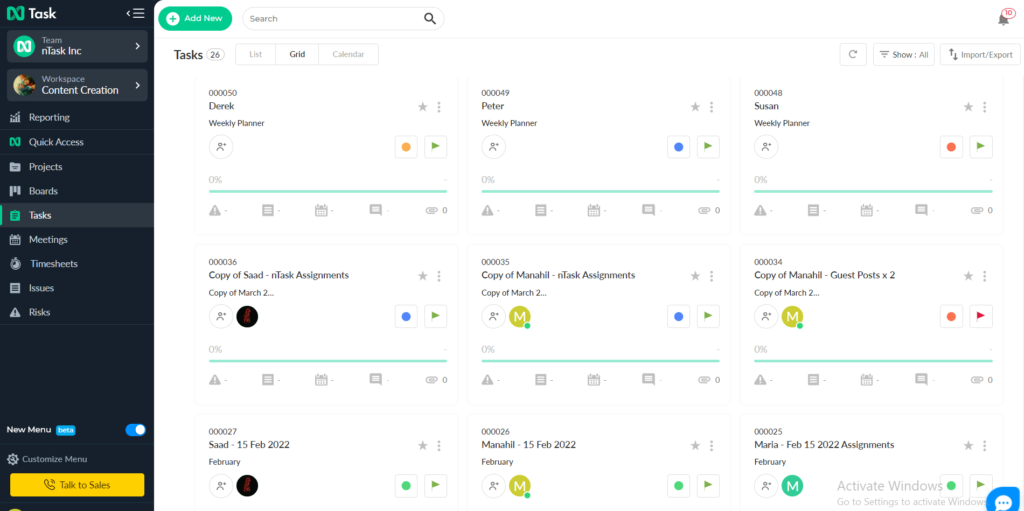 Lastly, you can also choose to view while using the "calendar view". It will show the set tasks in the way shown below.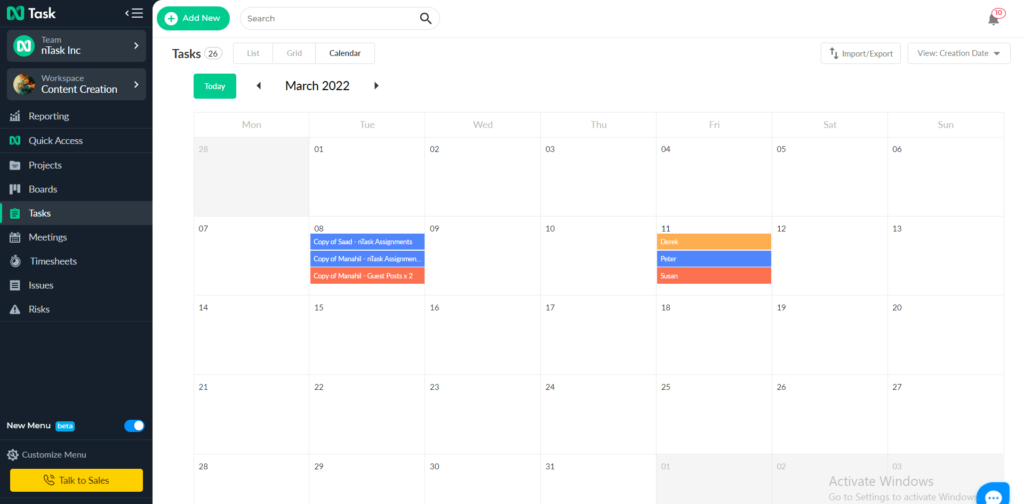 Woah! So, there you've it. 5 easy steps to create your weekly project planner and view it effectively while using different visualization options.
Thus, nTask provides you with an organized, well-managed, and easy way of managing your weekly plan. However, if you still feel like you need some more clarity, you can simply sign up for a 14-day free trial and explore your way around it or request a demo for nTask now for a one-to-one consultation.
Conclusion
Having a weekly project planner is pivotal to keeping your team focused, organized, and streamlined. Therefore, if you haven't been practicing this activity, it's time you start it and you'll witness increased productivity and steadiness in your team.
However, using a project management software like nTask can help you do that in just a few minutes and effectively view its progress of it as well. You'll get rid of sending separate emails or private inboxes. Thus, saving you ample time and increasing the overall productivity level of the company.
So, begin your weekly project planner with nTask now and set new bars of creativity and progress.
We wish you the best of luck!