The software market is a diverse emporium with a lot of different players competing for the same crown. Whether it is project management or task management or something completely different, the software market always has a dozen applications up its sleeve.
In this article, we are going to talk about two of the most incredible project management software that you can use to manage your needs and requirements in the year 2023.
We are going to see what they are on about and what are the differences between Trello vs Monday. Let's take a look.

monday.com is the king when it comes to being the best collaboration and communication application used by millions of professionals every day.
The application is also incredible task management or project management software that syncs all of the information related to your project in a single interface and empowers different team members and agents to make important decisions about the project together.
If you thought that Trello had some features up its sleeve, just take a look at the arsenal that monday.com has to offer and how beneficial it can prove to be your daily driver in your professional workspace.
Product Features
Work management in a single platform for team collaboration
Visually appealing and intuitive workflow management
Ability to set custom automation to get things done on time
Set due dates, status, priority and assign tasks to team members
Use timeline for task overview
Group items and sync them with projects, and process
Calendar, Gantt, Kanban, form, workload, and the map feature
Tag and notify, integrate chat app, and real-time communication
Pricing
There is a free version of the application available for use if you want to check out the software before spending your money on the following subscriptions
The Basic version of the application is priced at $39/month, which consists of some more features than the free version of the application has to offer
The Standard version of the application is priced at $49/month, which consists of some larger functionality that the basic version has to offer and is designed to handle bigger projects
If you want to purchase the Enterprise version of the software, you have to contact the company so that they can tailor a custom subscription for you based on your needs and requirements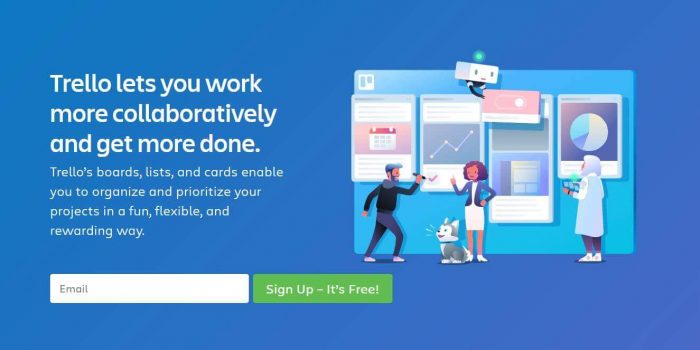 Trello is an amazing project management tool that allows you to utilize its incredible Kanban boards, cards, and lists to move different tasks and organize all of the resource material associated with your projects in real-time.
If you are a fan of Kanban, then the application enables you to manage all of the multiple projects that you have got going on in your company using different visual ticklers.
The application is also incredible in letting your team work more collaboratively and allows you to get things done more easily and effectively.
Let's take a look at some other features of the application and find out how useful it is and what makes it so special in the software community.
Product Features
Quick overview on front and back of cards to quickly let you know about the information related to the project
Drag and drop functionality to help you interact with the elements of the interface easily and quickly
Real-time sync to make sure that all of your data is saved accordingly and all of the databases are managed effectively
Easy uploading of files and attachments to make sure that you have everything you need to manage the tasks and processes related to your project
Deadline reminders to keep you reminded and informed about the deadlines that you have to fulfill
Email notifications to keep you updated about every little change that happens in the project development process or the overall project management process
Pricing
There is a free version of the application available for use if you want to check out the software with just a limited number of features
The Business class version of the application is priced at $9.99/month which has a lot more features than the free version and can help you tackle some of the bigger projects in your queue
The Enterprise version of the application is priced at around $20.82/month which is equipped with some of the best features in a project management application that money can buy right now, and this version is perfect for you if you want to tackle some very heavy Enterprise level projects
Before we conclude our post, let us compare Trello and Monday with other big names in project management.
Monday vs Trello vs Asana vs Evernote:
Although Monday and Trello are more popular project management tools, Asana and Evernote are not any less useful than the latter.
Asana, for example, offers the most number of integrations with other tools and is priced lower than Monday. Its Basic plan is available for free while Premium plans start at $10.99 per month. Also, Asana has some awesome, unique functions like tagging, categorization, monitoring, etc. As a team project management tool, it streamlines processes and offers a central platform for team collaboration.
Evernote, on the other hand, is primarily a notetaking app but comes with a full fleet of project management features. It features cool functions such as the "Save" option that allows you to save things you see online and ready-made templates that make project management simple and easy. If you are looking for an all-in-one project management and notetaking tool then Evernote is a good option.
Although Monday vs Trello vs Asana vs Evernote might seem a tough choice, you can find the right tool by signing up for a free trial or free plans to understand how different a tool works and the features it offers.
Conclusion
This was a short comparison between Trello vs Monday. If you want to check out another incredible project management application that provides the same level of functionality and more for the price of an Espresso, try nTask.
If you think that we mentioned something wrong, or if we missed something important in the article, please let us know in an email at fwilson@ntaskmanager.com, and we will get back to you as soon as possible.
---
More Articles: