If you're on a lookout for a project management tool, you may have heard that you need to choose the one that 'fits' perfectly with your individual or team needs. Easier said than done, choosing the right project management tool is no child's play. In the hunt for the perfect tool, you might have been faced with a decision to choose between two of the leading software in the market, Trello vs Asana. But, with hundreds of blogs featuring the comparison of these two, you probably ended up being more confused than before.
Lo-and-behold, as the most comprehensive review of Trello vs Asana is here!
Although it's supposed to be a Trello vs Asana comparison, we'd like to introduce you to an alternative for both of them – nTask! If you feel like both Trello and Asana do not fit with your needs, maybe nTask works perfectly for you (hint: it does! 😉).
We've reviewed each tool in detail, narrowing down the focus to key features, pros and cons, and the value they provide against their plans. So, let's begin:
Trello vs Asana vs nTask – a comparison
| Features | Trello | Asana | nTask |
| --- | --- | --- | --- |
| Gantt charts | 😩 | 😩 | 🙌 |
| Recurring tasks | 😩 | ✅ | 🙌 |
| Meeting Management | 😩 | 😩 | 🙌 |
| Issues Management | 😩 | ✅ | 🙌 |
| Risks Management | 😩 | 😩 | 🙌 |
| Kanban Boards | ✅ | ✅ | 🙌 |
| Task Comments | ✅ | ✅ | 🙌 |
| Time Tracking | 😩 | 😩 | 🙌 |
| File Attachments | ✅ | ✅ | 🙌 |
| Search Filters | ✅ | ✅ | 🙌 |
| Free Version | ✅ | ✅ | 🙌 |
| Pricing | $6 | $13.49 | $3 |
| | LEARN MORE | LEARN MORE | GET STARTED |
Trello: Best suited for lightweight Kanban boards 😊
Released in 2011, Trello provides Kanban boards to users for project management. With a layout resembling a pinboard, Trello makes task management easy by allowing users to create personalized boards.
Within these boards, unlimited lists can be made, which further consist of small cards that act as individual tasks. Movement of these cards from one category to another helps in workflow visualization.
The tool comes with customized options to arrange the cards the way you want – assign tasks, set due dates, set priority levels, upload attachments etc. – to provide maximum control.
Key Features
The key features provided by Trello are:
Personalized Kanban boards
Comments within tasks
File attachments
Priority levels
Assign tasks
Due dates
Color labels
Drag and drop functionality
Email notifications
Personalized access to boards
Third-party application integrations
Pricing
Let's have a look at what Trello offers against each of its plans:
Plan
Features
Free
Unlimited boards
Unlimited lists and cards
Unlimited members
Unlimited checklists and attachments
File attachments up to 10 MB
Standard
$6 per user/month
File attachments up to 250 MB
More control over members of the boards
Custom board backgrounds and stickers
Ability to control private and public boards
Priority email support
Business
$10 per user/month
Two-factor authentication
Personalized onboarding assistance
Priority email and phone support
File encryption
Intrusion management
Custom security review
Moving forward, let's see what are the pros and cons of Trello:
Pros
✅ User-friendly interface
✅ High customization
✅ Free forever version
✅ Easy workflow management
✅ Easy tasks management
Cons
❌ No Gantt charts for reporting
❌ No calendar
❌ Not optimal for large teams or projects
❌ Limited functions available with the basic version
❌ Recurring tasks are missing
❌ No issues and bug tracking
❌ No risks management
❌ No built-in time tracking functionality
See also:
Best Trello Alternatives for Kanban Management
Asana: Best suited for basic project management 😊
Considered as one of the first choices for project management, Asana has been able to gather quite an audience in the past few years. Coming with a robust set of features, Asana seems apt for streamlined team communication and effective team management.
The tool uses a good old traditional way of managing tasks through lists. You can manage tasks, checklists, assign due dates, set task priorities, and share details with team members – all in one place.
Asana also provides a specific set of features to effectively implement agile methodologies, like sprint project planning and backlog management.
Key Features
Tasks and subtasks management
Kanban boards
Project timeline
Due dates and priorities
File attachments
Milestone tracking
Sprint management
Backlog management
Issues and bug tracking
Multiple integrations
Pricing
Asana offers the following plans:
Plan
Features
Basic Free Version
Up to 15 team members
Unlimited projects
Unlimited tasks
Calendar view
Status updates
Premium
$13.49 per user/month
Unlimited projects and tasks
Task dependencies
Timelines
Advanced search and reporting
Business
$30.49 per user/month
Portfolios
Resource management
Custom fields
Priority support
Enterprise (custom pricing)
Data Export and Deletion
Advanced Security Measures
Advanced Admin Controls
Data Backups
User Provisioning and Deprovisioning
Now, let's have a look at some of the pros and cons of Asana:
Pros
✅ Advanced tasks management
✅ Easy team communication
✅ Easy progress tracking
✅ Effective for large teams and projects
Cons
❌ No built-in time tracking features
❌ No risks management
❌ No meeting management
❌ Limited features in the free version
❌ Can be overwhelming for first-time users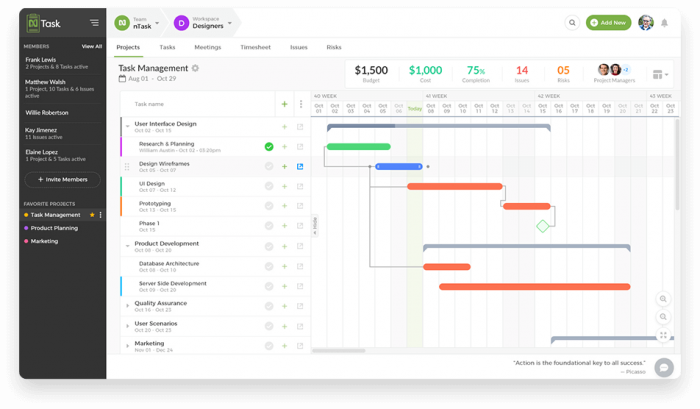 As we said earlier, although it's supposed to be a Trello vs Asana comparison, you need a project management tool that fills the gaps left by Trello and Asana. Therefore, we have nTask for you! A feature-rich project management platform best suited for individual and small teams' needs.
nTask comes with powerful features of task management and allows users to track, monitor, and communicate project performance conveniently through one platform.
Coming with elaborate functions of meeting management, nTask helps in the successful execution of your professional meetings without any hassle.
The tool also tries to mitigate user frustration by providing a friendly interface and clutter-free look, helping in quickly getting a hang of the software without any technical difficulty.
Key Features
Projects and tasks management
Recurring tasks
Meetings management
Issues and risks tracking
Timesheets
Comments within tasks
Powerful search and filter tools
Alerts, notifications, and reminders
Gantt charts
Integration with Slack
Multiple workspaces
Pricing
Plan
Features
Free
Unlimited tasks
Unlimited meetings
Up to 5 projects
Up to 5 workspaces
5 MBs file attachment size
200 MBs of storage space
Team timesheets
Risk Management
Issue Tracking
Premium
$4 per user/month
Unlimited workspaces
Unlimited projects
Unlimited team members (pay as you grow)
200 MBs file attachment size
Unlimited storage space
Unlimited tasks & meetings
Team timesheets
Risks & Issues tracking
Enterprise (custom pricing)
Dedicated Account Manager
Priority Support
First Update Rollout
Tailored Pricing Plans
Custom Reports and Branding
Custom Workspace URL
On-prem Installation
Advanced Machine Learning (Coming Soon)
Pros
✅ Clean, user-friendly interface
✅ Comprehensive meeting management features
✅ Issues and bug tracking
✅ Risks management
✅ Built-in Gantt charts for timely reporting
✅ Free forever version and affordable upgrade
Cons
❌ Kanban boards for workflow visualization is currently underworks
❌ Integration with multiple apps is underworks
❌ Gantt charts presently have limited functionality
❌ The feature of chat within tasks not available, however, comments can be made
nTask Features Missing in Trello and Asana 💅🏻
It gets interesting from here! Although Trello and Asana are considered to be one of the top project management tools, they still lack some of the advanced features that nTask provides. These are:
1. Comprehensive Meeting Management
Workplace meetings are an integral part of the work culture. An effective project management software must come with powerful meeting management module to successfully execute professional meetings.
Both Trello and Asana lack comprehensive meeting management features.
Through nTask, you can schedule meetings, develop a meeting agenda, and circulate it among your team members prior to the due date. You can also jot down discussion points that are to be discussed during a meeting.
Furthermore, you can also decide on the follow-up actions that need to be taken after the meeting.
2. Risk Management
Being able to identify potential risks associated with projects is an important component of project management software. Trello and Asana are yet to come up with risk management functionality to track and manage the likelihood of their occurrence.
Coming with elaborate risk management features, nTask facilitates timely identification and assessment of risks. You can also assign a relevant probability of each risk with projects and then assign them to team members for minimizing their impact.
3. Bug/Issue Tracking and Monitoring
In Trello, you need powerups for issue tracking and monitoring. In contrast, nTask comes with a built-in issue management module that makes identifying and resolving issues easy.
You can select the severity of issues and assign them to relevant team members for resolving them on time. You can also set priority levels and due dates on each issue to keep the team updated.
4. Built-in Time Tracking
A project management tool should be able to intelligently track the time you and your team members are spending on particular tasks.
This smart feature is missing in Trello and Asana. Although Asana comes with an option to integrate with multiple time tracking applications, the functionality is not built-in.
On the other hand, nTask comes with auto-generating timesheets which can be shared with anyone. These timesheets also help in calculating the time utilized by resources on individual tasks and to calculate payroll based on the hours worked.
5. Gantt Charts
For developing project schedules and project timelines, Gantt charts are required. This essential component is missing in Trello, whereas nTask generates Gantt charts of individual projects to track and monitor the project schedule and all the related project activities.
Our Final Verdict
Both Trello and Asana come with their fair share of strengths and weaknesses in this Trello vs Asana roundup.
The winner – nTask 🏆
Based on our analysis, nTask is the right choice for you if you're looking for a multi-layered tool fulfilling all your project management needs without any complex add-ons or integrations.
What are your thoughts on this Trello vs Asana showdown? Who do you think wins the title of the "Best Project Management Software?" Share your thoughts with us in the comments below.
Frequently Asked Questions
1. Is Asana owned by Google?
No, it is not owned by Google. It was founded by Facebook co-founder: Dustin Moskovitz, and another ex-Google engineer: Justin Rosenstein.
2. How do I get the best out of Trello?
Here are some of the steps that you can follow to get the best out of your Trello application.
Create your Trello Board according to your project requirements
Make your Trello Board user-friendly for all of your stakeholders and team members to monitor
Decide who is responsible for the maintenance of the board
Make room for change and adapt your Board as processes change
If you are not sure about a process then you should use a template to get some idea of how it's done
3. Does Asana Integrate with Trello?
Here are some of the benefits you can enjoy when you integrate Asana with Trello.
Create Asana tasks from newly created Trello cards or from cards that have been moved
Create Trello cards from new Asana tasks
Add Asana tasks from new Trello labels
Create Trello cards for new Asana tasks
4. Does Asana have time tracking?
Asana doesn't have time-tracking embedded in it, but if you want your Asana application to have that feature then you have to integrate with Everhour.
Everhour is an amazing time-tracking software that enables the managers to track all of the tasks and processes being performed by their team members.