'Time and tide wait for no man.'
The one axiom that will never cease to haunt us. Especially if you are a businessman, a project manager, an accountant, or a freelancer, time is a commodity more precious than anything else imaginable.
For IT and business management industries that subsist on billable-hours, effective time tracking is an integral part of time management. The practice of effective time tracking can best be strengthened by a good time tracking software at your service.
Table of Contents
The 37 Best Time Tracking Software of 2021:
Which is the best time-tracking system for you?
Time tracking software makes it super easy for employees and the workforce to log hours with a simple interface. Choosing the right time-tracking software is highly essential for any business.
In any project time-tracking software, there are multiple things to consider, such as time-tracking and reporting features, team management capabilities, customer support, training resources, ease of use, available platforms as well as integrations.
If you're looking for a time-tracking system that's easy to use and practical, then you should consider using an app to track work hours like nTask. This project management time-tracking software is versatile and can be adapted to any type of business.
They're also relatively affordable, effective and easy to learn, so you should be able to get started quickly. You can also use this automatic time tracking to keep track of your progress and ensure that you're meeting your goals.
The benefits of using project time-tracking software?
Let's take a look at some of the top benefits of using a project time-tracking software,
Increase profitability
Time tracking software is a great way to maximize your profits by tracking the time you spend on each task. By knowing how much time you're spending on each task, you can determine which tasks are more profitable and which ones need to be cut down.
Increased productivity
One of the most common benefits of using time-tracking software is increased productivity. Time tracking allows you to see exactly where your time is being spent and how it can be best used.
It also allows you to easily identify areas that need improvement. This knowledge will help you achieve greater efficiency and achieve your goals faster than ever before.
Communicate better progress
Time-tracking software can be a great way to track your progress and stay organized. By logging every single task that you complete, you can better communicate your progress to others and ensure that you're on track with your goals.
Manage projects better
When you use time-tracking software to track your work, you'll be able to better manage your projects and get more out of each hour.
Time tracking software makes it easy to see which tasks take the longest and where your time is really going. You'll also be able to see how much progress you've made on each project, and whether or not you're on schedule.
Offers transparency
One of the benefits of using time-tracking software is that it can provide you with transparency about your time. This means that you can see exactly where your time is being spent and what tasks are taking the most amount of time.
This information can help you optimize your workflow and avoid wasting time on tasks that don't have a high impact. It also allows you to better understand your clients and their needs so that you can better serve them.
What are the best features to look for in timekeeping software?
Here are some of the top features to look for in an employee time tracking software,
Time-tracking
Time tracking software allows you to track the time that you spend on different tasks. This can be useful in order to better understand your working habits and improve efficiency.
Employee Attendance
Employee attendance is one of the most important features of time-tracking software. This is because it allows you to track the number of hours that employees are actually working.
This information can be used to calculate wages and benefits, as well as evaluate employee productivity.
Project management
Project management is one of the many benefits that time-tracking software can provide.
Time tracking software can help you keep track of all the deadlines and milestones associated with a project, as well as ensure that all team members are working on the same timeline.
This will help ensure that the project is completed on time and to the highest standards possible.
Reports generation
Time-tracking software is a great way to keep track of your working hours and the progress you're making on your projects. However, it can be even more useful if it generates reports that show you how you're performing over time.
Keeping key factors in mind such as price, product strengths as well as product weaknesses, check out our list of the 37 most productivity-enhancing time-tracking software: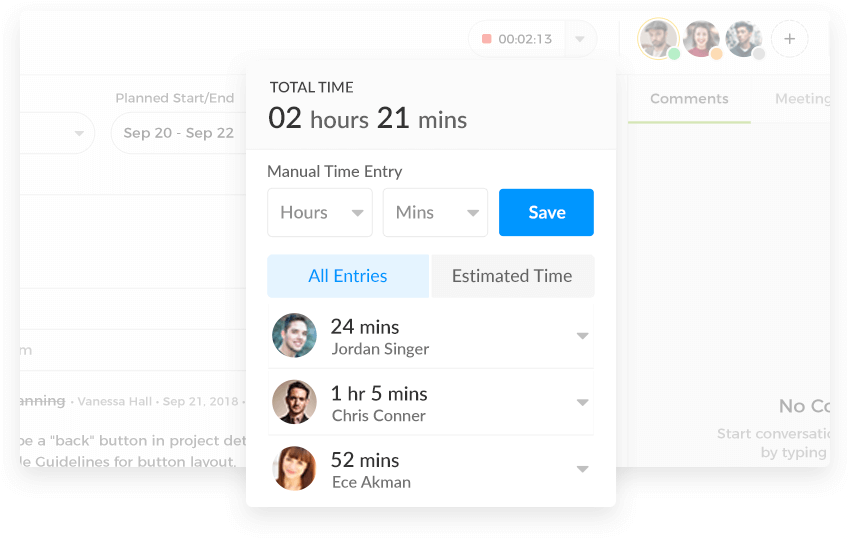 If there is one-time tracking software that every user can blindly invest in, it is nTask. Although nTask is still a fledgling in comparison to Harvest and Everhour, it has everything which an Agile team wishes to find in a software tool.
Designed with a simple, user-friendly interface, nTask is a 7-in-1 project management tool that is ideal for both small and large teams. You can create multiple workspaces with as many tasks and projects as you like. Track and report issues, capture risks and formulate a mitigation plan to solve any roadblocks in your project's development cycle.
Product Strengths:
Simplified Timesheets – Beautifully designed weekly timesheets that provide manual logging of hours linked to a suitable task or a project. Users can also update task effort for each day of the week separately in just a few clicks.
Unified Tracking– With status labels next to each Project-specific timesheet, teams and individuals alike can quickly track the progress of their work. In addition to manually creating timesheets on the Timesheet board, users can directly log hours spent on their tasks from the Taskboard.
Flexible Reporting – Once a weekly timesheet is completed, users can submit them for approval to their project manager. Approved timesheets can then be sent back with feedback in the comments section. There is a separate dashboard for completed timesheets, where users can get a quick summary of which timesheet has been approved. Reporting timesheets in nTask is not limited to the app only. With the help of the Email option, team members can send their billable hours to clients, stakeholders or even the team lead directly into their email inbox. For record-maintaining purposes, reports can also be printed in a single click.
Gantt Chart View – Easily interpretable and self-generating Gantt charts that give a comprehensive summary of a project timeline from the creation date to its due date.
Product Weaknesses:
No invoice tracking
No customizable options for reports or timesheets.
Integrations with project management tools or browsers (coming soon).
Pricing:
Free Plan – unlimited members, unlimited tasks, meetings and timesheets, 5MB file attachment, 100 MBs of storage
PRO plan – starting at $3 per user with unlimited projects.
Weekly team timesheets were never this easy!

nTask is free and provides a built-in timesheets module, absolutely free. Sign up and get started today!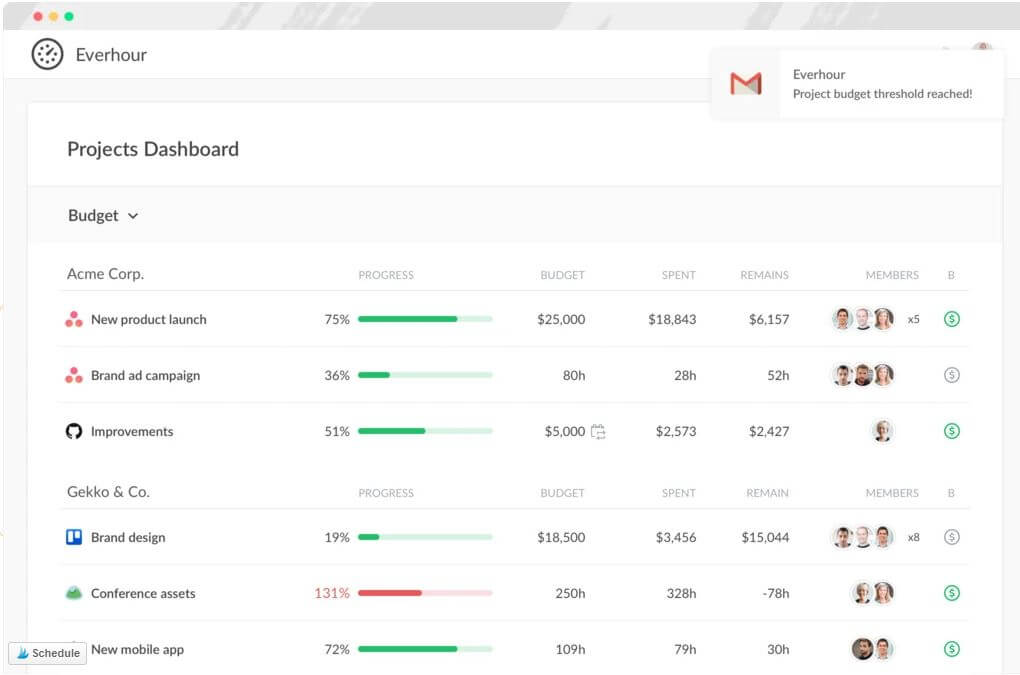 Everhour is the most straightforward choice you can ever make in streamlining your time tracking needs. What makes Everhour an instant winner of the hearts of agile teams is its ability to embed directly into a variety of widely used project management tools, namely, Asana, Trello, and Basecamp. More than that, Everhour offers its users with basic task and project management features as well.
Product Strengths:
Easy Time Tracking – Everhour contains a built-in digital timer that can be used to log in and record the total hours spent on a task or a project. Team members can log and monitor their hours manually as well. Users can also track the progress of their work by adding the remaining time and hourly estimates on each project.
Team lead or a project manager can trace which team member failed to meet his/her deadline from the live dashboard that provides a central view of all project timelines with specific labels of 'total time spent' next to each task.
Flexible reporting – In Everhour reporting is just as simple as tracking. With the use of filters, users can sort reports into a time range, order of importance, and customize these reports into 30 different combinations.
Users can assign due dates, milestones, and tags to each task to analyze the task in reference to their timeline.
Good Compatibility – Everhour is a web-based tool that can be operated on any browser such as Mozilla, Chrome, and Safari. Traveling consultants and executives can manage timesheets and project timelines on the go by referring to Everhour on their mobile phones.
Product Weaknesses:
Can't edit time from an extension panel.
Pricing:
Single user plan – $8/month
5 members team plan – $5 per user/month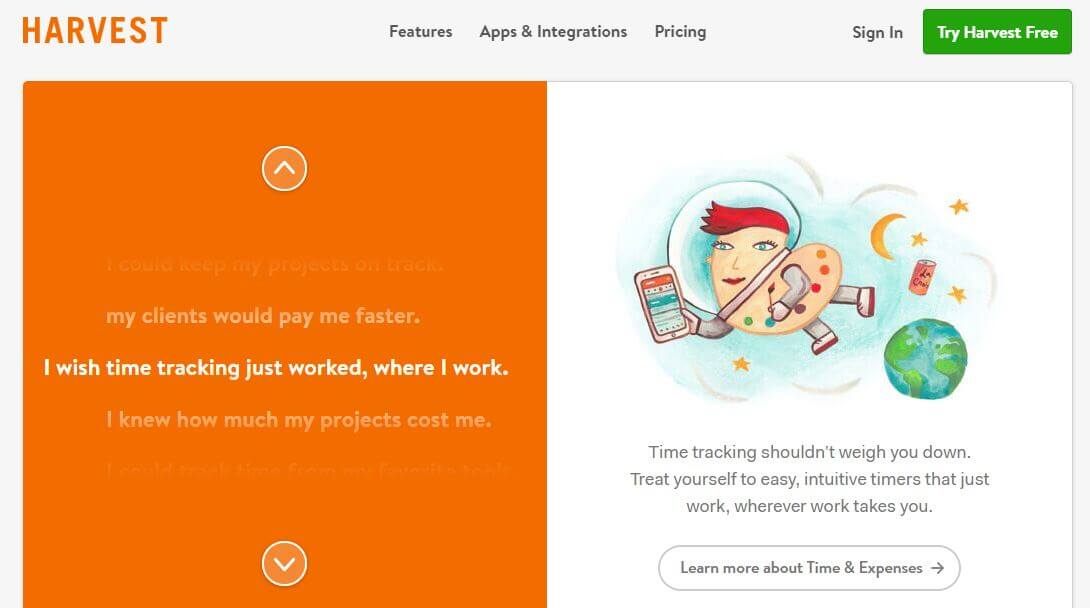 If there were ever an award of 'Messiah of a Time Tracking Software', it would go to Harvest. 12 years in the business, Harvest has helped millions perhaps billions in keeping a sedulous track of innumerable hours with a lightning-fast interface. Harvest empowers its users by offering the feature of tracking expenses in unison with hours spent on a task or a project.
Product Strengths:
Versatile Tracking – In Harvest users can log, update and monitor hours on a weekly timesheet. Either manually log their hours on a daily basis for each task assigned to them or use the Harvest button. The harvest button can be added to any to-do list or next to a task as a widget for quick and efficient time tracking. The Harvest widget, for time tracking, can also be used in any project management tool of your choice. It saves the unnecessary hassle of switching between tabs and also saves the tedious effort of transferring the same data from one app to Harvest.
In Harvest, users can also insert expenses next to each project and track the monetary changes made over the entire course of a project's lifecycle.
Invoicing – Harvest permits quick and seamless invoicing with the help of the backlog of billed hours and expenses. The invoice board itself is a graphical representation of paid and non-paid invoices split into a monthly timeline.
Team-Time Management – Harvest can be connected to one of its sister apps that goes by the name Forecast. Forecast helps project managers create a roadmap of all scheduled projects and tasks assigned to each team member. This way, project managers can achieve a precise estimate of which team member is on track, over-due or even overbooked with tasks. The forecast also presents a visual summary of how long each project will take to complete.
Automated Notifications – Each time a team member generates his/her time report, an automated notification is sent that can be picked up by the Project Manager to keep a closely monitored accountability.
Product Weaknesses:
Lack of a calendar within the app for a quick survey of tasks and projects
The user interface is less flexible.
Lack of reporting options
Costly
The mobile app contains a limited number of features
Pricing:
Single User – $12/month Unlimited estimates and invoices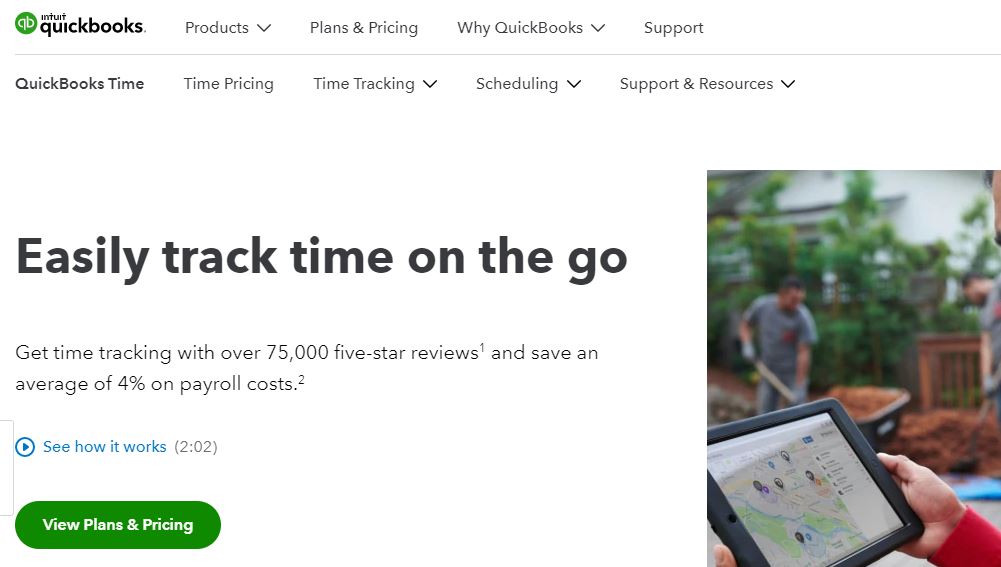 Proven fit for Construction, Professional Services (e.g. lawyers), and Service Companies (e.g. landscaping) because QB Time makes it easy to manage mobile EEs thanks to features like mobile GPS tracking, tracking time to projects/jobs/customers, and seeing the status of everyone on your team (who's working, where, and on what projects) from the Who's Working window.
Easily track time and schedule employees for effortless payroll, invoicing, and job costing—without the paperwork, guesswork, or hard work. Moreover, it can help to make schedules, manage teams, and generate reports.
Product Strengths:
Financial and accounting management features: Makes it easy to keep a track of finances, and financial statements.
GPS tracking: Now you can keep track of your field workforce with GPS tracking and time entries.
Time kiosk: Easily monitor the site attendance with a time clock system for better tracking.
Employee, job, and shift schedule: Gives an ability to track the schedule for the employee's on-site and remote teams.
Mobile Apps: The software is available on Android and iOS devices.
Product Weakness:
No desktop app
Lacks project management functionality
Pricing:
Premium: $20/month + $8/user/month
Elite: $40/month + $10/user/month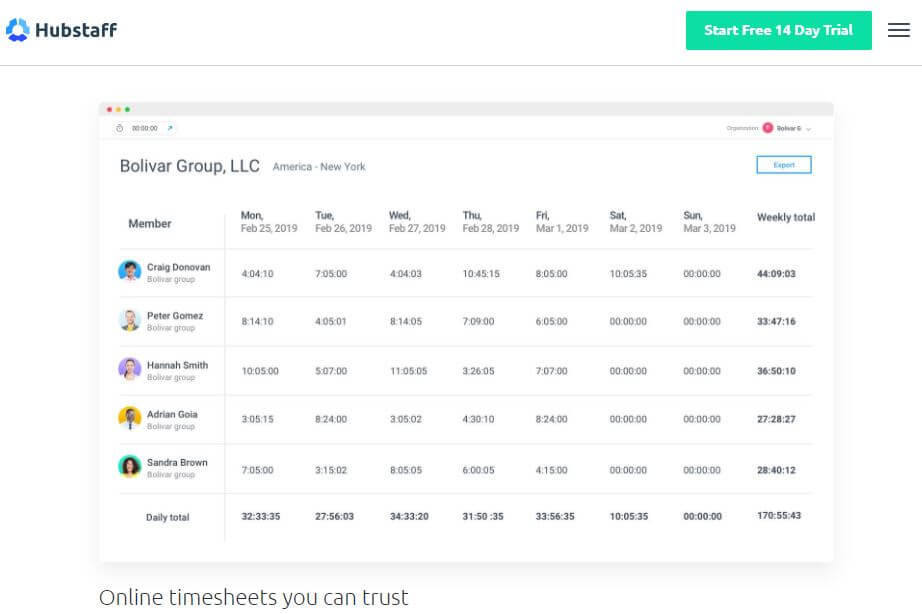 Time tracking can be time-consuming even with the most ideal time tracking software. Hubstaff is the unparallel remedy to that. With outstanding functionality features such as screen recording, automatic payrolls, GPS tracking, and powerful APIs, Hubstaff helps makes time tracking faster than ever.
The best part about Hubstaff is that it runs on all commonly used browsers such as Linux, Mac, iOS, Windows, and Android. It can integrate with 30+ project management tools, including PayPal, Payoneer, and Quickbooks.
Product Strengths:
Advanced Tracking – While users can manually and digitally log hours spent on each task, Project managers can take screenshots of their team member's as they work. Employee performance can also be tracked by recording their mouse and keyboard activity. As practical as this feature is, it can be turned off as per client or employee need.
Centralized Management – A centralized dashboard provides a uniformed view of the entire team's activity and performance. The display on the dashboard is split into easily manageable divisions of recent activity, the total budget spent on a project, a total number of projects worked, the number of active members, total hours billed and weekly report.
Apart from the dashboard, users also have the option of switching between different timesheet views. There is the Calendar view, daily view, and weekly view.
Advanced Reporting – When you're done billing hours and tracking total hours spent, Hubstaff tracker steps in to automatically generate a complete-time report for you. Reports can then be easily exported to an external source via email
Advanced Monitoring – Hubstaff internet monitoring feature allows users to track how much time each team member spends on every website during work hours.
Staff Scheduling – Online scheduling app in Hubstaff enables project managers to track the attendance of each team member for his/her assigned role. The app has a built-in reminder that sends an alert each time a shift is missed or becomes overdue.
Product Weaknesses:
Non-flexible manual logging of minutes.
Lack of flexibility of different time zones between two and more teams working in different regions
Expensive to use for large teams
Pricing:
Free Plan – Single User. Limited Features
Basic Plan – $208/month. 50 users. Limited features
In conclusion, investment in a good time tracking software can save you heaps of hours on top of valuable resources otherwise unintentionally wasted in perusing through an overly complicated tool. Make your workspace easier to manage by giving anyone or even two of the above-mentioned time tracking software.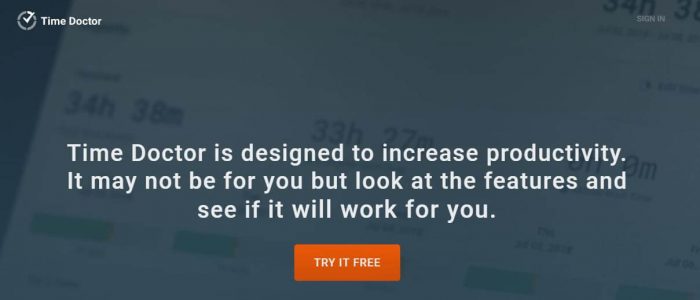 Time Doctor is an employee time tracking software that helps you and your team get a lot more done each day. It provides detailed analytics of where time is spent in the workday. You can view applications and websites visited when working and screenshots of the computer screen every few minutes while your employees work.
Time Doctor is straightforward and easy to use – create a project, add a task, then just start doing it. It records time on each task, takes occasional screenshots, records applications and websites accessed. It also provides a client interface which can be used when billing client projects. It can also be integrated with over 32 apps including Zapier.
Product Strengths:
Easy to set up – Time Doctor is very easy to set up and user-friendly. One can start using it in literally no time. The time to tasks created under projects is recorded once the user starts the timer.
Idle time notification – If the user is idle for certain time, it alerts them to check if they are working or are on break. It also puts the user on break if it finds them idle for a longer time.
Detail reporting – The reports are available in the chart as well as tabular format. The reports can be filtered daily, weekly, monthly or custom date range. There's a client report view available which can be shared with the clients for transparent invoicing.
Integrations – Time Doctor's integrations with all top apps provide enhance functionality. The Zapier integration has opened doors to be able to connect with hundreds of other apps with Time Doctor.
Product Weaknesses:
Payment/invoice functionality missing
No invoice tracking
Pricing:
Free Plan – limited-feature free plan
Pro plan – $9.99 / user per month

Timecamp can be the manager's dream come true or the employee's worst nightmare. This tool is definitely one of the top time tracking tools you can get your hands on if your organization is particular about attendances, time spent on projects and other activities throughout the day.
With Timecamp, you can track employee hours, manage to bill and even generate invoices for customers. Plus, you get notifications on various updates including when the client views the invoice sent.
That's not all. You can keep your project management cycle more efficient and keep the team productive through reports displaying time spent on projects and tasks. This helps you gain data to estimate the time spent on future projects and eliminate distractions.
Product Strengths:
Time Management: With the time management module, you can efficiently monitor employee activities. This includes the tasks employees are performing, the most time-consuming tools, and the goals set. It also offers productivity analysis, weekly summary through email, user-specific daily summary, automatic monitoring of computer usage and time worked on documents. What's more? It also tracks offline activities for users.
Attendance Analysis: Get all the information on user attendance, absence, instantaneous tracking of users that are in and out of the workplace, holidays taken, and start and finish work time analysis.
Billable Time: Timecamp offers one-click or automatic billing for users. It includes a graphical timesheet, subtasks, notes, budgeting, income calculation, features for calculating estimations and actual hours.
Reporting: You can avail flexible reporting for the projects including project profitability and project history.
Invoicing: Make use of invoice generating feature that helps you create professional invoices, caters to Integrated payment gateway, sends notifications as a client views the invoice. You can also create filters and reports accordingly. Plus, you can track billable as well as non-billable time. Timecamp also lets you configure automatic invoicing on the basis of hours.
Multiple Integrations: It can be integrated with over a thousand tools.
Mobile apps: Mobile apps are offered for both Android and iOS.
Product Weaknesses:
Some features are not very intuitive and can have a high learning curve.
Some items need to be refreshed for exact calculations.
The mobile app can be a little limited in functionality.
Pricing:
Solo (Free plan)
Basic ($5.25 per user per month billed annually)
Pro ($7.50 per user per month billed annually)
Enterprise (custom pricing plans)

Toggl happens to be one of the top time tracking software you can get your hands, which is a cloud-based and offers offline support as well. Toggl is a project management solution that is focused on time tracking. Users can bill hours, generate timesheets, reports and even export information outside the tool.
With time usage graphs and flexible reporting, users can efficiently monitor both project progress and worked hours. Plus, there is an option to share public reports links with clients for a more streamlined and transparent workflow.
Product Strengths:
Time Tracking: Toggl facilitates real-time time tracking. Toggl starts calculating billable hours from the time the users log in. Even if Toggl is not launched, there is an option to manually enter the hours worked by the users. Plus, there are options to either tag the time with reference to the project being worked on or any other element.
User rights: Users can be allotted rights depending on their nature of work.
Project Setup and Reporting: Projects can be set up by different users as required. In the end, the report can be generated that display information relevant to the project including the number of hours spent on various projects as well as the project's progress.
Export Data: Users have the facility to export timesheets or email reports to relevant authorities.
Offline Support: Toggl can be used offline. This way users can log time even if they are not connected to the Internet and have the time updated on the cloud later.
Flexible Pricing: Toggl offers flexible pricing to users. You can avail the monthly or annual package for billing.
Multiple Integrations: It can be integrated with multiple tools.
Mobile Apps: Mobile apps are offered for both Android and iOS.
Product Weaknesses:
Limited report customization
Complicated setup.
Pricing:
Starter ($9 per user per month)
Premium ($18 per user per month)
Enterprise (custom pricing plans)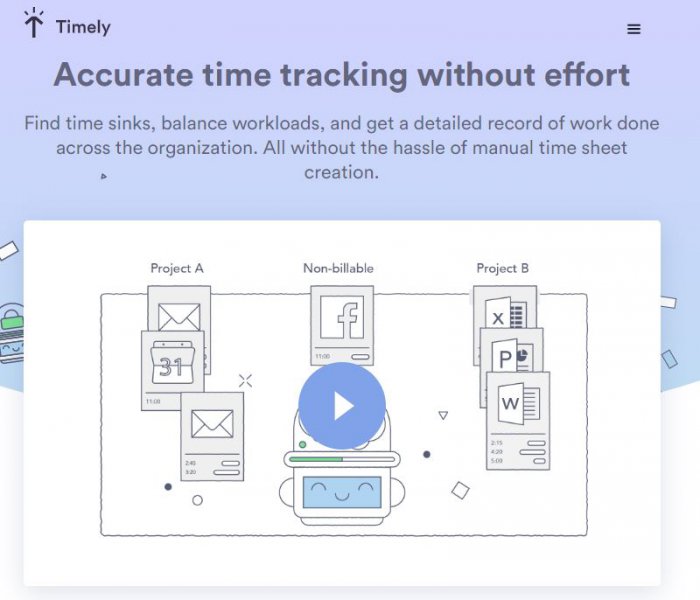 Timely is one tool that gives you team time management and project time management with automatic time tracking. Keep a track of the time spent on tasks in hours and the cost incurred.
You can even monitor your team performance by checking which tasks employees spend time on, instantaneous check on employee activity in real-time and KPIs.
By importing important dates from a calendar or even e-mail, you can easily define project schedules. With AI, this top time tracking tool identifies your workflow in general and picks up on the way to help you expedite your work with suggestions based on your past work and edits.
Product Strengths:
Task and People Time Management: Timely lets you view time spent on tasks with two values: logged hours and logged money through an in-built tagging system. This lets you keep on top of how much money exactly each task costs. It also helps you keep track of the hours logged by different users in one view. With a Live Feed, you can even see what each member is doing at a certain instance.
Bulk Editing: With bulk editing, you can mark multiple entries as "billed", delete entries and manage tags in one go.
Shareable Reports: You can create customized reports and share them externally through links provided.
KPI Tracking: Easily monitor your team performance via key metrics, such as capacity as well as billable percentage.
Team Creation: You can create multiple teams based on various metric e.g. country or departments. This helps easily manage and monitor teams overall.
Memory Tracker: With the feature called 'Memory Tracker', you have the option of keeping your tracked data in a private timeline only accessible to you.
Intelligent Time Management: Through advanced AI, Timely groups your work together and based on past work patterns and edits, it suggests time entries. It automatically compiles the details and presents it with project tags. This helps you ultimately achieve automatic time tracking as the system becomes more aware of your project flows.
Modification of Entries: If you feel that Timely hasn't quite picked up the right fields or other entities, you can rename the suggested entry titles, adjust the grouping of activities and re-assign set tags.
Invoicing and Payments: With Timely, users have a simple and straightforward system that can handle all types of bookings, repeat bookings, multiple services, products, POS and more. The solution also offers features for invoicing and payments. The automatic SMS and email reminders help users save time and money by effectively reducing no-shows with an average of 44%.
Multiple Integrations: It can be integrated with hundreds of tools.
Mobile apps: Mobile apps are offered for both Android and iOS.
Product Weaknesses:
Limited flexibility in scheduling for different time zones.
Unable to work with offline.
Complicated client appointment creation.
Pricing:
Solo ($7 per month)
Essential ($14 per month)
Company ($21 per month)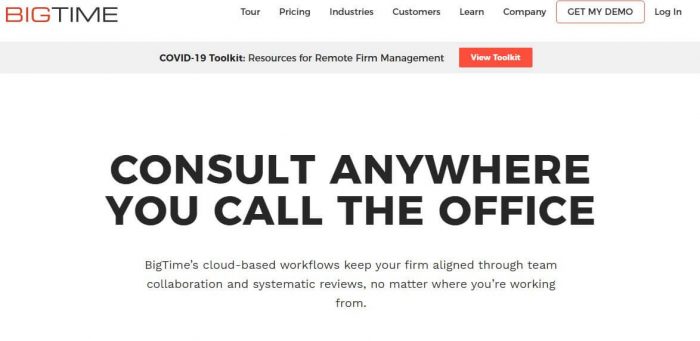 The 10th tool we recommend as your top time tracking software is BigTime. With over 30 timesheet formats and loads of customizable modules, BigTime helps you track and save time boosting team performance.
Track expenses, resource allocation and invoicing efficiently, all the while keeping control of the amount and type of information displayed in customizable reports.
Plus, it gives you multiple options of saving time such as scanning documents through your phone and add to billing reports. What's more? It offers you DCAA compliant auditing for handling timestamps, changes to the timesheet and customizes logging reports.
Product Strengths:
Time Tracking: Take hold of a complete-time tracking module that lets you track time online as well as offline using smart lookup fields. Due dates help you keep a check on the status of tasks and staff assignments.
Billing and Invoicing: Bill time and material via multiple options that include percent complete or multiple fixed-fees billed at the milestone. Plus, with customizable invoicing templates, choose the information you need your clients to have.
DCAA Timekeeping: Make use of DCAA (Defence Contract Audit Agency) compliant auditing for logging timestamps per time entry, logging notes required for changes and late timesheet entries. With electronic signatures, handle submission of timesheets, timesheet review, and approvals. Also, you can customize audit log reports.
Expense Tracking: Expense tracking is easy as pie with scanning option. Scan and capture receipts using your phone and append them to your digital expense reports.
Reporting: Create and customize reports for analytics via built-in reporting tools.
Resource Allocation: Allocate your resources effectively without overburdening and under-scheduling staff by robust resource management tools that offer a real-time view for employees available, almost available and those who are already assigned tasks.
Multiple Integrations: It can be integrated with multiple tools.
Mobile apps: Mobile apps are offered for both Android and iOS.
Product Weaknesses:
The terminology used for fields holds meanings different to other tools which can be confusing.
Lacks customizable billing cycles.
Mobile apps have limited functionality.
Pricing:
Express ($5.95 per user per month)
Pro ($17 per user per month)
Premier ($28 per user per month)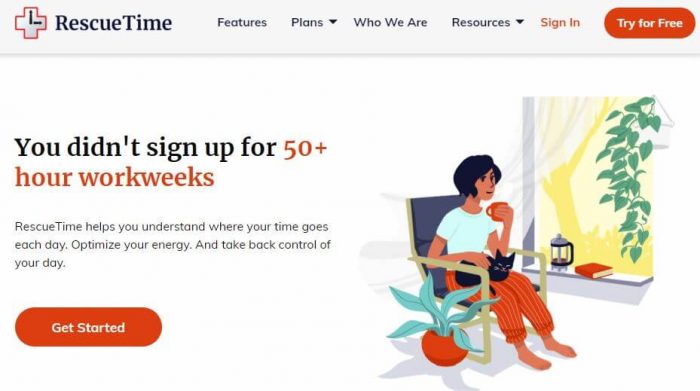 If you are looking for an automatic time tracking app that works across different devices then RescueTime is for you. You need to install the desktop monitoring app on your computer and it observes the work you do on your computer. This usage of your computer is sent to the RescueTime's web dashboard.
Now you can eliminate to log the time manually, and it will help you to manage your habits based on the usage statistics. Moreover, you can classify different applications as distracting, useful or productive, etc. The RescueTime application also works as a website blocker, where you can identify the URL of the distracting websites that cannot be browsed. It is an all-in-one productivity time tracking tool.
It is built for both, teams and individuals. You can try the app for free as well. The good thing about this application is that you can get weekly reports on your working habits. This way, you can improve your productive hours and get more work done.
Product Strengths:
Automatic Time tracking: The RescueTime application will tell you how you have spent your time and it is done automatically. Say goodbye to manual time entry.
Custom Daily Schedule: Now you can save several hours daily with a schedule that is generated from your daily work activities, productivity data, and working trends.
Website Blocking: Make the best use of your working time with website blocker. Now you can set a blocker on the websites that make you distracted and result in missing your deadlines.
Integrations with other apps: You can easily integrate RescueTime with your calendar and Slack that will help you become more productive.
Product Weaknesses:
Lacks advanced time management features
No ability to set up projects
Limited customer support
Pricing:
Free forever for unlimited users.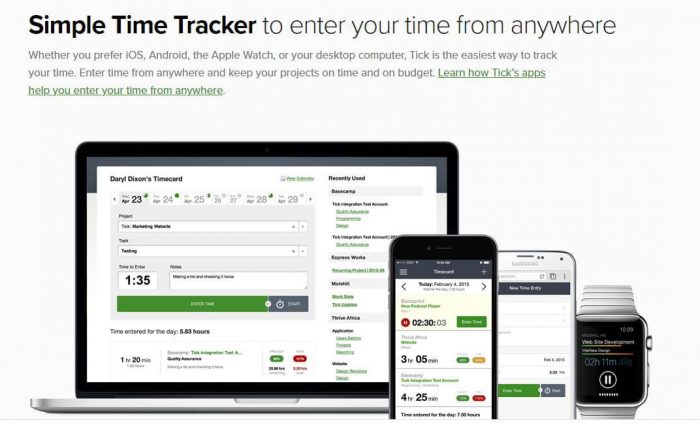 Tick is a straight forward time tracking app that simplifies the art of project time tracking. Comparatively a dry interface with not much eye candy, this time tracking tool helps you get the job done without distraction. The concept revolves around a time card, that lets you add time for a task and add details.
Multiple timers can be used for multiple tasks or a single timer to assess how much time an entire project took with all the tasks. The best part: with each task completed, it gives you budget feedback that keeps you stay on track.
Plus, the team members can add new time intervals to the timers based on how much time a task actually took. These time entries can be set as a standard for similar tasks in the future.
Product Strengths:
The timecard: In a three-step process comprising of project selection, task selection and time entry, you can track the time and use timesheet reporting to get budget feedback. Meanwhile, you can add notes to the card as needed.
Running Timers: You can choose between a single timer or toggle between multiple timers while working on multiple tasks. You can use completed time entries to create new timers for later use.
Budget feedback: Team members can track how much time is left for task completion. This helps the team stay on top of their budget with every task completed.
Multiple platforms: This tool can be used as a mobile app both on iOS and Android and as a desktop app for Mac.
Product Weaknesses:
No reporting/analytics
Paid plans are a bit steep compared to most time tracking tools
Pricing:
1 Project: Free
10 Projects: $19 per month for unlimited people
30 Projects: $49 per month for unlimited people
60 Projects: $79 per month for unlimited people
Unlimited Projects: $149 per month for unlimited people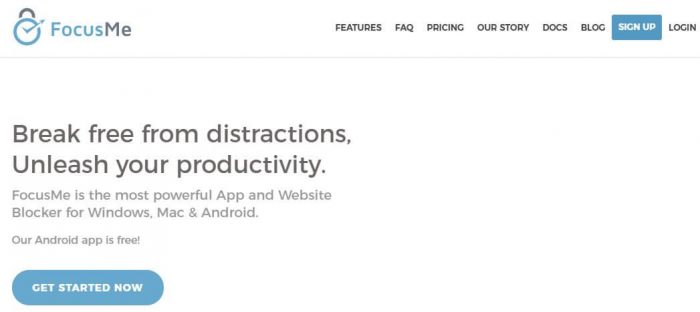 FocusMe boosts your productivity through its highlight: the Pomodoro technique. With this time tracking tool, you can set up 25 minutes times for focused work followed by short breaks. You can even set up different times and break reminders as needed for the project.
It also lets you create multiple plans and routines to set up work for up to a week in advance. As humans, we tend to have distractions. Through FocusMe, you have a special feature that allows you to block out distracting websites and apps while keeping access to more useful ones.
A simple yet effective tool, FocusMe gives you a chance to time yourself productively on tasks.
Product Strengths:
Pomodoro Timer: This app comes with a timer based on the popular Pomodoro Technique. The technique encourages 25 minutes of focused work followed by a break.
Wild Card Allow/Block Rules and White List: You can even block websites and applications to minimize distraction meanwhile leaving access to selected apps and cloud-based services as required.
Break Reminders: You can set reminders for yourself to take a break.
Scheduler: You can plan a week of work in advance by creating multiple plans and routines.
Application Statistics: You can see usage details for apps, websites, breaks and relevant information.
Multiple platforms: This tool can be used as a mobile app on Android and as a desktop app for Mac and Windows.
Product Weaknesses:
No mobile app for iOS
Lack of report generating and sharing options
Pricing:
Annual: $ 2.50 per month
Lifetime: $119.99 on-time payment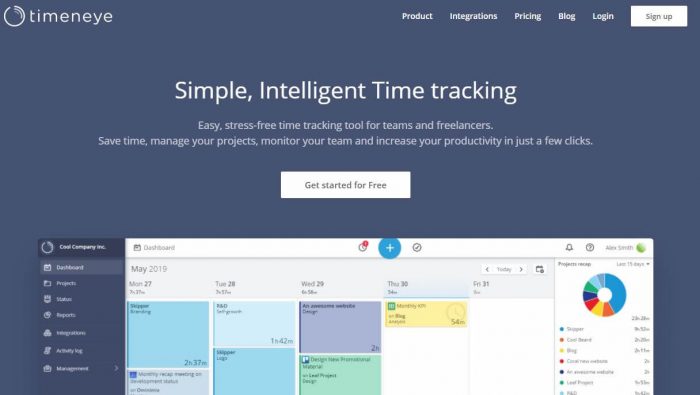 Timeneye is a time tracking tool you can easily integrate with some of the most popular project management apps. It has a neat UI with all the options aptly placed intuitively. From automated and manual timers to report generation, saving and sharing, this time tracking tool facilitates in keeping track of time by a resource on a certain task.
With an easy working environment and efficient features, you can stay on top of your project management cycle.
Product Strengths:
Project and hours tracking: You can monitor your project progress and how much is taken by each resource to complete an activity.
Reporting: With powerful graphs and summaries, you can have a visual perspective of how much work is done along with project stages. You can create and share multiple types of reports with teams and clients.
Automated and manual timers: You can set up timers to track work hours or enter time entries manually.
Integrations: You can integrate this time tracking tool with multiple project management applications.
Multiple platforms: This tool can be used as a mobile app both on iOS and Android and as a desktop app for Mac.
Product Weaknesses:
No, start and stop stamping
Mobile apps are not as efficient
Pricing:
Free
Pro: $6 per user per month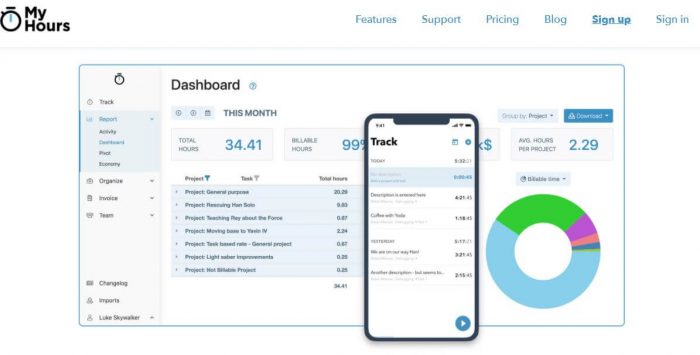 My Hours is one of the best time tracking and invoicing software that lets you track the working hours of your team. An easy to use solution, My Hours allows you to track time and bill your clients through quick invoicing. You can conveniently set hourly rates and generate insightful reports to bill your clients.
The generated reports can be grouped on the basis of tasks, projects, or clients to increase transparency. The reports also identify the activities which are consuming too much of your time and need attention.
With the automatic task timer, easily monitor the time your team spends on tasks. The solution also allows you to manage your budget to control costs and make informed decisions.
Product Strengths
Reporting Dashboard: A detailed dashboard that visualizes the time of your tasks. This is shown in two forms. One, the total time spent on tasks – billable or non-billable, and two, the exact percentage of time being spent on specific projects or tasks
Task Timer: Automatic task timer that starts and stop on a single click. Allows you to thoroughly evaluate the time your employees are spending on tasks, and which tasks need your utmost attention
Customized Filters: Apply customized filters on your datasets and generate reports accordingly. You can also apply client-based filters to view the reports you want to
Budgeting: Control your costs and keep your projects on the budget by utilizing the budget management features
Product Weaknesses
Limited features in the Free version
Budgeting and invoicing available in the paid version only
Does not integrate with third-party applications
Pricing
Free Package
Pro Package ($6 per user/month)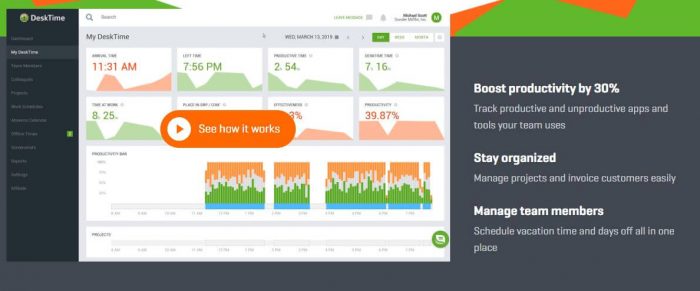 #16 on this round-up of best time tracking software is DeskTime.
A time tracking tool that doubles as an effective productivity measurer by letting you track the time your employees spend online. Get an in-depth report of which applications your employees are using and identify them into productive and unproductive to measure their productivity over time.
For monitoring remote teams, enable screenshot feature to get a detailed view of programs being used. You can also automatically calculate the overall project cost by setting hourly rates.
An interesting feature of this time tracking software is the Private time feature which allows employees to do some quick work-unrelated thing without being tracked.
Product Strengths
Automatic Time Tracker: The time tracker starts when you turn on the computer and stops when you turn it off. This accurately measures the time you spend online working on multiple applications
Document Tracker: Don't just track the total time being spent on apps, track the title of the document you're working on as well for in-depth analysis
Screenshot Taker: automatically take a screenshot after a specified time to accurately monitor your team's efficiency
Pomodoro Timer: The timer reminds your team members to take a break after a specified time interval. The intervals are 52, 60, and 90 minutes
Employee Calendar: Employees can manage their work schedule and track their leaves by updating their workload on this calendar
Product Weaknesses
No automated reminder alerts
Limited features in Free version
Only one user accessibility on Free plan
Pricing
Free (suited for 1 user)
DeskTime Pro ($7 per month)
The Pro plan pricing changes with the number of team members.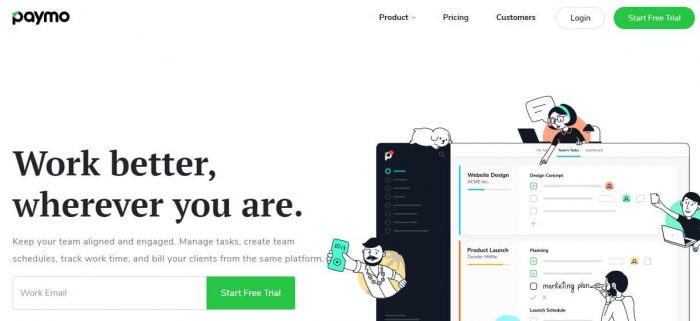 Primarily a project management software, Paymo comes with some solid time tracking features to make its way into this list of online time tracking software.
The software comes with all the essential features to help you track time associated with your projects. From automatic web timer to calendar style timesheets, Paymo provides a simple, yet intelligent time tracking solution.
If you forget to start the timer, the application got it covered by allowing you to manually put in time entries and keep track.
Product Strengths
Simple Time Tracking: Start and stop the web timer to record the time being spent on projects and tasks. All the resulting time entries will be saved with start and end dates for you to monitor performance
User-friendly Interface: This time tracking software comes with an intuitive and user-friendly interface which allows users to quickly get a hang of the product
Invoice generation: Timesheets generated can be converted into invoices and help in easy billing of clients. These invoices can also be cloned to avoid the hassle of individual generation again and again
Expense Tracking: The tool also facilitates expense tracking. You can easily add and track expenses associated with individual projects and tasks and add them to invoices
Product Weaknesses
Automatic time tracker available only with PaymoPlus
The Free version is best suited only for freelancers
Pricing
Free (limited to one user)
Small Business ($9.56 per user/month)
Office ($15.16 per user/month)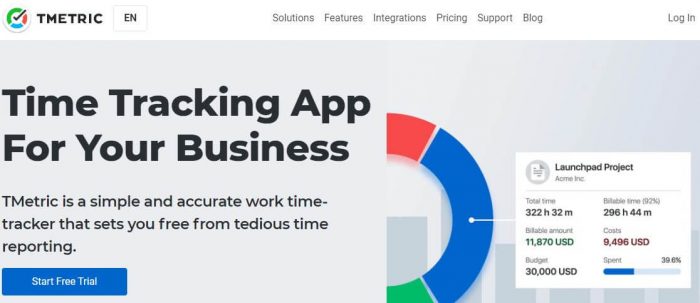 TMetric is a lightweight time tracking solution best suited for freelancers and small teams. The software allows you to track time, generate invoices, set project budgets, and forecast profits all through one platform.
Through TMetric, you can keep track of every minute of your day by logging in the working hours, breaks, attendances, and leaves to ensure maximum employee productivity.
Not only this, but you can also track your project development costs and make sure your project stays under budget through expense tracking.
Product Strengths
Convenient Time Tracking: Time tracking in one click. Just start the timer when you begin working and the timer will keep track of each and every minute of being spent on tasks and projects
Powerful Integrations: TMetric allows you to keep your workspaces in check by seamlessly integrating with your favorite project management applications
Productivity Measurer: Track your employee productivity by accurately breaking down the time they spend on individual apps and run an in-depth analysis to track working habits
Adjustable Pricing: The pricing model of TMetric is flexible enough to cater to teams of every size. You can adjust your plans according to your team size needs
Product Weaknesses
The interface can seem a bit cluttered
Can be overwhelming for first-time users
Pricing
Free (up to 5 users)
Business ($4 per month)
Professional ($6 per month)
The pricing varies with the number of team members.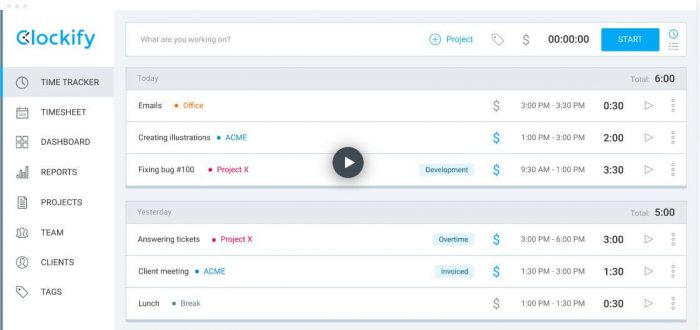 If you don't want to spend even a penny for time tracking, Clockify is the best time tracking software for you.
Top features of this free time tracking software include time management, time reporting, employee timesheet management, attendance management, and more. Since the tool allows unlimited users and projects, you can utilize the platform for as many team members as you want.
With the time card feature, you can log in the total weekly working hours on the basis of start and end time, along with breaks as well. You can access these time cards from anywhere through their application and can even share them in the form of PDF, Excel, or CSV.
Product Strengths
Free for unlimited users and project: All the core features of the tool are totally free for unlimited users and unlimited projects
Team Dashboard: A central dashboard for you to monitor where you and your team's time is being spent
Intelligent Reporting: Break down your weekly employee reports on the basis of individual projects to ensure transparency
Customizable Timesheets: Easily view and edit every person's time entry to manage time more productively
Workspaces for Teams: Distinct workspaces for teams working on multiple projects. Invite team members to workspaces, so they can manage their attendance by themselves
Product Weaknesses
Data import not available
For advanced functionality, an upgrade is needed
Reminders and alerts available only in the paid version
Pricing
Free (unlimited users and projects)
Plus ($10 per month/workspace)
Premium ($30 per month/workspace)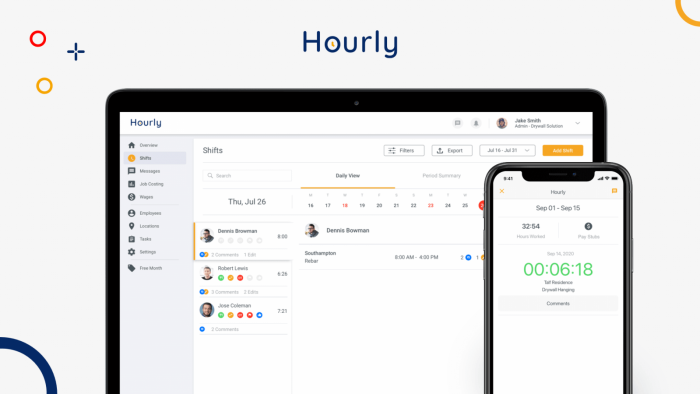 Hourly is a people platform that makes it easy for small business owners to track time, run payroll and get workers' comp for their employees. It's the only time tracking tool out there that does all three seamlessly, which means you get accurate labor reports down to the penny and can even save thousands on worker's comp insurance premiums by syncing real-time payroll data.
Product Strengths:
Mobile Time Tracking

– Hourly is built with mobile teams in mind. It comes with a suite of features like location based clock in, GPS tracking, and geofencing so you can see who's working in real-time and make sure your team is where they're supposed to be. Hourly lets teams manage all aspects of time tracking from their phone, so they can stay on top of hours and productivity from anywhere work takes them.

Know Overtime: Hourly automatically calculates overtime and double time for employees based on local labor laws. You can also turn on settings to force specific start times and mandatory breaks.
Time entries: You can forget the hassle of chasing paper time cards. Hourly automatically records all the time entries for you, and at the end of each period will collect signed timesheets.
Integration: Hourly is the only time tracking tool that integrates seamlessly with

payroll

and workers comp insurance. This can save you thousands of dollars on

workers comp premiums

and saves you hours of work exporting and importing time data into your payroll system.

Users can clock in and out on the move, change jobs and tasks, and even edit their timesheets. All from their phone!
Get notified if an employee doesn't clock into a job or clocks in at the wrong location.
Do it all from your phone —

Hourly is built for Android and iPhone and also comes with a web app you can use from the Chrome browser on any computer.
Product Weaknesses:
No support for scheduling yet so some retailers and restaurants might find it a little challenging to use.

Payroll and workers comp products are limited to California for now. Time tracking works everywhere.

Limited formats for reporting, only export as CSV and PDF.
Pricing:
$8/month per user + $40/month base. Unlimited users.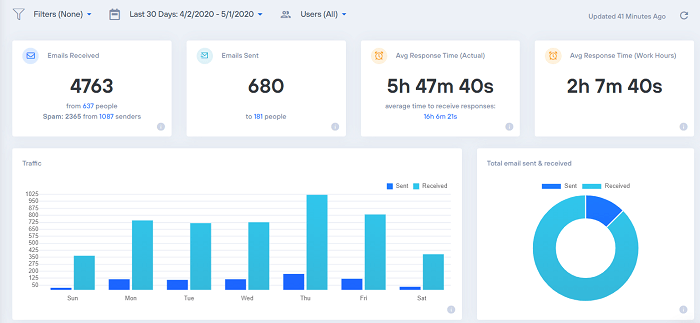 EmailAnalytics is a unique time tracking software because it tracks time by visualizing how you (or your team) spend time using email. With so many people working remotely, much of our daily communication occurs via email, and EmailAnalytics is designed to help track essential metrics like emails sent, emails received, emails by the hour of the day, emails by day of the week, and even your average email response time.
It's intuitive to use, with a clean and aesthetic user interface, and there is literally no setup required. Once you connect your email account to EmailAnalytics, it automatically starts aggregating your email history and displaying it in charts, tables, and graphs that make it easy to get insights on your email behavior.
Product Strengths:
Easy setup – EmailAnalytics require no setup to use; just click and you're in, and it goes to work creating beautiful charts, tables, and graphs for you.
Filters functionality – You can set up filters to include or exclude certain email addresses, domains, or labels from your reports. This makes it easy to drill-down into the datasets that matter to you while excluding noise you don't want.
Daily email report summaries – EmailAnalytics sends you daily or weekly email report activity summaries for you and your team, so you can easily monitor activity and productivity, identify top performers, and rebalance workloads as necessary.
Monitor employees/team members – You can set up and monitor your team members from your own central dashboard.
No software to install – It runs entirely from your browser.
Private and secure – EmailAnalytics undergoes an annual security audit and is Google-verified.
Product Weaknesses:
Limited customer support channels
No mobile app available
Pricing:
14-day free trial (no credit card required)
PRO ($15 per user, per month)
Enterprise ($5-12 per user, per month)

Timeero is the ultimate app for tracking your workforce time, location, and mileage all in one place. With Timeero, you will have more insight into where and how your team members are spending their time.
Timeero is ideal for teams that have a remote or on-the-field crew or employees. No need to have three separate apps or expensive hardware to track time, mileage, and location.
Product Strengths:
Simple App – Simplicity of the software and product makes it very easy for team members to adopt.
Many ways to enter time – Timeero has a very versatile platform for time entry. Time can be entered through the web application, through the iOS and Android mobile apps, through the Timeero kiosk/terminal app or through SMS text. With so many ways to enter time, your team members can log time from anywhere and at any time.
Works offline – Not everyone may have a great internet connection and Timeero. Outside or field workers may not always have access to the internet and having a time tracking system that allows you to clock in/out while offline is crucial.
Location tracking – one of the strongest areas of Timeero is with its location insights functionality. You can know where your team members are anytime while they are on the clock. You get a breadcrumb trail path of where they've been together with timestamps of when the locations were captured.
Mileage reports – in addition to time and location, you can track mileage-based off the real-time location tracking capabilities that Timeero provides. Generate business mileage and reimbursement reports for your team members
Product Weaknesses:
Non-customizable reports – Even though Timeero comes with robust reports, it does not allow you to highly customize the reports to a way that you will want.
Pricing:
$5/user/month + $10 base monthly fee – Monthly
10% discount on Monthly fee – Annual (10% discount)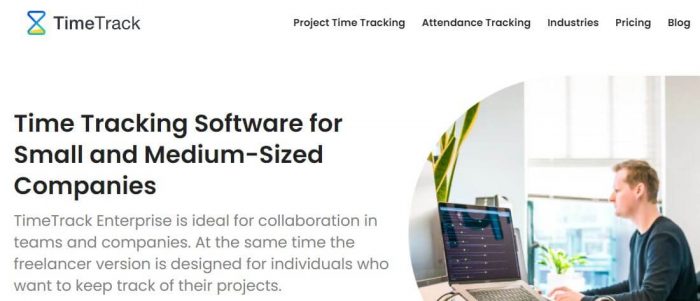 Although TimeTrack is primarily a time tracking software, the tool has many features that support teams and companies in their task and project management. Employees can easily create projects, plan them down to the last detail, and track the progress during their execution.
At the same time, teams can track and evaluate their performances as TimeTrack monitors the exact amount of time spent on individual tasks through a built-in project timer.
Product Strength:
Flexible Reporting: TimeTrack has many filter options so that you can keep track of everything: company resources, budget overruns, team activities, tasks, and working hours of employees, and client profitability.
Friendly User Interface: the tool is very easy-to-use and comes with an intuitive mobile app.
Easy Invoicing: no need for external systems to generate invoices, they can directly create them from their tracked billable hours.
Advanced Time Tracking: Users can track their working hours, assign them to tasks and projects in order to keep up with their project progress and general productivity.
Accurate Leave Management: Users can also keep an eye on their paid leaves and the absences of their colleagues through team calendars. This way, employees have a greater overview of their attendance.
Product Weakness:
Not many integrations available (with other systems)
Currently, there is no live dashboard
No staff scheduling (coming next year)
Pricing:
Standard Plan: $4.00 per user/month
Premium Plan: $8 per user/month (includes the advanced project management features)
Gold Plan: $10 per user/ month (includes the invoicing features)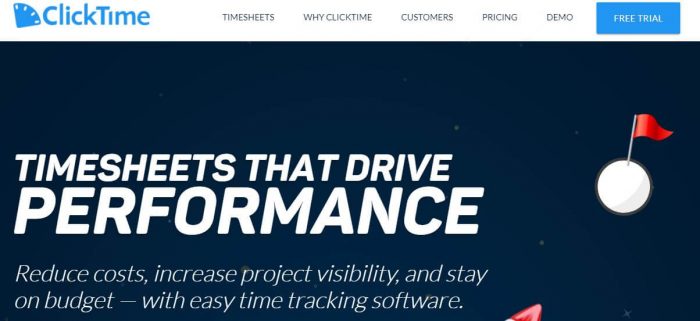 ClickTime offers unique, customizable time tracking and budgeting solutions for organizations of all industries and sizes. Using ClickTime, you can easily track time using any device.
ClickTime is trusted by users and reviewers alike. The software holds a 4.6/5 rating on both GetApp and Capterra, and it is used in health care, IT and educational industry.
Product Strengths:
Flexible Time Entry – ClickTime offers the most popular methods of time entry: day view, week view, mobile access, app integrations (Slack, etc.).
1-click Utilization Reports – Surface high-level and deep Project Insights to monitor profits, costs, and billings in real-time. Reports allow managers to measure and gauge employee performance and billability.
Resource Planning – Industry-leading Resource Planning tool allows managers to forecast and plan team resources and budgets. Plus, time entries and time off synchronize in real-time with project status so you can see who is available to work on what projects.
100+ Business Software Integrations – ClickTime provides its users with seamless, easy-to-use integrations for platforms such as Salesforce, QuickBooks, Trello, Slack, and more. (Accounting, CRM, Payroll, and more.)
Mobile Application – ClickTime Mobile supports time and expense tracking on-the-go.
Special Nonprofit Edition – ClickTime for Nonprofits is the only timesheet software created exclusively for not-for-profit organizations. Instantly access grant & fund reporting and powerful program insights.
Product Weaknesses:
ClickTime does not support attendance tracking or punch clock entry.
ClickTime does not support GPS/geo-time tracking.
Pricing:
Starter – $9 per user per month
Team – $12 per user per month
Premier – $24 per user per month
All plans are based on an annual payment and include a 14-days free trial.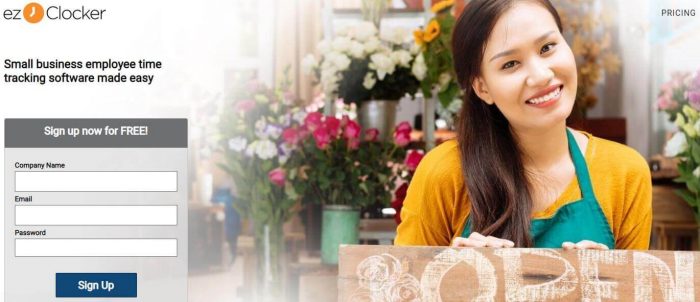 ezClocker is a top-rated time tracking & scheduling software for small businesses. Employees can use the apps to clock in/out and ezClocker will capture the GPS location so the employer can verify if their employee's clock in/out at the correct location.
The best feature of this time tracking app is that it's simple and easy to use. If you are a busy small business owner who is looking for a basic time clock app to keep track of your employees' hours and don't have the time to learn a complex system then ezClocker would be a great fit for you.
Another great feature is job codes where employees can pick which job they are clocking in/out from which will allow the employer to calculate labor cost for a particular job.
Product Strengths
Usability – Simple and easy to use.
GPS – GPS recording of all clock in/out times enables you to verify employees clocked in at the correct location.
Online schedules – Employees can view when their next shift will be from the app.
Cost Calculation – Ability to add jobs so you can calculate labor job costing.
Notifications & reminders – Get notified when an employee clocks in/out.
Easy Exporting – Export your timesheets to .csv file or email it within the app if you are on the go.
Cross-Device – ezClocker has an iPad app version that allows all employees to clock in from one device. Ideal for office or retail employees.
Product Weakness
No Geofencing support.
It does not have customizable reports.
Pricing
Solo (Free Plan).
Basic ($10/month flat fee for up to 15 employees).
Standard ($25/month flat fee for up to 30 employees).
Premium ($50/month flat fee for up to 100 employees).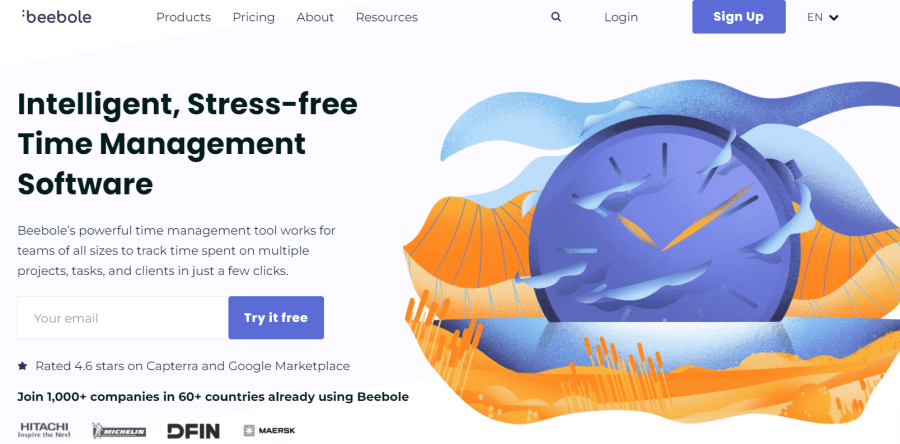 BeeBole is a flexible, easy-to-use time tracking tool that can be adapted to companies of all sizes and industries. It's offered in 10 different languages and multiple currencies and is currently used by companies in more than 60 different countries.
This cloud-based tool lets employees track their time on clients, projects, tasks, and sub-tasks with an easy one-click timer. It's available on desktop and mobile, and it can be used without an internet connection.
Administrative tasks couldn't be simpler with BeeBole. Log attendance, vacations, leaves of absence, and even upload public holidays to the team calendar. Plus, the approval flow option allows for painless bulk review, timesheets approval, change request approval, and lock time entries.
The administrators and project managers can easily set up billing rates, as well as costs for projects, clients, and employees. This data can be used to run powerful reports on employee time, budget, margin, profit, and more. In fact, BeeBole offers more than 30 custom KPI reports and customizable dashboards to provide insightful business intelligence at a glance.
Easy to use, customizable, and powerful, BeeBole turns timesheet data into powerful business intelligence.
Key Features
Track your time on the mobile app with or without an internet connection
More than 30 reports & custom KPIs to choose from
Set your billing costs accurately with multiple currency options
Choose from 10 languages
Enjoy excellent customer support in English, French, or Spanish
Use BeeBole Timesheet's Google Sheets add-on to take your data to the next level
DCAA and GDPR compliant
Product Strengths
Complete customization through drag-and-drop modules
Google Suite and Microsoft 365 integration
Multilingual and multiple currencies
Highly rated customer support in English, French, and Spanish
Product Weakness
Admin interface can be complex if you don't do a free demo
No admin interface in the mobile app
Copy and paste entries only available in the mobile app
Pricing
Pricing is €6.99 per user per month with a 30-day free trial and no credit card required. BeeBole also offers volume discounts and 10% off for NGOs and educational institutions.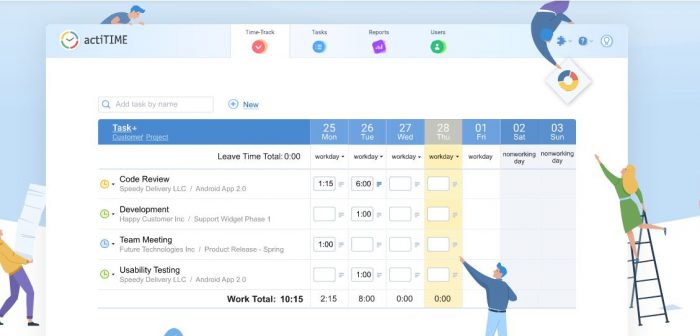 actiTIME is a multifunctional time tracker created to help you obtain an in-depth insight into how well you utilize your working time, identify major time wasters and make smarter time management decisions.
In addition to that, actiTIME has a very user-friendly interface and flexible configuration, allowing you to tailor the tool specifically to your workflows and performance needs.
Product Strengths
Straightforward Manual-Entry Timesheets– With their help, time tracking turns into a child's play. You can add and edit time entries in actiTIME with just a few clicks.
actiTIME Chrome Extension– This feature lets users track time spent on task automatically and directly from their browsers, as well as Jira, GitHub and GitLab accounts.
Streamlined Reporting and Invoicing– Invoices and many useful and comprehensive reports on team productivity, project revenues and costs are generated automatically based on your time tracking data and specified employee rates.
Flexible Configuration– You can switch off any features you don't plan to use and, thus, make actiTIME interface even sleeker and easier-to-use.
Kanban Board System– This highly popular feature enables users to track work progress in a visually appealing format. Just move your tasks across the Kanban Board to signify their current statuses and keep everyone in the know.
Product Weaknesses
Only basic project management functionality is included,
The mobile app is available merely at an additional price.
Price
1-3 users: FREE.
1-40 users: $6-7 per user a month.
41-200 users: $5-6 per user a month.
200+ users: $1500 a month.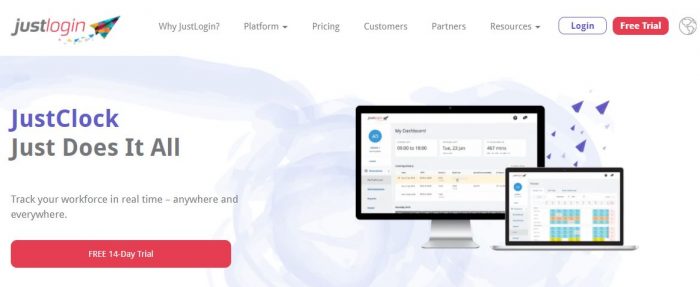 JustLogin is an employee-first HR software that combines time tracking, leave, payroll, expense, and employee data management all-in-one for the best employee experience.
Your team can clock in via their mobile app and data like their photo, location, timing, project, and remarks can be captured when they take a selfie. Their data will be verified via facial recognition and geofencing, so you can be sure your employees are at the right location at the right time.
With a complete HR integration, you can easily manage employee leave calendar together with their roster calendar, and working hours and overtime can be synced with payroll for pay calculation. You can access timesheets and time reports in real-time online.
Product Strengths
User-friendly Interface: Employees can manage everything via their mobile app, so it's easy to understand and use
Built-in Face Recognition: Artificial intelligence facial recognition technology is baked in the mobile app so you can be sure it's your employee checking in
GPS Geofencing: Restrict access on where employees can clock in and out via geofencing functionality
Scheduling Functionality: Easy to create multiple shifts and assign them to different employees
Comprehensive Integration: Time tracking is integrated with a full suite of HR applications for all-in-one convenience
Real-time Reporting and Notifications: Generate timesheets and reports anytime, and receive real-time notifications when employees fail to report to work at their designated shift.
Product Weakness
No automatic dynamic scheduling of staff.
Payroll calculations are limited to Singapore, Hong Kong, Malaysia, and Myanmar for now. However, you can use time tracking features anywhere.
No self-service onboarding. However, you are provided with dedicated onboarding support.
Pricing
Starts from $4 per user per month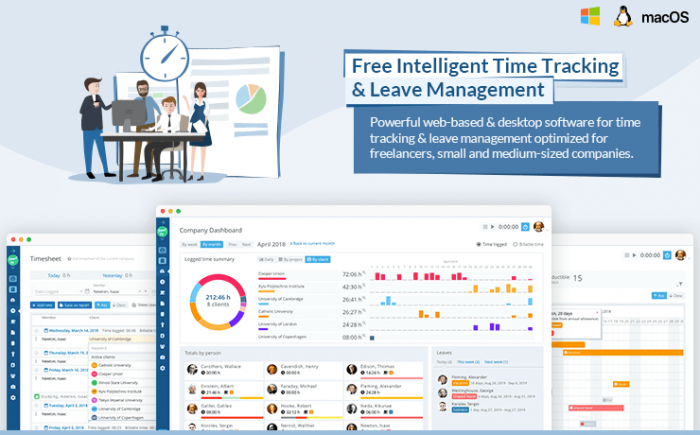 Trackabi is a web-based service for time tracking, employee leave management, preparation of time reports, invoice generation, and many other daily business activities. Trackabi includes all of the features one would expect from a time tracking software.
Plus, there are many beneficial customization options, convenient permission-based user roles, the ability to monitor employee timesheets, advanced reports, access for clients, integration of employee leave schedules with timesheets, and plenty of other things.
Product Strengths
Desktop Timer Application for Windows, Linux, & macOS: The app can track time based on user activity. It can automatically launch and stop the timer, differentiate work and leisure activities, and provides excellent daily reports.
Highly Customizable Timesheets: Timesheets can be edited like spreadsheets in Excel and offer many customization options (data to display, mandatory fields, additional custom fields, etc.).
Employee Leave Management Integrated with Timesheets: Personal day-off calendar for every employee and a common leave schedule with the request/approval process. Employee leaves can be within timesheets to make it easier for managers to ensure the data is complete.
Customizable Time Reports: Time reports can be generated from a timesheet based on user settings and shared through external links or exported to Excel or PDF.
Invoicing & Payments: Invoices can be created from reports or independently and sent to clients by email. The system allows entering client payments and tracking totals and overdue invoices.
Project Plans & Estimates: Project plans with a breakdown by milestones, tasks, and subtasks allow bottom-up time and budget estimating. Estimated amounts can be matched against real live data from employee timesheets.
Product Weaknesses
Only a few integrations are available.
No mobile application
Pricing
Free Starter plan for up to 5 users.
Business plan starting from $16/month for 5 users.
Business Pro plan starting from $20/month for 5 users.
Enterprise plan (everything unlimited on a dedicated server) quote is provided upon request.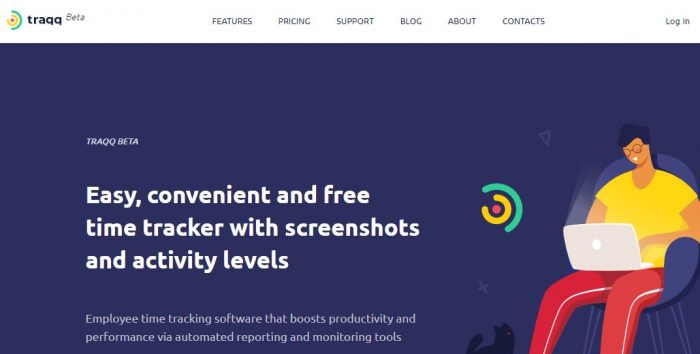 If you want to use a simple time tracking tool with an automatic activity tracking feature, then Traqq is for you. It is a simple time tracking software that allows you to track and monitor your activity on the web or desktop which share screenshots and videos along with time spent.
You can measure and analyze the time spent on work with everyone in your team, and gives you the ability to find the best and worst performers in your team. Use it to improve your productivity and performance.
Product Strengths
Monitor user activity: Screenshots/videos are shared with the admin to let them know what your team is working on.
Detailed Stats: Track the employee working hours and optimize your team performance.
Manage Team: You can get the ability to manage everyone in your team and add more people.
Reporting: You can create various reports with the Traqq app.
Product Weakness
Currently in beta state
Don't support Linux OS.
No task tracking feature
Deleting screenshots will remove time tracked
Pricing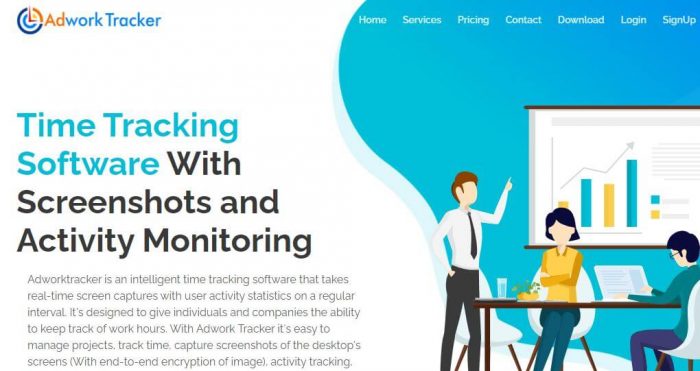 Adwork Tracker is an advanced and intelligent time tracking software that takes real-time screen captures with user activity statistics on a regular interval.
Adwork Tracker is Made in India. It is one of the best time tracking software in the current market to boost the productivity and the performance of employees and freelancers. It is easy to use and setup.
With the Adwork Tracker, it is easy to manage projects, track time, capture screenshots of the desktop's screens (with end-to-end encryption of the image).
Product Strength:
Time Tracking: Accurately tracks working time. Tracker counts the mouse clicks and keyboard strokes.
Screenshots: Tracker takes screenshots once in every 10-minute interval with end-to-end encryption of the image.
Activity Monitoring: You can monitor the activity of the user with screenshots. The tracker can manage multiple projects and tasks at the same time.
Project & Team Management: Adwork Trackers offers you to manage multiple projects and tasks at the same time. With the Adwork Tracker, you can easily create new teams, add or remove team members, assign tasks to the members, etc.
Online Reports: Adwork Tracker allows you to review and analyze your time tracking and computer usage data by the different types of reports like Timeline, Activity, Timesheet, Apps & Websites, and Attendance.
Product Weakness:
No mobile application is available.
No automatic & dynamic scheduling of staff.
Pricing:
Starter Plan: $6.75 per-user subscription
Business Plan (suitable for small organizations – up to 20 users): $108 per month
Professional Plan (suitable for large organizations – up to 40 users): $216.42 per month
Free trial for 7 days. No credit card required.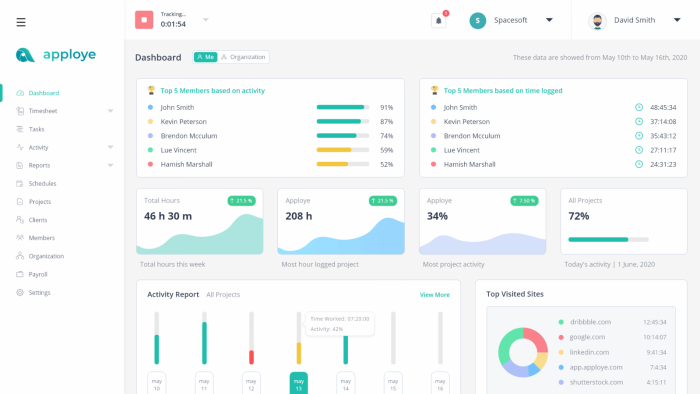 Apploye is a time tracking, employee monitoring & scheduling software. It will help you to manage your In-house, remote and mobile teams. Along with time tracking, Apploye includes features such as timesheet, screenshots, app, URL tracking, activity levels, payroll, invoicing, scheduling, team, projects & budgets, shift management, attendance, and GPS location tracking. It is suitable for small to large businesses, especially for remote teams.
Product Strength:
Dashboard: Apploye has a well-organized and straightforward dashboard and easy to understand.
Time Tracking: Apploye offers both online and offline time tracking, billable and non-billable time, manual time entry.
Customizable timesheet: It helps you preview the daily, weekly, bi-weekly, and monthly timesheet, and also, you can see the overview of the working hours your employees have worked.
Project and Task Tracking: You can create and observe project budgets and billing. Also, you can track the project progress, oversee the multiple projects' status at a time.
Employee Monitoring with GPS Tracking: It offers you to monitor your employees both indoor and outdoor. You can see when they work and how much they work, and with a GPS location tracker, you can see where they work.
Activity Tracking: It analyzes the keyboard clicking and mouse movements of your employees and gives you a list of the most active employees.
Employee Scheduling: Apploye offers an advanced scheduling system for your company. It helps to shift the duties of the employees, schedule the scattered employees.
Team: You can create a team based on various departments or projects and assign projects or tasks to the team.
Payroll: It offers hourly payment and a one-time payment method.
Reporting: You can have detailed reports on various aspects like time and activity, manual time entry, apps usage, URL usage, due payment, paid payment, etc.
Product Weaknesses:
It offers only 7 days free trial.
Other app integrations are limited.
The iOS support is on the beta test.
Pricing:
Apploye TimeTrack ($6 per user per month)
Apploye FieldTrack ($7 per user per month)
Apploye RemoteTrack ($8 per user per month)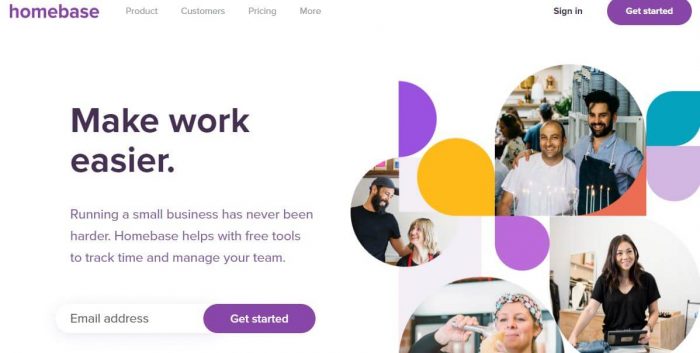 Homebase is an incredible time tracking and time management application that enables managers to track time and effort across all team types. As a result, you can use the tool toward employee performance and accountability.
Product Strengths
Shift Scheduling
Timesheet management
Hiring tools
Absence management
Automatic reminders
Email notifications
Employee portal
Group calendars
Payroll integration
Real-time updates
Secure login
Activity dashboard
Budgeting & forecasting
Time & attendance tracking
Cost estimating
Product Weaknesses
The following features are not present in the application's arsenal.
Task Tracking
Task Management
Pricing
A free trial of the application is available if you want to check out the software before deciding on purchasing a subscription
There is a Basic version of the application which has limited features, but it is free
There is an Essentials version of the application which is priced at $20/month/location
There is a Plus version of the application which is priced at $50/month/location
If you want to purchase the Enterprise version of the application, you need to contact the company so that they can custom tailor a subscription for you according to your needs and requirements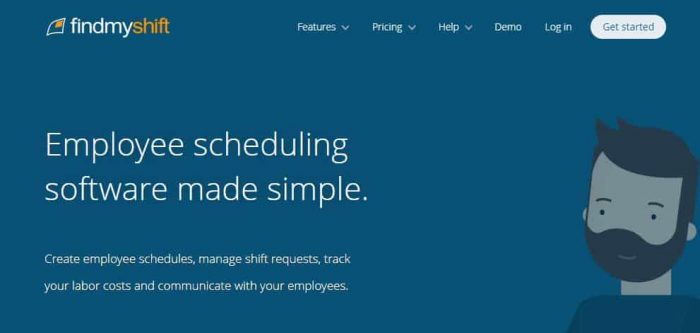 Findmyshift is another example of a time tracking and employee tracking software that enables you to create perfect rosters and approve/ reject employees' shift requests in a few seconds.
In addition to the aforementioned requests, managers can also use this application to track the productivity of the team members from the moment they start their workdays, which helps them to make better staff decisions in the future.
Product Strengths
Salary, day rates, hourly rates, and overtime tracking
Calendar sync with iCal, Google Calendar & Outlook
Payroll reports & export options
Daily labor budgets
Push notifications!
Customizable filters
Smart pay rate calculation
Accounting integration
Automatic backup
Daily shift reminders
Calendar management
Charting
Cost analysis
Product Weaknesses
No Automated Scheduling
No Overtime Tracking feature
Pricing
There is a free trial available for use if you want to check out the software before making a decision
The paid subscription of the application starts at $30.40/month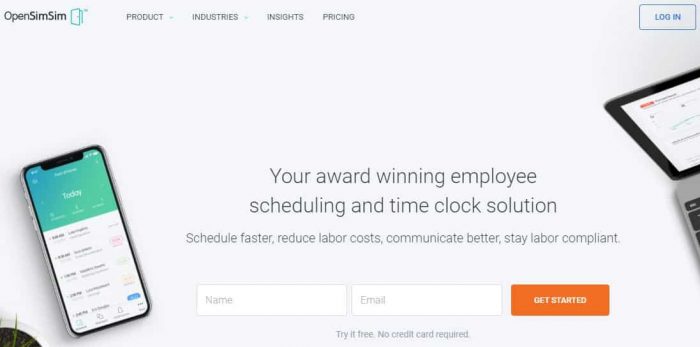 If you want an application that monitors the time and productivity that your team members invest in their work while also optimizing the workloads and improve the communication amongst the team members, you need to check out OpenSimSim.
Product Strengths
Automated shift scheduling
Automatic time capture
Budgeting & forecasting
Clock in / out
Drag & drop interface
Employee availability
Employee management
Employee profile
Hours worked
Job scheduling
Message board
Multi-location
Payroll integration
Real-time updates
Resource management
Secure login
Product Weaknesses
Pricing
There is a free trial of the software available if you want to check it out before purchasing the subscription
The paid subscription of the software starts at $15.99/month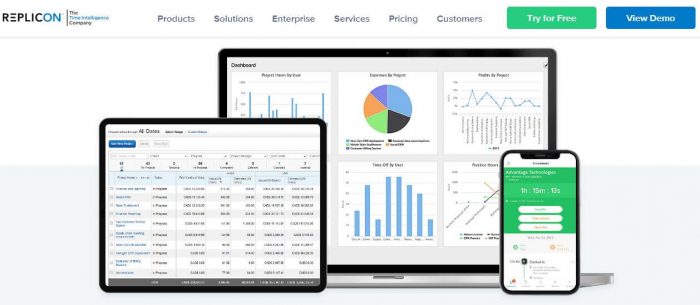 Replicon is one of the leading, comprehensive multi-feature solutions that allow organizations to accurately track their employees' productivity and efficiency by offering a single source of truth for a time. With multiple products that cater to specific problems, Replicon's time tracking software offers business owners and managers a suite of features that can help them manage their employees better.
Replicon comes with the ability to manually set your payroll requirements as defined by your local municipality.
Product Strengths:
Configurable and Agile: Model your Replicon product to fit your global business.
Scalable: Replicon products are Easy-to-deploy for companies of all sizes.
Global & Secure: Replicon product supports Multi-location, Multi-lingual, and Multi-currency.
Mobile-Ready: Replicon's mobile time tracking is built for mobile, desk-less workers.
Artificial Intelligence: Replicon uses technologies to manage time intelligently.
Plug & Play: Replicon uses Web services API to connect with your ecosystem.
Analytics: Replicon provides real-time insights into projects, people, and other metrics that tie into time.
Gross Pay Engine: Replicon uses the pay rule library to convert employee hours into gross pay information.
Cloud Clock: Replicon enables employees to clock in/out with its AI-powered time clock app.
Crew Timesheet: Get visibility into your crew's time and availability to better manage your projects using Replicon.
Compliance: Replicon uses a prebuilt library or configures rules for global labor compliance needs.
Product Weaknesses:
Detailed Explanation about errors and their resolutions.
Some features of Replicon are not easily explored as there is a bit of a learning curve to this software.
Cannot attach documents in the clock in-out, or time off bookings.
Pricing:
Replicon QuickStart plan at $60 per month for up to 5 users;
Based upon the add-on's selected, pricing starts from $5-$22 per user per month.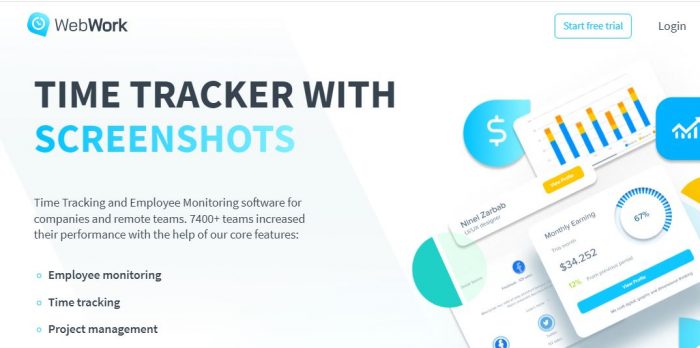 WebWork Time Tracker is an all-in-one time tracking and employee monitoring software designed for all types of companies and remote teams. It makes your $2.99 investment paid off with a 25% productivity increase. It tracks work hours, monitors employees, records attendance and keeps track of the apps and website usage to improve your team's performance. Its real-time dashboard provides all work-related information in one place to give you in-depth insights about your team's performance.
WebWork offers time tracking for 4 different platforms: desktop tracker, web tracker, mobile tracker and Chrome extension tracker.
Product Strengths:
Time tracking with 4 screenshot modes:

WebWork offers 4 types of Screenshot modes:

screenshot mode, background mode, blurred screenshot mode, no screenshot mode.
Task management system: Task management system allows you to track how much time it takes to complete tasks, see who's working on what, and ensure everyone gets the job done on time.
Productivity measuring: WebWork presents employee's performance with high, medium, and low activity levels.
Online invoicing: Users can create billable contracts and generate professional invoices in a very simplistic manner. WebWork allows users to generate it by project, user, activity.
Apps & Website monitoring: The powerful usage tracking system gives users the benefit to understand how much time employees spend on productive and non-productive apps and websites, which gives them a realistic idea of what their employees are doing with their utterly significant time.
Attendance monitoring: This automated process allows you to observe who comes late, who leaves work early, and who tracks less time than required. You can review and analyze the information in a chart and identify any deviation of working hours.
Mobile Tracking: The mobile app makes an easier access pathway for users to track their work hours wherever they are.Users can view the time they spent on a specific project or task right from the mobile app to better manage their working time and get deeper insights. Mobile apps are offered for both Android and iOS.
Extensions: Users have the ability to track their tasks, and projects with the Webwork Chrome Extensions.
Product Weaknesses:
There are no calendar integration

There is no payroll system available at this time
No GPS tracking
Pricing:
Starts from 2.99$ user/month

Free trial for 7 days
Users have the ability to pay after using for 30 days
FAQ's
1. What to look for when choosing a time-tracking app?
When choosing a time-tracking app, one of the most important things to look for is its compatibility with your work schedule.
Make sure that the app can be used in tandem with your current work tools and settings.
Additionally, make sure that it offers features such as recording deadlines, task counts, and hours worked.
Other important factors to consider include how easy it is to use and manage data files.
Finally, be sure to test out the app before you buy it so that you understand its strengths and limitations.

2. How much does time-tracking software cost?
There are a variety of time-tracking software options available on the market, and they range in price from $5-$500/month.
Some of the more popular options include nTask, RescueTime, Fitbit Coach, HarvestPlusTimer, TimeTrackr, DeskTime CRM, and many more.
3. Which automatic time-tracking app is the most suitable for small businesses?
If you are a small business owner, then time tracking is essential for keeping track of your work schedule and performance.
There are many automatic time-tracking apps available on the market.
However, some of the most popular options include nTask.
Both of these apps offer comprehensive time-tracking capabilities that allow you to record everything from tasks completed to minutes spent working on projects.
They also have features that help you to analyze your data and find trends over time.
Conclusion
Above are the top time tracking software that can work well for your business and personal needs. If you think that I have missed any application from this roundup, feel free to suggest more apps on my email at fwilson@ntaskmanager.com