More than ever before, the importance of effective team management, team building, and team collaboration has reached an all-time high. The impact of accord or discord between team members as well as teams and management can be reflected in the projects and daily workflows.
According to PMI, only 56% of strategic initiatives meet their original business intent and goals. It is more alarming when combined with the following statistic: 97% of employees and executives believe lack of alignment within a team impacts the outcome of a task or project. This shows how critical effective team management is.
Table of Contents
The Top 30 Team Management Software for Small Teams in 2023:
Here is our list of 30 of the top team management software. Although most of these come as complete project management tools, we will be highlighting their key team management modules or features.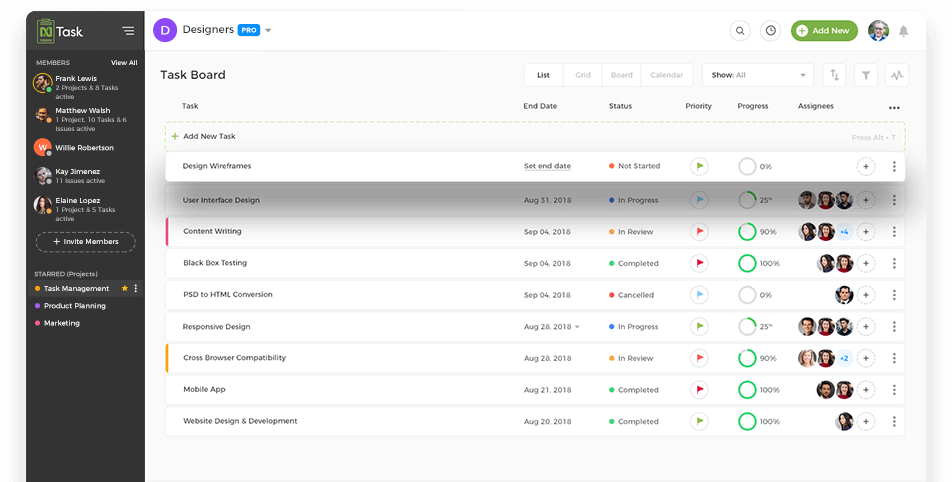 nTask is a comprehensive tool that is designed especially for Agile Teams. Comprising a number of modules and features devoted to Task management, project management, issue management, risk management, meeting, and team management, it provides all possible solutions for any business under one roof.
Top Team Management Features of nTask:
Unlimited workspaces
Unlimited team members
An easily workable user interface
Information exchange through comments and file sharing
Employee-time effort reports
Timesheet management module
Task and project assignment to individual members or teams
Individual workspaces for teams with dedicated tasks, projects, issues, risks, meeting management modules
Allows early issue tracking, with issue status, priority, and task linkage.
Meeting management module to schedule meetings (one-time and recurring)
nTask is a perfect project management tool

nTask is free and lets you create & manage unlimited tasks, meetings, issues, risks and more.

Previously known as Dapulse, Monday is an efficient collaboration and communication application for teams. It provides project and task management features as well as facilitates team collaboration and management.
Top Team Management Features of Monday:
Advanced scheduling features for tasks and projects
Displays project and team progress visually
Offers an Execution Board
Allows tagging teams
Receive updates and notifications
Receive updates through email
Integrations with other tools such as Dropbox, Google Drive, Pipedrive
Searchable knowledgebase
Documentation management
Personal and public Boards
Live comments on visuals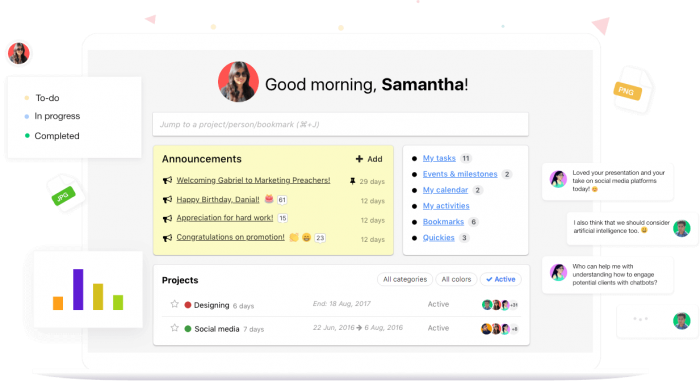 ProofHub is an all-in-one team management software with powerful features that help managers stay in ultimate control of their teams, tasks, projects, and communications.
Top Team Management Features of ProofHub
Custom roles to define work better and maintain transparency in processes
Flexible task management with simple to-do lists and agile workflows and kanban boards
Gantt chart for efficient planning of projects with a quick drag and drop functionally
Project timeline to efficiently plan tasks and keep projects moving on the right track
Online proofing tool to simplify review and approval process for creative works
In-built chat app to bring all your communications in one central place
Easy file sharing and management
Custom reporting allows you to manage your resources better with
Automatic timer and timesheets to foster accountability and productivity in teams
Integrations with third-party apps like Dropbox, Box, Google Drive, OneDrive, iCal, and Google Calendar

Bitrix 24 is a project management software that provides an entire suite of team collaboration, communication and management features for your team.
Top Team Management Features of Bitrix 24:
Accommodates up to 12 free users.
Includes social features that include comments and likes
Reporting and automated processes such as notifications
Allows subscriptions to groups or discussions.
Virtual voice calls and integration
Modules for intranet services such as conversations, photo gallery, wiki, files, calendars, and tasks
Employee directory, task effort, and time reporting and attendance chart
Time management tools that include attendance tracking, work reports, daily planners, meeting manager, an event scheduler
Document sharing and libraries
Social search including events, tasks, and uploaded documents.
Project coordination and scheduling
Telephone integration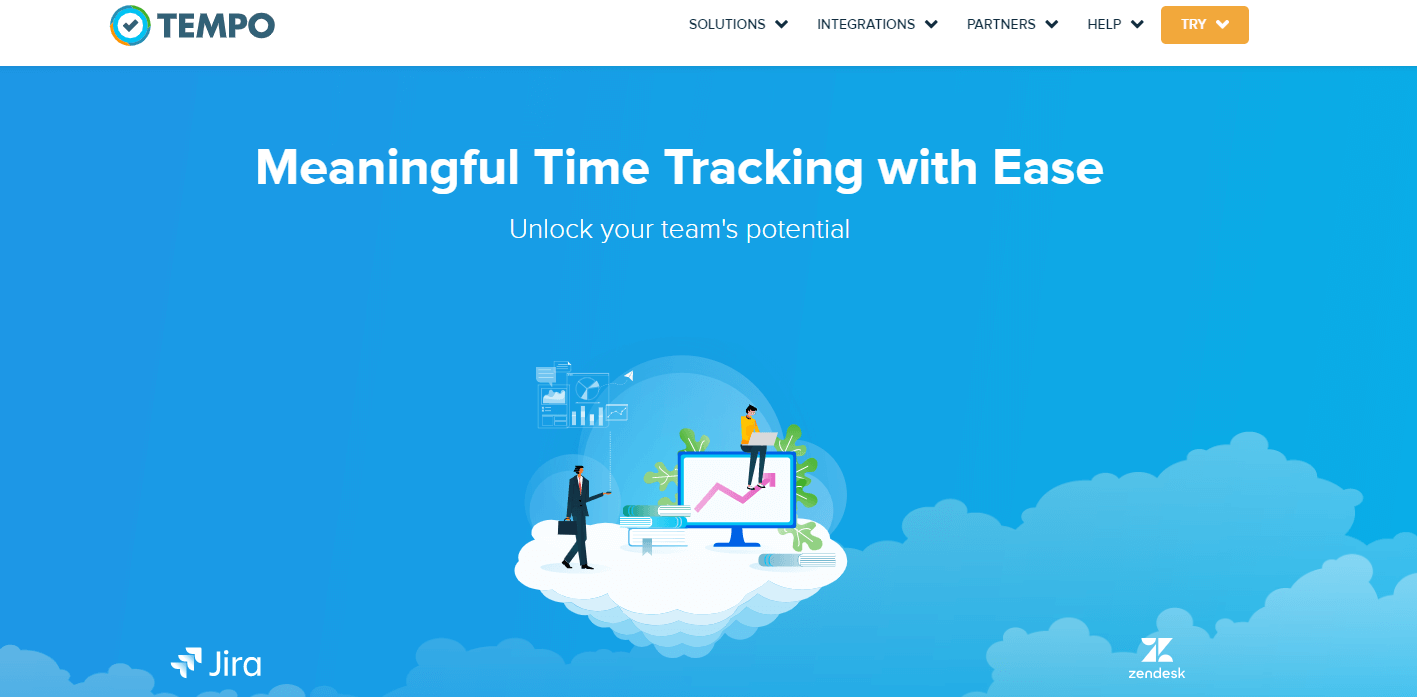 Tempo is another top team management software that helps you manage your team in multiple ways. It offers solutions for managing projects and teams through drag and drop.
Top Team Management Features of Tempo:
Team management by roles, capacities, start and end dates, workload and holiday schemes.
Link Jira boards and projects to teams for backlog definition.
Grant permissions to individual users or groups
Apply custom work and holiday schedules.
Access an overview of all resources in your organization
Use filters to find staff based on their team, role or availability
Access a timeline with your team and their backlog in parallel.
Plan work through drag and drop onto the timeline.
Real-time reports
A capacity report showing details of the allocation and availability of each team member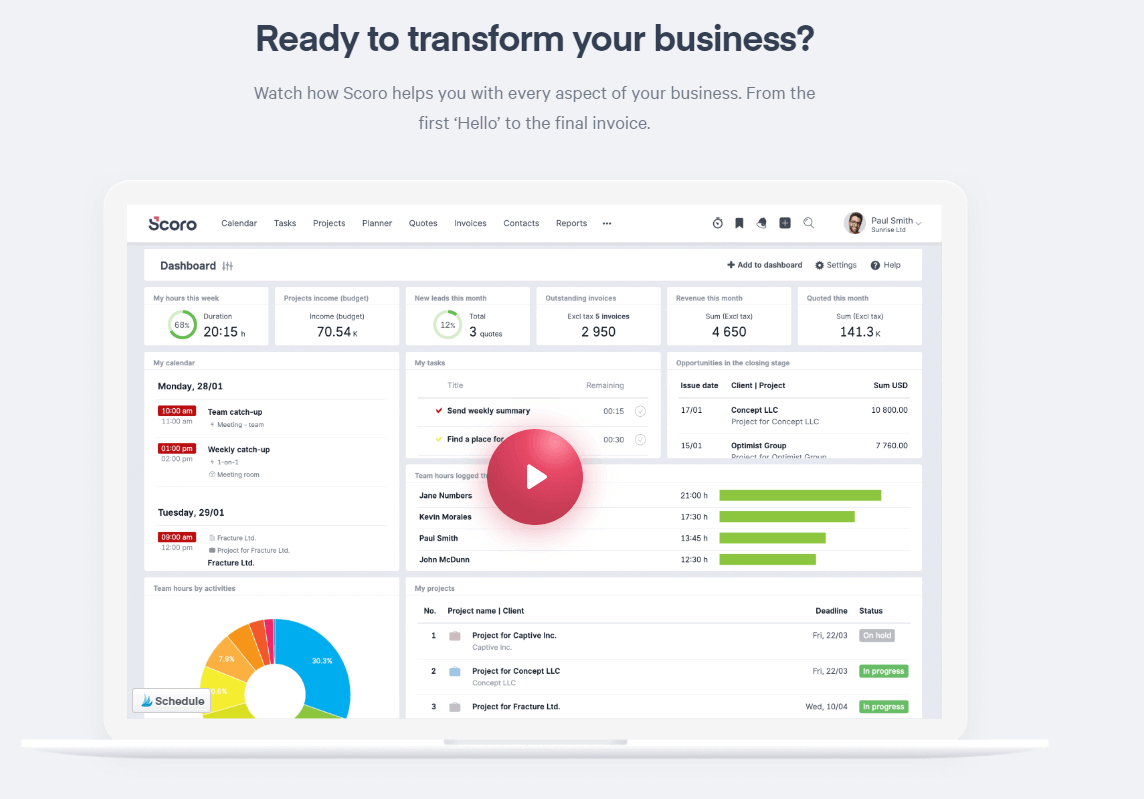 Scoro is a complete business solution laced with modules that cater to team management, project management, and customer relationship management. This top team management tool is equipped with all the necessary tools to provide solutions to your business needs.
An all-in-one tool ranging from document management and project completion to invoicing, billing and client management, it helps you make use of all the powerful features along with a robust collaboration feature set.
Teams can keep productive while collaborating on all levels including idea management, information sharing, team reporting, meeting management and resource balancing for workload assigned to teams.
With such a comprehensive set of features, this top team management software is growing in popularity with teams and organizations across various industries.
Top Team Management Features of Scoro:
Contact database and management
Work and meeting scheduling
Shared team calendar
Communication and file sharing
Time tracking and billing for work
Detailed project reports including project progress and finances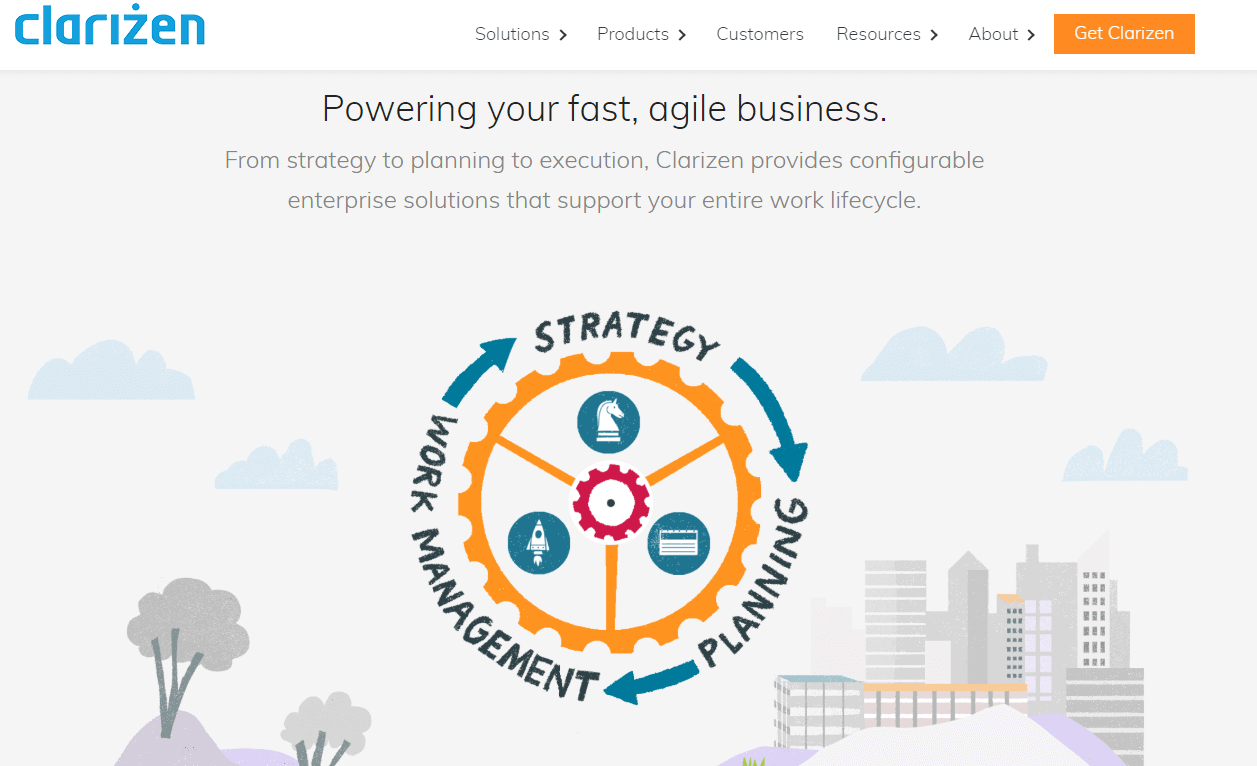 Clarizen is a project management tool that provides robust features to boost collaboration and workflows, making it one of the top team management software.
Top Team Management Features of Clarizen:
It offers collaborative planning
Caters to Salesforce Integration
Includes personal calendars, billable and non-billable work items
Offers real-time team updates
Allows expense tracking and shows financial indicators
Offers time and budget tracking
Resource management feature
Easy role definition and assignment for projects
Document exchange and information sharing
Work scheduling

Smartsheet is a web-based tool for project management, team task management and more. Comprising a wide set of features to facilitate workflow and project deliveries, it caters efficiently to the team management as well.
Top Team Management Features of Smartsheet:
Contact management for customers and employees
Discussion Board for team discussions
Easy e-mail integration
Document management and file sharing
Group calendars
Project hierarchy for team assignment
Automated reporting
Live chat for discussions
Customizable workspace
Notifications and reminders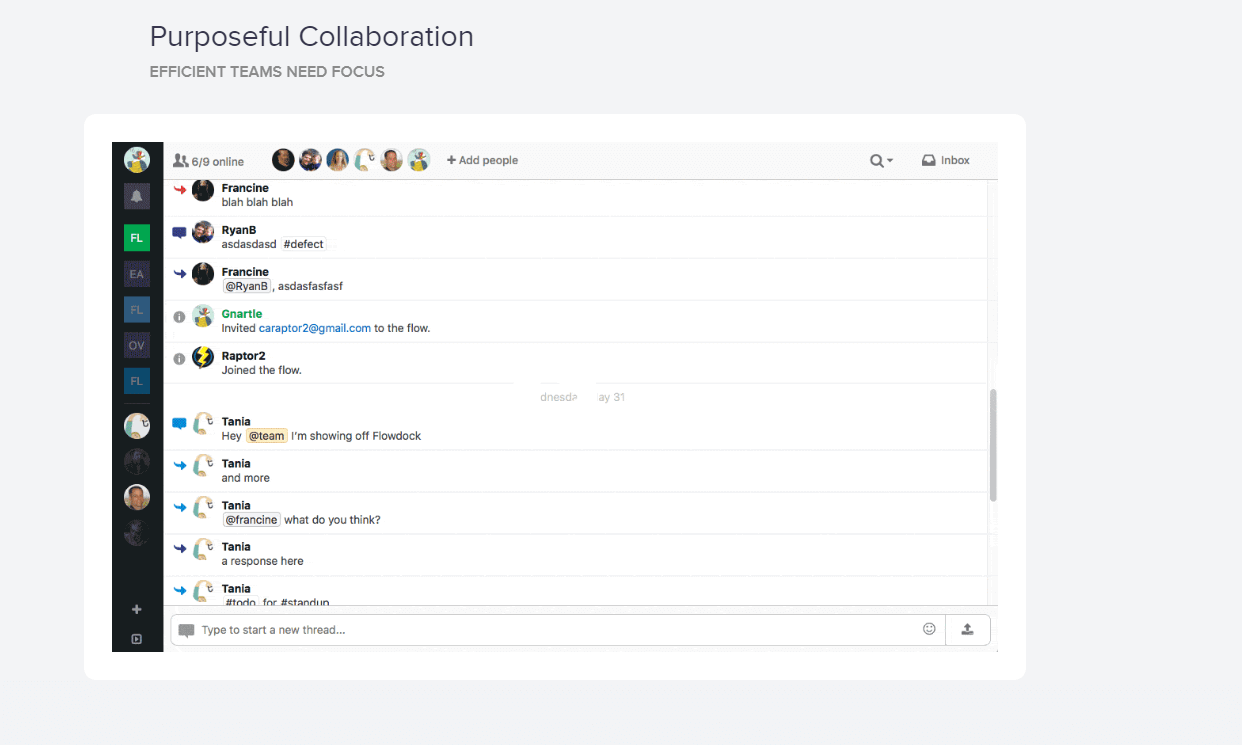 Flowdock makes it to our list of top team management software due to a clean interface, simple yet powerful features, and great collaboration options. With Flowdock, you can manage your team with centralized and open communication and options for multiple integrations.
The best part – work is anything but boring with Flowdock as it lets you add custom emojis and GIF images from Giphy to make work and collaboration full of humor and fun. Plus, you have a Team Inbox that lets you save all your discussions and conversations that can be accessed by all team members.
Top Team Management Features of Flowdock:
Here are some cool features you can use with Flowdock now:
Multiple Chat flows for easy communication
Emoji and

GIFs

to make work fun
Drag and Drop feature to create a more streamlined workflow
Team Inbox to save all discussions
Audio notifications for desktop/mobile users
Threaded chat to make conversations more understandable
Online contacts
One on one chat
File uploads and storage to store all your important information
Manual and automated data backup
Image and video previews to the work in focus
Comments for added information and ideas
Editing
Status updates
RSS Reader
Custom Content
Powerful, full-text search to save time
Notes and Tagging
Top-notch security to keep your data safe
iOS and Android mobile apps

Chanty is a team collaboration platform for onsite and remote teams. Chanty lets you exchange chat and voice messages, have team audio and video calls. While chatting with your team you can turn messages into tasks and manage them with the help of the inbuilt Kanban board.
Chanty integrates with third-party apps including Trello, Asana, Zapier, Google Drive, Dropbox, Onedrive, Github, Gitlab, Bitbucket, Mailchimp, Giphy, and others.
Top Team Management Features of Chanty
Some of the key features this tool includes are the following:
Instant messaging between team members (one-to-one messages, public and private conversations).
Unlimited searchable message history.
Audio and video calling feature.
Task management with the Kanban board.
Teambook, a single hub to organize your tasks, conversations, pinned messages, and content.
Voice messages that enable you to reply to your teammate instantly.
Integrations with third-party apps.
Discussion threads let you stay on topic without endless history scrolling.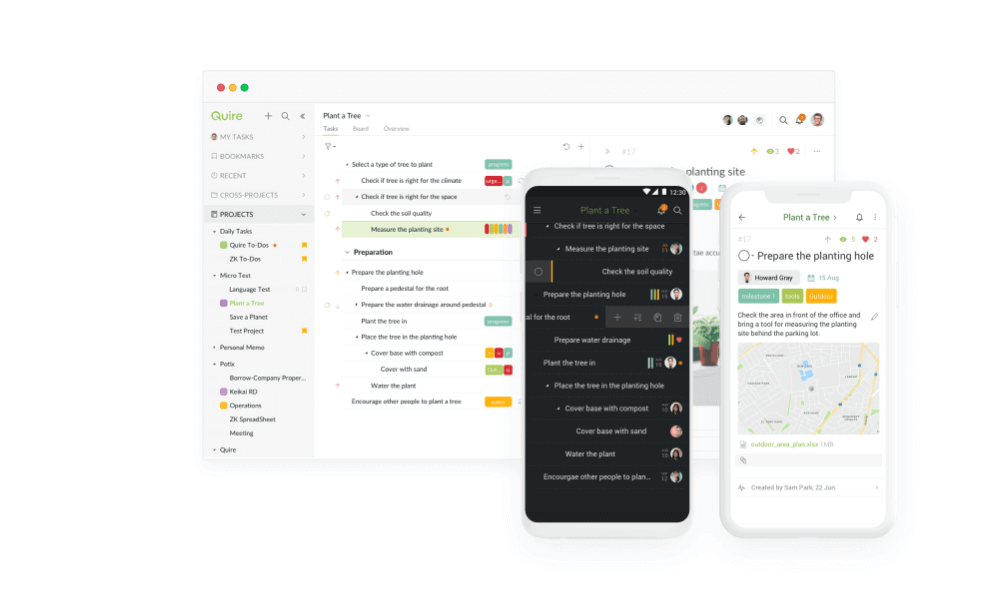 We consider Quire one of the top team management software for a number of reasons. It gives you a myriad of options for managing teams and projects. Although most of the features focus on creative teams, it proves as an asset equally to teams in other industries as well.
Whether you want to jot down ideas or implement them making use of unique tree structures, it allows you to simplify complex projects into easy chunks of work through unlimited tasks and subtasks. What's more? If you love Kanban boards, this tool will easily help you design your workflow through Kanban.
Top Team Management Features of Quire:
Some of the key features this tool can offer you include:
Real-time and instant team collaboration
Unlimited tasks and subtasks with unique trees
Organize, prioritize and assign tasks
Easily updateable task statuses
Start and due date/time for tasks
Transparent and simple, an all-in-one workspace
Exclusive third-party access
Integrations with Siri and the camera for iPhone
Multiple team roles and permissions
Smart folder + Filter feature
iOS and Android mobile apps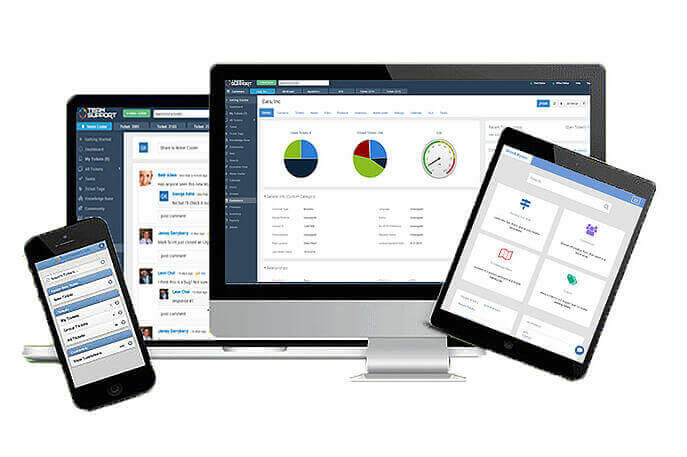 Customer Support is a pivotal area for any industry. TeamSupport is an online, cloud-based app that helps you manage various aspects of customer support.
With functionalities such as an internal centralized communication chat channel, ticket management, contact management, live chat, and customer self-service portal, this top team management tool is ideal to work with support teams even based remotely.
TeamSupport lets your team interact efficiently with other teams including sales and finance to better carry out customer support responsibilities.
Top Team Management Features of TeamSupport:
TeamSupport offers the following key features:
Centralized internal chat for team collaboration
WaterCooler social networking tool
Groups
Integrated screen recordings
Intuitive online help desk interface
Knowledgebase
Multi-channel support
Email integration
Integrated live chat
Customizable dashboard
Powerful search
Mobile agent tools
Ticket automation
SLA management
Community management
Customer self-service
Advanced portal tools
Ticket deflection
Integrated customer database
Product database
Track service contracts
Integration with popular CRM systems
Management tools
Reporting and metrics
Rights management
Integration with business intelligence systems
Compatible with iOS, Android, BlackBerry, and Windows Phone.

Another Kanban based software app, Kanzen makes use of Kanban boards in order to facilitate project management and keep work transparent amongst teams. Kanzen is a part of our top team management software list due to a feature set that helps teams collaborate efficiently keeping workflow crystal clear and to the point.
Teams can share information and files, send and receive notifications, assign tasks and customize their Kanban interfaces with a few clicks. This tool helps teams stay creative and versatile through multiple options for task and project management including configurable card templates and analytics.
Top Team Management Features of Kanzen:
You can gain and keep control over your workflow and team collaboration through the following features:
Create Teams/Groups
Document Management
Messaging or Instant Messaging
Social Collaboration Platform
Notifications
Customizable Kanban boards
Card templates
Calendar
Interactive Gantt Charts
Project Hierarchy
Project Portfolio Management
Project Templates
Scheduling
Supports Multiple Projects
Card View
Cycle Time Analytics
Manage Product Backlog
Track Project Hours
Task Management
Resource Management
Issue tracking
Analytics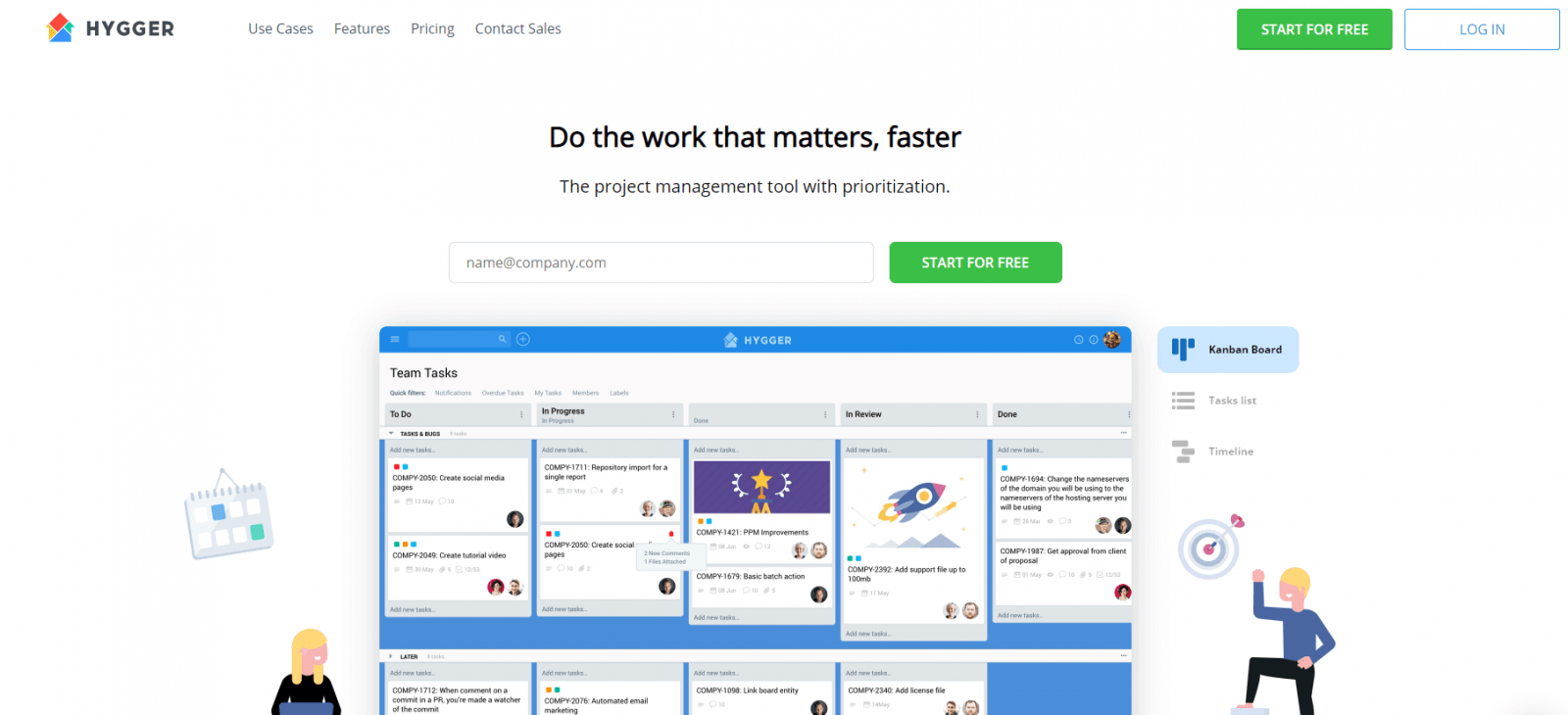 When it comes to team management, catering to popular Agile frameworks is a plus point for an online tool. Hygger helps you adopt the Agile practice into your workflow by letting you design projects and team collaboration along the lines of Agile frameworks.
Following the approach Scrumban, which combines optimal aspects of Scrum and Kanban, this top team management tool lets you stay on track with transparent team management.
From tools that allow you to jot down project ideas to modules and features that cater to issue management, task and project management, time tracking and customer feedback, Hygger is your all-in-one tool encouraging effective team collaboration for timely project delivery.
The best part – teams and individual users are able to work simultaneously on multiple projects or even combine projects without affecting any part of the project development cycle.
Top Team Management Features of Hygger:
Hygger offers the following popular team management and project management features:
Kanban plus Scrum-based team collaboration
Smooth communication and collaboration channel
Ideas storage and scoring
Ability to create roadmaps and share with teams
Task and project management
Progress tracking and monitoring
Reporting: Burndown report for Scrum and Cycle Time for Kanban real-time monitoring for a release.
Gantt charts
Percent complete tracking
Time tracking report for accounting and payroll
Release management
Time tracking
Milestone tracking
Expense tracking
iOS and Android mobile apps

Teamweek is a project management and team management tool that will help you sort your resources and monitor your workflow visually. You have options such as capacity planning where you get to monitor your team and modify it according to your requirements.
You can view roadmaps and with the shared timeline option (which is downloadable as pdf), your team can stay on the same page regarding project updates and other information thereby giving way to more streamlined collaboration.
Plus, with teams that require versatile plans for holidays and workdays, Teamweek helps you customize holidays and establish milestones as needed. You can also view your long-term plan by reviewing work annually.
Top Team Management Features of Teamweek:
Avail the following set of features with this top team management tool:
Multiple user access levels
Shared timeline
Timeline downloadable as PDF
Customized workdays and holidays
Public links
Team availability view
Ability to import from Basecamp or Trello
Export to calendars
Send tasks via the Google Chrome extension
Drag-and-drop interface
Filter calendar by project
Set public holidays by country
Organize tasks into folders
Timeline view
Customized, color-coded tasks
Integration with Slack (communication) and Toggl (time tracking)
Overbooking calculations
Backlog for unassigned tasks
iOS and Android apps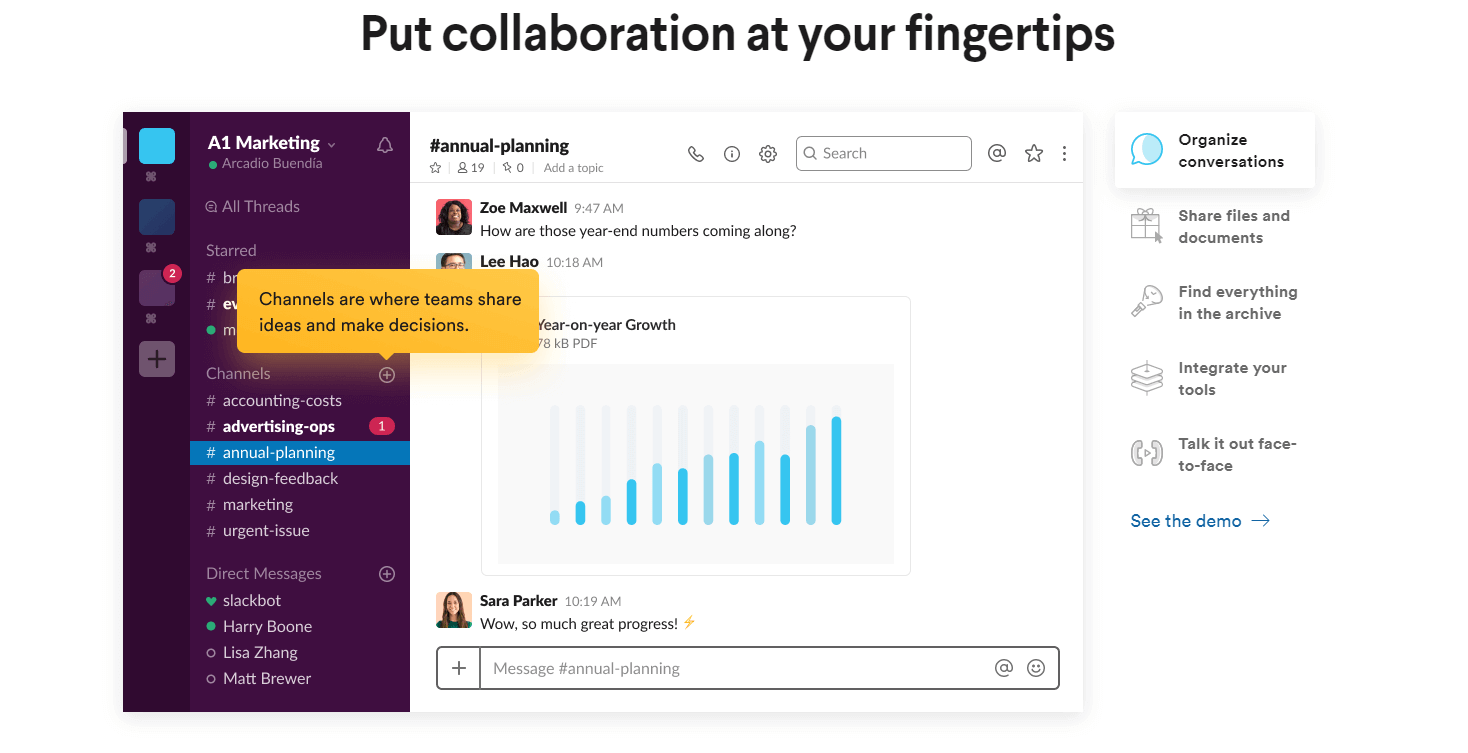 #14 on our list of top team management tools is Slack. Growing immensely in popularity over the years, this app can be integrated with your existing task and project management tools. You can create tasks and projects in other tools such as nTask and have team members notified on Slack regarding the creation of tasks and projects, status updates and other alerts in the corresponding tools. So, it works both ways.
You can create communication and collaboration channels, opening doors for one on one private chat as well as group discussions. You can also upload files and search for important elements and shared files in individual or group conversations. With the option of inserting emojis and attachments, Slack becomes a powerful yet fun collaboration tool for all types of teams.
Top Team Management Features of Slack:
Here are some of the features you can avail with Slack:
Instant messaging
Individual and group discussions through multiple channels
Create, customize and hide channels
File upload
Search
Direct creation of tasks and projects for certain tools
Receive notification and alerts for tasks and project creation as well as status updates
Setting reminders across activities typed
Voice and video calls
Single-sign-on via industry-standard authentication protocols
Support for two-factor authentication
Encryption of data in transit and at rest
Pinup to 100 files and messages
Customizable sidebar
iOS and Android mobile apps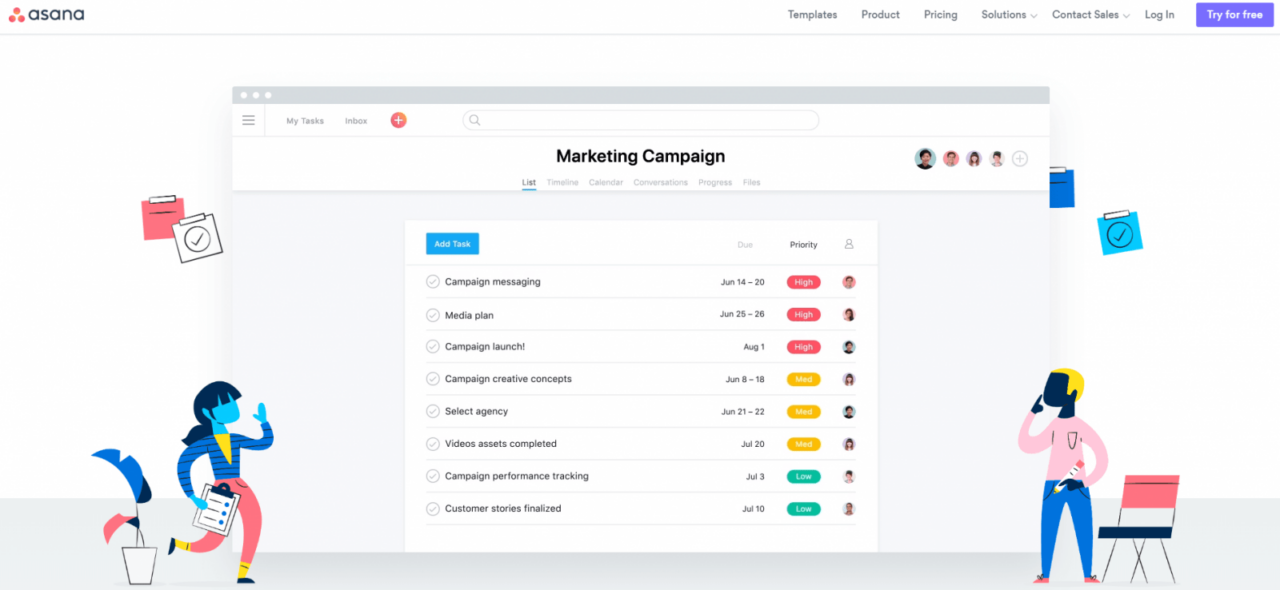 Asana is a popular task and team management tool that continues its reign in the field of project management. This top team management software offers a broad spectrum of features related to project management as well as team collaboration and management software.
Customize task management and project delivery by organizing and prioritizing activities according to your project requirements and team sizes.
Your team can collaborate seamlessly through a multitude of features such as letting team comment on tasks, 'like' tasks, assign tasks, monitor different activities and their progress by team members, and keeping a centralized view on teams through 'My Dashboard'.
Top Team Management Features of Asana:
Activity feed for centralized updates on the workflow and team activities
Task assignment, liking, My Tasks list, and Focus Mode
Multiple workspaces for handling multiple teams in parallel
View team members' tasks and priorities
Real-time updates for teams on tasks and projects
Customized team calendars and views
Automatic updates to team members' inbox
Email bridge
Notifications and reminders
iPhone support, HTML5 mobile site
Meeting minutes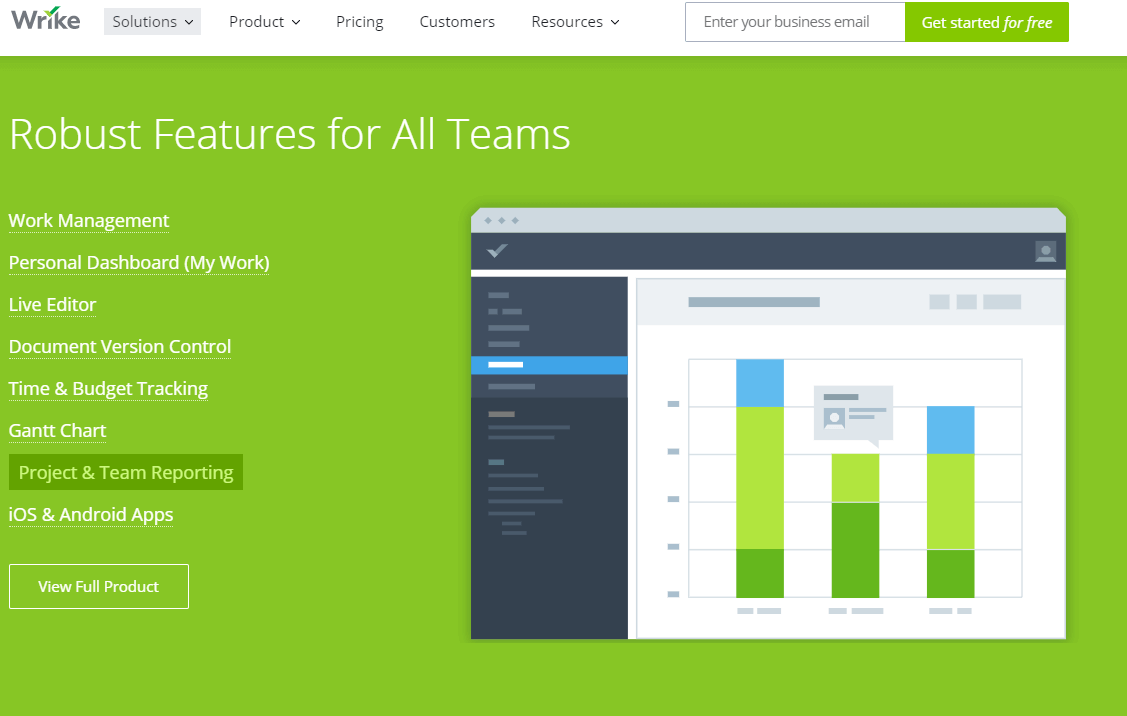 Wrike needs no introduction and is rightfully one of the most successful project management and top team management software available to project managers. With a sleek interface hosting a multitude of features for streamlined project delivery and team collaboration, this top team management software is an asset to project management teams on all levels.
Make sure to keep your team on the same page and their workflow managed appropriately with Wrike in order to facilitate timely project completion. Plus, it gives you a number of subscription plans to accommodate your team size.
Top Team Management Features of Wrike:
Team discussions in tasks
Member engagement through tags
Meeting management
Real-time newsfeed
Document collaboration and workload management
Task assignment
Email integration for teams
Meeting management
iPhone and Android mobile apps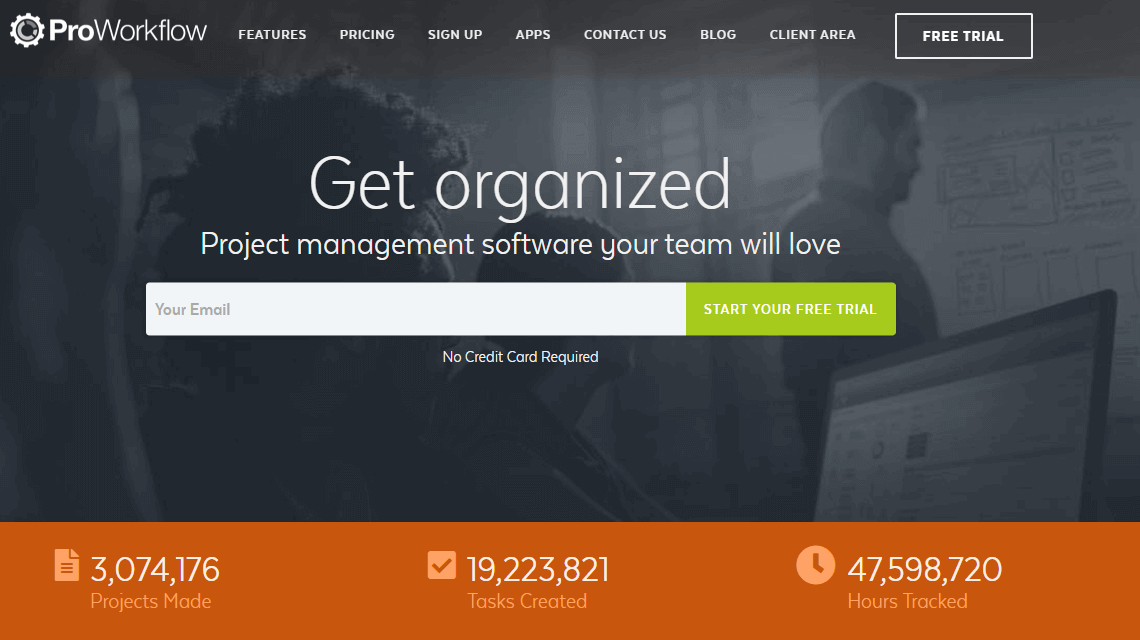 Proworkflow is a single tool that helps you manage tasks, projects, teams, and resources via a single dashboard in a way to extend more flexibility to workflow and resource management.
This top team management software offers a vast array of characteristics including activity management, templates to customize your workflow, timesheet reporting to track time and expense on activities, as well as messaging and document sharing to facilitate team collaboration and communication.
Furthermore, keep more in control with the finances through the quotation and invoicing management modules.
Top Team Management Features of Proworkflow:
Centralized messaging and collaboration
Team file sharing
Contact management
Shared content management
Cooperative writing
Task assignment
Resource allocation and management for easy workload balancing control
Notifications and alerts
Client access and request ability
iPhone and Android mobile apps

Basecamp can be termed as one of your top team management software due to the vast collaboration abilities it lends to its users apart from its project management features.
With channels for task assignment, instant messaging, real-time chat with groups and individuals, document sharing, and automatic work reports, it gives users to stay on track with project progress individually and stay in sync as teams.
Plus, the teams get notified on all updates on a central page and through a feature called 'Check-in questions,' the team members can provide status updates on a daily level without having to arrange time-consuming meetings. In essence, Basecamp keeps your team productive and projects streamlined without the hassle of incorporating multiple tools.
Top Team Management Features of Basecamp:
Teams and Groups creation
Messaging or real-time messaging with individuals or in groups
Task-associated conversations
Document sharing and management
Information and file sharing
Forums for team discussions
Shared timeline to view activities across the team for projects
Tracking hours for employees spent on projects
Team calendar
Single view to oversee tasks from multiple assignees
A centralized page for all notifications
RSS Feed
Resources allocation and forecasting
iOs and Android mobile apps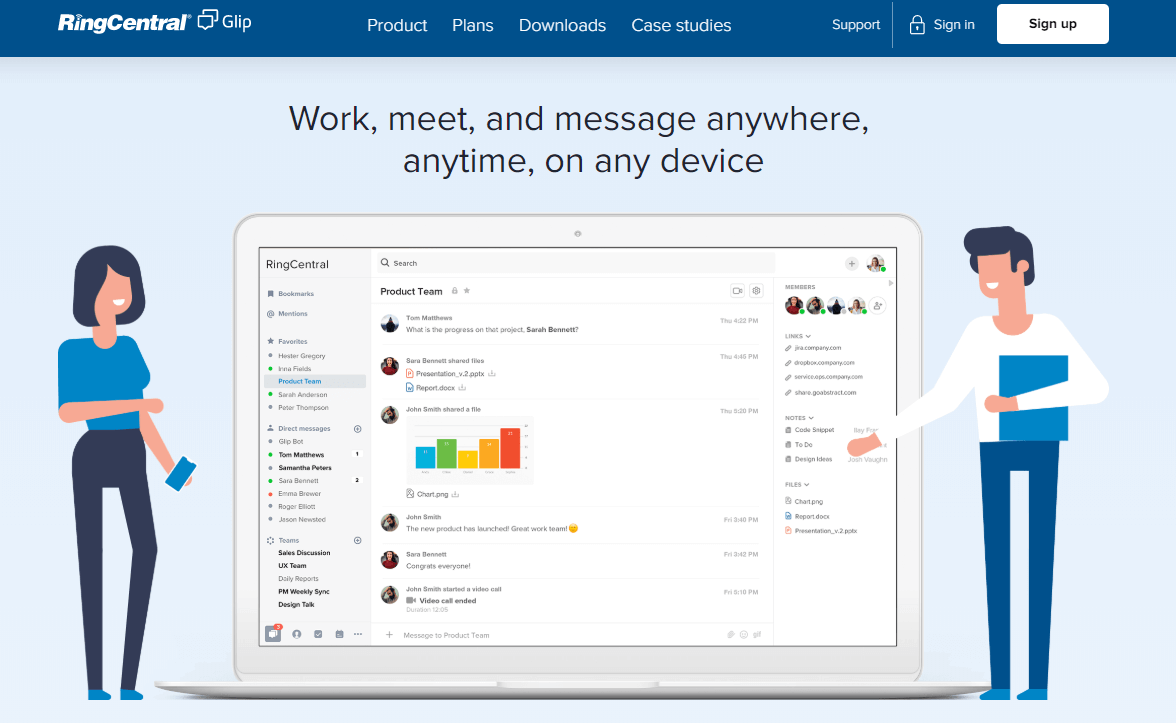 RingCentral Glip or Glip is yet another versatile, cloud-based project planning software that helps you keep team management under control. It incorporates effective team management into task and project management features through multiple options with tasks and projects.
For instance, you can assign created tasks efficiently, share documents and files, schedule project deadlines and track project progress while keeping the team in the loop. Team members can converse with each other with the option of assigning tasks within the conversation.
Plus, you can keep a history of conversations to refer to later if needed. There are also contact management and screen sharing options for training and meetings.
Top Team Management Features of Glip:
File sharing
Real-time messaging for individuals and teams
Video calls and meetings
Screen sharing
Conversation history
Task assignment through conversations
Configurable email and push notifications
iOS and Android mobile apps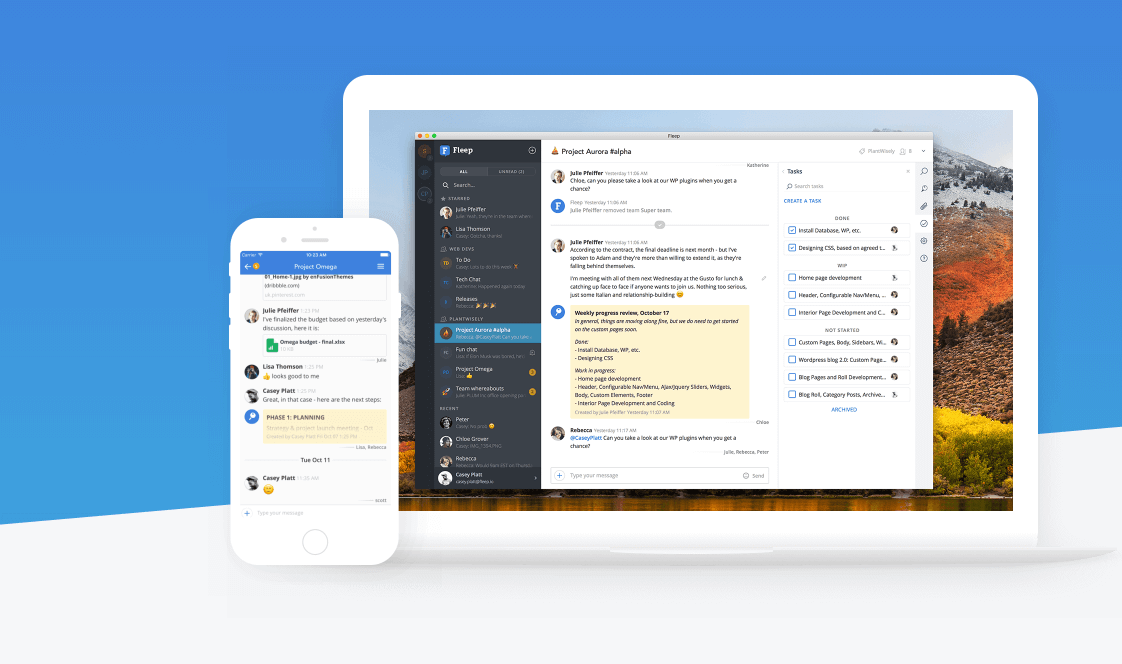 Fleep is a simple yet fun to use team collaboration and communication tools. You can use Fleep as your team management tool within a single team, across various teams in an organization or with remotely based teams.
Focusing more on effective communication, it offers the needed feature set for keeping teams on the same page via features such as file drawer for each conversation where concerned team members get to store and manage files, tasks to create, search, assign tasks and a pinboard along each conversation for adding additional information to a conversation such as meeting notes, links and other important details.
Top Team Management Features of Fleep:
Task assignment
Real-time conversations
File exchange and storage
Pinboard for storing additional information
Presence features that display 'last active', 'last seen' and 'writing' statuses for employees
Audio and video calling
Screen sharing
iOS and Android mobile apps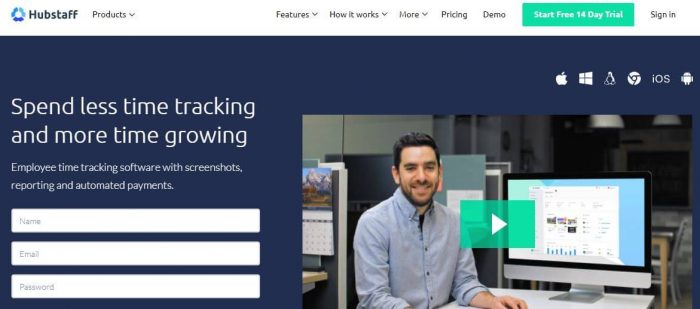 This is one of the most sought-after team management applications on the market right now. This is because the application provides some very powerful task management capabilities, hours tracking features, and overall exceptional reporting capabilities among many others.
It is an amazing software that can be used in a physical office or even from the cloud to manage remote teams. This remote feature helps to track employee's hour logs, track their work reports, and view their work progress, etc.
Let's take a look at some other features that the application offers:
Top Team Management Features of Hubstaff:
See the software programs your team uses in real-time
Calendar management
Customizable templates
GPS and location monitoring
Mobile integration
Accounting integration
Budget control
See all your team's work unfold in one place
Employee management
Invoice management
Timesheets & reports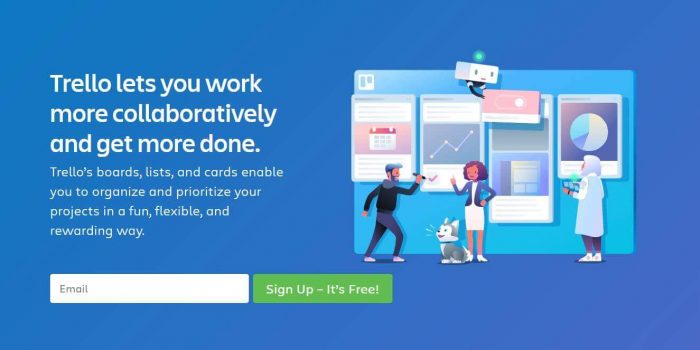 Trello is one of the most important software in the world of project management or general collaboration for that matter. This is an amazing software that uses the Kanban methodology to its advantage and offers and a simplistic way to tackle all of the needs and requirements of a project manager.
The UI is amazing as it provides a simplistic overview of projects and the tasks through the Trello boards at its disposal.
Let's take a look at some other features that the application offers:
Top Team Management Features of Trello:
Activity logging
Boards
Lists
API availability
Attach photos, drawings, sketches & mock-ups
Due date tracking
Security & encryption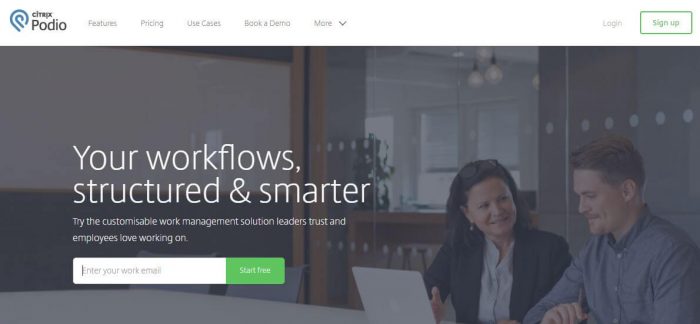 Podio is an amazing team management software that was created on an agenda which was to create an application that will produce smarter and structured workflows to streamline the context, content, and conversations related to the team.
Apart from being an excellent task management application. It is also a collaboration platform for all of your employees working in the company or within a specific project development team.
Let's take a look at some other features that the application offers:
Top Team Management Features of Podio:
Simple CRM & sales tracking
24-hour personal support from the Podio team
Time tracking by project
Activity management
Task assignment
Automatic reminders
Calendar sync with Google
Content sharing & feedback workflows with clients
MS Exchange integration
Mobile apps for Android, iPhone & iPad
Dynamic cardboards
Activity tracking
Automatic notifications
Calendar management

Troop Messenger helps work teams to be collaborated all the time with its simple-to-use and rich feature stack to reach their project goals. This email-killer office communication tool makes teams manage projects and conclude work conversations faster. With its availability over the devices of desktop, mobile, and the web, the in-office or the remote teams will never miss any work update.
Top Team Management Features of Troop Messenger:
Helps teams create groups by teams, projects, and tasks.
Provides common access to the files shared across the groups
The advanced group calling with the features of join now a screen sharing
Text search that refines a particular group member conversation
Emoji's express replies fast and lighten the mood
Real-time audio-video calling and conferencing facilities
One-to-one, self, voice, confidential, and volume-based messaging
Search filters to refine everything such as images, videos, text files, users, groups, guest users, and more
Attachment preview right on the UI
Browser pop-out, wallpaper, and customized fonts
Detailed message-info, multiple forward, delete, and copy facilities
Contacts management to view customer and guest user details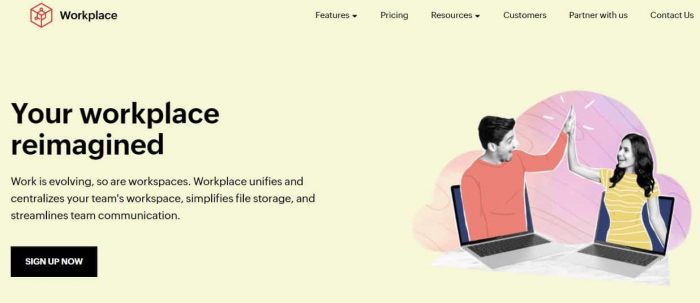 Zoho Workplace is one of the solutions that is offered in Zoho products.
Zoho Workplace is a unified communication and business productivity tool which aims to help efficient collaboration between your team at multiple workplaces.
With Zoho Workplace, you have a solution to centralize and unify your team's workplace, streamline team communication and collaboration, as well as simplify file storage.
Top Team Management Features of Zoho Workplace:
Team collaboration through document editor, spreadsheet editor, and presentation editor and sharing.
Provides options for your team to communicate efficiently with unlimited groups and channels as well as instant messaging and group sharing.
Corporate social network
File storage and unlimited file recovery
Advanced analytics and reporting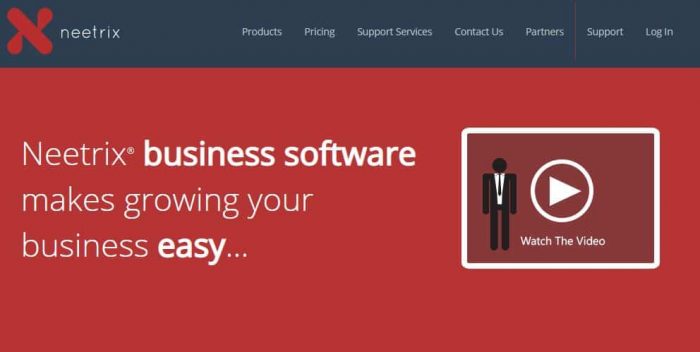 Neetrix is a business management solution that provides a platform for all aspects of your business to be managed efficiently – and that too, with ease.
With Neetrix you gain a visual complete overview of all the scheduled tasks being worked on, jobs, and events that are either being worked on or have been performed by your team and other external members such as; outsourced contractors.
Top Team Management Features of Neetrix:
Neetrix allows you to create and build templates for your jobs that detail the resources required and common tasks that are needed when starting.
The creation of tasks in Neetrix is simple and can be done against different jobs, invoices, contacts, etc. this lets you manage your team better by allocating tasks effectively and appropriately.
The software offers the ability to assign tasks to team members and other individuals while also giving you updates via notifications when these tasks are done.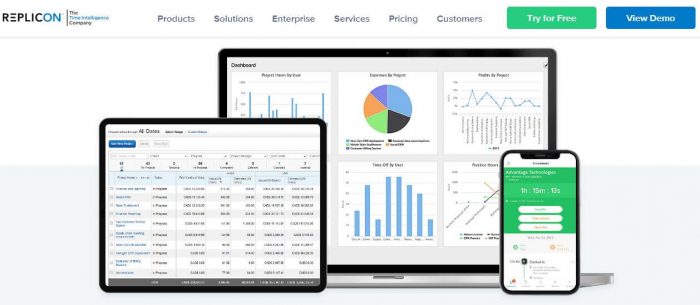 Replicon is an employee time tracking software and provides a platform that includes everything you can need to easily time track your project, manage time attendance, and professional services automation.
The software is aimed at being an all-inclusive suite to manage time, projects, people, and profits.
Top Team Management Features of Replicon:
Easy-to-read dashboard reports
Ability to create schedules for your team and other departments that ensures everyone in your company or organization is properly utilized and on the same page.
Ability to communicate with team members on essential updates.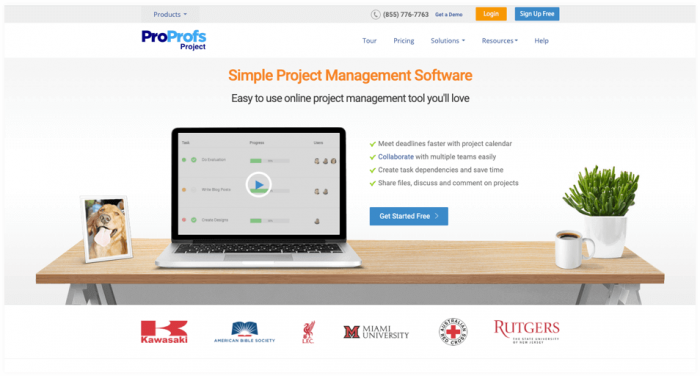 ProProfs is a feature-rich team management tool that helps coordinate team efforts and eases overall collaboration. It offers a platform for creating, assigning, and prioritizing tasks across teams and departments.
The tool is simple enough to manage teams of all sizes and powerful enough to execute multiple projects simultaneously. It lets you bring teams together to collaborate through instant messaging, task comments, and seamless file sharing. It provides real-time alerts and notifications to help you stay in sync with your project progress on the go.
Also, you can visualize how your projects are progressing and evaluate team performance with interactive project views such as Gantt charts, Kanban boards, and calendar views.
Top Team Management Features of ProProfs Project:
Instant messaging and task comments
Task and resource management
Time tracking
File sharing
Automation capabilities
Project scheduling
Customizable workflows
Drag and drop functionality
Multiple project views
Top 5 Team Management Software Comparison
Here is the comparison of the top team management software discussed in this article.
Systems
nTask
Bitrix24
Monday.com
ProofHub
Scoro
Description
An amazing online project management software
A web-based project management and collaboration tool
An effective collaboration and task management software
A web-based collaboration tool and a project planning software
A web-based tool to manage all of your tasks related to finance and sales
Category
Issue Management

Project Planning

Project Collaboration

Project Planning

Project Collaboration

Project Planning

Project Collaboration

Project Planning

Project Collaboration

Project Planning

Developer
nTask
Bitrix
Monday.com Labs
ProofHub
Scoro Software
Website
nTaskmanager.com
Bitrix24.com
Monday.com
Proofhub.com
Scoro.com
Initial Release
2017
2012
2012
2010
2009
Mobile Apps
Android

iOS

Android

iOS

Android

iOS

Android

iOS

Android

iOS

Notifications
Email

Desktop push

Mobile push

Mobile push

Email

Email

Desktop push

Email
Email
Recurring Tasks
Yes
Yes
No
No
Yes
Gantt Charts
Yes
Yes
Yes
Yes
No
Time Tracking
Yes
Yes
No
Yes
Yes
Risk Management
Yes
No
No
No
No
Conclusion
These are some of the best team management applications that you can find in the market right now. But if you think that none of these match your requirements, you can always comb the marketplace and find the perfect match for you.
If you think that we have missed something in the article or if you want to add something, do contact our support staff.
Happy Hunting.
Which software and tools land on your list of top team management software for small teams? Let us know in the comments.