Real estate development is not for the faint-hearted, considering the truckload of work you have to oversee every step of the way. Be it meeting with the clients and discussing their needs, planning, and construction, managing the finances, or keeping an eye on legal matters, real estate development makes sure your hands are full all day, every day.
But no matter how complicated the process is, you have to go through the process one way or another to reach the other end. What if we told you that you could reduce the burden on your shoulders with the help of software?
It may seem a little out there, but with the way, technology has progressed over the last decade, the idea is no longer alien. Believe us when we say this, there are tons of tools that can take over much of your manual work and sufficiently reduce the amount of work you have to do.
Enter real estate development management software.
What Is a Real Estate Development Management Software?
Real estate management software takes charge of multiple processes in real estate development. These tools are specially designed to cater to project management needs in real estate development.
The processes in real estate development managed by relevant tools include planning, scheduling, resource management, communication and collaboration, and customer relationship management.
How Does Having the Best Real Estate Management Software Help You?
We have listed some critical uses of real estate development tools that might help you understand their functionality at a deeper level:
With the help of the best real estate management software, you can plan the development process from scratch till completion and manage its execution seamlessly
Since real estate is not a one-man job, you have to involve and engage your team members to make sure everyone is on board. Real estate development project management tools help you with task management functionality. Task management allows you to divide the tasks among relevant resources, assign deadlines, and much more.
The organization of all tasks into a complete workflow streamlines the process for you to a great extent. With proper organization of processes, you can predict the completion time and estimate the overall time required to finish the job accurately and precisely.
These tools are also a great source of communication with fellow team members and seniors, sharing feedback, exchanging information, and much more.
With the best real estate management software in hand, you can easily keep all the information stored in one place- a unified platform accessible to everyone and has all the information one might need.
Perhaps the best feature of such a tool is its ability to keep you on track with tracking capability. You can always get the big picture of your project and understand where you stand in the process.
On top of all the features listed above, real estate development management software can come in handy in several ways. Once you dive into their world, you will realize the extent of ease they bring to your work.
By now, you might be tempted to explore your options, but don't worry, we have got you covered on that front too. Read through and choose your pick! Below is a list of the 5 Best real estate management software that can change the way you work in real estate development.
List Of The 9 Best Real Estate Development Management Software In 2023: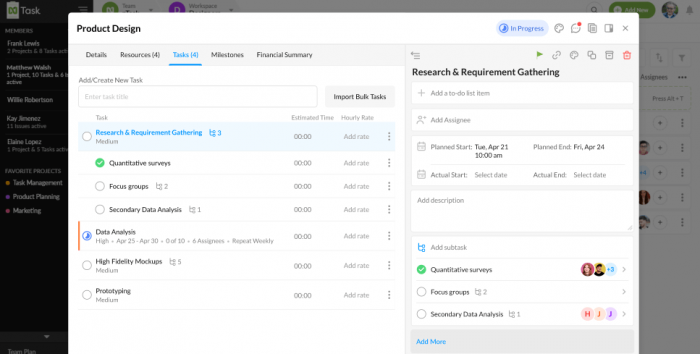 nTask is our go-to software for any and every process in an organization. From basic, more straightforward tasks to complex projects, nTask can efficiently handle everything. Plus, its pricing is really affordable compared to the competitors in the market.
The tool is equipped with some of the latest, most advanced management features, designed to help you plan, manage and track tasks without any hiccups in the process.
Since its inception, nTask has garnered the trust of hundreds and thousands of users worldwide. Its simple, user-friendly interface also adds to its utility. Moreover, nTask team is always working on new developments and improvements to expect better for the future.
Key Features:
Offers Gantt charts so that you can keep all tasks organized and track your progress relatively quickly.
Break the project into tasks and subtasks and assign relevant resources to each task.
Schedule meetings with clients
Automate recurring tasks
Financial summary
Issue tracking and mitigation
Android and iOS apps
Share files, documents, images, etc.
Collaborate in real-time with task comments, meetings, etc.
Create to-do lists
Integrate with other tools to keep everything unified
Use custom templates to start working immediately
Pricing:
Basic plan – available for free forever
Premium plan – $3 per user per month
Business plan – $8 per user per month
Enterprise plan – Custom pricing
Manage Your Business
Seamlessly With nTask!
2. QuickBooks Desktop Enterprise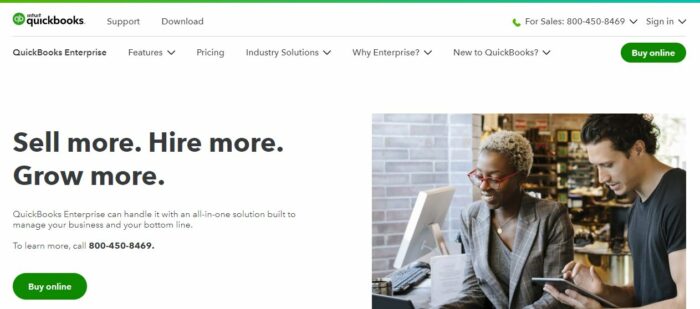 QuickBooks Desktop Enterprise is a specialized software that manages the financial aspect of your real estate development business. The tool offers multiple functionalities, including financial reporting, bookkeeping, expense tracking, payroll, invoice management, bank reconciliation, tax management, and much more.
QuickBooks is a web-based software, so you can easily use it on any web browser without installing or downloading any apps.
Key Features:
Store information regarding vendors, inventory, pricing, and customers- all in one place.
Advanced inventory helps keep an eye on inventory, orders, etc.
manage sales orders and track inventory across locations in one dashboard
offers Priority Circle, a dedicated team to help you with your finance and accounting needs
200 built-in, customizable reports
Search, sort, and filter information with custom fields
Real-time job costing
Budgeting and forecasting features
Pricing:
Gold with Core cloud access – $192 per month
Platinum with Core cloud access – $223 per month
Diamond with Core cloud access – $389 per month
3. Buildium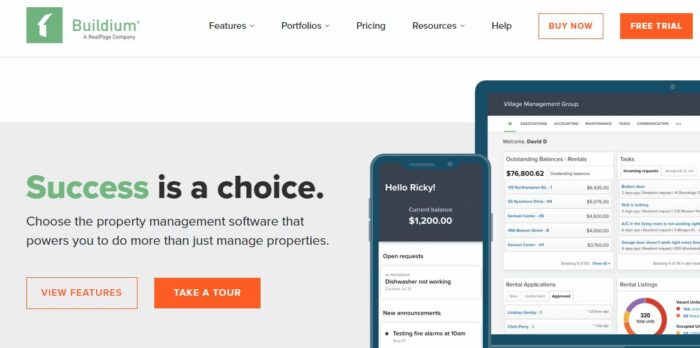 Buildium is one of the most well-known software in the real estate development business. The software offers a horde of features so that users can manage all the aspects of their business without worrying about anything.
Buildium is particularly useful for property owners since it helps them with online rent payments, vacancy management, maintenance cycles, and accounting. Furthermore, a specialized rental portal allows owners to receive rent online automatically.
Key Features:
Property Accounting
Company Financials
Online Payments
Retail Cash Payments
Resident Center
Owner Portal
Document Storage
Maintenance Request Tracking
Property Inspections
Renters Insurance
All Property Management
Open API
Analytics & Insights
Rental Listings
Rental Applications
Showings Coordinator
Tenant Screening
Professional Website
eSignature
Pricing:
Essential – $50 per month
Growth – $260 per month
Premium – $460 per month
4. Appfolio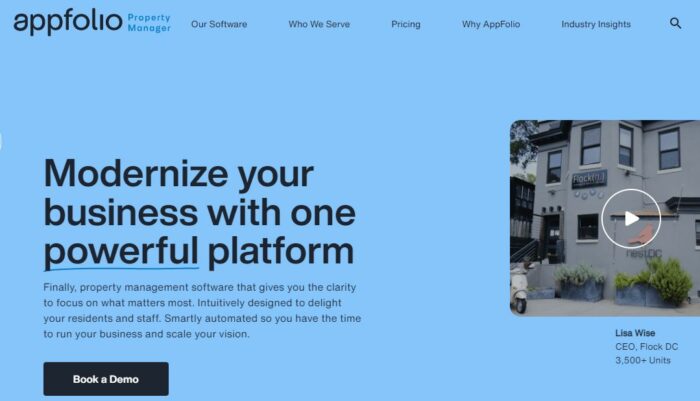 Appfolio is our fourth pick on this list. The app is an all-in-one property management solution with socialized features that fulfill all your needs. Along with excellent management solutions, Appfolio offers a user-friendly interface making it easy for users t navigate through the app.
Key Features:
Standardize processes all across your organization to keep your team on one page
Up-to-date data and insights
Automate recurring tasks
Automate routine tasks
Prioritize work according to the urgency
Streamline communication
Data visualization tools
Compare performance across regions and properties easily
Share dashboard with stakeholders
Quickly implement process changes
Robust dataset with actionable insights
Define roles and assign access accordingly
Pricing:
Core – $1.40 per unit per month
Plus – $3 per unit per month
5. Entrata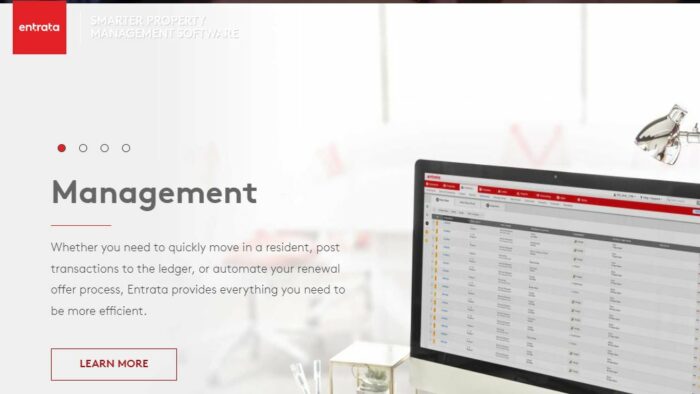 Entrata is our last pick for this list. Property management software can help you in several ways, from facilities management to marketing and leasing. With the help of this cloud-based solution, you can say goodbye to long, arduous hours of manual work and move on to the heavenly comfort of automated processes.
Key Features:
Manage all accounting and finance processes in one place
Add and track vendors, pay invoices, write checks, create purchase orders, and manage all of the processing in one place
Automatically add online work orders into Entrata
Special module helping students
Easy-to-use interface
Seamless property inspection with the inspection manager
Pricing:
You can get a custom quote by contacting Team Entrata.
6. Dealpath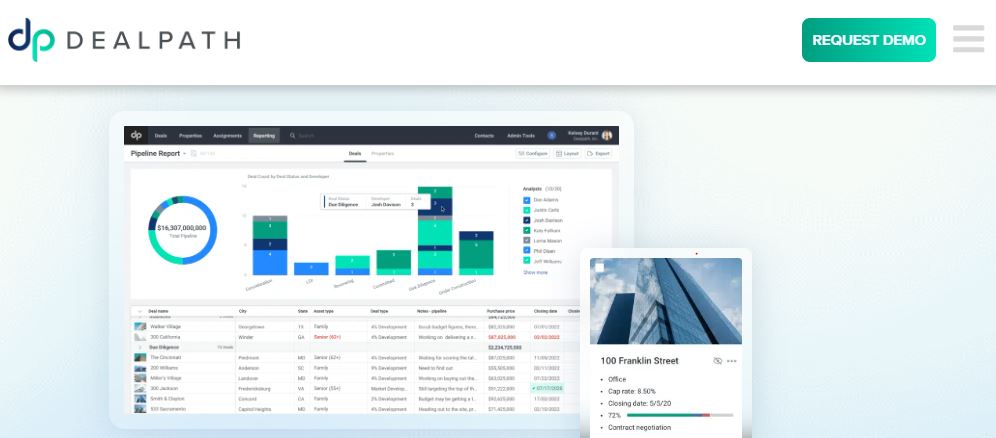 Dealpath is an innovative project management software that helps companies simplify and scale their processes. It provides a comprehensive suite of tools to help streamline workflows, automate tasks, and measure results in real time. 
With Dealpath, you can easily create projects with multiple stages and assign tasks to users; manage resources; control access rights; define roles & responsibilities across teams; track progress in real-time; utilize analytics dashboards to gain insights into performance; discover high-value opportunities for improvement and optimization.
Additionally, it enables seamless integration with existing databases, helping organizations accurately capture data points from all parts of the process. With its easy-to-use interface and powerful customization options, Dealpath ensures that no matter how large or complex the project becomes, your team can stay organized.
Key Features:
Manage investment deals on one dashboard
Project management features
Manage tasks and documents
Deal screening and pipeline reporting
Pricing:
Contact the support team to learn about pricing
7. SmartSuite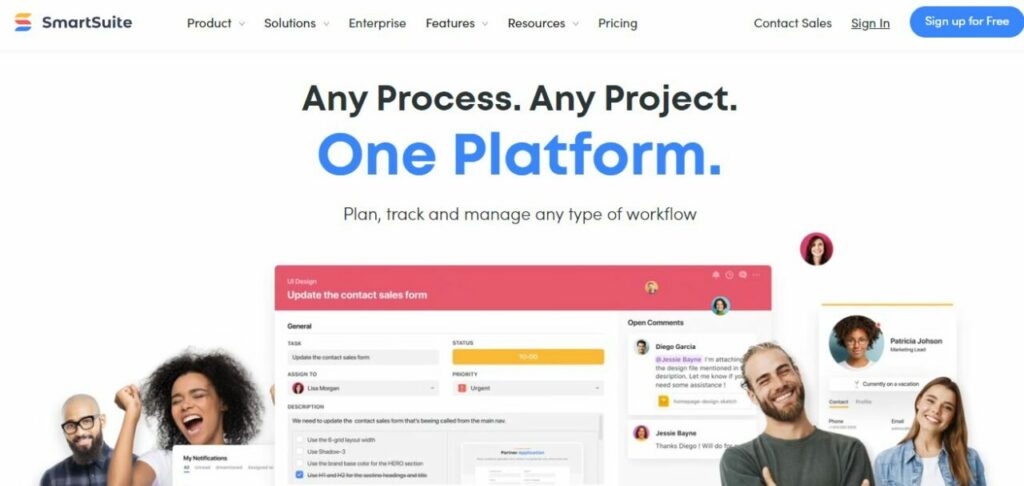 SmartSuite is one of the most comprehensive real estate development management software out there. This software is designed to streamline and simplify the real estate development process from pre-construction through occupancy. 
With its intuitive, user-friendly interface, SmartSuite can help you manage multiple projects, deadlines, and resources simultaneously.
One of the most notable features of SmartSuite is its site feasibility analysis. This tool allows developers to assess the suitability of different sites based on various factors, such as zoning restrictions, market demand, and infrastructure availability. Developers can make informed decisions before investing in a specific property, ensuring that their resources are used effectively.
Key Features:
Site Feasibility Analysis
Zoning Analysis
Market Research
Financial Modelling & Analysis
Construction Scheduling
Inventory Tracking
Reporting and Dashboards
Automated Communication management
Pricing
SmartSuite is a subscription-based service. Pricing is customized for each customer based on their needs and requirements.
8. Pendo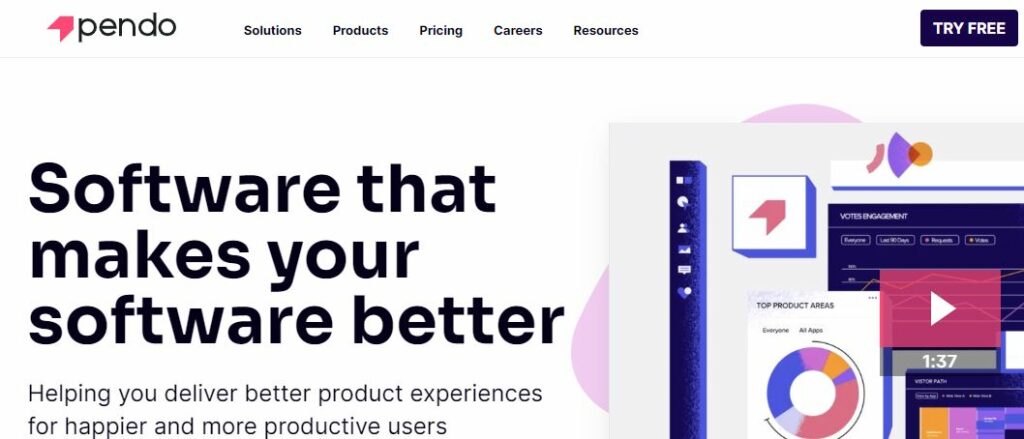 Pendo is another popular real estate development management software that is designed to streamline the development process. With Pendo, you can manage your team and resources efficiently with access to real-time data that helps you to make informed decisions.
Pendo's schedule management and resource allocation features help ensure that project tasks are assigned and managed efficiently, providing real-time visibility into project progress to help you make informed decisions.
Overall, Pendo is a robust project management solution that streamlines real estate development processes from pre-development to the final steps of construction. By providing all stakeholders with the data they need when they need it, it can increase transparency and streamline communication and collaboration.
Key Features
Schedule management
Contract management
Resource Allocation
Risk Management
Reporting and Dashboard features
Collaboration
Communication management
Document management
Pricing
Pendo offers a wide range of pricing options
Ranging from $29/user/month for the basic plan
To $99/user/month for the premium plan
9. Mavenlink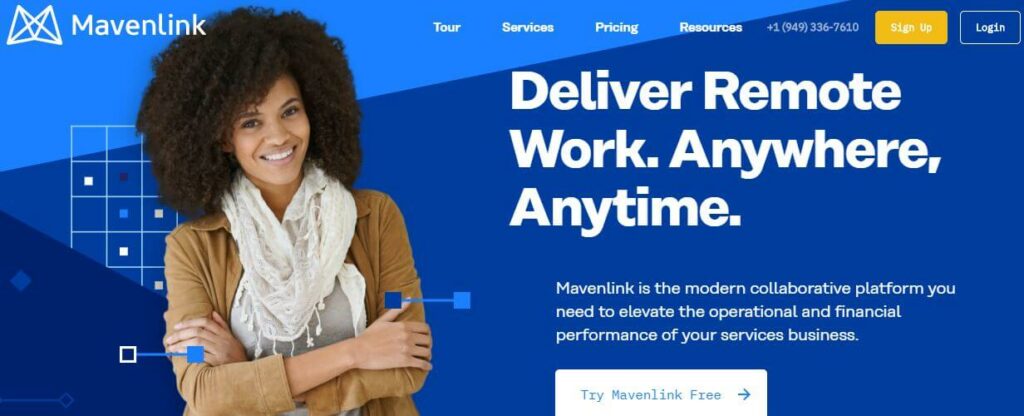 Mavenlink offers a range of features that can help you manage real estate development projects more efficiently. Its core functionality is resource allocation, budgeting, and time management, which are essential for keeping projects on track.
The software's task management features, combined with its time and expense tracking capabilities, provide real-time visibility into task progress and budget performance, enabling project managers to keep a close eye on project performance.
Mavenlink is ideal for teams that want to optimize their resource allocation, manage project budgets, and track task progress in real-time to maintain control of their projects' documents and information.
Key Features
Resource Management
Task Management
Time and expense tracking
Budget Tracking
Reporting and dashboard features
Collaboration
Cloud storage integration
Pricing
$19/month per user for the Team Plan
$39/month per user for the Premier Plan.
What Should You Look for In a Real Estate Development Management Software?
When looking for real estate development management software, make sure that it has the following features:
Project management
Budgeting and finance
Reporting
Reliable data security
Built-in analytics
Along with these basic features, explore more features that might come in handy for your business in particular and then choose accordingly. Also, keep an eye on the pricing of the tools to make sure it aligns with your budget limits.
The Pros and Cons of Property Management Software
Pros:
Whether it's a multi-story hotel in a bustling market or a small property in a picturesque rural town, using real estate development software has numerous advantages. You'll be able to streamline your operations, provide comprehensive training to your staff, and ensure your guests have a positive, stress-free experience.
You can access your information from any location.
You will save time and money by being more efficient.
A smooth check-in process may boost guest satisfaction.
Using built-in pricing tools, you can optimize your revenue stream.
You will increase bookings by improving your online presence.
Cons:
While real estate development and project management software may ultimately help your business run more smoothly, it's important to weigh the benefits and drawbacks before investing.
You will be reliant on a single vendor.
In the beginning, costs may be prohibitive.
The system may lack an optimal accounting program or may lack any function that you might be needing.
Management Software For Property Developers
Property developers need to track multiple projects and properties. They need a powerful management system to keep tabs on every aspect of the development process, from managing contracts and deadlines to monitoring tasks and finances.
Management software for property developers is designed specifically for this purpose, providing a comprehensive set of tools that help property development teams stay organized and efficient.
The software typically features modules such as project management, budgeting, scheduling, task tracking, document generation/storage, communication logs, and trouble ticketing. Project managers can use the software to manage timelines and assign tasks to team members while keeping an overview of all projects in one place.
Budgeting features allow them to track expenses related to each individual project or across their entire portfolio by creating estimates of expected costs such as materials or labor charges. Scheduling functions make it easy to coordinate with subcontractors and service providers as well as internal stakeholders like designers or architects.
Task tracking tools provide visibility into what has been completed versus what needs further attention; often allowing users to set up benchmarks for completion goals or even outsource some tasks via an online marketplace directly from within the software platform.
Document storage capabilities mean critical information remains easily accessible throughout all phases of a project lifecycle; ensuring teams always have access to critical documents like blueprints or contract agreements no matter where they are located during the build-out process.
Communication tracking lets teams log conversations with stakeholders across email platforms or third-party services, simplifying ongoing research efforts when disputes arise down the line.
Finally, trouble ticketing systems enable easy reporting on issues found during inspections so that corrective actions can be taken swiftly preventing costly delays in completing projects successfully on time and within budget constraints required in today's competitive real estate industry environment
6 Factors to Consider Before Purchasing Real Estate Development Software
Here are some of the factors you should look for before buying real estate development software:
Ease of Use: An important factor to consider when choosing real estate development software is how easy it is to use. Choose something that has an intuitive user interface so that you can quickly access all the features you need without having to learn complicated commands or codes.
Integration: Does the real estate development software integrate with existing systems? This is helpful for keeping data in sync across different applications, saving time and money in processing costs as well as manual errors.
Security: Investigate what type of security measures are included in the software before buying it since most businesses handle sensitive customer information like account numbers and addresses via computer programs every day. Look out for such things as firewalls, encryption protocols, secure storage of data, and other protection measures provided by the vendor that ensure privacy and reliability during transactions made through their system.
Reporting Capability: Many businesses have specific reporting needs like sales reports, commission reports, or property management records which require frequent updates through complex calculations using multiple inputs from various sources; consequently, look for a system that can provide customized reports based on these requests within reasonable turnaround times.
Support: Make sure the vendor provides responsive customer support including assistance with installation, setup & training, troubleshooting any technical issues related to hardware or software upgrades as well as bug fixes/enhancements.
Efficiency: This will help ensure the timely completion of projects within budget & deadlines by minimizing any unexpected delays due to a lack of qualified personnel who are knowledgeable about product functionalities & features needed for success!
It's A Wrap!
We have just given you a rundown of some of the most outstanding real estate development management software. Book a demo, start a trial, read reviews, and thoroughly weigh your options before investing in the tool. The choice is all yours now.
We hope our effort will pay off and you will find the right tool really quickly.
Best of luck.
Signing off!
---
Also, see these blogs: