Software applications are a crucial part of every industry. Project management is no different. Especially when it comes to project planning and team coordination, online or on-premise project planning tools are given for any project to take off.
However, with so many project management software and collaboration tools offering a multitude of feature sets and pricing plans, it can become a task on its own to make the right decision based on your needs. You need project planning tools that can help project managers cross essential project planning milestones with ease.
Project Planning Software For Business
What is project planning software and what can it do for your business? Do not worry if you do not know the answer because we are here with all the answers you need.
A project planning tool is an online planning tool that is specially designed to help users plan their projects from start to end. Project planning software is a comprehensive, one-stop-shop solution that allows you to plan your projects to the minutest details. From breaking down a project into smaller tasks and subtasks to tracking progress, allocating resources, managing finances, and much more.
With the rapidly rising levels of competition and ever-changing trends, having a planning tool at hand is a must especially if you want to grow and develop. With a planning tool, you can take off the burden of manual scheduling and management and instead, use automation features to simplify your tasks.
Keeping in view the hundreds and thousands of software planning tools available on the internet, narrowing down your choices will be a bit of a hassle. Fortunately, we have done the work for you.
The following section offers a list of the best planning tools available online along with their key features and pricing. Read on and find the tool that suits your requirements best!
Best Project Planning Tools of 2023
In this article, we have compiled a list of extremely effective team management and project planning tools that you can adopt today to facilitate you to have efficient project planning, and at a reasonable or no price at all. Let's begin.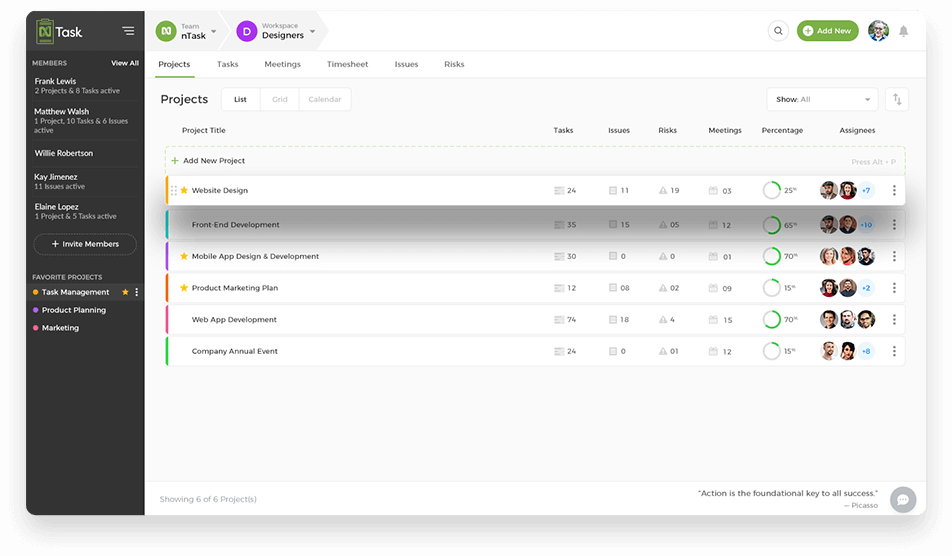 Free project planning tools are few and far between.
At the top of our list of project planning tools is the nTask – a free, online project management tool designed and created for teams, freelancers, and professionals in a host of industries. It offers a simplified interface in front of a highly robust software application that incorporates powerful and sophisticated features to facilitate project management in all stages.
nTask entails a number of features that help you work with teams of all sizes, at all levels especially when it comes to project initiation and planning. Especially with a transparent and simple-to-use channel for collaboration, nTask helps you set the basis for a successful project development lifecycle.
Key Features:
Here are some of the powerful features and modules nTask comprises to facilitate project planning:
A simplified user interface with access to a wide range of modules.
Dedicated task management and project management modules
Multiple team-specific workspaces
Create, assign, organize, prioritize, and share tasks
Create and manage tasks independently or assign them to a project
Create, assign, and switch tasks between projects
Add comments on tasks and convert comments to tasks and vice versa
Gantt charts to easily monitor project progress
Project reports and project timelines for monitoring project flow
Meeting management for arranging and keeping updates on meetings and post-meeting task follow-ups. You can set meetings as one-time or schedule, recurring meetings.
Dedicated issue management module to identify and list potential issues. You can list issues with relevant details such as the Issue owner and issue status.
Dedicated risk management module to help identify and keep track of potential risks along with details such as risk owner and risk status.
Alerts, notifications, and reminders to keep teams on track.
Free planning tool
Support due dates
Has a Free Version
Pricing Plan:
nTask offers Free and Pro pricing plans.
Paid Plan: nTask plan starts at $3 per month per user with an annual billing plan.
nTask has its very own project planning tools offering
Powerful Project Planning
with nTask!

Quickbase is a flexible, cloud-based project planning application designed to streamline the way your team works and collaborates.
With its intuitive interface and powerful features, Quickbase provides a customizable platform that can be adapted to manage any type of project or workflow.
From small businesses to large enterprises, Quickbase empowers teams to track progress, identify bottlenecks, and make data-driven decisions to keep projects moving forward efficiently.
Its adaptable nature means that Quickbase is as suitable for simple task management as it is for complex operational processes, providing a single source of truth for all your project details.
Key Features
Personalize your dashboard with the metrics that matter most to your team.
Get real-time insights into project status, timelines, and performance.
Visualize project timelines and dependencies.
Adjust schedules easily with drag-and-drop functionality.
Create automated processes to reduce manual efforts and eliminate human error.
Set up reminders, notifications, and alerts to keep your team on track.
Enable team members to collaborate on projects in real time.
Share documents, updates, and comments within the platform.
Generate in-depth reports for project analytics and insights.
Filter, sort, and analyze data to understand project outcomes and improve future planning.
Control access with custom roles and permissions.
Ensure data security while enabling team collaboration.
Seamlessly connect with other tools like Salesforce, Google Sheets, and many more through built-in integrations and APIs.
Access your projects and dashboards on the go via the Quickbase mobile app.
Experience full functionality and a consistent user interface on any device.
Pricing Plans
Quickbase offers flexible pricing plans to suit the diverse needs and sizes of teams. Each plan includes a core set of features with additional capabilities available at higher tiers.
Team Plan
Ideal for small teams looking to manage projects efficiently.
Basic project planning and collaboration tools.
Essential reporting and data insights.
Starting at $35/month for min of 20 users.
Business Plan
Designed for growing businesses requiring advanced features.
Automated workflows and interactive Gantt charts.
Enhanced reporting and integration options.
Dedicated customer success manager.
Custom pricing based on the scale and needs of your business.
Enterprise Plan
For large organizations with complex project planning needs.
Comprehensive feature set with premium support.
Enterprise-level security and compliance.
Robust customization and API access.
Tailored pricing to accommodate the breadth of enterprise needs and user counts.
Free Trial
Experience Quickbase with a 30-day free trial.
Access to full feature set during the trial period.
No credit card required.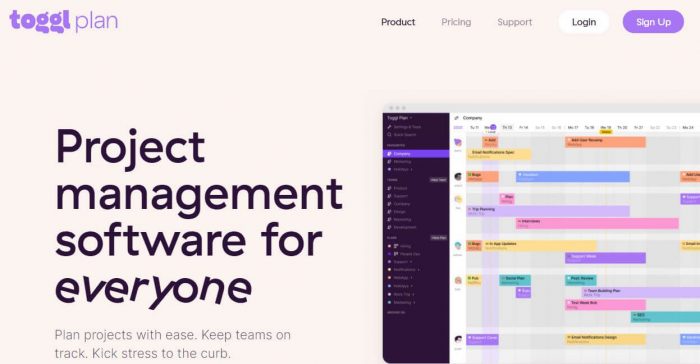 Toggl Plan is a beautifully simple project planning tool. You don't have to be a certified project manager to use it. That's why creative, design, and marketing teams use Toggl Plan for managing projects.
With its drag and drop interface, this planning tool makes project planning and task management a breeze.
Key Features
Make unlimited project plan timelines with a simple drag and drop interface.
Keep track of delivery dates with color-coded milestones.
Zoom in for a week to see the plan details or zoom out to get a bird's eye view for an entire year.
Plan work around your team members' off-days and public holidays.
Manage your team's workloads visually.
Save unscheduled tasks in a backlog, called Icebox so you can get back to them later.
Assign a task to multiple team members.
Collaborate with team members on a task using task comments and file attachments.
Create custom task workflows that match your team's way of working.
Manage tasks from timelines or Kanban boards.
Stay on top of your project with real-time in-app notifications and email updates.
Track time spent on each task and bill your clients with Toggl Track.
Pricing Plan
Toggl Plan offers a free plan for solo users.
Teams can sign up for a 14-day free trial to try out its paid plans.
Paid plans start at $8 per user per month.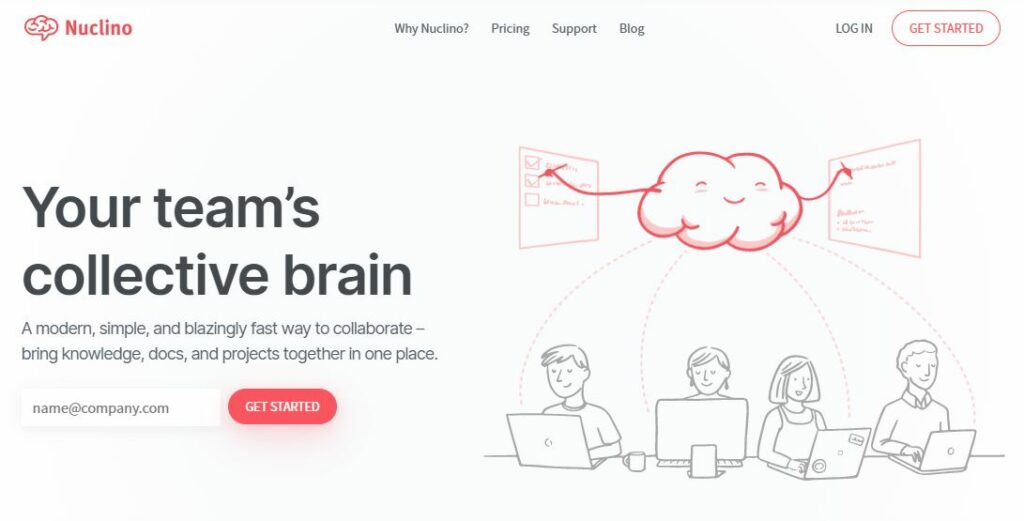 Nuclino is a lightweight and modern project planning tool, ideal for those who value performance and ease of use over feature count. It's designed to be as simple and intuitive as possible, with no clunky menus or needlessly complex settings.
While Nuclino can be used exclusively for project planning, it's a highly versatile tool. You can use it to build your company knowledge base, share and collaborate on documents, onboard new employees, and more. You can create real-time collaborative documents for every topic or project, adding notes, creating to-do lists, embedding files, and more.
Key Features:
Real-time collaboration and auto-save of changes
Flexible data visualization options, including the Board, List, and Graph view
Task lists and assignments
Custom fields for tracking assignees, due dates, tags, and more
Markdown commands and keyboard shortcuts
Drag-and-drop editor
Comments and @-mentions
Version history with change attributions
User roles and access rights management
Interactive media embeds
Instant search with advanced filters
API
Integrations with 40+ apps, including Slack, Google Drive, and Figma
Pricing Plan:
Basic free plan
Paid subscriptions start from $5 per user, per month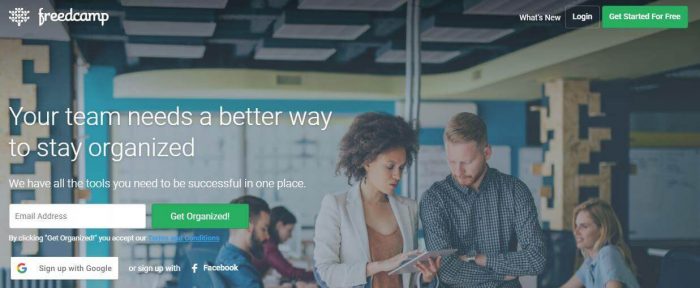 Another one of our recommended project planning tools is Freedcamp. Freedcamp is a cloud-based project management tool with an efficient collaboration channel that teams and individuals can work with alike.
Freedcamp offers a broad spectrum of features to assist in project planning, team communication and collaboration, time tracking, and a lot more. It makes use of Kanban boards and facilitates transparent task management through these boards.
Key Features:
The key project planning features you can avail from this service include:
Creation and management of tasks and subtasks
Assign multiple statuses to tasks for task status update
Assign tasks to teams
Project templates for facilitating similar projects
Kanban boards for easy visual access
Team milestones and Gantt Charts for project planning and monitoring
Messaging and discussion boards for team collaboration
Calendar for scheduling tasks and meetings
Issue management and time tracking
Documentation store and shared file management
Pricing Plan:
Freedcamp offers free, Lite, Business, and Enterprise Plans.
Paid plans start from $ 3.99 per user per month.
Supports Due Dates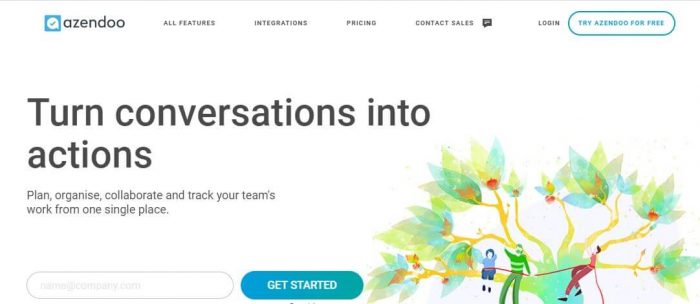 If you are looking for project planning tools that help you with teamwork and project management albeit on a more reasonable investment, check out Azendoo.
With this project planning tool, you can organize tasks, collaborate with teams, and meet project goals efficiently. It has a simple and easy-to-use interface where you can plan projects, share information, and track work.
Key Features:
Azendoo helps you in effective project planning via the following features:
Task management
Task Assignment including public tasks
Commenting on tasks
Task views as Lists, Boards or Calendars
Personal tasks lists
Convert Email into tasks
Project and task templates
Report customization
Team and personalized discussions
Approvals and polls
Notifications and reminders
Goal priorities and permissions
Time Tracking
Online project planning tool
Free planning tool
Supports Due Dates
Has a Free Version
Pricing Plan:
Azendoo offers a Starter, Business, and Enterprise plan.
The paid plan starts with $7.50 per user per month. Starter and Business plans come with a free trial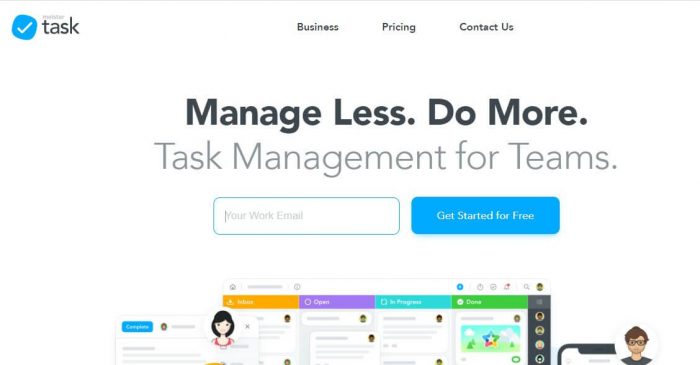 MeisterTask is one of the best project planning tools for task and project management. It eases team collaboration and communication as well as makes project management more streamlined for project managers.
MeisterTask also makes use of Kanban project dashboards, which helps with tasks staying more organized, easily accessible, and efficiently manageable.
Tools used in project planning are a lot but given the key features it offers; MesiterTask is a good value for value.
Key Features:
Here is a comprehensive list of project planning features you can avail with Meistertask:
Kanban Project Boards
Customized Dashboards
Tasks and sub-tasks management
Organizing tasks and prioritization through stars and tags
Task Relationships
Notes and comments to ease workflow
File attachments and information exchange
MeisterTask is a project planning tool used in the management of large projects
Free planning tool
Supports Due Dates
Has a Free Version
Pricing Plan:
Meistertask comes with free, Pro, Business and Enterprise payment plans.
Paid Plan: Meistertask Pro charges $8.25 per user per month.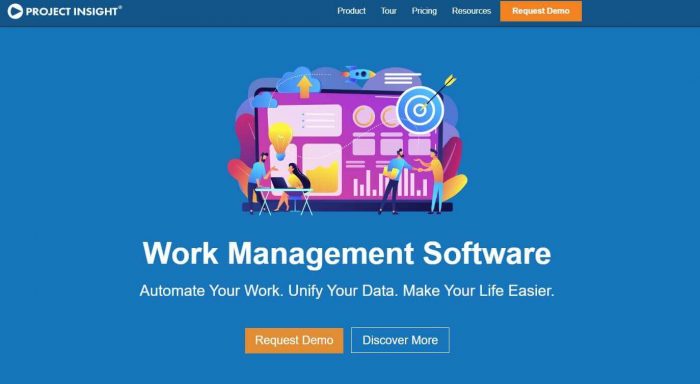 Project Insight is an enterprise web-based project planning tool with powerful features in a simple user interface. This project planning tool is entirely web-based. Due to this, it is accessible by teams to access from anywhere at any time.
A good feature of Project Insight is that it is customizable allowing users to create custom fields, items, and workflows. Users can also customize form labels with a preferred theme without additional coding.
Key Features:
Here are key project planning features you can avail with Project Insight:
Team collaboration and discussion channel
Budgeting and costing
Calendars for scheduling
Cross-project resource allocation
Customization capabilities for fields, forms, and other entities
Intelligent project scheduling
Interactive Gantt charts
Project dashboard reports
Built-in resource management tools
Time and expense assessment
Workflow and approvals
Free planning tool
Supports Due Dates
Has a Free Version
Pricing Plan:
Project insight comes with a Free, Business, and Enterprise plan.
Paid plan starts from $20 per team member ($45 for power user)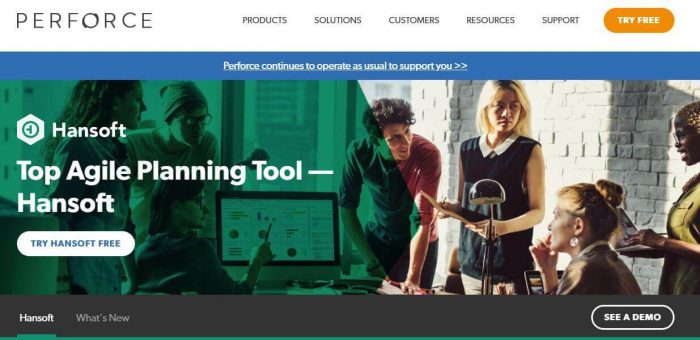 Hansoft is an agile project management and one of the top online project planning tools that facilitate teams for both short-term and long-term projects. It has a swift user interface that can be altered to expedite workflows and processes. It also provides a single backlog for users to assess, prioritize, and customize other entities.
The great thing about this tool is that you can adopt a single method or combine two or more project management approaches for your project. These methods can include Scrum, Gantt, Kanban, Waterfall, or SAFe.
Key Features:
Hansoft makes project planning easier with the following characteristics:
Insight and information sharing
Works well with any project management framework including Scrum, Gantt, and Kanban
Offers a common Product Backlog
Flexible Release Tagging
Facilitates program planning
Free Project Planning Tool
Free planning tool
Supports Due Dates
Has a Free Version
Pricing Plan:
Hansoft offers a Free and Paid plan.
Paid plans start from $28 per user per month.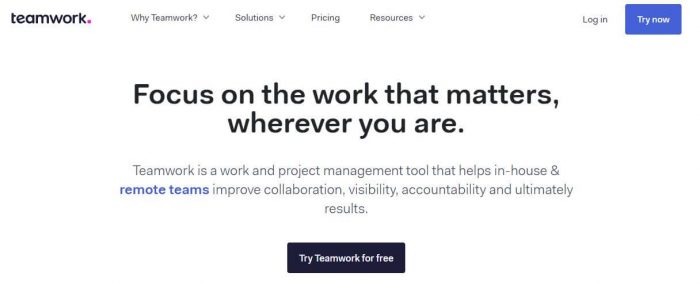 Teamwork makes it to the list of our best project planning tools due to the core modules focused on project management specifically project planning. Some of the core features such as Gantt charts, time tracking with a desktop timer that is usable both on Windows and Linux versions, milestones monitoring, and task management along with a clean and sophisticated interface make this tool a winner.
Teamwork also comes with Teamwork Desk and Teamwork Chat, which are easily integrated with Teamwork projects. This gives you a wholesome experience in one place avoiding the need to make multiple subscriptions or purchases with entirely different tools.
With Teamwork Desk, is a module that facilitates you in managing inbound communication, measuring traffic channels, team productivity, as well as customer satisfaction. Teamwork project facilitates documentation through a project notebook system that helps you keep notes, format them, and export them out.
Moreover, you can carry out project coordination and team communication through Teamwork Chat, which is a communication tool as an alternative to Slack. Teamwork Chat is a free app that lets you mobile chat, search for conversations, and attach files.
Key Features:
Teamwork comes with the following robust set of features:
Task and subtask management
Task boards
Kanban board
Projects
Color themes and templates
Idea management
Budget management
Time tracking
Milestone tracking
Cost to completion tracking
Powerful search
100 MB file space
Time tracking
Mobile apps: iOS and Android
Integration with multiple third-party apps
Free planning tool
Support Due Dates
Has a Free Version
Pricing Plan:
Free Forever, Pro ($ 45 per month), Premium ($ 75 per month) and Enterprise (customized) plans.
See also:
The Best Scrum Tools of 2023 for Agile Project Management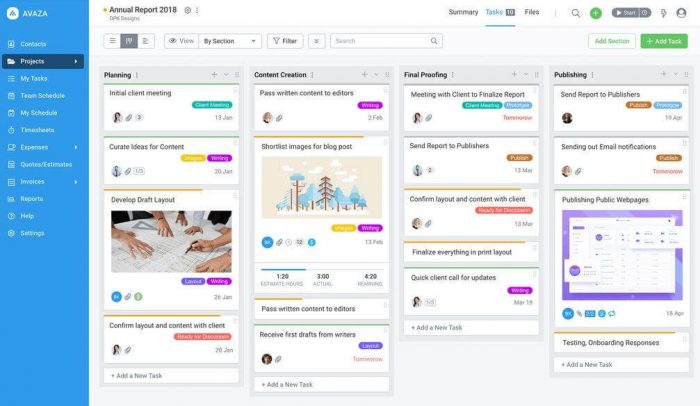 Recommended for freelancers, consultants, and small businesses, Avaza is one of the best project planning tools, especially, if you are not concerned with multiple features but instead want a tool with focused modules and smooth workability. You can break down your work into manageable tasks with to-do lists, timeframes, or workflows. Avaza lets you even plan work for your entire week with a start and end the day.
Project estimation and managing payments are critical parts of project planning. With Avaza you can manage and organize projects from submitting a quote to the client to accepting payment. Create and send detailed estimates for projects to corresponding clients, which can then be converted into projects with a single click.
Once the project starts, you can keep making communication with clients timely and efficiently through the Questions tab.
Key Features:
Some of the features you can avail yourself with Avaza include:
Task management
Time tracking (includes a timer for desktop for Windows and Linux)
Scrum project burndown charts
File sharing and collaboration
Project budgeting
Project management
Project progress dashboards
Conversion of project estimates into projects
Activity feeds
Business reporting
Cloud accounting
Project estimation preparation and delivery
Expense management and billing
Invoices and online billing
Multi-currency expenses, invoicing, payments and credit notes
Split payments across invoices
PayPal payment integration
Timesheet entry and billing
Mobile apps: iOS and Android
Integration with multiple third-party apps
Project Planning Tools Freeware
Free planning tool
Supports Due Dates
Has a Free Version
Pricing Plans:
Avaza offers Free, Startup, Basic, and Business plans.
Paid plans start from $ 9.95 per month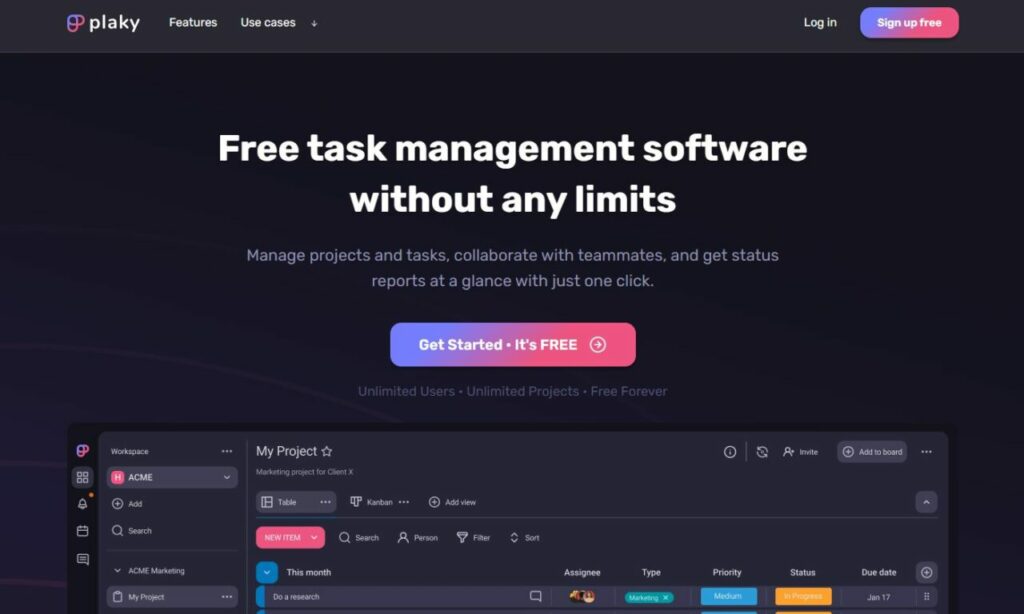 Plaky is project planning software totally free of charge, regardless of the number of users or projects. Its intuitive and user-friendly interface makes it easy for any team to plan their workflow and improve their productivity.
A variety of options that Plaky offers help you manage your projects and tasks effortlessly. You can keep track of your work and stay up to date with any changes thanks to its powerful features.
Plaky helps you organize your day-to-day activities and collaborate with your team. It also offers templates that suit any type of work — from event planning and sales to marketing and software development.
Key features:
Create a board for each project from a ready-made template or from scratch,
Make your boards public or private and give editing permission to whoever you choose,
Change your board view to Kanban or Table,
Easily create to-dos and assign team members to tasks,
Assign due dates and attach relevant documents to each task,
Use color-coded labels to mark the status of tasks,
Add comments and leave feedback directly on a task,
Mention @someone or an entire @team, and they'll instantly get notified,
Sort tasks by priority, due dates, status, etc.,
Filter out the information you don't want to be displayed,
Check the activity on your board and see who has last viewed it,
Manage your projects on the go using Plaky mobile apps for Android and iOS, and more.
Pricing plan:
Plaky is free of charge for an unlimited number of users and projects.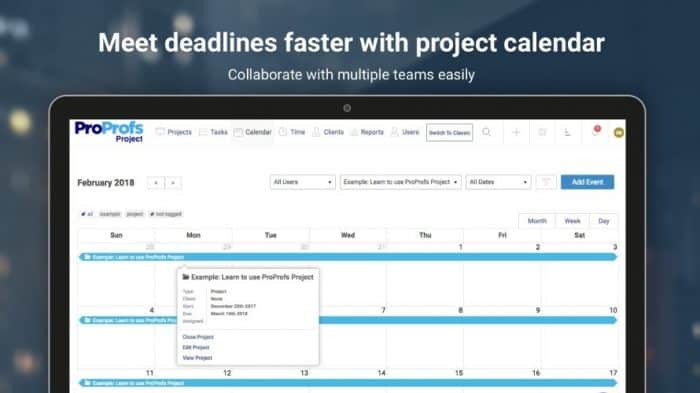 ProProfs Project is a top project planning tool that helps you create a project schedule and accomplish tasks like a pro. It is an excellent solution for budget management and resource management.
With this tool, you can assign tasks to the team members, set start dates and end dates, analyze project performance, and monitor task progress. You can also spell out dependencies, highlighting tasks or milestones that rely on completing other tasks.
ProProfs Project comes with a suite of advanced features that help increase efficiency and improve team collaboration. This tool's major highlight is that you get to analyze and monitor the projects through various views, including list view, calendar view, Gantt chart, and Kanban board. These visual representations allow you to view milestones and meet deadlines faster.
Key Features:
Create multiple unlimited tasks/subtasks
Task organization with labels and colors
Project milestones visualization and tracking
Single dashboard to manage tasks and teams better
Efficient task delegation to team members
Workflow customization to prevent project delays
Shared project calendar
Customizable layout with while labeling options
Team collaboration
Recurring tasks automation
Assign role and permissions
File and feedback sharing to keep everyone on the same page
Team member performance tracking
Detailed customizable reports
Alerts, reminders, and notifications for real-time updates
Time tracking and invoicing
Set time and budget estimates
24*7 customer support
Pricing Plans:
ProProfs Project offers two paid plans: Essentials($2/user/month) and Premium ($4/user/month)
You can try the ProProfs Project paid plans with a 15-day free trial.

Allthings is another one of our simple yet powerful project planning tools. Easily create lists, customize them, and share them with the team. This tool easily incorporates elements of Agile project management by letting you customize your lists into backlogs and setting sprints. You can tag tasks with categories and monitor the tasks by group or status through the Kanban board view.
With its powerful search feature, you can search for various elements and even have the option to save searches in the form of customized sub-boards that highlight specific parts of your project.
Key Features:
Task and sub-task management
To-do lists
Create shareable lists
Kanban board
Group and List views
Comments
Attachments and file share
Project management including project templates
Monitor project progress through multiple reports
Percent complete tracking
Resource planning
Time tracking
Collaboration
Flexible and customizable lists
Personalization of views
Group collaboration tool
Real-time alerts
Multi-platform
SaaS
Mobile apps: Android and iOS
Integration with multiple third-party apps
Free planning tool
Supports Due Dates
Has a Free Version
Pricing Plans:
Allthings offers Free, Pro, and Team plans.
Paid plans start from $ 3.99 per month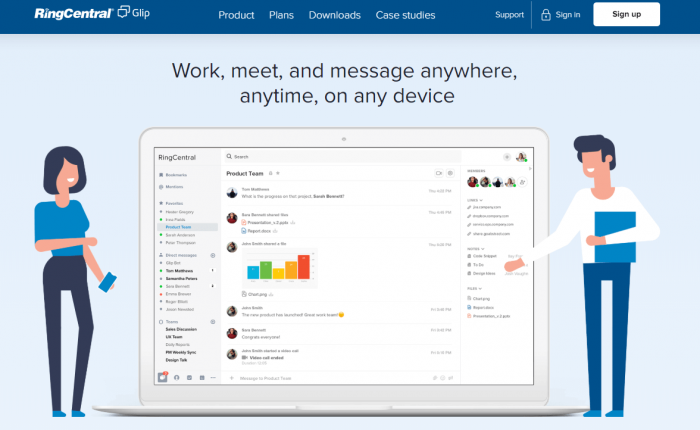 Ringcentral Glip is another cloud-based project planning tool that enables collaboration that comes with an easy-to-use interface and robust feature list. You can create and assign tasks, share files, schedule project deadlines, and track project progress. This service also encourages and facilitates team communication through conversations and file sharing. You can keep notes and make use of the calendar to schedule work.
Glip also comes with features such as contact management, link extraction, configurable email and push notifications, progress tracking, link extraction, contact management, and screen sharing (for training or meetings). Plus, users have the option to write customized plugins, annotate images and establish audit trails.
Key Features:
Here is a list of features you can make use of with Glip:
Task management
Task assignment through conversations
Conversation history
Project management
Real-time file sharing
Team messaging and collaboration
Video calls and meetings
Screen sharing
Contact management
Configurable email and push notifications
Mobile apps: iOS and Android
Integration with multiple third-party apps
Support Due Dates
Pricing Plans:
Glip offers Free and Standard plans.
Paid plans start from $ 5 per user per month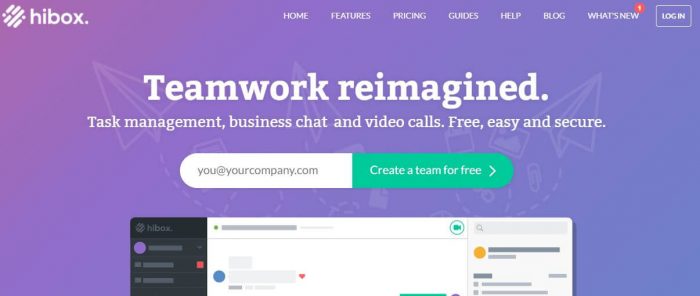 Hibox is an optimum tool for project planning and task management. It offers a neat, intuitive interface that lets you grasp the working of the tool and helps you work your way around it. Modules and features such as task management, project management, and team collaboration are simple yet powerful with various options to choose from.
Project planning entails flawless team collaboration and unless the team is on one page, there is always a threat of miscommunication and project requirement ambiguities. With its team messaging and video conferencing modules, Hibox allows for seamless team communication and collaboration with local or remote groups.
This also makes it an ideal tool, especially for freelancers or remotely based teams. The unique feature of the Hibox project planning and management tool is its AI feature that assists you through your project planning phase efficiently by analyzing user behaviors.
Key Features:
Here are some of the prominent features list Hibox has to offer:
Task management
Project management
Instant messaging and collaboration
Tasks/project time tracking
Videoconferencing
Personal AI Assistant
Search
High-grade security
iOS and Android mobile apps
Integration with multiple third-party apps
Supports Due Dates
Pricing Plan:
Hibox offers a Free, Pro, and Enterprise Plan.
The paid plans start from $4 per user per month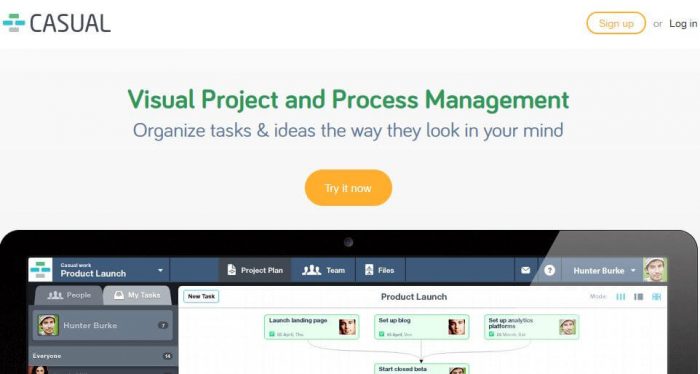 The last tool on this list of best project planning apps, Casual is a one-of-a-kind project planning tool that lets you plan, manage and track projects visually. Along with the option to write down the tasks as lists, you can also make use of flowcharts to plan an entire project.
With Casual, you can plan projects involving multiple teams and individuals by project milestones and devising the workflow. You can even draw correlations and dependencies between the tasks drawn.
This can be done by drawing tasks and applying causal relationships to those tasks along with defining the order of execution for each task in the project. Based on this defined order, each team member is sent a list of tasks relevant to them.
Despite being different, it is super easy to use and intuitive, so it works really well for personal projects or projects with small teams. What's more? You can save projects and their elements. The projects and work processes can be revisited and the steps can be utilized for planning more projects.
Key Features:
Make use of the following features with Casual:
Create tasks
Assign tasks
Task management through lists and flowcharts
prioritizing
List of the task view
Board/ graph view
Create project milestones
Create sub-processes
Define project timelines
Re-use processes for new projects
Visual project summary
Color-coded project chart
Team notifications
Project workflows
Team management
Collaboration through messaging and file share
Automatic backup
SSL security
Summary reports
iOS and Android mobile apps
Integration with Google Calendar
Paid Plans:
Casual offers a Free trial and Personal, Group, Team, Department, and Enterprise plans.
The paid plan starts at $ 7 per month.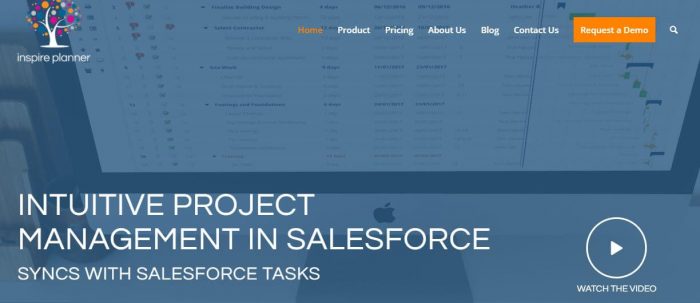 For companies using Salesforce, it might be a better decision to look into dedicated Salesforce-native apps for managing their projects.
Inspire Planner is one of the leading Salesforce project management apps available on AppExchange, which is ideal for customer onboarding, PSA, and projects of any shape and size. The app provides a lot of advanced features such as project templates and powerful automation, time tracking, resource planning, support of multiple predecessors, Gantt chart, and more.
However, Inspire Planner was designed in a way that it is easy to use via an intuitive drag-and-drop interface. The app is also highly customizable through standard Salesforce customization. If you are currently using Microsoft Project, Smartsheet, or a similar tool but want to utilize your Salesforce CRM, Inspire Planner can be an ideal transition.
Key Features:
Here are some of the main features of Inspire Planner, a Salesforce-native project
Integration with native Salesforce Tasks
Project Templates
Time tracking and timesheets
Gantt chart and Kanban board interfaces
Project portfolios
Project portal for non-Salesforce users
Analytics with Salesforce reports and dashboards
Attach and share project documents/files with version history
Task dependencies with Predecessors
Project team collaboration via Chatter
Project budget and expenses for billing and costing
Schedule baseline
Critical path map
Export PDF or Excel
Project task hierarchy with milestones
Manage risks and issues with Salesforce Cases
Resources skills management
Resource capacity and utilization planning
Task alerts and reminders
Project automation using process builder
Intuitive and easy to use drag and drop interface
100% native Salesforce
Pricing Plans:
Inspire Planner offers annually ($21/user/month) and monthly ($25/user/month) plans
They also support nonprofits by offering them 10 free licenses and further discounts
You can try to Inspire Planner with a full 30-day free trial
19. GoPlan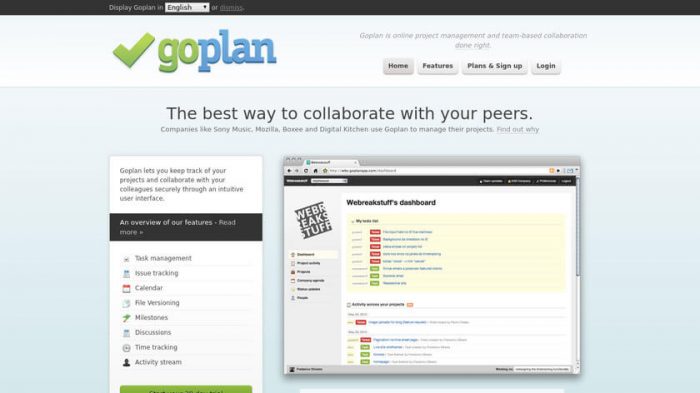 Call it GoPlan, or Goplan, this is one of the coolest project planning tools on the block. To be honest, we recently discovered Goplan when we were looking to add more recommendations to this list.
The program comes with all the nifty features that are essential to planning and executing projects on time. – and that too via a remarkably simple user interface.
Goplan developers reportedly wanted their users to maintain focus on work, instead of visual intricacies. For that reason, the program isn't too fancy on the latest Web 2.0 design standards. The clean user interface is effective for quick access to all the key features of the software.
Key Features:
Dashboard highlights project status, work-in-progress tasks, and time tracking problems to pinpoint critical issues.
Goplan's powerful task management suite comes with subtasks, listings, clocks, and an image uploading facility.
High-status tasks can be monitored via an automated reporting function.
Create independent project calendars or stick to company-wide timelines; the choice is yours!
Supports direct file uploading. Sort files according to their versions, or overwrite to avoid confusion on the admins' part.
Mitigate issues with the help of GoPlan's powerful ticket creation system.
Pricing:
Goplan services are offered in three packages. All three plans accommodate a 30-day trial period for the best user experience.
Goplan's Startup package is ideal for small businesses. Starts at $10.
Professional and Unlimited plans range from $35 and $80 respectively.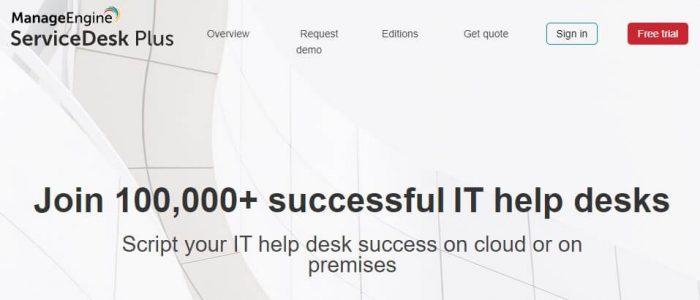 ServiceDesk Plus is another project planning-oriented tool that doesn't sell short on features. Beyond its project management capabilities, you can monitor and manage other business-related services.
For instance, ServiceDesk Plus has a powerful customer support module. It was designed specifically for businesses that rely on project management and service provision at the same time. In a nutshell, this software takes project planning to a whole new level.
By offering, Asset Management, Trouble Shooting, Project Management, and a dedicated Knowledge Base, ServiceDesk Plus, eliminates the need for purchasing different software for the aforementioned platforms. To that end, this software is more of an all-in-one package with affordable pricing.
Key Features:
Offers 24/7 customer supports to core users.
Comes with an evaluation period on any paid plan.
Customer and services-centric project management experience for big businesses.
Manage contracts through an internal contract management system.
Create tickets for high-priority tasks.
Escalate or de-escalate tasks as projects near milestones.
Comes with Gantt Charts, milestone tracking, and collaboration features for project managers on the move.
Pricing:
ServiceDesk offers packages on a yearly basis. The base plan starts at $120 per year, per user.
Also offers a free trial for evaluation purposes.
Related:
Best Agile Project Management Tools in 2023

Workfront combines robust project management and project planning feature sets for users of various skill levels. It is remarkable software that dates back to 2001.
Since Workfront was developed by a Utah-based project management and planning company, it is all the more reason to give this tool a try. The developers were well aware of project managers' needs, long since they had a first-hand account of all the challenges that power-level users reportedly faced in the industry.
Workfront's UI helps with a smooth learning curve. The program is not only ideal for complex Enterprise level project planning endeavors, but it's also suitable for small businesses and teams. The only setback to this program is the long onboarding time. Workfront devs are reportedly in the middle of giving the program a new overhaul in the upcoming future build.
As one of the best free project planning tools, this one has to offer the appended key highlights.
Key Features:
A full-featured alternative to substandard project planning and management software right now.
Robust servicing technology meant for both enterprise and small business level users.
Ideal for project managers who have to do a lot of planning for multiple projects.
Offers a custom pricing package.
Contains multiple features for issue tracking, collaboration, documentation, etc.
Portfolio management.
Pricing:
Workfront pricing is available upon contact with the vendor.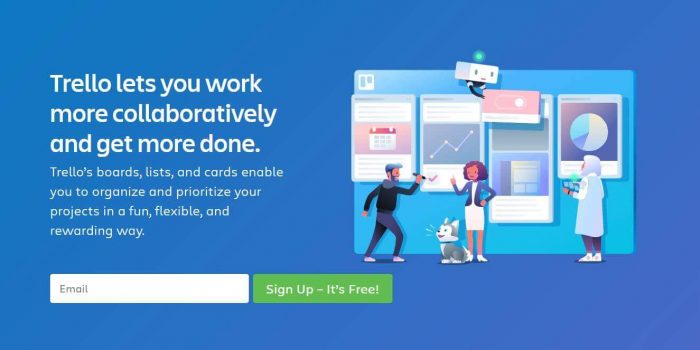 Another amazing project planning tool on this list is Trello. The application is a great way to plan and track many different tasks and features related to the project, with the help of Trello boards.
These boards help display all of the information needed by the project manager to plan all of the activities that their team members have to perform.
Key Features
A quick overview of the tasks is visualized at the front and back of the Trello cards
Drag and drop functionality
Real-time sync
Easy uploading of files and attachments
Archiving of card records
Deadline reminders
Email notifications
Assign tasks
Upload attachments
SSL encryption of data
Search function
The free version of this application is available to use without any extra charges
Texts and visuals fit any screen size
10 Supported languages
Developer API
Pricing
Free version available
Paid subscription starts at $12.50/month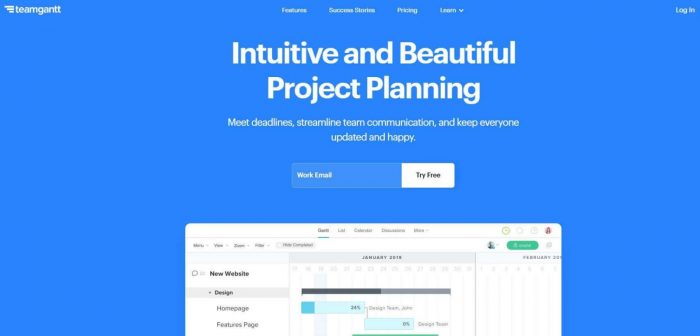 TeamGantt is an amazing project planning tool that enables your team to plan and keep track of all the different tasks and activities related to your project.
The application is quite intuitive and wouldn't make you read a whole lot of documents to understand its functioning and is quite easy to use when you get the hang of it.
The main feature that this application provides is the creation of efficient Gantt charts that keep track of all of the different activities associated with the project.
Key Features
Gantt chart builder
Project planning
Team Communication
Multiple projects
Project templates
Resource management
Task scheduling
Project time tracking
Task planning
Drag & drop interface
Pricing
Paid subscription starts at $29.99/per month

ProofHub is an effective project planning and management tool for completing time-bound projects. The platform is highly customizable, allowing users to personalize workflows, dashboards, reports, and request forms.
The visual ProofHub interface enables users to quickly comprehend priorities by switching between Kanban boards, interactive drag-and-drop Gantt charts, and classic table views. Gantt charts allow users to visualize and plan work in order to stay on top.
Task lists, subtasks, calendar scheduling, milestones, file sharing, and real-time collaboration through chat & discussions are just a few of the project planning tools available.
Key Features:
Team collaboration and discussion channel
Calendars for scheduling
Resource allocation
Custom fields
Project scheduling
Interactive Gantt charts
Personalized dashboard
Time tracking
Workflow management
File attachments & approvals
Daily Agenda
Bookmarks & stickies
Online proofing tool
Pricing Plans
A free trial of 14 days is available.
ProofHub offers two paid plans. One is ESSENTIAL and costs $45 a year, while the other is ULTIMATE CONTROL and costs $89 a year.
According to the Project Management Book of Knowledge (PMBOK), project planning constitutes one of the 5 key stages in project management.
Although each stage of project management holds significant value, it is the planning phase that actually lays down the foundation for the project being built ahead. This stage plays a critical role in helping teams, project managers as well as stakeholders through other project phases.
Through project planning, teams can identify goals, assess and mitigate risks, and reduce the chances of missed deadlines which in turn lead to timely and efficient project delivery.
If you are looking for a project management tool instead, take a look at these top project management software picks by Celoxis.
However, seemingly small inefficiencies in project planning can snowball into extraordinarily large problems in later stages that can ultimately affect the overall project and team performance.
Did you know as per a study by PMI, lack of clear goals has been termed as the most common factor (37%) behind project failure by professionals?
Looking for the top project management tools?
Are you looking for the top project management tools to help you handle complex tasks and keep your projects under control? With so many options available, it can be hard to choose the one that is best suited to your needs. Whether you're a small business or a large corporation, there are some key features and functionalities that should be considered before making your decision.
First off, consider what type of projects you need to manage. Are they simple or complex? Is collaboration necessary? Different types of project management tools offer different features and capabilities tailored towards specific types of projects; some may provide basic task tracking while others may have more robust resource planning capabilities.
Once you've identified the type of work needed, look into the various platforms available. Some popular software solutions include Asana, Trello, Basecamp, and Monday.com among others. Each of these tools offers different functionalities so make sure to check out their websites thoroughly before settling on one solution. Also, take into account cost – most tools will have both free and paid versions with varying levels of functionality depending on budget constraints.
Types of web-based project management work planning tools
The key to successful project management is having the right tools and resources in place. Whether you're managing a small team or coordinating a large-scale endeavor, web-based project management work planning tools can help you stay organized and on top of everything. Here are some of the most popular types of web-based project management tools:
1. Kanban Boards:
Kanban boards are great for visualizing tasks and keeping projects moving forward with minimal disruption. Commonly used in Agile development, they provide real-time updates on progress, enabling teams to focus their efforts and eliminate distractions quickly.
2. Gantt Charts:
Gantt charts give a graphical representation of tasks at different phases in your project timeline, providing an "at-a-glance" view that helps keep progress on track and allocate resources more efficiently
3. Task Tracking Software:
Task tracking software provides an efficient way to monitor task statuses, due dates, priorities, assignees, etc., helping teams quickly identify what needs to be done next as well as offering greater visibility into how tasks are progressing overall
4. Project Management Software:
Project management software offers extensive features for creating timelines, assigning users to tasks, and tracking completion rates over time It also makes it easy to manage multiple projects simultaneously by allowing teams access from anywhere in the world via cloud solutions
5. Collaboration Tools:
Collaboration tools make it easier for remote team members to communicate effectively during collaborative efforts by providing secure messaging platforms that enable instant feedback from distributed locations It also enables users to share files securely while still maintaining control over who has access
6. Time Tracking Software:
Time tracking software can help organizations ensure that everyone is working efficiently by showing which employees have logged in or out as well as recording time spent per task or project milestone This type of data allows managers or supervisors to see where time could potentially be saved or reallocated elsewhere if needed
How to pick the best tools for strategic planning for yourself?
There is no single "best" tool for strategic planning; the right tool depends on your individual needs and preferences. Strategic planning requires an in-depth analysis of your organization's objectives, resources, capabilities, and external environment. To help you with this process, there are many tools available that can facilitate understanding and decision-making.
These tools may come in the form of templates, software packages, online services, or a combination of various elements. You should consider your unique situation when selecting a tool that best suits your team and organization's needs. It is important to also ensure that any tool you choose is user-friendly and effective to maximize its potential value.
Project Planning Phase
In essence, the project planning phase incorporates all the steps that define the objective, scope, and activities a project incorporates. The team prioritizes the project, calculates a budget and schedule, and determines the resources required.
The lack of effective project planning can incur high costs for projects and organizations. The Project Management Institute estimates that as of 2017, organizations have spent an average of $97 million for every $1 billion invested, due to poor project performance.
Katie Stricker is a marketing project management professional and is a contributor to the online resource "Projects@Work". According to Stricker, some of the common activities included in the planning stage comprise:
Communication plan for stakeholders
Development of a detailed work breakdown structure.
Identification of the critical path
Resource plotting on the project plan and refining the sequencing of the work based on project dependencies and resource constraints.
Detailed schedule creation
Risk assessment, prioritization, and mitigation plan.
Project Planning Tools
FAQs
1. What is the best planning tool in 2023?
The best planning tool for 2023 include the following:
1. nTask
2. Trello
3. Teamwork
4. Toggle Plan
5. TeamGantt

All of these tools are equipped with the latest features and advanced planning options. If you are finding it hard to pick one from the list, you can narrow down your options by starting with a free trial or requesting a demo.

2. What do software planning tools do?
Software planning tools essentially help you plan your project from start to end, offering flexibility and automation features to simplify the process for you. With the help of a software planning tool, you can divide your project into tasks and subtasks, organize and prioritize tasks, delegate resources, track progress, monitor performance, and help execute the project with efficiency.
Software planning tools have more than one job to do, they make sure your project is completed successfully by optimizing the planning process.
3. Where can I find the best online planning tools?
There are many online planning tools available, so it can be difficult to determine which one is best for your needs. To help narrow down your options, you may want to consider what features you require and what type of activity or project you need the tool for.

Some of the leading online planning tools include nTask, Trello, Monday, and Basecamp. Each offers different features and varying levels of customization depending on your individual goals. You can also read user reviews to compare pricing and ease of use for each platform before making a decision about which one is right for you.
What are some of your favorite project planning tools? Let us know in the comments below.