There is no hard and fast set of rules regarding creative work, project management in a digital agency can be more complicated and may demand more sudden shifts in project plans.
This may be due to the customer's changing preferences or consistently changing marketing trends.
For this reason, they require project management tools for agencies that can work efficiently and cater to the unpredictable modifications in workflows.
Unlike other industries, the digital marketing arena demands to stay constantly updated with today's rapidly changing marketing requirements.
It requires in-depth planning, forecasting marketing trends, on-the-spot decisions and consistently monitoring customer preferences and marketing trends.
From UI/UX design to display ads to an effective content marketing strategy, creative and digital agencies cater to a comprehensive range of requirements to keep an organization's product in the limelight.
Due to its versatile range of work processes, it requires equally versatile personnel and tools to be able to pull off its projects.
Here is a list of top project management tools for agencies that can be adopted today to make their work more streamlined and teams more aligned.
The Top 13 Project Management Tools for Agencies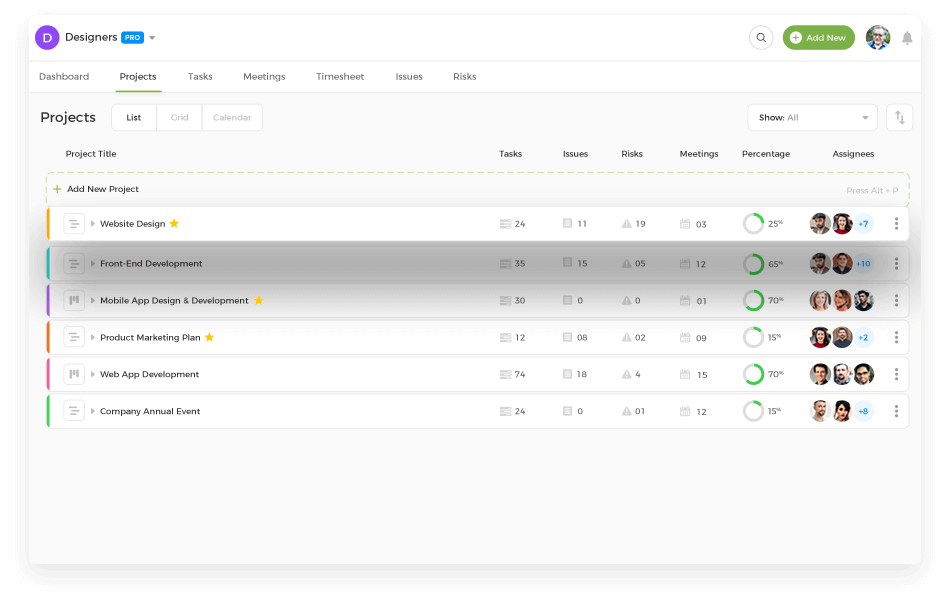 Primarily a project management tool designed and built for teams of all sizes and industries, nTask comprises a wide range of features that allow for structuring projects and streamlining workflows.
nTask is an ideal project management tool for digital agencies as through nTask, you can easily manage your marketing projects through a variety of features including team-specific workspaces and multiple options for task and project assignment.
Some of the features and modules of nTask include:
Create, assign, organize, prioritize and share tasks related to creative projects and easily control projects through a simple but comprehensive user interface.
Manage and monitor project progress through Gantt charts and timelines.
Manage and monitor employee task efforts with this complete payroll management section.
Creative work is all about changes and updates. With nTask meetings, you can arrange and schedule meetings, be it one time or recurring, from sending invites to attendees and specifying follow up procedures.
With issue tracking, you can identify and list down issues related to different tasks.
Built-in risk management allows you to identify potential risks to any project to better plan out your workflow.
Alerts, notifications, and reminders to keep teams on track.
According to Michelle, an avid user of nTask, it is a task/project management tool that encompasses features that may not be found in other similar task management tools.
She states it to be great for freelancers and small teams, especially agencies that need to keep track of time per project or client and want one unified interface for it. It is also a great tool for prioritizing and progress tracking.
Notable Mention
According to Socialnomics, nTask is the #1 choice for task management software users online. This is why we're #1 on their list of the best task management tools.
Project Management was never this simple. Get started with nTask today!

nTask is the platform creatives and agencies trust to organize work. Explore nTask today.
Podio by Citrix is another popular project management tool with organizations. It offers a complete collaboration solution by combining the features of e-mail and chat service. It also offers a server for sharing documents and information and facilitating project delivery. Some of the features this tool incorporates, include:
Individual accounts for team members.
Customizable workspaces for different teams.
Multiple applications for each workspace for team collaboration.
Applications are customizable whereby Podio provides WYSIWYG tools for addition, removal, or rearrangement of components within an application.
Create your own applications with templates and fields using drag and drop.
Podio API for setting up custom integrations.
Loren Baker is the co-founder of Foundation Digital. Baker is all praise for Podio when she words it as an amazing, all-in-one solution for project management. She adds that due to its app-based structure, teams can customize its application set for specific types of deliverable-based project management and reporting.
Secondly, she states that her team of 50 plus members can manage an entire project from start to end with internal agency discussion and auto-tasking. The project can evolve to be client facing for reviewing drafts and content as well as reporting.
Asana is another comprehensive project management tool that can be used by multiple teams from marketing to HR to creatives and designers.
It allows managing projects efficiently while allowing easy project management and encourages team collaboration to achieve results faster.
You can create tasks and projects and assign teams. Asana comes with some of the following salient features:
Create projects, tasks, and subtasks to structure workflow
Monitor the project timeline and share updates with your team.
Integrate with multiple tools and software to incorporate emails, files, and tickets.
Through the calendar, you can schedule projects and tasks to avoid overlapping timelines.
You can visualize project updates and statuses through multiple boards.
Hold meetings with your creative team and have instant discussions through efficient collaboration channels.
Katie Jansen is the VP of Marketing at AppLovin. Jansen has claimed Asana as a favorite. Some of the features she mentions for Asana include easy usage across different departments, easy to start a project, set sub-tasks, and manage deadlines and project reassignment to another team with the complete history.
Google is not just a search engine anymore. Instead, with the numerous tools and services it provides, it can prove to be an optimum project management tool for agencies.
From hosting your website to advertising to content management, the G-Suite can help agencies with the complete marketing cycle. Here are some of the services and how creative and digital agencies can make the best of them:
Google My Business lets you advertise for free.
Google+ Business Pages to help you set up your own business page.
Google Webmaster Tools account. Google Webmaster Tools help you stay alert for any potential red flags and help analyze search traffic.
Google Suite: Docs, Sheets, Slides, and Forms: You can store and share all sorts of documents. Plus, the projects are saved automatically.
Google AdWords: You can create ads by targeting specific words relevant to your agency, which may appear on Google when people potential customers search for these keywords.
Google Analytics: With this service, you can monitor the traffic to your website and gain insight to help you understand customer behavior.
Kristopher Jones is the founder of LSEO.com. According to Jones, his team coordinates a lot using Google Spreadsheets for link-building campaigns and content marketing calendars.
At times they even incorporate Google analytics and campaign data directly into Spreadsheets.
They also utilize Google Docs to collaborate and through Google Calendar and Gmail, they arrange meetings and external communication.
SmartDraw is a complete design tool for creating diagrams, templates, tools, and symbols. You can use SmartDraw to make flowcharts and organizational charts, engineering and network diagrams, application and site mock-ups, wireframes and a lot more.
Since SmartDraw facilitates the drawing process through automation, so you can add shapes and make modifications through realignment on the fly.
Some of the features of SmartDraw are:
Automatic formatting with over 70 different types of visuals
Over 4,500 templates and 34,000 built-in symbols
Integration with Confluence, Jira, MS Office, GSuite & more
Import, edit, and export Microsoft Visio files and Export option to PDF& MS Office
Drag & drop interface
Design themes
Collaboration tools
Available in 100 languages
SOC 2 certified
Chart-based diagrams, Graph-based diagrams, and Schematic diagrams.
Neil Myers is the founder and president of Connect Marketing. Myers states having used dozens of project management tools for agencies.
The simple tools cannot handle complex projects and the more powerful and sophisticated tools are difficult to operate. With SmartDraw, Myers finds the necessary balance in the form of a simple application that can cater to complex projects as well.
An InVision is a tool that caters to design and development. On a single platform, teams can create high-fidelity web and mobile prototypes, manage projects as well as collaborate with each other in real-time.
It allows teams to prototype, review, refine and test web and mobile products without additional effort of coding. Some of the features you can find in this project management tool include:
Design prototyping, sharing, and presentation
Comments and feedback
Real-time meetings and whiteboarding
Team collaboration
Project management
User testing and research
Chapin Herman is the co-founder of Herman-Scheer. While discussing a transition to InVision from another tool, Herman explained the need for collaboration between their design team as well as sharing work with customers.
He further added that InVision facilitates his team by taking the typical wireframing process further with their prototyping capabilities.
This helps them to link and click between multiple pages as done on a live site.
Breeze is one of the simplest project management tools for agencies available in the market. Breeze offers a complete set of features for agencies to timely track and monitors their project performance.
Furthermore, it helps agencies to design and execute their creative strategies perfectly by using the right mix of features it comes with. Core project management features include:
Projects and tasks management
Conversations within tasks
Time tracking with tasks
Client accessibility for projects
Progress reports
Drag and drop interface
Kanban boards for workflow management
Content calendar
Email feedback in synchronization with the tasks
Activity stream
Breeze claims to be trusted by over 5000 customers in 100+ countries, with some big names to add to its portfolio, like Disney and Skyscanner. To date, more than 100,000 projects 2,000,000+ tasks have been organized using Breeze.
The next project management tool for agencies making to our list is Airtable. An intuitive platform designed for a range of professionals, which supports flexible collaboration for all kinds of creative projects.
The tool focuses primarily on data organization by providing built-in reusable templates for each particular type of project.
The key project management features are:
Client project tracker
Marketing content calendar
Campaigns management templates
Issues and bug tracker
Agile project templates
Product launch and product development templates
Powerful project sorting filters
Multiple views
Customizable user surveys
Melissa Grey, the recruitment director at Huge states that Airtable has helped them to designate the right projects to their staff by providing an accurate snapshot of all the teams.
Furthermore, Rachel Cone-Gorham, Executive Director for Digital & Social Marketing at Penguin Random House says that from an organizational standpoint, they use Airtable for everything.
Brightpod is a web-based project management tool specifically designed and developed for digital and creative marketing teams. In Brightpod, projects are called 'pods' and there are visual color indicators to identify the status of each project.
The software comes with numerous project management features, some of which are:
Project progress bars
Unique color indicators
Recurring tasks
Workflows for similar projects
Drag and drop content calendar
High priority tasks labeling
Time tracking for tasks
Time estimates for tasks
Milestones representing team goals
Direct messaging with the team members
Email integration
Personalized themes
Brightpod helped Pamela Hilliard, CEO of Writing It Right For You, increase the productivity of her team by keeping everyone on the same page, all the while making project management easy and fun.
On the other hand, Harshil Karia from FoxyMoron, a creative digital agency, thinks that Brightpod's slick interface and marketing workflows are a game-changer.
The next tool in our list of project management tools for agencies is Workamajig. A cloud-based project management tool that provides task management solutions to all types of creative teams and agencies regardless of their size.
Following features enable smooth task management with Workamajig:
Management dashboard
Project estimates
Tasks accessibility from anywhere
Resources management
Client wise profitability analysis
Independent client portals
Automated timesheets
Built-in project templates
Shareable project status reports
Integration with Outlook and Google
Aidan Bennett, Founder & MD at Benefitz states that Workamajig is very easy to use and provides a cost-effective solution in terms of the monthly fee per user.
The 11th tool on our list is Mavenlink. Primarily designed for professionals and teams to collaborate on large-scale projects, Mavenlink provides a comprehensive solution for agency management and serves as a single platform for all kinds of collaboration needs.
You can utilize the following features of this tool:
Organized project portfolio
Resource management at a task level
Reusable project templates
Gantt charts
Project health checker
Project evaluation charts
Personalized views
Public and private access
Project budget
Integration with G Suite
Mavenlink professes that they've facilitated 7 billion views a month on Buzzfeed's content. Apart from that, Judd Mercer, Creative Director at Elevated Third, says that with Mavenlink they're able to make educated decisions about building an efficient future.
The last tool in our list of project management tools for agencies is Workfront. Workfront is an advanced project management tool that helps agencies to manage, prioritize, and track their projects in an adept manner.
It offers a centralized place for teams to view and manage all kinds of projects, whether big or small. The tool comes with:
Project timelines
Project reports
Client access
Time tracking
Budget tracking
Request prioritization
Digital proofing for documents' approval
Project milestones and project status
Integration with multiple third-party applications
Brady Robinder, Manager- XOC Tools and Integration at Comcast labels Workfront as a provider of different methods for XOC teams to deliver promises to their front-line team members for restoring and delivering new services to their Xfinity customers.
Teamwork was actually created by 2 guys who were running a digital agency. They grew tired of the limited options out there when it came to finding an effective project management solution, so they decided to create their own.
Because of this, Teamwork is still very agency focused and has some great features for agencies including:
Time tracking
Free client users
Agency project templates
Gantt Charts
Kanban Boards
Contractor collaboration
Integrations with other important agency tools
Teamwork is trusted by over 6,000 agencies around the world. Jay Bauer the founder of the agency Convince & Convert said that Teamwork totally changed how their business worked and that he can't figure out how they got by without it.
This is our take on top project management tools for agencies. Which tool would you recommend as a project management tool for agencies? Let us know in the comments below.