How hard do you find process creation? It is certainly not child's play, primarily if you work with long and complex processes. Starting everything from scratch and building upon it is quite a demanding task. Fortunately, you have got process creation software watching your back.
What Is a Process Creation Software?
Process creation software is a tool designed to help PMs carve out a detailed plan, outlining every major and minor step that goes into the process and how the process will move once executed.
Many small, medium and big enterprises use these tools to organize and manage the processes that go on in the company. Whether related to sales, marketing, HR management, or anything else, these tools can help you create a detailed outline for any and every process you may encounter.
What Are the Advantages of Using Process Creation Tool?
Manual work is outdated when digital processes have taken over. Sticking to old ways can be detrimental in the long run. Not only that but using a digital tool brings so much to the table. The pros definitely outweigh the cons.
Here are some of the most prominent advantages of using such software for your business:
1. Reduces Risks:
Using a tool for process creation eliminates a lot of risks otherwise involved. You can create the whole process layout and view the big picture, which makes it much easier to spot dangers and issues that might hinder your progress.
Once you have everything laid out in front of you, you can devise strategies to counter these risks before they become a significant hurdle in your way. Moreover, it streamlines the process helping you save time and money spent on the process creation otherwise.
2. 360 Degree View:
One of the biggest perks of using software to create a process is that it offers a 360-degree view of the work in progress. PMs can keep an eye on the tasks and their status track resources, and how the overall process is coming about.
Furthermore, the process dashboard displaying all the information can be accessed by everyone in the team. You can also share the details with stakeholders and other individuals involved in the process.
3. Improved Communication and Collaboration:
Good communication and collaboration are the hallmarks of a successful process. The power of smooth communication is ultimately reflected in the outcomes of the process.
Carving out the process and its details with team members is relatively smooth if you communicate well with your teammates. Also, it makes the later process much easier to follow. Good software will smoothen communication for you by providing dedicated features for real-time communication, file sharing, etc.
4. Automation:
One of the most significant upsides to using software is that it reduces manual effort with automation features. Automating recurring aspects of a process means you do not have to invest your time and effort in the same thing over and over again.
It also entails the rapid organization of tasks and easy adoption of changes, as and when needed.
5. Enhanced Productivity:
At the end of the day, improving our work is our target. By eliminating risks, reducing the time you spend on process creation, and smoothening coordination, you can quickly enhance your productivity.
Higher productivity rates ultimately result in higher chances of success and more efficiency.
Moreover, these tools are even more fascinating because you can enjoy all these benefits and much more at considerably low prices. Some of the tools also offer a free version of their software, albeit with limited features but valuable nonetheless.
You can also get a trial run with some software or book a demo to learn more. This allows you to familiarize yourself with the tool's working before you officially sign up for the tool.
On with the choice you have in such software. The following section lists five of the most efficient tools to take your business to the next level with their excellent process creation features.
5 Top-Tier Process Creation Software to Look Forward To:
Table of Contents
Top Process Creations Tools for 2023
1. nTask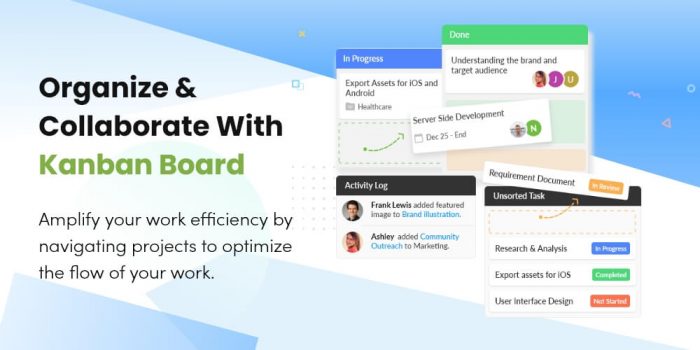 nTask is our first choice on the list, and you may accuse us of being biased but believe us when we say this, nTask is every bit worth it. The tool is enriched with some of the most advanced features and has user-friendly interfaces. Moreover, its pricing plans are also relatively cost-effective.
Due to nTask's acute efficiency and its ability to organize and manage processes effectively, it has garnered over 250,000 users from over 190+ countries from all over the world.
nTask offers seven comprehensive management modules, each equipped with hundreds of advanced features, for all kinds of processes in an organization. Furthermore, its visual tools allow PMs to view the whole project at a single glance.
Key Features:
Project creation
Task creation with descriptions, to-do lists, start and end dates, milestones, and much more
Tasks and subtasks
File sharing
A comments section for feedback
Time tracking and timesheets
Gantt charts
List, grid, board, and calendar views
Multiple integrations with third-party apps
Android and iOS apps
Foolproof security with two-factor authentication
Finance summaries and budget management
Pricing:
Basic plan – available for free forever
Premium plan – $3 per user per month
Business plan – $8 per user per month
Enterprise plan – Custom pricing
Use nTask Process Creation Software Now

Create tasks, projects, Kanban boards, Gantt charts, and risks, all in one place. Sign up today!
2. Monday.com

Monday.com is our next pick for the list. Time and again, Monday has proved its efficiency with its efficient process management solutions. The tool is hailed as one of the best management tools in the business world and is used by 127,000+ customers worldwide.
Monday app can be used to create workflows, and processes to make the project management process look simple.
Its colorful outlook and intuitive interface make it one of the most attractive tools for process creation.
Key Features:
Plan, track, and manage processes with Gantt charts
Real-time reports
Custom automation
Effective collaboration features
Process Tracking
Resource management
Integration with multiple tools
200+ workflows
Activity Logging
Due date tracking
Execution board
Pricing:
Individual – Free forever
Basic – $8 per seat per month
Standard – $10 per seat per month
Pro – $16 per seat per month
Enterprise – Custom pricing
3. Zoho Creator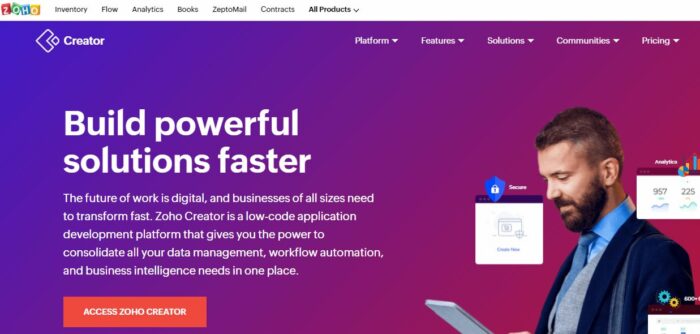 Zoho Creator is our third choice on the list. The tool has been in town for quite some while now and has garnered positive reviews from its users.
Its customization features are some of its most promising features. Moreover, with over 50 built-in templates, users can start creating their custom projects immediately.
Key Features:
Readymade code blocks
Drag and drop functionality
Intuitive, visual builders
Ai-assisted migration tools
Quickly gather data, generate your own model and visualize data structure and relationships
Visualize data from different sources and create cross-functional reports
Automate repetitive tasks
600+ app integrations
Customization features
Pricing:
Professional – $25 per user per month, billed annually
Ultimate – $400 per month, billed annually
Related:
25 Best Zoho Alternatives to Use in 2023
4. Process Bliss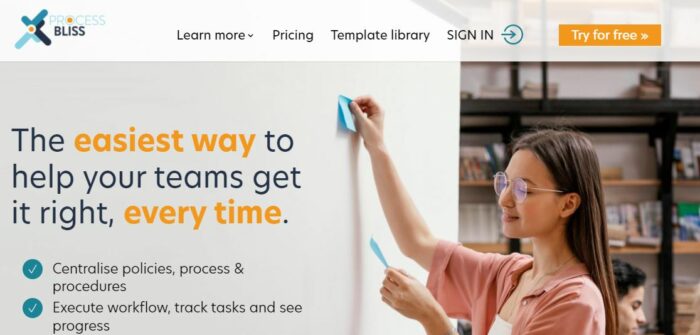 Process Bliss is another workflow builder that has caught our eyes with its highly intuitive user interface and ease of use. PMs can automate the workflow as recurring to make time, and effort is not wasted in creating a new workflow from scratch.
Key Features:
Centralized platform for procedures and policies
Task workflow checklists
Gain visibility with one dashboard displaying all
Communication and collaboration features
Integrate with 2000+ apps
Track progress
Pricing:
Less expensive than chaos – $10 per user per month
Starter Assistance – Included free
Accelerator Pack – £995, $1,350 or €1,200
Managed implementation – Bespoke
5. Process Street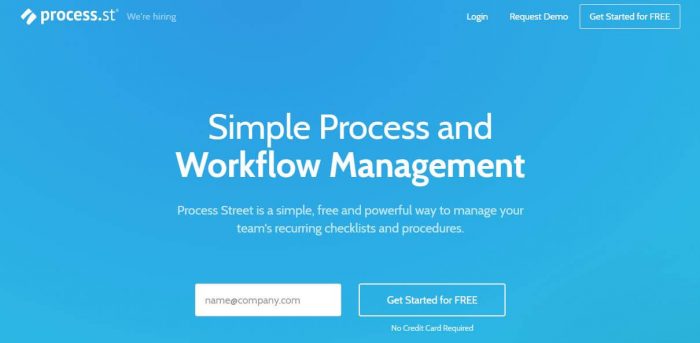 Process Street is our last pick for this list. The tool is hailed as one of the best for process management and is almost always in the top 10 process management software.
The tool allows you to create workflows, recurring tasks, checklists, and more with simple drag and drop features. The software has a simple outlook, is easy to use, and has affordable pricing.
Key Features:
Create workflows
Run multiple instances of the workflow
Track and monitor progress
Use Pages to document everything and share it with your team members
Intuitive keyboard shortcuts
Assign workflow tasks to team members
Track activity
1000+ integrations
Pricing:
Pro – $25 per user per month
Enterprise – Custom pricing
It's a Wrap!
We are sure this list is nowhere near completion, but we can confidently say that the above five are the best ones in the market.
Which tool do you think is the best? Have you tried any of the above? How was the experience? Let us know by writing to us.
Signing off now, goodbye!
---
You May Also Like: