The software market is a complex maze right now with millions and millions of different applications piled on top of each other with not so many differences that can truly differentiate one from the other. The same is the case when we look at alternatives for the application 'Paymo'.
For those who have no idea what Paymo is, it is an amazing work management software that has been specifically designed to take care of small and medium-sized companies. These companies are related to industries like:
Creative Agencies
Software and IT services
Business Consultancy
Marketing and Social Media
Web Design and Development
The main focus of the application has always been to help teams with project accounting decisions, timesheet management, and overall strong collaboration among them. You can manage the whole project from top to bottom using Paymo.
For Example, you can keep everyone updated about all of the things that are changing in the project paradigm through discussions, and you can split bigger chunks of the project into smaller bite-size tasks and task lists, which then can be easily assigned to the relevant member of the team, among many other things.
Let's now look at the alternatives to Paymo that are available on the market right now and which, upon using, will up your project management game in no time at all.
Here Are The Top 8 Paymo Alternatives to Use in 2023: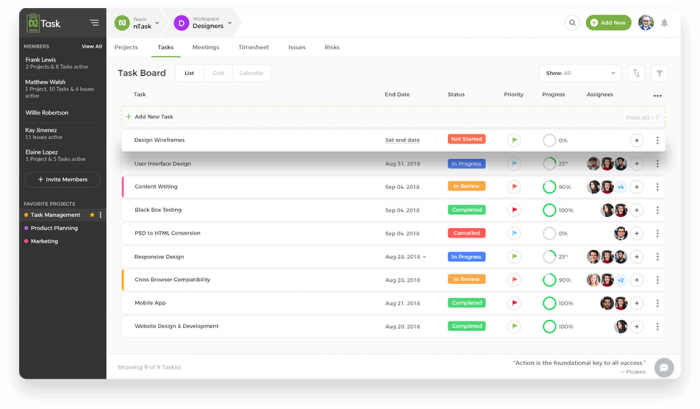 When it comes to Paymo alternatives or project management in general, you know that the top spot always goes to nTask. With an arsenal of never-ending features in the Free plan and some more advanced features that can be yours in just $2.99 per month, nTask is the sweetheart of project managers all around the world.
To give you a small idea of how wonderful and practical nTask is, here are some of the key features of the application that will help you get to know the software.
Key Features
Task management including to-do lists, task creation, assignment, organization, prioritization and sharing tasks with multiple statuses
Integration with Slack giving you the options to convert comments to tasks and projects in nTask using Slack and receive updates from nTask in Slack
Workspaces to manage and monitor multiple teams, simultaneously
Issue management module for spotting and listing down issues related to multiple tasks. You can add details including Issue owner and status to track issue maintenance
Powerful search and filter tools to search for tasks, projects, meetings, issues, and risks. Plus, make use of the filter option to save more frequent searches
Two-Factor Authentication for extensive security
Project management options including reports, timelines, Gantt charts, percent completion, the option to interchange tasks. You can create projects and assign tasks or treat tasks independently
Meeting management module for setting up recurring or one-time meetings, sending invites, adding agenda, post-meeting actions, and meeting minutes
Timesheets management module for logging and approving employee task efforts and payroll
Risk management module for identifying and jotting down potential risks. Arrange risks in lists and assign a risk owner to track risk management
Alerts, notifications, and reminders to keep teams on track
Third-party access
Pricing
There is a free forever plan available if you want to check out the software before you choose to buy the paid added features
Premium plan: $3/ month/ user, with Gantt charts, project management, bulk actions, and basic Kanban boards.
Business plan: $8/month/user, with Risk management, custom fields, user permissions, custom status, and advanced Kanban board with templates.
nTask is the new choice for today's Agile teams

Unlimited issue and time tracking, team management, task management, and more.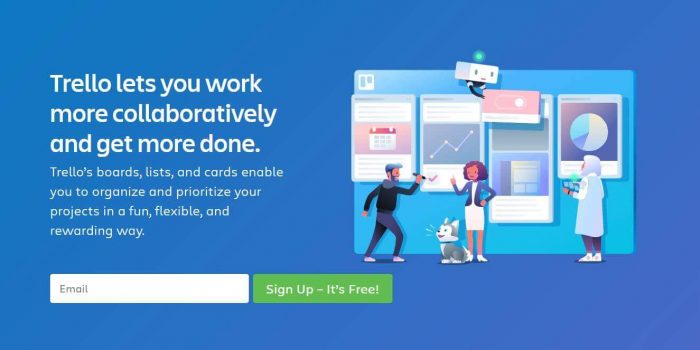 Trello is an amazingly intuitive application which has no match when it comes to the collaboration of team members around their work activities and comes second on our best Paymo alternatives list.
Trello is at its core, an incredible Kanban board application that's perfect for tracking, organizing, and coordinating different work activities, as the software moves along various groups of people.
Let's look at some of the key features that this amazing application has to offer.
Key Features
Real-time news feed
Drag and drop workflow arrangement
Comments and team collaboration
Powerful search and filters
Free or zero pricing for the basic service
An easy organization with tags, labels, and categories
In-line editing
Checklists, with a progress meter
Data filtering
Unlimited member invites
Discussion through comments
Activity log
Voting feature
And about a bazillion more worth exploring at the company's official website.
Pricing
There is a free plan available if you want to check out the software before you choose to buy it
Business Class: $9.99/ user/ month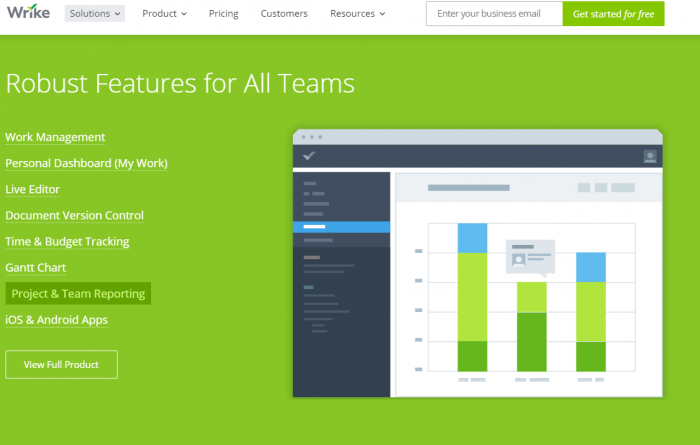 When it comes to the top named software that dominates the market nowadays, Wrike narrowly misses the top spot on the list. The software is a sweetheart of many project managers spread across multiple industries and a top-notch Paymo alternatives.
This software is incredible when it comes to performing project management activities. It offers a minimal interface that is so densely packed with features and integrations that it becomes impossible to be impressed by the application.
One other important thing to remember is that Wrike enables the project managers to get complete control over the workload assignment and all of the team activities being performed by the members.
It also promotes knowledge sharing among the members, in-team collaboration, and also project and task management. let's not take a look at some of the key features that Wrike has to offer in this day and age.
Key Features
Real-time newsfeed
Team collaboration channels including discussions in tasks
Meeting management
Document collaboration and workload management
iPhone and Android mobile apps
Task and project management features
Member tagging
Online file sharing and editing
Email integration for teams
Pricing
There is a free plan available if you want to check out the software before you choose to buy it
The paid plans start from $9.80/ user/ month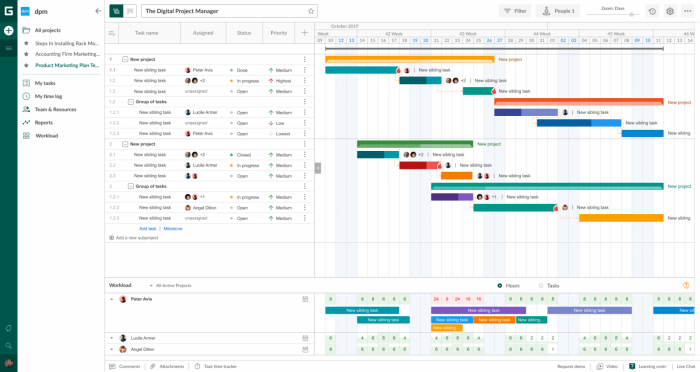 When it comes to the top Gantt chart-based software as an alternative to Paymo, GanttPRO will never miss the list. Hundreds of teams from different spheres love the tool globally.
GanttPRO offers an intuitive interface and a short learning curve. It takes up to 15 minutes to onboard new team members what makes the tool a perfect fit for various businesses. You won't simply waste your time explaining how everything works and will go straight to project management.
GanttPRO serves not only as a task management platform but also as a central hub for team collaboration. Here, you can describe and comment tasks, mention teammates, attach files, and receive real-time in-app and even email notifications.
Let's look at some of the key features GanttPRO has to offer.
Key Features
Gantt chart view, Board view, My task list

Robust task management with lots of features

Deadline management

Team collaboration with comments, attachments, mentions, and notifications

Powerful resource management

Ready-made Gantt chart templates

Time tracking

Critical path and Auto-scheduling

Reports
Pricing
A free trial is available to test the software before buying

Individual: starts at $15 per user per month.

Team: starts at $4.5 per user per month.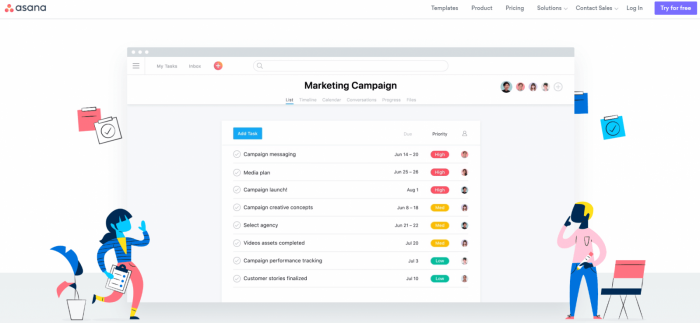 Another contender on the Paymo alternatives list is one of the most famous software's in the project management paradigm right now and that is Asana. It is an extremely powerful work management software whose strongest weapon is its ability to be flexible.
How? Well, using Asana, you can fit any type of team and any amount of team members in a team and get to work, as easily as a click of a button. It is truly one of the best alternatives to Paymo to get your hands on.
There is an embedded template library in Asana that enables the teams to gear up for any possible project very quickly, meaning that they don't have to start working on every project from scratch when they can just use an already available template.
Let's look at some of the key features that Asana has to offer in this day and age.
Key Features
To-do lists management, along with single task assignee
Kanban boards for visualizing the work progress
Due dates and priorities for deadline management
Conversations with team members, plus file attachments
Built-in project templates to get started
Project timeline to schedule tasks over time
Multiple third-party application integrations
Real-time status updates, along with project reports
Pricing
Basic: This free membership is for teams or individuals that are just starting their project management journey in the market and need features like tasks, due dates, assignees and multiple views
Premium: Starting at a price of just $9.99/ user/ month, the customers receive features like advanced search options for all their queries, reporting functionality for every issue, milestones, tasks dependencies and many more
Business: Starting at just $19.99, this membership takes the project management game of the customer to a whole other level with features like custom fields and every functionality that was included in the premium membership in addition to portfolios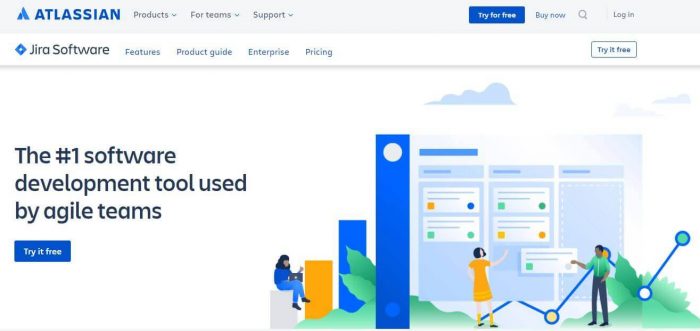 Jira in their own words is "the number one software development tool used by Agile teams.", and if we are being honest, we agree with them to a certain degree. Jira is a wonderful application that takes pride in its capability to provide a seamless development experience to the team.
The software is densely packed with so many features and if it becomes difficult for you to digest, the application has an exceptional training feature that will teach you how the software works and how you can master all of the complexities of this amazing piece of software.
Let's look at some of the key features that this amazing application has to offer today.
Key Features
Code integration for every project that the team throws at it
OpenSocial gadgets
OnDemand or hosted
Kanban boards
Customizable workflows
Agile reporting
Sprint reports
Velocity charts
Roadmap planning
Service desk management
1000's of Add-ons
Customizable scrum boards
API availability
Burndown/burnup charts
Cumulative flow diagrams
Custom filters
Version reports
Pricing
A Free Trial is available if you want to test the application before you decide on buying a subscription
Jira offers flexible pricing for different team types. So, if your team is small with team members ranging from 1 to 10 members, then the price starts at $10/ user/ month. And if you have a growing team whose members range from 11 to 100, then the price of the subscription for you will be $7/ user/ month

Basecamp is an incredible all-in-one project management software that not only sorts the product releases and the tasks assigned to the employees but also you can stay in constant communication with the employees, manage your teams remotely and even store all of the files related to the project.
Basecamp has some minor deficiencies in the feature department, but it makes up for it with their extraordinarily fast support that helps you with every issue you have with the application, and also the application is extremely affordable for large teams.
Basic works extremely well as an all-out management solution for your team. It can store your files, make you a to-do list that helps you track all of your tasks and even keep track of your calendar so you don't miss anything regarding the software.
Let's take a look at some other key features that the application has to offer.
Key Features
File upload
Client projects
Agenda view
Chat functionality
Emoji
Time tracking by project
Group discussions
File & document sharing
Event organization
Project templates
Due date tracking
Attach files, quotes & code samples
Pricing
A Free Trial is available if you want to test the application before you make the decision of buying a subscription
For students and teachers that use the application, the application is free of cost
For all charities and non-profit organizations, there is a 10 percent discount on all subscriptions
For all the businesses that use the application, the application has a fixed price of $99 per month and $999 per year, which includes unlimited projects and users

According to TimeCamp loyalists, the app is the beefed-up version of Paymo.
There are several reasons for that. Over at TimeCamp's official blog, they reportedly proclaim that the user experience of the latter application is much better due to:
Employee absence management.
Employee computer history tracking.
Ability to add and manage goals and time.
By the way, timeline and timesheet management is also one of the strong virtues of nTask project manager. You can give it a shot later.
Since TimeCamp is a brand-new app, it offers an improved overall user experience. Top it off with a simplified interface with a minimalistic design aesthetic, you are looking it a better app for getting things done effectively.
Since this application is relatively new – and that too, an entire desktop app at that, users can manage their time entries directly from the convenience of their personal computers. There is a web version of the app that offers the same experience, but end-users reportedly prefer using the former.
As one of the best Paymo alternatives, TimeCamp automatically creates your timesheets. This way, employees don't have to go through the hassle of starting their work timers. Meanwhile, admins can just review the activity and forward it to stakeholders or internal departments.
To that end, the timesheet has rendered its use for budgeting and billing management too. The time entries can be sent to program managers when outside contractors are looking to bill by the hour.
Last but not the least, TimeCamp's detailed reports are one step ahead of Paymo. Get an overview of individual employee activities and manage them accordingly for improved productivity.
Key Features:
Comes as a brand-new dedicated desktop application.
Webapp version is also available for users on the go.
Employee and staff absence management modules, such as sick leave management, vacation management, and much more.
Issue invoices to customers and stakeholders based on accurate timesheets.
Asset and resource management through detailed reports.
Set milestones, budget, and timers through TimeCamp.
Pricing:
Offers Free Trial to first-time users.
Paid plans start with TimeCamp Basic starting at $5.25 per user/ per month.
Conclusion
As you can see, there are a lot of options to choose from, if it's the case of Paymo or any other application in the world right now.
When this is the issue, then the best practice is to make sure that you do your research and know what your needs and requirements are regarding the software you require. Then and only then would you be able to find the perfect software that's best for you and your team.