A lot of us dream of setting up our own online business or expanding our reach by establishing our online presence, but are hindered by our inability to write codes or develop complex software. Thankfully, we have no code apps at hand.
No code apps have simplified the process for us. We, no longer, have to spend our days and nights tediously writing complex codes to set up an app or software.
What Are No-Code Apps and Tools?
No code apps are self-sufficient tools with the help of which, you can easily create your own websites, apps, etc. The term no-code does not imply that the tools do not involve any codes at all, in actuality, the codes have been pre-developed by the makers of no-code apps.
These tools and apps are developed to help users create anything they want without the need to learn to code or hire expensive software developers. The tools operate through a simple click and choose or drag and drop and are convenient to use.
There are multiple tools that offer different functionalities. You can make use of these tools to design your own website, create a unique app, develop software, and much more. Since there are tens and hundreds of these apps, we have narrowed down the best no code apps and tools excelling in different functions.
Best No Code Apps Of 2022:
Here is a list of some of the best no code apps that can help you establish a firm foothold in the online world and take your business to new heights of success: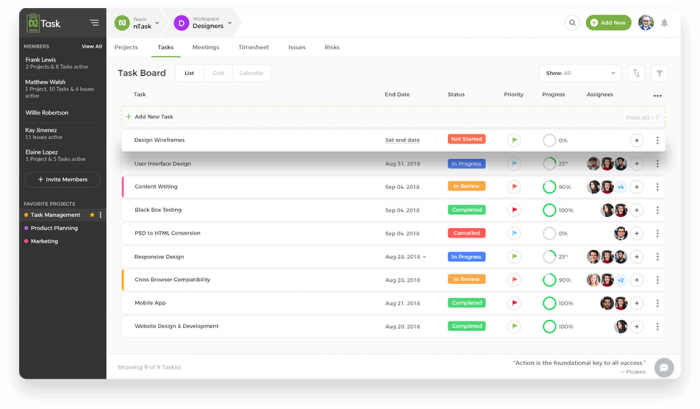 Our first pick for this list is a project management tool – nTask. No matter what projects you take up, be it Information Technology, Software, E-commerce, etc., one way or another, you have to manage your project to make sure it successfully reaches its end without any hiccups.
nTask is an exceptional project management tool that can solve all your project management needs. The tool consists of some of the best, most advanced management solutions designed to help simplify project management for you.
The no-code tool offers seven management solutions that can play a pivotal role in taking your project from the start to the finish. These modules are:
In addition, you can employ the use of visual tools, Kanban Boards and Gantt Charts, to visualize the progress of your project.
Its user-friendly interface makes onboarding a piece of cake. What makes nTask an even better tool is that you can get a demo of the tool before you buy any of its plans. Additionally, you can sign up for a trial of 14-days, free of cost.
Creating tasks, allocating resources, setting deadlines, scheduling meetings, etc. is a walk in the park with nTask's easy-to-navigate UI. Moreover, in terms of user rating, nTask is rated 4.5 out of 5. The tool is used by 250,000+ companies in over 155 countries, the statistics are proof of nTask's reliable features.
Key Features:
Helps create, execute and manage projects
Easy communication and collaboration with team
Easily exchange files, images, videos, etc. with team members
Keep an eye on your performance via the time tracking module and timesheets
Use Gantt charts and Kanban boards to keep everything in sight
Schedule recurring meetings, set meeting agendas, take notes, and much more via meeting management
Keep an eye on potential issues threatening the progress of your project and resolve these issues so that your project remains on track
Use risk assessment to identify and mitigate risks before they pose a threat to the success of your project
Use activity log to keep an eye on the activities of your resources
Customize your workspace in accordance with your business
Two-factor authentication guarantees the security of your data
iOS and Android apps make sure you stay updated on the go
Simple drag and drop functionality makes things simple and easy for you
Pre-built templates can further help you quickly turn your ideas into reality
1000+ integrations unify your workspace
Pricing:
Basic plan – available for free forever
Premium plan – $3 per user per month
Business plan – $8 per user per month
Enterprise plan – Custom pricing
Build your apps and develop next big thing with nTask.

Manage tasks, resources, documents, projects and timesheets easily. Sign up today!
2. Bubble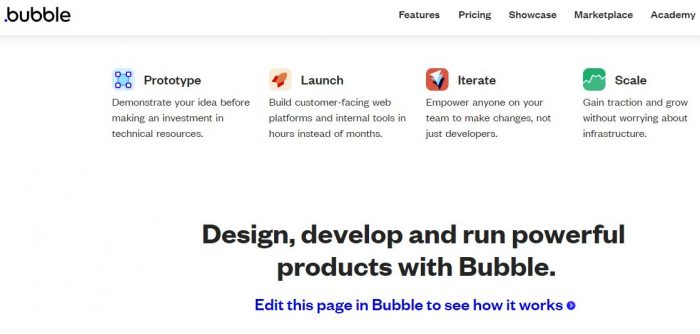 If you think developing apps requires learning complex programming languages and writing codes then, you are up for a surprise because creating an app is no longer a difficult task. All you have to do is to find the right app development tools that can offer you the freedom to design your app the way you want.
Bubble is one such no code app builder with which no-code app development is as easy as ABC. The app is super easy to use, its drag and drop feature helps you convert your dreams into reality. Without coding or software professionals, you can get a fully functional, personalized app.
You can easily create your app and launch it in no time. customization capabilities are also a strong point of the app.
Key Features:
Allows you to build apps for mobile and web browsers for multiple users
You can customize your user interface to suit your needs
Offers freedom in terms of creativity, you can use drag-and-drop to create your own app with dynamic content
Supports 80+ languages and allows you to add more if and when needed
You can easily scale your application to add more servers and increase your user base
Offers multiple integrations with various apps
Allows you to add 40 collaborators to divide your workload and make it more manageable
Pricing:
Free – $0 per month
Personal – $29 per month
Professional – $129 per month
Production – $529 per month
3. Thunkable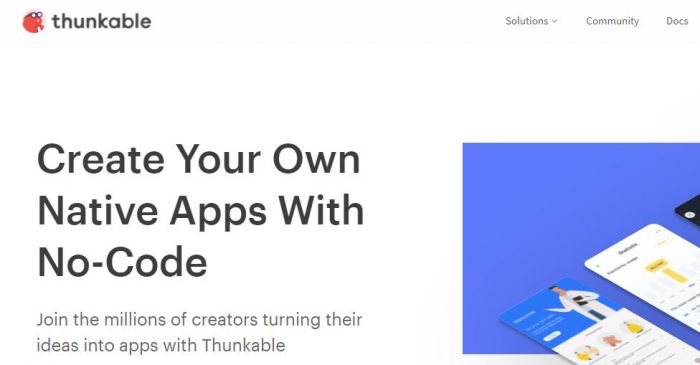 If you are looking for a no code app builder for mobile then thinkable is the right tool for you. With the help of Thunkable, no code app development is no longer difficult. You can easily create mobile apps for both iOS and Android.
You can use its drag-and-drop feature to design your app. In addition, the tool allows you to create an app from scratch or use an existing project and complete it via this tool.
Key Features:
Automatic formatting for your mobile app makes it available on Android, iOS, and mobile web.
Drag-and-drop features to design your app on your lines
Offers easy animations that you can use to make your app more creative and attractive
Drag-and-drop makes it easy for you to create features and design your app the way you want
You can start from scratch or use an existing app from Thunkable's open-source gallery.
Pricing:
Free – $0 per month
Premium – $21 per month
Premium PRO – $42 per month
Enterprise – Contact Team Thunkable to get custom quotes
4. Voiceflow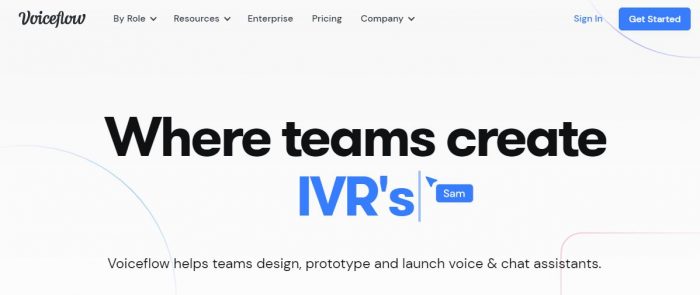 With the popularity of Alexa and Siri, voice applications have become a part of our daily life. Hence, the development of voice apps was inevitable.
Voiceflow is another tool that you can use for no code app development.
Voiceflow is a no code app builder that lets you create your own voice apps. The tool offers unique features with which you can create voice applications for Alexa tools and Google actions without writing a single code. Voiceflow's easy-to-use interface and drag-and-drop functionality are its plus points.
Key Features:
Allows you to create context-specific conversations
You can create and reuse components to use in future projects
You can test your app for voice, text, and visual interfaces
You can customize and share your prototypes with the help of shareable links
Pricing:
Free – $0
Pro – $40 per editor per month
Enterprise – Custom pricing
5. Airtable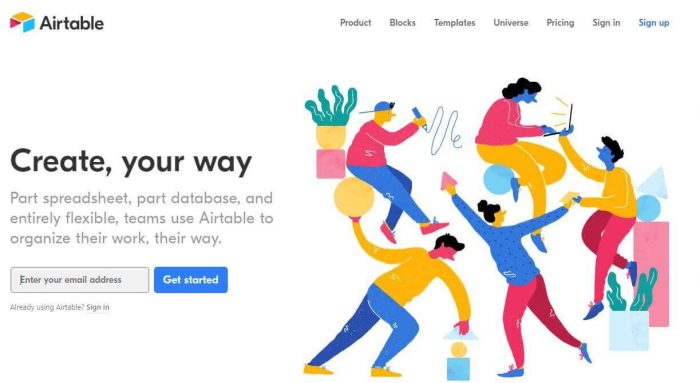 Airtable is our next choice when it comes to the best no code apps. Creating spreadsheets is a pain for most of us. Seeing one is already a nightmare but creating one seems like hell. Fortunately, Airtable has got your back with its robust features.
Airtable is a management app that allows you to create customizable workflows, organize your data, manage your resources, etc. With the help of this tool, you can create a number of products. Additionally, the tool offers pre-built templates to help you quickly create and manage internet tools.
It is basically a spreadsheet but with added features of a database that makes organization easier and simpler.
Key Features:
Allows you to create spreadsheets with customized database that fits your business
You can create different views based on the needs of your business
Offer 50+ pre-made apps that you can use freely
You can add notifications, automations, etc.
Offers integrations with multiple apps
Easy communication and collaboration with team members
Pricing:
Free – $0
Plus – $10 per seat per month
Pro – $20 per seat per month
Enterprise – Custom Pricing
Related:
Smartsheet vs. Airtable: Which of Them is Effective and More Reliable?
6. Zapier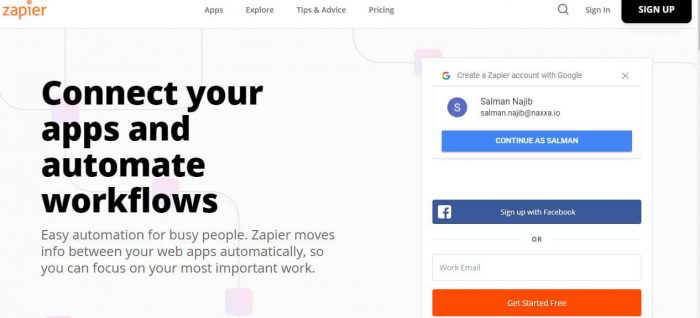 Zapier should be your first choice in no code apps if you are looking for automated functionality for your apps. Zapier helps automate your workflow by connecting different apps together. The tool unifies your workspace by bringing different tools together and creating a bridge via which you can seamlessly integrate and connect.
The tool is a visual treat with an even simpler and quicker onboarding processing. You can quickly familiarize yourself with the tool and use its various functions to better your work in the nick of time.
Key Features:
Share your data among various apps by connecting them with Zapier
Allows you to pass information between apps
Connects the apps you use daily and offers automation so that you can save your time to focus on more important tasks
Can connect with 3000+ different apps
You can customize and set automation yourself
Pricing:
Free – $0 free forever
Starter – $19.99 per month
Professional – $149 per month
Team – $299 per month
Company – $599 per month
7. Webflow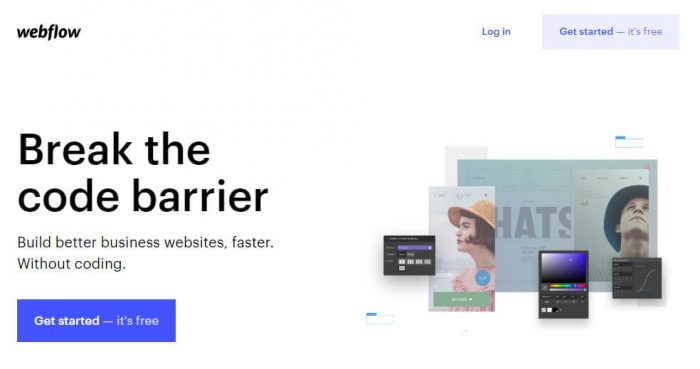 We already talked about having an online presence for your business. Well, what better way to globally expand your reach than to build a website. That's where Webflow takes over.
The tool allows you to create websites of your choice with ease. All you have to do is to get on the tool and use its drag-and-drop features to customize your very own website. You can either use a built-in template for reference or create your website from scratch.
Key Features:
Use Webflow Designer to design your websites and customize their features
You can build custom databases for different types of content
Allows you to create attractive animations
Helps launch your website with a single click
Offers built-in SEO tools to improve your website's ranking and views
Pricing:
Basic – $12 per month
CMS – $16 per month
Business – $35 per month
Enterprise – Custom pricing
8. Notion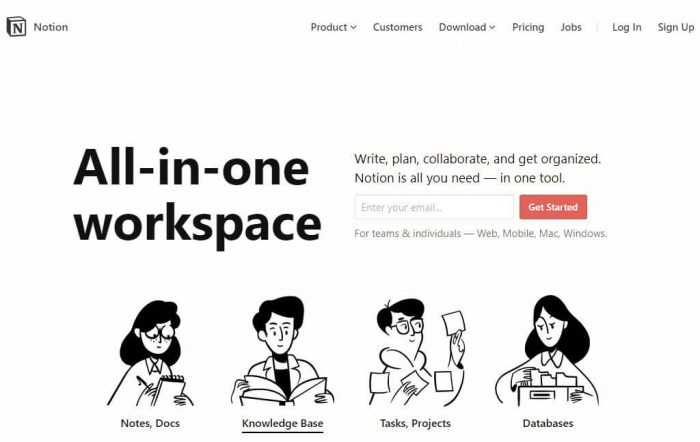 Notion is our last choice for no code apps. Notion is a one-shop-stop for managing your workspace. With the help of this tool, you can create and assign tasks, track the latest developments in your project, manage your notes, documents, etc. and do much more.
Notion allows you to create workflows, spreadsheets, and databases, all of which can help you manage your projects with efficiency. So, you can say goodbye to apps taking extra space on your PC and use Notion to create a unified workspace with all the functionalities you may need.
Key Features:
Offers different solutions for various teams in a company:

Sales team
Product team
HR team
Engineering team
Design team
Marketing team

Use Wiki to get resolve your confusion and get answers to your questions
Customize your workflows and use different visual tools to view your progress over time
Helps keep your notes organized
Makes collaboration easy with comments
Offers 500+ integrations with other apps
Pricing:
Personal – $0
Personal Pro – $4 per month
Team – $8 per month
Enterprise – Custom pricing
Check this out:
Notion Project Management Explained for Beginners
9. Code2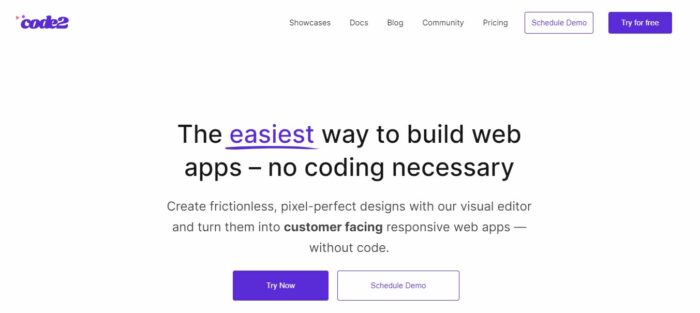 Code2.io is an all-in-one no-code platform that lets you build customer-facing, responsive web apps without coding. Its advanced visual editor and drag-and-drop interface makes it possible for users to create scalable web apps with pixel-perfect designs and powerful workflows.
In addition to web apps, another strong suit of Code2 involves accommodating out-of-scope feature requests from customers. With Code2, you can easily create the dashboards, portals, or specific external pages your customers desire without having to spend extra time and effort and still keep your focus on your roadmap.
Key Features:
Utilize a rich set of components to build sophisticated customer-facing web apps
Connect any data source via the advanced REST API Editor
Create internal data models and use Code2's built-in Internal DB to store data
Design for the web and leverage the power of Responsive Design support to quickly adapt your designs to mobile view
Take advantage of the advanced flows and actions to serve complex use cases
Enjoy built-in auto-scaling that guarantees high performance when the number of users and amount of data involved surge
Pricing:
Code2.io has different pricing plans in addition to a lifetime free plan for people who want to get started with and explore its platform.
Free – $0 per month
Lite – $14 per month
Standard – $49 per month
Pro – $149 per month
Conclusion
We have just given you a rundown of the best no code apps with some of the most advanced features and easy usability. These apps and tools are simple and easy to use. You can use these tools to manage your projects, design websites, create apps, etc. without writing a single code.
Nothing is stopping you from launching your own business or expanding the one you already have. Get these tools for your business and explore new avenues for your business's success.
Best of luck!
---
More Resource For You: