If you have heard about Mavenlink you know that it is a reliable project management software that streamlines work processes, helps cut costs, and reduces risks. But is this software the right fit for your team? Or would certain Mavenlink alternatives be better suited for your company?
But before you decide that you need to consider Mavenlink alternatives, you need to understand what Mavenlink can offer you.
Features of Mavenlink
Mavenlink is a collaborative platform that is suited for both small as well as larger teams. Mavenlink uncovers every part of the services platform including resource management, team collaboration, project management, business intelligence, and project accounting.
The ability to create tasks
Share files
Plan your projects and get a view of the progress on ongoing projects
Time tracking
Track expenses
Integrate with other software
Why you may want to consider Mavenlink alternatives
Although, Mavenlink is a great tool to consider, there are certain aspects of the tool that may make it not the ideal fit for your company.
Mavenlink does not provide a great level of visibility
The mobile app is fairly slow
People view the interface as fairly slow
Although Mavenlink offers Gantt charts, they are not the best in the market available to you
Therefore, although Mavenlink is a good option to consider, there certain Mavenlink alternatives available that may suit your needs better as Mavenlink lacks certain innovative features and may be on the higher price point for some, with plans starting at $19 per month for 5 users.
Thus, it may be beneficial to look into Mavenlink alternatives that will suit what you are looking for and meet your company's needs that cater to both large and small teams.
nTask as one of the top Mavenlink Alternatives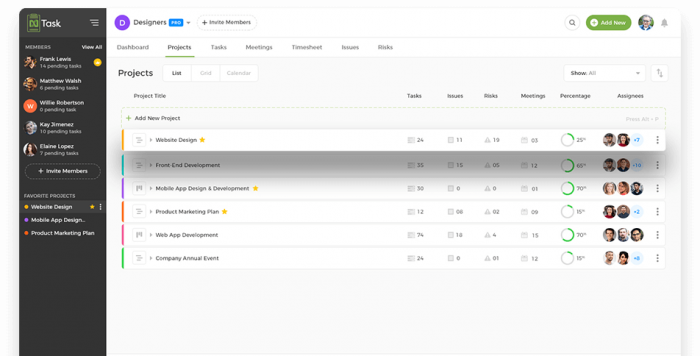 If you are looking for a project management tool with all your project management needs, with a neat interface all encompassed within a simple design, nTask is for you.
That is why our top pick for a Mavenlink alternative just has to be nTask. The software nTask provides a single platform that helps run all your tasks and projects and is the all-inclusive project management tool.
nTask has been specifically tailored with your needs in mind and provides everything you need to run your project smoothly.
Here are just some of the features you get with nTask that make it the perfect alternative to Mavenlink.
nTask is a Free Mavenlink Alternative for Project Managers

Manage all your tasks, projects, meetings, timesheets and more in one place. Sign up today!
Features:
nTask allows you to easily plan your projects, tasks, timesheets, etc.

Systematically create and manage to-do lists
Identify dependencies with nTask and highlight them accordingly
Set start and end dates for any particular task

Have the ability to easily assign tasks to your team and collaborate in real-time

nTask allows you to assign multiple assignees allowing quicker task allocation
Collaboration features allow you to easily collaborate with your team in real-time
Options available to attach files to your tasks

Keep track of all your task activities and updates

Track task progress with nTask's robust progress reports
Customize the status of tasks to keep everyone in the loop
Segregate your tasks into respective categories and add labels and filters for clarity

nTask provides visualization features allowing you to visualize your progress
nTask allows for planning and budgeting

Options to track non-billable resources, initiatives and tasks within your project allow you to optimize your operations
Flexible provisions are available for T&M costs
You can set up reminders to be sent right to your inbox for when projects are nearing project depletion.

nTask allows for tracking of your projects, timesheets, meetings, etc all in one place

Automatic web timers allow you to set recurring tasks
The nTask mobile app allows you to track more effectively and stay updated even on the go
There are also options to update time entries manually to allow you to time track according to your needs.

Reporting options

One-click timesheet report submissions are available allowing teams to submit timesheets to managers and allowing remote teams to simplify this task
Team members can manually send timesheets for approval allowing you to avoid any potential bottlenecks
Team members also have the option to correct any errors in the times reported by withdrawing the sent timesheets

Your timesheets and tools are all integrated and sharable through nTask.
Plan your entire project with nTask

Set a total budget for your project and log billable hours
Resource allocation
Easily assign a project manager
Assign distinct roles to each team member

nTask allows you to track, assign, prioritize and fix bugs and issues faster with nTask issue management software

Assign issue severity levels
Highlight issue priority levels
Bug tracker facilitates comments and file attachments to ensure everyone gets notified of issue updates

nTask's risk management tool allows you to define risks, their likelihood and current status for your project team

Use nTask's risk matrix to identify relationships between the probability of a risk and its resulting impact
With nTask you can manage your risks efficiently and lower their impact
Easily jot down mitigating strategies for risks with probable solutions and have everything in one place
Pricing:
Basic plan for free

Issues tracking
Timesheets
Meetings
Unlimited tasks
Unlimited workspaces
Limit of 5 members per team
100 MB storage

Premium $3 per month

Everything provided in the basic plan, plus
5 GB storage
Projects
Gantt
Bulk Actions
Custom filters

Business plan for $8 per month

Everything provided in the premium plan, plus
10 GB storage
Save custom filters
Risk management
Custom roles and permissions

Enterprise plan customizable plan

Everything in business, plus
Custom onboarding
Dedicated account manager
Dedicated cloud
Other Mavenlink Alternatives
Apart from nTask, here are our other top picks that are the top Mavenlink alternatives:
2. Wrike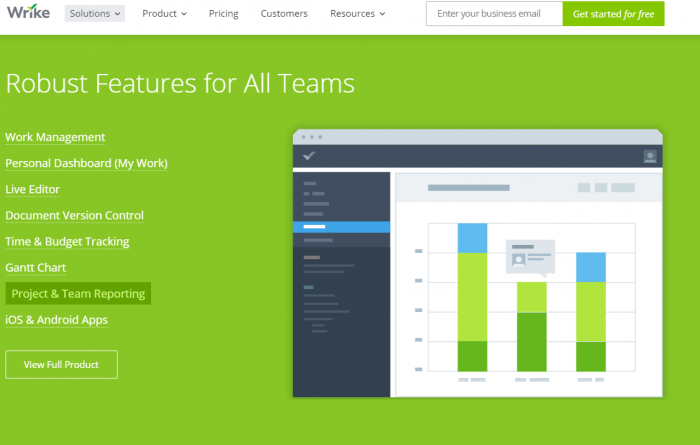 Wrike is another online project management tool that is cloud-based and incorporates collaboration.
The software is suitable for any type of team, both those on larger or smaller scales and therefore should be considered if you are looking to switch from Mavenlink.
The software Wrike can provide greater visibility to its users with real-time reports and by providing the status of your projects.
Features:
Activity dashboard
Activity management
Project and task management
Collaboration tools
Budgeting options and tracking
Collaborative workspaces
File sharing
Ability to create reports in real-time
Time tracking software
Bug tracking
Pricing:
Free plan
Professional plan for $9.80 per month per user
Business plan for $24.80 per month per user
Contact for enterprise plan
Find out more apps like Wrike:
The 12 Best Free Wrike Alternatives To Use in 2022 (Free & Trial)
3. Asana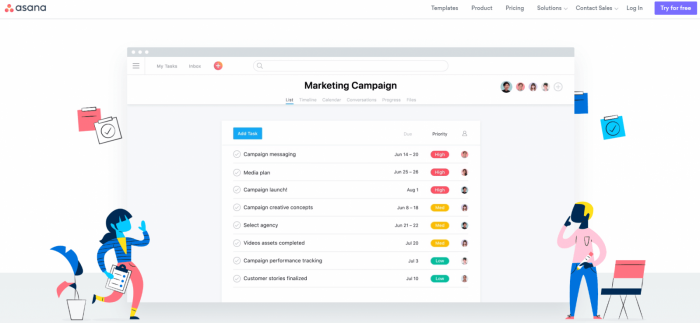 Asana is a project management and works management tool that allows teams to manage as well as coordinate their work by helping make plans, processes, and responsibilities clear.
Asana was created to provide teams with a single platform where they can plan, organize, and execute their work from any location.
The software has been created in a simple design which makes it easy to use, while simultaneously providing organizations the option to monitor their team's performance and improving processes that need it.
Features:
Workflow automation options
Asana provides options to create, schedule and prioritize tasks in several different formats
Resource management and time tracking is made easy with Asana
Ability to collaborate with teams
Gantt charts
Shared team calendars keep everyone on your team in the loop and on the same page
Document storage allows you to store relevant files and documents for your project
Asana provides comment sections for every task, allowing discussion, collaboration, and resource sharing
Pricing:
Basic plan for free
Premium plan for $13.49 per month per user
Business plan for $30.49 per month per user
Contact for enterprise plan
Related:
Asana Project Management: Will It Help Boost Your Productivity?
4. ProofHub

Another good alternative to Mavenlink to consider is ProofHub. The project management software has a simple and clean interface and design making it popular among many.
ProofHub provides a platform for everything project management related all in a centralized location while also having the ability to integrate with other software your company may be using.
Features:
Task management allows you to create and assign tasks to your team
Basic and Kanban workflow options
Features that allow easy communication and collaboration such as @mentions
Time tracking abilities
Gantt charts allow you to set dependencies in your project
In-built time tracking software
Available as a mobile app to allow working on the go
Pricing:
Essential plan for $50 per month
Ultimate control plan for $99 per month
5. Monday.com

Monday.com is a project management tool and is a great alternative to Mavenlink, which provides teams a platform to help work more efficiently and deliver projects within deadlines.
With the software provided by Monday.com, you have a single platform that allows you and your team to plan, track, and execute tasks in a visual collaborative space.
The user-friendly design makes Monday.com a popular choice for many project managers and companies.
Features:
Monday.com provides a task scheduler and allows for tasks to be prioritized so you and your team stay on top of your work
The software allows you to review your project boards in a team calendar view
The Monday.com platform also gives you the option to create custom boards that are meant to track resources for your project
Gantt charts available
Workflow automation options
Timesheet tracking lets you know how much time is spent by your team to complete tasks
Team collaboration ability
Supports agile methodology
Document storage allows you to store relevant project documents, images, spreadsheets and other material that is related to your project
Communication through in-built chat functions such as task comments and message boards
With Monday.com you can create many dashboards for any project or user, with different types of widgets such as task progress, project calendar, project timeline, or even custom number columns for things such as budgets, resources, etc.
Pricing:
Basic plan for $8 per month per user
Standard plan for $10 per month per user
Pro plan for $16 per month per user
Contact for enterprise plan
6. Trello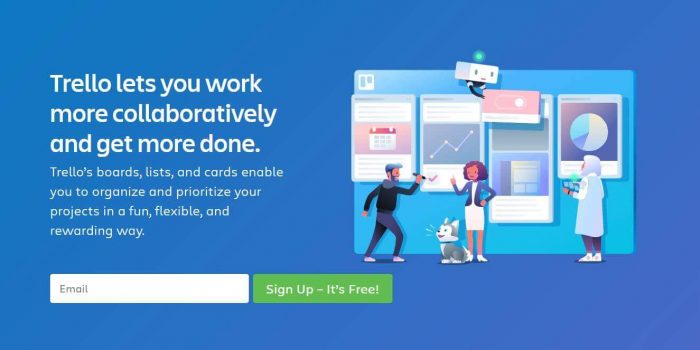 Another good project management tool as a Mavenlink alternatives is Atlassian's Trello, based on a Kanban framework.
Adopting the typical to-do list format, Trello allows you and your team to simplify all things task management.
By providing the ability to share boards across teams, Trello becomes a great option to consider if you want to streamline your team's communication and collaboration.
Features:
Trello allows for an easy organization through categories, labels, and tags
The software provides the option to create checklists with a progress meter to allow users to stay on top of their tasks
Data filtering
Supports 10 different languages
Trello also gives its users the option to enable deadline reminders and notifications
Automated Email notifications
Option to upload attachments or files
Real-time sync from different users
Comprehensive and swift overviews of front/back cards
An archive of all the card records created
Ability to assign tasks both individually or to a group
Information backup and retrieval options available
SSL data encryption
Pricing:
Free option
Business-class plan for $12.50 per user per month
Enterprise plan for $17.50 per user per month
Find more apps like Trello:
The 9 Best Trello Alternatives for Kanban Project Management
7. Jira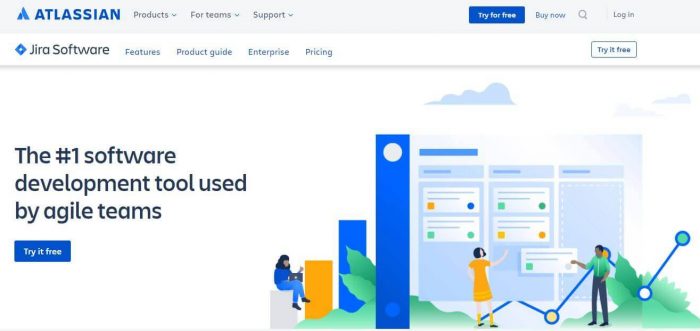 Jira simplifies every phase of project management all in a single platform. The platform is popular among software developers. And although the software is particularly designed to streamline the app development process, it is customizable to your specific needs.
Particularly designed with agile teams in mind, Jira incorporates tools to generate reports providing your team with the ability to get into sync with a better workflow.
Features:
Customizable workflows
Source and issue integration options
Advanced reporting facilities that include time tracking so you know where your team is wasting time
Bugs and defect management
The software uses Gantt timeline and Kanban systems to allow you to plan, manage and execute your tasks
Pricing:
Free plan
Standard plan for $7 per month per user starting price
Premium plan for $14 per month per user starting price
Top Jira Alternatives:
Top 24 Jira Alternatives for Smarter Project Management in 2022
8. Basecamp

Basecamp is a web-based project management tool that you should consider if you are looking to switch from Mavenlink.
The software offers a vast range of features to help with your project management lifecycle.
The software is a common choice for managers, teams, freelancers, and agencies. The platform is created with simple to use functionality making it easy to integrate into a company's day to day activities.
Features:
Create to-do lists and task lists also allowing you to tag relevant users, comment on task progress and share project resources
Communication options through comment sections on tasks and chat and messaging platforms within the software
Create collaborative documents
Manage project calendars
Track your project's success and milestones
File sharing options allow you to quickly share resources with your team whenever the need be
Projects on Basecamp have file sections where you can upload documents, images, spreadsheets and such
Pricing:
Basecamp personal plan for free
Basecamp business plan for $99 per month for unlimited users
Top Basecamp alternatives:
The Top 13 Free Basecamp Alternatives To Use in 2022
9. Bitrix24

One of the best CRM tools in the market today and an awesome collaboration tool to consider is Bitrix24.
Bitrix24 is a tool to help you successfully manage your business, with over 30 tools, the software can help your team work better, easier, and faster.
Bitrix24 includes tools for project management, team management, performance management, and much more.
Features:
Real-time communication tools like chat and video call options
Intranet and private social networking
Private, shared and group calendars
Document management
Gantt charts give you a visual look at your team's performance
Options for automatic as well as manual time tracking
Customizable Kanban boards
Automatically create recurrent tasks with task templates
Pipeline management
Full-featured online product catalog
Free hosting
Visual block-based editor for your websites
Website templates
Pricing:
Starter business tool suite for free
Start+ plan for $15.36 per month
CRM+ plan for $44.16 per month
Project+ plan for $44.16 per month
Standard business plan for $63.36 per month
Professional business plan for $127.36 per month
10. Clarizen One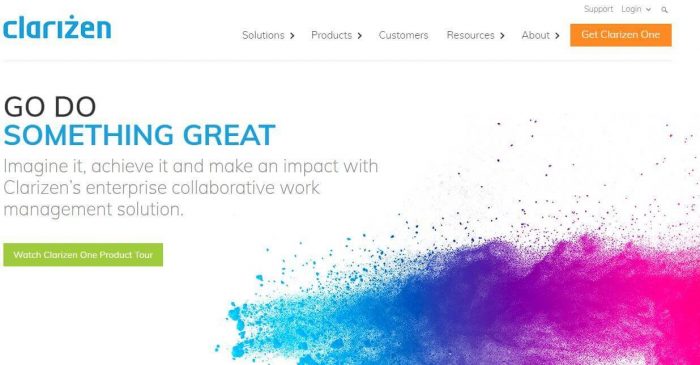 Clarizen provides a single platform where you can manage work, automate processes, and collaborate across teams.
Clarizen One allows for streamlined collaborative work management, bringing together cross-company project management, configurable workflow automation with easy real-time collaboration.
Features:
Control and manage resources
Demonstrate and report progress with visualization options
Collaborate with broader teams
Options to automate repetitive work
Possible integration with other software
11. Open Project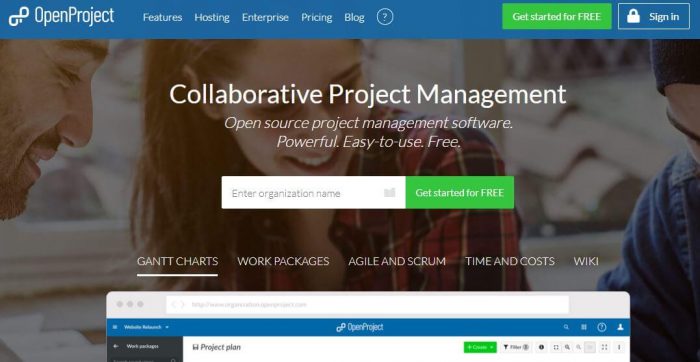 OpenProject is next on our list as an open-source project management software. This software aims to support your project management process from project initiation to closure throughout the entire project lifecycle.
Features:
Project planning and scheduling
Task management
Team collaboration features
Product road mapping
Supports Kanban, Agile as well as Scrum
Bug tracking
Time tracking
Pricing:
Price starting at $6.75/user per month.
12. Celoxis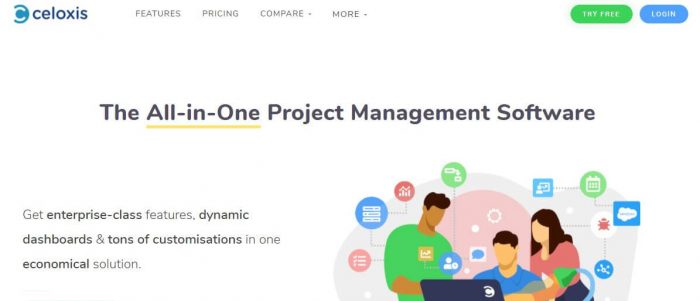 Another alternative to Mavenlink to consider is Celoxis. Celoxis is a project management tool created with teams in mind.
This tool aims to streamline interactions and collaborations online and make the whole process easier.
Celoxis takes care of everything from project requests to project profits, thus making your job a whole lot easier.
Features:
Celoxis provides customizable widgets and layouts allowing you to view data exactly how you want it
Visualization of your project with drill-down charts
Easy organization with options to create multiple dashboards
Collaborate project requests all in one place
Automate scheduling
Create inter-project dependencies
Resource management tools are available
Integrate with your business software
Pricing:
Cloud plan for $25 per user per month
The on-premise plan that installs the software on your servers is for a total of $450 per user
13. SmartTask

SmartTask is an effective tool to manage a project's progress which is designed in a user-friendly design so that your entire team can use it easily.
This software allows you to stay organized and on top of your project by keeping all relevant information located on one platform for your entire team to access.
Specifically built for faster collaboration, SmartTask also allows for teams to gain a clear overview of each member's tasks as well as the progress of the project.
Features:
Customizable tasks
Ability to collaborate on tasks
Extensive search options allow you to find matching tasks across the organization
Choose how you view your reports to make detailed analytics on how you like them
Option to create recurring tasks
Ability to track locations of on-field workforce
Time tracking features
Pricing:
Free plan available for up to 20 users
Basic plan for $6 per user per month
Premium plan for $9 per user per month
14. Workzone

Workzone is an incredible Mavenlink alternative that touts out a user-friendly interface and high adoption rates.
This tool also helps in managing your projects so that you can complete everything on time while being able to bring more value to the company.
Key Features
Offers personalized to-do lists so that the team members know what they have to do.
Incorporates interactive Gantt Chart and Calendar views for more visual project tracking.
Gives the ability to associate, share, and store documents with their respective tasks and projects.
The tool provides a feature to Assigns different admin roles, so you can have one or a few administrators to manage the system.
The software Includes an incredible project dashboard to provide teams with a portfolio view of all the projects so that they can see everything that is happening with the project on a single page.
Provides unlimited support and comprehensive onboarding ensures your team gets up to speed quickly and completes the work that they are assigned.
The software has customizable project intake forms and reports which you can adapt according to the needs and requirements of your project.
Works with different permission levels set by project or document so people see only what's appropriate, which also keeps a level of privacy between the different hierarchal levels of the company.
Pricing
A free trial is available for use if you want to check out the software before signing up for any subscription plans.
If you want to purchase the subscription, you need to contact the company because pricing depends on the number of users you need to go forward with.
There you have it!
So, here is our list for the best options if you are looking for Mavenlink alternatives. We understand the decision may be difficult and hope this list has given you insight into what you can find in the market today.
When looking to transfer from any major tool, or deciding on implementing software solutions into your company remember to properly consider your business' requirements and needs.