Issue Management is a process of identifying, reporting, and resolving all such issues and bugs that may otherwise impair the progress of a project.
The process of managing issues, however, is not always a smooth ride. You have to ensure each issue is adequately reported on time, prioritized, logged into the database, and appointed to a suitable person who has the optimum set of skills to fix it. This is why Project Managers employ the help of issue management software.
Table of Contents
The Top 14 Issue Management Software of 2022:
Here is our list of best issue management software tools that are on the rise in 2022: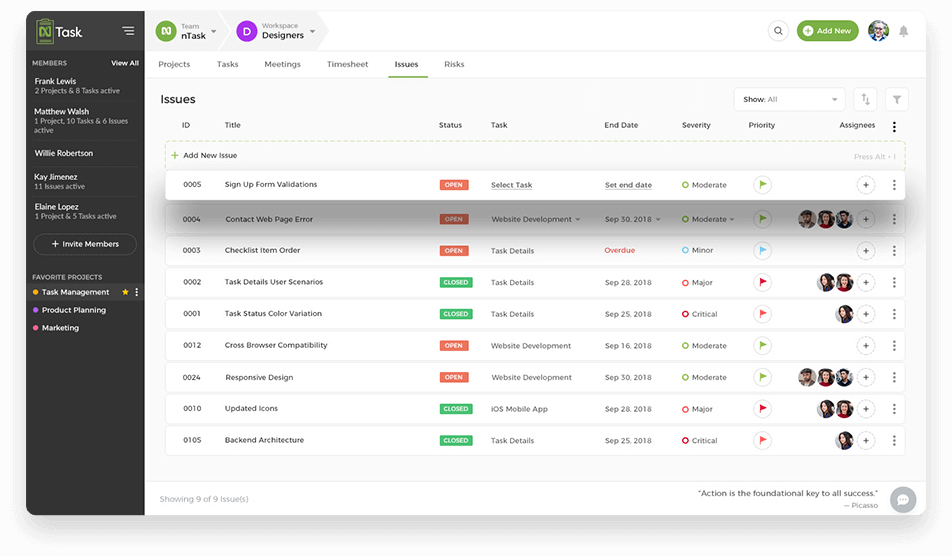 nTask is an online project management tool designed to streamline team collaboration within a single platform. It was created to simplify issue management with easy-to-maneuver features such as issue updates, issue assignees, and change in issue status and priority.
In addition to Issue Management, nTask is an all-in-one tool that facilitates all necessary aspects of project management that include but are not limited to, meeting management, team management, and time management.
Key Features
Easy to understand dashboard with issues assembled in a List view.
A collection of filters to group and manage issues based on user preference
Ability to link captured issues to relevant project or task.
Allows users to define a status, priority and severity level for each issue
Enables issue customization, so users can appoint and change the title of the issue, add details and attachments of any size and type.
Assign multiple issues to multiple members for adequate issue tracking
In-app notifications that arrive individually on each issue-pop up for immediate recognition
Kanban boards for better workflow management
Custom fields to personalize your issue board
Drawbacks
No desktop app
Issues can't be deleted. They can only be switched to 'Closed' status.
Pricing
Free Plan – 5 members. 100 MB Storage
Starting at $4 per user/month – unlimited projects and Gantt Charts.
Stay on top of all identified bugs, issues and glitches, only with nTask

Unlimited bug and issue tracking for free with nTask. Sign up today.

Created way back in 1998 by the Mozilla Foundation, Bugzilla is practically the Godzilla of Issue tracking software. It is one of the most powerful platforms that help developers and teams alike, in bug tracking as well as project management. Bugzilla is a web-based tool whose expertise lies mainly in issue tracking and reporting. Even after decades, Bugzilla has not lost its charm, owing to its unparalleled features like advanced search capabilities and report charts that are automatically generated for scheduled reporting.
Key Features:
Provides a display of complete bug/issue change history
Enables users to attach and manage multiple issue related files on a given task
Allows issues and bugs to be grouped into filters using various parameters.
Provides a graphical representation of reports for a comprehensive analysis
Contains email notifications that can be configured whenever there is a change in an issue
Enables efficient time tracking of Issues and bugs
Allows users to Save & Share Searches
Drawbacks:
Limited ability to customize workflow and dashboard
Limited visibility due to lack of scrum and Kanban boards
Not a cloud-based server. Only a web-based server
Pricing:
Open Source Tool. Completely Free!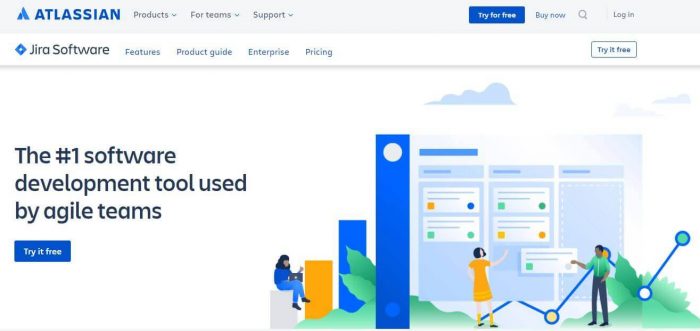 Built for Agile teams and Agile management, Jira is a leading issue management software, that has acquired more than 75000 users across the globe. Jira's extensive set of features allows teams of all sizes and nature to report, manage and track issues anywhere in a project's lifecycle. It is because of this extensibility, that Jira renders itself ideal not just for the software development industry, but teams from all sorts of industries working to manage issues in their line of work.
Key Features
Agile Issue tracking and reporting, to help add iterative value to the process of issue management
Agile time tracking, that allows real-time insight to a team's work and their performance on a sprint-to-sprint basis
Maximum visibility with the help of Kanban boards and scrum boards that can be customized as per user convenience.
Allows efficient transitioning and prioritization of issues via drag and drop feature across Kanban boards
Robust APIs that facilitate numerous integrations with neighboring platforms and browsers.
Provides unlimited bug fields with powerful advanced search and filters
Drawbacks
Complex user-interface that complicates usability and often results in a long learning curve for teams
The pricing plan is suitable for medium to large enterprises as opposed to small organizations
Requires extensive configuration that makes it hard for users to make changes to workflows
Pricing
Up to 10 Users – $10 monthly
From 11-100 users – $7 per user/month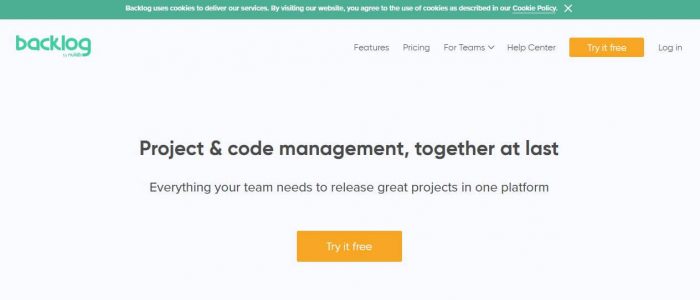 Backlog is everything you need for development workflow. In addition to effortless issue tracking, it enables teams to track and manage tasks as well as projects. Tasks can be divided into sub-tasks, that can then be assigned to one or more team members. With Backlog, teams can flawlessly manage end-to-end development of their product by assigning suitable members to capture issues and work on resolving them as early as possible.
Key Features
Easy and systemic documentation of issues with parameters such as title, description, and attachments that help define a bug for a quick assessment
Facilitates Issue prioritization and issue assigning. Based on the level of urgency, teams can streamline their workload, change due dates for issues and stay in sync with which issues need immediate attention
Targeted notifications and issue-specific commenting allow the right people to stay informed on instant alerts and changes made to the issues created.
Git branch view, that facilitates issue updates, fix-releases, and pulls requests all on a single chart.
Multiple integrations with a variety of other tools
Drag and Drop feature for smooth accessibility
Drawbacks
Majority of advanced features are only accessible in the Paid version
Pricing
Free plan – up to 10 users. 100 MB online storage
$20/month – up to 30 users. 1 GB storage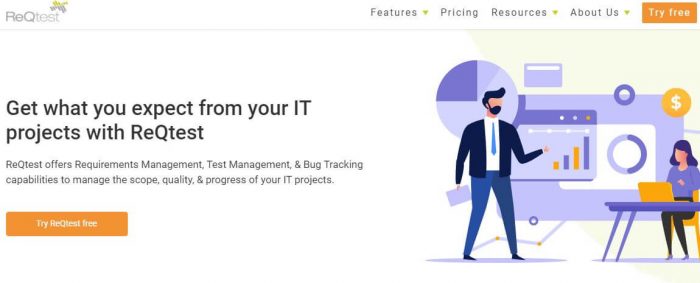 ReQtest is another cloud-based project management tool that is exemplary for quick and easy issue management. Although ReQtest is essentially a testing software designed to assist teams in overcoming testing obstacles, it is equally adept in facilitating project management as well as issue management. ReQtest is particularly popular among both small and big businesses for its ease of installation and configuration.
Key Features
Contains Agile Boards that provide efficient visibility of tasks and issues alike
Enables fast & easy searching, filtering, and categorization of bugs and issues during project management
Generates issue reports in the form of charts for a more comprehensive analysis
Contains filters to help users quickly locate issues without wasting any time
Allows users to visualize a preview of issues without having to click on them separately
Single-view of all issues without the hassle of switching between boards
Drag & Drop feature to assist easy navigation
Capture images and videos of bugs while tracking each issue
Drawbacks
Limited integrations.
The pricing plan is too costly for small businesses
Pricing
Small Teams – $10 per user/month
Professional Teams (up to 50 users) – $45 per user/month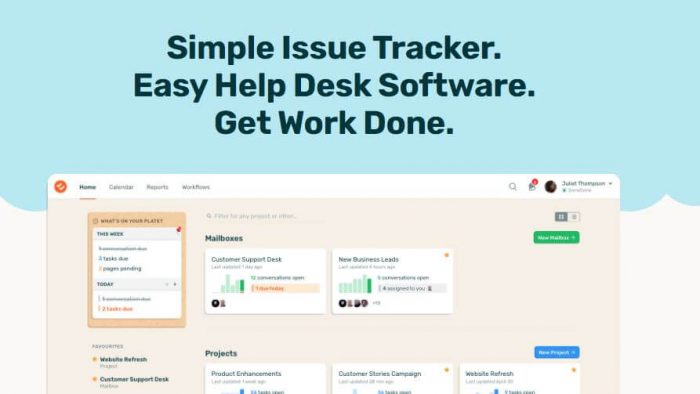 DoneDone is without a doubt, the simplest issue management software available on the market. As implied by the name of the tool, Done Done aims to assist all sorts of teams, be it marketing teams or software teams in getting things done! This includes tracking of issues to be specific. It provides a central hub where teams can log issues and manage them in the seamless possible way imaginable.
Key features
A simplified workflow that allows users to quickly familiarize with the tool and manage their way around
Flexible views, that allow users to visualize issues logged on a daily basis, as well as on a larger scale in the form of lists
Provides real-time in-app notifications that keep you updated on your browser, so you don't have to constantly refer back to the app for update alerts
Divide issues into groups of testers, priority, status, and project.
Release Build feature allows users to coordinate issue testing and issue reporting with relevant issue assignees
Integrations with useful apps such as Slack, GitHub, Beanstalk, and Bitbucket.
Drawbacks
No free version available. Basic Plan too costly
Pricing
Starter Plan – Up to 15 users. 10 GB storage. $39/ month.
Pro Plan – Up to 50 users. 25 GB storage. $49/month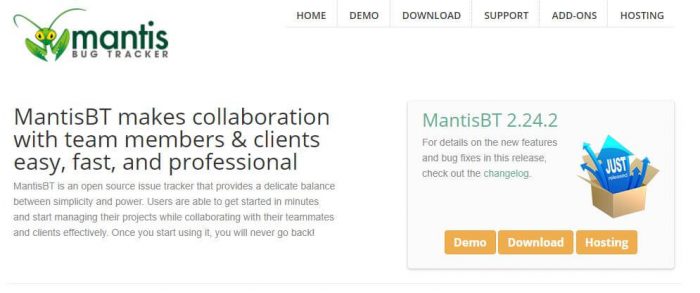 Written in PHP, this top issue management software is cloud-based and is written under GNU protocol. It is primarily designed for software development teams and offers features that help teams collaborate and share software development progress internally as well as with external clients especially regarding issues raised by end-users.
Through the email notification feature, users can send and receive automated emails with reference to information including project status, issue updates and group actions. Users also have the option of configuring the level of access to information based on team roles.
Key Features:
Provides automated emails regarding project status and relevant issues.
Offers role-based access to team members.
View issues with relevant information including issue category, severity level, status, last updated and summary.
Easy assignment of issues to relevant team members.
Easily search for submitted issues by searching for a project through its project number or name.
Gives the option for the full-text search for issues.
Provides revision control system integration including for text fields and notes.
Audit trails of changes made to issues.
Allows creating and viewing roadmaps for projects.
Offers graphing of relationships between issues.
Provides sponsorship of issues.
Caters to Wiki documentation integration.
Project Management & TimeTracking are done with CodevTT
Drawbacks:
The interface is not very intuitive.
The child class/ parent class concept may come across a bit complicated in the start.
The reporting features are limited. e.g. no report generation at the end of a project.
No documentation is included in the installation files.
Email configuration can be a little complicated.
Search is not available with custom fields.
Pricing: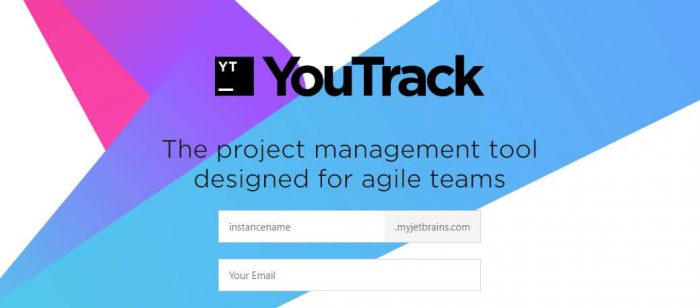 A product of JetBrains, YouTrack happens to be one of the top issue management software floating on the net for a variety of reasons. With YouTrack, you avail all the features for project management and issue tracking under one roof. It is a browser-based tool that provides numerous options to skillfully identify, list, view, manage, and share issues.
With a query-based issue search functionality laced with query completion (auto-completion for queries), search saving, and suggestions for similar issues, YouTrack provides capabilities to customize workflows as well as handle and manipulate issues in sets. Also, it has a powerful project reporting tool that helps stay users on top of project progress helping teams stay productive and expediting project delivery.
Key Features:
Simple query syntax for issue searching through a specific context e.g. by choosing a project, saved search or tag.
Query completion in the search box to facilitate searching for keywords and values.
Filter issues on the basis of the work item type, author and date.
Multiple options for instant issue creation anywhere within YouTrack.
Suggestions for similar issues when creating issues to avoid redundancy.
Powerful REST API for automated issue submission from third-party applications.
Report issues from emails.
'Star' issues that need constant monitoring and receive updates relevant to the Star Issue.
Add members to the watcher's list for team members to be in the loop for specific issues.
Link issues with reference to multiple dependency types e.g. relate to, depends on and duplicates.
Issues can be linked to multiple other issues.
Vote by team members to set priority for more important issues.
Share issue links with team members.
Drawbacks:
The interface is not very intuitive for beginners.
Giving access to rights to users is complicated.
Time-tracking and time reports are not automated efficiently.
TIme reports and general reports are not flexible enough.
Lacks a project overview.
Limited data assignment during project creation.
Does not give an attachment option for files when creating a new card.
Pricing:
YouTracker offers a free trial and multiple pricing plans starting from $20.

Another tool on this list of top issue management software is Zoho Project's IssueTracker, which is a complete task and project management software that offers functionalities that cover small to organizational level projects.
It offers robust modules relevant to team collaboration with a news feed, forums, chats; task management feature set including tasks and dependencies and project management features comprising reports, Gantt charts, and resource utilization chart.
However, its issue tracking and workflow management feature set are one of its most prominent feats including issue logging, viewing, automation, customization with Kanban boards.
Key Features:
Views for unresolved issues filter by issue severity, due date, and category.
Organize and prioritize issues for team members according to customized workflow and business rules.
Automated notifications and reminders for members assigned the charge of fixing issues through notification patterns.
Structure for issue management through defining issue cycle on the basis of different stages.
Offers swift access to issue resolutions by providing history and comments for each issue.
Efficiently identifying reproducible issues and their corresponding levels to boost team productivity.
E-mail notifications for various updates throughout the issue tracking life cycle in a project. The notifications can be configured when the issue is created, assigned to a team member, or when it is resolved as required.
Business Rules definition to be able to organize the issues and perform relevant actions including prioritizing, setting severity levels, defining the module and issue type as well as assigning the issue to a user.
Drawbacks:
Limited automation and notification rules.
Lack of privacy between users and clients from users.
Complicated features for adding employees simultaneously to several projects.
Most useful features are included in their expensive plans.
The interface is not very intuitive.
Pricing:
All pricing plans are billed annually:
Standard – $20 per month
Express – $40 per month
Premium – $85 per month
Enterprise – $125 per month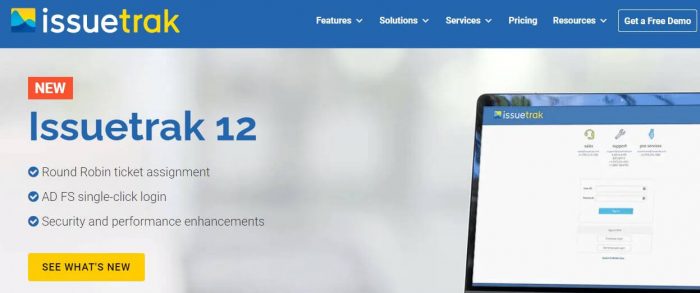 If you are looking for a tool that fits an Agile workflow, is a complete issue tracking and management solution, has loads of customizable entities and is flexible enough to be implemented in various departments, look no further than IssueTrak.
Designed primarily for customer support and help desk, this tool makes it to the list of top issue management software due to a wide set of features that caters to knowledge management, field service, tracking, and support.
It comes both as a cloud-based and on-prem solution for multiple industries and teams. Some of the capabilities this tool extends to users include assigning issues (through the web, mobile, and email), monitoring ongoing activities, defining service level agreements and monitoring compliance.
Plus, it offers the facility to record, audit, and link assets to staff. Team members can also customize their dashboards according to the information they need to view.
Key Features:
Offers options that cater to workflow and task management.
Issues can be submitted via multiple channels including mobile, web and email.
Email notifications for issue updates.
Dashboards are customizable for users to focus on required work elements.
Offers 'My Issues' to list issues specific to the user.
Provides a knowledge base for teams to stay in sync.
Customizable fields for issues, users and organizer.
Customizable forms for issue tracking.
Provides a report writer.
Users can perform and save searches.
Drawbacks:
Not very intuitive and has a high learning curve.
Limited search options.
Giving access rights to non-team members can be complicated.
Customer support not very swift.
Create new issues is a bit complex.
Pricing:
$19/user per month for teams
$59/user per month for support staff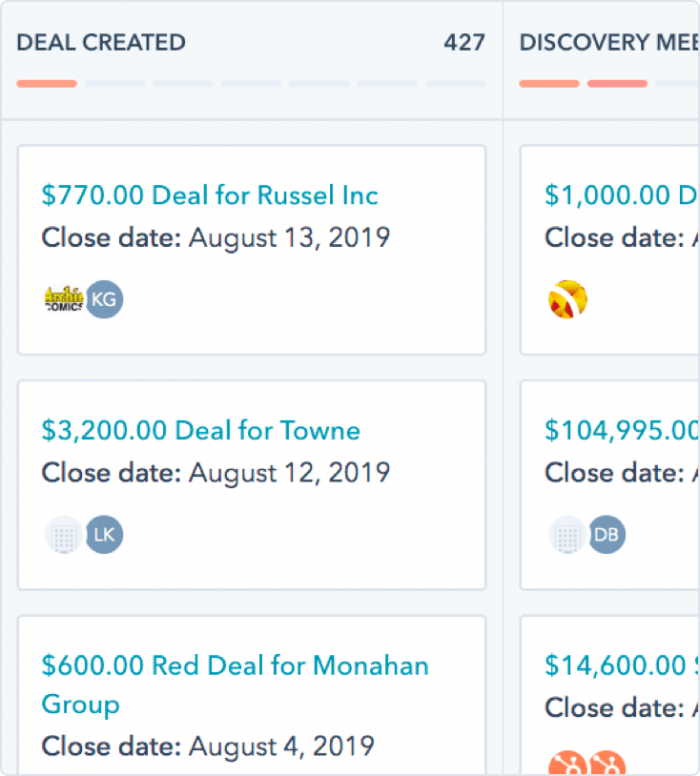 HubSpot CRM was built from the ground up to be ready for the modern world. Intuitive and automatic where other systems are complicated and manual, HubSpot CRM takes care of all the little details – logging emails, recording calls, and managing your data – freeing up valuable selling time in the process. It regularly ranks as one of the best CRM software products for small businesses.
HubSpot CRM is 100% free forever and comes natively integrated with other free features that are essential for small businesses: email marketing (up to 2000 emails/month), meetings scheduler, forms, email tracking, live chat, chatbot builder, reporting dashboard, contacts, pipeline, and issue management.
Key Features:
Manage your pipeline and never let an issue slip through the cracks.
Pipeline customization to match your issue tracking process.
Find and focus on closing the warmest leads.
Use HubSpot proven email templates or create your own.
Meeting Scheduling to deal with issues.
Tracking dashboard to get an overview of issue management.
Drawbacks:
Lack of flexibility for complex issue management.
Limited depth in feature functionality.
Pricing:
It's Free forever for the entire team. Advanced features are in the PRO plan.
Also see:
HubSpot Project Management| Everything You Need To Get Started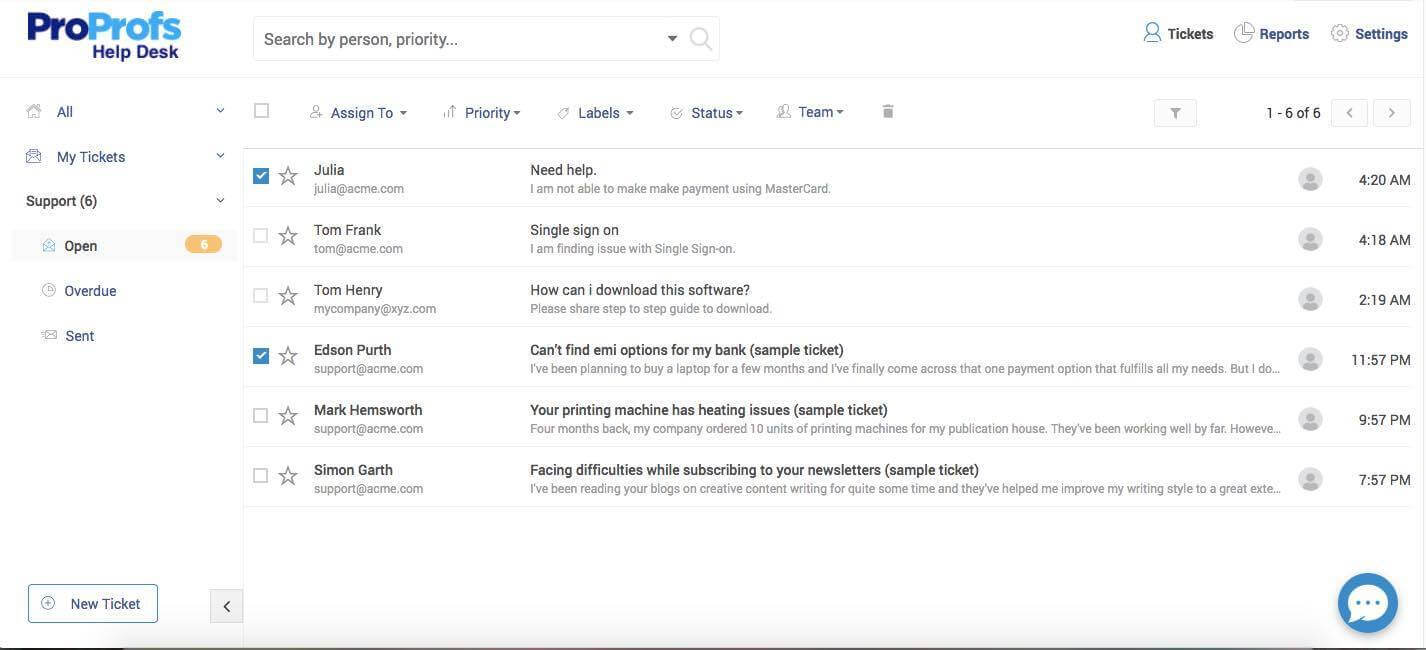 ProProfs Help Desk makes issue tracking easy and convenient for you and all your team members. Although it is primarily a help desk software, it comes with in-built issue tracking features that help in ensuring all issues are resolved in time.
Right from an issue being generated, everything is tracked on one dashboard alongside your team – making issue resolution a collaborative effort. This way, you can efficiently resolve issues with your team anytime, anywhere.
Features:
Track all issues on a single dashboard and monitor their progress from start to finish easily.
Prioritize issues and assign them to relevant teams & resolve them in time
Collaborate with your team members and other departments using internal notes and labels
Split issues into child tickets and assign them to relevant teams & close them with an accurate solution
Enable self-search and reduce issue/ticket by up to 80%.
Chat with your team members in real-time and come up with instant issue resolution ideas
Drawbacks:
Pricing:
Forever Free Plan – $0/month
Team Plan – $39/month (billed annually)
Business Plan – $79/month (billed annually)
Enterprise Plan – $399/month (billed annually)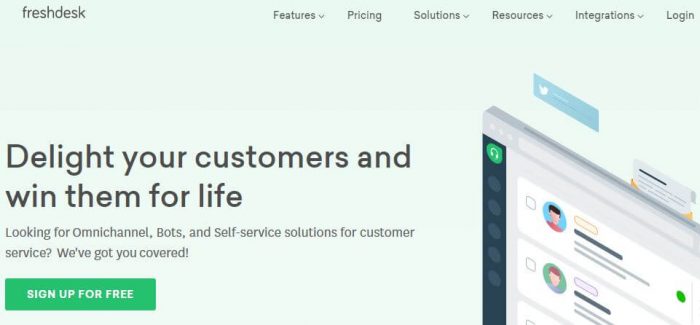 With over 40,000 customers Freshdesk is next on our list.
The tool is a cloud-based helpdesk system. This software assists in resolving issues across channels by unifying conversations from different platforms including phone, web, email, chat, and social.
Apart from being a great customer service solution, Freshdesk can also automate workflow, manage SLAs, and generate detailed reports.
Features:
Issue assignment management, to ensure each bug gets fixed swiftly and efficiently
Issue escalation management
Tracking of recurring issues
Other project management and task management tools
Reporting and analytics
Ticket management
Workflow configuration
Drawback:
To get the most out of Freshdesk, you need to invest in the high-tier plans
Freshdesk's customer support has been said to be lacking, with delays stretching up to 2 – 4 days!
Pricing:
Standard "Blossom" plan for $15/agent/month, billed annually
"Garden" plan for $35/agent/month, billed annually
"Estate" plan for $49/agent/month, billed annually
"Forest" plan for $99/agent/month, billed annually

Bitrix24 is a leading free social enterprise platform with issue management features.
The software was primarily developed for small businesses but is also a great tool for remote teams who want to collaborate efficiently.
Features:
Issue scheduling
Task and project management
Dashboards for Issue tracking
Knowledge Base management
Client portal
Drawbacks:
Can be confusing, to begin with, and can become hard to navigate
Technical support takes a long time to respond
Configurations aren't very flexible
Pricing:
Free option available
Upgrade for the Start+ plan for $19/month
CRM+ plan for $55/month
Project+ plan for $55/month
Standard plan for $79/month
Professional plan for $159/month
Issues in any project are as inevitable as a bump on a 100-mile road trip. With a solid issue management software, project managers and their teams alike can salvage a project's lifeline from unforeseen hiccups that can dismantle the entire foundation of a project later down the road.
Likewise, Issues that are tracked on time can be obstructed from turning into bigger more precarious risks.
Frequently Asked Questions (FAQs)
1. What are the Five Steps of the Issue Management Process?
Here is a list of the five steps of a traditional issue management process.
Identifying the Issue: In this step of the process, the development team or issue management team analyses all of the project data to detect any risks, scope creeps, or issues associated with the overall development process.
Identifying the Impact: In the next step of the process, the team analyses all of the issues and risks that it identified in the first step, and finds out the exact impact of those issues on the overall project or any specified tasks included in the project development process.
Reviewing Possible Actions: The third step is to review all of the different solution options available to eradicate those risks and issues. Sometimes there is a clear solution that can be applied at once, but if there are many different options, the issue management team runs all of the solutions at once and finds the best one that works.
Taking Action: Once the solution has been identified, the next step is to take action and eradicate all of the issues and risks that are haunting the project development process.
Monitor and Review: Once the action has been taken, the team analyses the project for a while, and sees how the solution is working. Basically, this is a maintenance mission that confirms the efficacy of the solution.
2. What are the Four Types of Risk?
The 4 different types of risks are:
Compliance and regulatory risk
Operational risk
Financial risk
Conclusion
These were our top picks for the best issue management software that you can use in 2021. If you think that you have used another incredible software in this category and it should be included in the blog, write to us and we will get back to you as soon as possible.