No matter what industry you are in, having good relations with your clientele is a given. The success of your business, it's current standing in the market, promotion, and profits are all pretty much dependent on the words of your clients.
Maintaining a good relationship with all clients can boost your sales and improve your position in the market. Also, if you have good, long-term clients, their feedback will help you attract more customers to the business, word of mouth will move more and more people, ultimately adding to your revenue.
Now we know client management is no child's game considering the variety of options people have for any industry. Attracting more customers becomes rather tricky, whereas maintaining a good relationship is even more challenging.
Fortunately, times have changed, and you can now manage everything at the tips of your finger, and client management is no exception. You have client management software at your services that can quickly reduce the burden on your shoulders with their advanced features and ease of use.
In this article, we offer you a Client management software comparison so that you can pick and choose the best tool for your business without having to look everywhere, like a needle in a haystack. But before we delve into the details, let's look at the features that are absolutely necessary for good client management software.
What Features Are Crucial for A Client Management Software?
While looking for a tool of your choice, you will be shocked to see the number of options available in the market. The pricing, features, etc., of all of them, are so diverse and so all over the place that narrowing down your choice seems like a real hassle.
To help you with the impossible, we have streamlined some of the core features that will form the backbone of your client relationship management and are absolutely necessary.
Real-time data analytics: The tools should provide insight into crucial analytics that can help you gauge a customer's behavior.
Tracking: Tracking capability is a must since you have to keep an eye on all the processes taking place within the organization.
Communication and collaboration: No matter the type of business you run, communication and collaboration features are a must-have.
Automation: scheduling the same tasks, again and again, is nerve-wracking since it takes up a lot of your time and effort. Automation features can take a lot of burden off your shoulder by scheduling the tasks automatically.
Ease of use: Since you will be choosing a tool that will be used by many people, make sure that it is easy to use, and people will have no trouble familiarizing themselves with the tool.
Customization features: Adding that personal touch can make the tool feel more personal. Customization features are a definite plus.
Integrations: Working in isolation is impossible, whether you are working on-site or remotely. However, integrating tools and software can certainly make the experience much more effortless.
If a client management software has all the features listed above, then you are indeed close to the tool of your dreams.
How Exactly Does Having a Client Management Software Help?
Having software can bring so much relief to your life. Imagine not worrying about the minutest details and having everything served on one plate. It sure is tempting. Here are a few key benefits that might bring more clarity to your understanding of these tools:
Information is organized in an easily searchable and retrievable way.
Improved communication and collaboration between you and your clients.
Drive more sales and generate better revenue
Make work hassle-free and fun
Below is a list of software for Client management software comparison. Besides the ones listed above, we are pretty sure there are tons of others that you will find once you start using software that suits your needs. Read on…
List Of the Best Client Management Software In 2022:
Let's take a look at the top client management software that can improve your sales process.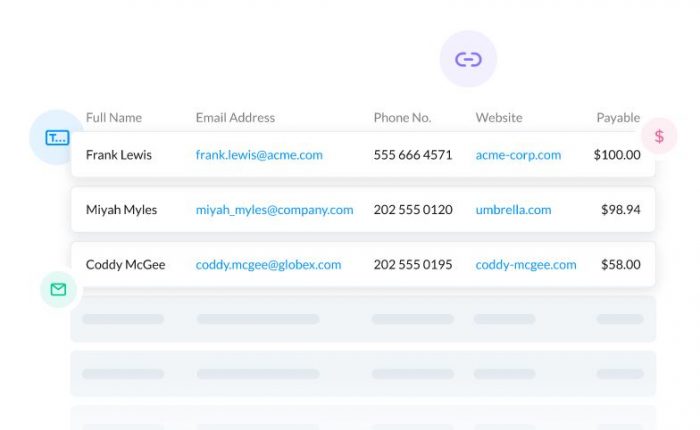 nTask is our first pick for this list and our favorite.
Not to be biased, but nTask really is one of the best management tools out there in the market. Plus, we are almost always working on newer developments to provide you with the best and are constantly working on giving you a great experience, so we are sure you will surely love the tool.
nTask is basically a project management tool, but it is equipped with hundreds of features that make it one of the best in town. Be it its friendly interface, affordable pricing, or the horde of features, nTask has got you all covered.
What makes the tool even more irresistible is that it offers seven different modules for all the processes that go on in a company. So, you have got an all-in-one solution for all your needs.
Key Features:
Generates real-time data analytics reports
Use the Meeting management module to schedule meetings, add attendees, and more.
Project budgeting and finance summaries
Sync your calendar with Google
Share files, images, videos, etc.
Communicate and coordinate on tasks without any hiccups in communication
Quick and easy data retrieval
Centralized platform for exchanging information
Two-factor authentication for added safety and security
Integration with other tools
Automate recurring tasks
Gantt charts and Kanban boards
iOS and Android app
Pricing:
Basic plan – Available for free forever
Premium plan – $3 per user per month
Business plan – $8 per user per month
Enterprise plan – Custom pricing
Simple Client Management With nTask

Create tasks, projects, CRM, Gantt charts, and custom fields. Sign up today!
2. HubSpot CRM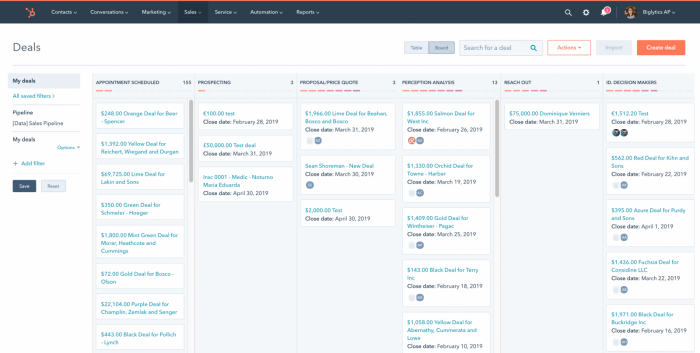 HubSpot is probably the most renowned CRM software of all. HubSpot is famous for its ease of use and its variety of features to its users.
The tool helps organize and track communication pipelines to ensure your client's relationship is always good and improving.
Key Features:
Reporting dashboard
Company insights
Deal tracking
Email tracking & notifications
Prospect tracking
Meeting scheduling
Live chat
Pricing:
3. Zoho CRM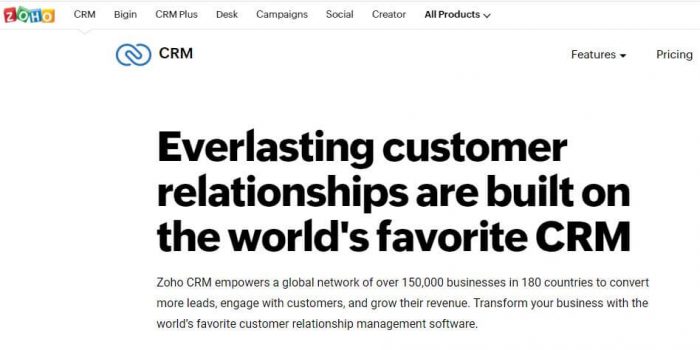 Zoho CRM is our next pick for this list. Zoho has also made its name in the market with its efficient, high-quality features. Throughout its run, the tool has become home to 250,000+ businesses from 180+ countries from all over the world.
With Zoho CRM, you can generate more leads, convert them into customers, engage with new customers, and grow your revenue exponentially.
Key Features:
Connect via email, phone number, social media, or live.
Real-time notifications
Keep an eye on the effectiveness of your communication
Find the best time and channel to communicate with your customer
Automate repetitive tasks
Set triggers for instant action and stay on top of all the things
Real-time analytics
Intelligent alerts, task reminders, and suggestions
Advanced lead and deal predictions
Pricing:
Standard – $14 per user per month
Professional – $23 per user per month
Enterprise – $40 per user per month
Ultimate – $52 per user per month
Related:
25 Best Zoho Alternatives to Use in 2022
4. Salesforce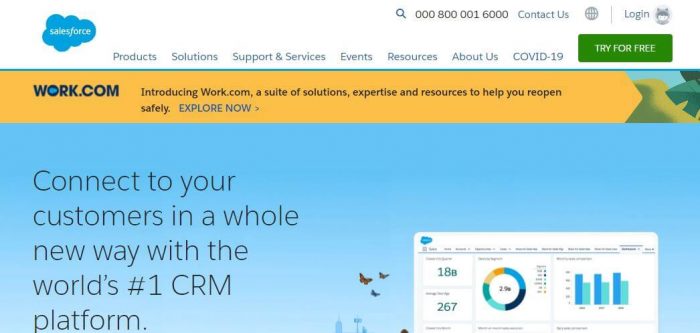 Salesforce is another force to be reckoned with, considering its choices that cater to almost all the processes that go in a company. Salesforce has sales, marketing, commerce, analytics, and various others.
Key features:
Support customer interactions on any channel
Automate business processes with intelligent workflows
Offers innovative productivity tools for call center management
Get shared, actionable insights into every customer interaction
Drive revenue and upsell easier with the power of AI
Engage with customers on their favorite channels
Put all your digital interactions in one place
Serve faster with automated workflows
Scale support with AI-powered chatbots
Schedule the right resources for jobs
Pricing:
Essentials – $25 per user per month
Professionals – $75 per user per month
Enterprise – $150 per user per month
Unlimited – $300 per user per month
5. Monday.com

Last but not least, we've got Monday.com.
Monday has been reigning in the top 5 for quite a while not and not just in client management but also in project management, task management, and various other aspects.
Once you sign in on Monday, you can enjoy its wide range of functionalities plan, manage, organize, and track your work without any hassle.
Key features:
360° view of every customer
flexible drag-and-drop interface
Custom automation
Visualize everything at a glance
Mobile apps
Powerful integrations
Unified platform for all processes
Built-in industry-specific templates
Pricing:
Individual – $0 per seat per month
Basic – $8 per seat per month
Standard – $10 per seat per month
Pro – $16 per seat per month
Enterprise – Custom pricing
Also, see:
Trello vs Monday.com: Which One to Choose in 2022
It's a Wrap Up!
Above was a Client management software comparison wherein we discussed the key features and pricing of the 5 best tools for client management. We hope that the info we provided can ease the selection process for you.
Till next time, Goodbye!
---
You may also like: