Working at an office and remote employment, both require effective means of communication for efficient collaboration between teams and team members. Internal communication tools are a must to have unadulterated and smooth communication, without any hiccups.
A company's success is heavily dependent on the cooperation between its various units. The departments work like gears of a machine, any disruption in the working of these gears puts an organization into overdrive.
Internal communication tools lubricate these gears and make sure that all the departments in a company and the members within each unit are in sync.
That being said, finding the right internal communication tools for your team can be a hectic job. Before choosing your pick, you have to consider various variables that shape the communication pattern of your team.
An inefficient tool will be counterproductive and will jam the process. So, it is important that you make the right choice and select the one that fulfills all the requirements.
To help you make the right decision, we will go through some of the best tools for internal communication in 2022.
Hold up! Before we jump to the specifics, we should go through the basics to understand, 'What are internal communication tools?' and 'What do they do?'.
What Are Internal Communication Tools?
Internal communication plays a critical role in the development of friendly cooperation within a business. Companies rely on internal communication tools to make sure that there are no hindrances in the exchange of information.
Internal communication tools, as the name suggests, are a means of enhancing communication between people working in an organization. The scope of these tools can be as small as delivering a message between a team leader and a team member or as large as an organization-wide announcement.
A company must have an internal communication strategy to make its communication easy and quick. An optimum internal communication strategy will work in the favor of the company, taking its success to new heights.
What Is The Importance Of These Tools?
As discussed above, these tools play a vital role in keeping everyone on the same page and dispersing information across the organization. The benefits of communication tools for the workplace include the following:
Help keep all the employees updated about the latest developments in the business
Builds a friendly work culture conducive to efficient working
Two-way communication enhances work relationships
Is a medium for discussion, feedback, and information exchange
Provides a bird's eye view of the working in the organization
Advantageous for communication in office and at-home
Brings clarity and transparency to the workspace
Coming back to the big question, what are some of the best tools for internal communication. In order to help you with the selection of the right tool, we have compiled a list of the best internal communication tools.
Take a look at the principal features and pricing of each of these tools and choose the one that suits your team best.
List Of The Top 7 Tools For Internal Communication
"Good communication is the bridge between confusion and clarity," said Nat Turner, and rightfully so. The smooth flow of information across an organization can dramatically affect its productivity and, in the long run, its profitability.
Without further ado, here is the list of the top 7 communication tools for the workplace: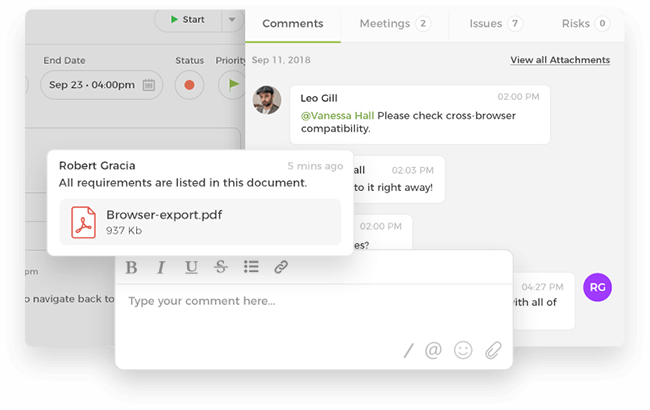 No, we are not being biased, nTask is just that good! And yes, we have solid reasons to prove the efficiency of the tool.
nTask is on our hotlist, it provides all the features required for efficient project management. If you are looking for software that caters to all your communication needs and also helps you simplify project management, then nTask should be your first choice.
No matter if you are a freelancer working individually, a small business, or a corporate company, nTask can fulfill all your needs. The software offers features that make communication as easy as ABC. Teams can easily communicate collaborate, exchange information, and do much more.
To top it all, nTask has a really simple interface. You can easily navigate through the software and quickly get used to the software. Its simple and easy design and a plethora of useful features make it our top pick for internal communication.
Let's look at the key features of the tool.
Key Features:
Allows you to create tasks, assign resources and manage finances
Add task description to bring more clarity
Time tracking and timesheet management so that the employee and the manager can stay updated about the status of the project
With task comments, you can easily exchange feedback
Real-time Live Chat system for effective, immediate communication
Team members can send private messages
'Reply Later' feature helps prioritize messages
Easy exchanges of files, documents, and attachments
Allows you to share updates with team members collectively or separately
Real-time notifications, alerts, and reminders
Organize team meeting with meeting agenda and discussion points
Integrations with third-party apps for seamless working
Pricing:
Basic plan – available for free forever
Premium plan – $3 per user per month
Business plan – $8 per user per month
Enterprise plan – Custom pricing
Best Tool for Internal Communication.

Manage projects, tasks, teams, and collaboration all in one place. Sign up today!
2. Slack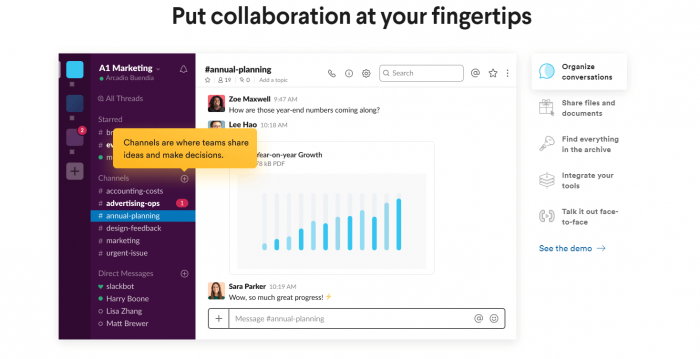 Slack is an all-in-one solution for all your communication needs. Slack is known as one of the best, internal communication channels, famous for its efficient features and the ability to help in quick and easy communication.
No matter where you are or what you do, Slack can immediately link you to your team members and the variety of tools you use daily.
You can use Slack to send instant, real-time messages and integrate with third-party apps for a smooth flow of work. Slack keeps every team member on the same page, making sure that the team is well-organized and well-informed.
You can easily create a team and use channels to communicate with your group. You can also send private messages with private channels for one-on-one communication.
Key Features:
Dedicated channels to keep up with different teams, projects, or topics
Searchable history to that you can keep a record of the developments of the past
Share a channel with vendors, partners, or clients to keep everyone in the loop
Communicate with teams from other companies via Slack Connect
Chat privately or openly
Voice and video calls
Streamline work with third-party integrations
Share documents, files, pictures, and videos from anywhere on your computer
Foolproof security to keep your data safe
Pricing:
Free – $0 per month
Standard – $6.67 per month
Plus – $12.50 per month
Enterprise Grid – Contact Team Slack for custom pricing
Check some of the best Slack add-ons:
The 10 Best Slack Integrations and Add-ons of 2022
3. Fleep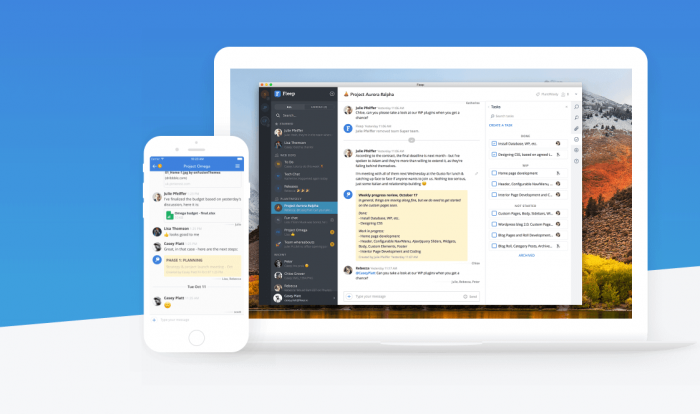 Fleep is popular as a Slack alternative. It helps you coordinate with your team from start till the end. Fleep is one of the most efficient communication tools for the workplace, it is a messaging app that offers a combination of messaging and file sharing.
With the help of this tool, teams can easily converse with one another and stay connected to discuss different aspects of a project.
Say goodbye to juggling between different apps with Fleep's task management module. With the task management module, you can create tasks, assign members to different tasks, and keep track of the progress.
Key Features:
Allows you to set up conversation around different projects, teams, and/or topics
You can highlight decisions and pin them to the 'Pinboard' so that everyone can see and edit them
Easy communication with other Fleep users and teams
You can use Fleep on Windows, Mac, Linux, Android, or iOS
You can share files and documents in 'File Drawer'
Presence features allow you to keep track of everyone's presence
Audio or video call features
Pricing:
Basic – €0 (free plan)
Business – €5 per user per month
Enterprise – Custom pricing available on contact
4. Glip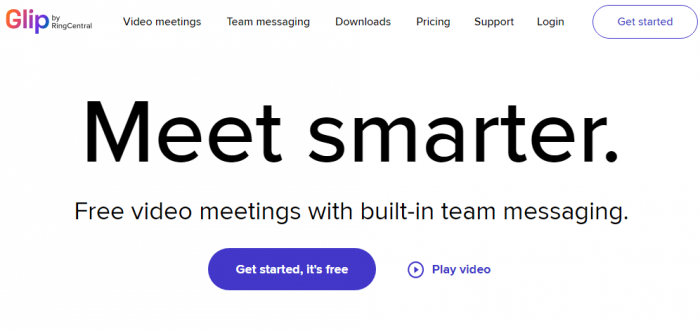 Glip is our next choice in the list of the best tools for internal communication. Glip is a communication and collaboration app designed to take care of an employee's daily activities.
Glip aims to keep work efficient by eliminating ineffective tasks such as frequent email and inbox checking. Also, the app has video call features that make real-time communication a walk in the park.
Now you can collaborate with your team members no matter where you are.
Key Features:
Secure meeting and messages on any device
HD one-on-one and group video meetings
Create an instant group chat with one click
You can join a meeting with a single click
Allows you to switch devices during live meetings
Safe and secure communication
Easy conversation, file sharing, and screen sharing – all in one place
Integrate your Glip account with Google Workspace and Microsoft 365 to keep everything on the same page
Pricing:
Glip Pro – $0 per user per month
Glip Pro+ – $11.99 per user per month
5. Zoom

Zoom is the go-to app for communication for millions all around the world. Schools, businesses, universities, etc. use the app for real-time video conferencing.
Videoconferencing is the best alternative to in-person meetings and Zoom is an ace at that. With Zoom, teams can schedule meetings, share files, exchange messages, share screens and do so much more.
With a ton of cool features, Zoom has secured the fifth position on our list. Its communication features include online meetings, video webinars, conference rooms, etc.
You can host an unlimited number of meetings with 25 participants spanning 40 minutes. Its cross-platform messaging and file sharing make it even better.
Key Features:
HD video and audio collaboration
Chat with your teams and streamline your communications
Group and one-on-one channels
Quickly search messages, files, and contacts
ZoomRooms for conference calls
Host webinars in person
Integrate with third-party apps for seamless flow of work
Pricing:
Basic plan – $0
Pro plan – $149.90 per year per license
Business plan – $199.90 per year per license
Zoom united business plan – $350 per year per license
Related:
Zoom vs Webex Comparison: What Is the Best Video Conferencing App?
6. Zendesk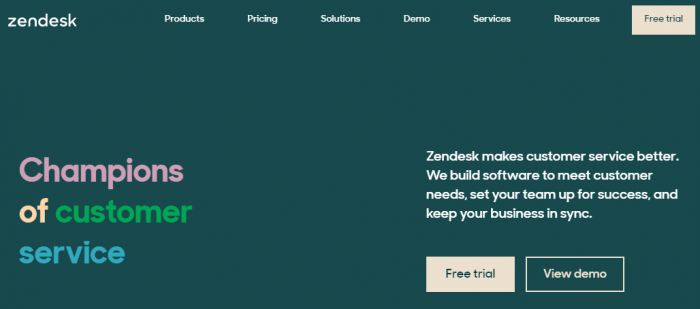 Zendesk is our next pick for the best internal communication channels. Zendesk is one of the best tools for enhancing customer experience and tracking and resolving issues.
With Zendesk's internal communication features, you can easily handle customer concerns and solve issues relatively quickly.
The software charts every issue reported by a customer keeps track of the employee working to resolve the issue displays the communication so that the whole team is aware of the context of the problem. This helps avoid repetitive questions by helping everyone see the progress of the resolution.
Key Features:
Real-time messaging for smooth conversations
Connect with clients via Zendesk Suite
Flexible and customizable
Assign members to issues separately to keep everything clear and concise
Search history of previous issues easily
Pricing:
Zendesk offers two pricing plans.
Plans for everyone:

Suite Team – $49 per agent per month
Suite growth – $79 per agent per month
Suite professional – $99 per agent per month

Plans for enterprises

Suite enterprise – $150 per agent per month
It gets even more powerful – $215 per agent per month
7. Blink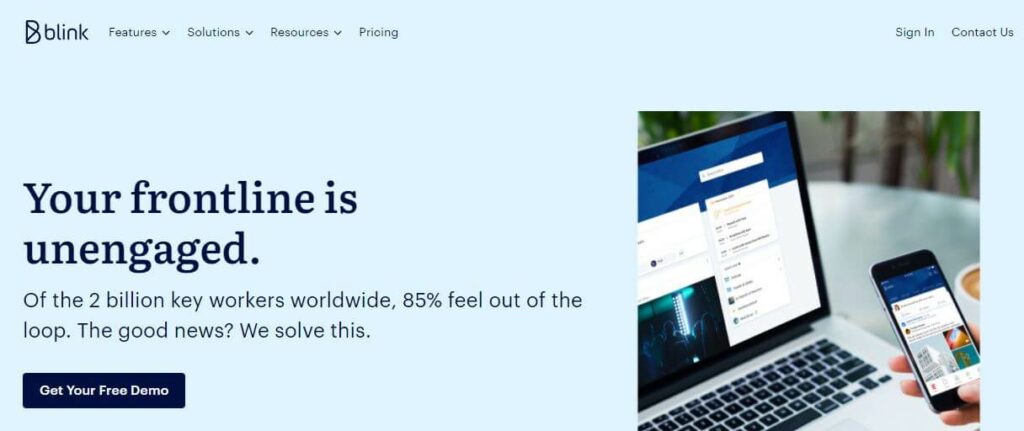 Blink is an all-in-one employee communication app designed to improve internal communication and engagement for frontline workers. It improves the employee experience in meaningful, everyday ways, giving employees mobile access to the communications and applications they need to do their job and feel part of the company.
This creates a culture of productivity, retention and conversations, where the frontline is engaged, gives feedback and feels valued. Blink can be the backbone of your internal communication strategy that will help you reach your business goals while transforming your workplace culture and boosting employee advocacy! 
Key features:
One-to-one and group chats (interact directly with employees & initiate authentic conversations)
Personalized feed (tasks, to-do's, important company announcements)
Employee directory & hub
File sharing
Employee recognition
Integration with hundreds of other workplace systems
Pricing:
There are four available pricing plans, ranging from:
The basic Essential plan starts at $3.40 per person per month, through to the Enterprise Plus, suited for large organizations. 
Full details of the pricing are available on request on the Blink website.
Concluding Thoughts
Internal communication channels are an effective way of communication between different teams and team members. Go through the list of all these tools, carefully observe the different features of each one of them, pay attention to your budget and choose wisely.
Your company's success is highly dependent on effective communication, so make sure that you choose the right tool.
Good Luck!
---
More Readings: