Are you looking for the best Microsoft To Do alternative for 2023? With so many options, deciding which one is right for you can take time.
Lucky for you, we've done all the research to put together a list of the top 10 alternatives available in 2023.
Each of these programs offers a unique feature set that helps make organizing tasks and projects easier than ever before. Keep reading to find out which one is right for you!
What is Microsoft To do?
Microsoft To Do is an app created by Microsoft to help people keep track of their to-do lists. It provides users with a simple, easy-to-use interface to organize tasks and schedules.
The app allows users to add tasks, mark them as complete, set reminders and deadlines, create sub-tasks and notes, categorize items into lists and projects, collaborate with others on shared tasks, access the app across multiple devices—including phone and laptop—and sync data across all of their devices.
Microsoft To Do also integrates with Outlook and Calendar so that users can easily manage their time.
With its intuitive design, secure cloud storage capabilities, and powerful features such as natural language processing (NLP) integration for automatically sorting tasks into lists or projects based on keywords used in task titles or descriptions—Microsoft Todo is the perfect aid for organizing daily life.
Who Should Use Microsoft To Do?
Microsoft To-Do is a task management application developed by Microsoft. It is available on the web, iOS, and Android platforms and integrates with Outlook Tasks.
It helps users create tasks, categorize them into lists, and set deadlines for completing them. Microsoft To-Do also emphasizes collaboration as users can assign tasks to other people in their organizations.
This makes it an ideal tool for teams that need to organize tasks or collaborate on projects remotely.
With its easy-to-use interface, flexible features, and integration with Outlook, Microsoft To-Do is useful for both individuals who want to stay organized as well as teams who need powerful tools to manage projects effectively.
What functionalities does Microsoft To Do offer?
Microsoft Todo is a simple and powerful to-do list app that helps you stay organized and manage your day-to-day activities.
It allows you to create tasks, set reminders, track progress, assign tasks to others, and more. Microsoft Todo offers users an efficient way to manage their time and workloads by providing a number of key features:
Create & Manage Lists: You can create multiple lists with different categories for all of your projects or tasks. You can also add notes and other details so that you have all the information related to each task in one place.
Set Reminders: Besides setting due dates for each task, Microsoft Todo can set customized reminders sent directly through text messages or emails when deadlines approach. This helps keep users on top of their tasks to stay organized.
Track Progress: With this feature, you will be able to analyze your progress across different projects easily so that you can adjust your strategies accordingly or shift resources from one project if needed.
Assign & Collaborate: One of Microsoft's most popular features is its ability for teams within an organization or family members at home to collaborate on various projects by assigning tasks among themselves while still sharing important updates on any changes made by others involved in the project.
Using these functionalities combined with its user-friendly interface makes Microsoft Todo very appealing to help manage workloads effectively without feeling overwhelmed.
3 Reasons Why You Need Microsoft Todo Alternatives
Here are three reasons why you need Microsoft Todo alternatives:
1. Better Organization:
Despite offering basic organizational features such as categories, lists, and reminders, Microsoft Todo does not offer the robust organization options other tools offer — such as visual boards and tags for further categorization and sorting tasks by project or due dates.
An alternative task management platform can provide users with better ways to manage their projects and tasks visually which will save them both time and energy when trying to sort through thousands of tasks.
2. Increased Productivity:
Working with primitive task scheduler platforms can become tedious quickly — meaning people may find themselves becoming unproductive while trying to use them effectively.
Task management tools like Asana or Trello come packed with features including easy-to-use collaborative workspaces, and integrations with more than 2000 apps.
And automated notifications & alerts when specific events occur which ultimately increases user productivity drastically compared to using MS ToDo alone!
3. Improved Collaboration:
Collaboration is important if multiple people need access to each other's tasks or notes – whether this includes team members working together on a single project or simply family members sharing grocery lists – but currently MS ToDo offers limited collaboration options such as assigning tasks within OneNote notebooks only.
Solutions that allow full integration between different applications (including shared calendars) within an organization could prove invaluable when managing large projects with multiple departments involved from start to finish.
This level of integration was simply not possible before; leading companies have no choice but to work across disparate systems inefficiently & oftentimes incorrectly leading to costly delays in completing projects on time!
If your current productivity solution isn't cutting it anymore — whether due to limited functionality or too much clutter— then now could be the perfect time to evaluate its worth against potential alternatives out there!
Whether you opt for one of the popular agile-oriented platforms such as Jira/Trello/Asana or choose to go all-in on MS 365 complete suite – any decision should put into consideration maximum benefit based cost analysis so that users receive value for money spent at minimum expense whilst enjoying huge improvements across their operations!
13 Best Microsoft To Do Alternatives for 2023
Here are some of the best Microsoft To Do alternatives to use this year.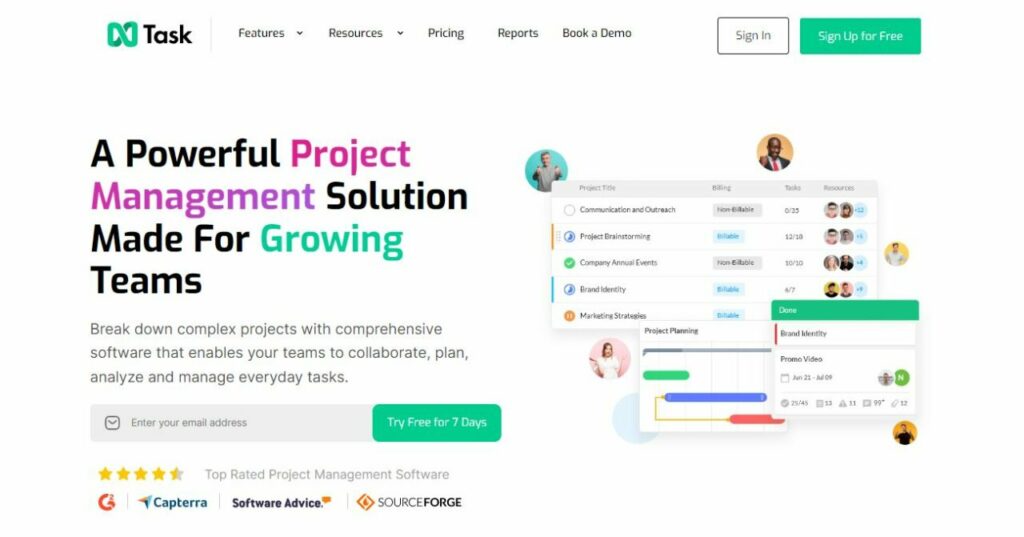 Microsoft Todo has been the go-to choice for many, but if you're looking for an alternative, nTask could be just the right choice.
As a powerful task manager and collaboration platform, nTask is feature-rich and offers significant advantages over Microsoft Todo.
With nTask, users can create projects with tasks with ease.
Each project can have multiple tasks associated with it in order to keep better track of progress on a particular goal or project.
These projects also come with specific deadlines which helps increase accountability as well as encourages users to focus better on completing tasks before their due date.
Notifications related to these projects will also help remind users of upcoming deadlines or any changes that happen to their project's deadline or scope along the way.
Users can also collaborate more efficiently with nTask than they would on Microsoft Todo alone thanks to its various collaboration features such as discussions and comments sections dedicated per project/task setup.
Finally, nTask is great because it supports real-time updates which ensures that everybody involved in a task remains up-to-date.
And if used properly by integrating other applications like Dropbox or Google Drive, managing documents related to any one particular team's process becomes easier than ever.
Simplify project management
with nTask today!

monday.com is an online platform that helps teams organize tasks and manage projects effectively. 
It offers a great alternative to Microsoft To Do for managing workloads, as it provides many useful features such as task tracking, project management, collaboration tools, and reporting capabilities.
For individuals and teams working remotely, Monday.com can be used to easily keep up with tasks without being overwhelmed by the amount of data or overwhelming complexity found in other tools.
The ability to create custom boards allows users to tailor their views of tasks according to their specific needs and preferences.
Furthermore, it supports Gantt charts which are useful for scheduling long-term projects or activities with detailed timelines outlining start dates, durations of work items, and completion deadlines.
Notifications can also be set up so team members receive alerts when milestones are approaching or there's new activity related to a project they're working on.
Monday.com also includes powerful collaboration features like threaded comments where team members can quickly exchange ideas on tasks in real-time within the system itself
3. MindManager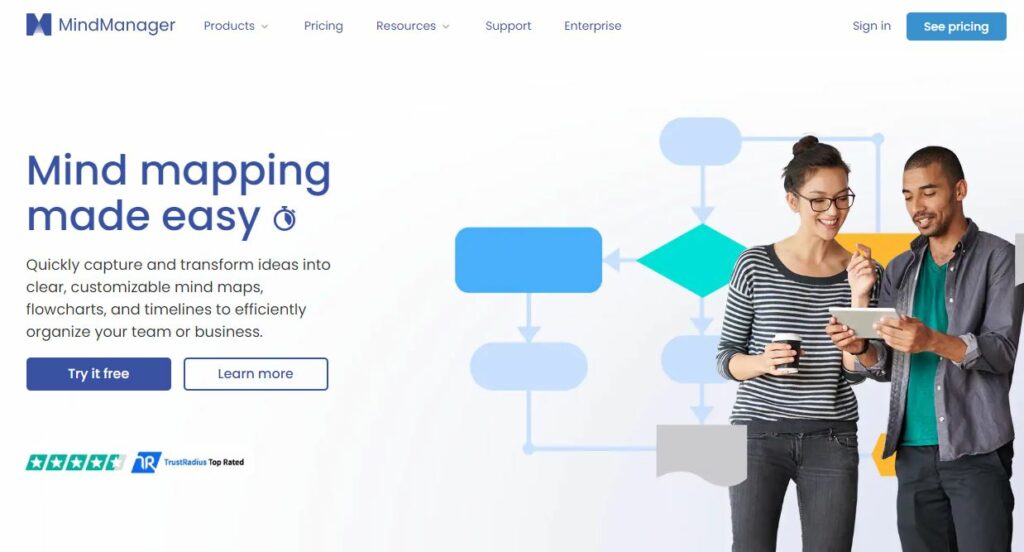 MindManager is a powerful mind-mapping software designed to help individuals increase productivity, think creatively, and visualize information quickly.
With its advanced visual mapping capabilities, MindManager allows you to capture ideas and manage data in visually organized diagrams or "mind maps" that can be used for brainstorming sessions or project planning purposes.
It also has built-in task management features that can be used for organizing your activities according to priority level or due dates with reminders sent directly to your inbox.
This makes it a great alternative for those looking for an app like Microsoft To-Do but doesn't want all the extra bells & whistles offered by the latter.
Overall, MindManager serves up some good alternatives for those wanting something slightly more robust than what's offered by Microsoft Todo.
4. FunctionFox

FunctionFox is an advanced task management platform designed to help you organize your tasks and prioritize them for a productive day. It's the perfect alternative to Microsoft Todo, allowing users to schedule and track projects in an intuitive way.
FunctionFox provides powerful features like project planning, collaboration tools, resource scheduling, document sharing, reporting capabilities, and more. This makes it perfect for teams who are looking to get things done quickly and efficiently.
FunctionFox is built on top of a robust cloud infrastructure that can scale up or down according to demand, making sure there's never any downtime when you need it most.
All your data is stored securely in the cloud so you can access it anywhere with an internet connection at any time. You can also share tasks with teammates and edit documents collaboratively, even when they're not online – everyone will always be in sync as long as they have access to Function Fox.
5. Taskade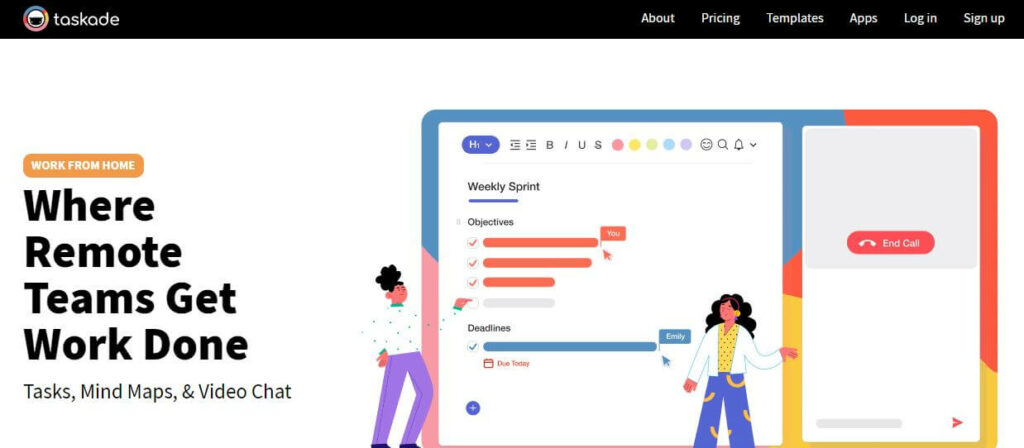 Taskade is an amazing task management tool that can help you stay organized and manage your workload.
Taskade has a simple, intuitive interface that makes it easy to create tasks, organize projects, and collaborate with others.
With features like checklists, team chat, file sharing, reminders, notes, and more – Taskade is the perfect replacement for Microsoft Todo.
At the core of Taskade are boards and lists that enable users to visually map out their projects in great detail so they can keep track of each individual task's progress.
As users add tasks to the board or list they are presented with various features such as notes & checklists attachments & comments collaboration labels & filters which allow them granularly manipulate how they want the tasks organized.
In addition, Taskade's drag-and-drop feature makes it easy for them to move around items without having to manually reorder everything every time something changes.
6. Omni Focus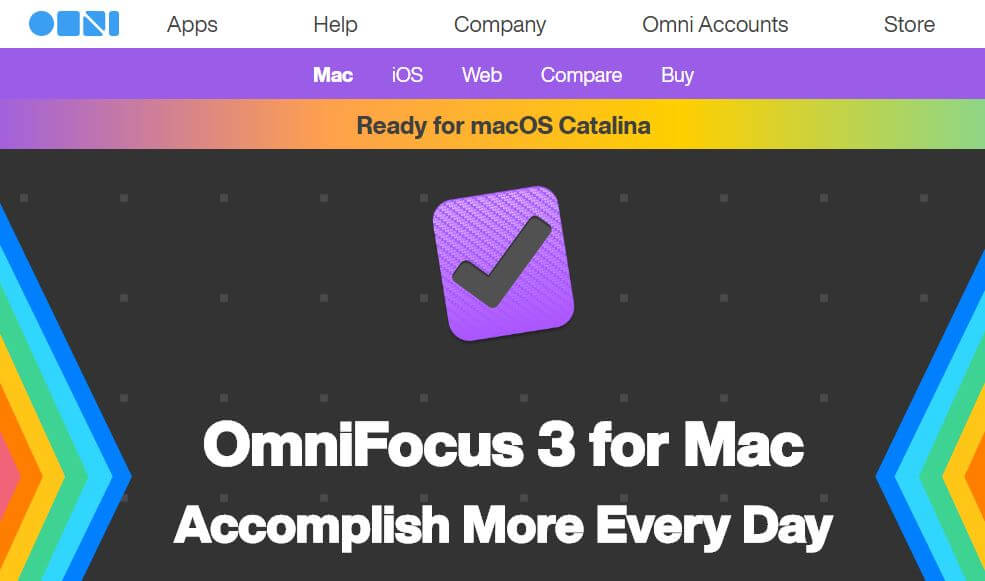 Omni Focus is an app designed to help you stay organized and productive. The Omni Group's note-taking app is tailored to the needs of busy professionals and offers a host of features to make planning your day — and life — to the next level.
Omni Focus allows users to create detailed tasks with multiple levels of prioritization. This makes it easy to break up big projects into smaller actionable items that can be completed on a timeline and tracked together as one large project.
You can also attach notes or documents relevant to the task and set repeat schedules for reminders about upcoming deadlines.
7. Notion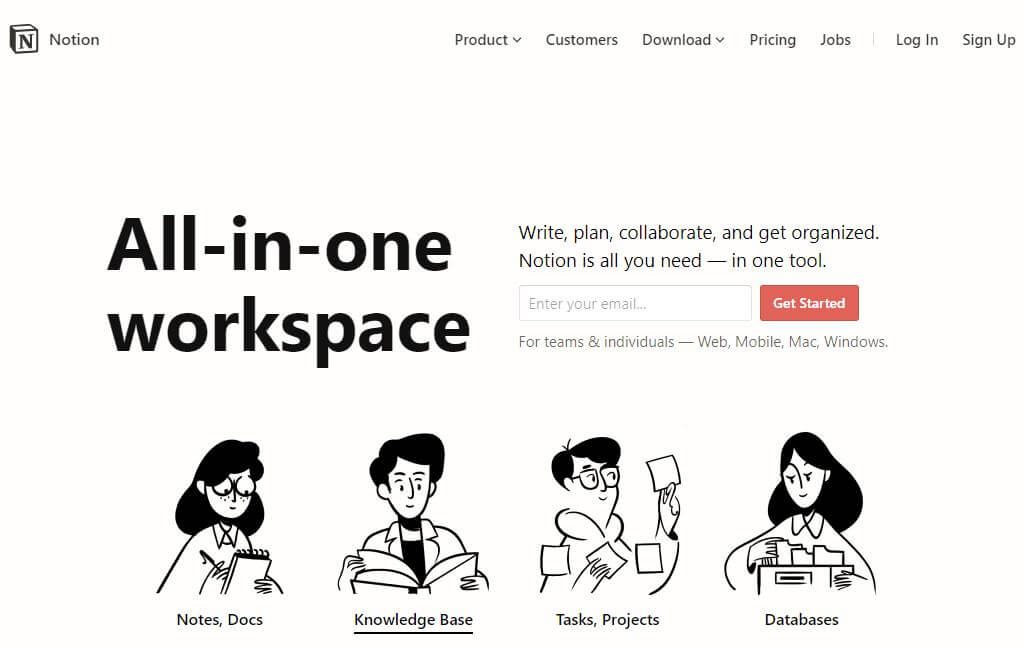 Notion is a great option to consider.
Notion combines the simplicity of Microsoft To Do with powerful organizational capabilities. Its Kanban boards are perfect for tasks like tracking project timelines or maintaining multiple lists of things like groceries or errands.
You can also create databases in Notion — which act as digital filing cabinets — for organizing anything from personal documents to shared notes among team members.
Plus, with advanced search functionality, you can quickly locate any file or detail stored within each database.
Another great feature you won't find in Microsoft To-Do is collaborative workspaces where multiple users can come together on one page and work on a project simultaneously.
With real-time editing support, it's easy to stay organized while working on long-term collaborations or just sharing ideas between team members across different disciplines such as design and marketing.
Related:
Obsidian vs Notion – What tool is best suited for you?
8. TickTick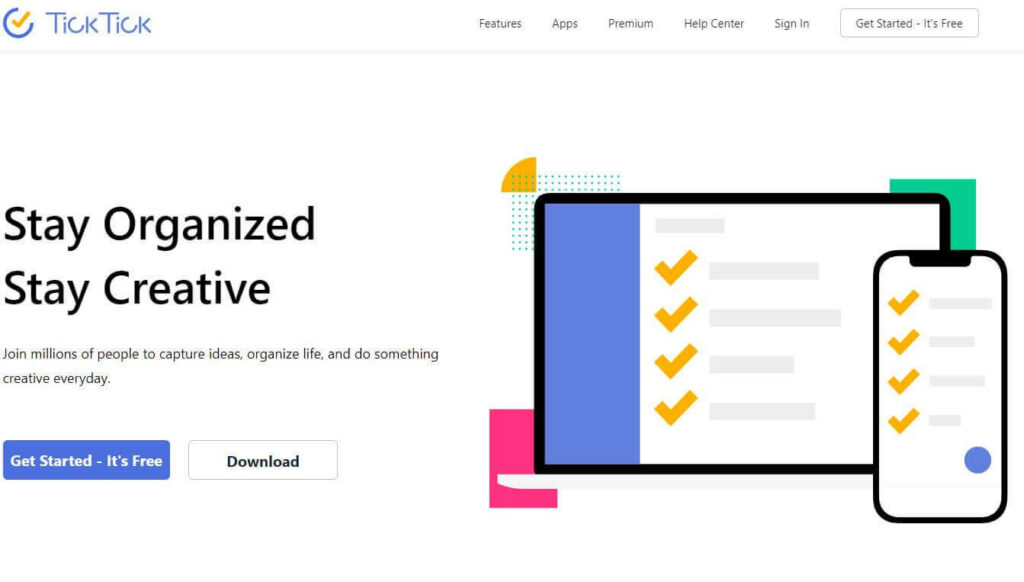 TickTick is a great alternative to Microsoft To-Do.
One of the best things about TickTick is its convenience; it's accessible on multiple platforms including MacOS, iOS, Android, Windows, and the Web.
Each platform works seamlessly with one another making it easy for users to access their accounts from any device. Of course, if there are tasks that need immediate attention they can receive notifications in the form of audible alarms or push notifications – depending on how users prefer to be alerted.
Another great feature offered by TickTick is its ability to collaborate with others. Either in groups or one-on-one conversations around tasks or projects – giving users the ability to assign multiple people specific duties as part of a larger project as well as share calendars among team members.
Additionally, users can also break down large projects into smaller tasks with sub-tasks adding even more detailed customization possibilities!
9. Trello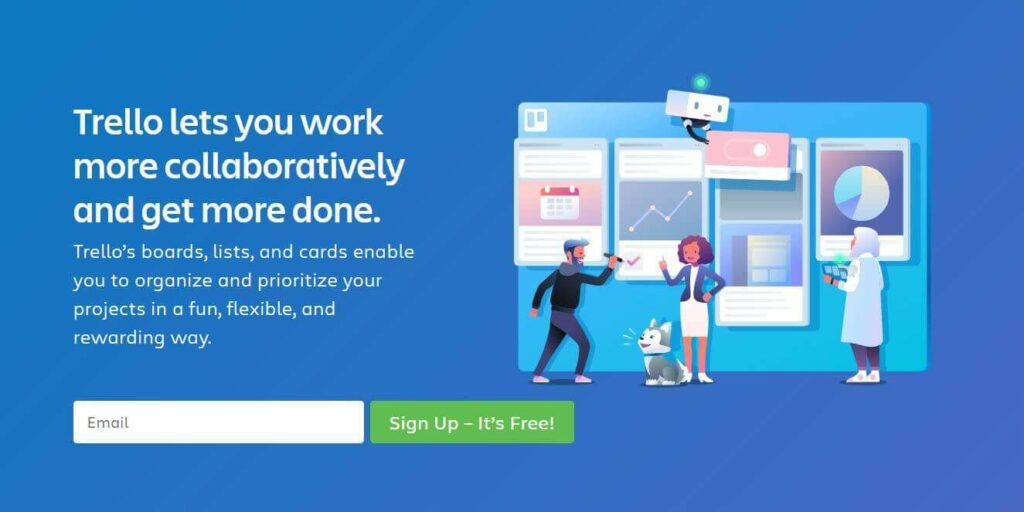 Trello could be the perfect solution to finding to do alternatives. Trello is an online project management tool that helps to organize and manage tasks in an easy-to-use environment.
Trello makes task management easier by providing a visual representation of progress on each task and project. You can create lists for different tasks or goals and move individual tasks between them on the board.
You can also assign due dates, attach files or notes to each task, and use labels to categorize them for easier organization. The drag-and-drop feature makes it easy to rearrange things quickly when needed.
Additionally, collaborations with other team members are made simple through sharing boards or adding comments via email notifications and @mentions in comments threads—allowing everyone to stay up-to-date on projects without even having they need access to your account!
10. Any.do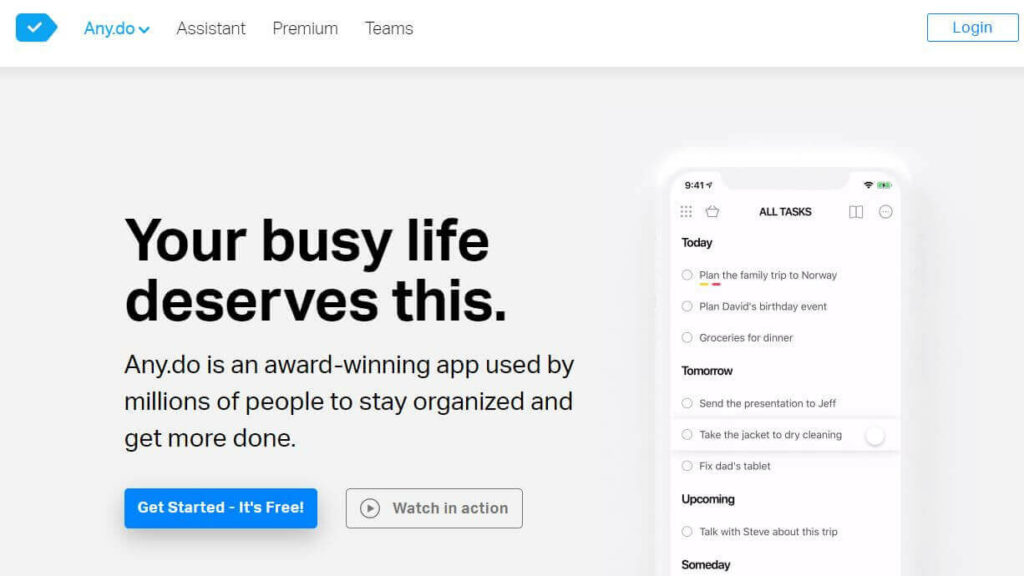 Any.do is a powerful task-management platform that enables users to create and organize their tasks efficiently and quickly.
It provides a number of features that make organizing your schedule easier than ever before, including reminders and notes, automatic synchronization across multiple devices, list sharing with family members or co-workers, detailed categories for organizing tasks by type or priority level, and much more.
This makes Any.do an ideal choice for those who want to get the most out of their time management capabilities without spending much money on products such as Microsoft Todo or other alternative platforms available online.
The app simplifies collaboration among teams by allowing teammates to share specific lists or subtasks with each other, making projects easier to manage together without being restricted by location or time zone differences.
11. NoteLedge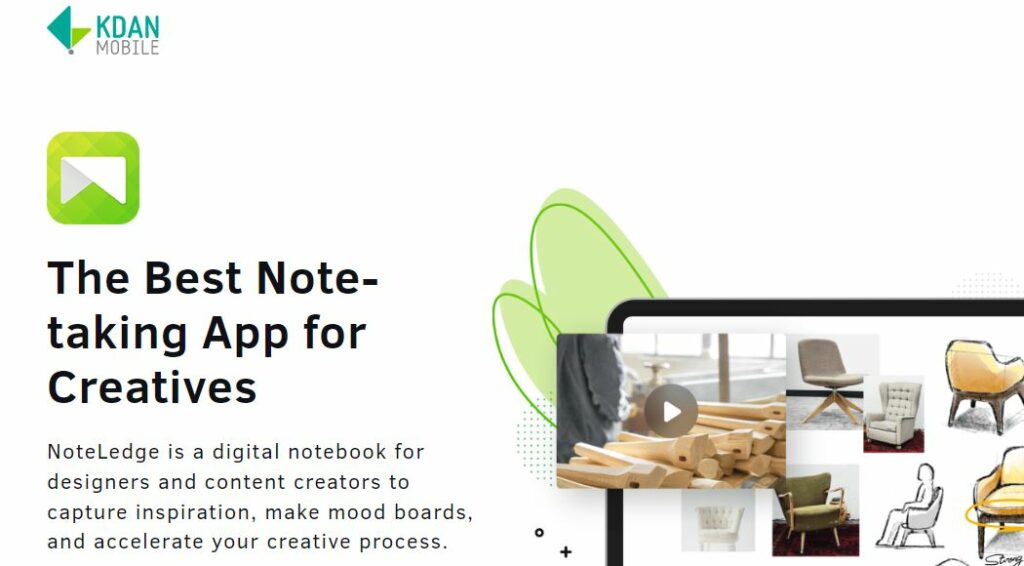 This all-in-one digital notebook and planner is perfect for students, professionals, and anyone looking to stay on top of their daily tasks and projects.
One of the standout features of NoteLedge is its highly customizable interface. You can easily create personalized notebooks and pages, add images, videos, and audio files, and organize your notes and tasks with various formatting options. Whether you prefer bullet points, checklists, or mind maps, NoteLedge has got you covered.
Another key feature of NoteLedge is its powerful collaboration tools. You can easily share your notes and projects with colleagues or classmates, assign tasks, and track progress in real-time. The app also includes a built-in calendar and reminder system to keep up with important deadlines and appointments.
But that's not all – NoteLedge also includes a range of other productivity-boosting features, such as a web clipper, handwriting recognition, and PDF annotation tools. And with seamless integration with popular cloud storage services like Dropbox and Google Drive, you can easily access your notes and projects from anywhere, on any device.
So if you're looking for a powerful and versatile productivity app to help you stay on top of your to-do list and get things done, look no further than NoteLedge.
12. Workflowy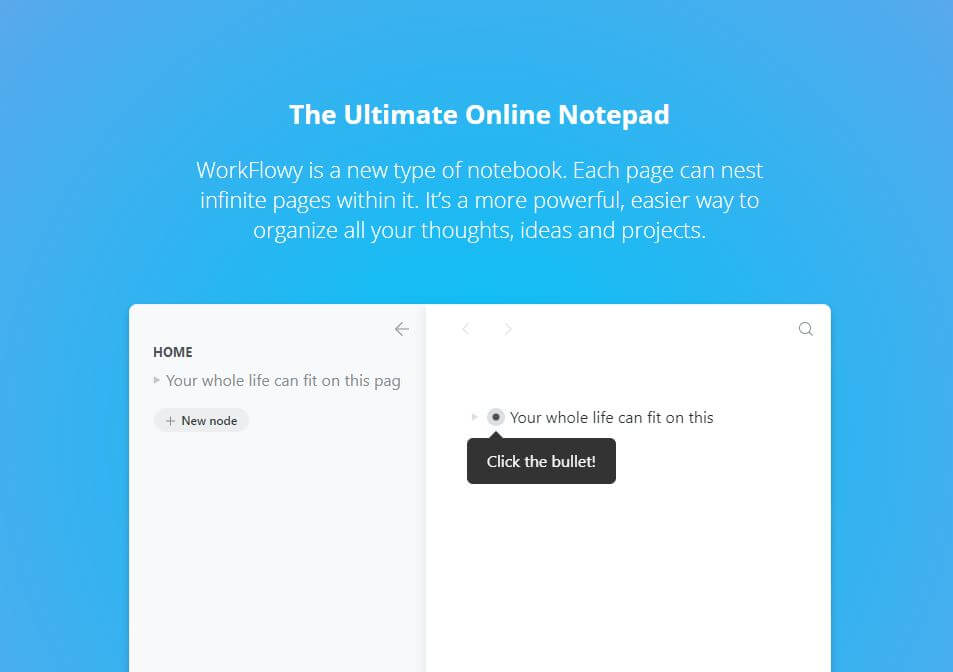 Looking for a simple yet powerful to-do list app to help you stay organized and productive? Workflowy is worth checking out. This minimalist app offers a unique and intuitive way to manage your tasks and projects, with a streamlined interface and various useful features.
One of the key strengths of Workflowy is its flexibility. You can create lists for anything from your daily tasks to your long-term goals and easily organize them into sub-lists and categories. And with the app's zooming feature, you can easily expand and collapse sections of your lists to focus on specific tasks or get a bird's-eye view of your entire workflow.
Another standout feature of Workflowy is its powerful search functionality. With a simple keyboard shortcut, you can quickly search your lists and find exactly what you want. And with support for tags and filters, you can easily sort and prioritize your tasks based on different criteria, such as due date or importance.
The best thing about Workflowy is its ease of use. The app's minimalist design and intuitive interface make it incredibly easy to create and manage your to-do lists, even if you need to be more tech-savvy. And with seamless integration with other productivity tools like Google Calendar and Dropbox, Workflowy is a great choice for anyone looking to streamline their workflow and get more done.
13. Quire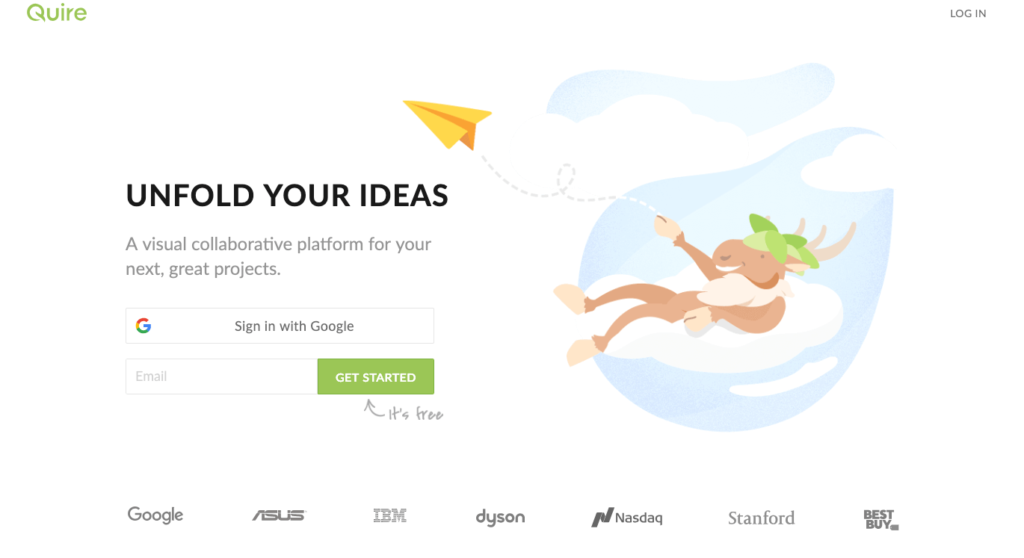 The last one on our list is Quire – an innovative task management app that offers a range of powerful features to help you stay on top of your tasks and projects.
With Quire, you can easily create nested lists and subtasks, making it easy to break down complex projects into manageable tasks. The app also supports tags, due dates, and reminders, allowing you to prioritize your tasks and stay on top of your deadlines.
One of the standout features of Quire is its real-time collaboration tools, which make it easy to share lists and projects with colleagues or team members. The app also integrates with popular tools like Trello and Slack, making it a great choice for anyone looking to streamline their workflow and boost their productivity.
In addition to these features, Quire includes a calendar view, task board view, and advanced filtering options, allowing you to easily visualize and prioritize your tasks based on different criteria.
3 Reasons Why nTask Is The Best Alternative to Microsoft To Do
Here are three reasons why nTask is the best alternative to Microsoft To Do:
Detailed Task Description – With nTask, you can easily provide highly specific instructions for your team's tasks. The platform allows you to add details regarding each task, including the estimated time required for completion or who should handle it within your team. Plus, changing or assigning tasks on nTask may be done with just a few clicks.
Collaboration Features – Whether collaborating between departments or working together in real-time with external stakeholders; managing projects in silos no longer works in today's world of business operations where constant communication & collaboration are necessary between different entities such as suppliers & vendors etc. With nTask's comprehensive chat system and interactive dashboard feature; you can ensure successful coordination across various stakeholders involved in the process & receive updates instantly without having to email back & forth constantly!
Resource Management Capabilities – By utilizing tools like Gantt Charts within nTask; you can properly plan & allocate resources efficiently which will help get rid of tedious manual processes associated with undertaking multiple activities simultaneously while saving valuable time. In addition; this also enables better performance tracking from individual members throughout any given project duration which makes forecasting future resources even easier!
FAQs
Is Microsoft To Do Part of Office 365?
Yes, Microsoft To-Do is a part of Office 365. It is an app that helps users manage to-do lists and tasks with features such as reminders, categorization, collaboration, and more. It can be used on the web or by downloading the app for Android, iOS, Windows 10, and MacOS devices. Microsoft To-Do also integrates with other Office 365 apps like Outlook so users can access their tasks across multiple platforms.
How do I install Microsoft To Do?
To install Microsoft To Do, you can take the following steps:
1. Open the Windows Store by searching for "Microsoft Store" in your start menu.
2. Once the store is open, search for 'Microsoft To Do' in the search bar at the top of the screen and select it from the list of results.
3. Click on 'Install' to begin downloading and installing Microsoft To Do onto your device.
4. When asked, agree to any permissions requested, then wait for the installation process to complete before launching Microsoft To Do!
What is the difference between Microsoft To Do and Tasks?
Microsoft ToDo is an application for managing personal tasks and to-do lists. It enables users to easily manage tasks, collaborate with others, set reminders, prioritize their work, and more. Tasks are individual items that can be associated with Microsoft ToDo lists.

They allow users to keep track of specific actions they need to take or goals they need to complete within a list or project. A task typically consists of a title, description (optional), due date (optional), priority level (optional), reminder settings (optional), comments section (optional), and any other relevant information required by the user.

With Microsoft To Do tasks can be completed when finished, marked as incomplete if not done, and moved between different lists as needed.
What is the difference between Microsoft todo vs OneNote?
Microsoft To-Do is a task planning and management application that helps you create to-do lists, share tasks with others, and assign deadlines and reminders. Microsoft OneNote is an advanced note-taking app. It organizes information into notebooks available across devices, allowing you to access notes from anywhere.

Microsoft To-Do focuses primarily on task creation and organization, whereas OneNote will track text, images, webpages, and audio, which can be viewed in organizational sections or pages. Microsoft To-Do can view tasks from multiple lists in one view and a group by date or priority. You can add due dates for each task and repeat tasks such as weekly meetings or monthly reports.

OneNote provides comprehensive tools for creating multimedia projects, including drawing tools, digital ink capture tools, and integration with Outlook calendar entries so users can easily find time-saved notes within their calendars.

There are also tags available in OneNote that allow users to categorize important items such as meeting agendas, key points, etc., making it easier for them to quickly search through their Notebook when needed without having to scroll through pages of text looking for a single item of interest.
Conclusion
From productivity tracking capabilities to collaboration tools, these list applications will help you stay on top of all your tasks in an organized manner.
With great features like priority icons, database sync options, task templates and so much more – any one of these apps could be a great fit for managing individual or team projects with ease.
The right tool can make life easier when it comes time for project planning or team management activities.
All the apps above provide excellent toolsets that can help manage tasks large or small making them ideal choices for those wanting to get ahead of their deadlines in 2023!