Project management software is increasingly becoming a must in the era of hybrid and totally remote work settings in order to maintain processes.
Teamwork is a project management tool with a reputation for being reasonably priced and scalable. It was created to improve team cooperation and help project managers boost overall team performance. But does the platform always satisfy the requirements of your company?
Let's evaluate the top Teamwork alternatives that are now vying for the project management market before you decide to move to a new platform or, if you're still new to this and merely contemplating Teamwork.
What is Teamwork?
Teamwork is a platform for project management that offers expert tools and features for collaboration, task organization, planning, team management, and customer relationship management.
By providing teams with a simple interface and all the tools they need, this online project management solution greatly reduces the hassles associated with managing projects and their responsibilities.
Project managers, company owners, and teams may use it to plan and organize their operations, monitor employee time and workload, charge customers for billable work, be aware of impending deadlines, and more.
On reputable websites like Capterra and G2, the product has received largely positive reviews. It has its own advantages and disadvantages, much like many rivals and Teamwork project management options.
Challenges faced by Teamwork users
Here is the greatest Teamwork substitute you've been looking for! Let's first examine the most frequent causes for project managers to hunt for Teamwork alternatives before moving on to the other participants in the game.
1. Unable to effectively handle many things at once
Teams working on several, complicated projects may already be aware that Teamwork isn't intended to effectively handle several phases of a project at once, which might be a deal-breaker for certain businesses.
While working on repetitive activities, this flaw may cause bottlenecks. For instance, if a team member is working on the task's outline phase, Teamwork precludes another team from beginning the task's next phase concurrently. Fortunately, some project management solutions are capable of doing it.
2. Obsolete and confusing user interface
The user interface of Teamwork is outdated and confusing to many users due to the lengthy range of features it offers.
"Teamwork's user interface clearly needs to be updated. It isn't as cutting-edge and orderly as other project management tools. Additionally, it could be challenging to browse and locate what you're searching for," according to a G2 assessment.
3. The reporting options are not all-inclusive.
Over time, Teamwork has started to add additional reporting options, but its present selection still has a lot to be desired.
The program provides data on task history and project updates, but it doesn't give any information on things like staff productivity or time tracking, which might make billing challenging.
Additionally, Teamwork users are unable to directly charge clients using the system.
10 best Teamwork alternatives in 2023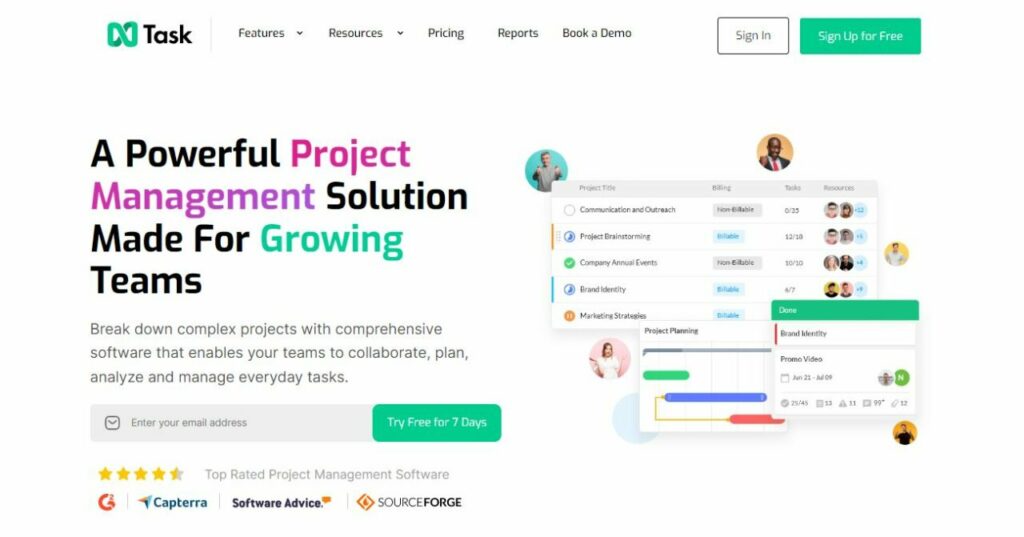 The project management tool nTask can be customized and comes with standard project management functions as well as problem tracking and risk management tools, all of which make it stand apart from Teamwork.
However, nTask doesn't have a stellar reputation for customer service, which may be a big problem for a product with a less-than-intuitive user interface.
With a range of in-app capabilities, nTask is a helpful platform for independent contractors and small to medium-sized organizations in need of project management support.
2. Clarizen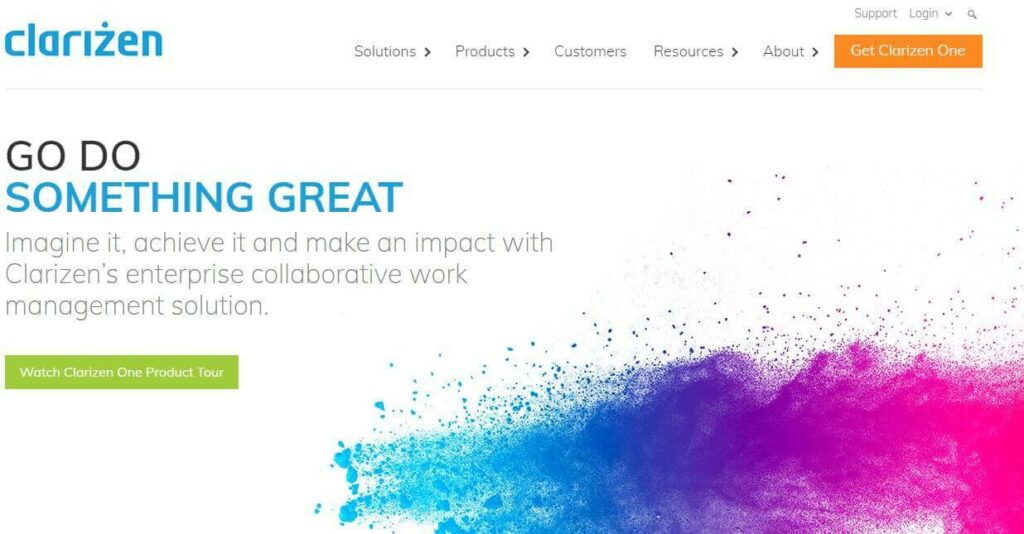 Clarizen is a tool for creating a collaborative work environment that makes tasks easier to complete. It offers customisable business solutions that assist you throughout the whole job lifecycle, from strategy to planning and execution. Beyond Teamwork and its different options, it offers much more.
3. Bonsai

In order to provide freelancers with everything they require to draft contracts, submit proposals, and bill customers, Bonsai aspires to be an all-in-one platform. Despite the fact that the tool's financial analysis tools aren't as extensive as those of other Teamwork rivals on the market, users will find that its capabilities go well beyond simple project management.
For freelancers and extremely small teams, Bonsai is designed. It won't work for medium- to large-sized teams, as they have different demands.
4. Asana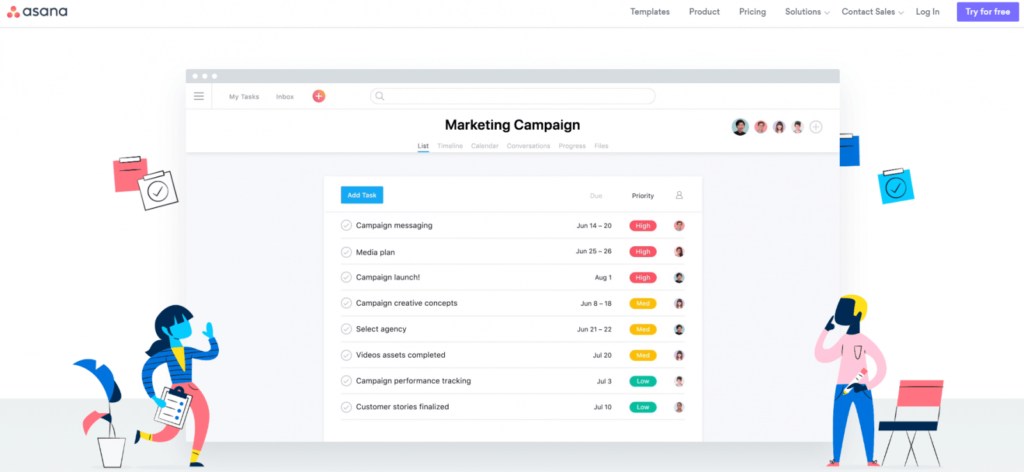 If you're searching for a platform with a clear UI that's simple to use, Asana is a great option to Teamwork. The program uses Kanban boards to assist users keep track of a task's progress in addition to the conventional to-do list method of project management.
Nevertheless, Asana's restricted functionality contributes to its usability. This might not be the greatest option for you if you're seeking for features that allow for extensive customization and cooperation.
5. Nifty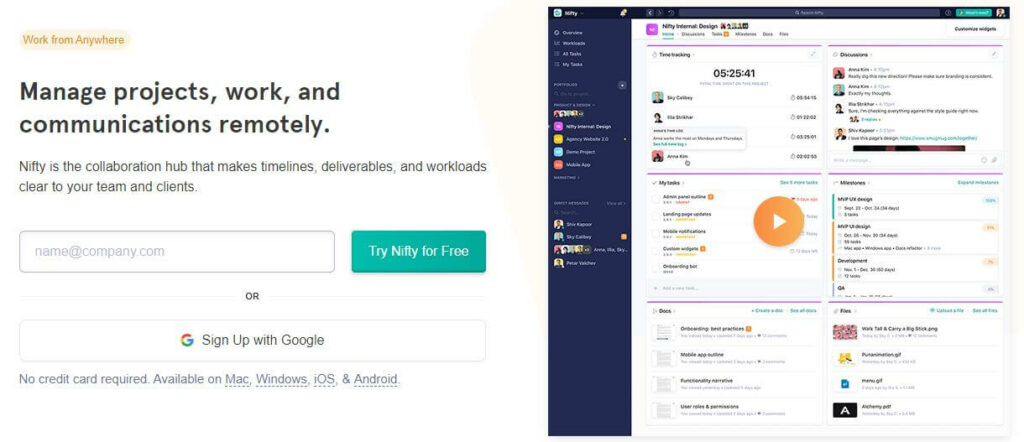 By providing a wealth of in-app functionality, such as workflow automation and document management, Nifty seeks to do away with the need for external apps. Additionally, the platform has tools for reporting and time monitoring.
According to internet evaluations, Nifty's biggest drawbacks are its challenging customer service and challenging user experience.
Because of its adaptability, Nifty may be utilized by project managers as well as engineers, salespeople, and IT specialists.
6. Taskworld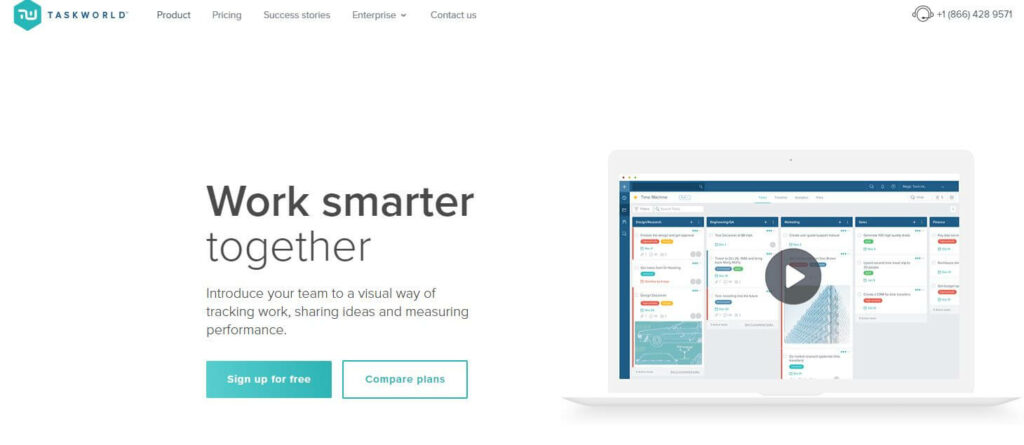 Use Taskworld to track work, exchange ideas, evaluate performance, and work more efficiently. The collaborative approach is effective for both big and small teams.
Project management, time tracking, team messaging, file management, and performance reporting are all taken care of.
7. Celoxis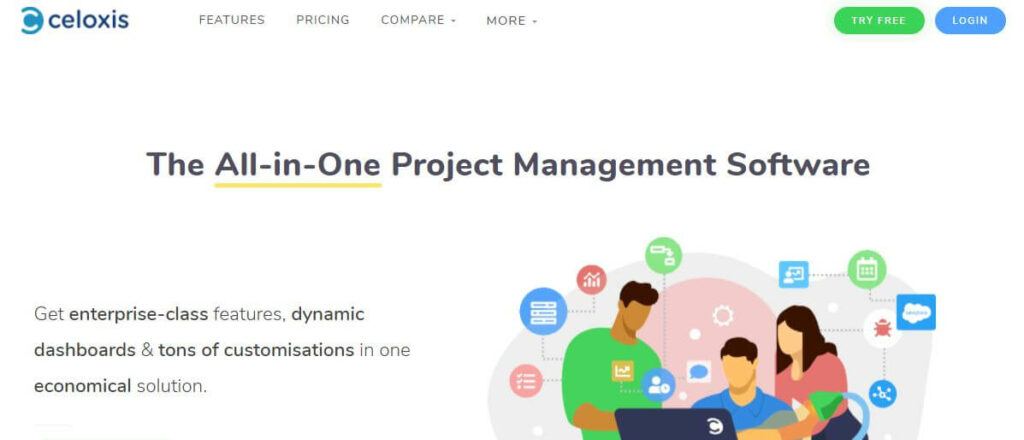 A cost-effective solution for project management is provided by the all-in-one program Celoxis.
Numerous features are available, including strong reports, dashboards, adaptable charts, Gantt charts, and project templates. Additionally, a number of adaptations provide for work freedom.
8. Basecamp

Basecamp is a fantastic Teamwork substitute if you need to-do lists, message boards, a client portal, and document storage in addition to live chats, file sharing, and idea management.
Basecamp has strong collaboration tools, which makes it a viable software choice for remote teams.
Having said that, be ready to handle Basecamp's perplexing user interface, which is one of the most common criticisms of the program made by internet reviews.
9. Proofhub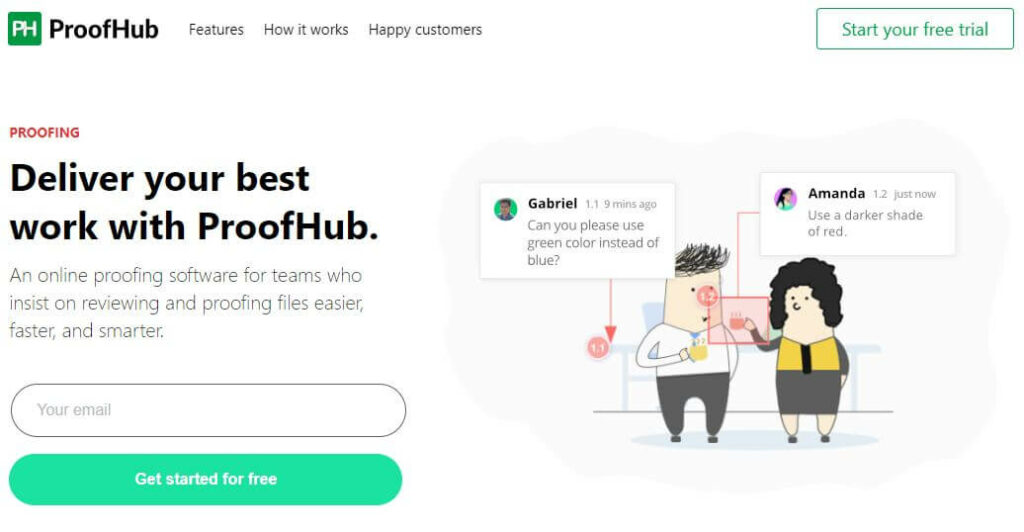 ProofHub is another excellent option to Teamwork because of its user-friendly project management tools and appealing UI. The platform is intended to support team collaboration, planning, and consistent project delivery.
Nevertheless, certain teams may encounter difficulties due to ProofHub's challenging learning curve and a lack of financial and resource management options.
10. Workzone

Workzone is the "just right" answer for most teams since it is neither too complex nor too simple. It falls somewhere in the middle. Get crucial project information in a matter of seconds and see right away whether or not projects are on schedule or not. Workzone is a clever, strong, and simple-to-use alternative to Teamwork that can be the best fit for your team.
Tips for effective project management
The best tips for effective project management will vary depending on your specific situation and industry. However, some general tips that may be helpful include:
1.Stay organized – Keep a clear and concise project timeline, track milestones and progress regularly, and keep all stakeholders informed of changes. This will help ensure that projects are on track and that deadlines are met.
2.Use standardised procedures – Create agreements and templates for common tasks and processes, so that projects can run more smoothly from start to finish. This will help to reduce errors and delays, and keep everyone on the same page.
3.Ensure communication is open and timely – It's crucial that all stakeholders are kept up to date with project progress and changes, in order to avoid any misunderstandings or conflicts. Make use of effective communication tools such as email, chat rooms, etc., to ensure that everyone is on the same page.
4.Train team members appropriately – Make sure team members are aware of project goals and objectives, know how to use standardised tools and procedures, and understand what constitutes good workmanship. This will help to minimize disruptions during projects, and ensure that all tasks are completed satisfactorily.
Conclusion
Even while Teamwork's adaptability greatly contributes to the platform's utility in planning and carrying out projects, it simply lacks the capabilities you might be searching for in a project management solution.
Selecting the best project management tool can be challenging and irritating at times. We believe the aforementioned Teamwork substitutes will provide you greater job control and make project management simpler for you.