As the world is adopting remote work culture, leaders are becoming more familiar with the complexities of team collaboration.
This also has raised concerns about the efficiency and effectiveness of work management among teams from different cities, countries, or planet regions.
The contribution of the I.T. community in the form of comprehensive management software has been extremely beneficial in resolving the pressing challenge of managers and business leaders.
The proper management tools can help boost your organization's output by magnitudes, but choosing a mediocre option can significantly impact productivity, ROI, and reputation.
Teamingway is one such popular tool.
Benefits of Using Teamingway
This goal management tool is designed to meet the entire team's needs, and we hope you will like it as much as we do.
Let's go through the unique features of the tool
1. Contributes to Team Innovation and Digitization
Your organization requires the team to communicate better, manage goals effectively, and increase project efficiency.
Teamingway is especially useful in managing sales teams, where coordination and communication are critical in a remote setting.
2. Boost efficiency
Teamingway helps team members with task management, assignment, and follow-up. The Teamingway platform simplifies not only work assignments but also real-time task tracking.
3. Make Team Interaction Easy
It includes video and phone call features, so TeamingWay makes project management easier.
4. The Cloud Integration
Teamingway offers cloud storage depending on the client's needs, assisting them in improving documentation processes and eliminating attachments in internal team communications.
5. Analytical Dashboard
Teamingway provides a real-time dashboard to ultimately save countless man-hours. According to the study, TeamingWay saves each employee around 3-4 hours per week.
Why Look for Teamingway Alternative?
As new updates are continually being released, the beta phase glitches
It includes a few features for online meetings, such as recording and whiteboarding
Lacks Basic templates
Windows app required MAC app required On-premises version unavailable
Teamingway is often used for brainstorming, calendar management, and contact management. It has not, however, been recognized as a full-fledged comprehensive project management tool. It is also up against a wave of intriguing low-cost alternatives. Whether your priority is the ease of use, pricing, user rating, or value for money, many Teamingway alternatives might be a great fit for your requirements.
Before you make your final decision, consider the following Teamingway alternatives.
Top 16 Teamingway Alternatives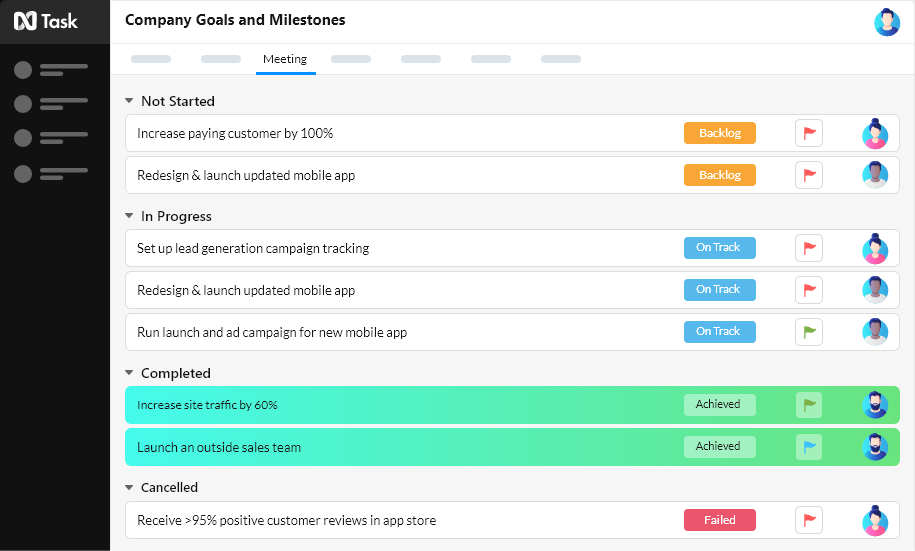 Best for – Small businesses and for individual use
nTask is widely used for effective work management. The platform enables you to accomplish more while meeting all industry quality standards.
nTask is highly adaptable and one of the most cost-effective options in the market. nTask has an easy-to-use interface that provides all the features you might want to manage your projects. nTask allows you to manage various projects, assign tasks, and track progress from a single platform.
The platform is intended for use by teams of all sizes and industries. Over 200,000+ businesses worldwide rely on nTask to manage campaigns, sprints, product development, inventory, clients, company objectives and targets, and much more.
Features
Project completion is done more quickly
Use the Kanban Board to organize and collaborate
Gantt Chart Software for Online Use
Team collaboration
Timesheet and time tracking
Issue tracking
Pricing
Free
Premium-$3/user/month
Business-$8/user/month
Why Choose nTask Over Teamingway?
nTask is an efficient way to manage projects, hence the best Teamingway alternative.
The platforms allow you to easily merge project planning, tracking, team communication, and report generation on a single platform.
Additionally, quickly and simply create meeting agendas, take notes on discussion topics, and mark follow-up tasks and conversations.
During the project development cycle, keep track of, assign, prioritize, and remedy any emerging faults or challenges.
2. monday.com

Best for- Companies of all sizes and industries to improve their collaboration
monday.com is a cloud-based project management platform that offers unique no-code solutions for various use-cases, including marketing, sales, operations, I.T., H.R., and others.
monday.com enables businesses of all sizes to interact efficiently, where each team member may assign tasks, automate repetitive chores, collaborate in real-time, and exchange information.
Features
Brainstorming
Calendar Management
Messaging / Chat
Management Contact
Content Management
Document Management
Project Organization
Editing in Real Time
Price
Starting from- $39/5 users/month
Why Choose monday.com Over Teamingway?
This software allows you to handle simple and complicated projects while ensuring smooth communication among team members.
Customizable dashboards provide quick high-level overviews of each project, visual boards assist in task organization, and integrations with third-party applications such as Outlook, Zoom, Gmail, Google Drive, Dropbox, and Excel allow you to continue working with all of your existing tools within the platform.
monday.com also provides customized solutions for certain industries and divisions.
Related:
Trello vs Monday.com: Which One to Choose?
3. Basecamp

Best for Entrepreneurs and startups
Basecamp is a popular project management tool and one of the best Teamingway alternatives. It is packed with advanced features that will give you an advantage over other project management solutions on the market.
That's why it's utilized by many major corporations, small firms, and freelancers to manage projects and people as an alternative to Teamwork.
Features
Idea Management
Planning Tasks
Tagging tasks
Time Tracking for Projects
Pricing
Why Choose Basecamp Over Teamingway?
Streamline all of your tasks and ensure that all project deadlines are reached without difficulty
Manage multiple project documents; this tool provides a centralized database for easily storing all information.
Maintain transparency and communication with your teams to eliminate confusion and guarantee a seamless project execution
4. Asana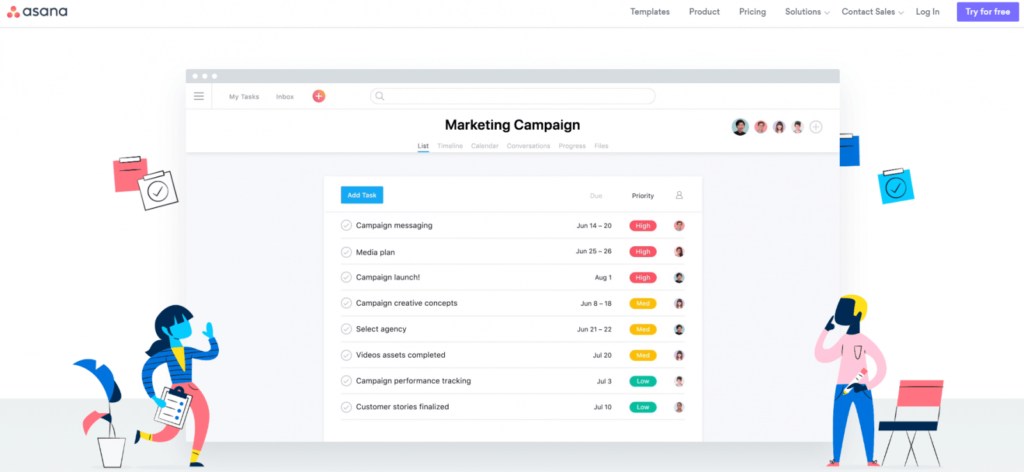 Best for Teams of all sizes for varied industries
Asana is another best Teamingway alternative. This software includes a mobile app allowing users to access their accounts from virtually any planet. Despite the structure's complexity and rigidity, the user interface is simple to operate and aesthetically pleasing.
Features
Retention and archiving
Forms Management
Scrum is supported
Dashboard with a Single View
Pricing
Starting with $10.99/user/month.
Why Choose Asana Over Teamingway?
The user interface is simple to grasp. As a result, even if you are using the program for the first time, navigating the dashboard is simple
Assign many tasks to one person or multiple employees to guarantee that deadlines are fulfilled with ease
Check this out:
Asana Vs Monday Vs nTask: Which Project Management Tool Is the Best?
5. ClickUp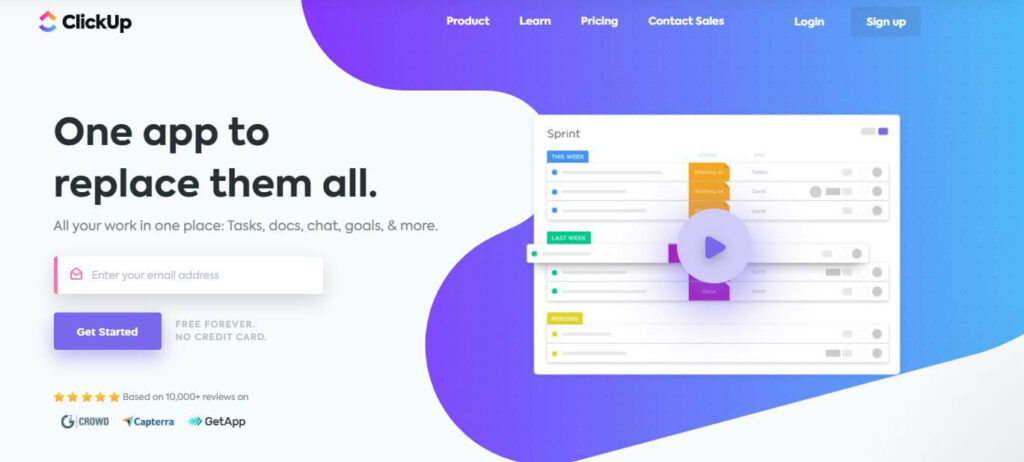 Best for Tech Sector.
ClickUp is a robust and dynamic project management tool for people and teams of all sizes and industries.
It is totally customizable ides a feature-rich interface for managing your workflow, tracking project updates, and interacting in real-time, regardless of project type.
You may use stages to keep everyone on the same page. It also helps you arrange communication and collaboration in a single spot accessible to everyone.
Among the features are task checklists, repeated tasks, visual mockups, progress percentages, and custom alarms.
Features
Client Access Portal
Multi-Campaign
Supplier management
Pricing
Why Choose ClickUp Over Teamingway?
You have control over what, when, and where you get notifications
For automatic scheduling, time estimates should be added
Time management, resource management, and dependency visualization Automatic time monitoring with a multitude of integrations
Check out this ClickUp comparison:
What Is the Best Project Management Software? ClickUp vs Trello vs nTask
6. Wrike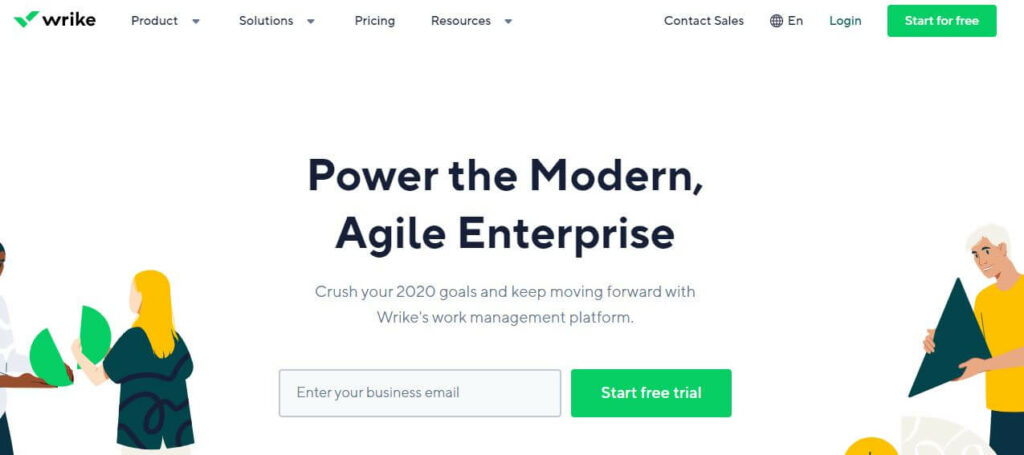 Best for mid-sized-large businesses
Wrike is the best Teamingway alternative for teams who want to modify workflows and update and revise projects straight from the platform.
Calendars can be color-coded project data can be changed on the go with the tool's mobile app.
You can leave comments on sections, videos, and documents and add custom fields to export data particular to your company.
Features
File Management
Simple Time Tracking
Customizable workflows
Timelines in Pictures
Task Management That Works
Using Real-Time Data for Reporting
Pricing
Professional: $9.80/month
Business: $24.80/month
Custom: $24.80/ month (Enterprise)
Why Choose Wrike Over Teamingway?
Configure dashboards to show only the information you want to view
Interactive Gantt charts for better resource use
Tag photographs and videos to provide a specific critique
Real-time analytics and reporting
Related:
Wrike Project Management Tool Review
7. Bitrix24

Best for Small businesses and remote teams
Bitrix24 is a client management platform that enables businesses to organize and track interactions with current and prospective clients and partners.
The application allows users to monitor and manage client interactions, collect and store lead data, generate sales reports, and segment target audiences.
Features
Creating Proposals
Scheduling Tasks
Extraction of Data
Ticket management
Pricing
Starting price- $61/ month
Why Choose Bitrix24 Over Teamingway?
The self-hosted version of Bitrix24 can be run on your server. Complete data control, source code access, and additional tools such as helpdesk and e-learning are provided, as well as integration and customization options.
8. Slack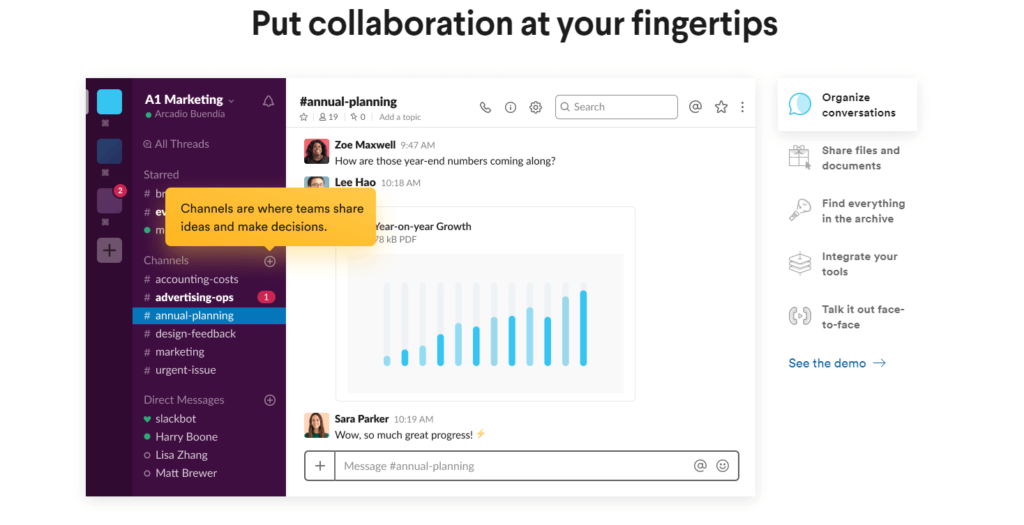 Best for a Diverse range of customers, ranging from two-person startups to Fortune 10 businesses.
Slack is an excellent team chat software if collaboration is your primary concern. Slack is a team collaboration tool that lets employees communicate and share information even in different places. Communication takes place in a single location on Slack, and care is divided by creating channels for different issues.
Features
Manage all of your projects in channels to quickly keep things on track
Direct messaging
Workflow builder
Screen sharing and sending requests
Status updates and notifications
Pricing
Why Choose Slack Over Teamingway?
Share sensitive data with teammates through private channels
Send direct communications to team members as soon as possible
Drag and drop files into chats to share them
Images, PDFs, spreadsheets, and comments are all acceptable
Slack can be integrated with as many third-party apps as you want
You may also like:
Slack vs Trello: Settling the debate
9. Jira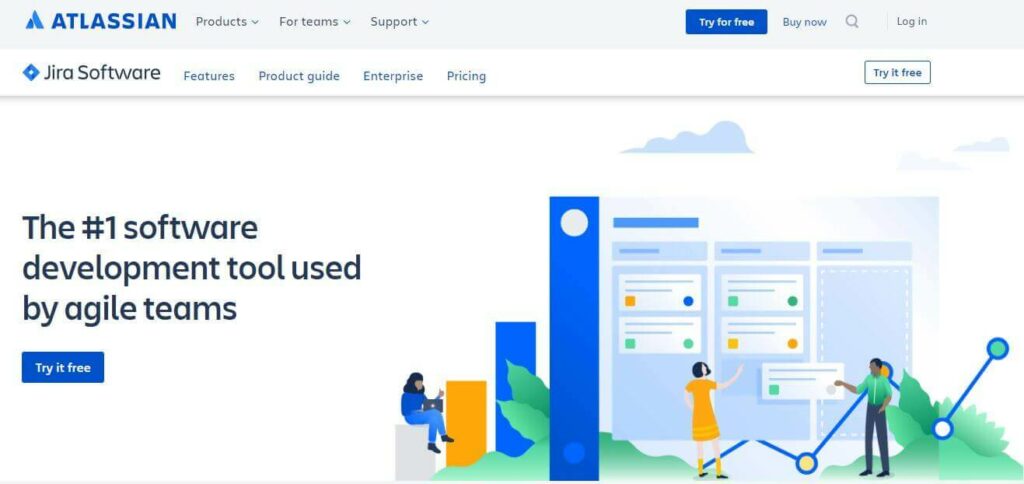 Best for Software development teams of all sizes
Jira Software from Atlassian is the top software development tool for teams planning and creating exceptional products.
Jira, which is used by thousands of teams, offers a number of tools for planning, organizing, and delivering world-class software.
One of the best Teaminway alternatives is integrated with well-known development tools to give end-to-end traceability.
Features
Tagging tasks
Workflow Based on Rules
Budgeting/Forecasting
Pricing
Jira Software has a dynamic price model.
Small teams: $0 per month per user for up to ten users
Growing teams: $7 per month per user for 11 to 10,000 users
Why Choose Jira Over Teamingway?
Covid-19 has clearly changed how organizations operate today, so Jira's organizational skills will come in handy if you have a remote workforce.
It will let you keep a central repository of all work done by your team members who are scattered around the country.
All the while, you enjoy Jira's numerous monitoring features for keeping track of your everyday work.
Also, see:
Rally Vs Jira Review – Which One's the Best Platform for Agile Teams?
10. Smartsheet

Best for I.T., New Product Development, Consulting, and Engineering
Smartsheet is a complete project management platform that includes projects, grids, calendars, dashboards, and forms. It is used by many businesses to coordinate operations, communicate, automate procedures, and implement new practices.
To expand its usefulness, it can be linked to a variety of third-party apps.
Features
You can easily import existing projects or get started quickly with pre-built templates
Gantt charts, resource management, and automated processes are critical tools for project managers of all sizes
Real-time access to tasks, calendars, files, and discussions from any device, anywhere in the world
Pricing
Smartsheet costs $14 per user each month, payable yearly.
Why Choose Smartsheet Over Teamingway?
Increase your team's output by automating crucial tasks
Manage the organization's finances and plans
Campaigns must be properly designed, programs must be reported on, and teams must be coordinated
Maintain project momentum by making collaborative effort visible
Related:
Smartsheet vs. Airtable: Which of Them is More Effective?
11. MeisterTask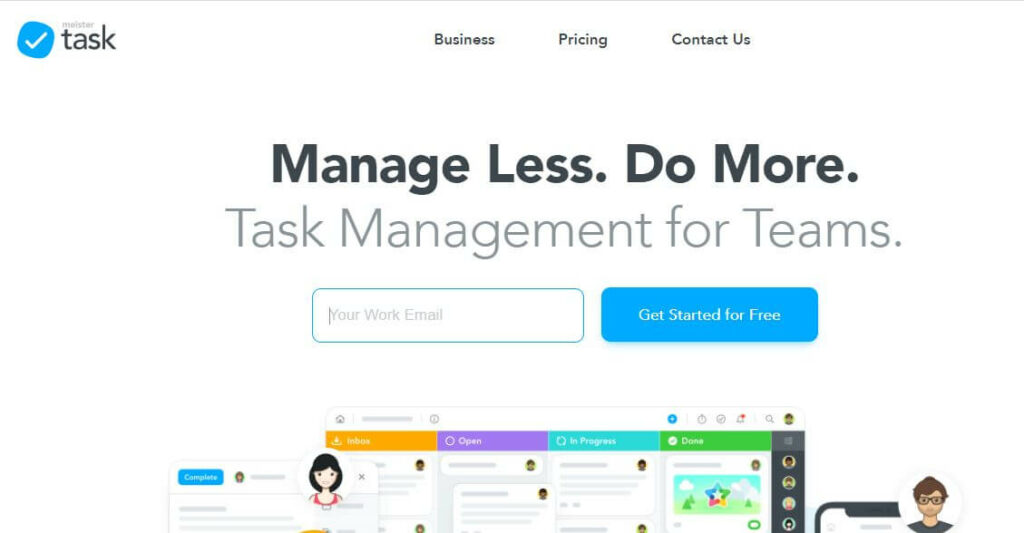 Best for Agile Teams.
MeisterTask is an innovative, agile, and graphically appealing project and task management system. Dashboards are completely customizable, so you may use them in any way you see appropriate.
It gives a quick overview of open tasks, allowing you to prioritize what you want to work on that day and in the days ahead.
Furthermore, everything you do is saved in the task's activity stream and may be easily tracked as necessary.
Features
Agile Methodologies
Converting Emails to Tasks
Ideas management
Pricing
Starting from- $0. For more information, contact support.
Why Choose MesiterTask Over Teamingway?
Section Actions help in process automation and efficiency growth
Adaptable project boards for your workflow
Third-party apps are supported
12. Redbooth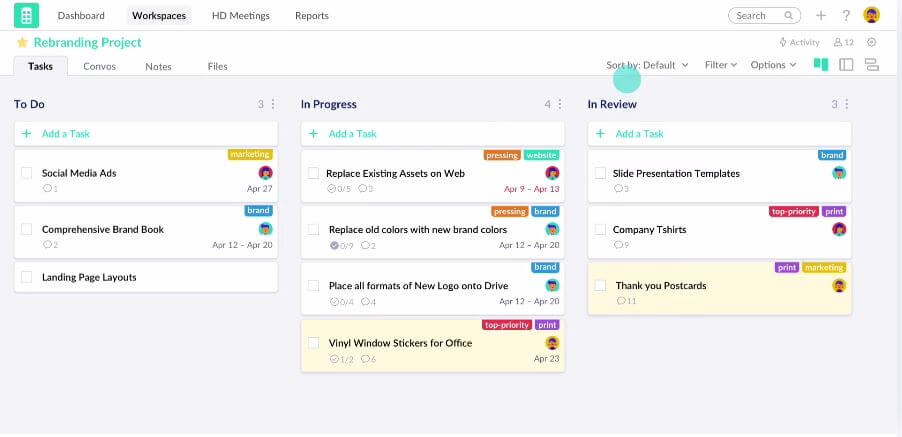 Best for Advertising and design, I.T., and remote teams
Redbooth is a simple online project management tool for high-performing teams. It enables you to collaborate on tasks and threaded discussions.
You can also start an H.D. video meeting with faraway team members to keep them informed of new developments. It is quite effective at keeping projects and teams on schedule.
Features
File sharing
Meeting
Group chat
Discussion forums
Notifications
Pricing
The business plan at $15/month/user
Why Choose Redbooth Over Teamingway?
Everything from tiny tasks to huge initiatives can be organized
Kanban boards that can be customized aid in better planning
Sort, categorize, and arrange tasks to ensure effective communication
Today's curriculum is a comprehensive and versatile collaborative tool. The key advantage of Redbooth is that professors can utilize it to pick their smartest students for certain tasks.
It is feasible since the software has a predictive analysis function based on various people's work performance. As an administrator, you can utilize it to find the best teacher for a given function.
13. Trello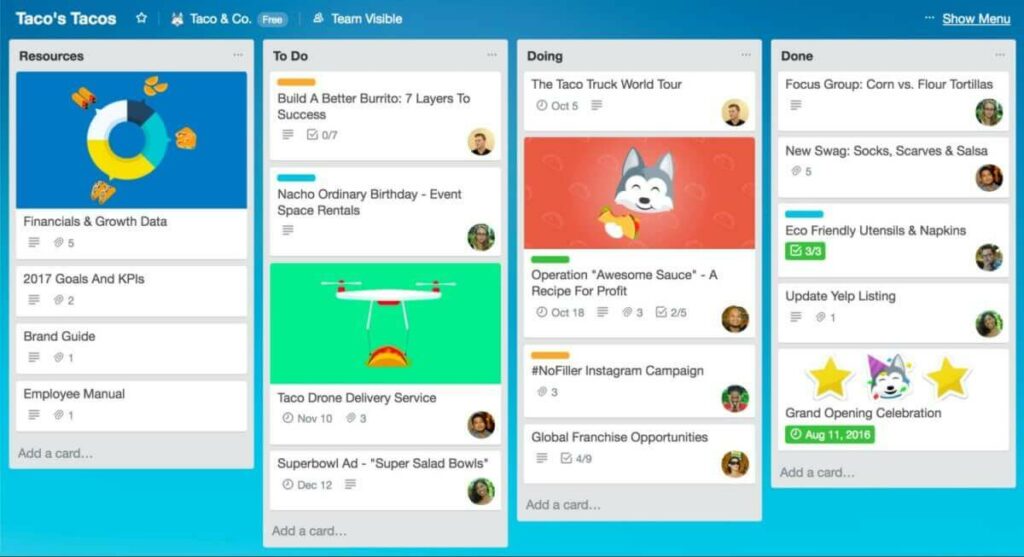 Best for All sizes of business.
Trello has risen to the top of the list of the best collaboration apps and Teamingway alternatives by replacing it with a card and board viewing interface that displays a captivating display similar to the card game Solitaire.
You can rapidly acquire an overview of any project and assess specific task completion requirements because of its amazing drag-and-drop Kanban board feature.
Features
Activity Monitoring
Agile methodologies
Alerts/Notifications
Tasks Management
Trello Boards
Brainstorming
Dynamic Task assignment
Pricing
Why Choose Trello Over Teamingway?
It allows you to easily organize and arrange all of your assignments on a board that displays the percentage of work completed.
For example, if the project has just begun, is now in progress, or has already been completed. Depending on your requirements, you may choose which of these activities to participate in.
Trello is an excellent choice because of its ease of use. However, it lacks some of the more complicated settings.
14. GotoMeeting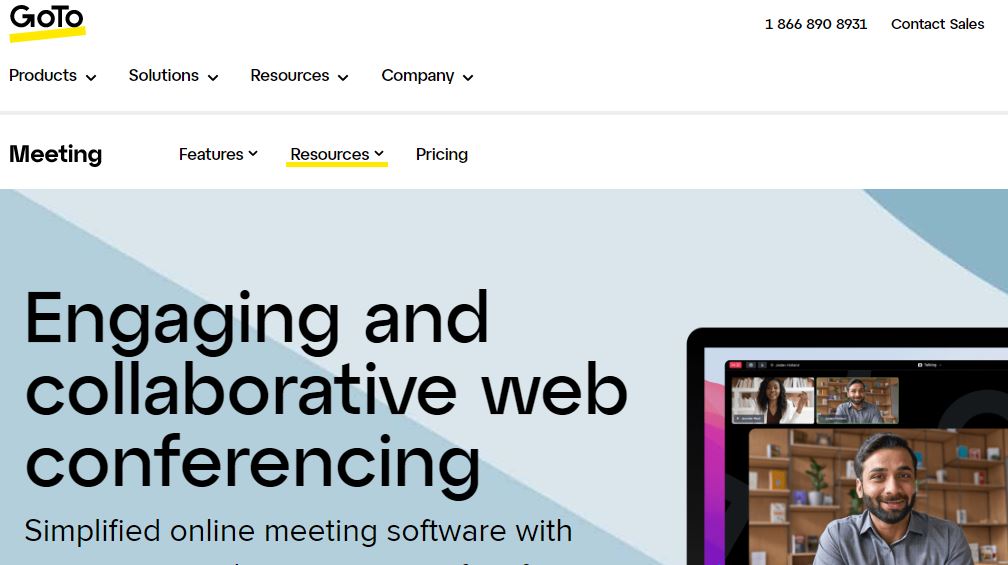 Best for-Companies of all sizes that require web conferencing and online meetings
GoToMeeting is a great option for remote teams. The program allows for screen sharing and limitless recording and is very easy to use.
GoToMeeting is an excellent choice for remote teams. While several services are suitable for remote collaboration, GoToMeeting stands out. You can hold calls with up to 3,000 participants with a few clicks, and the user interface is straightforward to use. The service is also incredibly versatile, with multi-device support.
Features
GoToMeeting provides its customers with a myriad of beneficial features.
Screen sharing
Infinite cloud recording, and
Extra security features such as SSO login.
Unlimited call storage
Pricing
The cost of GoToMeeting is simple. The three major plans are Professional, Business, and Enterprise.
The Professional plan costs $14 per month per user,
The Business plan costs $19 per month per user
The Enterprise plan requires a quote.
Why Choose GotoMeeting Over Teamingway?
Users can use GoToMeeting, an internet video conferencing platform, to schedule meetings and share displays. It is one of the most popular video utilities, with millions of users. GoToMeeting is more than just a website; it also offers a mobile app.
For educational purposes, this project management tool lets teachers attend lectures, have on-the-go conversations with their teachers, and prepare for work as required.
Furthermore, even if schools are closed for a lengthy period, teachers can still inform students about an important and required event. So, use GoToMeeting to communicate, debate, meet, or arrange any group work, and you will never be dissatisfied.
15. Planview Adaptive Work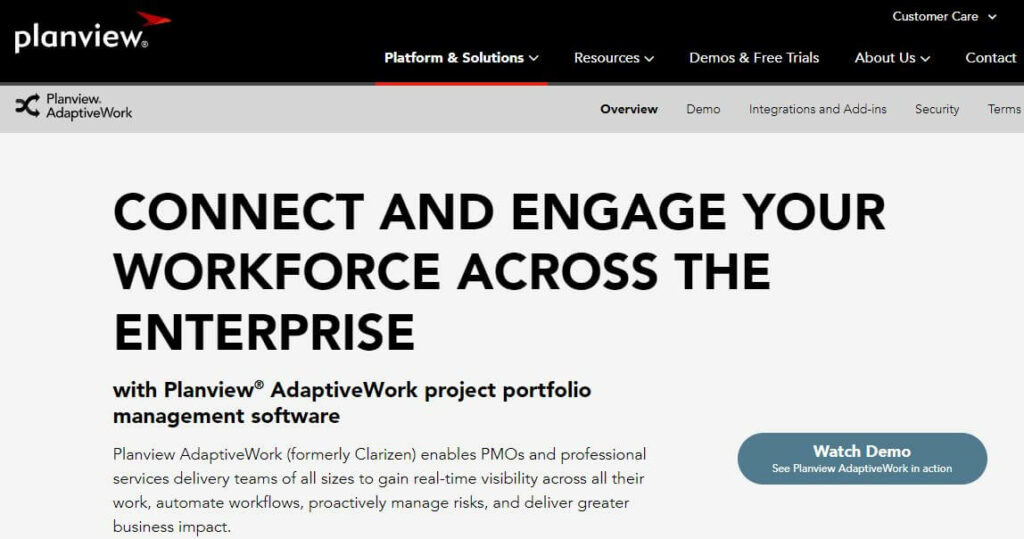 Best for- All teams
Planview Adaptive Work (formerly Clarizen) is a collaborative work environment solution that helps you streamline your job and achieve your objectives. It offers customizable corporate solutions to support your complete work lifecycle, from strategy to planning to execution. It provides much more than teamwork and its variants.
Features
Document editing
Email Sharing
Instant messaging
Discussion forums
Module view
Pricing
Pricing is available on their website.
Why Choose Planview Adaptive Work Over Teamingway?
Collaboration has a specific aim in mind, resulting in faster reaction time.
Effective reporting, visibility, and a user-friendly interface
Data in real-time, automated workflows, and an exceptional user experience
Distribute resources, make plans, and organize communication
You may obtain a 360-degree view of all resources, schedules, and activities with rich context and real-time insights
16. ProofHub

Best for Freelancers and SMEs.
ProofHub is the best Teamwork alternative because it is adaptable, has solid project management features, has a simple user interface, and provides excellent customer service.
It is intended to assist you in planning, collaborating, organizing, and completing projects on time and under budget.
Everything you need to make your job simpler is right here.
The best thing is that it removes the language barrier by being available in more than a half-dozen languages, and it also allows you to customize your account by altering its appearance with white labeling.
Features
Tasks management
Discussion
Notes
Online Proofing
Timers and notifications
Custom reports
Gantt charts
Pricing
Starting at $45 per month
Why Choose ProofHub Over Teamingway?
Create task lists, add tasks and recurring tasks, establish start and end dates, and estimate time.
Gantt charts provide a visible project timeline, allowing you to schedule and plan projects more efficiently.
It effortlessly integrates with GoogleDrive, OneDrive, DropBox, and other services.
Thanks to the mobile app, you can stay connected to work even while on the road.
Final Verdict
Teamingway is a workflow platform for project and task management. However, you should evaluate your criteria before deciding on an online collaboration platform.
For example, suppose you want to collaborate with a small number of people on a casual basis. In that case, the Teamingway alternative shown in the post may be the most cost-effective while still providing all necessary skills.
However, suppose you want to regularly use online collaboration tools for professional or commercial purposes, particularly with a large group of people. In that case, you should choose the more complete capabilities available.
It might be time-consuming and frustrating to select the ideal team collaboration tool. We hope that the Teamingway alternatives outlined above will help you gain more control over your tasks and make project management easier.
More Reading: