As the world becomes increasingly complex and competitive, it is essential that any business utilizes a team-oriented approach to project management.
Team oriented projects can be a huge undertaking, and managing them can be a challenge. That's why it's important to have the right tools at your disposal.
In this article, we'll take a look at the five best team oriented project management apps available in 2023. These apps will make it easy for you to keep track of your projects, and ensure that they are completed on time and to specifications.
So whether you're a small business or a large organization, make sure to check these apps out…
What are team-oriented project management apps?
A team oriented project management app can help to improve the flow and coordination of tasks among team members. It can also monitor progress, assign deadlines and responsibilities, and keep track of changes.
Additionally, it may be able to facilitate communication between project stakeholders by providing a shared platform for collaborative working.
There are several different types of teams that need different kinds of support when it comes to managing their projects.
A groupware application might be best suited for team meetings while an agile software application would work better for collaboration via Agile software development methodologies like Scrum or XP.
Ultimately, finding an app that meets your needs specifically is important in achieving success with a team oriented project management strategy.
How do they help with project management?
With team oriented apps like nTask, Asana, Trello, and Basecamp, you can more efficiently manage projects by creating task lists and assigning tasks to members of your team.
This way, everyone is kept up-to-date on what needs to be done and when it needs to be done. Moreover, these apps allow for communication between team members so that disagreements or conflicts can be resolved easily.
In addition to project management, these apps are also great for tracking progress towards deadlines and managing resources effectively.
By having a centralized location where all the relevant data is readily accessible, teams can make better decisions faster while minimizing wastefulness and inefficiency.
Features to look for in team oriented project management apps
There are a number of features that you should look for in a good team-oriented project management app. These features include:
1. Unified tracking and reporting – A good project management app should allow you to track all aspects of your project in one place so that you can make informed decisions and adjustments as needed.
2. Collaborative workflows – Most good project management apps allow you to create collaborative workflows, which allow multiple users to work on the same project at the same time. This helps to avoid conflicts and maximize efficiency.
3. Synchronization between devices – Most good project management apps allow you to synchronize your data between multiple devices so that you can access your information no matter where you are.
4. Automated tasks and alerts – A good project management app should also include automated tasks and alerts, which help to keep your project on track and keep you informed of any changes or updates that may need to be made.
If you're looking for a comprehensive and user-friendly platform that will help you manage your projects effectively, then we highly recommend checking out some of the more popular team oriented project management apps.
How to use team oriented project management apps to improve your productivity
Team oriented project management (TOM) apps are a great way to improve your productivity and help manage your projects more effectively. These apps allow you to manage your projects from start to finish, including tracking deadlines, assigning tasks, and communicating with team members.
Here are some tips on how to use team oriented project management apps to improve your productivity:
Use the app to keep track of project deadlines – One of the most important aspects of TOM is keeping track of deadlines. By using the app, you can easily see when a task needs to be completed and avoid any last-minute headaches.
Assign tasks to team members accurately – One of the biggest challenges with managing a project is accurately assigning tasks to team members. By using an app like TOM, you can assign tasks in a more efficient and organized manner, which will lead to less confusion and wasted time.
Communicate with team members regularly – It's essential that you communicate with team members regularly throughout the project process. This allows for accurate feedback and ensures that everyone is on the same page.
Track progress regularly – Keeping track of progress is key in ensuring that all tasks are completed on time and without any problems. By using team oriented project management apps, you can quickly see how well each job is progressing and adjust as needed.
5 Best Team Oriented Project Management App of 2023
In this article, we'll introduce you to five of the best team oriented project management apps of 2023. From project tracking to chat features, these apps are perfect for anyone who wants to stay organized and on track.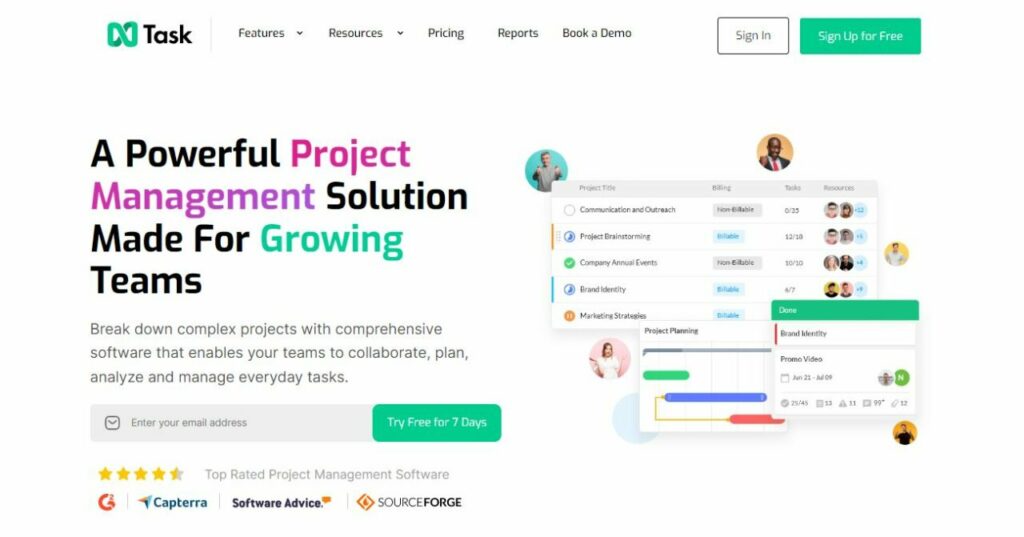 nTask is a team-oriented project management app that helps businesses manage their workflows and tasks.
It's perfect for small businesses who need an easy way to keep track of their day-to-day operations, and it can also be used by larger businesses as a project management tool.
nTask allows you to create customized workflows, track deadlines and budget overruns, set up alerts for when tasks are completed or failed, and more.
Plus, the user interface is intuitive and simple, making it ideal for novice users to experienced professionals.
Key Features:
Some of the main features of the nTask app include:
A beautiful interface that is easy to use and navigate.
An intuitive task management system that makes it easy to set deadlines, add comments, and track progress.
The ability to share tasks with friends or family members in order for everyone involved to be aware of their commitments.
2. Chanty

Chanty is a team-oriented app that helps businesses manage their communication and collaboration. It offers message boards, task management, chat rooms, and more.
Chanty also allows users to share files securely and collaborate on projects together.
This powerful tool can be helpful for businesses of all sizes. Its simple interface makes it easy to use, regardless of experience level or technical expertise. Plus, its variety of features makes it an ideal choice for complex tasks or collaborations involving multiple people.
If you're looking for a feature-rich yet easy-to-use communication platform that will help your business run smoothly, then Chanty should definitely be at the top of your list.
Key Features:
Chanty has several key features that make it an interesting option for content creators:
User profiles allow contributors to showcase their work and connect with others who share similar interests.
The app provides easy access to the latest submissions, so you can keep up with the latest trends and updates without having to leave your current context.
Chanty automatically parses the text of all submissions into basic formats such as paragraphs, headings, lists, and quotes – making them ready for formatting or Sharing on social media.
3. Zoho Projects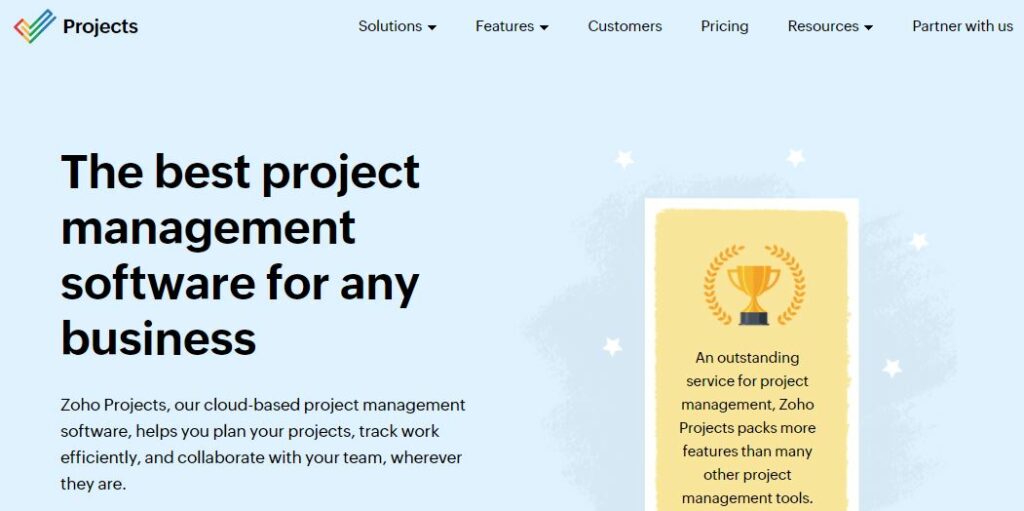 Zoho Projects is an app designed to help small businesses manage their projects and operations. It includes features such as project management, task management, time tracking, and invoicing.
Plus, its drag-and-drop interface makes creating and organizing projects simple.
If you're looking for an effective project management tool that will save you time and help you achieve your goals, Zoho Projects is a perfect choice.
Key Features:
Some of the key features of Zoho Projects include:
Drag and drop task planning tools for managing multiple tasks simultaneously
Awareness tracking feature that allows users to assess progress towards deadlines and objectives
The integrated chat system that enables team members to communicate with each other easily during project milestones
4. Basecamp

Basecamp is a well-known project management app that has been used by millions of teams around the world. It's perfect for businesses that want to manage their projects from start to finish, without having to spend hours on individual tasks.
Basecamp allows users to create and manage projects, assign tasks and deadlines, track progress and interactions with collaborators, and more.
Key Features:
Some key features of Basecamp include:
One central place for all teams to share files and discuss project updates.
Synchronized versions of project files across all team members' devices so everyone can see what has been changed and when.
The integrated chat system lets you easily communicate with co-workers while keeping conversations confidential.
Customizable notifications so you never miss an update from your team.
5. Trello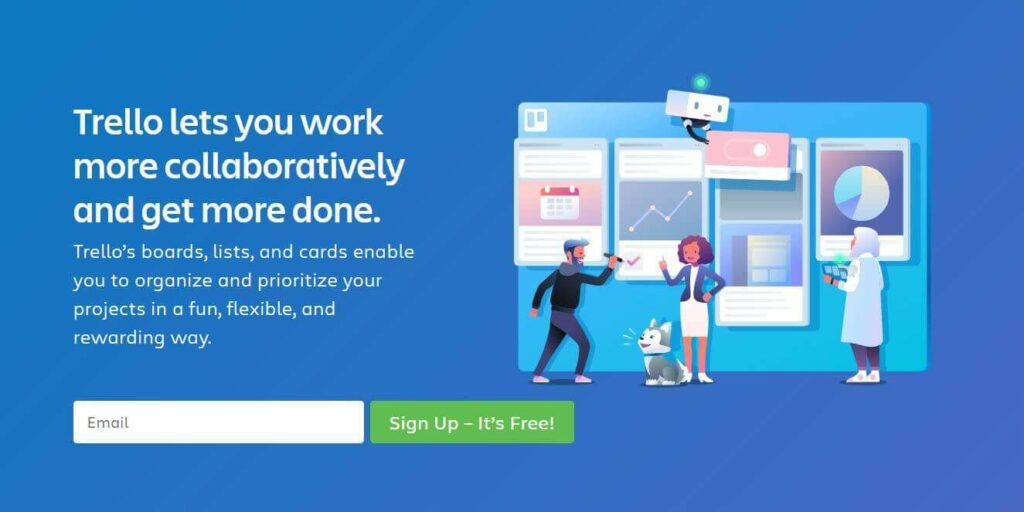 Trello is an online board and task management app that lets you manage projects and tasks with a team.
You can use it to create boards for any project, group together related tasks, add cards with detailed instructions or lists of items, assign due dates and collaborators, track progress along the way, and more.
As a member of a team, you can manage your projects and tasks together in one place. You can also collaborate with other members of the team to make sure that everything gets done on time.
Key Features:
Its key features make it an ideal tool for managing projects:
Trello organizes tasks into boards, which can contain different types of cards (text, images, checklists, etc.)
Cards can be moved between boards and are automatically merged when they're added to the same board
Boards are searchable so you can easily find what you're looking for
You can manage teams and collaborators with ease
Conclusion
Have you been looking for the right team oriented app? We suggest that you check out one of the best team-oriented project management apps.
These apps will make your work much easier than ever before and also ensure that your projects are handled in an organized manner.
All the apps that we have mentioned above also have some unique features that can help manage your projects better.