Are you looking for the best tasksboard alternatives for your team in 2023? If so, you've come to the right place! In this blog, we'll explore the top 9 task board alternatives that are perfect for streamlining your team's workflow and helping you stay organized.
Whether you're looking for something simple or more feature-rich, there's an option here that will work for any team. So let's get started!
What Are TaskBoards?
TaskBoards are a type of project management tool used to visualize progress, manage tasks, and achieve goals. This tool is designed to help individuals and teams stay organized while completing their work.
TaskBoard displays all the tasks associated with a particular project in the form of an interactive board.
Each task can be broken down into smaller components so that progress can be tracked easily. You can assign responsibilities to team members or assign them a priority level by dragging and dropping cards onto the board.
TaskBoards also enable you to easily add notes, comments, due dates, reminders, and more – helping you collaborate better with your team no matter where they are located.
Additionally, you could set up automated triggers for when tasks need to be addressed or follow-up with clients quickly without needing extra effort from everyone involved – making it the most efficient way for individuals and teams to stay on top of projects.
What Is The Importance Of Using Taskboards?
Taskboards are an important tool for managing any project, large or small. They provide a visual representation of tasks, resources, and progress which can help manage priorities and improve communication.
Used by teams of all sizes from startups to large corporations, taskboards have become one of the most popular tools for project management.
Taskboards make it easier for teams to collaborate by providing a centralized place where information can be stored and organized in real-time. This allows everyone to stay on the same page no matter their location or time zone.
Taskboards can also help reduce development time by breaking down complex projects into smaller tasks that can be completed in order of priority.
Perhaps most importantly, task boards provide transparency across departments and stakeholders so that everyone involved is able to easily monitor progress at a glance.
This means fewer miscommunications and gaps in communication as there is one central source of truth when tracking project goals.
Finally, having tasks listed visually on boards encourages team members to take ownership over their assigned work which leads to higher motivation levels throughout the organization as well as greater accountability when things go wrong during production cycles
What Are The Benefits Of Using A Taskboard
A taskboard is a tool for managing tasks within a team. It allows users to organize, prioritize and monitor tasks in an efficient and visual way.
The main benefits of using a taskboard include:
Improved organization: Taskboards provide a clear overview of all tasks by displaying them in an organized manner. This makes it easier to identify which tasks need to be completed first and keeps everyone on the same page with respect to the project timeline.
Enhanced communication: Using taskboards helps teams communicate better since everyone can easily see the status of all tasks. All team members are able to check progress at any time, making it easy to identify potential issues before they become problems.
Increased productivity: Taskboards help teams focus on important goals since all projects have been broken down into smaller individual steps. This enables teams to work more efficiently by allowing them to start working on their next step as soon as one has been completed.
Delegation made easy: With taskboards, assigning responsibilities is much simpler than traditional methods such as emails or memos as every member can clearly see what needs doing next and who is responsible for completing it.
How To Create Taskboards?
Taskboards are visual boards that can be used to map out tasks and project goals. They can be created using a variety of tools, including physical whiteboards, software programs, or online applications.
To create a taskboard, the first step is to decide what type of board it should be based on the scope and complexity of the project. Then, categorize tasks into lists such as "To-Do", "In Progress" , "Completed" etc., which will help you track the progress.
Next is creating columns for each list where you can add cards representing individual tasks. Finally, you need to assign people to certain tasks so they have ownership over their progress and its completion.
Also, monitor the progress by adding comments and deadlines along with tracking how well an individual employee is performing in terms of task completion rate.
Every team member should also have easy access to view changes as they occur on the taskboard so everyone knows what needs to be done next without much confusion or delays
9 Best Tasksboard Alternatives Of 2023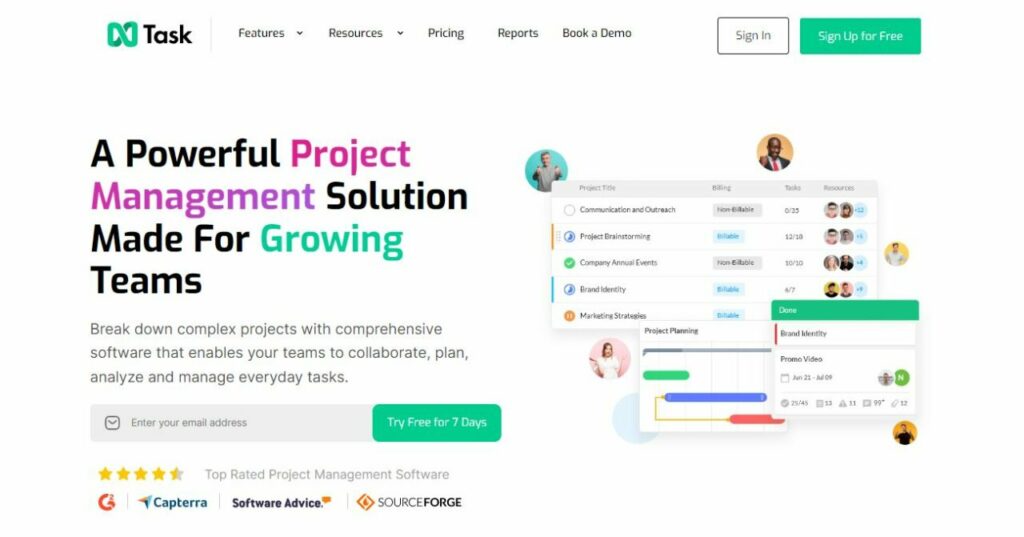 nTask is a cloud-based task management tool designed to help users easily create and track their tasks.
It offers an easy-to-use drag-and-drop interface that allows users to quickly add notes, assign tasks to multiple people, set due dates, add labels and even upload files.
nTask also serves as an alternative for Task Board which is another popular open-source kanban board system for managing projects.
Simplify task management
with nTask today!
It allows teams to visualize the progress of each project in order to identify any delays or hurdles during the development process.
nTask has powerful features like Gantt charts and timelines that make it easier for team members to see where they stand on any given project.
Its built-in collaboration features such as real-time chats allow teams to effectively coordinate their efforts while working remotely from home or in different locations.
Features
Project & task tracking: Users can easily assign tasks and track progress with visual gauges for time spent/estimate remaining time on each task as well as due dates for each project or task.
Viewable activity streams: Users have access to a live view of all recent activities related to the project such as comments, attachments, etc., giving users insight into what's taking place in real time.
Informative dashboards & reports: nTask provides powerful insights via its various dashboards (overview dashboard and individual area dashboards). Detailed reports are also available with flexible reporting options like filtering by date range and other parameters.
Customizable fields & settings: The product is highly customizable allowing you to define custom fields that fit your specific process requirements or tweak existing fields in response to changing needs during the course of your project's life cycle.
Pros
Increases productivity by streamlining the process of assigning and monitoring tasks.
Offers effective communication between team members, allowing for efficient collaboration.
Entails easy access to data and resources which ensures improved decision-making capabilities.
Allows managers to hold employees accountable by tracking their progress on individual tasks as well as group projects.
Enhances clarity regarding who is responsible for what task and when it needs to be completed.
Cons
Difficult to use: Task task management tools can be quite difficult to learn and use, requiring users to have a good understanding of how the system works.
Costly: Task task management tools are often expensive, particularly for larger organizations that require more features or customization.
Limited flexibility: Since the tool is designed with limited functions and capabilities, it may not be able to accommodate every organization's needs.
Pricing
Premium $3/user/month
Business $8/user/month
Enterprise custom/user/month
Ratings
2. Monday.com

Monday is a task management platform designed to facilitate team collaboration and project organization.
It offers features such as task creation, tracking and updating processes, assigning tasks to individuals or teams, managing deadlines and priority levels, commenting on projects and tasks with @ mentions, file sharing (including integrated integrations of Dropbox/Google Drive/Box), notifications for progress updates, visual boards that can be customized in various ways with drag & drop capabilities.
Monday has many advantages over other popular platforms like Taskboard: its UI is more intuitive which helps users quickly become familiar with the tool
Also, it provides powerful analytics capabilities that help you easily measure performance; it's free when two or fewer people are using it – great for smaller teams; its integration functionality allows you to link its activities directly with other services and apps.
Features
Create Tasks: Users can easily create tasks for the day and set goals. They will be able to break down complex tasks into smaller, more manageable steps by creating subtasks.
Assign Priority: Users will be able to assign priority to their tasks, helping them prioritize which ones they should focus on first.
Manage Time: The platform includes a timer that users can use to manage their time better, allowing them to estimate how long each task should take and learn how much they are actually spending on each task throughout the day.
Track Progress: The platform also features a progress tracking system so users can track their progress over time and identify patterns in their work performance in order to improve it over the long-term.
Add Notes & Reminders: Through notes or reminders, users will be able to keep an organized list of ideas or instructions related to each task that they may need help with later on or pass onto another team member for continued collaboration/support if needed from there onwards.
Pros
Easy-to-use user interface for simple task management and tracking.
Automated reminders for upcoming tasks and deadlines.
Customizable labels and filters to help you organize tasks according to priority, type, or any other criteria.
Ability to collaborate with colleagues by sharing tasks, assigning due dates, exchanging comments, and marking progress on shared projects.
Reports that allow you to view progress over time in order to better understand project timelines and resource utilization.
Cons
Limited customization options, which may make its usage difficult for businesses with unique workflows.
Lack of features to manage team tasks and individual task assignments.
Lack of integration with third-party applications, limiting how users can access and use data from other sources.
Weak reporting capabilities that make it difficult to track progress on tasks or see the big picture.
Pricing
Individual $0/month
Basic $8/month
Standard $10/month
Pro $16/month
Enterprise custom/pricing
Ratings
3. ClickUp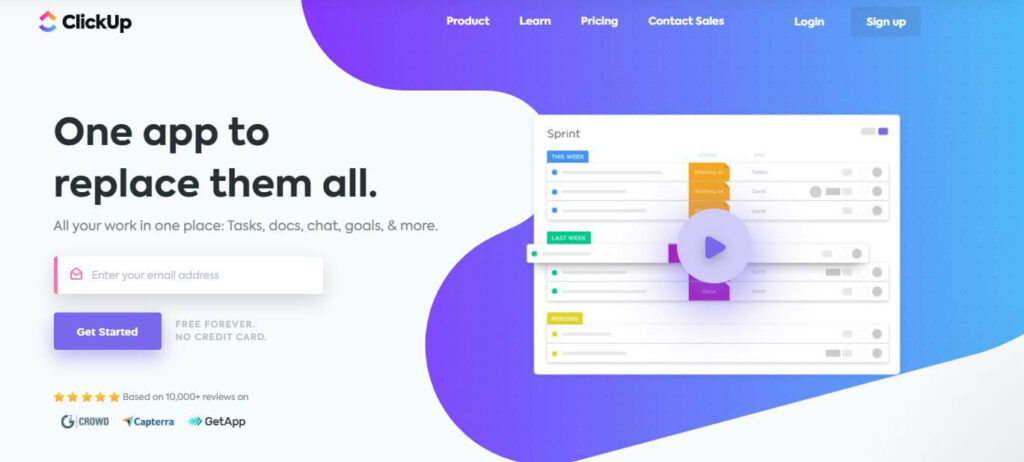 ClickUp is a comprehensive task management platform that provides an alternative to traditional task boards.
It offers many features that are lacking from other systems such as customizable tags, advanced search functions, automation tools, real-time collaboration capabilities, and more.
ClickUp also boasts its ability to be used for any size of the organization including large corporations or small workgroups.
The interface is designed to be incredibly user-friendly with drag-and-drop editing, custom fields and filters that can give a detailed overview of any project or team's progress.
Users can assign tasks easily between multiple projects and keep track of deadlines with reminders and notifications.
Additionally, integration with other platforms like Slack and GitHub through the use of Apps enables users to collaborate regardless of their location or devices being used.
With ClickUp's flexibility in terms of customization options as well as reporting metrics available it is becoming increasingly popular among remote teams who rely on effective task management processes to remain organized despite the various time zones, they may occupy worldwide.
Features
Collaboration Tools: Share files, assign tasks, and make comments with team members in an organized workspace.
Gantt Charts: View task progress and dependencies on a timeline for better project management and scheduling.
Task Management: Organize tasks into boards or lists with tags, due dates, checklists, and more to keep your project on track.
Automations: Automate manual processes like assigning tasks when someone joins a team or automatically move a task from one list to another when it's completed.
Resource Management: Assign resources to tasks so you can budget time and manage workloads more efficiently across the entire organization
Real-time Notifications: Get notified of changes as they happen so everyone stays up-to-date on the latest developments within their project or organization
Analytics & Insights: Gain actionable insights into your team's performance with advanced reporting capabilities
Pros
Intuitive and user-friendly interface that makes it easy to manage tasks
Notifications help keep track of deadlines, assignments and other important updates.
Ability to create custom project boards with labels, comments, due dates and more.
Offers a free tier which is ideal for smaller teams or individuals just starting out with task management platforms.
Multiple integrations available so users can connect Click Up with their favorite tools for even more productivity.
Great mobile apps for iOS and Android devices make it easy to stay on top of tasks no matter where you are.
Cons
Limited integrations: ClickUp is not compatible with many of the popular project management systems.
Lack of built-in reports or dashboards: ClickUp does not provide any native reporting capabilities, making it difficult to track progress or monitor performance.
Difficulty setting up complex projects: ClickUp can be challenging for users who are looking to set up more intricate projects.
Pricing
Free Forever $0/month
Unlimited $5/month
Business $12/month
Business Plus $19/month
Enterprise custom/pricing
Ratings
4. Paymo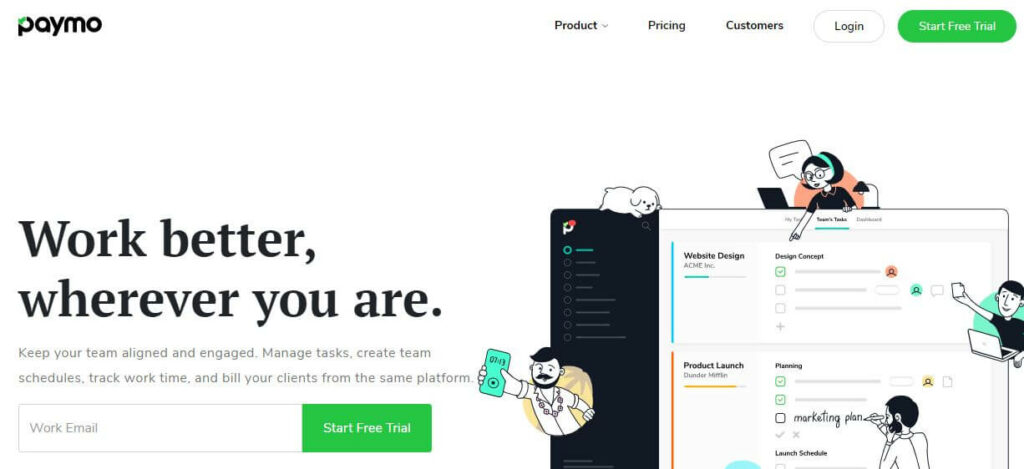 Paymo is an effective task management platform that serves as a great alternative to Taskboard. It helps teams and individuals to better manage tasks, collaborate on projects, and stay organized.
With Paymo, users can easily define project requirements, assign tasks to team members or clients, track time spent on each task or project and easily generate invoices or reports.
It also has plenty of features such as,
Interactive Gantt charts allow users to see the entire project timeline quickly
Real-time notifications when someone comments/edits a task
The shared calendar enables everyone in the team to keep up with their activities
Report summaries for tracking progress over a given period of time
Collaboration tools like chat rooms and notes sharing capabilities for easy communication
Integrations with popular tools such as Google Drive, Dropbox & Slack.
Features
Task Management: Paymo's task management feature allows users to create and assign tasks, set deadlines, set priorities, keep notes on tasks and monitor the progress of all tasks in one centralized place.
Project Management: Users can manage multiple projects at once through detailed planning, flexible scheduling and timeline optimization tools, as well as get a comprehensive overview of their project's progress.
Collaboration Tools: Paymo offers powerful collaboration features like team chatrooms with file integration capabilities; real-time notifications for task assignments or updates; private or shared commenting threads for projects, teams or tasks; and calendar sharing for all stakeholders in the organization.
Time Tracking Feature: The platform enables users to track time spent on each task with efficiency by allowing them to add time manually or automatically start/stop timers whenever they need it in order to stay organized and productive with their workflows.
Reporting & Insights: Organizations can generate custom reports based on different criteria (e.g., project performance data) and access actionable insights into team utilization rates, cost savings achieved through efficient resource allocation etc., which helps them understand how their resources are being put towards achieving the organization's goals effectively and efficiently over time.
Pros
Streamlines task management for teams and individuals with features such as file sharing, reminders, comments, calendars and more.
Automatically sync tasks with popular calendar systems like Google Calendar or Outlook.
Create project templates to quickly onboard new projects and get everyone up-to-speed faster.
Realtime updates on task execution help keep all parties informed and accountable for their work.
Cons
It has limited features compared to other task management platforms.
The user interface is outdated and clunky, making it difficult to use.
The syncing capabilities are slow and unreliable.
Limited integration options with other software or applications.
Reporting capabilities are lacking in some areas of the platform.
Pricing
Free $0/user/month
Starter $4.95/month
Small Office $9.95/user/month
Business $20.79/user/month
Ratings
5. Planview AgilePlace

Planview AgilePlace is a task management software that provides an alternative to the traditional Taskboard. It allows users to create and manage tasks in a project, prioritize their work and monitor progress along the way.
With its intuitive user interface, users can drag and drop tasks into different categories so they can easily organize projects by task type or category.
It also enables team collaboration with discussion boards, calendars and notifications to help teams stay on top of their projects.
The dashboard feature gives a real-time overview of all tasks, allowing users to easily track trends and issues as well as enable forecasting for future projects.
Planview AgilePlace makes it easy for teams to keep up with their evolving schedules without having to manually update spreadsheets or other software programs.
Furthermore, it offers customizable reports which provide detailed insights into team performance over time so you can identify potential issues sooner rather than later.
Features
Task Based: Planview AgilePlace software allows users to easily create tasks and assign them to individuals or teams, monitor progress, provide visibility into task status with tracking of estimated time versus actual time, and set due dates for tasks or milestones.
Collaboration Tool: This agile project management tool provides users with communication tools such as instant messaging for quick collaboration, discussion boards for topics that require more detailed conversations, and cloud storage of documents related to the project so everyone has access to the same version.
Reporting & Analytics: Planview AgilePlace offers insights into team performance with a variety of reports and dashboards to surface key metrics like burn rate and velocity over time, giving stakeholders context into how projects are progressing in real-time.
Integrations & Automation: This tool integrates with many third-party services allowing users to automatically update statuses on multiple platforms at once while being able to identify any gaps in workflow processes so they can be addressed before becoming a roadblock in completing the project successfully.
Security & Access Control: Planview AgilePlace ensures full data security through user authentication and access control settings which limit who can view or edit various aspects of the project at different stages during its life cycle.
Pros
Helps to stay organized and on deadline with task prioritization
Streamlines collaboration between teams, providing a platform for progress tracking and feedback sharing
Easy-to-use user interface that is intuitive and user friendly
Utilizes advanced alert systems for tasks reminders, notifications, and updates
Automates routine workflows to cut down on manual labor associated with project management activities
Cons
Difficulty in setting up tasks due to the limited customizability of the software
Limited support available for updates and troubleshooting bugs in the system
Difficulty in tracking task progress due to its lack of visibility options
Limited reporting capabilities, making it difficult to gauge success or performance metrics
It doesn't have a mobile app, so users must access it on desktop
Pricing
Teams $19/month
Scaled Teams $29/month
Ratings
6. iObeya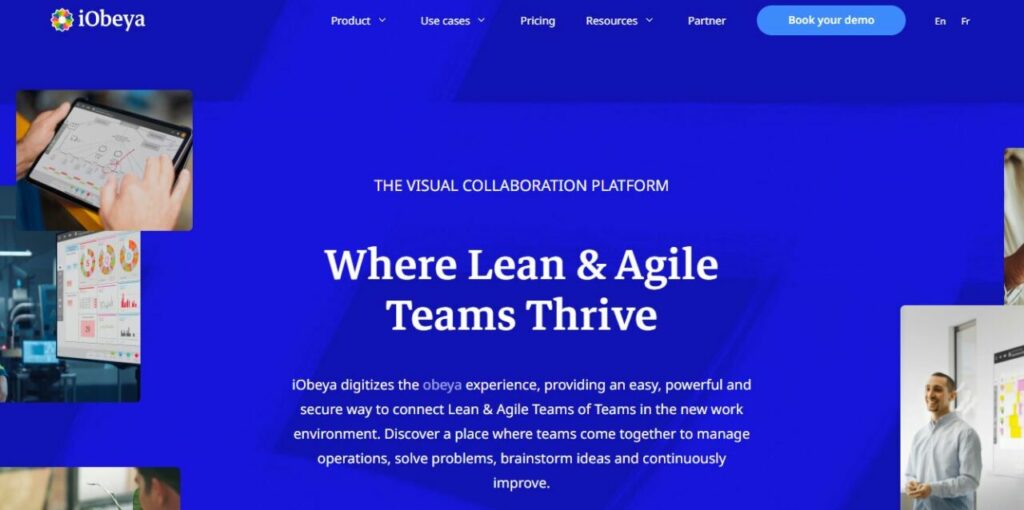 iObeya is a lean project management tool designed to help organizations and teams increase productivity, collaboration, decision making and overall efficiency.
The software utilizes an "action-based work model" which allows for users to create real-time tasks for their teams, break down complex tasks into more manageable chunks, set deadlines and objectives and integrate data visualization tools.
It also includes features like visual reporting, task tracking, time tracking and file sharing.
Using iObeya promotes transparency through all levels of the organization while ensuring that tasks are completed on time with excellent results.
Additionally, it can help streamline processes as automation plays a pivotal role in eliminating redundant activities so that your team can focus on what's important – delivering results.
iObeya is ideal for any size organization looking to improve their process management capabilities.
Features
Dashboard: Obeya lean project management provides an easy-to-read dashboard that provides real-time insight into the project's progress. This feature enables project managers to quickly see how far a project has progressed, as well as identify any potential issues or delays.
Time Tracking: Obeya Lean Project Management also provides detailed time tracking capabilities, allowing teams to easily track and monitor the amount of time spent on each task. Additionally, users can input additional information—such as expenses and other costs associated with tasks—into the system for better budgeting purposes.
Task Management: The platform offers powerful task management features that enable teams to break down large projects into manageable chunks for easier organization and tracking. This includes setting deadlines, assigning tasks to specific team members, identifying dependencies between tasks, and more.
Improved Communication: Obeya Lean Project Management improves communication by providing an intuitive collaboration space where all involved parties can interact in real-time. This feature helps ensure everyone is on the same page throughout every stage of the project cycle and ensures timely completion of tasks with no miscommunication.
Reports & Analytics: The platform also offers robust reporting tools which allow you to generate detailed reports highlighting your team's performance over a given period of time and giving you visibility into any areas that need improvement or further attention from your team.
Pros
Streamlines processes and promotes collaboration among team members
Increases transparency and visibility of project goals, tasks, resources, deadlines and status updates
Improves communication flow between teams, departments, projects and individuals
Enhances productivity by reducing email clutter
Facilitates better decision making by visualizing data in real-time
Automates routine tasks to reduce time spent on manual work
Cons
iObeya is a Lean project management tool for businesses that want to improve their workflow, become more efficient and increase their productivity.
It helps organizations optimize processes with custom kanban boards, real-time communication capabilities and task tracking functionality.
It enables teams to plan, collaborate and monitor progress in an easy-to-use interface on desktops or mobile devices.
Pricing
Ratings
7. Kanbanchi for Google Workspace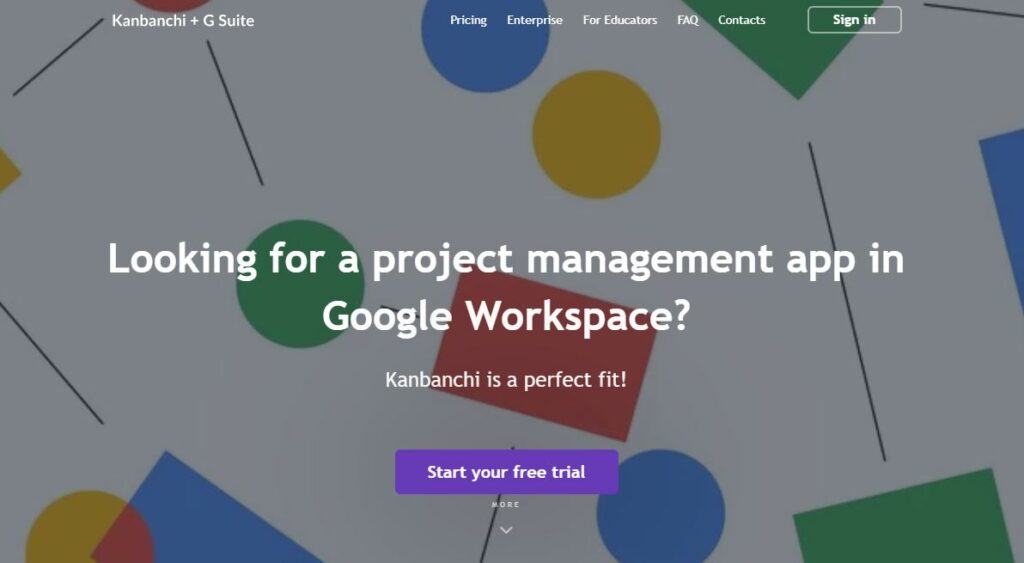 Kanbanchi is a task management software solution specifically designed with Google Workspace integrations in mind.
Providing efficient and effective task tracking capabilities, Kanbanchi helps you manage tasks, resources and time efficiently by providing a suite of customizable tools.
With its intuitive user experience, Kanbanchi makes it easy to set up tasks for yourself or your team and assign them to specific members of the team.
You can also set deadlines for each task, tag and prioritize tasks, add notes, comments or attachments to provide additional context – all within the familiar environment provided by Google Workspace products such as Gmail and Calendar.
Additionally, this powerful yet flexible project management tool supports collaboration by allowing users to view progress on their projects with real-time updates while they work together in the same workspace.
Allowing organizations to easily automate processes related to task tracking and reporting from one consolidated platform – Kanbanchi is an ideal alternative for traditional Taskboard solutions as well as for streamlining individual project objectives.
Features
Create and Track Projects: Kanbanchi helps you to create projects, assign tasks, set deadlines and view progress at a glance using powerful kanban boards. You can easily keep track of project statuses and see what's coming up next.
Simple Task Management: With Kanbanchi's drag-and-drop task cards, you can quickly organize projects into lists or boards so everyone knows what needs to be done. You can also customize task cards with comments and attachments that sync across your entire organization in real time.
Shareable Progress Reports: Kanbanchi allows you to monitor team performance by creating personalized dashboards for tracking progress in real time. You can share these reports with anyone on the team or outside the organization for greater transparency about overall progress towards completion of tasks and objectives.
Automated Notifications: Automatically send notifications when specific milestones are reached or tasks are completed to keep everyone informed of important developments as they happen without having to manually alert each team member via separate emails or messages every time something changes status within a project timeline..
Integrated Calendar View: See all of your projects overlaid on an integrated calendar view so you can visually follow each task's status from start to finish while keeping everyone up-to-date on key deadlines in one place.
Pros
Easy to use Interface: Kanbanchi provides an intuitive user interface that is easy to learn and navigate.
Collaborative Platform: With Kanbanchi, users can collaborate in real-time with team members and other stakeholders, making it great for remote teams.
Customizable Board Design: Create custom boards with customizable fields such as labels, color coding, checklists and more.
Integrated Google Tools: Automatically integrate tasks, calendars and messages from other G Suite applications like Gmail and Google Drive into Kanbanchi.
Cons
Difficult to use for complicated projects with multiple stakeholders: Kanbanchi is simple and straightforward, which can make it difficult to manage complex projects that involve multiple stakeholders.
Lack of customization options: Kanbanchi does not offer much in terms of customization options, so users are limited to the features that are available out of the box.
Limited integration capabilities: Kanbanchi has limited integration capabilities, so users may find it difficult to connect their other tools and apps.
Pricing
Business Starter $6/month
Business Standard $12/month
Business Plus $18/month
Enterprise custom/pricing
Ratings
8. Taiga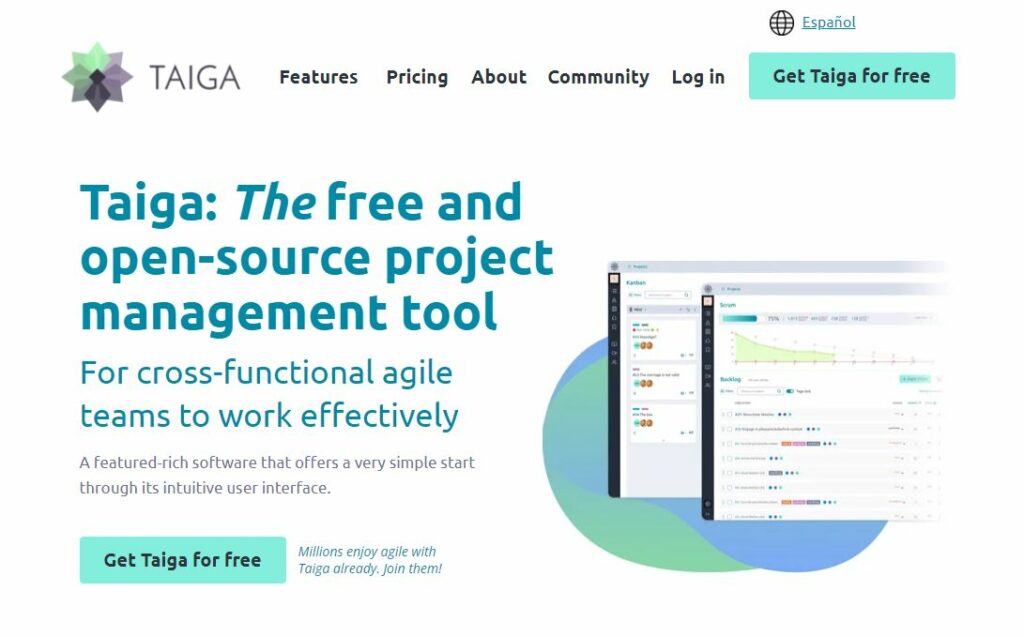 Taiga is an open-source project management software specifically designed for Agile teams. It's simple, intuitive, and helps you keep your projects organized while efficiently managing your team's workflow.
With Taiga, teams can easily create and manage tasks and track progress on their projects.
It has a comprehensive set of features that make it perfect for agile development including task boards, Kanban boards, customizable workflow states, issue tracking system with timeline history log and multiple options to customize project fields.
Additionally, Taiga also offers real-time notifications about updates to the team as well as powerful integration tools with other services like Slack.
Taiga is a great way to help facilitate communication between cross-functional teams and ensure that everyone stays informed so that projects are completed on time.
Features
Project Planning: Taiga provides a project planning feature that helps users create task lists, timelines and milestones for any type of production or development effort. It allows users to manage their tasks, keep track of deadlines, collaborate with team members, and visualize progress on projects at any given time.
Scrum & Kanban Support: Taiga supports both Scrum and Kanban project management methods which are used by many teams as they have different tools in place to support the needed project management styles and workflow. Teams can switch between the two systems easily depending on the needs of the project at hand.
Team Collaboration: Taiga offers a number of features that facilitate collaboration among team members such as a Chat System, Wiki Page creation services, Video Conferencing capabilities along with options for creating custom user tags to easily identify critical personnel roles throughout the lifespan of a given product or service development effort.
Report Generation & Analytics: Taiga also comes equipped with reporting capabilities so teams can generate insights about their projects including burn rate analyses, sprint summaries, resource allocation reports etc., which facilitate better decision-making down the line when it comes to future product design or improvement efforts related to ongoing production activities across any given Agile environment within an organization context .
Customization Options & Easy Integration: Taiga is fully customizable and can be integrated into existing organizational architecture very quickly if desired; its open source infrastructure allows developers access from anywhere in order to customize its functionality . Finally , it also sports robust webhooks that enable quick integration into external sources like Github or Slack channels during sprint-based product testing cycles too!
Pros
Intuitive and visually appealing user interface allowing for easy navigation.
Ability to track multiple projects, create tasks, assign roles and set due dates.
Scrum boards support agile workflows such as sprints, feature requests and bug fixes.
Real-time updates allow all team members to view the current status of tasks.
Robust reporting tools make analyzing progress easier than ever before.
Cons
Limited customization options for user interfaces
It is not possible for users to modify the base code of the software beyond basic configuration options
The mobile application version lacks some key features compared to the web version
Inability to customize reports which limits its usefulness as a reporting tool
No integration with third party applications or services
Pricing
Taiga Cloud Basic – Free
Premium Support $70/month
Self-hosted/ Free
Ratings
9. ProofHub

ProofHub is a cloud-based task management tool that helps organizations manage their projects and teams effectively. It offers a wide range of features and tools to help users plan, assign, collaborate and track their tasks.
With this software, it is possible to create detailed timelines with deadlines and milestones, prioritize tasks according to importance, delegate tasks among team members easily using drag-and-drop features, monitor progress in real time by viewing reports and dashboards in the app.
The app also supports advanced communication among team members with its communication abilities such as discussion boards for project discussions or group chats for quick conversations about topics related to the project.
In addition, users can invite external stakeholders to collaborate on projects too. Lastly, ProofHub allows users to customize their user experience based on individual preferences by customizing workflows or assigning roles within the organization.
Features
Scheduling and Tasks Management: ProofHub's task management tool helps teams to organize their tasks, assign them to team members and manage the workflow in a consistent manner. With this feature, users can set due dates for tasks and get alerted when these are about to be overdue.
Task Prioritization & Custom Statuses: It allows users to prioritize tasks according to their importance, thus ensuring that important tasks are attended first, while delaying or holding off less-important ones accordingly. Users can also create custom statuses like 'in progress' or 'pending review', among others and move their tasks between statuses with a click of a button, thus allowing tracking progress at every stage in real time.
Project Collaboration Features: It eliminates the need for multiple emails while collaborating on projects by providing collaboration tools such as comment discussions thread attached with each task which allows users to engage in meaningful conversations regarding the task at hand without having one long chain of emails back-and-forth among team members about the same thing over and over again
Mobile Support (Android App & iOS App): The app allows teams using its service access all features from any location via Android phones or iPhones/iPads.
Pros
Easy to setup and use: ProofHub provides an intuitive interface which is easy to set up and get used to, even for people not used to project management tools.
Real-time collaboration: ProofHub allows teams to collaborate effectively in real time with tasks, notes and discussions.
Comprehensive task tracking capabilities: With features like drag and drop task boards, Kanban view, Gantt charts etc., ProofHub makes sure all the tasks are tracked and monitored constantly.
Excellent communication options: Apart from tasks and notes, teams can discuss ideas via conversations inside the app with notifications for mention support.
Cons
Inability to communicate with external clients or vendors outside of the platform.
Limited capabilities for customizing reports and views to suit individual needs.
Can be quite difficult to navigate, especially for users who are new to task management tools.
Lack of a mobile app, making it hard to use on the go.
A limited number of integrations available with third-party applications.
Pricing
Unlimited control $89/month
Essential $45/month
Ratings
What Is The Best Taskboard For Your Needs?
nTask is a powerful and cost-effective task board solution for individuals, businesses, and teams. It is extremely user-friendly with an intuitive user interface that makes it easy to navigate.
Task integrates seamlessly with popular third-party systems such as Dropbox, Gmail, and Google Calendar. This allows users to connect their data sources in one place and quickly access information when they need it.
nTask also features robust project management features including timeline view capabilities so users can quickly visualize progress on tasks or multiple projects.
Additionally, the drag-and-drop functionality makes it incredibly simple to customize workspaces and organize projects according to individual needs or team goals.
Many of these features come at no extra cost which makes nTask a great option for those looking for a quality tasking system without breaking the bank.
FAQs
What are the best practices for using a taskboard?
Taskboards are a useful tool for managing tasks and projects, as they provide a visual representation of the entire project or task. The best practices when using a taskboard include defining goals and assigning tasks to the appropriate individuals, creating priority categories, setting deadlines and tracking progress on tasks, and organizing information into workflows or stages.
Additionally, it is important to keep taskboards updated regularly so that all members of the team have access to accurate information in order to effectively manage their workloads.
What are the types of task boards?
Task boards are a project management tool used to track the progress of tasks, usually within a team or organization.
There are several types of task boards, including physical task boards such as whiteboards or cork boards with sticky notes attached, online task board applications that can be accessed through the internet, and digital wall displays which may feature digital cards instead of post-it notes. Each type provides different benefits depending on the type of project being managed and the preferences of the team.
For example, physical task boards tend to be useful for larger teams since everyone can see what's happening in real-time without having to log into an application, while an online task board may be better suited for smaller teams who have access to technology and can benefit from its added features (such as group chat and priority levels).
Digital wall displays typically offer more options in terms of design and customizability than either physical or online versions.
Who can use task boards?
Task boards are an effective way for teams to keep track of tasks, responsibilities, and goals. They can be used by any group of people that is working together on a project or initiative such as a business team, class group, volunteer organization, or family that is trying to complete a task list or accomplish certain objectives. Taskboards generally provide visual cues so that everyone in the group can easily see what has been accomplished and what needs to be done still.
Conclusion
Overall, there are many great alternatives to the popular task board application that can help you stay organized and manage tasks in your team. From the comprehensive Trello to the intuitive Asana, these 9 tools provide a great range of features and capabilities for staying on top of your projects.
Ultimately, it's up to you to decide which tool works best for your individual needs. With so many options available at different price points, you're sure to find a taskboard alternative that fits perfectly into your workflow process.