A task tracking tool is essential for any project, no matter how big or small.
It helps you stay organized and on top of your tasks so that you can get things done more efficiently.
With the right task tracking tool, you can easily track progress, allocate resources, manage risks, and collaborate with teammates.
To make sure you have the best task tracking tool to suit your needs, we've put together a list of the top 6 task tracking tools of 2023.
These tools have been chosen based on their ease of use, features and functionality, customer support, and overall value.
So whether you're looking for something specifically designed for project management or a basic but effective tracker for personal use, this list has something for everyone.
What are Task Tracking Tools
Task tracking tools are designed to help people keep organized and on track with the tasks they need to complete.
They are beneficial for a variety of reasons, from helping you manage large projects with multiple deliverables to keeping tabs on individual assignments. 
These tools can offer features such as time-tracking, setting deadlines/due dates for completion and progress reports.
Furthermore, it allows teams to collaborate by adding comments and tagging members and also helps create accountability and improved efficiency when working together. 
More advanced task management tools include Gantt charts which further illustrate the timeline of a project so that everyone is clear about their responsibilities along the way. 
This makes it easier to identify where bottlenecks or delays are occurring so that corrective measures can be taken in order to get back on track quickly.
The main benefit of using task tracking tools is that they provide an added layer of organization and clarity while having no limit in terms of potential complexity.
A simple checklist may suffice for one person's needs while another may require something more sophisticated like project management software specifically designed for collaborative workflows.
Whatever your use case might be, there is likely an available tool out there tailored towards it which will make completing tasks much easier than manually writing down each task or trying to remember them all yourself!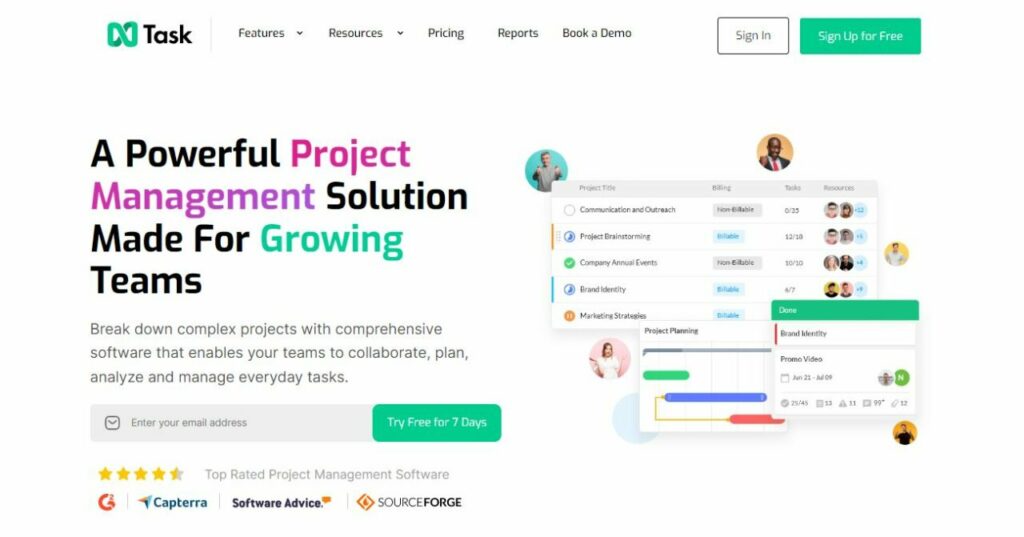 nTask is one such tool that is designed to make your life easier when it comes to managing projects, tasks, and deadlines. 
The interface makes it simple to create and assign tasks, track progress, and generate reports.
With its powerful analytics capabilities, nTask also provides valuable insights into your project's performance and progress.
This makes it an ideal choice for teams of all sizes who are looking for an efficient solution to their task tracking needs.
What sets nTask apart from other task tracking software is its emphasis on collaboration and communication. 
It allows users to easily share tasks with colleagues and provide feedback in real time. 
This helps promote team cohesion while ensuring everyone is on the same page when it comes to project goals and deadlines.
Additionally, its intuitive drag-and-drop interface makes it easy to rearrange tasks or add new ones quickly and efficiently.
So if you're looking for an effective task tracking solution that will help you stay organized — look no further than nTask! 
Simplify project management
with nTask today!
With its comprehensive feature set, intuitive design, and powerful analytics capabilities — this task tracking tool has all the features you need to keep your projects on track!
How to use it
To get started with nTask,
Once logged in, you'll be prompted to create a workspace where you can start organizing your projects and tasks
Create lists to group related projects or tasks together, then add individual items within each list
From there, you can set due dates and priorities for each item as well as assign them to team members or label them if needed
For recurring tasks such as monthly reports or weekly check-ins, simply select the 'Recurring' option when creating the task
Once all your tasks are set up in nTask, it's time to start tracking progress! Each task has its own page where you can add comments about what needs to be done next or upload documents related to the task
You can also mark items as complete when they're finished
Lastly, use the Reports tab in nTask to get an overview of how many tasks have been completed on time or overdue versus those still in progress 
This will allow you to easily see if any adjustments need to be made so everything stays on track.
With these simple steps taken care of, you should now be well on your way towards taking full advantage of nTask's powerful features for managing your projects and tracking their progress easily.
Key Features
nTask is a task management platform designed to help teams and individuals stay organized, be more productive, and get the work done.
It offers a range of features to make task management easier.
1. Task Creation: The task creation feature enables users to create new tasks quickly and easily.
It includes options for assigning tasks, setting deadlines, adding notes, attaching files and setting reminders.
Users can also choose from pre-set categories such as personal projects, work projects or group projects when creating tasks to better organize their workloads.
2 . Task List Management: nTask provides users with an easy way to manage task lists so they can keep track of the progress of their projects or goals.
Lists can be organized by category or priority level and there are options for sorting them in various ways for easy viewing such as by due date or completion status.
Moreover, Tasks can be edited at any time & drag & drop functionality makes it easy to quickly reorder lists when necessary.
3 . Notifications & Reminders: To ensure that tasks don't slip through the cracks users have the option of setting notifications & reminders at certain times.
This will prompt them to action whatever they need to do before it's too late.
This helps keep people focused on their goals without worrying about forgetting something important!
4 . Team Collaboration: nTask encourages collaboration among teams by allowing members to share comments & files directly within each task or list view to streamline communication.
This helps with project updates or workflow changes quickly across multiple groups if necessary.
This makes it much easier for teams to work together on shared goals to achieve success faster than ever before!  
 5 . Activity Tracking: Another helpful feature provided by nTask is activity tracking. This allows users to see how much time has been spent completing individual tasks.
Moreover, it gives insight into what areas require more focus in order for them to reach their objectives sooner than expected!
Pricing
nTask provides a 7-day free trial for all its programs, regardless of the features.
They offer three subscription plans –
Basic (free),
 Premium ($3/month billed annually)
Business ($8/month billed annually)
2. Range

When it comes to task tracking, Range is one of the leading software solutions available.
It offers a comprehensive set of features designed to make task tracking easier and more efficient. 
The tools offer dashboards, task lists, automated notifications and reminders, resource management, and reporting tools.
Range allows you to easily create tasks with detailed descriptions and assign them to team members with due dates.
You can also add comments to tasks and monitor their progress in real time.
With the reporting tool, you can quickly get an overview of all tasks completed by each team member.
This makes it easy for managers to identify trends in their team's performance.
The resource management feature enables you to assign tasks based on the availability and skill set of each team member. This helps ensure that tasks are assigned equitably among the team members.
Additionally, Range's automated notification system keeps everyone informed about the progress of their tasks and any changes that might occur along the way.
This task tracking tool makes managing projects easier and more efficient than ever before. 
How to use it
To get started with Range,
First set up a project by adding the details such as title, description, and due dates
You can then add individual tasks to the project by assigning them to different team members or departments
You can also assign deadlines to each task and attach any relevant files or documents to each one
Once everything is set up, you can start tracking progress on each task
Range provides a comprehensive view of all the tasks associated with a project and lets you monitor their status in real-time.
It also provides helpful analytics that allows you to identify potential issues before they become problems
Lastly, you can use RANGE's reporting features to gain insights into your project's progress and identify potential risks before they become an issue
Key Features
1. Task Creation & Management – Easily create tasks by typing in details such as titles, descriptions and due dates; view lists of all open & closed tasks.
Filter tasks by category or assigned user; drag-and-drop functionality for quick reorderings
2. Multi-User Collaboration – Invite other people into your project workspace so they can contribute directly from any device with an internet connection
Delegate specific roles based on skill sets so everyone knows what's expected from them (e.g., writer vs editor);
The tool generates activity reports which can be sent via email or shared online like Google Drive or Dropbox 
3 . Timer Tracking & Reports – Automatically record how long it takes each member to complete their assigned tasks through an easy time tracking feature.
Generate productive time use reports that show where time was spent throughout projects over the course of days/weeks/months/years.
4 . Project Prioritization – Reorder projects according to importance using drag-and drop sorting feature.
5 . Workspace Syncing – All data is securely stored in the cloud allowing multiple devices access simultaneously without syncing manually.
6 . Notification Center – Receive customizable notifications when someone starts working on a project, comments on a task or completes an assignment.
 7 . Customizable Templates – Create custom templates which make workflows more efficient.
9 . Visual Dashboard – Get a visual breakdown representation highlighting goals achieved versus those needing extra attention
 10 . Mobile Accessibility– Download apps for Android tablets & iPhones so you can access your workspace anywhere at anytime no matter where you are.
With this robust set of task managing capabilities offered at Range, we believe there's no excuse not to get things done
Sign up now and give it a try.
Pricing
Free
Pro – $8/user
Enterprise -Contact the support team
3. Trello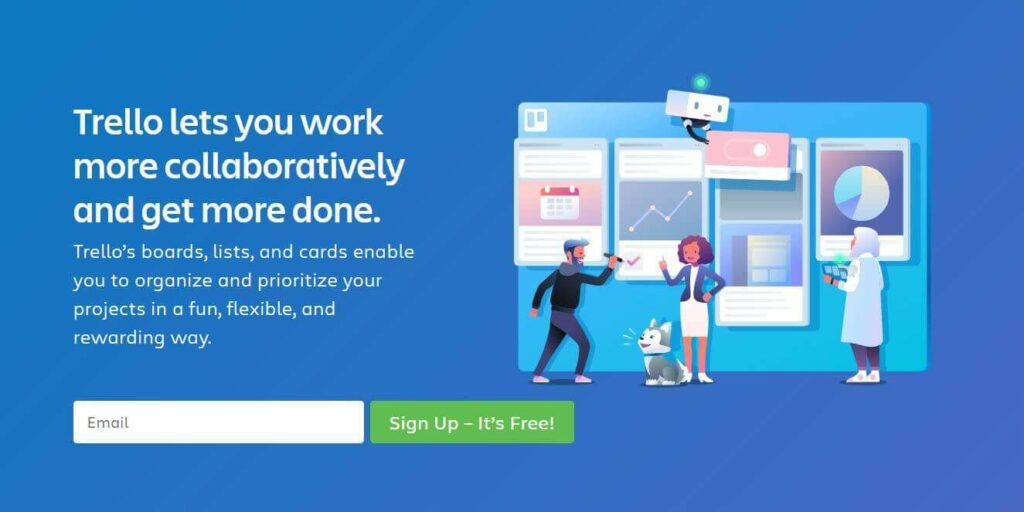 Trello is a well-known project tracking tool that is popular with professionals, teams, and organizations of all sizes.
It uses a Kanban-style board to allow users to easily organize tasks and visualize progress.
The boards can be organized into lists or cards, allowing you to prioritize tasks and manage resources.
Trello also lets you assign tasks to team members and keep track of deadlines.
It also offers a range of collaboration features such as chat, notifications, and file sharing – making it an ideal tool for teams that need to stay on top of their projects.
Trello is easy to use and understand, making it the perfect choice for project tracking.
How to use it
To get started with using Trello for task tracking,
First, create a board for your project. You can name the board whatever you like 
Once the board is created, add lists that match your project workflow – such as "To-Do", "In Progress", and "Done"
Then add cards to each list that represent individual tasks associated with the project.
You can assign team members to specific tasks by clicking on a card and adding them in the Assignees field under Members. You can also add comments or attachments to each card if needed.
Finally, you can set deadlines for each task by clicking on a card and adding dates in the Due Date field under Activity.
Key Features
Trello is an incredible task tracking tool. It allows users to create and organize tasks in multiple ways and share them with colleagues, making collaboration easy.
Trello provides a range of features to help you manage any project or task more effectively, including:
1. Boards: Trello boards are used to create different topics and lists within that topic, allowing users to quickly view all the tasks related to that topic in one place.
It also allows team members to easily collaborate on projects by creating cards for each task and assigning those tasks to certain people or groups.
2. Lists: Trello lists provide a structure within a board by organizing items into columns such as "To Do", "Doing", "Done" etc.; 
This helps everyone involved visualize the progress of their work as well as set goals they can reach together. 
3. Cards: Trello cards represent individual tasks or ideas which can be assigned due dates and tracked over time.
They also allow comments from multiple users so the conversation about each task remains organized in one place for everyone involved in the project. 
4. Labels & Filters: Labels allow users to group similar cards together within a board.
 These labels can then be filtered out based on colour for further customization depending on user needs or preferences; 
There are also filters available which allow users to search through card titles, descriptions, attachments etc., quickly pinpointing exactly what's needed at any given moment without wasting time scrolling through the entire board searching for something specific 
5 Changed History & Activity Logs: Through this feature, changes made by other collaborators will be logged.
This makes it easy to track who changed what when you're working with others on the same project.
Activity logs provide an overview of actions taken by individuals so team members know who was responsible for certain changes.
Pricing
Free
Standard – $5
Premium- $10
Enterprise- $17.50
4. Asana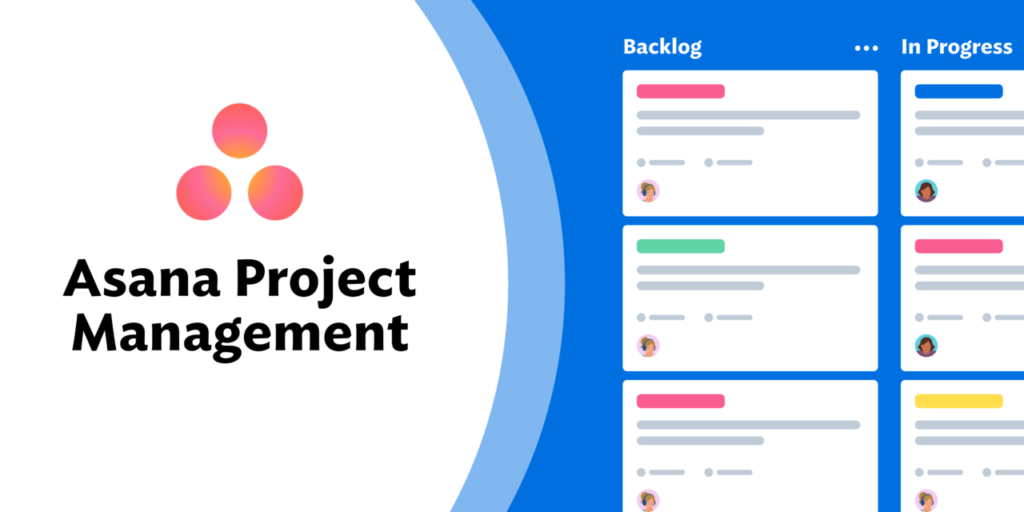 Asana is one of the most popular project task tracking tool on the market and for good reason – it's feature-rich, user-friendly, and provides an excellent way to stay on top of all your tasks.
Its intuitive task list view helps you easily track progress and due dates, while its timeline view provides a comprehensive overview of all tasks in a project.
Additionally, Asana offers powerful collaboration features such as shared task lists and team dashboards that make it easy to keep everyone on the same page.
With robust reporting capabilities, users can easily identify areas for improvement in their workflow.
All in all, Asana is an excellent choice for teams looking for a comprehensive solution for task tracking.
How to use it
To get started with Asana,
 First you'll need to create a workspace
This workspace will be used to store all of the information related to your project – such as tasks assigned to team members, notes, deadlines and more
Once your workspace is set up, you can then start adding tasks
You can assign these tasks to individuals or teams by simply dragging and dropping them onto their workspaces from yours
You'll also be able to track the progress of each task using Asana's timeline view
Giving you an at-a-glance overview of how far along each task is.
Additionally, Asana also provides useful features such as reminders for upcoming deadlines as well as notifications whenever someone makes a change or completes a task.
Finally, Asana offers powerful analytics that can help you analyze your project data and gain valuable insights into how well it's progressing.
Key Features
1. Create tasks and assign team members – Creating tasks and assigning them to other members of your team can help ensure deadlines are met and projects remain on track.
With Asana, you can easily create tasks with due dates and instructions before assigning them to team members.
2. Manage dependencies between tasks – Dependencies allow users to make sure that certain steps in a process must be taken before another is done.
By managing these relationships between tasks within their project boards, users can keep an eye out for potential issues or delays in progress so they can adjust accordingly.
3. Set goals & track progress – Through Asana's goal-setting feature, users can set up long-term objectives for their projects and then break those objectives down into smaller milestones that are easier to monitor along the way. 
This helps teams stay focused on outcomes instead of just day-to-day tasking while giving everyone visibility into how close the project is to being completed successfully. 
4. Track time & progress directly from project boards – The Tool has integrations tracking platforms like Toggl or Harvest.
This makes it possible for users to both estimate how long a given task will take as well as track actual time spent working on it within Asana 
5. Get notifications when changes occur– Keeping tabs on all aspects of your workflow becomes easier than ever when using Asana.
Thanks to its rich notification system which alerts users of any new developments within their projects including status updates, comments posted by collaborators etc.
With these features at your disposal, you'll find yourself equipped with all the tools necessary for successful project management
Pricing
Basic
premium -$10.99
Business – $24.99
5. ClickUp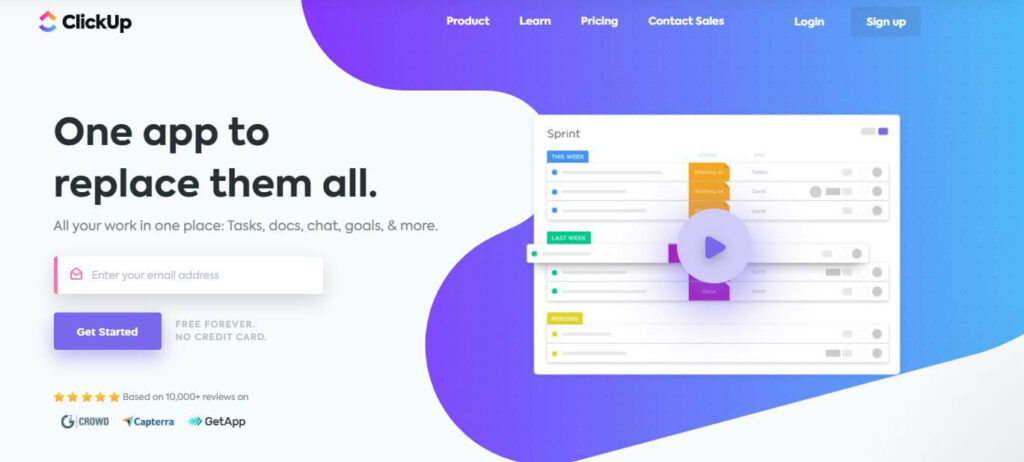 Clickup is the perfect task tracking tool for busy professionals. 
It enables you to easily organize, manage, and prioritize your tasks with its intuitive interface.
Plus, Clickup offers a range of features that make it easy to track progress and set deadlines.
From project planning to task sharing and comment threads, Clickup's powerful features make it one of the best task tracking tools available in 2023.
With its robust analytics capabilities, you can quickly see how your team is performing and identify areas for improvement.
How to use it
To get started with ClickUp, first, create a workspace where you can store all of your projects and tasks
Then, create tasks for each project or task that needs to be completed
You can add details such as due dates and assignees as well as labels to easily identify different tasks
Once your tasks are created, you can track progress using a timeline view or list view
If you have multiple team members working on the same project, you can track their progress too!
Key Features
Here's a closer look at some of the features ClickUp offers:
1 . Task Management: Using ClickUp you can easily create tasks for yourself or assign them to team members.
You can set deadlines, prioritize tasks, break projects into subtasks, add labels and comments (including attachments), view task dependencies from different views (such as Kanban boards) and more.
2. Collaboration & Communication: Keep your team connected with ClickUp's chat feature which integrates with Slack or Microsoft Teams.
You also have access to real-time data so everyone is always on the same page.
Additionally, you can assign due dates for tasks through conversations without having to leave the chat window.
3. Automation: Automation within ClickUp make sure important information gets passed along quickly like when a new task is created or when someone fails to complete their assignment by its due date.
This way nothing slips through the cracks!
4. Reporting & Analytics: Get an overview of your entire team's performance with comprehensive reporting tools that provide insights into every aspect of your workflow
From time tracking metrics to velocity graphs measuring performance over time against goals such as completing X number of goals per month or quarter.
5. Third-Party Integrations: For added convenience all sorts of third-party integrations are possible such as Dropbox paper integration for docs/sheets/slides collaboration
Pricing
Free
Unlimited -$5
Business -$12
Business plus -$19
Enterprise -Contact Support
6. Jira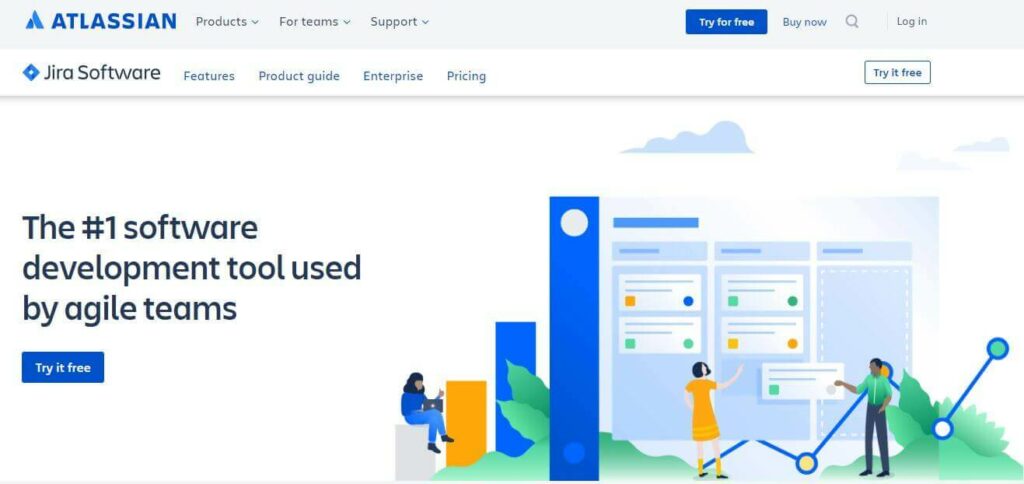 Jira offers a range of features to help you keep track of tasks and projects, including agile project management, issue tracking, and more. 
Jira is an excellent choice for teams that need to collaborate on tasks in real-time, as it provides powerful communication tools like instant messaging, comments, and discussions.
Furthermore, its reporting capabilities are second to none – giving you detailed insights into your project's progress. 
Jira helps users to stay on top of their tasks and deadlines without getting overwhelmed. 
It's no wonder that Jira has become a go-to task tracking tool for many teams.
How to use it
Using JIRA for project tracking is easy
First, create an account and set up your project management space
Then create individual tasks for each project element that needs to be tracked
Assign each task to a team member or yourself and set deadlines as needed
You can also add comments to tasks if you need more details or clarification.
Use JIRA's reporting features to get a thorough overview of how your project is progressing over time
Key Features
Jira offers a number of features that make it an ideal tool for project tracking, including:
1. Issue Tracking: Jira enables you to track all types of activities related to your projects including bugs, requests, tasks etc.,
This way gives you greater visibility over the progress of any given task at any given time.
You can adjust the workflow according to your needs as well as set deadlines so everyone knows what they have to do in order for the project or task to progress smoothly.
2.  Workflow Management: Jira provides ways for you to visualize how your work progresses from the start point through all stages until completion in real-time
This allows stakeholders and other interested individuals visibility into what's being done at any stage or across multiple entities or teams simultaneously.
3. Project Scheduling & Monitoring: Jira helps you set up effective dashboards that present all relevant tasks associated with a particular project or task list.
This helps managers/team leaders effortlessly monitor how their team performs throughout the duration of any given assignment or process.
4. Resource Allocation: With its powerful resource allocation feature users are able to assign resources optimally based on their skillset making sure each person works on tasks that best suit their capabilities while getting optimal output from limited resources available at hand.  
5. Reporting & Analysis Tools: JIRA also allows extensive reporting capabilities which enable data analysis across different processes entered into the system. 
This helps identify areas where improvement might be necessary, thus allowing for better planning & strategizing going forward.
Pricing
Free
Standard – $ 7.75
premium – $15.25
Enterprise – Contact support
Conclusion
Enterprise software is an invaluable asset for businesses of all sizes. It not only helps to keep track of tasks and deadlines but also provides helpful insights into your progress.
 With the help of task-tracking tools like nTask, Asana, Jira, and ClickUp you can manage projects more effectively and efficiently. 
By taking advantage of these tools and other enterprise software solutions available on the market today, businesses can streamline their operations and maximize their productivity.