Project scheduling is a critical part of the project life cycle. It determines if the end results of a project will be achieved within the set timelines.
However, project managers often face challenges when they start scheduling their planned work, as it requires careful consideration of various underlying factors.
But it doesn't have to be so challenging. Let's look at how we can make it easy.
What is Project Scheduling?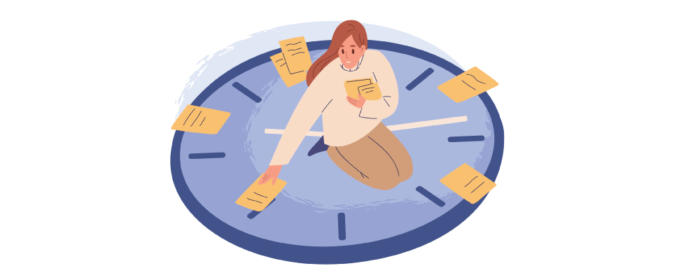 It is strategically organizing a project's tasks, goals, and milestones, so your team can complete the work and deliver the results as planned.
At a high level, project scheduling involves understanding the work required, setting up start and finish dates for each task, setting priorities, assigning the right resources, and communicating the details with your team.
Though it sounds pretty simple and easy, in reality, setting up this operational timeline does take some effort. It goes through various iterations during the course of the project as changes are bound to happen.
Also, quite frequently project scheduling is confused with project planning. But they are different. Project planning defines the methodology you will adapt for the entire project, procedures to follow, and other documentation.
Whereas scheduling involves listing down the activities in order so you can start executing the project and reach the end goals.
The Advantages of Project Scheduling
Regardless of how tough it is, project scheduling done right has great benefits. You will experience:
A smooth flow of the project from the beginning to the end
Well defined timelines for delivery
Early detection of issues that prevent project delays
Improved stakeholder trust
Accountability for independent and collective tasks
Stress-free teams who know what they need to do.
To help you achieve these results, we have formulated 7 steps that will guide you to create the best schedule for your project.
Steps to Robust Project Scheduling
Let's look at some of the steps involved in creating a project schedule.
Step 1: Choose The Right Tools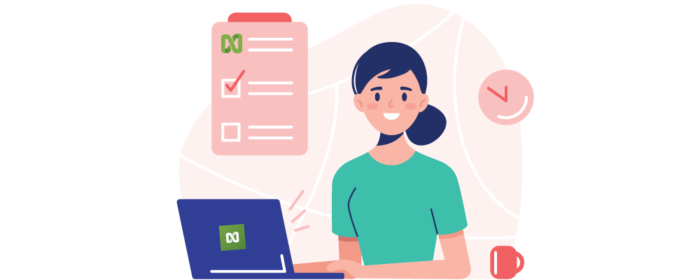 Be it a small or big project, you need the right tools to make it a success. Without them, your project will be chaotic.
So, choose a PM software like nTask that has features such as multiple project views, scheduling, automation, team communication, time tracking, guest access, easy admin workflows, and a simple user interface.
These tools will help you streamline your project, schedule as planned, and remain in complete control from beginning to end. Once you have the tools in place, you can start working on your project schedule.
Step 2: Understand the Work Breakdown Structure
Work breakdown structure (WBS) is the base on which your project schedule is built. It breaks down the project work into a hierarchical structure and it is created during the project planning phase.
A typical work WBS details the following:
Project charter
Project team
Project stakeholders
Decomposition of work, and
Deliverable descriptions.
When you understand these elements, you will have a clear picture of how to schedule your project. It is highly recommended that you have discussions with key project stakeholders to understand your breakdown structure, timelines, and project deliverables.
Sometimes, project managers create WBS dictionaries to make the process easy. So if you have one, you can use it to understand the project best.
Step 3: Define Your Project Tasks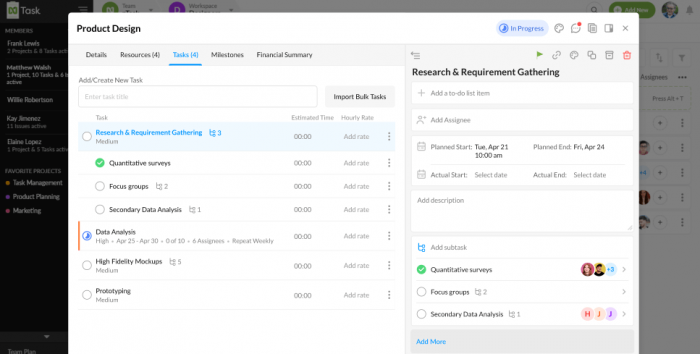 Every project has multiple activities, tasks, and subtasks.
When scheduling a project, it is important that you define each task in line with the work required, tools needed, and completion time. This process becomes very easy when you have good project management software in place.
You need to start by clearly explaining the processes that need to be followed, the importance of the task in reaching a milestone, and other relevant information. You can then set start and finish dates for each task and prioritize critical ones.
After this is done, assign the team members and the necessary resources to get the job done. Creating a chart visualizing the tasks will make it easy for your team and stakeholders to understand.
Do ensure to consider factors such as requests for leaves or vacations, corporate gatherings, national holidays, and other important occasions that can hamper your timelines.
Once you've completed these activities, your project scheduling work is halfway through.
Step 4: Figure Out Dependencies
Some project tasks cannot be completed unless a dependent task is completed.
To save time and get work done faster, carefully analyze your listed tasks and define your dependencies. If you have PM software in place then you can visualize them and discuss constraints with stakeholders.
By doing so, you will ensure there are no delays in completing tasks once the project goes live.
Step 5: Set Your Milestones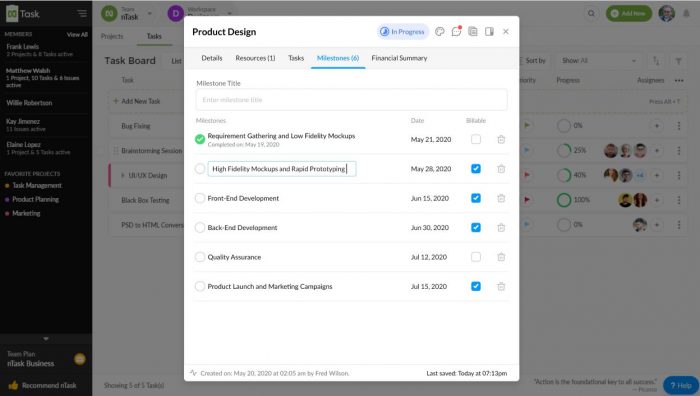 Milestones mark the completion of a major phase of work. For example, completing the first draft of an eBook can be considered a milestone. Likewise, every project has its own milestones that guide the project or a project stage to its end.
So, here's how you can set them up:
Understand key deliverables of the project
Analyze the tasks that reach these deliverables
Mark critical deliverables as milestones
Space and time them with the right frequency
Ensure you communicate timelines for each milestone
During this process, you should avoid marking every other task as a milestone. Remember milestones mark an important achievement that can be celebrated. If we celebrate every other task then it is detrimental to reach the end goals of your project.
You can use scheduling methods such as a critical path or critical chain to ensure your milestones are well-defined and organized.
Step 6: Discuss With Stakeholders
By now, you will have all the details necessary to create your project schedule. The next step is to make the schedule live on your PM software and share it with your stakeholders for further discussion.
This is very important because stakeholders may need changes to the sequence of activities or the tasks that need to be prioritized. By understanding these changes in the initial stages, project managers can avoid unnecessary changes in due course.
Using Gantt charts or timelines visualizing the end-to-end process of the projects, including the dependencies, milestones, and team members will help stakeholders make quick decisions or changes to the schedule.
You can then communicate these changes to your team.
Step 7: Be Ready to Adapt Changes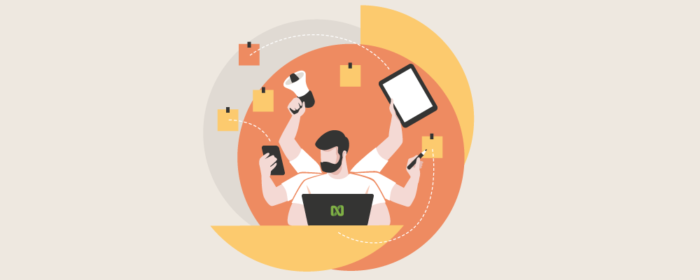 Scope creep happens in every project. Though planning and scheduling are quite important and should be done, you will get ad hoc requests or even major change requests from clients & stakeholders throughout the project.
When that happens, you have to be ready to revisit your schedule and make necessary changes. Of course, these changes can sometimes be big and sometimes small.
So, this is how you can tackle change requests,
Understand how important the change is and how it will affect the existing milestone.
Check for overlapping tasks and prioritize the important ones after prompt discussions.
Make changes to the schedule based on the priorities.
Communicate the new timelines with the team and stakeholders.
As you can see, one of the best ways to effectively manage changes is through constant communication. To ensure a smooth process, utilize communication tools such as internal chats, video conferencing, and on-task communication for faster resolutions.
Once all your changes are scheduled, proceed to complete and deliver the project as planned.
3 Methodologies That Improve Project Scheduling
There are various methodologies available to schedule a project effectively and get the best results. A few of them are:
List View
Gantt Charts
Kanban Boards
1. List View
It is one of the simplest and modern ways of project scheduling. It works perfectly for small and medium projects as it is easy to track progress. You can list your tasks in the order of execution, streamline them with necessary labels, and view all the team members that are associated with each task.
2. Gantt Charts
Project scheduling with Gantt Charts is one of the oldest ways and it is very effective. They work best for big projects as it can show the project lifecycle from beginning to end, along with the dependencies and milestones. It makes decision-making and change scheduling very easy.
3. Kanban Boards
A popular project scheduling method among agile & scrum projects, Kanban boards make it super easy to schedule, view and assign tasks. You can move tasks to a different board upon completion or automate the same. You can also see the scheduled timelines of a task and the team member it is assigned to.
Get Your Project Scheduling Right
By now, we can agree that project scheduling is very important to complete your projects successfully. It starts at the beginning of the projects and remains as an ongoing process through the project.
It is therefore critical to choose the right project management software to get your project scheduling right from the get-go. It will ensure a smooth flow of the project and complete it on time.
Article contributed by SmartTask Team.
---
More Resources You May Like: