Nowadays, there are countless online email management tools available in the market. Sortd is one such tool offering efficient solutions for quick and easy email management.
Sortd is an all-in-one app for teams looking to manage their workflows and customer interactions.
It's a complete package that works seamlessly across platforms, helping teams manage emails on Gmail, keep track of incoming invites and other updates, as well as organizing and tracking tasks.
With the tool, you can store all of your emails, customers, and tasks in the same place for easy access. You can also manage workflows and collaborate with other members of your team by using this app.
There's no doubt that Sortd app is a great tool, but there are certain drawbacks that may make it less suitable for some people. Fortunately, however, there are certain features that make nTask a better Sortd alternative.
In this blog post, we highlight five of these features and why they make nTask the best choice for task management. Whether you're looking for a cross-platform tool that's easy to use, affordable, and versatile, or you need a more efficient way to manage your tasks, read on to learn more about nTask!
Limitations Of Sortd
One of the main drawbacks of Sortd is that it's not perfect. For example, it doesn't work well with email campaigns and tracking tools. Additionally, its interface can be difficult to use for some people.
Sortd app takes longer to load than Gmail usually does. Also, the tool doesn't sort directly to a label, Users have to create a Sortd label with the same name instead.
Switching between the Sortd pane and Gmail is a hassle for users because they have to reload their inbox every time they make a change. In addition, the tool currently lacks any formatting options that would allow tasks to be more easily sorted and organized.
When attachments are included with messages, it becomes difficult to manage them and store them separately.
Although Sortd is ranked among the best work management platforms available on the internet, there are quite a few reasons why Sortd app may not be the right tool for you. Now that you know why, let's take a look at some Sortd alternatives that may the right option for your business.
Top Sortd Alternatives
There's no doubt that Sortd is a great tool for sorting and managing your email inbox. But if you're looking for a Sortd alternative, check out our list of the best Sortd alternative apps.
These apps help you organize and manage your workflows, email, etc. in an easy and efficient way, making it easy to find what you're looking for.
1. Gmelius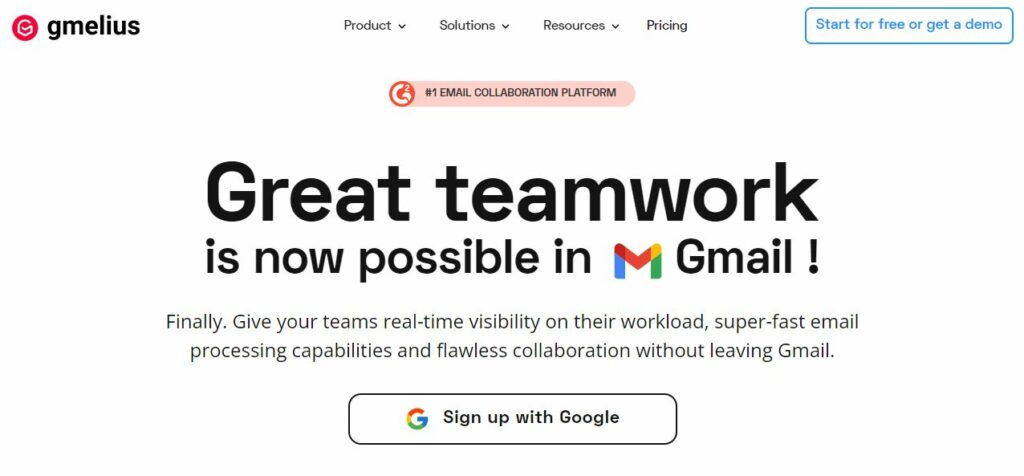 As a team, you have an equal responsibility to work as efficiently as possible. That comes with daily tasks and meetings taking place, which can make staying connected difficult. Gmelius is the perfect solution for your team!
Gmelius is a shared inbox that lives right in your inbox and enables you to work more efficiently by organizing your emails into different categories. With an endless amount of features and integrations, it's the perfect tool for team collaboration.
Gmelius brings you the power of real-time visibility on your teams' workload, super-fast email processing capabilities, and flawless collaboration without leaving Gmail. With Gmelius, your teams will never miss a beat when it comes to being on top of their game. And with Gmelius's robust security features, you can rest assured that your team's data is safe at all times.
From project updates to team management tools, Gmelius provides everything right at your fingertips. When you're working on something big or small, Gmelius can help you keep things flowing smoothly so that you can focus on what really matters. It's got everything you need for efficient working so that you can all be in sync no matter where or when the project gets underway. Plus, with its modern design and user-friendly interface, it's a breeze to use!
2. Trello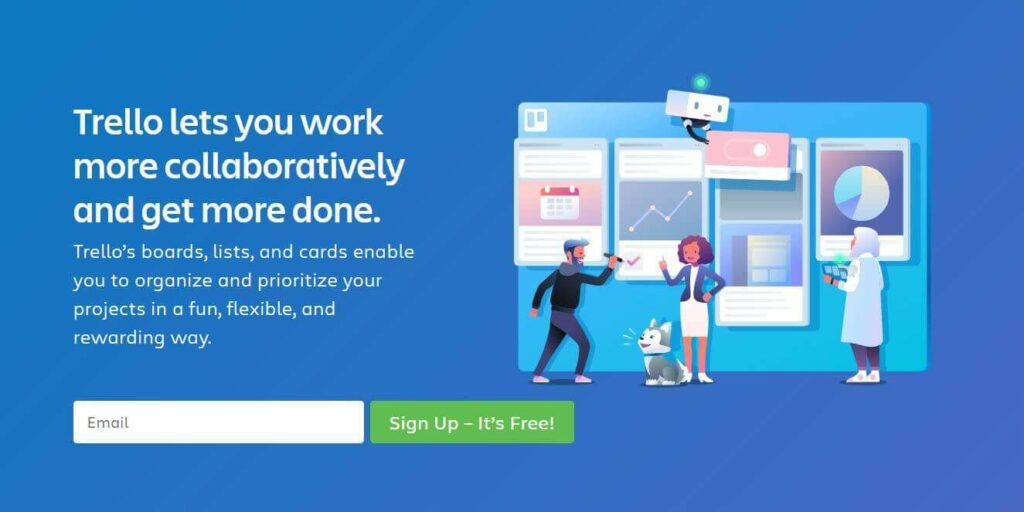 Trello is the ultimate tool for project management, automation, and collaboration. Whether you're managing your team's project or planning your next big idea, Trello is the perfect tool for getting things done. With Trello, starting a new project is as easy as creating a board in seconds.
Automating tedious tasks is also much easier with Trello because it helps you stay on top of everything from account creation to update activity. And communicating with others is made even easier with its platform-based communication and mobile apps, allowing you to work together virtually anywhere.
Trello not only makes you more productive but also more efficient by organizing data into lists and boards that help make sense of them. And this amazing tool comes with an awesome set of tools that makes it an all-around product for everyone.
3. Freshsales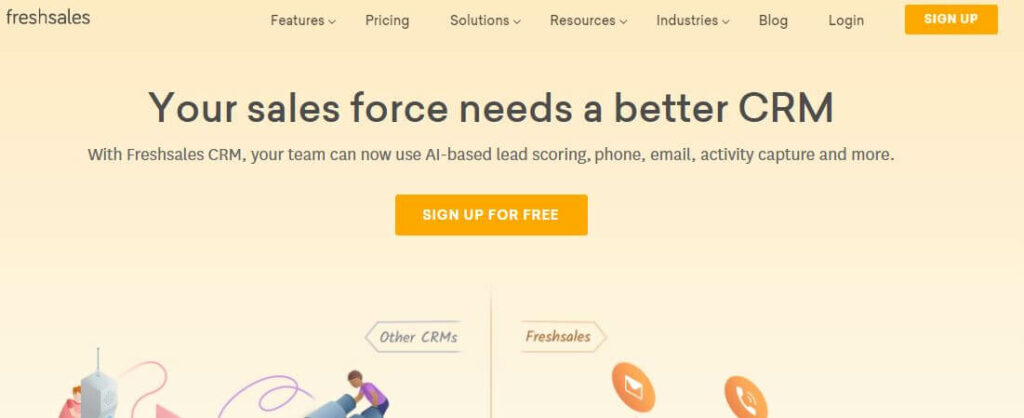 Freshsales is a comprehensive solution that offers you everything you need to know about your sales and marketing operations. With built-in chat, email, and phone support, your sales teams can engage leads quickly and easily.
Freshsales is a true CRM in the sense that it stores information on customers, contacts, leads, and more. It's also a marketing automation tool because it makes project tracking and analyzing data easier than ever.
Add to this its phone and chat functionality, which lets you engage with customers over multiple channels at once, and you have an all-in-one solution for growth.
Coupled with world-class customer support, this is an unbeatable resource for understanding your user base's needs and wants. Track their activity across multiple devices, platforms, and web browsers, then engage them whenever you have the chance.
With Freshsales CRM, you'll have a complete overview of every interaction that takes place on your website or app, so you can make sure that there's no confusion about who should be getting what from where.
4. Drag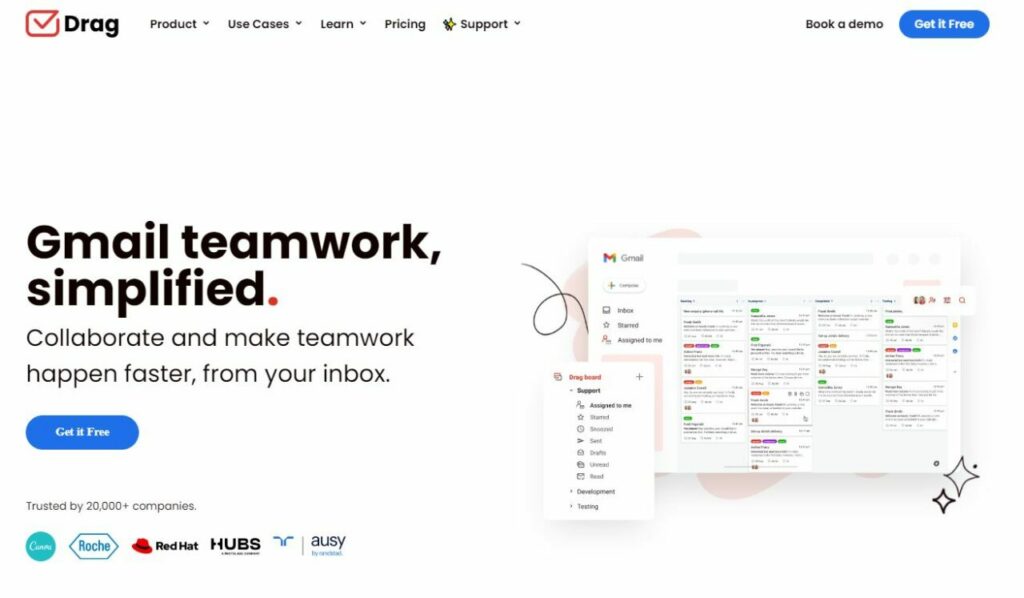 With Drag, you don't need to waste your time on repetitive tasks such as email follow-up or managing boards. You can automate these processes and see the workflow features that go along with them.
The tool offers a complete overview of all the communications in your marketing campaigns, so you know where you stand and what still needs to be done. All the data is neatly organized for easy access, letting you get back to work with confidence. 
This collaboration tool comes with boards and other fun productivity tools that make it easy to stay on top of everything. It offers boards, tools, and collaboration features that make it perfect for anyone who wants to get things done.
With Drag, you can manage your business and email in one place with the help of tools like boards and collaboration.
If you're looking for some advanced features like team messaging or a calendar, then this app has everything that you need. The interface is user-friendly too so even beginners can feel at ease using it.
5. Zendesk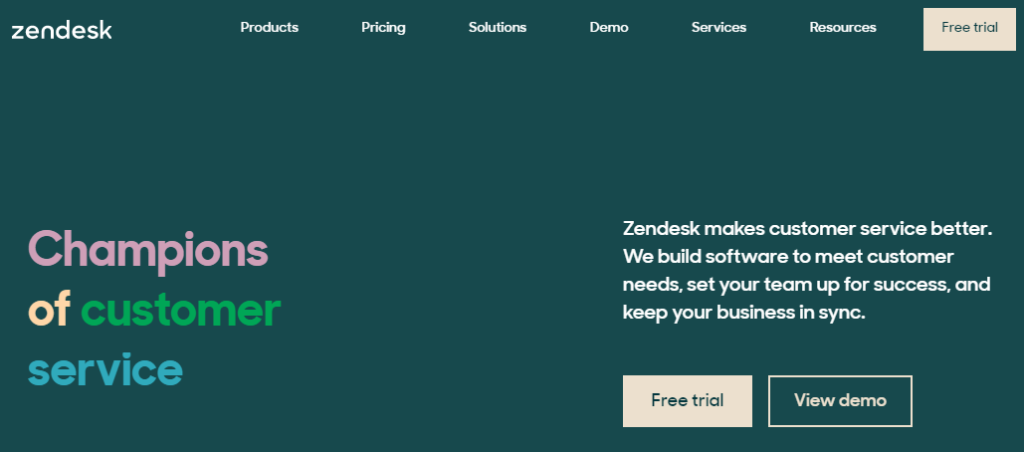 Zendesk is an online customer support software that lets you manage your customers in a single place.
Whether it's about their queries, their issues, or even their feedback, Zendesk provides the tools you need to understand your customers better and build a rapport with them. And with its renowned customer service, you can be sure that they'll get the answers they're looking for quickly and professionally.
It is a customer service platform that provides solutions for everything from email management to phone support. With its vast library of features, it's the perfect tool for businesses of all sizes.
Plus, Zendesk offers world-class customer support that will help you solve any problems that you may encounter.
Zendesk software is a software-as-a-service (SaaS) product that helps businesses understand their customers better and enables them to deliver outstanding customer service experiences.
It provides tools that enable businesses to track calls, emails, and other interactions on their website, in real-time. Zendesk can transform your business by enhancing customer experience and making your brand more popular.
6. MixMax

Mixmax is one of the best-known sales engagement platforms for Gmail users. It has proved its efficiency in over 3300 companies by increasing response rates and closing rates by more than 40%, leading it to be one of the most powerful solutions for marketers today who want success in their campaigns.
Mixmax helps you engage prospects over email by providing them with a better experience from beginning to end. Automate your marketing efforts with easy-to-use features like automation, messaging, and reporting, allowing you to focus on what matters most – growing your business.
With Mixmax, there's no need for guesswork or manual processes. You'll be able to see who's responding and who isn't through clear analytics reports that give you insight into your conversions and sales.
Moreover, with smart automation capabilities in place, you can automate certain email templates and send them to prospects at a specific frequency. This will help build a strong rapport with them leading to more conversions!
Best Alternative For Sortd – nTask
If you're unhappy with the features and layout of Sortd, then nTask is the perfect alternative. It offers more flexibility in terms of sorting and categorizing tasks, as well as syncing between devices. The user interface is easy to use and provides lots of helpful tips and instructions.
Just like Sortd, nTask has an extensive feature set that allows you to customize your workflow exactly the way you want it to be. The software is fast, efficient, and versatile, making it the perfect tool for organizing your tasks. Plus, its easy-to-use interface makes task management a breeze. With features like tracking due dates, labels, and tags, task management gets even easier. And if you ever need help with anything related to the software, nTask offers customer support 24/7.
So if you're looking for an efficient, user-friendly, and feature-rich task management solution, then nTask is the perfect option for you!
What is nTask?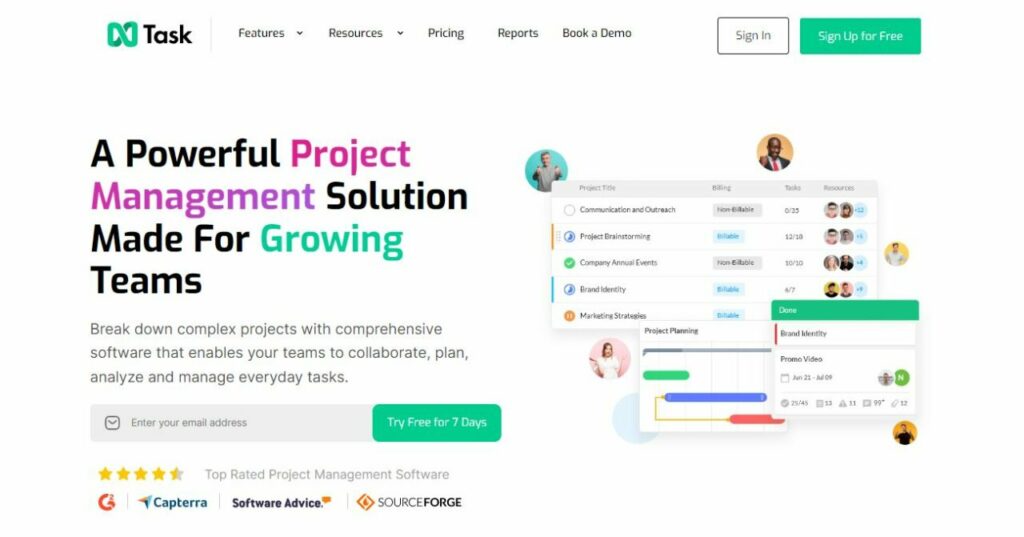 nTask is more than just a project management tool. It's a whole package of tools that help you achieve your business goals in an effective manner. With its intuitive user interface, flexible design, and advanced features, it makes planning and organizing your marketing campaigns easy and foolproof!
nTask helps you plan out your email marketing calendar, track projects, forecast risks, and stay on top of pending reports and analyses. With its shared calendar feature, team members can easily see upcoming deadlines or changes. And with its robust features like budgeting, project tracking, and forecasting, it makes planning for a successful campaign simple and easy for everyone on your team.
Moreover, the app is available on both desktop and mobile platforms. This convenient availability makes it easier for you to work on the go. Thanks to its modern look and feel, users will feel like they are working on their own website rather than a powerful project management software!
If you're tired of making mistakes when using other work management platforms or want to take advantage of some time-saving features offered by nTask then this is the app for you!
Features
Improved collaboration – With nTask, you can easily set a budget, track projects, highlight milestones, forecast risks, and stay on top of pending reports and analyses.
A budget-friendly project management tool – nTask is affordable without sacrificing the quality of the service.
Stay organized and in control with an attractive email marketing calendar that's easy to manage and collaborate on.
Track projects, highlight milestones, forecast risks and stay on top of pending reports and analyses with ease.
Enjoy an attractive email marketing calendar that is result-driven and strategized perfectly for your business goals.
The shared calendar feature allows team members to be informed about upcoming deadlines or slight changes without hassle.
Use email to create and assign tasks to resources.
Simply create meetings in Outlook or Gmail calendar and share them with the whole team.
Integrations
nTask can be easily integrated with other tools that you use for project management, which will make the process easier for you. For email management, nTask offers Outlook and Google Calendar integrations that make it easier to use and allow for easy management of emails as well.
Pricing
nTask is priced affordably without sacrificing the quality of project management services that are offered. You can get started with a free trial to test out all of the features and see how nTask can work for your business. It offers a Basic plan, free of cost for its individual users. The priced packages offered by nTask are:
Premium – $3 per month, billed annually
Business – $8 per month, billed annually
Enterprise – Custom pricing
Customer Ratings (G2, Capterra)
nTask has consistently been rated as one of the best project management tools on the market. For example, G2 awarded nTask 4.4 out of 5 stars for its efficient features. Meanwhile, Capterra awarded nTask 4.1 out of 5 stars for its performance ratings in all categories: ease-of-use; workflows; collaboration features; tracking features.
Conclusion
So, what makes nTask the perfect Sortd alternative? Quite simply, it offers several features that other apps lack, including project organization, agile workflows, and built-in collaboration features.
nTask also integrates with Google Drive, making it easy to access your sorted data online. So, if you're looking for an app that offers comprehensive sorting and management capabilities, nTask is the perfect tool for you!