Project management applications are raging at full throttle in the PM industry these days.
Why? Well, in the last decade, project management applications have come a long way from being something that was pretty optional, with not a lot of implications on the project development process, to being a critical factor for the success of the project.
This is why, in this article, we are going to talk about two of the best project management software that you can find on the market in 2021. Smartsheet and Airtable.
Let's take a look at both of them, and find out how they are similar and at the same time, different from each other.
What is Smartsheet?

According to Smartsheet's about page,
"The enterprise platform for dynamic work that aligns people and technology so your entire business can move faster, drive innovation, and achieve more".
It means that Smartsheet is an incredible project management application that allows its users to track and manage their business in a way that the company progresses further at a steady pace, innovation amongst the team members is increased, and the business as a whole, thrives.
What is Airtable?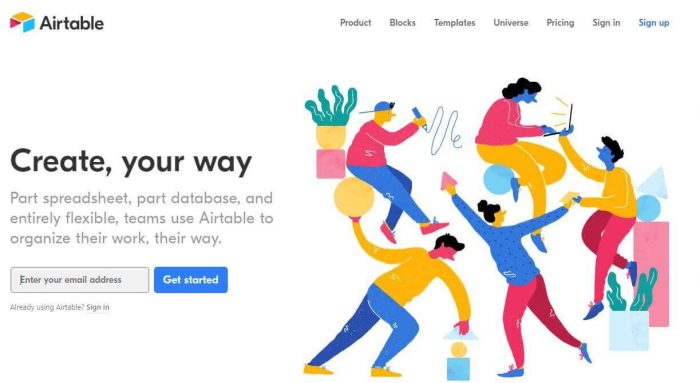 According to the people at Airtable,
"Airtable was founded on the belief that software shouldn't dictate how you work—you should dictate how it works. Our mission is to democratize software creation by enabling anyone to build the tools that meet their needs. Creators and creatives around the world use Airtable to do everything from cattle tracking to filmmaking, and they have great things to say".
This means that the software is so incredibly customizable that you will never feel like the software is dictating your work, it will always be you in control and the software doing everything that you might possibly require to make your project development process a success.
Pricing and Integration Comparison
Let's take a look at the different pricing structures of these amazing project management applications.
Pricing
Smartsheet
The first pricing model of this application is the Individual This subscription costs around $14/month and includes up to 10 free users, capturing data from all of the different forms, workflow automation, many amazing free templates, and repetitive tasks, etc.
The second model is the Business pricing model and it costs around $25/user/month. The subscription provides visibility into the project workflows, status and all of the different metrics related to the project development process.
The next subscription on the list is the Enterprise version of the application. This is an incredible version that includes unlimited sheets, automated user management, customizable UI for a better user experience, and much more.
If you want to purchase this subscription, you need to contact the company so that they can custom tailor a payment plan for you according to your needs and requirements.
The last subscription that Smartsheet offers is Premier. This includes all of the different features that are included in the Enterprise version of the application and on top of that, it includes dynamic view, calendar app, pivot app, and many integrations to connect you with your favorite applications.
If you want to purchase the subscription, you need to contact the company and ask them for a custom quote.
Airtable
There is a free version of Airtable which you can check out to get the look and feel of the application before making a subscription purchase. This version includes unlimited bases, 2GB of attachment per base, and also some incredible views like Kanban, Grid, and calendar, etc.
The first paid subscription that the application offers is the Plus This is priced at only $10/seat/month (billed yearly).
It includes many amazing features like over 5,000 records per base, 6-month revision, automatic table syncing, 5GB memory space, and also snapshot history among others.
The second paid subscription of the application is the Pro This is priced at $20 for every seat per month. This is the price you pay if you pay a yearly fee.
It includes different features like 50,000 records per base, 1-year revision, and snapshot history with other features like field and table editing permissions.
The last subscription that the company offers is the Enterprise which has all of the features that the other subscriptions provide and a lot more on top of that.
If you want to purchase the subscription, all you have to do is to call the company and they will hook you up with a custom subscription according to your needs and requirements.
Integrations
Smartsheet
When it comes to integrations, the Smartsheet marketplace is not a slouch and has over 300 different connectors and integrations that you can use to stay connected with all of the different applications that you might use on a daily basis in your work routine.
These connectors and integrations are divided into different types and categories to make sure that you get exactly what you need at the right moment in time.
Airtable
With over 1,000 websites and applications as integrations that you can use with your application copy, Airtable takes the lead when it comes to binding your work apps with the new kid on the block. Check Airtable integrations here.
How Are They Different from Each Other?
Let's now discuss some of the differences between these two amazing applications and find out about the one that you can choose to be your daily driver.
We will judge them on the following parameters.
Audience
Interface
Language support
Application Support
1. Audience
When it comes to the audience, Airtable is perfect to take care of the small businesses that are the backbone of the organizational paradigm. Smartsheet in comparison caters to the mid-tier businesses that have surpassed the small market and are looking to jump into the big leagues.
2. Interface
Both of these applications are based on a spreadsheet-type interface that is quite easy-to-use and very intuitive. But out of the two, Smartsheet is the one that comes very close to a real spreadsheet system and that's why most users incline towards that.
3. Language Support
Airtable is quite lacking in this department as it only supports the English language. Smartsheet on the other hand has support for English, Polish, Turkish, Dutch, and Swedish.
4. Application Support
Smartsheet offers the following modes of support for all of its customers around the globe.
Phone
Live Support
Tickets
Email
Training
Airtable provides all of these modes of support for their customers apart from phone support and tickets. This makes Airtable quite hard to use for their customers if they get stuck in something and want help.
An Important Quote about the Two
According to TechRadar,
"Smartsheet is most similar to Airtable, which also uses advanced spreadsheets to organize projects and every other aspect of your business. AirTable is slightly less expensive and offers a more user-friendly interface, but it lacks the depth of functionality that Smartsheet offers. In particular, Airtable doesn't have tools for workflow automation, and it's much more difficult to create hybrid spreadsheets."
If both of these amazing applications are not your cup of tea then we have another alternative for you that can easily handle all of the tasks and processes related to your project development process. That application is nTask.
nTask as Their Alternative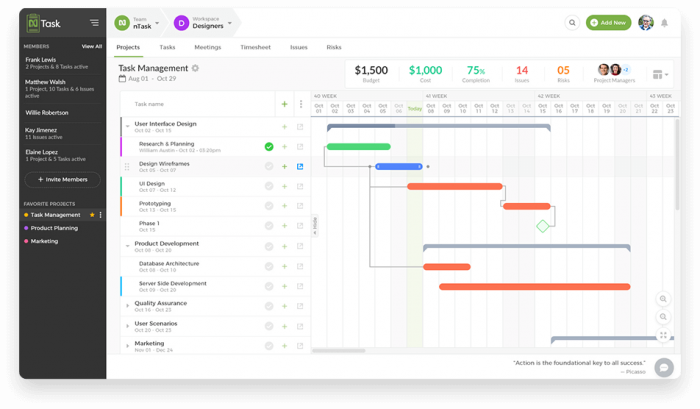 Being one of the best project management applications on the market right now, nTask is amazing when it comes to time management, task management, meeting management, project management, and other activities that you might want to perform in your project development process.
The application is extremely affordable and also offers a free version so that you can check out the software before making a purchase, and also provides discounts if you are a non-profit organization.
Here are some of the features that this amazing application has to offer.
Activity logging
Activity tracking
Calendar integration with Google Calendar
Data export
Due date tracking
Feedback management
File sharing
Best Smartsheet and Airtable alternative, nTask.

Manage all your tasks, projects, collaboration, resources and more in one place. Sign up today!
Conclusion
This was our comparison between two of the amazing project management applications that you can find on the market in 2021.
Both of these applications have merit and a huge clientele, but when it comes to project management, it usually comes down to a personal preference.
You might want to check out these two or some other applications for your company, but be sure that you pick the right application which fulfills your needs and requirements on your terms.
If you think that we missed something or if we mentioned something factually incorrect, contact us and we will get back to you in a jiffy.