Digitalization accelerated over the past few decades and paved the way for the development of digital communication platforms. It comes as no surprise that businesses of all kinds require constant communication in all directions. The COVID Pandemic acted as a catalyst in two ways.
One, it paced up the already accelerating global digitalization. Two, it made people realize that digital office work could replace, not just augment, the central-workplace design.
Overview of Project Management Software
With all this in mind, it was only par for the course that project management programs were duly required. There are probably hundreds of software available in the online market, including Jira, Monday.com, Nifty, Asana, Slack, and Trello. This article discusses and compares these two programs that individuals, companies, organizations, institutes, and businesses use for official communication and management.
Throwing Slack and Trello in the arena and pitting them against each other is very 'in' at the moment. However, to be fair and free of bias, this software should be looked at individually first. Here's a little bit about Slack.
Overview of Slack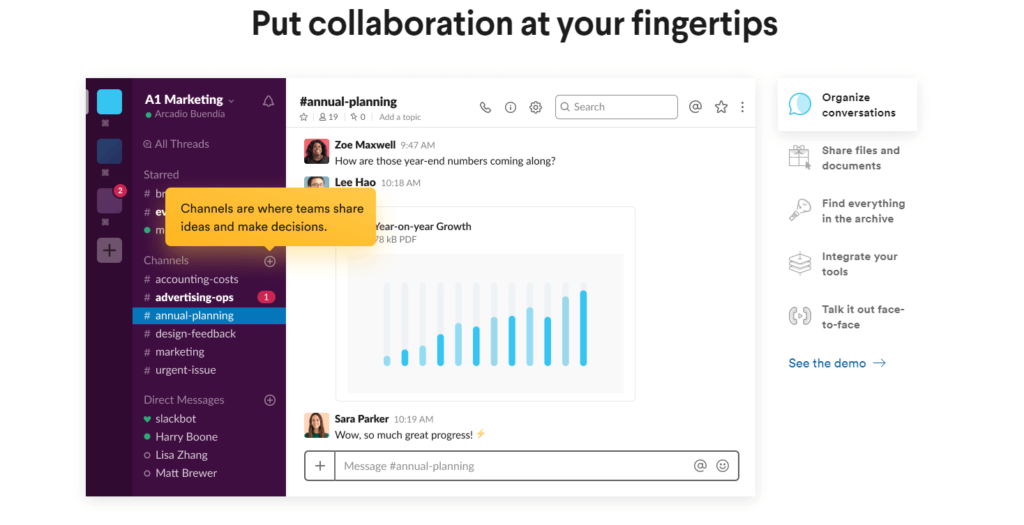 Slack is, cardinally, an instant messaging service. It provides companies to have a global communication platform that can station all official conversations, information, and updates better than end-to-end chats. In addition to this, Slack works as a project management tool by offering different channels for different teams or tasks. The users on these channels can talk amongst themselves and outside, remind users of impending tasks, and share files and other data.
Overview of Trello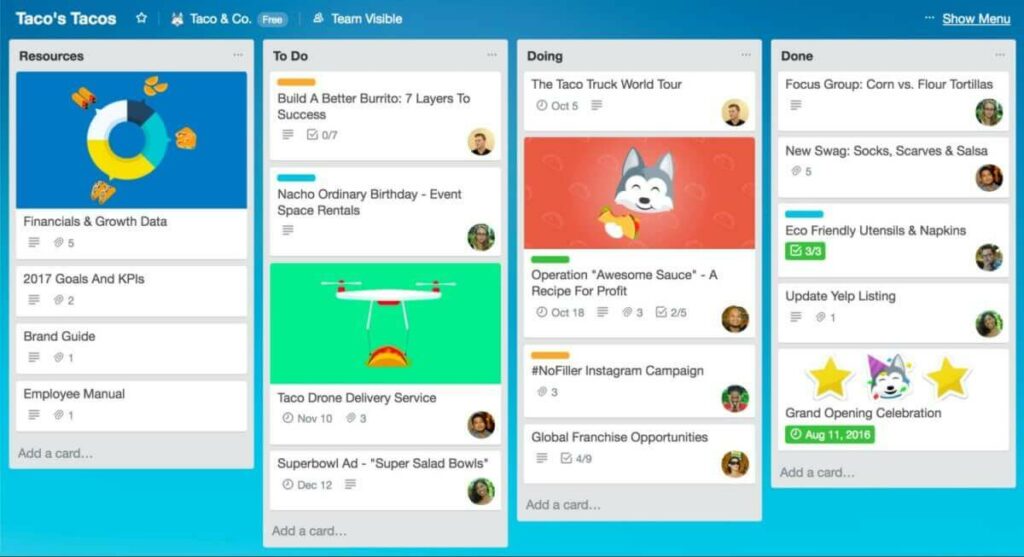 Atlassian, the company behind Trello, defines it as a "flexible work management tool". Trello is essentially built for progress tracking and streamlining workflows. Trello works like a giant digital monitor of a company's internal work and plans. Users of Trello can collaborate, keep fellow users updated on various tasks and plan the next step.
Comparative Analysis: Slack Vs Trello
Now that we have a general idea about what Slack and Trello are, we can move on to comparing their features. As it has already been established, Trello differs significantly from Slack. Thus there are more differences than can be accounted for, at least in the scope of this article. We'll keep our focus on the most functional of features, especially the ones that impact the software's overall productivity and desirability.
1. Interface
As already established, Slack is built differently from Trello, keeping tangentially different purposes in mind. It would be hardly surprising to know these programs have a significantly contrasting interface.
Slack's interface embodies its purpose of being an email plus digital workspace platform. It is a potent workspace communication tool and is more convenient. Instead of going through entire email threads or scrolling hundreds of messages, users can simply collapse a conversation. Users can also easily leave a message for an entire team or private members to see and monitor their response afterward. Slack also allows for video conferencing between employees without having it scheduled on another platform.
Trello was built to track, report, update and manage. It has a distinct Kanban-styled user interface. Upon logging in, the user can instantly see projects and tasks categorized into cards and columns. A project manager can conveniently track how far his/her teams have progressed without asking anyone. Trello allows you to send direct messages to other users or pin a notice for all too. It substantially reduces the time you'll spend with your company and coworkers looking for updates and progress. However, it isn't nearly as focused or efficient in communication as Slack. It does not allow video conferencing or mass messaging.
While Slack's interface can be described as communication-centric, it would be appropriate to call Trello a management-centric interface.
2. Accessibility and Ease of Use
The two software under consideration is meant to be used by employees and supervisors alike. Thus, people who plan and execute need to access the platform their company uses. As you would anticipate, both Slack and Trello are pretty user-friendly regarding accessibility and ease of use. If you won't take anyone's word for it, see the user ratings for these 'competitors' yourself. Most website surveys rate both Slack and Trello neck to neck; around 96% and 97% respectively. Most users describe Trello as being easier to use than Slack. However, it is noteworthy to consider that Trello has a larger user base.
All being considered, it is quite easy to sign up or log in to both platforms. Both software allows the personalization of user accounts as well as synchronization with Google accounts. Slack and Trello are available on iOS and Android, so they're also portable. There are, obviously, some features that do not overlap in the Slack and Trello Venn diagram.
For example, Slack offers Two Factor-Authentication that Trello does not. Similarly, Slack is better equipped to integrate other platforms as add-ons. Thus, Slack is superior in terms of integration alone. There are also conversation channels and private groups that are a distinctive 'Slack' feature
On the contrary, Trello offers a platter of features Slack does not. These include:
In-line editing
Voting by users
Task assignment
Checklists
Archiving.
Trello also supports a whopping 10 international languages on its platform, while Slack only supports English.
Dozens of templates to choose from.
The measure of a platform's accessibility and user compliance also has to factor in the demographic for which the platform was intended. Let us evaluate that separately.
3. User-base and Intended Demographic
This is another domain where Trello and Slack truly contrast. Since Trello functions by breaking projects into smaller projects, it's an open platform for anyone with a complex task. Thus, virtually anyone with a project to manage or work on can use Trello. From individual students, volunteers, small businesses, and publishers to software companies and law firms can use Trello. Trello currently hosts more than two million teams on its platform. Some notable mentions include Grand Hyatt, VISA, Zoom, John Deere, and yes; Google!
Slack, with its chat room style and conferencing design, is more suited exclusively for enterprises and corporations. Therefore, sales, marketing solutions, customer support, IT, engineering, administrative, and accounting firms are more likely suited for Slack. Slack also has a robust user base; the number being in the millions. Slack's website also boasts about hosting 65 Fortune 500 companies in addition to notable mentions like FOX and Intuit.
4. Pricing and Packages
This is also one of the distinguishing features of today's nominees. It should be taken into account that most users credit Slack and Trello for being free. However, the number of features available on the 'free' account significantly varies on both platforms.
Trello offers three while Slack offers four pricing plans. The Free plan is adequate for most individuals and small teams.
Trello's Free plan has unlimited the following features:
Members
Boards
Cards
Lists
Checklists
Attachments
The 'Free' plan also allows 1 free power-up and integrations, but only for Drive, Dropbox and Box. The total number of permissible integrations are 50 on Trello which can be availed by opting for one of the higher-priced 'Business' or 'Enterprise' plan.
Slack also offers a similar Free Plan with unlimited time and users permitted under this plan. However, Slack also allows:
Up to 10 integrations compared to Trello's three.
Two-Factor Authentication
5GB file storage for teams
Voice and video calls are limited to 2 users.
The other plans Slack offers include 'Standard', 'Plus', and 'Enterprise'; the last of which is available by asking for a quotation.
Drawbacks: Slack Vs Trello
Among the various features discussed above, most were merits of one platform the other lacked. It would be objectively valuable for any new user to be aware of the objective cons of each of these platforms. Comparing the weight of these cons would help decide a user it would be okay to work with a supposed downside.
For Slack, there are several problems with the interface that users have pointed out in their reviews:
Some users have described it as a more difficult version of Discord. This is because Slack encrypts all the conversation channels (chat rooms) separately. This means you have to remember and enter a different password for every other channel if you wish to join it.
Slack can also be disruptive for some users as the number of channels can exceed a reasonable amount. This can be confusing and counterintuitive at times.
Since Slack is an amalgam between email and Discord, people tend to communicate in the way they do on either of these platforms. Some users find the language and the use of GIFs and emojis that Slack allows to be unprofessional and annoying, especially in an official workspace.
For Trello, users mostly have complained about its interface. Some key drawbacks of using Trello are:
Users have complained that they've accidentally lost a comment simply by minimizing the app. This can be especially annoying since Trello's comments are feedback oriented and substantially useful to the user.
There have also been reported complaints about the Task Manager system that slows down and mars the team's performance. Similarly, some users report difficulty closing or erasing a card which can be annoying.
Final Words
It is understandable for new users to compare two similar digital products before using one. When it comes to Project Management, it can be especially difficult to get accustomed to newer ways of supervision. Both Trello and Slack are excellent platforms for working in a team. The features, merits, and demerits have been discussed at length above.
It would be wise for a new user to think outside the box before choosing among these platforms. If both Trello and Slack offer distinct features and are adequately priced for small-scale projects, why not use both? Alternatively, there are add-ons available in both apps for the other. There is a Slack app for Trello and a Trello add-on for Slack. Good knowledge of these functions can be useful for an effective team looking for a platform to communicate and manage their projects!
Relevant Readings: