Creating and sharing work schedules can be a tedious task. It often requires multiple people and departments to coordinate with each other in order to ensure that all employees are correctly scheduled and given the necessary time off.
This is the reason why migraines and set work schedules often go hand in hand.
To make this process easier, there are several online tools available to help streamline the process of creating work schedule layouts and sharing work schedules.
What is a typical work schedule tool like? A typical work schedule tool has features for creating and sharing work schedules laid out.
They include features such as drag-and-drop calendar editing, notifications for changes in shifts or holidays, analytics on employee performance and utilization, and integration with existing payroll software.
These features make it easier to keep track of employee availability, manage scheduling conflicts, and create an effective schedule that meets all relevant regulations.
Additionally, some tools also allow you to share schedules with employees via email or text message so they can easily access the information they need.
The right online tool can make work scheduling much more efficient. By doing research into the different options available and finding the one that best fits your needs, you'll be able to optimize your team's workflow and create a schedule that everyone can agree on.
By using an online tool to help streamline this process, businesses can save time and money while ensuring that employees are correctly scheduled and given the necessary time off.
Why Use An Online Tool For Creating and Sharing Work Schedules?
Online work scheduling tools provide a variety of benefits. They make it easy to create customized schedules quickly and accurately, allowing businesses to avoid mistakes or double-booking employees.
Additionally, they make it easier to share schedules with other departments or individuals in real-time securely, reducing the risk of miscommunication or delays in processing schedule changes.
Online tools also offer improved visibility into employee availability and hours worked, making it easier for businesses to monitor employee attendance and ensure compliance with applicable labour laws.
Overall, using an online tool can be an invaluable asset for any business looking to save time, money, and resources while ensuring accuracy in their scheduling process.
The Different Types of Online Tools for Creating and Sharing Work Schedules
Whether you are trying to organize shifts for a small business or manage complex processes with multiple departments, it's important to have the right tools in place to ensure that everyone is on the same page.
Fortunately, there are numerous online tools available that make this process much easier.
From simple scheduling apps which allow you to quickly assign shifts and time off, to more sophisticated programs which enable you to manage multiple departments and projects, there is an online tool for every need.
To help you choose the best solution for your needs, we've compiled a list of some of the most popular online tools for creating and sharing work schedules.
The first type of tool is a scheduling app. These apps offer an easy-to-use interface that allows users to quickly create and share their work schedules with colleagues or employees.
They also offer features such as automated time tracking, shift swapping, and notifications when changes are made.
This is great for businesses that need to quickly adjust their work schedules without having to manually update them each time something changes.
The second type of online tool is a calendar-based scheduling tool that allows you to create and share your work schedule with others.
These tools provide an easy-to-use interface that allows you to quickly create a schedule with all the necessary information including dates, times, employee names, and any other relevant details.
Calendar-based scheduling tools also make it easy to update or adjust your schedule as needed.
Thirdly, there are time-tracking apps that allow you to keep track of the hours worked by each employee. This is great for managers who need quick access to accurate records of their employees' hours worked.
Time-tracking apps also make it easy to export reports for payroll or other purposes.
There is also shift planning software that provides an all-in-one solution for managing multiple shifts across multiple departments or locations.
This software usually includes features such as automated shift scheduling based on preferences or qualifications as well as reporting capabilities.
No matter what type of organization you have or how complex your scheduling needs are, there's sure to be an online tool that can help you create and share work schedules with ease.
Take some time to explore the various options available and find the tool that suits your requirements best.
How to Use An Online Tool For Creating and Sharing Work Schedules?
By using an online tool for work schedules, you can save time and effort while avoiding any potential scheduling conflicts. The first step is to find an online tool that works best for your company's specific needs.
Once you have selected the tool, you will need to set up user accounts for your employees so they can access the system.
From there, you can begin to create and share work schedules with ease. When creating a new schedule, you will be able to specify individual shifts for each employee as well as any days off that may be required.
You can also set up rules for shift swapping or swapping shifts between different departments if needed.
The employer can also make any necessary adjustments or modifications to the schedule if needed. Once finalized, the schedule can be shared with all relevant parties via email or other communication channels.
This ensures that everyone involved is aware of their assigned shifts which helps avoid any potential scheduling conflicts down the line.
In addition to being easy to use, online tools are typically cost-effective solutions that save businesses time and money in the long run.
With features like automated notifications of upcoming shifts, drag-and-drop scheduling capabilities, and collaborative feedback options, these tools can make it easier than ever before for businesses to create efficient work schedules without breaking the bank.
Overall, using online tools is a great way for businesses to simplify their scheduling process while staying on top of employee management.
The Best Online Tools For Creating and Sharing Work Schedules
From employee shift tracking systems to comprehensive workforce management platforms, there are many different types of online tools available when it comes to work schedules. Here's a quick look at some of the best: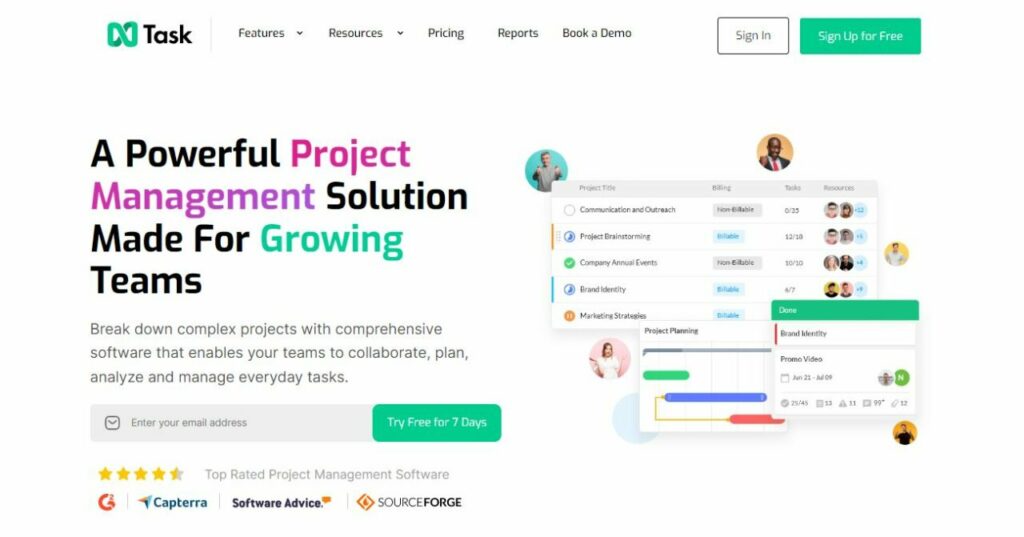 Tired of managing your team's multiple projects? nTask is here to help you simplify your life and boost productivity.
Designed for business users, nTask is easy to use and comes with a host of features that will streamline your workflow and make work easier.
With comprehensive software that enables teams to collaborate, plan, analyze and manage everyday tasks, nTask is the perfect choice for anyone looking to boost productivity.
Plus, its robust analytics tools will help you see where improvements can be made so your team can achieve their goals faster than ever before.
Key Features:
In-built calendar
To-do lists
Share files, documents, etc.
Chat features
Task tracking
Gantt charts
Time tracking
Task dependencies
Pricing:
Basic – Free forever
Premium – $3 per month
Business – $8 per month
Enterprise – Custom pricing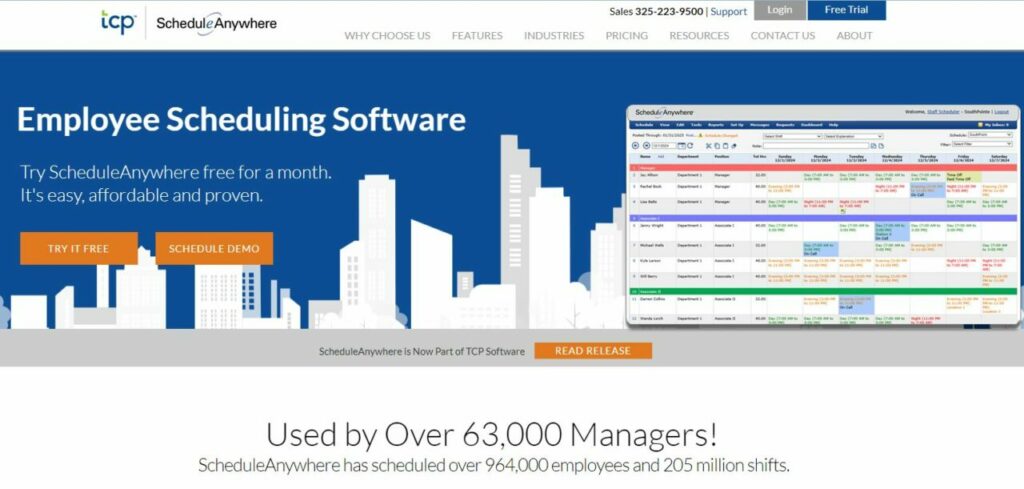 ScheduleAnywhere is the leading online employee scheduling software for over 30 years. That means its automation and features have been tried and tested by businesses of all sizes to make your life easier when it comes to managing schedules.
The tool allows you to easily manage your employees' schedules and assign tasks to them. You can create a comprehensive view of their work schedule and tracks their attendance. You can even send important emails regarding the same.
ScheduleAnywhere offers a wide range of features that will help you streamline your operations, reduce costs, and improve efficiency while also making sure you're protected by our state-of-the-art security measures.
Key Features:
Create custom schedules & reports
Rotate schedules automatically
Post schedules & changes
Fill open shifts
Verify proper staffing
Track skills & certifications
Manage employee communication
Self-scheduling
Ensure compliance & gain visibility
Access via mobile app
Pricing:
ScheduleAnywhere offers affordable pricing options, depending on the number of employees. New users can start with a free trial or request a demo to learn more about the tool and how it works.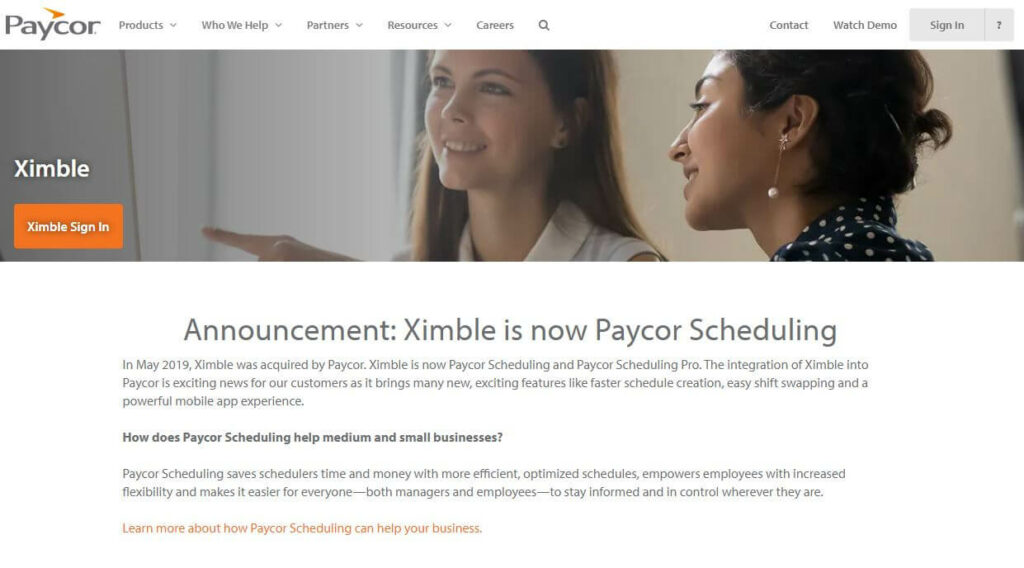 Ximble is the perfect software for organizing your team, communicating information in real-time and improving productivity.
Employers can streamline their operations by scheduling meetings, running on-call shifts, updating employee profiles, and more with Ximble.
The intuitive interface makes it easy to find the information you need when you need it most. With Ximble, you can schedule meetings with employees, communicate information in real time, and improve productivity.
From the CEO to the interns, everyone on your team is accounted for.
The software allows you to organize teams efficiently by creating a calendar of all important events and assigning people to them. In addition to that, it provides real-time updates to keep everyone on the same page.
Key Features:
Fast scheduling
Create templates and assign shifts
Mobile scheduling
Real-time notifications
Shift reminders
Scheduling rules
Advanced reporting
Budget planning
Pricing:
Ximble's pricing starts at $1 per month and also offers a free trial to new users.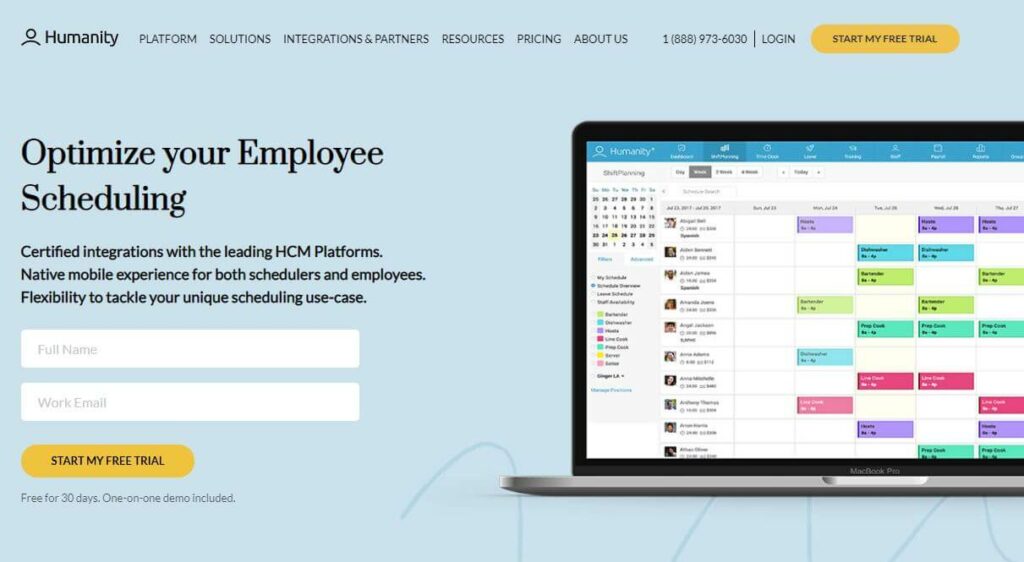 Humanity is made for businesses of all sizes and industries. It makes it easy to create and manage staff schedules online.
Not only is it flexible enough to accommodate your changing needs, but it also offers complimentary time and attendance features as well as leave management tools.
You can set up automated shifts for employees and track time card usage online with ease. Plus, with complimentary attendance and leave management features, you'll know who's available or not when it matters most.
With Humanity, scheduling and managing your team's schedules becomes a breeze.
Key Features:
Flexible staffing rules
Automated scheduling process
Customizable rules and instant conflict warnings
Staff can trade shifts
Employees can request time off, release shifts, pick up open shifts, adjust their availability, and view the latest schedule from any mobile device
Auto scheduling
Flexible scheduling
Integrations
Tracking
Pricing:
Humanity offers three different pricing plans; starter, classic and enterprise. Users can contact the Humanity team for custom pricing.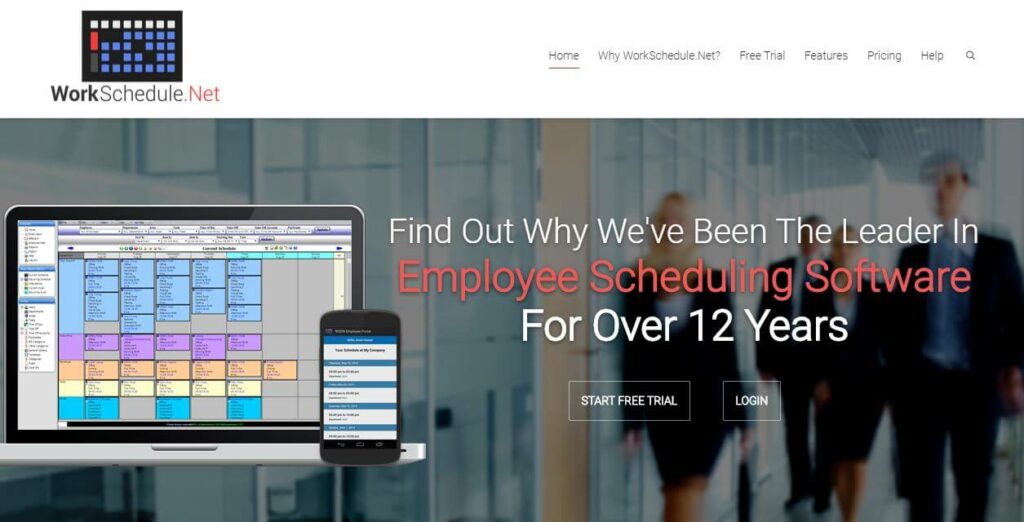 WorkSchedule.Net has been built from the ground up with usability in mind so that you can quickly and easily get things done without frustration. It offers some great features like mobile app scheduling, automation of tasks, and more.
Its desktop app is packed with features like project management tools and on-the-ground support that make working smarter possible. On top of that, WorkSchedule.Net mobile app will make sure you always have access to your account no matter where you are
Key Features:
automatic scheduling engine
template import
mass shift editing
Mobile app
Online time clock and online timesheets
Time off option
multiple view configurations
calendar editing
Notifications
Pricing:
Monthly – $3.49 per user
6-Monthly – $3.31 per month per user
Yearly – $3.14 per month per user
2-Year – $2.96 per month per user
3-Year – $2.79 per month per user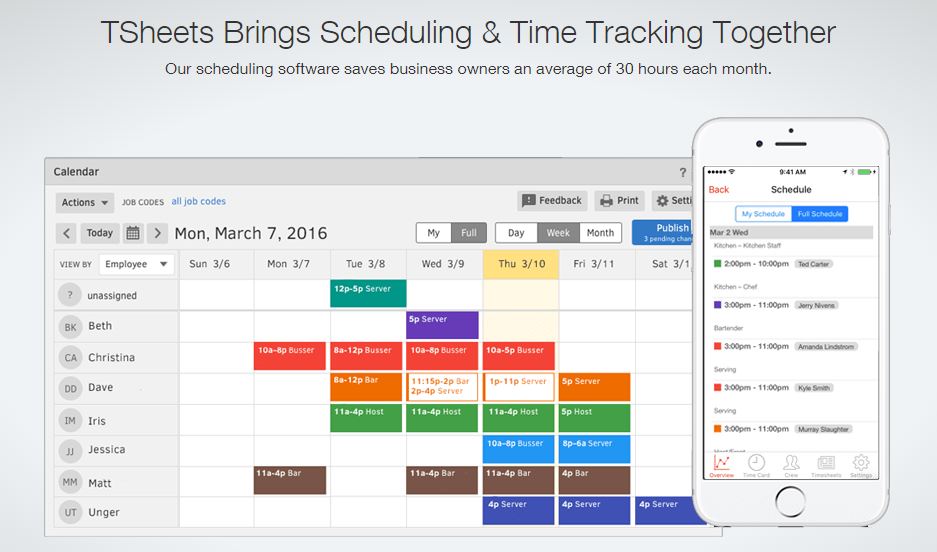 TSheets, now known as QuickBooks, is a modern alternative to paper timesheets. It is a web-based and mobile app that helps you track your work hours in a quick and easy way. You can enter your daily data without having to write it down in a paper timesheet or punch card.
It also syncs with other tools like Google Calendar so that you can always keep track of your work schedule.
TSheets makes use of web & mobile platforms to track work hours efficiently while providing a user interface that is easy to understand & follow.
It also has availability on multiple devices like laptops, tablets, and smartphones, so you can schedule your employees from anywhere!
Key Features:
Drag-and-drop shifts
Add, edit, or delete scheduled shifts
Alert employees of new schedules and shift changes
Easily copy and edit a previous week's schedule
Who's Working window
Android and iOS app
Integrations
Robust project management and geofencing technology
Real-time, interactive reports
Pricing:
Simple Start – $15 per month
Essentials – $27.50 per month
Plus – $42.50 per month
Advanced – $100 per month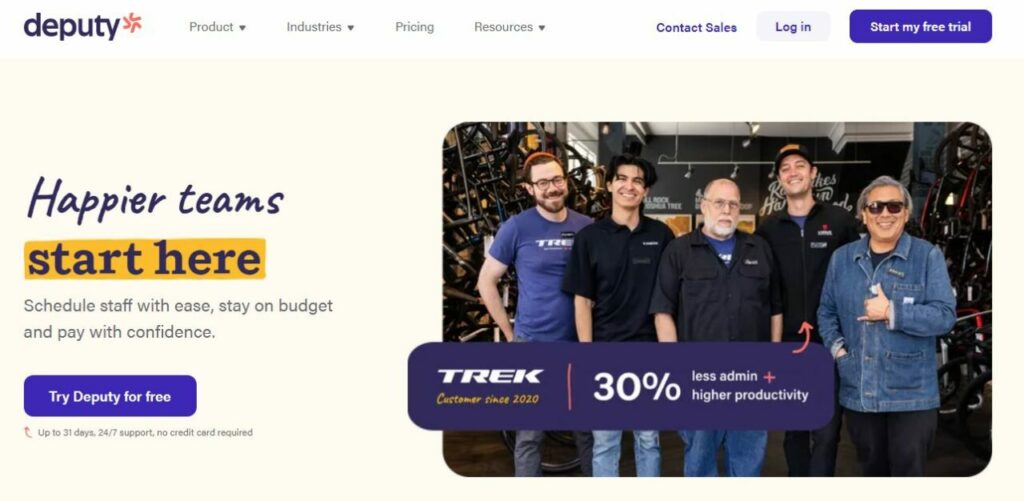 Deputy is our 7th pick on this list. The tool is an easy-to-use employee scheduling, timesheet & time clock software that helps you manage your workforce with ease.
Whether you're a small business owner or a large enterprise, Deputy can help you streamline operations and save money by automating tasks like timesheeting and payroll processing.
Track the hours of your employees quickly and accurately using Deputy's web application or the desktop software on any computer.
Also, it allows you to manage payroll efficiently by adding taxes, deductions, and more through its online payroll module.
Key Features:
Payroll provider
Manage fatigue & overtime
Simplify wage & hour compliance
Schedule by skillset
Cover leave & unavailability
Monitor attendance & breaks
Pricing:
New users can try Deputy for free for 31 days with 24/7 support. Priced packages include:
Scheduling – $3.50 per user per month
Time and attendance – $3.50 per user per month
Premium – $4.90 per user per month
Enterprise – Custom pricing

Planday is a power-packed online employee scheduling software. It is easy to use and has a variety of features to make your life easier. Whether you want to build an employee schedule, track attendance, hire new employees or manage a team, Planday can take care of all your needs.
With its powerful tools and user-friendly interface, building an employee schedule becomes easier every day. Planday lets you create schedules for multiple employees at once and even sync them across devices.
Planday is fully customizable and extensible, so there's no limit to how far your business can grow with it. It also comes with a free trial period so that you can try out all its features without worrying about incurring any extra costs.
Key Features:
Weekly, fortnightly and monthly overview
Smart scheduling
Customise your own templates
Schedule Reports
Payroll overview
Revenue forecast
Pricing:
Starter – 2.49€ per month
Plus – 4.49€ per month
Pro – 6.49€ per month
Enterprise – Custom pricing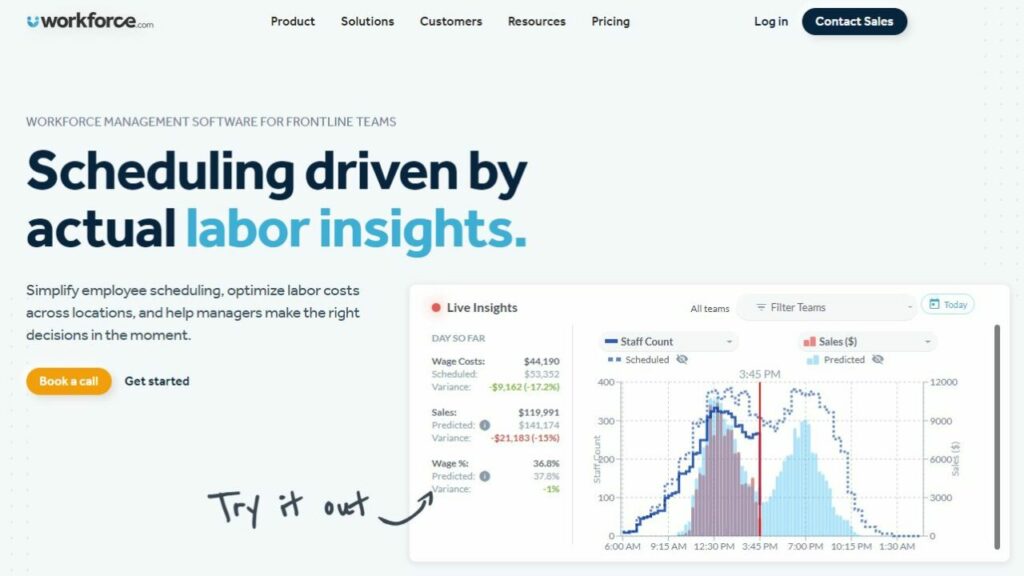 Workforce.com is a powerful and elegant software that provides all-in-one solutions for handling work wherever it happens. From payroll to HR, from time tracking to team collaboration, this software has everything you need in one place.
Workforce.com is also fully compatible with other business tools so that you can manage your entire workforce in an integrated fashion.
It helps businesses of all sizes get their operations off the ground quickly by automating tedious tasks like hiring, training, and scheduling employees.
Using Workforce's intuitive interface, you can track the productivity and availability of your employees, assign tasks, track time and attendance records, view employee profiles, send reminders and much more!
Key Features:
Work patterns
Update schedules to meet one-time or ad hoc changes
Create schedule models
Verify employees' skills, certifications, etc.
Leverage labor forecast data to optimize schedules
Flexible options to resolve conflicts
Monitor planned schedules
Pricing:
Workforce.com offers a free trial of 14 days for new users. Users have two options in terms of priced packages offering custom pricing; business and enterprise.
Conclusion:
Creating and sharing work schedules doesn't have to be a hassle. With the right online tools, businesses can easily create and share work schedules, ensuring that all employees are correctly scheduled and given the necessary time off.
These online tools make it easier for businesses to efficiently manage their workforce and ensure everyone is on the same page.