Are you looking for ways to collaborate more effectively with your team?
Whether you're a business owner or a manager, you'll want to consider some of the most secure collaboration tools available today.
With technology becoming more and more important in the workplace, it's important to find tools that protect your data and keep your conversations confidential.
So, in this article, we are going to talk about the 15 best secure collaboration platforms that you and your team can use in 2023.
What Is A Secure Collaboration Platform?
A secure collaboration tool is a valuable asset for businesses, especially those that work with sensitive information. A secure collaboration tool allows employees to share files and documents securely without fear of being hacked or exposed. It also ensures that all communication is encrypted so that no one can spy on it.
There are a number of different types of secure collaboration tools available today, each with its own benefits.
It's important to choose the right one for your business needs.
The most important factor to consider when choosing a secure collaboration tool is security compliance requirements. Make sure you select a platform that meets your organization's stringent security standards!
After selecting a platform, be sure to invest in adequate training so everyone in your organization understands how to use it properly.
Finally, make sure you keep up with the latest trends and updates related to this area – staying ahead of the curve will help protect your data from attacks!
How Does It Work?
The Secure Collaboration tool aims to solve some of the common challenges faced when working remotely.
For example, it enables users to easily share files and collaborate on projects without having to worry about their data getting compromised. Additionally, its security features protect user data from being accessed by unauthorized individuals or hacked servers. 
Overall, the secure collaboration tool is a great tool for businesses that need to create a more efficient and secure workflow in order not only to communicate with co-workers but also work together on large projects as well!
Benefits Of Using A Secure Collaboration Tool
Some of the key benefits of using a secure collaboration tool include:
With a secure collaboration tool, you can easily exchange files without fear of them being intercepted or lost.
Using a secure collaboration tool reduces the amount of time spent communicating between colleagues via email or chat rooms.
The most obvious benefit of using a collaboration tool is that it speeds up the process dramatically.
Files stored in a collaborative environment are automatically backed up so that even if something happens accidentally, it's easy to restore them without much hassle.
15 Secure Collaboration Platforms For 2023
Here are 15 of the best collaboration tools for business owners in 2023.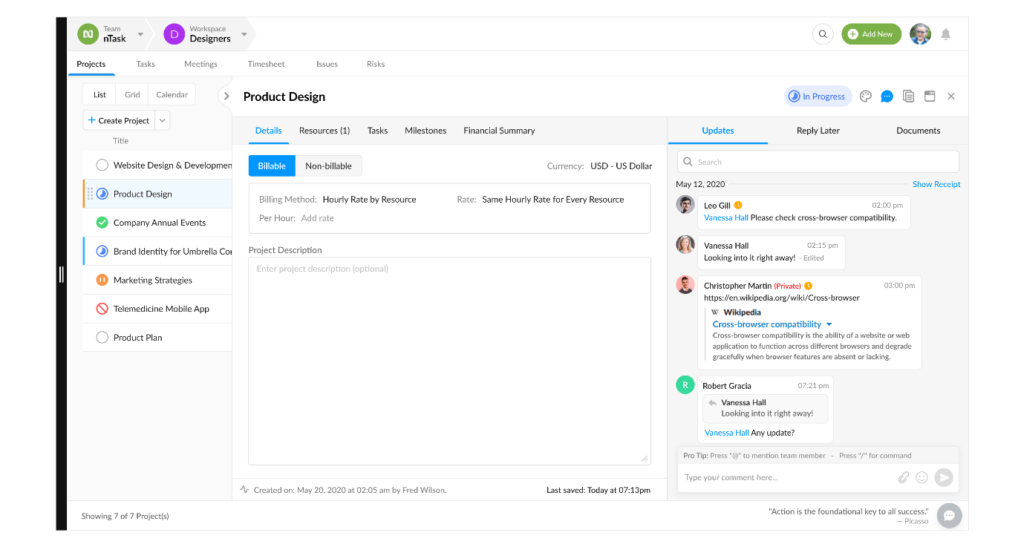 nTask is a secure collaboration tool that helps teams work more efficiently and effectively. It offers features such as project messaging, video conferencing integration with Zoom, file sharing, and group chat functionality.
This makes it perfect for use in business settings, where groups of people need to collaborate on tasks or projects.
With nTask, you're guaranteed peace of mind when working with confidential information. Creating projects with friends or colleagues is simple.
Everyone on your team can easily view and edit files in real time without fear of data breaches or unauthorized access.
It works seamlessly across devices: Whether you're working on your laptop at home or during office hours at the business park – nTask will allow you not only to keep up with deadlines but also remain productive all day long.
2. Proofhub

ProofHub is a web-based platform that makes it easy for businesses to create, manage, and track proof of concept (POC) projects.
ProofHub offers a simple drag-and-drop interface that allows users to easily create new POCs or update existing ones. The platform also has built-in features for tracking progress, managing resources, and reporting results.
One of the key benefits of ProofHub is its security features. The platform uses SSL encryption to protect user data, and users can join groups with strict privacy settings in order to keep confidential information safe.
Furthermore, the authentication process ensures that only authorized participants have access to shared files.
3. Hive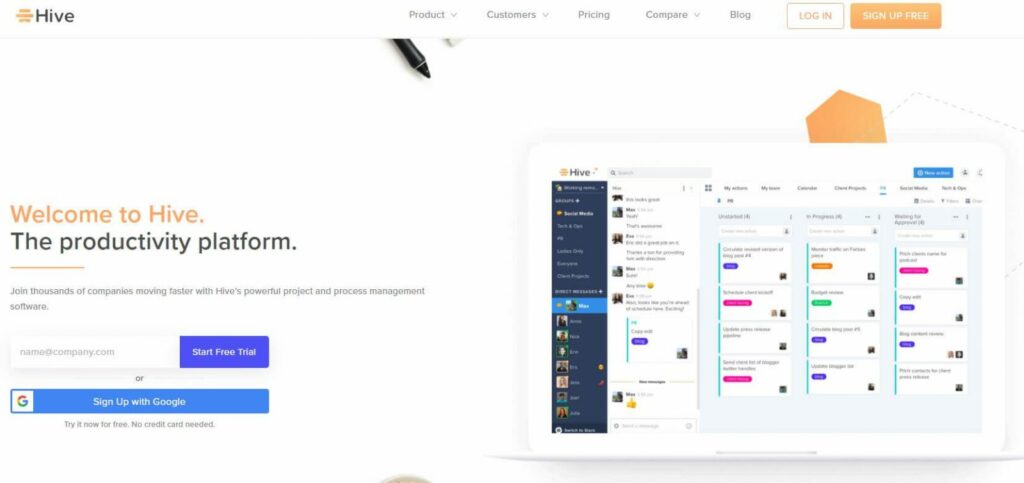 Hive's secure collaboration is a powerful tool that allows teams to work together securely and easily.
It enables users to share files, folders, or entire directories with team members without having to worry about the security of their data. Plus, it offers many other features such as file versioning, comment history tracking, and more.
If you are looking for a powerful way to collaborate with your team securely, Hive secure collaboration should be at the top of your list. It's easy to use and provides all the benefits necessary for effective teamwork.
4. Nira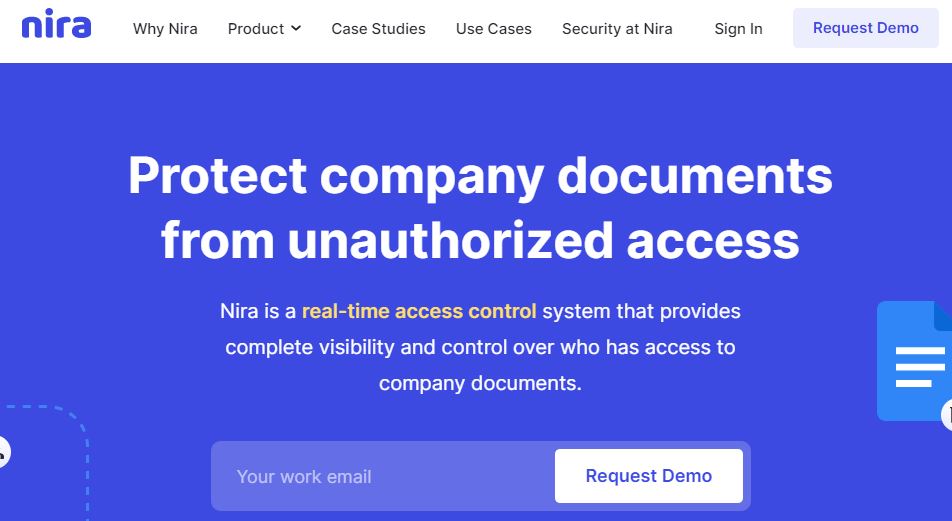 Nira is a cutting-edge machine-learning platform that offers businesses the ability to automate their data analysis and decision-making processes.
Nira's artificial intelligence (AI) algorithms are able to quickly analyze large volumes of data, identify patterns and trends, and make recommendations for action.
This helps businesses scale their operations by increasing efficiency and accuracy while reducing costs associated with manual data management activities.
5. Basecamp

Basecamp is a popular project management software that allows users to collaborate on projects securely. It offers features such as file sharing, chat rooms, and password-protected groups for managing team communication.
It has secure communication and file-sharing capabilities for team members.
With Basecamp, you can easily create projects, share files with your team, and track progress from one session to the next. Plus, basecamp provides advanced security features to keep your data safe from prying eyes.
6. Slack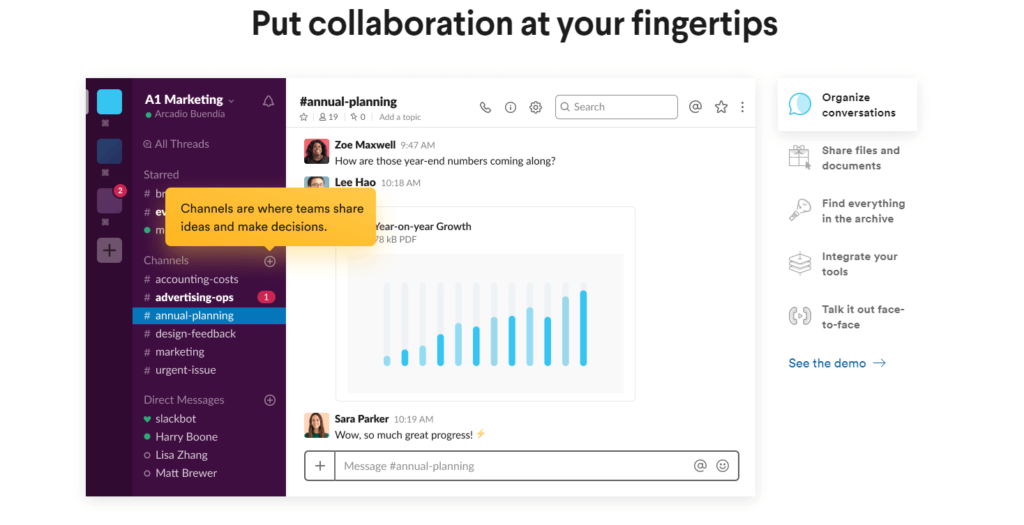 Slack is a popular communication platform used by millions of people around the world. It's simple to use and works well with teams, allowing employees to share tasks, discussions, and ideas easily.
Slack also offers secure collaboration features that allow team members to share files securely without having to worry about them being compromised.
It's popular among businesses for its secure communication features, as well as its versatility and easy-to-use interface. Slack also has a large community of users who are willing to help you out when you need it.
7. Zoom

Zoom has a secure collaboration tool that helps businesses share files, collaborate on projects, and stay organized. It offers users the ability to work from anywhere in the world, without having to worry about security or privacy issues.
Zoom also provides features such as password-protected sharing and automatic file reference management.
Zoom is perfect for companies that need to keep their business operations running smoothly and efficiently.
Its simple user interface makes it easy for employees to access files wherever they are, while its security features ensure that sensitive data remains safe and confidential.
If you're looking for a dependable collaboration tool that can help your business run more smoothly, then Zoom should be at the top of your list!
8. Mindmeister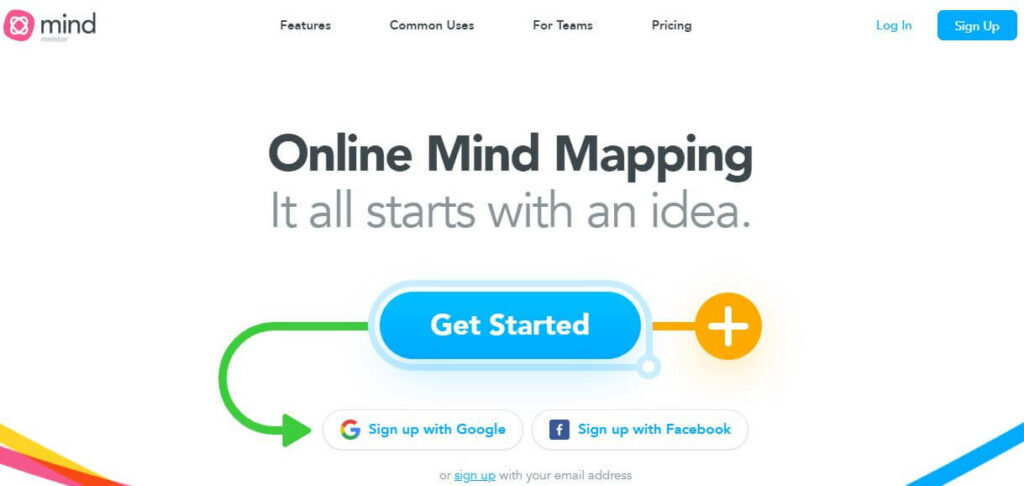 Mindmeister is a secure collaboration tool that helps business professionals stay connected and share ideas with ease. It offers a wide range of features, such as drag-and-drop content creation, real-time messaging, file sharing, and more.
Mindmeister is perfect for businesses that need to keep track of their entire communication process.
Whether you're working on a project together or planning meetings online, Mindmeister will help you stay organized and make sure all your interactions are confidential.
With MindMeister's user-friendly interface and powerful tools, it has become the go-to choice for many professional organizations around the world.
9. Hugo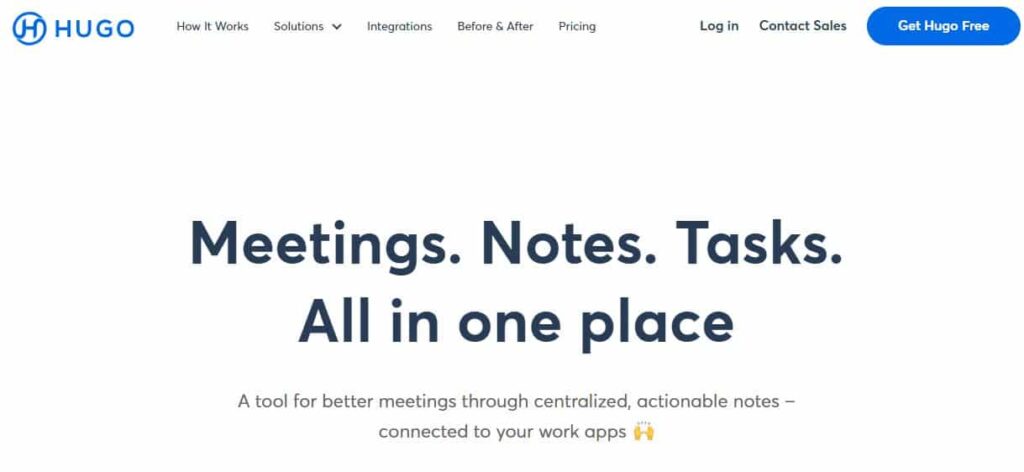 Hugo is a tool that allows users to share files, collaborate on text and documents, and more. It features end-to-end encryption for all data in transit and at rest, which makes it safe to use no matter where you are.
Additionally, Hugo also supports file versioning and has an integrated revision control system so team members can easily track changes.
The Hugo team also offers several security features to protect against data loss, malware attacks, and other malicious activity.
For example, you can allow only authorized collaborators onto your project file(s), encrypt passwords using two-factor authentication (2FA), and automatically sync changes with collaborators via the cloud so everyone always has the latest version of your files.
10. Planable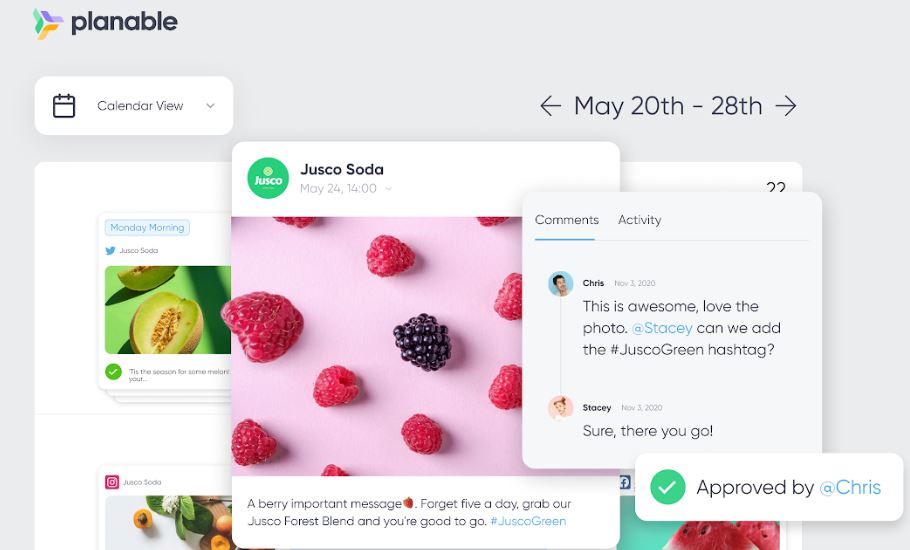 Planable is a new kind of app that allows users to create and share custom plans with their friends. Plans can be anything from workouts to meal ideas, and they can be shared directly with your friends or posted on social media for everyone to see.
There are several advantages to using planable platform over traditional fitness apps. For one, it's a secure collaboration feature, and easy to follow a personalized routine when you're working out with someone else.
Plus, there's no need for annoying ads or long loading times – everything is immediately available in the planner once it has been created.
Planable also makes weight loss easier than ever by providing calorie counts and macros for each meal, as well as tips on how best to prepare them.
11. Microsoft Teams

Microsoft Teams is a powerful platform that allows businesses to securely collaborate across different devices and platforms. It's simple to use and can be integrated with a variety of applications, making it ideal for business use.
One of the biggest benefits of using Microsoft Teams is its security features. Team members are automatically locked down once they're signed in, which helps keep your data safe from unauthorized access.
Furthermore, all conversations and files are encrypted during transit, meaning that even if someone were to intercept them on the go, they would still be useless without the encryption key.
Overall, Microsoft Teams is an excellent choice for businesses that want to improve their communication infrastructure and increase efficiency overall.
12. Toggl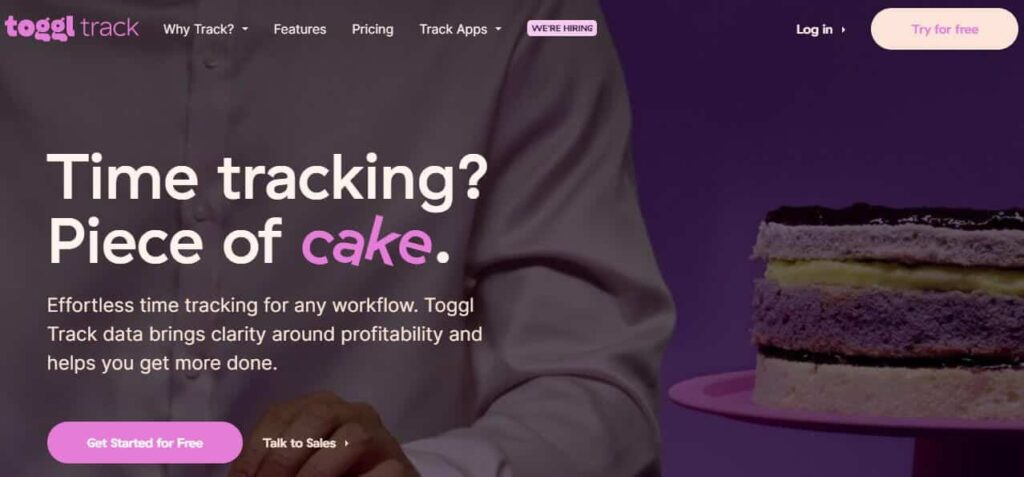 Toggl is a secure and easy-to-use collaborative to-do list app that allows users to manage their tasks together. It offers features such as automatic task completion, private notes and comments, and seamless file Sharing between collaborators.
Toggl's security features make it the perfect tool for busy professionals or families who want to keep track of their daily tasks without frustrating delays or complications.
With its simple interface, Toggl can be quickly accessed from any device, making it ideal for on-the-go use.
Its intuitive design makes it easy to use no matter what your skill level or experience may be. Additionally, its efficient performance ensures that all tasks are completed in a timely manner – meaning you won't have to waste time waiting on other people!
13. Asana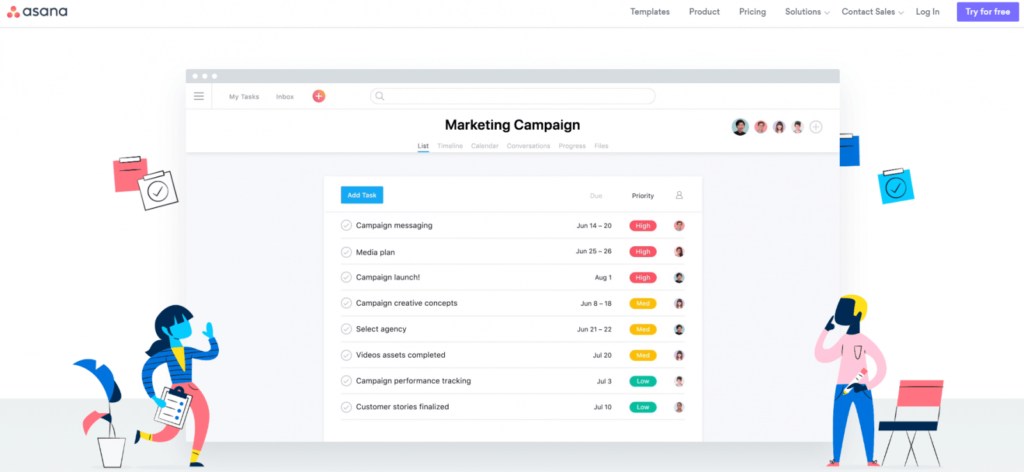 Asana is a popular workplace collaboration app that lets users track and manage their work tasks. Because Asana is such an important part of many people's workflow, it's essential to make sure that the data stored on the app is secure. 
One of the best features of Asana is its security feature known as "Integrity Pools." This ensures that all data stays safe and private by pooling it together with other users who have also opted into the integrity pool.
This makes it difficult for anyone to tamper with your data or steal it outright.
14. Google Drive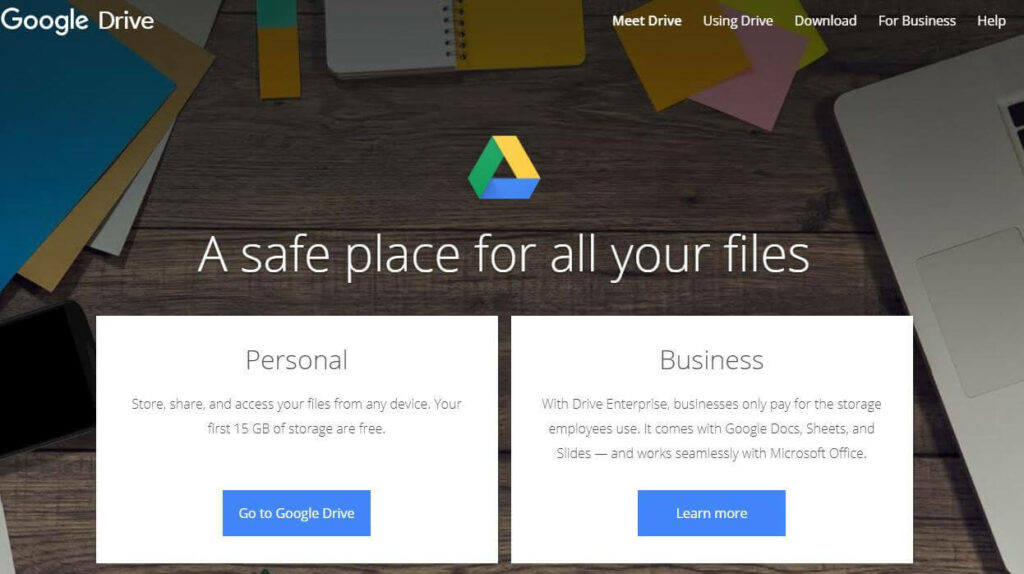 Google Drive has become the go-to platform for secure collaboration. It offers users a user-friendly interface, unlimited storage space, and seamless file sharing between collaborators.
Moreover, it integrates with various other applications and services to make working together even more efficient.
One way to protect your files is to use password protection. This prevents anyone else from accessing your files unless they know your password.
You can also encrypt your files using G Suite's Encryption feature (available in paid plans only). This will make them unreadable by unauthorized parties without the correct key.
Additionally, you should always keep copies of your files offline – in a physical or electronic backup – in case something happens to the original copy on Google Drive. And finally, never share confidential information such as financial data or client secrets via Google Drive!
15. TeamViewer

TeamViewer is a popular and reliable application for secure collaboration. It allows users to connect to other computers over the internet, and work on files together as if they were sitting in front of each other's screens.
This makes TeamViewer an ideal solution for projects that require multiple people working on the same project at the same time. Plus, TeamViewer offers features like video calls, screen sharing, and file transfer that make it easy to get started working on your project.
Setting Up Your Account And Creating Your First Project
Creating a new account on a collaboration platform can be a difficult task. However, by following these simple instructions, you will be up and running in no time.
Choose an appropriate name for your project
Create a secure password
Enter your email address and password into the login form
Select the language you want to work in
Once you have logged in, you will be given access to your project area. Here, you can create content, manage collaborators, and track progress together with your team.
Adding Collaborators And Managing Files
Adding collaborators to a project can be an exciting and empowering experience, but it can also be stressful if the collaboration is not managed properly. In this article, we will discuss some tips for adding collaborators and managing files in secure collaboration.
When adding collaborators to a project, it's important to keep in mind their level of access and responsibilities.
Make sure that everyone who is added receives an email notification about the change, so they are aware of what has happened and understand their new role within the team.
It's also helpful to create or update file permissions as needed so that everyone knows which files they are allowed to access and modify.
Finally, make sure all communication between participants is through proper channels – chat rooms or dedicated messaging systems rather than email threads.
Communication tools like these help ensure that all stakeholders are up-to-date on progress and issues related to the project at all times."
Keeping Files Safe And Confidential
Keeping files safe and confidential in secure collaboration is essential for businesses of all sizes.
Whether you are a small business collaborating with another business, or an organization working on sensitive projects, it is important to use the right tools and strategies to keep your data safe.
Here are several tips for keeping your files safe:
Use passwords that are unique and hard to guess. Make sure each user has a different password, and never share your passwords with anyone else.
Encrypt your files using strong encryption methods (such as AES-256) when sending them between collaborators or storing them online.
Always keep backups of your files so you can restore them if something goes wrong. Make copies before making any changes to the originals, just in case!
Keep communication channels open and stay informed about changes happening within the company so you can take appropriate action if necessary
Conclusion
Secure Collaboration is a vital part of every business process. So, as you can see from the above-mentioned tools and platforms, it does not have to be slow and inefficient anymore!
Some of these collaboration tools include nTask, Asana, Slack, Google Drive, etc. They make sharing documents fast and easy while also making sure your data stays secure. Thus, they are a new way forward in ensuring better collaboration practices.
Keep experimenting with these tools to come up with the best one for your team!