In this article, Fred Wilson explores the 14 best resource management software of 2022.
In today's world, the perpetual pressure of delivering more in less time is real. Squeezing in the crazy amounts of work within a limited budget and time can seem like a pain.
What's even more daunting is that a lot of companies suffer from the dilemma of not understanding the art of resource management. As a result, negative consequences are born which affects the overall project performance.
A company's assets can include an array of resources, but we're talking about people here. So, the trick lies in balancing the resources' capacity and demand.
Using professional resource management software can help ease your pain points as there is statistical evidence that proves the same. According to Eurostat, more than one in three enterprises use some sort of enterprise resource planning software.
So, if you're on a hunt for resource management tools (you should if you're not), here's our version of resource management software you can start using right now to get your team on track and in line with your project goals.
1.
Mavenlink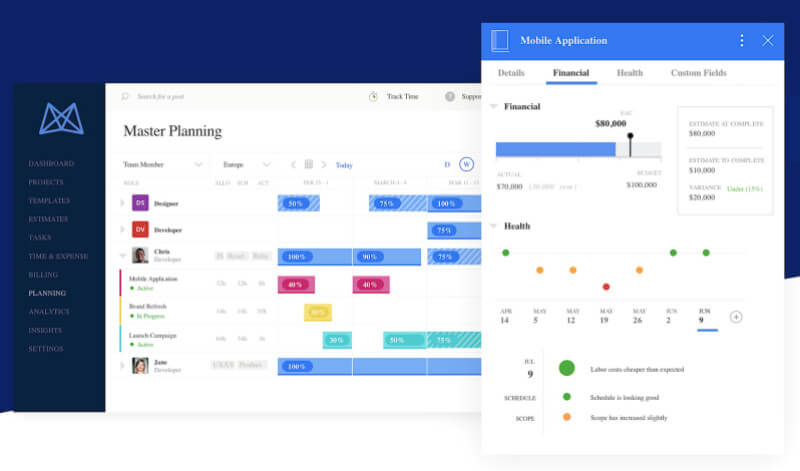 The first resource management software we have reviewed for you is Mavenlink. An enterprise-level resource management tool, Mavenlink allows powerful project planning and scheduling features to manage your teams efficiently.
Coming with pre-built project templates for multiple scenarios, the tool facilitates quick and easy resource estimates. Through these resource estimates, you can then calculate profit margins, and also analyze which resource decisions are impacting the profitability of your business.
The tool also lets you forecast future resource needs and resource availability based on your current capacity through comprehensive what-if analysis.
Key Features
Native project templates
Resource estimation calculation
Profit margin calculation
Resource finder according to skills
Resource availability forecast
Activity feed for quick collaboration
Pricing
Starting from $19 per month for 5 users. Each plan comes with a free 10 days trial.
---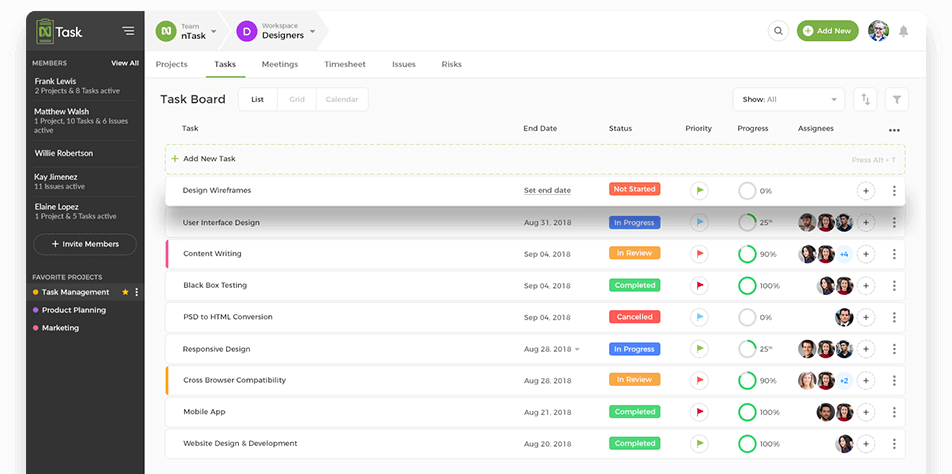 nTask is a free project management software with resource management feature which is best suited for you if you're not looking to get into a myriad of complex functionalities other tools come with.
Although this tool doesn't come with a strong resource management module, it has everything you need to get things going for the best.
A quickly evolving tool, nTask allows you to easily set hourly rate by individual resources, tasks, or projects. The software comes with an interesting feature set to help you with resource management, all the while ensuring a smooth user experience.
Through time tracking and timesheet management, you can keep an eye on overall project activities and how much time your team is spending on a particular task.
Not only this, but nTask also comes with other elaborate project management features enabling you to efficiently manage your resources, while staying aligned with your project goals.
✨ Key Features
A bird's eye view of resource schedule through Gantt charts
Weekly timesheets to monitor the time being spent on tasks
Hourly rates to analyze how much money each activity costs
Billable or non-billable tasks' status
Time tracking with tasks
Timesheets approval or disapproval by the manager
Resource allocation to specific tasks according to the availability
Drag and drop functionality for resource scheduling
Public links of Gantt charts to share with your clients or anyone
💸 Pricing
Free plan available with unlimited workspaces for 5 team members
Premium plan – Starting at $3/user per month
Business plan – Starting at $8/user per month
Looking for the best resource management software?

See for yourself why teams trust nTask for resource management. Time tracking, timesheets, Gantt charts & more.
---
3.
Float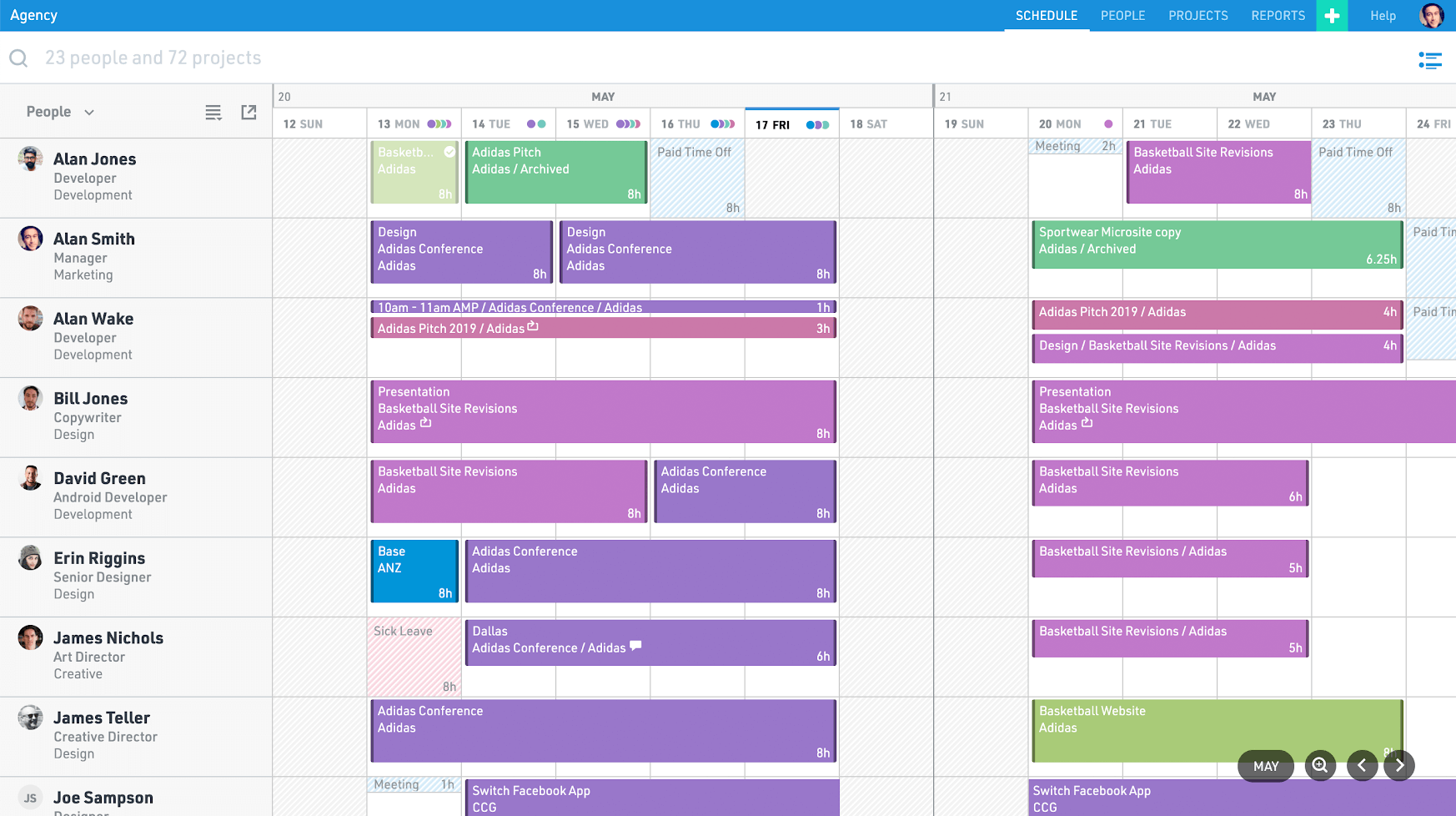 A robust resource planning software, Float provides flexible resource scheduling options to users. It does so by giving the functionality of drag and drop, splitting, and duplicating tasks on the calendar. The functions come in handy when schedules or requirements change.
Through the live schedule updates, the schedule changes are automatically updated in real-time to give everyone a heads up. You can also easily find the right person or project by powerful search and sorting filters.
Other than this, you can visualize your team schedule by zooming in for a detailed day view or zooming out for a 12-week forecast.
Key Features
Drag and schedule view
Splitting and duplicating tasks
Live activity updates
Absence and leave management
Powerful search and sorting filters
Team workload visualization
Third-party application integrations
Pricing
Float is available for $5 per person scheduled/month. 30 days of free trial is offered.
---
4.
Paymo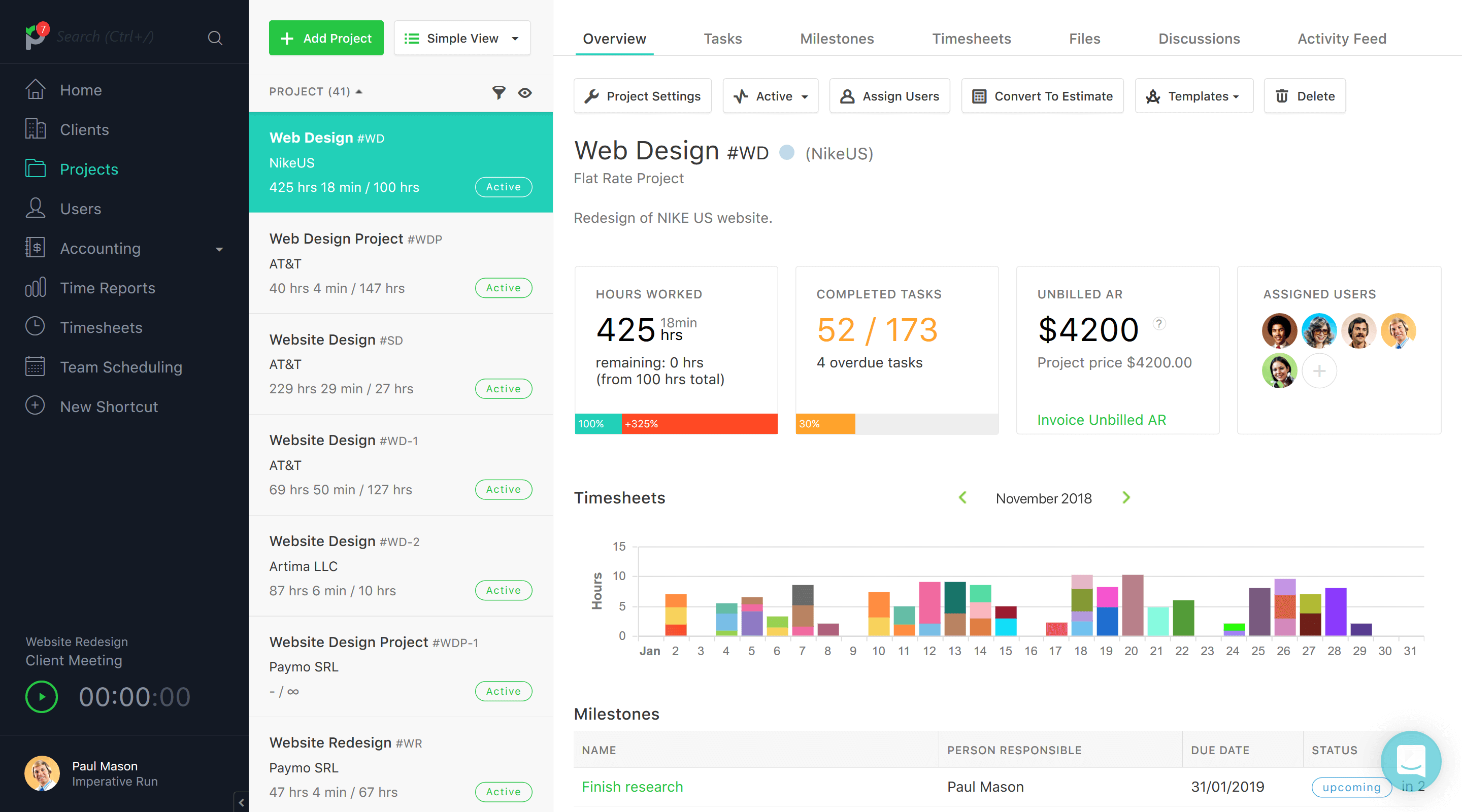 The fourth tool in our list of resource management tools is Paymo. A team resource management software, Paymo comes with some solid resource scheduling features. It supports multiple views for schedules, real-time bookings, and leave management – among other features.
You can conveniently convert existing bookings into time entries and manage each employee's individual timesheets. Furthermore, for time-sensitive tasks, you can utilize the daily view to track performance according to hours.
Key Features
Smart resource scheduler for automatically scheduling tasks
Timesheet management
Multiple views for bookings
Leave planner
Drag and drop functionality
Ghost bookings for predicting the schedule
Pricing
Paymo offers Free and paid plans. The paid plans start from $9.56 per user/month.
---
5.
Resource Guru
Used by one of the top agencies of the world, Resource Guru comes with some pretty strong resource management features. This resource scheduling software allows you to easily add bookings according to the availability of resources.
The tool lets you quickly drag-and-drop bookings on the calendar to match the requirements. The smart calendar also allows you to set the status of a particular booking to billable or non-billable.
Resource Guru also facilitates leave management to give a clear picture of which resource is available at a particular time. Each team member gets his/her own personal dashboard and login to manage their work.
Key Features
Personal dashboards and logins for individual work tracking
Drag and drop functionality for resource scheduling
Absence and leave management
Resource utilization reports (downloadable)
Custom fields and filters
Customized permissions to manage schedules
Pricing
Starting from $2.50 per person/month, with a free trial of 30 days.
---
6.
Hub Planner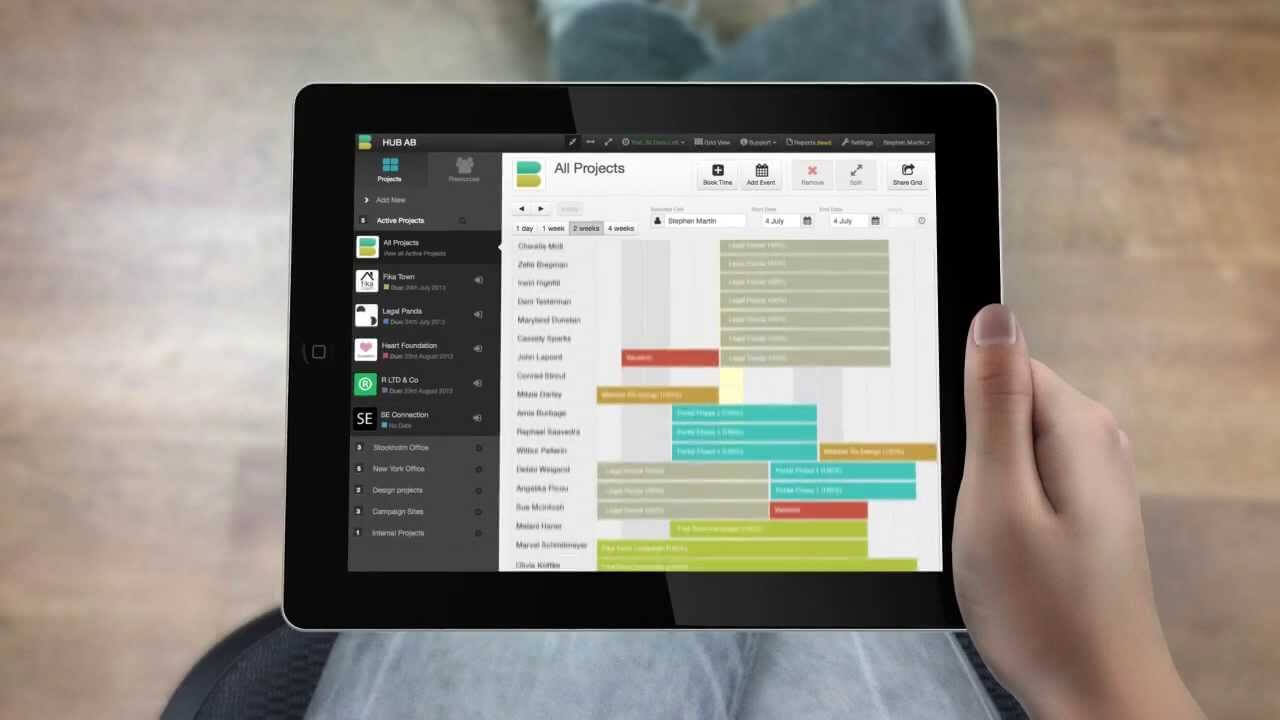 Another enterprise-level resource management software, Hub Planner, is packed with powerful features to help you schedule your resources. The tool provides a solid foundation for efficient resource allocation and smart reporting.
All the features that you would expect from an industry-standard resource management software are placed neatly for you. Through the dashboard, monitor resource workload and make smarter decisions when it comes to task allocation. You can also use the interactive drag and drop interface to quickly set schedules and make changes wherever required.
One of the strongest attributes of Hub Planner is its reporting feature. Through heat maps, identify gaps in production and resource utilization. These reports can be exported, printed and shared with anyone you want.
Key Features
Visual dashboards for glancing at details.
Drag and drop scheduler.
Timesheets for tracking time of projects.
Vacations and leaves management.
Heat maps for identifying gaps in the production schedule.
Division of resources into teams.
Pricing
Starting at $7 per resource/month with a free trial of 60 days.
---
7.
10,000ft.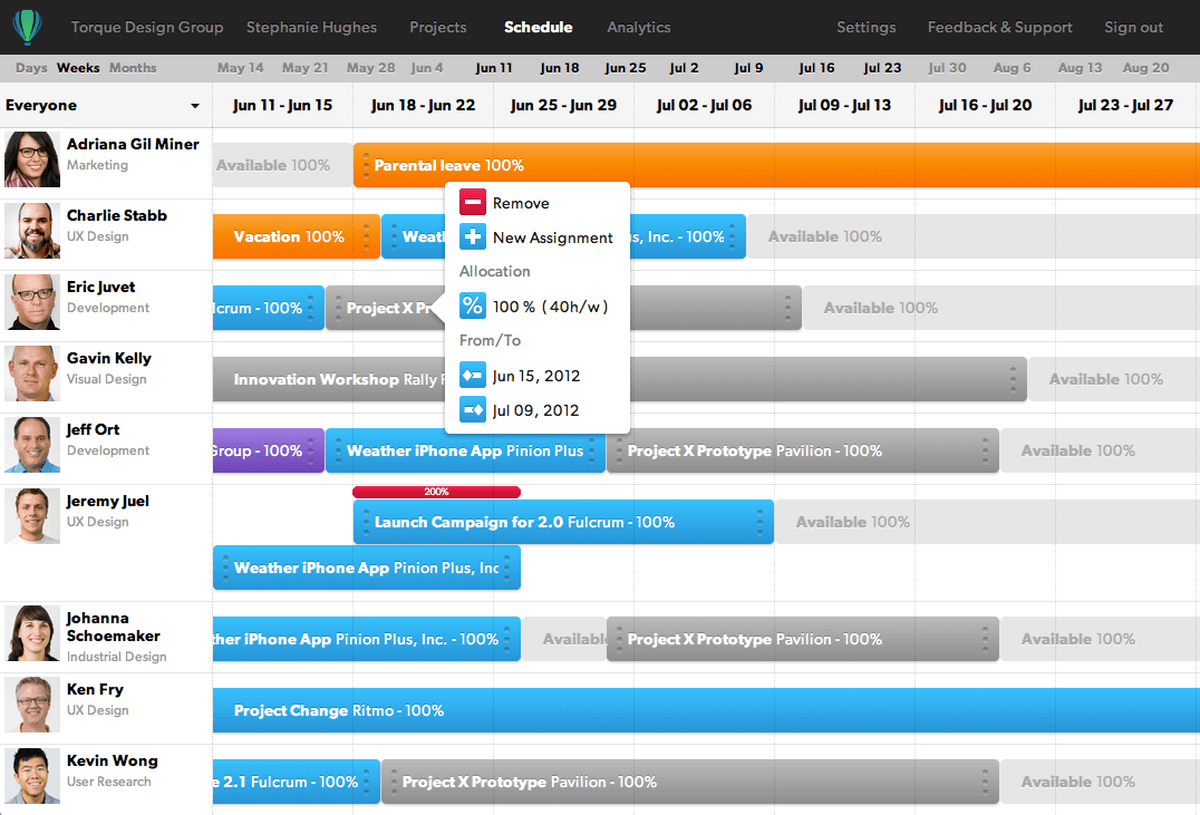 10,0000ft. is a resource management software with extensive features to help manage your everyday workflow. Create an interactive schedule using this resource planning software. The functionality works through custom availability filters which provide a clear picture of resource availability.
The software also provides utilization heat maps to help you forecast hiring needs. It is packed with some intelligent project planning features too, including Gantt view, project estimations, tasks and notes, and much more.
10,000ft. handles reporting capabilities pretty nicely too. You can find multiple reports to manage your resources the way they're supposed to be managed. A few examples of these reports constitute planned vs. actual reports, team utilization reports, and others.
Key Features
Resource availability forecasting
Project budget estimation
Individual resource dashboards
Drag and drop scheduler
Heat maps and team utilization reports
Time and expense tracking
CSV exports with an option to share files
Pricing
Starting at $150 per month with a 15 days free trial
---
8.
LiquidPlanner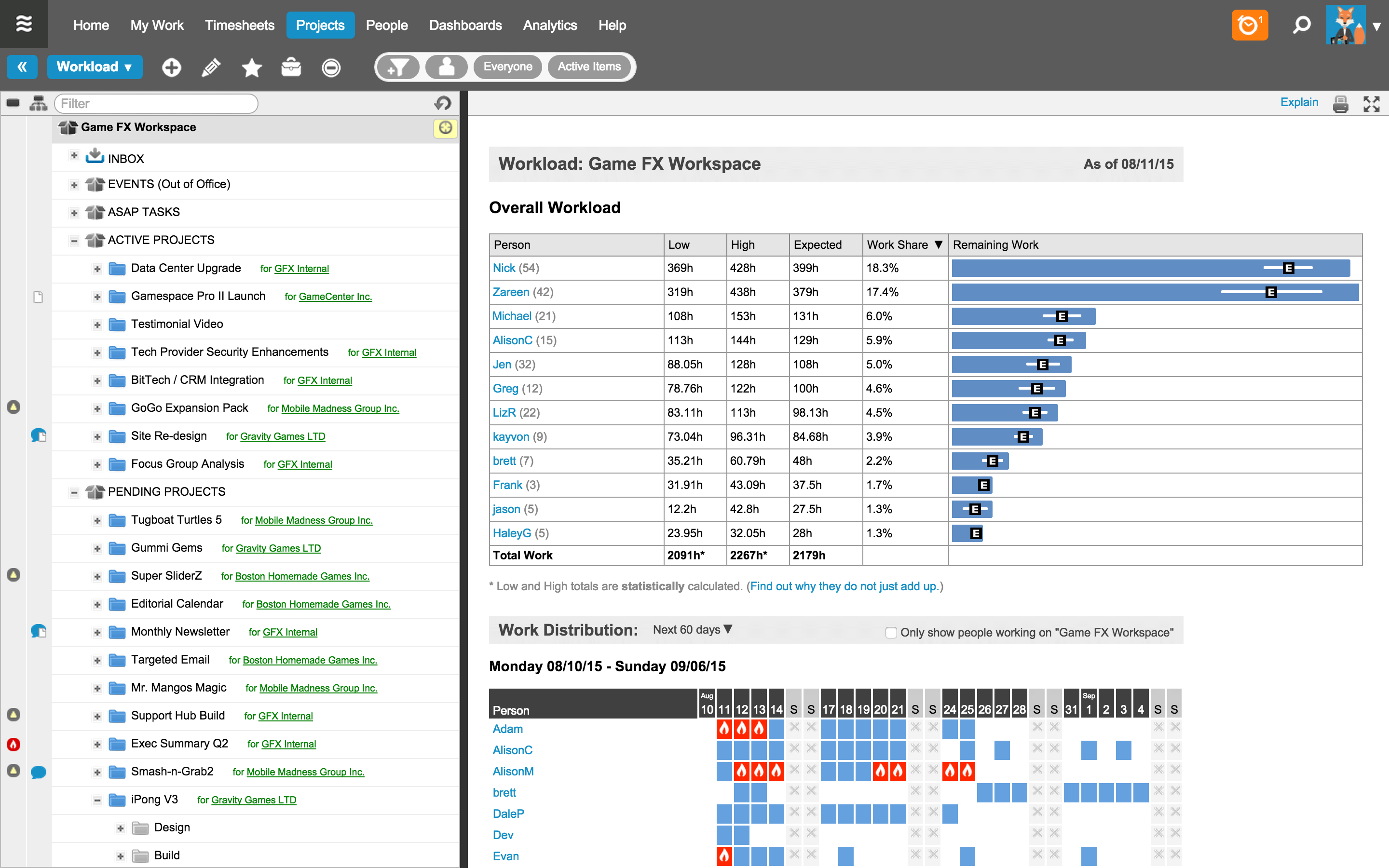 LiquidPlanner is essentially a project management software. It comes with a built-in resource management module; a pretty straight forward tool. LiquidPlanner doesn't complicate things with over complex features. Even if you have a small team, software deployment will be the easiest part.
This resource management software generates resource workload reports for you to help understand tasks' allocation and capacity metrics. It also facilitates forecasting workload across teams, so you can plan accordingly.
There's a useful functionality of resource leveling available too which keeps an eye on under and over-utilized resources, as well as automatic rescheduling on the basis of it.
Key Features
Dashboards to visualize key metrics
Resource workload reports
Drag and drop interface
Resource leveling according to availability
Automated project scheduling and rescheduling
Timeframes for expected task completion time
Pricing
LiquidPlanner has Free and paid plans. The paid plans start from $45 per user/month.
---
9.
Forecast
Video Source: Forecast Youtube
On #9 of the best resource management software, we have Forecast. The beautiful and intuitive interface of the software makes resource management easy and fun at the same time. Through a cross-project timeline, you can easily monitor the resources' availability and then shuffle tasks accordingly.
The tool has built-in time tracking and timesheets functionality to help you manage to invoice. You can also track your expenses and budget using Forecast. It doesn't end here, the software comes with some solid integrations to streamline your work. Some of these integrations allow Jira, Asana, QuickBooks, and Salesforce file extensions.
The forecast doesn't have a robust resource management feature set. So, if you're looking for a powerful tool, this might not be the best option.
Key Features
Cross-project timeline
Drag and drop functionality
The expense and budget tracking
Invoices management
Time tracking and timesheets
Third-party application access
iOS and Android apps
Pricing
Starting at $24 per user/month.
---
10.
Saviom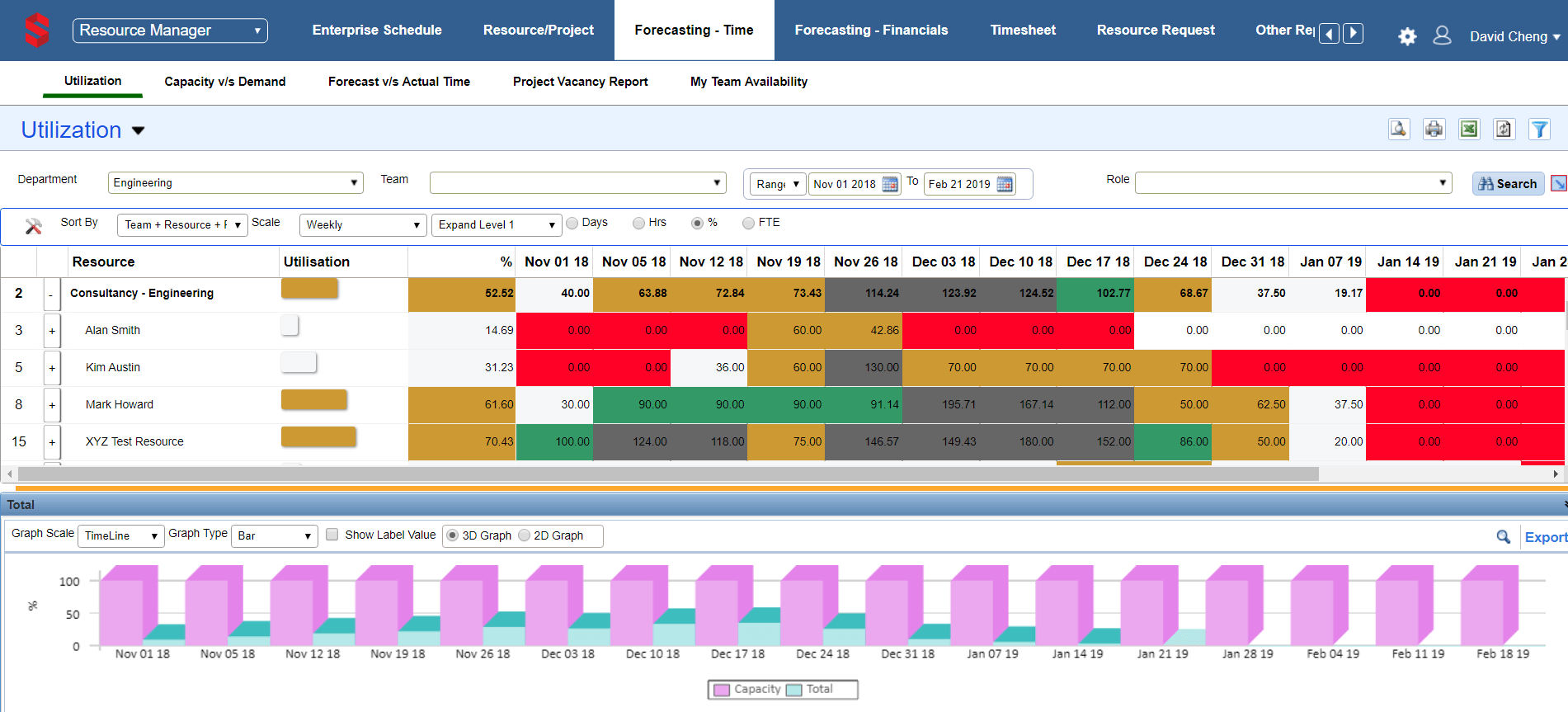 A comprehensive resource management software, Saviom is your savior when it comes to maximizing resource efficiency. The tool comes with powerful built-in modules for resource scheduling, capacity, and resource planning purposes. In addition, there are elaborate reporting and analytics related perks in this program.
The resource scheduler allows you to utilize the drag and drop functionality across Gantt and allocate resources quickly. It can be done by enabling the multi-user feature, scheduling multiple resources at the same time. You can also enable resource forecasting on the basis of current capacity and workload.
When it comes to reporting, Saviom offers custom reporting for stakeholders. You can pick the framework you want and build your own reports according to what you want to see. These reports can be exported to Excel or PDF format.
Key Features
Instant bookings through resource scheduler
Single dashboard for tracking gaps
Automatic notifications in case of conflicts
Customizable and exportable reports
Capacity forecasting for demands
Leave management module
Third-party application integrations
Pricing
Saviom's pricing plans are not available.
---
11. eResource Scheduler

Of course, this resource management software round-up wouldn't be complete without mentioning eResource Scheduler. Otherwise known as eRS, the tool offers a seamless resource management experience at a multi-platform level.
Since resources range from humans to time, money, and other variables, eResource Scheduler has got it all covered. Start by creating projects and creating team members who can play the role of assignees through the lifetime of the project.
Afterward, identify your resources and manage them through powerful integrations and a robust dashboard. High priority items are easily locatable through the dashboard. To that end, create priorities, escalate, and deescalate resources as per project milestones.
Track your budget vs. resource ratio and act accordingly. Thanks to eRS, resource scheduling, management, and human resource management software needs have never been so damn convenient before. Performance reviews are a piece of cake with this app.
eResource Scheduler is one of the best human resource management software for small businesses in our assessment.
Rest assured your employee data is safe with eResource Scheduler which will facilitate as an HR solution.
Key Features:
Supports multiple file formats.
Contains configurable forms and fields for resource tracking and monitoring.
Define cost, billing rates, and payouts through an integrated budget management system.
The robust reporting feature supports resource utilization, financial consumption, and resource availability.
Offers minimalistic UI overlaid with visually appealing web 2.0 design standards.
Interactive timesheets for billable vs. non-billable hours' management.
Pricing:
eResource Scheduler has a free 14-day trial offer for users who wish to evaluate the software before buying it.
Basic plan scales from $5.00 and onward per user/ per month.
---
12.
Screendragon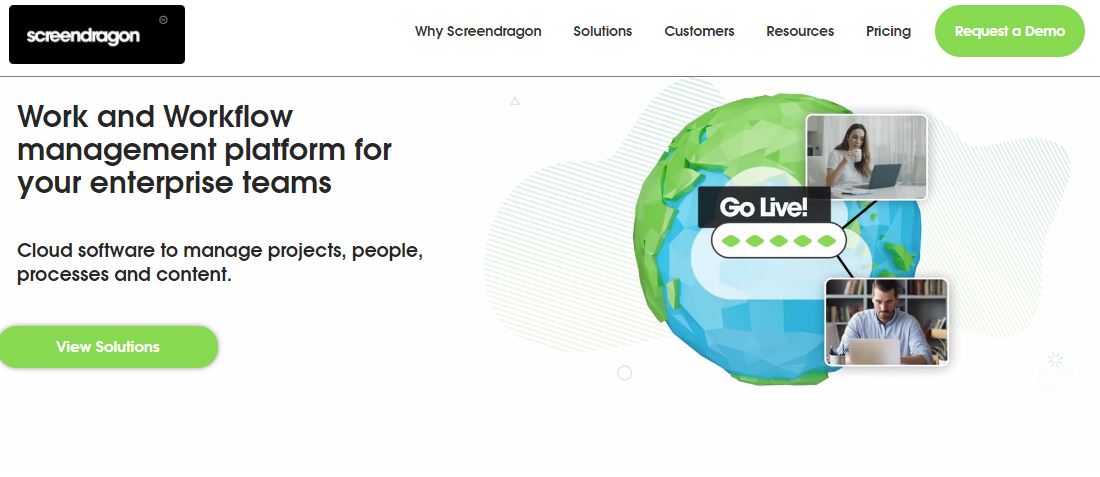 Another incredible resource management software that you can use in 2022 is Screendragon. The application is a leading workflow management solution initially designed to help many different companies and businesses like marketing agencies and services teams.
The software helps ensure that all of the operations, processes, and tasks of these companies and their resources are streamlined and optimized so that the products are speed-to-market and all of the costs associated with the business are significantly reduced.
Furthermore, the application is a powerful tool that has helped an incredible number of Fortune 100 companies to solve big complex operational challenges that the market or their customers put on them.
Here are some of the key features that this excellent resource management software offers to its clientele worldwide.
Key Features
Archiving & Retention
Asset Categorization
Calendar Management
Capacity Management
Compliance Management
Deadline Management
Approval Workflow
Artwork Management
Resource Management
Change Management
Data Visualization
Pricing
There is a free trial of this incredible resource management software if you want to check out its features before buying the subscription, and if you like the software and want to get the essential subscription, then the prices start from $20/month
---
13.
ClickTime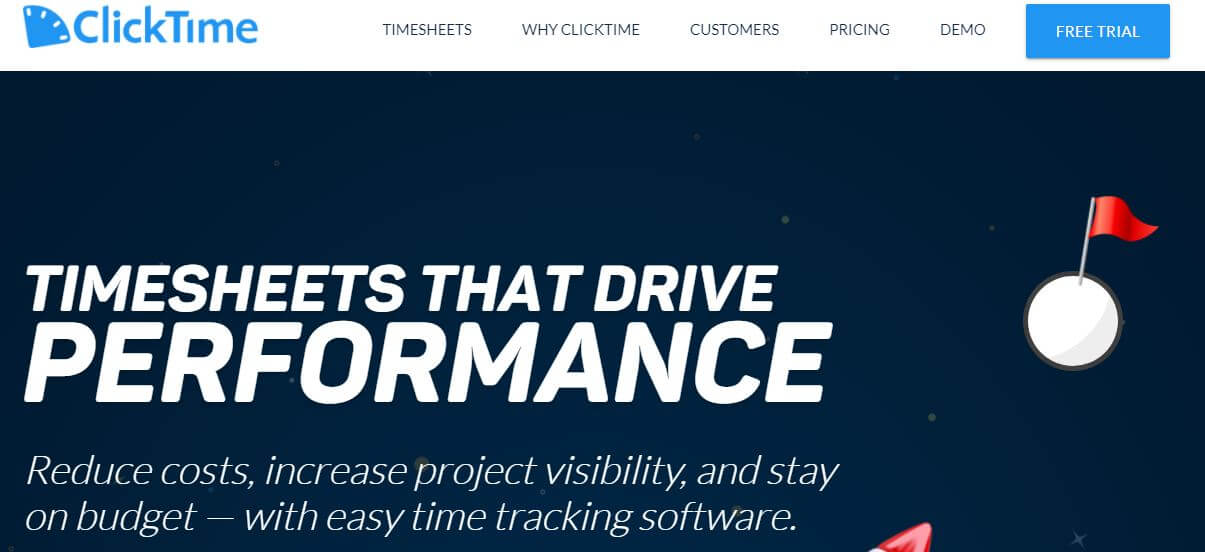 ClickTime is a fantastic resource management tool that allows you to help businesses and professionals manage their resources and the time associated with them doing their tasks and processes.
It's basically a platform that allows you to manage your expenses, time, and other resources in a single interface.
One of the best things about this software is that it is incredibly easy to use with an intuitive interface that lets you perform all of the tasks and processes related to resource management and time tracking quickly and effectively.
Here are some amazing critical features that this excellent resource management software offers to its users around the globe.
Key Features
Time Tracking to make sure that the tasks and processes related to resource management and project management are done in the time they were allocated
Expense Management to make sure that the project or the resource in use is not being too expensive for the company
Workforce Management
70+ Report Templates to help you start easily
Export and Connect
Enterprise Management
Mobile Timesheet
Pricing
There is a free trial of this software available for use, but if you want to buy the subscription straight on, then you would have to pay the company $10/month/user
---
14.
Silverbucket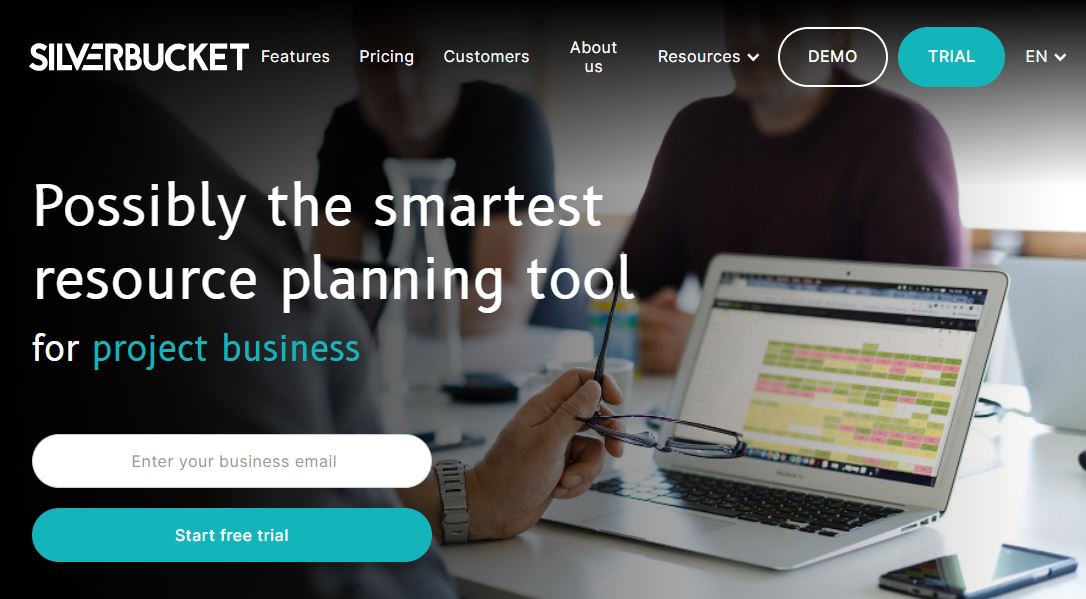 Another great resource management application on the list is Silverbucket.
The application is a cloud-based resource management solution that allows different businesses from architecture, engineering, and IT paradigms, among others, to easily streamline all of their project resource planning activities.
Some of the best features that these applications offers are capacity management, project scheduling, skills tracking to make sure that the resources that have been hired are skilled in what they have to do, and the perfect management of the utilization of resources in question.
Key Features
Access Controls/Permissions
Capacity Management
Customizable Reports
Forecasting
Project Templates
Project Tracking
Projections
API
Collaboration Tools
Data Import/ Export
Project Management
Project Time Tracking
Project Workflow
Pricing
There is a free trial available for use, but if you want the paid subscription right away, you will have to pay €270/month to the company for the premium subscription.
---
Is there any other resource management software that you think should be a part of this list? Comment below to share your views with us and we'll be more than happy to listen.
Also, read: