When you think of a great proposal, you may think of clever salesmen like 'Mad Men'. They are stealthily tapping into the inner psyche of their target audience to close the deal.
As a result, the effortless marketing campaigns, Don Draper's audience bubbles over with enthusiasm because the presentations are always compelling and out-of-the-box.
When it comes to proposing a project, it's natural to want to have a great impact from the start.
Fortunately for the introverted, the ability to be persuasive doesn't have to involve a grandiose speech or overly flashy visuals.
It does require the person proposing the idea to be introspective. We know that committing to a greater purpose or idea is proven to make us more effective goal-setters.
If a project is brewing that you would like to put in front of key stakeholders, it is important to ensure that you have covered all of the essential elements, but you should also consider how you will make sure it stands out.
This article will show you ten creative concepts to improve your project proposals. All of these strategies are actionable and are intended to boost your confidence when you present your ideas.
The Purpose of a Project Proposal
Hopefully, you have dedicated some time to nurturing a relationship with a lead or stakeholder and now you've been granted the opportunity to put your ideas forward to work on a project.
The purpose of a project proposal is to bring a better understanding of the scope and planning required of the project itself.
Here's what the essential components of a proposal give to your audience:
1. An Abstract:
A brief summary of the entire project. When kept short and to the point, it briefly previews what information or results you wish to share.
2. Methodology:
The way in which you will or have conducted your research should be the bulk of the insight you're providing your audience. The way you visualize your data will determine how easily the reader understands your perspective.
3. Budget:
Depending on the project, it can be beneficial to give a scope of costs and expenses. The ideal proposal will be transparent and give confidence to the stakeholder to fund it.
4. Resources:
The proposal isn't all requests; it's also a great opportunity to show off the tools you already have access to. Show off tools that demonstrate how you work with high-caliber resources at your fingertips.
The resources to mention could be organizational structures, equipment, capital, event space or office space. But it also might be your project management platform, your team's email app, or email marketing tools. It's always a great idea to share what helps you and your team function.
5. Personnel:
A proposal is the best time to introduce key players and allow everyone to be on the same page about what qualifications and expertise are needed to execute the project. Share how you'll manage time and track issues collectively.
6. Evaluation Plan:
Not only should your methodology discuss KPIs that you will be measuring, but there should also be a plan in place that effectively reviews or debriefs a project. Share how you'll revisit the project in the future to hopefully nurture additional projects.
7. Appendices:
The appendix gives additional information if it's needed. It's also a great place to mention relevant certifications, disclosures, and policies.
Having all of these components included in your proposal is only step one. The next is to ensure that your ideas are clear and compelling.
Here are ten creative examples where the project proposal was really able to stand out and the tools you can use to make sure it happens.
Ten Creative Ideas to Enhance Your Project Proposal
#1 – Choose an Emotion
There should be a central theme to the content of your presentation. Perhaps the goal of the project is to introduce a new marketing strategy for a product. If that product can be tied to an emotional response, so can the proposal.
Let's refer to Robert Plutchik's wheel of emotions, which is rooted in these eight: joy, trust, fear, surprise, sadness, disgust, anger, and anticipation.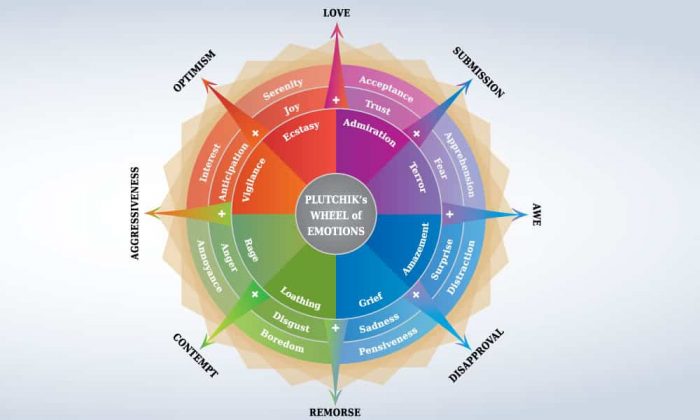 If you wanted to really hype up anticipation for the new product, you can see that vigilance and interest are other emotions you might draw out of your audience. To instill those particular emotions, leave lots of room for the participants to ask questions.
You'd also learn that surprise is the opposite of anticipation, and it could be useful for creating balance in your proposal. Perhaps having an unexpected statistic to discuss, or a surprise guest speaker could evoke this emotion.
#2 – Spice Up Your Case Studies
Ideally, a proposal helps your audience become equally invested in the project as you are. The drive to participate or support you will come from understanding the research you have conducted.
A great case study shows the audience a "before and after" storyline. This is the opportunity to propose your strategy for a future project and to gain insight into the proof that the project has great potential.
Guidance, a company that provides web, social, and mobile eCommerce solutions have great case study examples from their former partnerships. This case study guides the reader through the story of a 90-day build where Guidance created eight different eCommerce websites for Footlocker.
The concepts of the case study were presented in this order:
The Challenge → The Brand → Solutions → Results
This pattern takes the reader on a journey where they will be invested in the results right away because the challenge section is the 'hook'.
Here is a checklist of what to include in your case study to make sure you have the essential factors required to persuade your reader:
Case Study Checklist
An attention-grabbing headline.
A 'before and after' or 'journey' for the reader.
A "problem" or challenge is provided. Discuss the pain points, but without too much detail on the minutia.
A strong focus on the relationship your work will have on tackling this problem.
Clear KPIs to demonstrate how you'll measure the success of this project.
Additional or alternative recommendations. This will show you have looked at potential solutions from all angles.
#3 – Make A Mess
One way to make your project proposal memorable is to show exactly what could go wrong if the project is carried out by someone who isn't qualified. Similar to the Ghost of Christmas Future, highlight how going down the wrong path can be averted with action today.
This is a great opportunity to show off your risk management strategies and show how you'd solve worst-case scenarios.
#4 – Have a Teachable Moment
It may sound a bit cliché, but appealing to the natural curiosity of your audience is the best way to be truly engaging. Plus, the best way to get someone to be comfortable trying something new is to educate them about it first.
Organizing a demo of a product, a training session for a new skill, or even a round table chat where you run through your market research criteria can help to break the ice for the rest of your proposal.
If your proposal is not a live event, you could teach the audience with an infographic or video tutorial. (Which brings us to our next creative strategy.)
#5 – Use Video
One of the best parts about video is that it can help you propose big ideas visually. It also helps take the pressure off of the speaker.
You could show off whatever part of the project you'd like; for example, use video to emphasize the pain points the client has. Or, use it to show off previous work and how it had a positive impact.
Use video creation software that isn't a huge hassle to learn how to use. You can create a presentation using photos, stock footage, or animation.
#6 – Have Your Presentation Illustrated, In Real-Time
Many people learn better with visuals, but a video is just scratching the surface. If your presentation is live, you will have to organize your meeting and its brainstorming sessions to stand out. Consider having some of this illustrated in real-time.
This creates a memorable keepsake of the activity that can easily be forwarded and displayed for future reference.
There are services you can hire to attend your event virtually or in person. Here is an example from Katie Chappell, an illustrator who provides this service: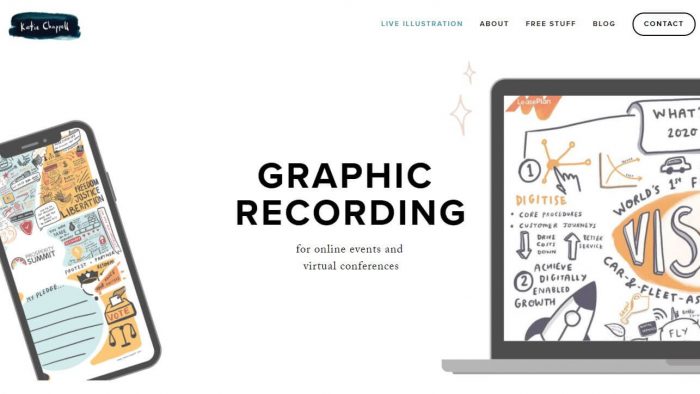 #7 – Get a Few Testimonials
It is always important to give a seat at the table to those who will be directly impacted by the project. Whether or not your project is for consumers, there is some kind of community behind it.
Testimonials help everyone envision who the project is going to help and keep everything moving towards your end goals.
For instance, if your project is related to a sports team, including some fans who are loyal to the team are fantastic candidates to have to testify. You can easily collect video or audio footage from an event to keep the testimonial high energy and inspiring.
If you aren't able to gather a testimonial yourself, you could look to see if the news has covered a previous event that you can include.
#8 – Tell Your Origin Story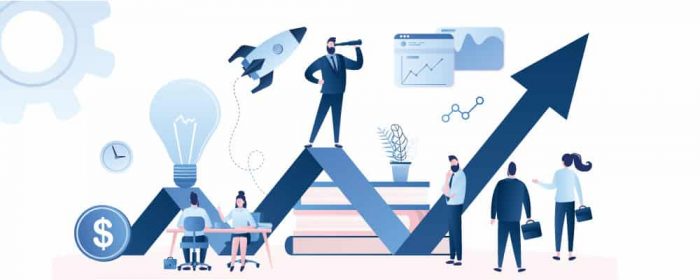 Share the original reason why you became interested in this work, it will enable everyone on the project to understand how far you have progressed professionally. Shopify famously talks about how their first store was a snowboard gear shop they created.
Finding a way to include this in your proposal will personalize you and your organization to the audience. The underdog story is particularly attractive, so don't be shy to talk about struggles you've encountered along the way.
If you're new to the industry, talk about what inspired you to join, and how there is no final destination for your career, but progress.
#9 – Create the Ultimate Glossary
Imagine leaving a conference room, looking down at your notes, and realizing you have a lot of words to Google. As you might have guessed, that is a terrible sign that the presentation was not memorable or effective.
There might be a whole lot of industry jargon that your audience isn't familiar with. Your proposal should try to avoid too much technical language and keep things straightforward, but that doesn't mean that you can't offer some further insight as a supplementary resource.
You could anticipate a lot of these terms and offer an attractive handout that participants can review when confusion or curiosity strikes.
#10 – Remember That Failure is Feedback
There is a reason interviewers like to ask "Tell me about a time when you failed". What you failed at isn't as important as showing that you know how to acknowledge it.
It may seem unorthodox to tell everyone where you have gone wrong in the past. But there is an art to highlighting your former self and the stakes you have made. In doing so you'll instill trust with your collaborators.
A great example of this comes from Reid Hoffman of LinkedIn.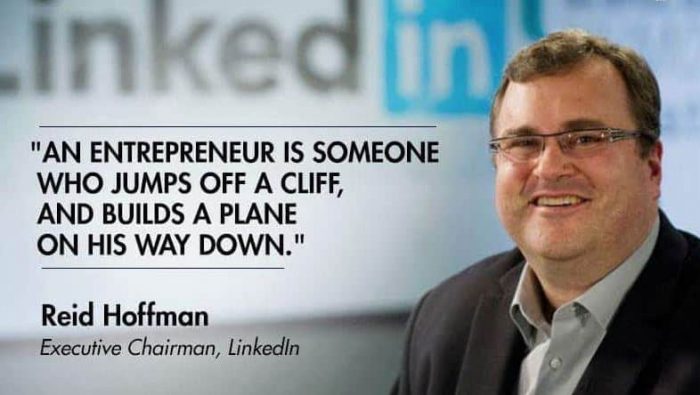 His original social networking concept was called SocialNet and there was not enough buzz generated about the product to help it take off.
"I didn't realize some principles about how to run a consumer internet company. I thought we'd spend months under wraps and release the perfect product. I discovered it's most important to get your product above the noise so that people can encounter it. If you're not embarrassed by your version one release, you released it too late." –Source.
First, take a little time to walk your audience through what you know did not work the first time. How was the communication between team members? Was there a lack of interest in the product or project?
Then, highlight the strategies and tools you have to avoid these pitfalls from ever happening again.
Final Thoughts
As you construct the perfect project proposal, stop to think about the emotions you're trying to convey and whether or not you've done so. Then, consider the many resources, tools, and assets you have at your disposal.
Toy around with different ways to share how impactful your team has been in the past. Find ways to make the recipient of your proposal feel comfortable and engaged.
If you've covered those things, you'll have a creative and powerful project proposal on your hands that is ready to face the crowd.
---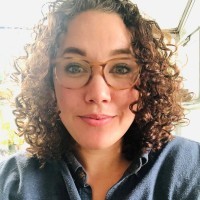 Post By: Carla Andre-Brown
Carla is a content marketer at Mailbird. She enjoys discovering new SaaS tools and writing about creative solutions and ideas. She also teaches Digital Marketing and Social Media at BCIT. Learning about instructional design, coffee, and chuckle-worthy videos have a special place in her heart.