Quire has long been the go-to project management tool for teams of all sizes, but the competition is getting tougher in the industry.
With more companies offering similar features and better value for money, it's important to consider your options before choosing a PM tool. If you're looking for an alternative to Quire, then you've come to the right place.
In this article, we'll discuss seven top Quire alternatives that are worth considering in 2023.
With detailed reviews of each software and its features, you'll be able to find the perfect PM tool for your team and make an educated decision about which one is best suited to your needs.
What is Quire?
Quire is a project management and collaboration platform designed to help teams of all sizes stay organized, collaborate efficiently, and get work done faster.
It provides users with an intuitive task and project management interface, along with powerful features such as task templates, resource planning, time tracking, checklists, subtasks, and more.
Quire also offers integrations with third-party services such as Slack and Google Drive.
Who is Quire for?
Quire is a project management tool that is designed for teams of all sizes. It is simple to use and has a variety of features that make it an ideal choice for managing projects. Quire is perfect for teams who need to collaborate on projects and track their progress.
How Does Quire Work?
Quire works by allowing users to create tasks and subtasks within a project, assign those tasks to specific team members, set deadlines, and track progress.
Users can also leave comments on tasks, which makes collaboration easy. Quire also has a built-in chat feature, so team members can communicate with each other directly from the app.
In addition to tasks, Quire also provides users with analytics, giving them the ability to track key performance indicators such as completion rate and task progress. This allows users to assess their team's performance and optimize their workflow.
Finally, Quire also supports integrations with popular third-party apps like Slack, Trello, and Google Drive so users can access their data from multiple sources.
What functionalities does Quire offer?
Quire offers a number of features and benefits that make it an attractive alternative to other project management software.
It includes task lists, Kanban boards, team collaboration features, and more. Quire is also designed to be simple and easy to use, so it's a good option for those who are new to project management software.
Task Lists: Users can quickly and easily create task lists, assign tasks to team members, set due dates, add notes and labels, and even track their progress.
Kanban Boards: Quire provides an intuitive visual representation of project tasks so that users can easily monitor the progress of their projects.
Team Collaboration Features: Quire enables teams to collaborate in real time by sharing documents, assigning tasks to each other, making comments on tasks, and more.
Automation Tools: Quire offers a number of automation tools that help streamline processes such as sending reminders for upcoming tasks or assigning certain tasks to specific team members when required.
Customizable Dashboard: The customizable dashboard gives users an overview of all their projects in one place so they can quickly see what's happening with their projects at a glance.
3 Reasons Why You Need Quire Alternatives
There are many reasons why you might need an alternative to Quire. Perhaps you're looking for something with more features, or a different pricing model. Maybe you're not happy with the level of customer support you've received from Quire. Whatever the reason, there are plenty of great alternatives out there.
Here are just a few of the reasons why you might need an alternative to Quire:
1. You want more features
Quire is a great tool, but it doesn't have everything. If you're looking for more features, check out one of its many alternatives.
2. You're not happy with the customer support
If you've been unhappy with the level of customer support you've received from Quire, it might be time to try a different tool.
3. The pricing isn't ideal for you
Quire offers a great free plan, but if you need more features or want to use it for commercial purposes, the paid plans can be quite expensive. There are plenty of alternatives out there with more budget-friendly pricing structures.
Challenges of using Quire
There are a few challenges that come with using Quire. First and foremost, it can be difficult to keep track of all the tasks that need to be completed when using Quire.
This is because each task is represented by a card, and these cards can be moved around easily. As a result, it can be easy to forget about certain tasks or to accidentally move them to another project.
Another challenge with Quire is that there is no built-in way to share projects with others. If you want to collaborate on a project with someone, you'll need to export the project as a .quire file and send it to them manually.
This can be a bit cumbersome, especially if you're working on a large project with many people.
Finally, Quire doesn't have a lot of features for tracking progress or for managing dependencies between tasks. This can make it difficult to use Quire for larger projects that need to be completed in a specific order.
10 Top Quire Alternatives for 2023
If you're looking for a top Quire alternative for 2023, you've come to the right place. In this article, we'll compare the top Quire alternatives and help you choose the best one for your needs.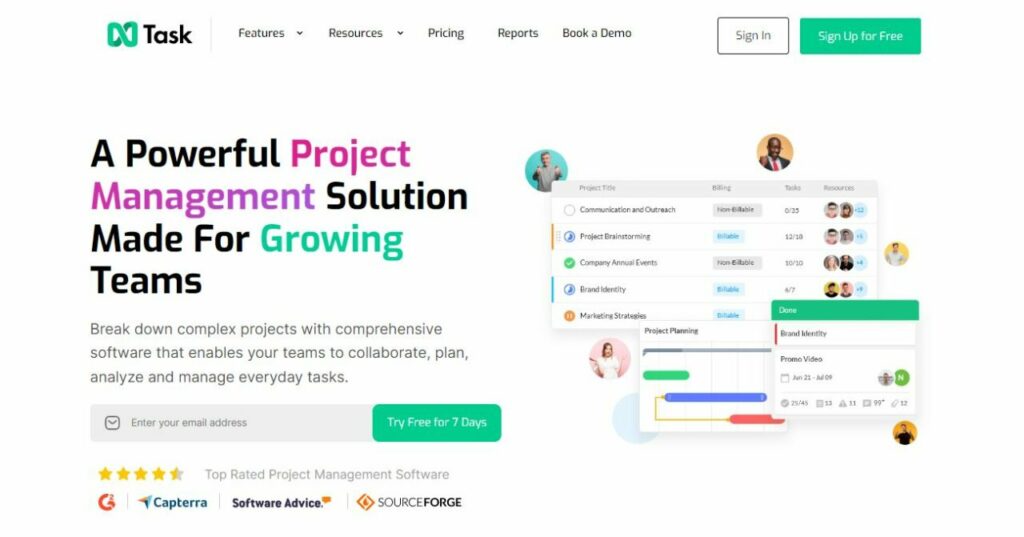 If you're looking for a Quire alternative, nTask is a great option. nTask is a free online task management tool that helps you stay organized and productive.
With nTask, you can create task lists, set deadlines, assign tasks to team members, and track progress. nTask also offers features like time tracking, file sharing, and team collaboration.
nTask is designed to help teams and individuals manage their tasks and projects efficiently.
It allows users to assign tasks, set reminders and deadlines, track progress, automates workflows, and collaborate with team members. nTask also includes features like Gantt charts, custom reporting, and project templates for faster project setup.
nTask Features
Task Creation: nTask allows for the easy creation of tasks with priority, due dates, and subtasks.
Organization: Tasks can be organized into categories to help keep track of different types of work associated with each project.
Collaboration: Collaboration is made easy in nTask through sharing projects and assigning tasks between team members.
Reminders: Users can set reminders so they won't forget upcoming deadlines or important milestones associated with their tasks.
Reporting/Analytics: Reports are available to track task progress across projects as well as individual user performance within each task.
nTask Pros
Easy to use drag-and-drop interface that allows efficient task management.
Time tracking feature that enables users to easily view how much time they've spent on a task.
A multiple-user collaboration is great for teams who are working together on projects.
Ability to assign tasks and track progress in real-time.
Integrates with popular apps like Google Calendar, Zoom, and Slack for increased productivity.
Comprehensive project analytics that provides insightful data into project performance.
nTask Cons:
Features can be overwhelming at times with so many options available.
nTask Pricing
Pricing starts at $3/month for the Basic plan, which includes all of the essential features you need to get started. If you need more advanced features, like team collaboration and project templates, then you can upgrade to the Pro plan for $8/month per user.
nTask Rating G2 and Capterra
G2: On G2, nTask has a rating of 4.4, which pretty much cements its position as one of the best task management and project management applications in the market.
Capterra: nTask has a rating of 4.2 on Capterra and is quite a user favorite.
Simplify project management
with nTask today!
2. Airtable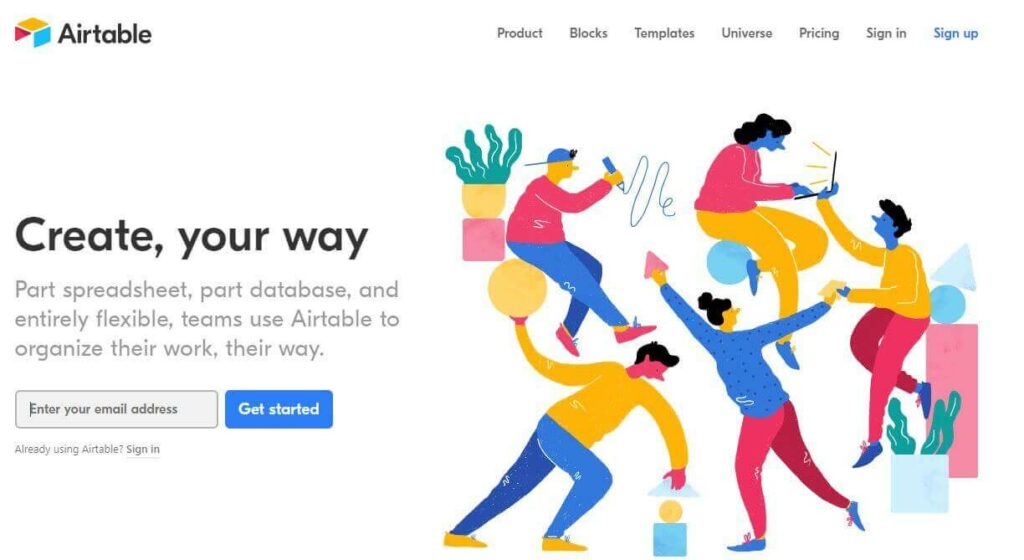 Airtable is a great alternative to Quire for those who are looking for a more robust tool. It has all of the features that Quire offers, plus more. With Airtable, you can manage your projects, track your progress, and collaborate with team members.
Plus, Airtable offers integrations with popular third-party tools, so you can use them with the tools you already use.
It also has more advanced project management features such as task scheduling, time tracking, and resource allocation.
With these features, you can ensure that your projects are planned efficiently and that everyone is working together to achieve the desired outcome. Finally, Airtable's user-friendly interface makes it easy for anyone to get up and running quickly.
Airtable Features
Intuitive User Interface: Airtable has an easy-to-use design with a clean interface, allowing users to quickly navigate the app's features.
Customizable Settings: With Airtable, users can customize their settings according to their preferences.
Social Integration: Airtable is fully integrated with popular social media networks, making it easier for users to connect and share their favorite moments with friends and family on those platforms.
Project Management Tools: Airtable comes equipped with powerful management tools that enable users to create and manage events easily and efficiently.
Analytics & Insights: Using cutting-edge analytics technologies, the app provides detailed insights into user activity as they utilize its features, helping them make informed decisions about how they use the app.
Pros
Easy to use, with a clear and intuitive interface
Access to millions of products from hundreds of different retailers
Feature-rich, including personalized product recommendations and discounts on purchases
Ability to compare prices between various retailers for the same item
Secure payment processing for online purchases
Cons
A limited selection of products available in certain categories or regions
Lack of customer service support when needed
The interface can be difficult to navigate at times
Can be slow due to high traffic during peak shopping hours
Airtable Pricing
The Plus Plan starts at $10 per month
The Professional Plan costs $20 per month
The Enterprise Plan is customizable
Airtable Rating G2 and Capterra
Airtable has a G2 rating of 4.2 out of 5 stars, based on 59 reviews by users. It also has a Capterra rating of 4.5 out of 5 stars, based on 25 reviews.
3. Notion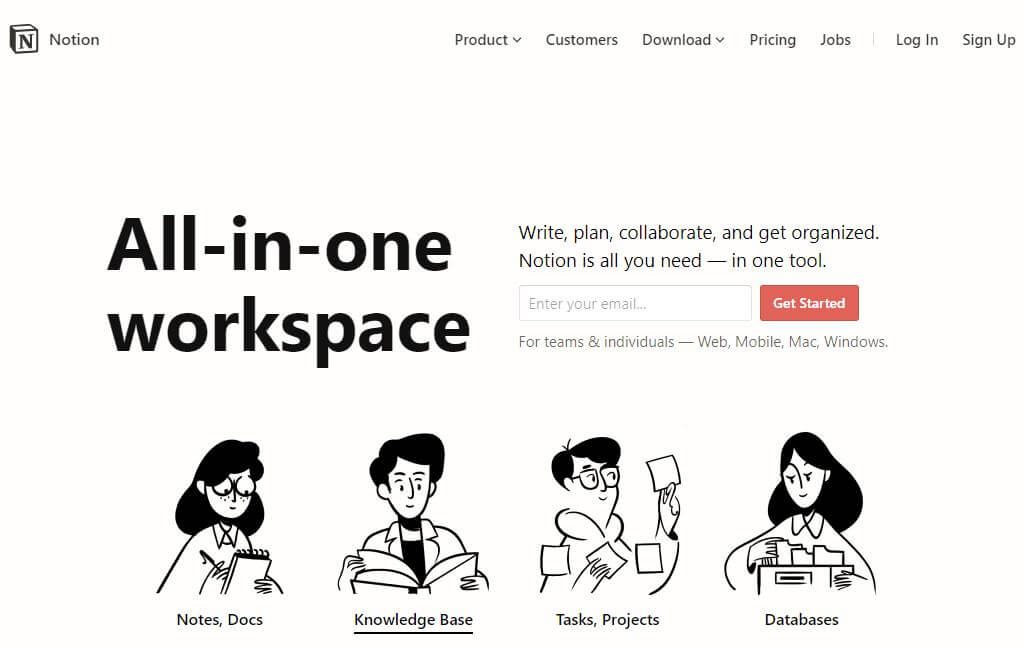 Notion is a great alternative to Quire for task management. Notion is a very flexible tool that can be used for a variety of purposes, from simple task management to complex project management.
Notion has a clean and user-friendly interface, and it is very easy to use. Notion also has a lot of features, including the ability to create custom views, which makes it a very powerful tool.
Notion Features
Notion is a great tool for managing and organizing your work. Here are some of its features:
A powerful editor that lets you format your text the way you want it
The ability to create tables, lists, and kanban boards to help you organize your work
A calendar that lets you keep track of deadlines and due dates
A to-do list that helps you stay on top of your tasks
Integrations with a variety of tools and services, including Google Drive, Dropbox, Evernote, and more
Notion Pros
User-friendly interface that is easy to learn and navigate
Offers a range of features for organizing and tracking information in one place, such as task lists, calendars, databases, wikis and notes
Compatible with various operating systems including Windows, MacOSX and iOS
Integration with third-party services like Dropbox or Google Drive
Notion Cons
Limited customization options for some features
Lack of built-in document-sharing or collaboration tools
Some users may find the pricing structure too expensive
Sluggish performance on older devices
Notion Pricing
The Standard plan costs $4 per month (or $48 per year) and unlocks additional features such as unlimited databases, password protection, and the ability to embed rich media.
The Premium plan costs $8 per month (or $96 per year) and gives you access to even more powerful features, such as version history and advanced permission settings.
Notion Rating G2 and Capterra
Notion has a 4.5-star rating on G2 and a 4.6-star rating on Capterra.
4. Polymail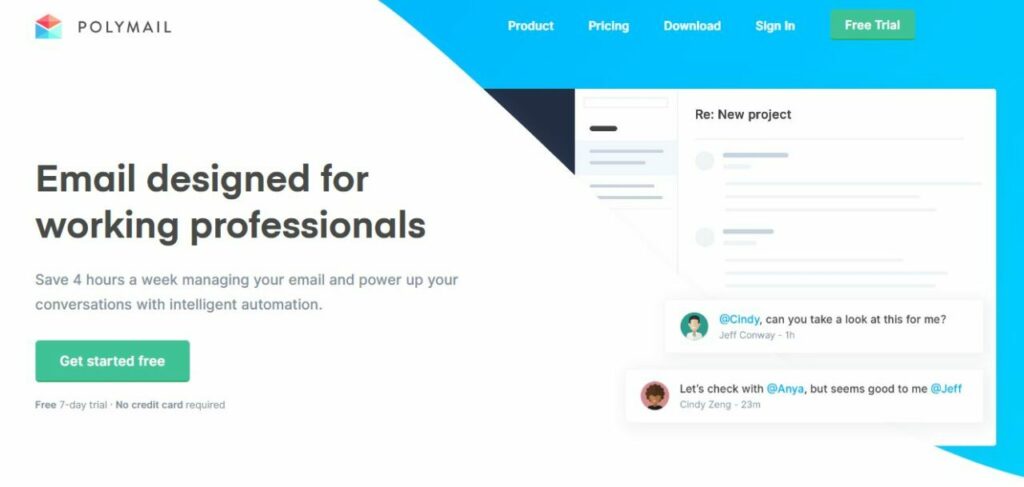 Polymail is a powerful, yet simple email client that helps you manage your inbox and get more done. With its sleek interface and intuitive controls, Polymail makes it easy to keep your inbox organized and your messages under control.
Plus, with its built-in productivity features, Polymail can help you get more done in less time.
Polymail Features
Polymail offers an easy-to-use and modern email interface that makes staying on top of your emails effortless
It allows users to quickly create and send out beautiful emails with ease using the drag n' drop editor
Features such as snooze, track opens/clicks, schedule delivery, auto follow-up, email templates, and undo send are available
The app also has a powerful suite of analytics to help you measure the performance of campaigns
It allows you to easily collaborate with colleagues by allowing them to comment on specific messages or parts of messages
You can also integrate it with other applications such as Salesforce, Slack, Trello, Jira, and more for an even greater productivity boost.
Polymail Pros
Advanced email tracking, giving insights into when and where your emails were opened
Automated follow-up sequences with customizable messages
Easier scheduling of emails, allowing users to program when an email is sent out on predetermined dates and times
Collaboration features for teams, allowing multiple members to view and comment on the same conversation thread
Comprehensive customer support services, providing help when needed.
Polymail Cons
Limited integration capabilities with external applications such as Google Calendar or customer relationship management (CRM) software
Expensive subscription plans are available compared to other similar services which offer many comparable features
The unclear user interface can lead to confusing navigation experiences while trying to use the application
Limitations in overall customization options, only making a limited number of personalization options available
Polymail Pricing
Polymail offers a variety of pricing options to fit the needs of any business. The basic plan starts at $10 per month and includes unlimited users, 5 GB of storage, and basic features such as email tracking, scheduling, and templates.
The premium plan starts at $20 per month and includes additional features such as team collaboration, custom branding, and advanced analytics. Enterprise plans are also available upon request.
Polymail Rating G2 and Capterra
Polymail has a 4.7/5 star rating on G2, and a 4.5/5 star rating on Capterra making it a user favorite in the market right now.
5. Dropbox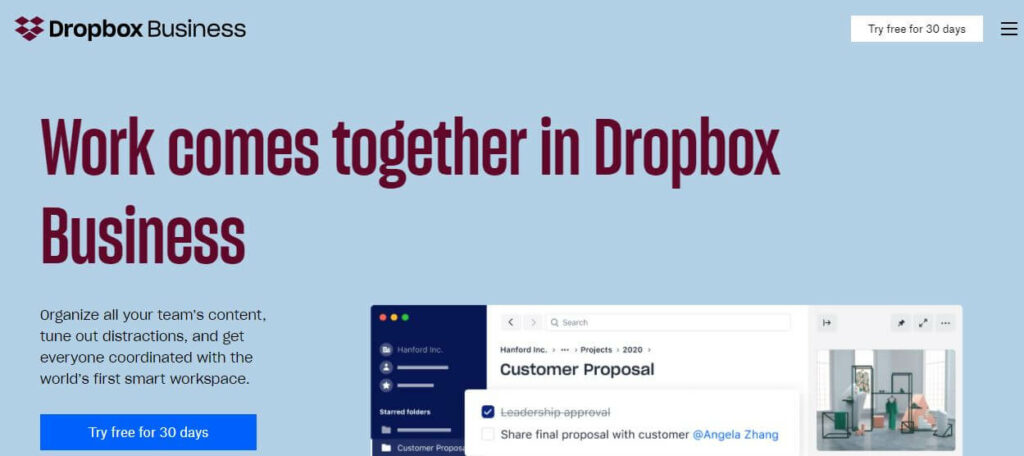 Dropbox is a cloud storage and file synchronization service with more than 500 million users. It offers users a simple way to store and share files online. Dropbox has a basic free plan with 2GB of storage, as well as paid plans with more storage and features.
Dropbox Features
Polymail offers an easy-to-use and modern email interface that makes staying on top of your emails effortless
It allows users to quickly create and send out beautiful emails with ease using the drag n' drop editor
Features such as snooze, track opens/clicks, schedule delivery, auto follow-up, email templates, and undo send are available
The app also has a powerful suite of analytics to help you measure the performance of campaigns
It allows you to easily collaborate with colleagues by allowing them to comment on specific messages or parts of messages
You can also integrate it with other applications such as Salesforce, Slack, Trello, Jira, and more for an even greater productivity boost.
Dropbox Pros
Allows users to store and access files from any device with an internet connection.
Easy to use, with a simple drag-and-drop functionality.
Free storage space up to 2GB.
Automatically uploads and syncs changes across devices for easy collaboration.
Customers can easily share files and folders with other contacts by creating shared links.
Dropbox Cons
The maximum file size is limited to 10GB for free accounts.
Does not have advanced features such as version control or data protection plans available in some other cloud storage services.
Not as secure as some alternatives, since it offers no private encryption option for customers' data.
Can be slow at times, depending on the user's internet connection speed
Dropbox Pricing
There are a few different pricing plans for Dropbox. The first is the Individual plan, which is $9.99 per month. This gives you 1 TB of storage space and basic features like file sharing and syncing. The next is the Professional plan, which is $19.99 per month.
This gives you 2 TB of storage space and additional features like advanced security and collaboration tools. The last pricing plan is the Business plan, which is $29.99 per month for 5 TB of storage space and unlimited users. This plan also comes with additional features like audit logs and priority support.
Dropbox Rating G2 and Capterra
According to G2, Dropbox is the top-rated Quire alternative. Capterra gives Dropbox 4.5 out of 5 stars.
6. Monday

There are plenty of reasons to look for an alternative to Quire. Maybe you're not happy with the features offered by Quire, or you're looking for a more cost-effective solution. Whatever your reason, there are plenty of great Quire alternatives out there.
One great alternative is Monday.com. Monday.com offers a wide range of features, including project management, task management, team collaboration, and more. Plus, it's extremely user-friendly and offers a free trial so you can try it out before you commit to anything.
Another great option is Asana. Asana is another popular project management tool that offers a variety of features similar to those offered by Quire. However, one advantage that Asana has over Quire is its price point – it's free for up to 15 users!
Finally, Trello is another excellent Quire alternative. Trello is simple to use and perfect for managing small projects. It's also free, so it's a great option if you're working with a tight budget.
Monday Features
Easy-to-use visual platform: Monday.com provides a simple and straightforward interface, allowing users to quickly understand how to navigate the tool and access their projects.
Comprehensive project overview: All of your tasks can be viewed in one overview, allowing for an organized way of managing any project.
Workflow automation: You can set up workflow automation that notify you when tasks need attention or remind team members when things are due.
Custom views: Create custom views so you only see what's relevant to your current project and goals.
Task assigning & tracking: Easily assign tasks between team members and track progress in real-time on any device.
File sharing & storage options: Upload multiple files easily through the drag-and-drop function with plenty of storage options available for storing documents securely online.
Integrations with other apps & services: Connect monday.com to third-party services like Dropbox, Slack, Google Drive, Trello, and more for an automated flow of information within all connected apps.
Monday Pros
An easy-to-use platform that requires no software installation
Automates workflow processes and makes them more efficient
Allows teams to communicate effectively using chat, email, and video calls
Accessible on any device with an internet connection
Offers powerful search capabilities that help teams quickly find the information they need
Monday Cons
Permission settings can be complicated for larger organizations with multiple levels of access control
Potentially pricey depending on the plan your organization chooses
Can be difficult for new users to learn quickly due to its complexity
Monday Pricing
Monday pricing is a special type of pricing strategy used by businesses to draw in more customers on Mondays. This strategy is typically used by restaurants, retail stores, and other businesses that are open on the weekends.
Often, businesses will offer discounted prices or special promotions on Mondays in order to attract customers who otherwise might not visit during the weekend. The goal of Monday pricing is to increase sales on traditionally slow days of the week.
Monday Rating G2 and Captera
Monday.com is a great alternative to Quire for project management and task tracking. Monday has a simple, intuitive interface that makes it easy to get started with managing your projects and tasks. Monday also offers a variety of features that Quire doesn't, such as:
G2 and Captera integration
A wide range of templates to choose from
A kanban board view for visual project management
Real-time collaboration features
Monday is a great choice for anyone looking for an easy-to-use project management tool with plenty of features to help you manage your projects effectively.
7. Todoist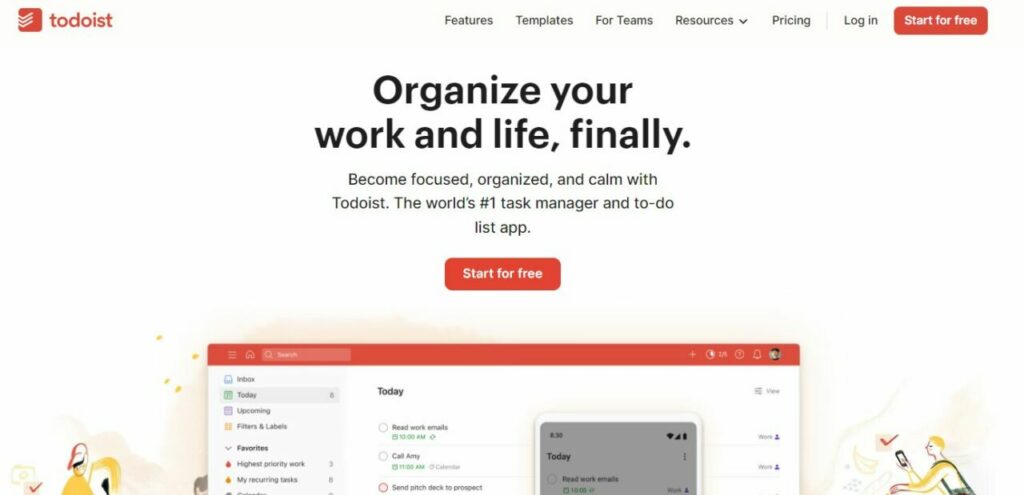 If you're looking for a top-notch to-do list app with all the bells and whistles, Todoist is the way to go. It's got everything you could possibly want in a to-do list app, and then some.
With Todoist, you can manage your tasks from anywhere, thanks to its excellent mobile apps and robust web app. You can also share your lists with others and collaborate on tasks, which is perfect for work or family projects.
Plus, Todoist integrates with a ton of other apps and services, making it even more powerful.
Todoist Features
So, what makes Todoist so great? Here are some of its best features:
You can create unlimited tasks and subtasks (this is perfect for breaking down a big project into smaller, manageable pieces)
You can assign due dates and reminders to each task
You can set up recurring tasks (perfect for remembering things like paying bills or taking out the trash)
You can share tasks with other people (great for collaboration)
There are integrations with over 100 apps and platforms (this allows you to use Todoist with all your other favorite tools)
Todoist has a beautiful and user-friendly interface (which makes it enjoyable to use)
Todoist Pros
Helps users organize and prioritize tasks with the use of labels, filters, and specific project management features
Offers a free plan that provides enough features for most people's task-management needs
Easy to set up recurring tasks with the ability to customize when they recur
Integrates with multiple popular platforms, including Dropbox, Zapier, Google Calendar, Evernote, and many more
Available on all major devices via apps or web browser
Todoist Cons
Limited customization options in terms of design or appearance
More expensive than some other task management tools on the market
Limited access to support unless you purchase a premium subscription plan
No real-time collaboration capabilities between users working on projects together
Todoist Pricing
Todoist is a to-do list app that helps you manage your tasks and get them done. It's available for free, or you can upgrade to a paid premium plan for more features.
The free plan includes:
Up to 80 projects
Up to 5 people per project
Basic labels and filters
2 weeks of task history
Reminders (via email, push, or in-app)
Calendar sync (via iCalendar or Google Calendar)
The premium plan costs $3/month or $30/year and gives you:
Todoist Rating G2 and Capterra
Todoist is one of the highest-rated task management apps on both G2 and Capterra, with over 4.5 stars on each site.
8. ClickUp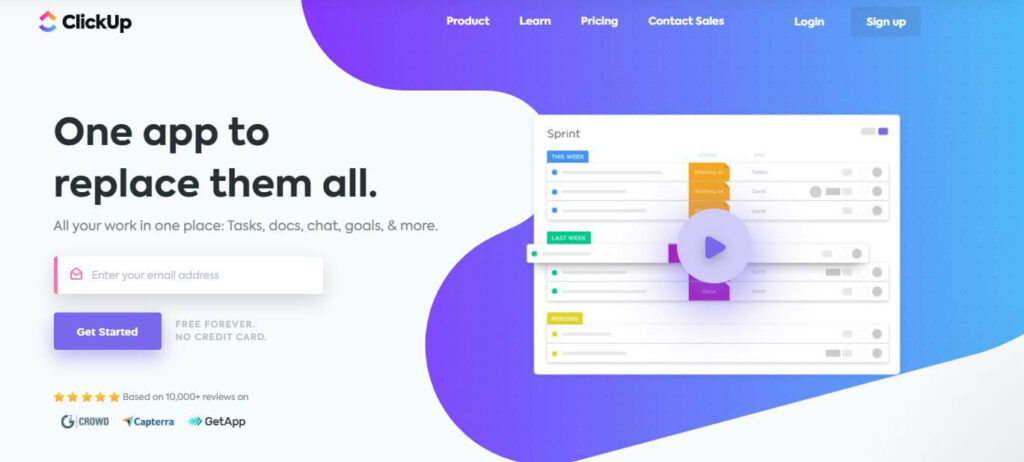 ClickUp is a simple and collaborative cloud-based Quire Alternative.
With ClickUp, you have all the tools you need to help simplify and speed up your operations, such as sales, marketing, design, and development.
ClickUp allows your teams to manage everything, including chat, tasks, documents, and objectives, on one platform. It gives enterprises of every size and industry access to a plethora of effective and cost-effective productivity tools. Moreover, massive customization options and unprecedented applicability.
ClickUp Features
Exceptional Customization Functionality: You have a completely flexible online software solution that allows you to customize your projects to your workflow, corporate strategy, and other aspects.
Custom Fields: let you add any information to your views, whilst custom dashboards allow you to customize your dashboard from for high-level reporting and task overview.
Team Collaboration: Team cooperation and communication are essential for every project's success. Yet, many firms struggle with it, especially as workforces have become more dispersed. ClickUp provides various unique features that enable small and large teams to streamline their communication on a single platform while working in real-time with anyone.
Cost-effectiveness: ClickUp offers some of the most affordable and sensible pricing on the market, along with a slew of amazing features. Price plans may be selected based on what you need now or anticipate needing in the future, making the solution ideal for solopreneurs and fast-growing organizations alike.
Strong Real-Time Reporting: ClickUp makes creating, extracting, and editing reports a breeze. Use the tool to gain a better picture of your team's performance; establish each team member's schedule, including what projects they are currently working on, deadlines they have missed, and tasks they have completed.
Multiple views: You may experiment with Mind Map View, Workload View, and Activity View in addition to the conventional view options such as List View, Box View, Calendar View, Board View, and Gantt View.
Time management – work easier by providing customizable time monitoring tools that allow you to focus on your work while also improving time management. Use the tool to log time, generate estimations, add notes, and examine reports to get greater control over your working hours.
Excellent Mobile App: ClickUp is one of the few project management software tools that provides users with a well-functioning mobile app that allows them to complete tasks, assign tasks, and so on, all at the touch of a screen. The app's style and functionality make it easier than ever to create new tasks, update colleagues, and, of course, manage projects on the go.
Pros
The user interface is simple and basic
ClickUp makes task management and job planning easier
Projects and associated documentation can be linked to tasks
With a board view, project managers may design the ideal Agile workflow
Custom processes, features, tags, and privacy settings may be added to team spaces using templates
Cons
Limited time tracking capabilities
Need to improve dashboard views
Analytical reports need more detailing
Too many notifications can be overwhelming
Pricing
Free
Unlimited -$5
Business -$12
Business plus – $19
Enterprise – Contact the support team
9. Microsoft To Do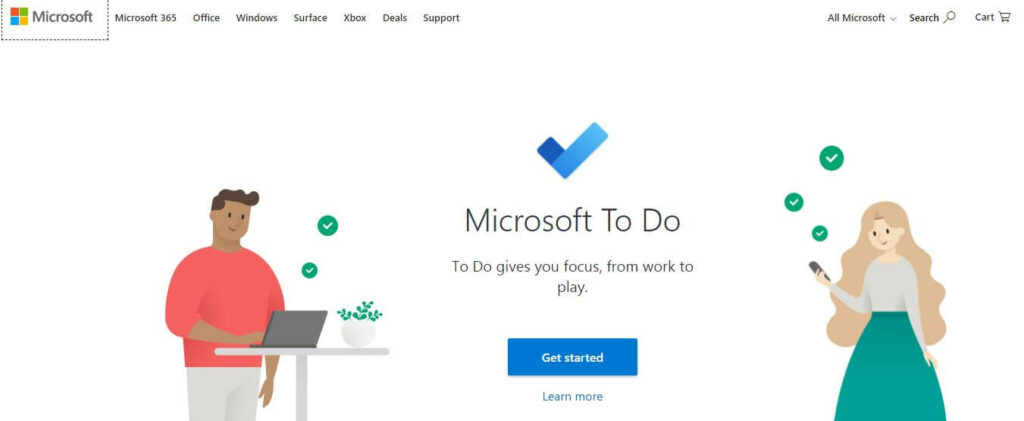 Microsoft To-Do is not difficult to use. It does not provide reports, will not convert your task list into a Gantt chart, and will not assist you in creating an invoice. Microsoft To-Do is a task list manager, and it is one of the finest I have ever used.
It is a simple quire alternative that performs the fundamentals, but for some people, it is precisely what they require.
Microsoft To-Do Features:
Security features- Microsoft allows you to set up additional identity verification using 2FA. Single Sign-On (SSO) Integrations: Microsoft To-Do is a component of the Microsoft cloud ecosystem, allowing it to take advantage of Azure's SSO capabilities.
Task prioritization and scheduling – You may create not just large tasks, but also subtasks to help you keep track of the complexity of whatever you are working on.
Document archiving – Each item in Microsoft To-Do has a file upload option for documents, images, and other types of files.
File transfer – Each Microsoft To Do item not only supports file uploading but is also shared with other app users.
Budgeting tool – This tool contains no budgeting tools or capabilities.
Pros
Free to use
File uploading in each task
Works with Outlook email
Cons
Lack of integration with other Microsoft products
Limited features
Lack customization
Pricing
10. TickTick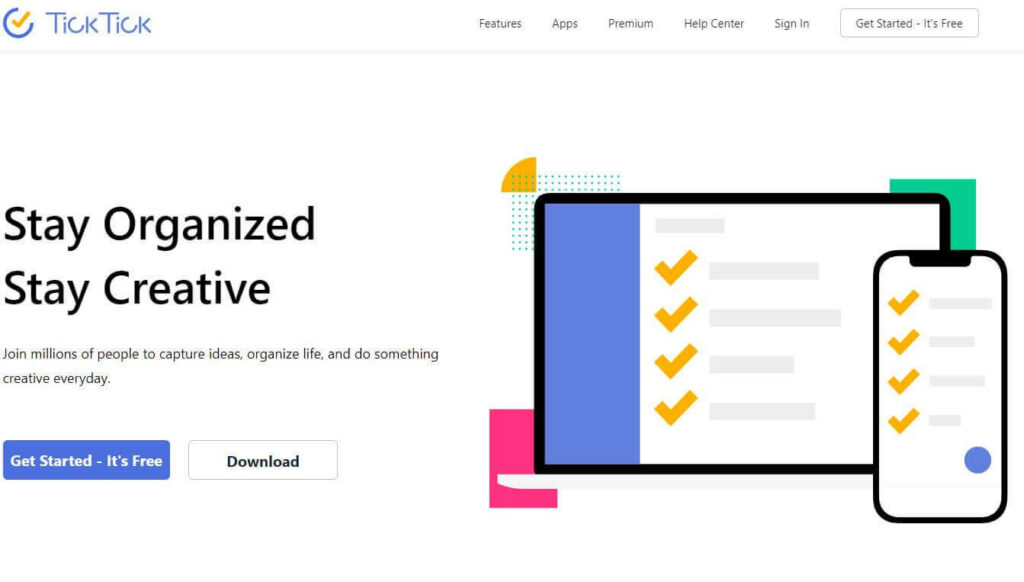 TickTick can be the best alternative to Quire if you want a basic task organizer. It bridges the gap between task and project management while being competitively priced and user-friendly.
If you use TickTick as envisioned, as a lightweight task manager with some advanced features. It is one of the best-designed and easiest-to-use tools available. Let us have a look at what TickTick can do.
TickTick Features:
Task Management – You can use it as a simple to-do list app or use the task management features. Use the calendar to create a weekly schedule or as a reminder for meetings, schooling, medicine, and bill payment. It simply takes a few minutes to add tasks or daily reminders and prioritize them.
Interface – The simple layout of TickTick contributes to its limitless accessibility and ease of use. It can be as simple or as comprehensive as you like. The majority of the conventional functions are easily accessible, but you can always go deeper for more complex task management choices.
Recurring task –With Task Rescheduling, you can classify tasks that have been skipped or canceled for a given date. You can increase the overall limit by changing the duration of an activity. Furthermore, if a task is manageable, you can reverse the process and lessen the time constraint.
Pomodoro Timer – In recent years, the Pomodoro approach has grown in popularity among productivity apps. If you are not already aware, you essentially set a timer to divide your work into periods. TickTick includes the functionality by default. Using the list view, you may start a Pomodoro timer for any given job.
Mobile Application -TickTick supports widgets on Android, iOS, and macOS, as well as excellent interaction with the macOS menu bar. There are lots of widgets to choose from, and they all help you focus on different things.
Pros
The free tier has many robust features
A timer that allows you to set numerous work and break times based on the size of your assignment
Customizable and easy-to-use interface
Cons
Day tasks need to be more precise
Calendar sync to my iCloud Calendar can take up to an hour to reflect changes
The premium tier seems unnecessarily gamified and overwhelming
Pricing
3 Reasons Why nTask is the Best Quire Alternative
Here are the reasons why you should choose nTask;
Intuitive User Experience: nTask's user-friendly design makes it incredibly easy to use and navigate, allowing you to quickly get your projects up and running. The interface is simple to customize and allows users to easily create tasks, assign them, manage deadlines, track progress, and plan resources in one place.
Comprehensive Feature Set: nTask offers a wide range of features that include project planning, task management, resource utilization tracking, budgeting, Gantt charts, collaboration tools, analytics, and reporting capabilities. This makes it an ideal tool for teams looking to take their project management capabilities to the next level.
Affordable Price: Unlike other popular project management tools on the market today such as Quire or Basecamp which can be quite expensive for small businesses, nTask offers its core features at an affordable price point making it accessible for any business regardless of size or budget.
FAQ:
How do you use Quire?
Assuming you are referring to the project management tool Quire, there are a few different ways you can use it to manage your projects.
For starters, you can create a project in Quire and invite team members to collaborate with you. Each team member can be assigned specific tasks to work on, and you can track their progress via the Kanban-style board. This is useful for keeping everyone on the same page and ensuring that tasks are getting completed in a timely manner.
In addition, Quire offers a Gantt chart feature that allows you to visually see the timeline of your project and track deadlines. This is especially helpful for larger projects with multiple moving parts.
Lastly, Quire has a robust reporting feature that allows you to generate detailed reports on your project's progress. This is useful for sharing with clients or stakeholders, or simply for tracking your own progress over time.
How do I download Quire?
Assuming you already have an account with one of the recommended alternatives to Quire, follow these steps to download the application:
1. Visit the website of the alternative you're using and log in.
2. Find the 'Downloads' page, which is usually located in the footer or main navigation menu.
3. Select the appropriate download for your operating system (Mac, Windows, Linux, etc.). Some applications will also offer a choice of versions (e.g. 'Standard' or 'Pro'). Choose the version you need.
4. Once the file has been downloaded, double-click it to start the installation process. Follow any prompts that appear on the screen to complete the installation.
Does Quire have an app?
No, Quire does not have an app. However, there are many alternatives that offer similar features and functionality. Some popular options include Trello, Asana, and Basecamp.
Each of these platforms has its own unique set of features and price points, so be sure to do your research before deciding on the right tool for your needs.
Conclusion
Quire is a great task and project management tool, but it's not the only one. If you're looking for an alternative to manage your projects, consider these top 10 alternatives for 2023.
These solutions offer unique features that can help you stay organized, manage tasks efficiently and
collaborate with others more effectively. And since they come from different developers, you're sure to find something that will fit your needs perfectly!