The organizational structure of a project is crucial in specifying the hierarchy of employees, their tasks, workflow, and reporting process. It is a business factor that plays a key role in influencing and shaping how the organization conducts its activities.
Without a project organizational structure, organizations run the risk of crashing on complex and time-consuming projects.
A project organizational structure has three key competencies and responsibilities:
Project leadership- The project leadership is in charge of project management
Project team- The project team is in charge of project implementation
Project board- The project board is the decision-making body that assesses whether a project's successor must be terminated.
Why Having a Project Organizational Structure is necessary?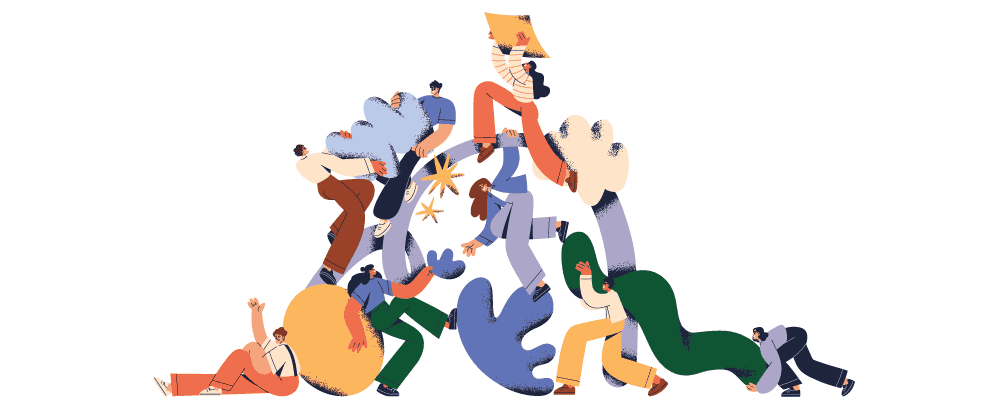 To function efficiently and achieve its goal with lower risk and challenges, every organization must have a well-defined organizational structure.
To survive and grow in the current marketplace, businesses must be highly competitive, efficient, and dynamic. Stakeholders have become highly informed and demanding, and they want quick responses.
As a result, to meet the needs of the customer while remaining competitive, any organization must create an organizational structure capable of best supporting its purpose.
A business may benefit greatly from having a proper organizational model. Among these benefits are:
Enabling businesses to develop.
Sustaining clear strategic goals rather than letting each department be focused and constrained on its mission.
Bringing together a group of people and steering them toward the same aim.
Providing opportunities for employees to develop their abilities.
Increasing the efficiency, smoothness, and speed of decision-making.
Promoting employee specialization
Allowing for greater resource control and use.
Facilitating simpler and better communication, which aids in dispute resolution.
Allowing employees to be more responsible.
Assisting employees in their professional development
Assisting in the clear and exact identification of roles and responsibilities.
Types of Organizational Structure
Different project organizational structures are defined based on the organization's core industry and the area in which it competes.
If an organization is dealing with seasonal employment, the structure will almost certainly better handle recruitment and termination as required.
If, on the other hand, the organization is part of a production chain that demands continuity, the structure will be different. In this situation, the task assigned will be to support staff over a prolonged period to meet the organization's objectives.
Let's go deeper into the many types of organizational structures to fully visualize things.
Various elements influence the organizational structure, including government style, leadership style, organizational type, workflow, hierarchy, etc.
The PMBOK categorizes organizational structures into eight categories:
An organization that is organic or simple
Organizational Structure: Functional or Centralized
Multi-divisional Organization
Matrix Strong, weak, or balanced organization
Dedicated to the Project (composite or hybrid) Organizational Structure
Virtual Organization Hybrid
PMO (Project management Office)
The table below depicts the roles and characteristics of each type of organizational structure in further detail.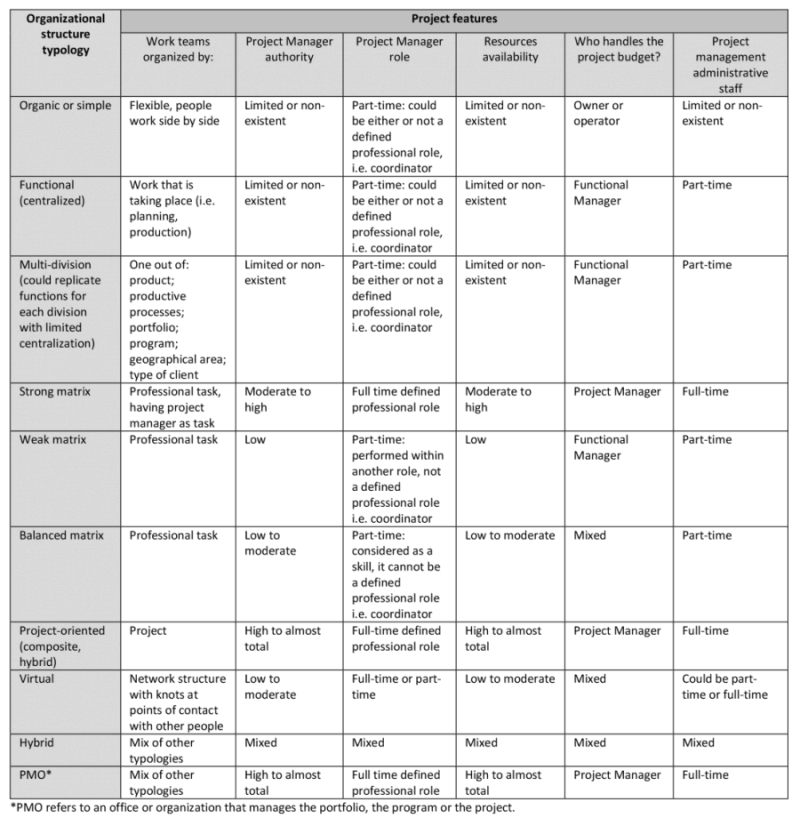 Let us look more closely at them now.
1. Natural or simple Organizational Structure
This is the most basic organizational system. This category contains businesses run by a single individual.
Freelancers are also included in this organizational form. Of course, the owner or professional who personally manages the workflows fulfills some of the project manager's functions.
2. Functional or Centralized Structure
This is the most ubiquitous organizational structure. A functional organizational structure divides the organization into numerous sections where employees with comparable abilities are assembled. It is the traditional organizational structure in which the employees are organized into sectors and departments such as sales, marketing, and finance.
This structure is useful to enhance the efficiency of each working group.
3. An organization with Multiple Divisions
In this type of organization, you can have several functional divisions with little centralization.
Most of the time, these divisions are unrelated to one another.
An organization is divided into divisions in which people with varied talents are linked together by a similar product, service, or location.
Each division has the resources it needs to operate and can accomplish the work by itself.
Matrix Organizational Structure
A matrix organizational structure is laid out on a grid to show staff reporting patterns to many authorities. This structure is a combination of functional and organizational structures, with project managers sharing power with other program managers.
A matrix structure can be one of three varieties, depending on the project manager's decision-making capacity: weak, balanced, or strong.
1. Weak Structure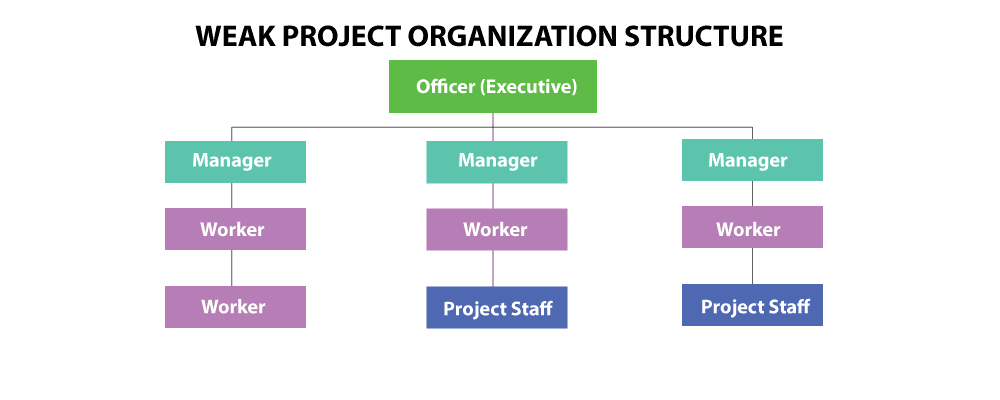 A weak structure is a functional organization structure in which coordination happens horizontally among staff members in the absence of a designated project manager. The critical difference between a weak matrix and a functional structure is that the project is coordinated by departmental personnel rather than functional managers
2. Balanced Matrix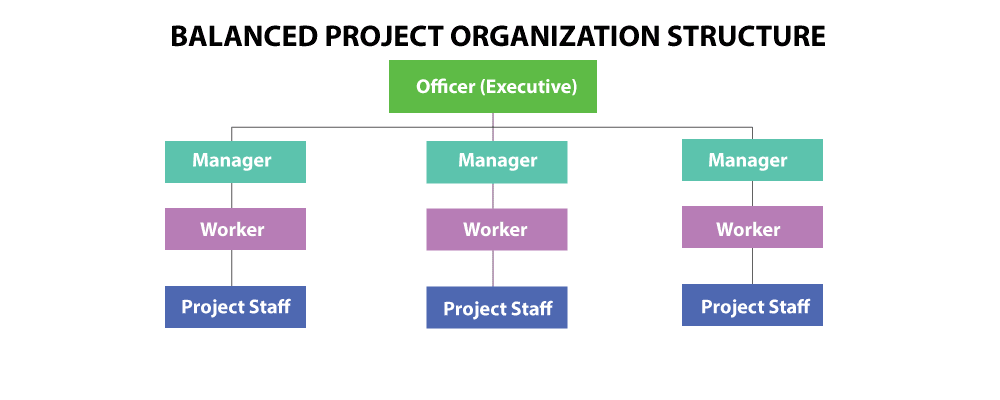 In a balanced matrix, the project manager also has a staff position and does not fully employ the project management function.
The project manager retains limited control over project choices, budgets, and personnel, and primarily serves as a contact point and facilitator.
3. Strong Matrix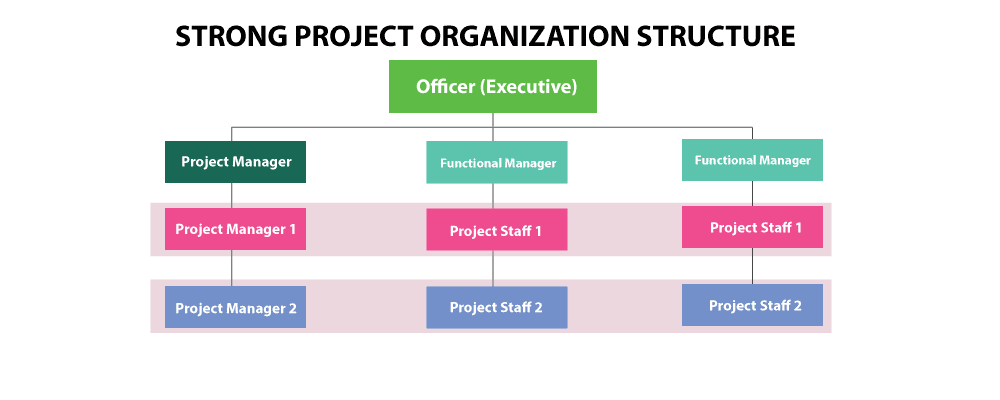 A powerful matrix resembles a project organizational structure the most. A dedicated project manager is assigned to a functional project management department, has dedicated cross-functional personnel, and is supported by a project manager.
Composite or Hybrid Organization
Every task in this type of organization is handled as a project. In this case, the project manager has the entire power to finish the project effectively, a full-time role, budget control, and a full-time staff available.
1. Virtual Business Organization
This structure is also referred to as a virtual community. The core organization is linked to other organizations (such as vendors, customers, and colleagues) via a network connection, enabling company development and success. This structure enables an organization to function as a whole.
In a virtual structure, the organization keeps its core business while outsourcing the rest of the activities
2. Hybrid
A hybrid organization can use a combination of the above-mentioned structural types.
Depending on the organization, responsibility, power, and other factors are also intermingled.
3. PMO
The Project Management Office (PMO) is also a mixed organizational structure, but in this case, the project manager has the most authority, controls the budget, and has an entire staff at his command.
There is no such thing as a perfect organizational system. Instead, a project manager must consider the benefits and drawbacks of resource allocation and optimization within each structure before deciding on the best structure.
Choosing a structure for a project is merely the first step in the project organization. The real work is in putting that project organization into action. That is why a project organization chart is essential. It formalizes the ties between the project manager, project team, development organization, project, and stakeholders.
Here are some suggestions to get you started with Project Organizational Structure Charts
Organizational Structure Characteristics
The elements of an organizational structure establish the duties and interactions among project members as well as between projects. Authority, communications networks, collaboration, monitoring, and responsibilities all play a role in these partnerships.
The following are the major features of an organizational structure;
The hierarchy should identify decision-making tasks & delineate a clear path of control.
This relates to the work connected with the tasks
Define who oversees whom here. This concept will serve as the foundation for reporting structures.
A line position is a member of the team who works directly with the product.
Centralization describes how decisions are made. Few people own choices in a centralized project, whereas decision-making power is dispersed across the organization in a decentralized project.
How to Create an Organizational Chart for a Project?
To create a project organizational chart, first, analyze the project's goals, then identify the core team and give them project-related tasks. Create the organizational chart by detailing each team member's roles and responsibilities.
During the project's initiation phase, the PM will develop a systematic chart so that the project manager can interact with team members before the project begins. The team will then employ it to assist distribute tasks amongst members of the team all through the planning phase of the project.
This offers a clear knowledge of each role, empowers team members to own their roles, and promotes respect for other ranks within the project, which fosters trust instantly.
Creating a project organizational chart entails the six major steps listed below
1. Link the Project with the Organization's strategy
The project manager must have a deep insight into how the project goals match with the overall strategy of the company or department. This will get the team in place from the beginning, develop mutual understanding among team members, and enable the most seamless project execution.
2. Review Projects from an Organizational Context
If a company does not have a PMO, the project manager must evaluate the number and variety of projects while deciding on an organizational structure.
3. Assign roles and responsibilities.
Before evaluating employees, prioritize the required activities and duties. If a project manager can choose who would be on the team, it is critical to research possible team members to locate the best individuals for the project.
4. Layout the Chart
Assess the workflow, reporting, and hierarchical roles to determine whether an alternative organizational structure might be more appropriate. Depending on your learning style, using sticky notes to shift team members around before drafting your structure online may be beneficial.
As you plan, make sure to share the job equitably among the team members.
5. Complete the organizational chart.
Create and finish the organizational chart's visual depiction. Include team members' names and contact information so that they may readily communicate with one another during the project.
6. Engage Your Team
The amount of team members who are aware of a project organizational chart determines its usefulness. Communication will provide team members the opportunity to not only understand their function before carrying out the task but also to ask questions as they picture how their work will be carried out in real-time.
During this time, the project manager and team can also decide how the project hierarchy will be managed.
Best Practices for Designing a Structure and Developing a Chart
The project manager develops the project structure, which must meet the demands of the project at all stages. The project organizational structure, on the other hand, cannot be either rigid or too flexible but must strike the correct balance between the two.
A project organization's objective is to assist the team in achieving the project goal and doing their best. As a result, a project manager must assess their team members' strengths from the beginning and, when appropriate, ask them if they are comfortable with their responsibilities.
While the project organization chart promotes cooperation cost-effectively by eliminating duplication and overlaps of work, its use is limited.
Wrap Up
The Project organizational structure ensures that your company operates efficiently and as intended. This should be considered early in the formation of your business, but keep in mind that the kind that works best for you may alter as your organization expands.
With the many organizational structures available, it is simple to determine what you require. Despite the limits of each form, large and complex companies use the matrix organization.
The organizational structure of the line and employees is simple and uncomplicated. As a result, it is utilized in basic organizations. Virtual organizations are frequently used by software and information technology companies.
Choosing the correct organization, regardless of form, guarantees that you do well in the market.