If you have been affiliated with project management, you may have heard about project management calendars. They are used to schedule tasks that show up during the lifecycle of any project at hand. In this write-up, we will talk about different apps to help you create a project management calendar in no time.
Do bear in mind that some of these apps are pretty much conventional. For instance, Microsoft Excel was released a long – long time ago. It is not exactly a "calendar app for project managers", but a lot of people have been known from time to time for using it.
What Do You Need to Know about Project Manager Calendar(s)?
Making a project calendar is not an easy task. Though it might look easy, it can get a little complex and convoluted because of any number of intricacies. Depending on the size of your project, you'd have to put in a lot of details that make up for a "task" as a whole.
Chances are that you may be looking for a type of calendar that can capture all your schedules and their deadlines. While doing that, be very mindful of the fact that you also have to focus on minor details such as; employee off time, holidays, other nominal tasks, days absent, etc. Such details are often overlooked and don't really offer the whole experience that's expected from a project management calendar when making an application.
Check out the best calendar apps to supercharge your productivity:
Best Calendar Apps To Supercharge Your Productivity in 2023
Back in the old days, people were familiar with the classic techniques of meeting timelines and schedules because they were used to marking their schedules on paper with a pen and pencil. Honestly speaking, those were good times. Somehow without any apps, we were able to do more without any help from technology. These days, we have an abundance of applications for doing all kinds of things, and we still lack productivity. It's pretty ironic…
Anyhow, let's take a brief look at some of the popular project management calendar making applications.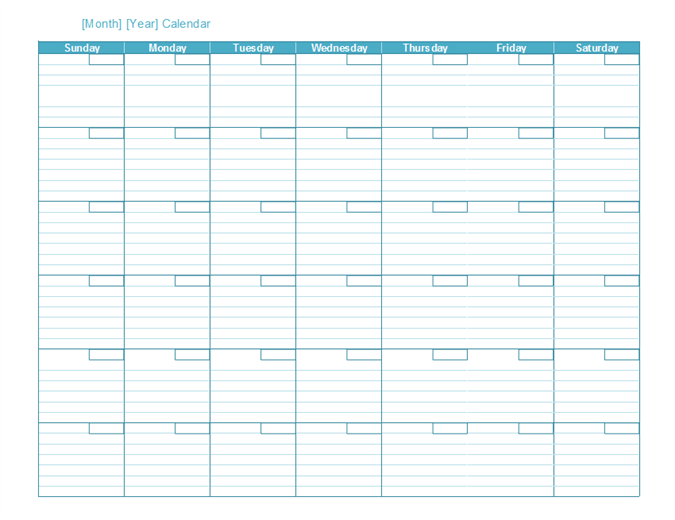 Excel is considered the default calendar because most people use excel to mark their assignments and schedules. On that note, it is a common calendar creation app. In reality, Excel's functions traverse much further than helping to set up schedules and other such activities.
Excel functions and cell sorting functions are efficient but they are not suitable for day to day tasks and assignments.
Because the perception that Excel is very easy to use; the phenomenon gets passed towards the employees too. It is a little complex to use because you are dealing with cells, rows, and formulas at a very technical level.
Compared to other native project management calendar apps, the big letdown about Excel is the sheer amount of manual work. With apps, at least you get to click various icons, without having to "create" everything at cell by cell level.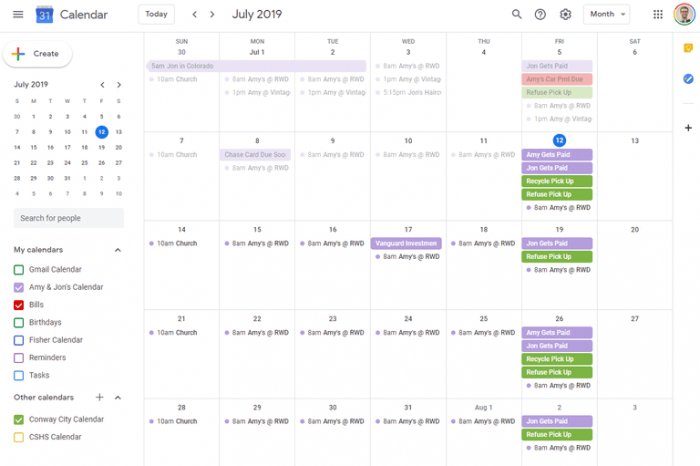 Moving on, the next popular application for creating a project management calendar, or any other calendar for that matter is Google Calendar. Although Google Calendar is mainly used by individuals who wish to get by with a handy to-do list type of convenience, there are reports that project managers also like using this app.
As a matter of fact, Google Calendar, alongside many other schedule creation applications, is integrated into project management apps for the ease n' convenience of power users in the project management industry these days.
In my view, google calendar is not the main avenue for the management and scheduling of the task rather it acts as a mid-card and reminder for daily operations. But then again, you cannot ignore its usefulness.
It gives you the freedom to quickly implement changes without any difficulty. Google Calendar does that by notifying everyone regarding the changes that have been updated so in that way everyone gets to know where the project is going.
Besides obvious benefits, every tool has its own pros and cons. In my opinion, if the pros outweigh the cons, then the tool is worth a shot. Some people spend a long time looking for a perfect project management calendar maker. I can guarantee that you won't find any "ultimate" or final version of an application. No matter how good it is, it will always have some setbacks.
Anyhow, coming back to Google Calendar, you can do a lot more with it than merely sticking to calendar-related stuff. Just install the application on your cellphone through the official PlayStore link and give it a good whack.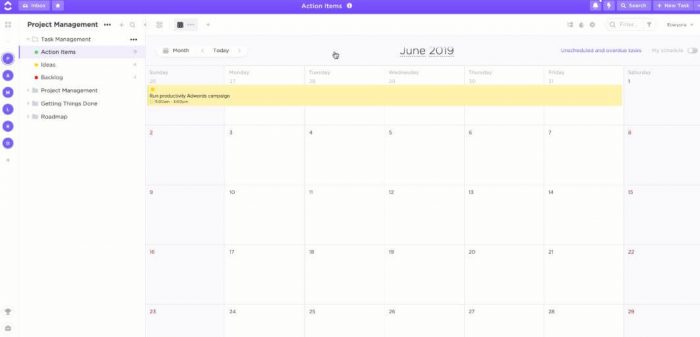 Next up on the list is ClickUp. You all have heard about it or used it – i.e. if you have been affiliated with the project management industry in one form or another. Moving on, the main difference between ClickUp and other calendars is that ClickUp almost covers the whole scenario. It is known for working well with teams and/or multiple users as it binds the whole user-base together.
ClickUp breaks down complex projects into small parts with the help of its peculiar features. For instance, you can add due dates; start and finish dates in your checklist(s), set timers and work on multiple tasks at your own pace. With teams, the same thing can be incorporated easily. The only difference is that the work is done on a bigger level as compared to individual-level users.
To add more to the usability factor, ClickUp can help you to visualize critical deadlines, plan ahead for future work, and deliver on milestones that are already in progress. The work can be easily designated to the main list of the projects. This list is also called Parent List in ClickUp lingo.
In addition, ClickUp has a wide range of interactive features, such as; an eye-capturing calendar, timeline view and much more. You can use such features to simplify not only your individual routines but also office related work that usually involves teams.
Conclusion:
If you haven't tried a task management calendar before, now may be the right time to give it a shot. These apps are in abundance right now. It may seem a little "hectic" to use them at first, but you will eventually begin to fall in love with one or two particular calendar making tools.
Of course, project managers already understand the efficacy of using such applications. They work on a daily basis with tons of things. It is hard to keep a mental note of everything and go by as the day progresses. An app in that sense is imperative and might come in handy from a long term use perspective.