Project management visualization is primarily concerned with monitoring and analyzing the progress and status of tasks, resources, components, objectives, and goals.
Visualization offers an overview of how elements in a project environment are linked and can assist in identifying possible obstacles or areas that require further attention.
Project management visualization tools extend this approach by offering useful insights into individual team members' performance, allowing managers to make informed decisions about their team's development and productivity.
PM Visualization
made easy!
Employees can grasp what must be done to finish the project effectively by looking at milestones, expenses, and schedules all at once.
---
Importance of Project Management Visualization Tools
These project management visualization tools make it simple to track their resource utilization across numerous projects, allowing them to better manage their resources during peak periods.
They can easily identify inefficiencies in teams and distribute resources accordingly throughout the project's length or even from one time period to another.
Similarly, managers using these programs have real-time insights into how well everyone in the team is performing when working on different tasks at different times throughout the day; this allows managers to ensure objectives are met without too much disruption caused by individual performance issues among staff members.
Lastly, and perhaps most critically, employees working in the creative industry frequently rely heavily on visual organizing tools to help bring clarity to multi-faceted projects.
In the next section, we have ranked the top 5 project management tools for businesses. Have a look to choose best for you.
---
Top 5 Project Management Visualization Tools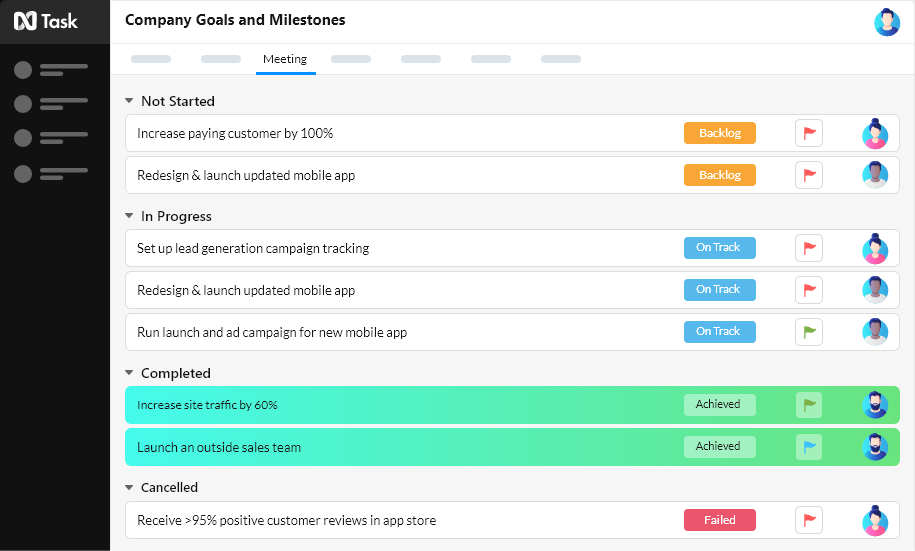 ntask is one of the top five project management visualization tools for organizations and should be considered while choosing the ideal option to meet your requirements.
nTask assist businesses in gaining control and staying organized. Users can use ntask to divide large projects into smaller, manageable tasks and then view the progress of each task in real-time.
With its Gantt chart feature, the platform also gives a full picture of the whole project, allowing customers to follow the progress of all their activities in one place.
Key Features
You can quickly create tasks and assign them to members, set deadlines, monitor progress, add notes and comments, track resources and costs, exchange documents, and produce reports
Gantt charts, Kanban boards, and timelines can be used to get an enhanced perspective of the broad picture or dig down into specific tasks.
Helps teams discover obstacles and opportunities for development while also keeping them on track with their initiatives
Offers a variety of customized reports, such as Gantt charts, burn-down charts, and critical path analysis charts, to help users understand project management parameters
nTask integrates with a variety of third-party software, like Slack and Office 365, to facilitate collaboration
Pricing
Free
Premium – $3 /month/user
Business – $8/ month/ user
Enterprise – Contact the support team
Customer Ratings
Capettra Rating – 4.2
G2 Rating – 4.4
Pros and Cons
Pros
Cons
-Improve collaboration across teams and stakeholders.
-Track the status of all activities in real-time.
-Increase workflow efficiency for faster project completion.
-Can be difficult to use for newbies.
-Slow loading time
---

monday.com is an intuitive project visualization tool that helps organizations of all sizes manage their projects and track progress.  
This innovative software works by helping teams build task boards, assign tasks and resources, track time, create reports, and collaborate on projects seamlessly. With this tool, managers can easily get a snapshot of the entire workflow in one place with no need to constantly switch between screens or programs.
Because of the tool's versatility, it can be used for nearly any form of project, from website-building endeavors to marketing campaigns or accounting procedures, and so on, so whatever type of business you operate, monday.com offers something for everyone!  
The best thing is that it works across numerous platforms, including Windows, iOS, and Android, making it ideal for remote teams wishing to stay connected across devices while working on projects together.
Key Features
The user-friendly design makes it simple to provide your team members with access to the tasks they need to perform while also giving them with an overview of the entire project at a glance
You can get a rapid overview of what is going on in each section by assigning colors to distinct tasks or activities
You can also track progress over time by viewing which tasks have been accomplished and which have yet to be begun all in one location
allows users to tailor workflows to their needs by assigning colors to statuses or tasks and building numerous timelines for different projects that can be shared with team members
It comes with templates pre-installed, so users do not have to start from zero when creating their project schedule
Furthermore, Monday's built-in chat function allows team members to instantly talk about current tasks without leaving the software
Pricing
Individual – free
Basic plan – $8/month/ user
Basic plan – $10 / month / user
Pro plan – $16/month / user
Enterprise plan – Contact the Support team
Customer Ratings
G2 Rating – 4.7
Cappetra – 4.6
Pros and Cons
Pros
Cons
-Simple user interface
-Computes ad reports
-Using these charts, you can quickly see the team's performance.
-Great addition to make the boards more enjoyable and personal to the team.
-It is simple to see what items are due during the week.
-Expensive
-Mobile app is not easy to use
-Needs improvements with integrations
3. ProofHub

Another excellent visual project management tool is ProofHub.
ProofHub can help keep everyone in sync by delivering clear communication through visuals, enhancing visibility into project progress, and facilitating improved collaboration.
ProofHub's user-friendly UI makes project setup simple and efficient. kanban board simplifies task organization and management by allowing users to drag and drop tasks based on their workflows and keep everyone informed about who is doing what when it comes to completing a task or project milestone.
ProofHub's combination of features makes it an important tool for managing projects across teams of any size or complexity, ensuring maximum production levels across all fronts while maintaining high-quality standards at all times.
Proofhub's scalability means that it can be used by any size business, whether small, medium, or large, allowing them to distribute roles and responsibilities across various teams or departments.
Key Features
You can give projects with deadlines to numerous users and organize them into boards. visual representations of your workflow can be used to track each phase of the process from the beginning to the end
Chat rooms allow you to exchange ideas while keeping your chats synced across many platforms such as desktop computers and mobile phones
Furthermore, proofreading tools enable you to provide comments on papers or photographs without having to send long emails to team members
ProofHub's robust reports feature provides accurate data on how each step of a project is progressing
ProofHub also provides a number of features suited to individual users, such as task lists, time monitoring tools, subtasks, and reminders, all of which assist keep projects on track
Pricing
Essential-$50
Ultimate Control-$99
Customer Ratings
Pros and Cons
Pros
Cons
-API integration with third-party apps
-Chat tools allow us to communicate with our employees
-Both iOS and Android are supported
-Clunky UI
-Proofing feature is limited
---
4. Teamwork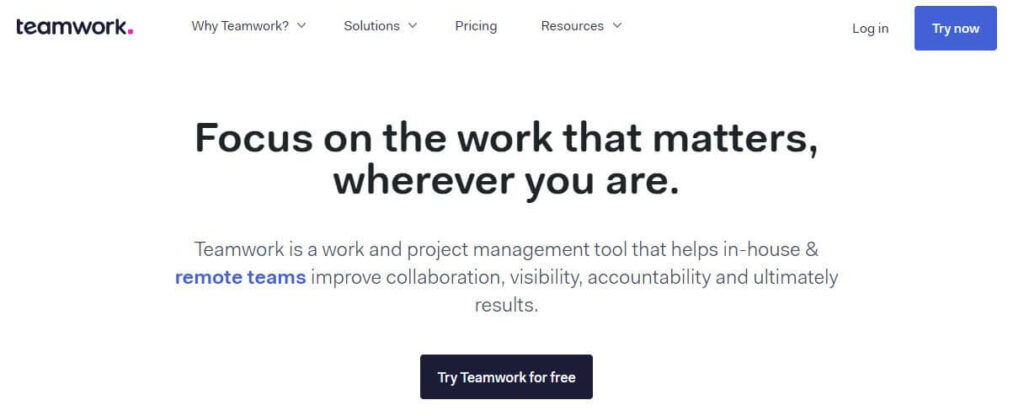 Teamwork is one of the most powerful project management tool examples for successful project visualization.
It helps to organize tasks, assign roles and responsibilities, track progress, and collaborate with team members in real-time.
Many Teamwork clients enjoy how simple the platform is; this means that anyone new to a team's workflow may acclimatize quickly and without disrupting production because of the platform's user-friendly interface design.
Additionally, there is an option for customers at all levels of need: from freelancers working on small projects on their own to larger enterprises managing multiple departments who require more comprehensive customizations so they can build out their own unique workflows using portfolios and dashboards.
Key Features
With Teamwork, you can easily create project boards that are visually appealing and easy to understand
This allows everyone involved in the project to quickly get up-to-speed on what needs to be done and when it must be completed
Using Teamwork's task lists feature is also helpful as it breaks down each project into smaller steps which makes it easier for teams to manage workloads and deadlines effectively
You also have access to instant messaging or commenting within tasks or on cards, where everyone can comment or chat about different topics related to the project
Teamwork automates alerts anytime there is an update or change in task status, ensuring that no one gets behind or misses vital changes that might delay meeting essential deliverables on time
Stay connected while working remotely with employees dispersed across different locations with Teamwork's flexible features like video calls and chat boxes
Pricing
Free
Starter-$5.99
Deliver-$9.99
Grow-$17.99
Customer Ratings
G2 Rating – 4.4
Cappetra – 4.5
Pros and Cons
Pros
Cons
–Tracking task burn down
-Progress on tasks and milestones, as well as alerts
-Tools for team management
-Project classification.
-The interface's performance can be slow
-It is often difficult to obtain information out of the system.
---
5. Podio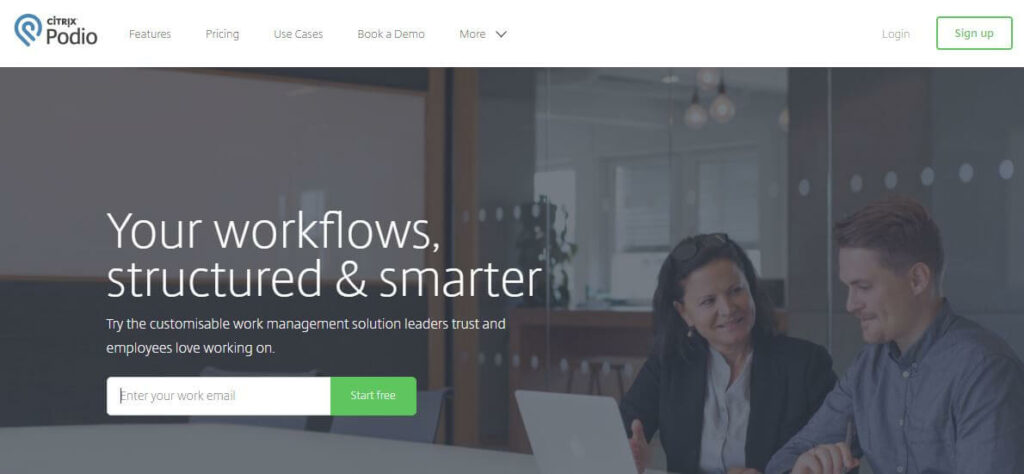 Podio might be ideal for you if you want an ideal visual organization tool.
This cloud-based program is intended to improve team collaboration by providing structure and order to their activities.
Podio helps to reduce the work involved with traditional project management methodologies, which is good for streamlining operations and eliminating any redundant procedures that may exist within a workflow.
Furthermore, its integration capabilities enable users to easily connect other applications such as Dropbox or Google Drive, allowing teams to store documents directly inside of TeamonTop, improving collaboration across multiple systems, saving time, and keeping everyone on track when completing tasks involving large groups of people working remotely.
Key Features
Podio provides users with a flexible yet simple interface that allows them to customize their workspaces according to their individual needs and preferences
users have the ability to set up tasks, assign roles and responsibilities, organize conversations, track progress, share documents with team members as well as create automated reminders
The project visualization feature of Podio helps in visually mapping out all kinds of data within a particular workflow making it easier for teams to quickly identify areas that need improvements as well as potential bottlenecks that may be hindering the efficient completion of projects
By creating visuals such as Gantt charts and Kanban boards users can gain an immediate snapshot into what's going on within each project allowing them the ability to monitor progress
Pricing
Free
Plus-$11.20
Premium-$19.20
Customer Ratings
G2 Rating – 4.2
Cappetra – 4.3
Pros and Cons
Pros
Cons
-Custom folders
-Affordable
-Full feature CRM
-Not easy to use interface
-Frequent slowdowns
---
6 Steps to Choose the Best Project Management Visualization Tools
Define Your Needs
The first step to selecting the right project management visualization tool is to define your needs. What features are required?
Consider any integrations with existing systems and make sure the software meets the needs of all stakeholders involved in the project's management.
Ask yourself questions:
What types of visuals do I need?
What kind of data am I trying to visualize?
How will these visuals work together with my current system?
Having answers mapped out beforehand will make narrowing down potential options much easier in later steps.
Put Together An Evaluation Team
Once you have identified your project's specific needs, create a list of potential tools that fit those requirements.
Make sure you read reviews from professionals who have used the tool in order to get honest insights into their experiences with it—this might include online research or simply asking colleagues who use various solutions regularly.
Test the Tool
After narrowing down possible choices run usability tests on each option individually before committing to any one program -see what works well in practice rather than just theory.
A good user experience will go far when customizing how everything integrates into larger operations so keeping all users happy post-rollout should be paramount here.
Get Management Buy-in
Make sure you read reviews from professionals who have used the tool in order to get honest insights into their experiences with it. This might include online research or simply asking colleagues who use various solutions regularly.
Purchase and Implement the Tool
If your team handles private or sensitive data within its day-to-day operations then security features should play a part in evaluating prospective solutions too – most reputable companies offer secure encryption protocols for transmitting information over networks but not all may prioritize security over other features so make sure yours does
Review and Iterate
It's always helpful to get input directly from users who have experience using particular products before making purchasing decisions around them – ask around at industry events/conferences or online forums dedicated specifically to this topic.
---
Project Management Visualization Tools FAQs
Why is it vital to use a visual project management tool to plan and manage projects?
The fundamental benefit of visual project management systems is that most people can express complex visual data more easily than they can with words or numbers. As a result, by allowing teams to operate more efficiently, they enable enterprises to save time and costs.
What project management tools should be used to visualize project scope activities?
ntask is one of the top project management visualization tools for businesses and should be examined when deciding on the best alternative to match your needs.
---