Project Management
made easy!
What is a Gantt chart?
A Gantt chart, also known as a bar chart, is a type of chart used to show the progress of a project over time.
It combines elements from both timeline and project management diagrams, in that it visually organizes all the tasks in a project according to their completion dates, allowing stakeholders to easily identify delays and potential bottlenecks.
A Gantt chart provides an easy-to-understand visual overview of each task's start date, end date, duration, completion percentage and current status – so everyone involved in the project can monitor progress at one glance.
Additionally, some software applications allow users to add resources or dependencies between tasks for better planning and analysis purposes.
---
Best 5 Project Management Software with Gantt Charts
nTask
Asana
SmartSheet
Trello
Wrike
---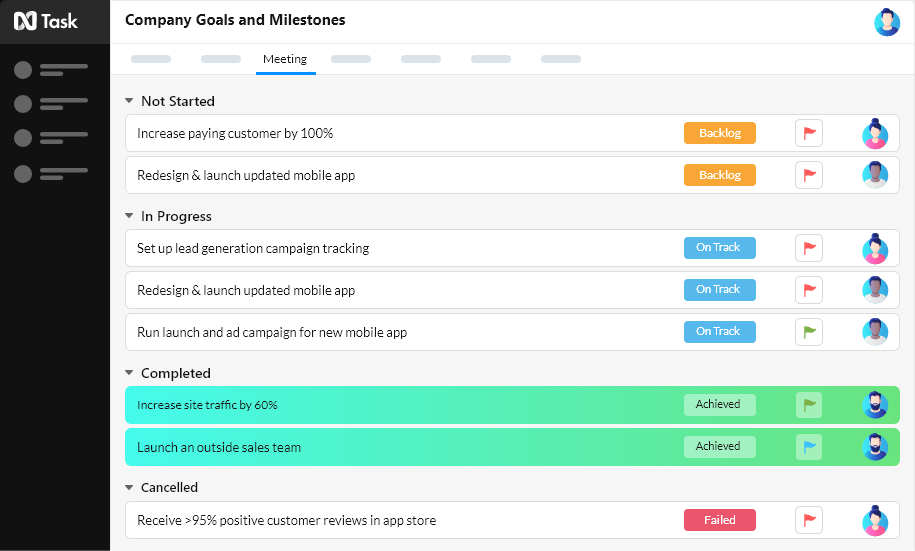 nTask project management software with Gantt chart is a powerful tool used to help manage projects by creating visual representations of tasks, timelines, and resources. This enables project managers to stay organized and better plan their project workflows.
A Gantt chart provides an overview of the timeline for each task within a project, helping managers get the best out of their team and ensuring tasks are completed on time.
The system provides users with powerful features such as resource scheduling, task dependencies, cost tracking, and alerts to ensure that all deadlines are met within budget.
Additionally, with visual representations of each component of the project, one can quickly spot any potential flaws or discrepancies in order to take preemptive action before it's too late.
This highly intuitive project management tool makes sure that no task slips through the cracks while giving team members complete transparency throughout the entire process ensuring successful completion on time every time!
Features
Track progress with Gantt Charts: Provides a visual representation of tasks and subtasks to help track project progress.
Task Management & Resource Allocation: Allows users to assign tasks, allocate resources, set deadlines, and communicate with team members.
Budget & Cost Tracking: Keeps a record of costs associated with the project and helps ensure the budget is respected.
Scheduling & Planning Tools: Offers powerful tools for scheduling activities, setting milestones, and creating plans to meet deliverables.
Collaborative Features: Includes features such as discussion boards, messaging systems, and file-sharing capabilities to facilitate collaboration between team members.
Reports & Analytics: Generates reports based on time spent on tasks or resources allocated for better decision-making.
Security Settings: Ensures data security by allowing users to set various levels of access for different roles within the organization.
Pricing
Premium $3/user/month
Business $8/user/month
Enterprise custom/month
---
2. Instagantt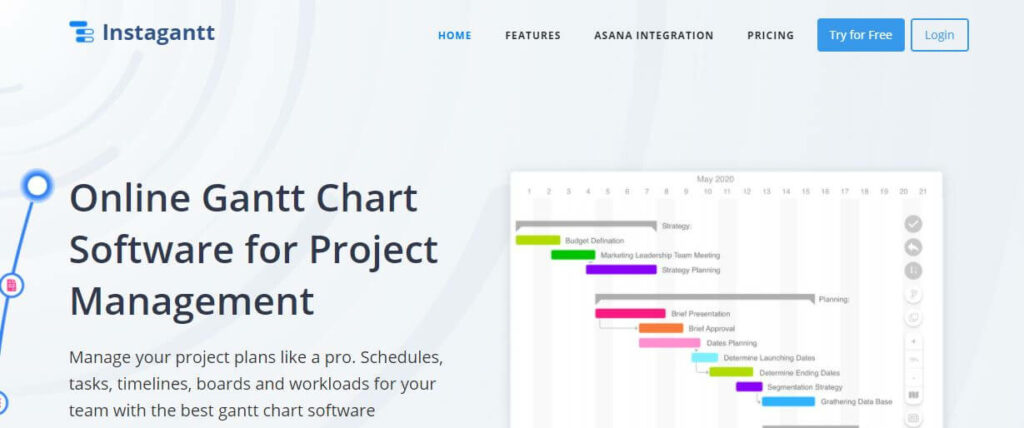 Instagantt is a powerful and user-friendly project management software that enables users to efficiently manage their projects with Gantt charts. It offers clear visuals of tasks and resources, enabling team members to easily identify dependencies and ensure that deadlines are met.
With Instagantt's Gantt Chart feature, users can plan out each task while considering all project timelines in advance. This allows teams to accurately map out their entire workflow process, ensuring projects stay on track.
On the interactive Gantt Chart timeline, users can view dates for each project event as well as set visual indicators such as milestones and task duration.
By using Instagantt's easy click-and-drag interface project managers are given complete control over their projects without being overwhelmed by the details or complications of creating a custom tracking solution from scratch.
Furthermore, fields can be customized according to specific needs or preferences so individual team members have the flexibility they need for success.
Features
Plan and monitor your project activities with precision – Easily map out dependencies between tasks, manage resources between different projects, and optimize the timeline to get your work done on time.
Track the progress of individual tasks – Instagantt Gantt charts make it easy to visualize task duration and completion status, allowing you to quickly adjust project timelines as needed.
Integrate with existing productivity systems – Instagantt seamlessly integrates with trello boards, slack for communication, and google sheets for data tracking in order to maximize team efficiency.
Create custom fields for a customized experience – Easily customize the Instagantt interface by creating custom fields tailored specifically for your own unique project requirements within a few clicks of a button.
Generate reports and analyze data – Analyze past performance & measure key performance indicators like earned value analysis & critical path analysis using reports generated directly from Instagantt's dashboard & charts in order to ensure future success.
Pricing
Single user $7/month
Multiple users $5/month
---
3. TeamGantt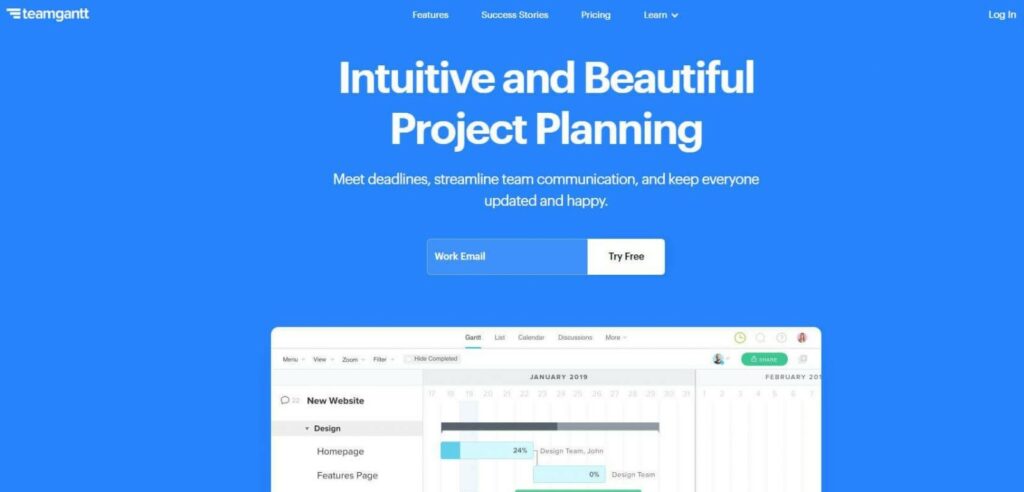 TeamGantt is an online project management software with Gantt chart capabilities that makes planning and tracking your projects easier than ever.
With the help of TeamGantt's overly simple UI, you can quickly create a project timeline and access it anywhere at any time.
The system allows multiple users to collaborate on the same project, so teams can stay connected in real time.
Additionally, TeamGantt allows you to generate resource reports which provide useful insights into how all the moving pieces of your projects fit together, both now and in the future. This helps you save time when tracking progress and proactively identify potential issues before they become problems.
You can easily adjust tasks within Gantt timelines using drag-and-drop functionality to reflect changes in scope or priority without having to manually update every task dependency manually.
Overall, TeamGantt offers an efficient way of managing complex projects while giving teams a better understanding of their workflows letting them focus more on creative solutions rather than tedious data entry tasks.
Features
TeamGantt is an easy-to-use project management and collaboration software that can help teams to stay organized, on time, and on budget.
It comes with an intuitive Gantt chart feature that allows you to plan, manage, and monitor projects from start to finish in one place.
Project timelines are clearly depicted with easy-to-read graphs that give a visual representation of the team's progress over time – which makes it easier for everyone involved to keep up with deadlines.
The platform also comes with resource scheduling tools so that you can easily assign tasks, manage resources and allocate costs for each individual project or task in your pipeline.
TeamGantt has real-time collaboration capabilities so all team members have full visibility into their assigned tasks at all times – allowing any changes made by one member instantly be seen by the entire group
Projects are kept on track with automated notifications reminding team members of key due dates, important status updates, and more – leading to better organizational accountability within the group
Pricing
Lite $19/month
Pro $49/month
Enterprise $99/month
---
4. Proofhub

Proofhub project management software with a Gantt chart is an ideal solution for teams and businesses who need to be organized in order to succeed in their projects. With the help of Proofhub, users can create detailed Gantt charts which can help them visualize each task and its estimated completion timeline.
Team members are able to track progress and quickly identify any delayed tasks or potential problems. Proofhub's efficient task management tools also include nested checklists, file-sharing options, reminders, and notifications, etc.
The chart allows users to instantly compare various tasks with each other regarding deadlines or dependencies so that it becomes easier for everyone involved in the project.
All such features make it easy for teams to count on Proofub as a project management software with Gantt Chart views.
Features
Proofhub is a powerful and intuitive project management software that includes Gantt chart features to help you better plan, manage, and track your projects.
With the Gantt chart feature, you can easily visualize all tasks related to a project in one place and see the real-time progress of each task from start to finish.
You can even break down large tasks into smaller subtasks so that no detail gets overlooked during the planning process.
You can add dependencies between tasks – so that any change made in one task automatically updates in all other dependent tasks as well – ensuring everything remains on track throughout the project journey!
In addition, the Gantt chart feature allows users to set milestones within a project timeline so important deliverables are accurately tracked along with their due dates and progress status for complete transparency across teams involved in the development life cycle of a product or service delivery at hand!
It also allows team members to collaborate effectively by providing them an easy way to assign tasks/responsibilities within timelines as well as leave comments about each specific task for discussion purposes if needed!
Pricing
Essential $45/month
Flat $89/month
---
5. Wrike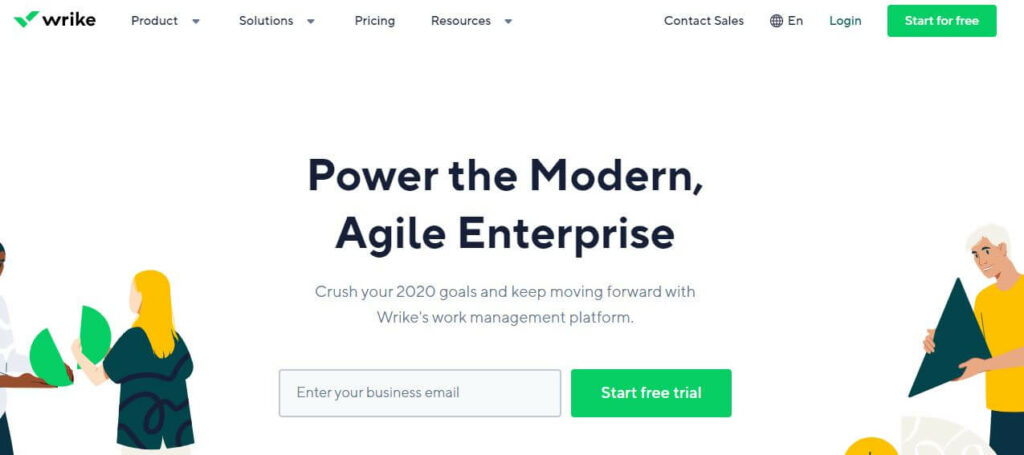 Wrike project management software is a comprehensive solution that helps teams manage and collaborate on projects in an organized and efficient manner. It includes features such as task tracking and resource scheduling.
Gantt charts for visualizing progress, calendar integrations for easily scheduling team meetings and appointments, real-time notifications to alert team members of changes to the project plan or timeline, commenting within tasks to encourage communication, and report building to track KPIs through the entirety of the project.
The Gantt chart functionality offered by Wrike allows you to map out every aspect of your project in one view – including start dates & durations for each task and the relationship between tasks.
This makes it super easy to visualize how tasks fit together so everyone on your team is always up-to-date with what needs their attention next.
Features
Wrike is an intuitive project management software that helps users streamline their workflow and manage projects with ease.
It has a comprehensive Gantt chart feature that allows users to create timeline-based plans and track the progress of each task in real-time.
This makes it easier to monitor dependencies, prioritize tasks, or adjust plans based on changes in the timeline or resources required.
Wrike's Gantt chart tool includes key features such as customizable views and interactive elements like drag & drop functionality for quickly rescheduling tasks or adding new ones without breaking the flow of your project plan.
It also offers advanced capabilities for plotting out specific milestones, assigning resources to tasks, tracking estimated vs actual completion times, managing subcontractors and more—all within a single interface for enhanced visibility over every stage of your project life cycle!
Pricing
Free $0/month
Team $9.80/month
Business $24.80/month
Enterprise custom/pricing
Pinnacle custom/pricing
---
How Do You Use a Gantt Chart?
A Gantt chart is a type of bar chart used for project management. It is commonly used to show a timeline of tasks so that the people involved in the project know what needs to be done and when it should be completed.
To use a Gantt chart, first, you need to decide which tasks are needed to complete your project. Once identified, these tasks need to be organized into different phases as per their priority and sequence. Then timeframes must be assigned for each task based on how long it's expected to take.
Each task can then be added as an individual bar on the Gantt chart along with its start and end dates or due dates if known and any relevant milestones. Tasks may also include deadlines or dependencies which will need to be noted on the Gantt chart accordingly.
Once all the tasks have been entered, one can track progress by comparing actual against planned timelines for the completion of each task or phase. The Gantt Chart also makes it easy for everyone involved in a project to view upcoming deadlines at-a-glance, helping ensure that everyone remains on track throughout its duration.
---
How To Build a Gantt Chart
Step 1: Gather the necessary data. Before you can create a Gantt chart, you need to have information on each task that must be completed as part of the project. This includes the task name, starting date, completion date, and duration for each task.
Step 2: Create a timeline for your project. The timeline should include the project's start and end dates along with any major milestones related to the project such as reviews or approvals from stakeholders.
Step 3: List out all tasks in a spreadsheet or table format and assign them an ID number along with other information such as duration and predecessors (if any).
Step 4: Map out dependencies between tasks. Using arrows you can indicate which tasks must be completed before others can begin so that you can effectively plan out your resources accordingly.
Step 5: Create a spreadsheet template if needed so that you have one place to enter all of your task details including individual resource assignments, due dates and completion times, etc.
You may also want to add some additional columns to your spreadsheet based on specific data points relevant to your particular projects such as budgeted hours or estimated costs.
---
Are Gantt charts better than PERT charts?
When deciding which chart to use for a specific project, it is important to consider the type of project. Gantt charts and PERT charts are two popular tools used in project management.
While both provide an overview of timelines and tasks, there are some key differences that should be considered when choosing the best tool for your project.
Gantt charts are useful when managing short-term projects with clear timelines and objectives. They give a detailed picture of how work will progress over time, making them ideal for tracking task status as well as deadlines.
Additionally, Gantt charts display dependencies between activities and can be easily adjusted if changes occur during the course of the project.
PERT diagrams, on the other hand, provide more insight into scheduling and resource allocation for complex projects with multiple tasks that interact with one another or are dependent upon each other's completion times.
This makes them better suited for long-term projects such as construction or research initiatives where there may be many unknowns along the way that require flexibility throughout the planning stages.
Ultimately, whether a Gantt chart or PERT chart is better depends on both the scope of your project and its complexity level; it pays therefore to carefully consider all factors before selecting any particular toolset.
---
What are some things to look for in Gantt chart software
Flexibility to customize Gantt charts: Look for Gantt chart software that offers the ability to customize your charts according to specific project requirements.
This includes the ability to group and sort tasks, display task dependencies, view critical path information, and change the timeline view as needed.
Integration with other programs: Many of the best Gantt software programs integrate with popular project management platforms and CRMs such as nTask, Microsoft Project, Trello, Asana, Jira, Salesforce, and more.
The integration allows teams to keep track of their projects from a single source of truth instead of having multiple updates dispersed across platforms.
Visualization options: A Gantt chart is often used for visualizing a timeline-based workflow or process in an easy-to-understand way because it relates time periods or tasks along a horizontally organized graphic representation (known as a bar chart).
Look for features such as 4D timelines that can visualize data by date/time ranges over multiple projects with easily distinguishable bars or lines according to individual status types in order to quickly identify areas needing more attention or resources.
---