If you are a part of the project management industry in any shape or form, then you know how big of a help is any digital software. These programs account for project management software benefits as a supplementary experience to notch up performance metrics by a few bars!
However, if you are new to this field as someone oblivious to project management software benefits or which program to use for that matter, this guide will help you.
We handpicked a bunch of real-life examples where the benefits of project management software are applicable. Whether it was a direct or indirect impact, the said project manager walked off with favorable output.
To that end, some managers believe that project management software benefits are reprimandable because, in theory, a person can work not only without software support but he or she can draw more benefits as compared to digital tools.
It might be true, for as long as you are talking about companies that are not flexible, and industries layered with an old-school project management framework. Such companies are not too keen on exploring project management software benefits.
Agile methodologies are also not part of teams where old-school managerial processes are set in place.
On the contrary, we are here to talk about modern-day project management workflow. On that note, let's take a dig into the 10 most amazing project management software benefits that can help you to take care of all of your project management requirements.
10 Excellent Benefits of Project Management Software
1. View Progress Across All Projects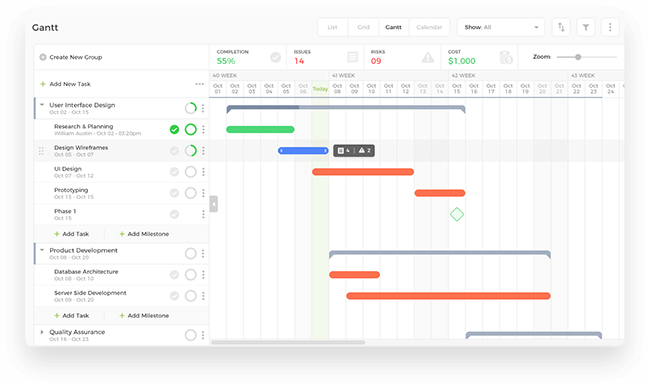 Take the example of 3 balloons and yourself — whereas in this situation, you are the company. When you let go of those balloons to see how far they can soar in the air, you need a tool to measure that "performance."
Without a trace or a tracker on those hypothetical balloons, how can you possibly view their progress?
One of the core project management software benefits is just that. These virtual solutions allow the company and the manager to view the progress of all the projects spread across different departments of the company.
These software help them organize everything for the projects and then they just have to sit back and let the application show its wonders.
The major advantage of this benefit is that the manager and the company get to save their valuable time which they can spend doing something else for the company that will bring value.
nTask is the Best Project Management Software for Smart Teams

Manage tasks, teams, projects, meetings, and more with nTask. Join Now Free!.
2. Identify Projects at Risk
Viewing the progress of projects or keeping them in control is well and good, but the most important benefit that your project management software will give you is that it will track and manage all the risks and scope creeps that can potentially harm your project in the future.
This is an amazing advantage that every project in your roster benefits from – i.e. if you use a project management software like nTask. This software helps you to pinpoint all of the projects that are going to be in danger within a week or within a year.
One other useful thing is that the software will notify you over and over again to warn you about any danger that is going to be on top of you, which helps you identify all types of different factors related to the project and helps you nip them in the bud before they become a problem.
3. Set Priorities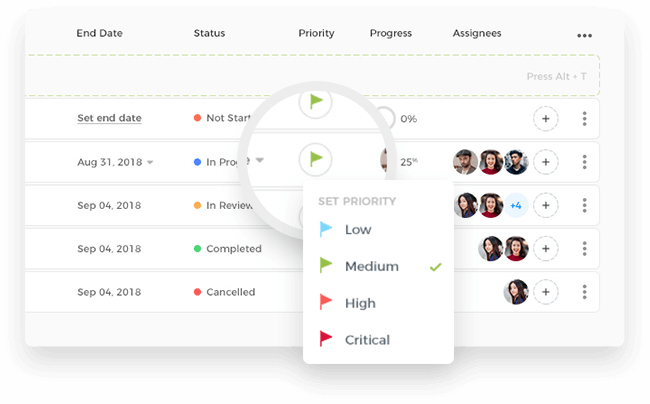 If you are part of a big organization, you have dozens and dozens of projects with tasks and activities that must be performed accordingly. Doing so is deemed important for the company to gain value and progress in the market.
The question is: how to prioritize tasks in a way that the team's performance remains optimal?
This is where project management software into play. These programs track your tasks and activities from the day you put them on the dashboard. The software will track those activities and their impact on the whole project, or you can set the priorities manually.
This will let your team members know what they have to do on any given date and through any given sprint, so that your company can progress quickly, finish the project in record time ahead of your competitors and bring more value to the company.
Check this out:
Agile Benefits: How Using Agile Methodology Can Result in Reduced Risks and Improved Software Performance?
4. Allocate Resources to Where They Matter The Most!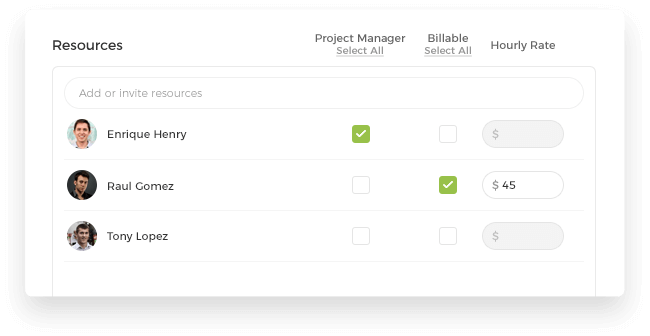 If you are a project manager of an organization, then you know how difficult and unpredictable it is to pool resources from all over the organization and use them efficiently. Failing to do so, can lead to burnout and failure to finish all the projects within the given budget.
But all of this headache is non-existent when you are busy reaping project management software benefits. These applications will help to take over all of the heavy lifting of resource management for you.
5. Provide Regular Updates to Senior Management
If you are an employee or a manager, you know that you'll save a lot of time on irrelevant debates and meetings, if you keep the senior management in the loop, when you are working on any new project or activity or if you just keep them informed of the work activities daily.
This enables the senior management, the major stakeholders, to be informed of everything that is happening across the organization and in each team so that they do not get surprised by anything that you and your team are doing.
One other thing that you will notice is that when you will keep them informed, they will be more accepting of the choices you make regarding the projects or any work activities that you perform daily, and they will create fewer obstacles between you and any change that you want to make.
6. Notify the Team when There are Any Pending Tasks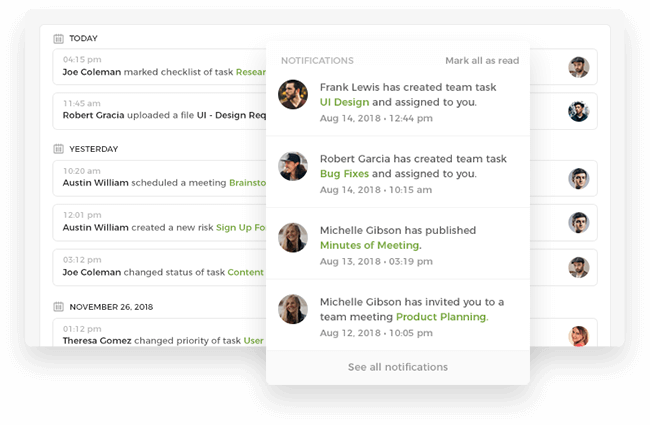 Project management software like nTask is your best bet when you want to address your team members without the nagging of the manager and the whining of the employees.
This software takes out that painful aspect of project management from the whole scenario.
The software let you notify all of your employees about the work they have done and the work that they have pending on their roster, with amazing notifications that are so detailed and thorough. These notifications can have different customizable options depending on the software.
This will also enable the team manager to flag any risks and scope creeps related to the project and also set the appropriate team member to work on these risks so that the problem can be diffused as quickly as possible without the whole situation turning sour in the future.
7. Track File Revisions
When you are working on dozens and dozens of projects every month, you have scores of files that you have uploaded, downloaded, and re-uploaded, but how can you be sure that the file you are uploading is the right version of the file?
This is where project management software like nTask comes into play. This software tracks and monitor the file that is making rounds on the dashboard and mentions the date, name, and version of the file in question.
The user can easily monitor the version of the file and work on the correct one every time, without making any mistakes.
8. Process Templates
We all know that starting anything from scratch is a pain in the behind. Managers have to materialize the vision that they have seen for the project and have to put in a lot of hours, to make that vision into something useful.
Using process templates in software, such as; nTask can get rid of that hard work for you. These process templates are incredibly productive because the managers don't have to create anything from scratch, they just have to use a template and it will do all of the heavy lifting for them.
Using this software you can even create your process templates. These templates are useful for any future projects that you might do but they are also useful for any new employees that are joining the company in getting to know the organization and how they perform their work activities.
9. A Central Location for All the Details and Updates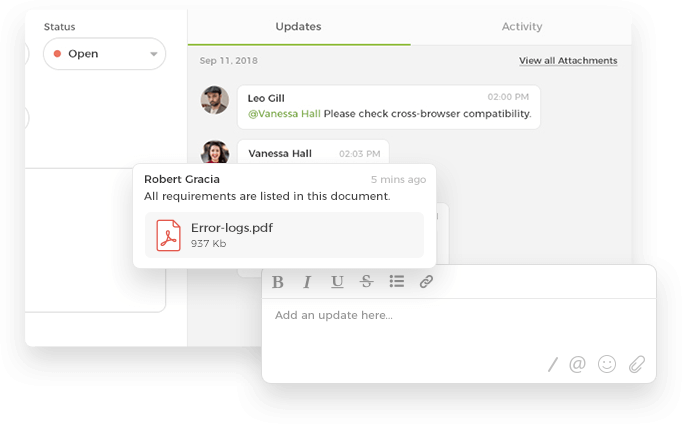 Project Management Applications are first and foremost a central hub that houses all of the different details and information's regarding anything and everything that is happening across the organization daily.
This software is the team's or the company's way to know what the progress of everything is and how can everything be improved, make sure that the company thrives, and gains success in the market.
You can interact with anything and anyone related to the project through this software.
You can message the team member directly or you can make different notes and comments on the attachments of any specific meeting or content uploaded to the dashboard in general.
nTask is the Best Project Management Software for Smart Teams

Manage tasks, teams, projects, meetings, and more with nTask. Join Now for Free!.
10. Secure Project(s) File Storage
Last but not least is the privacy and security aspect of this software.
Using project management software like nTask, you can get the most advanced, secured, and interactive application that you can use from any part of the world without worrying about any breach of security.
Also, the shared file storage provided by the software comes in quite handy when it comes to using a file that was created in some other location and you are sitting somewhere else.
Which Industries Can Take Benefits of Project Management Software?
Agile methodology is being used by an increasing number of businesses across all industries. While technology is still the most common industry for Agile, it is also being adopted by finance, professional services, insurance, government, and many other sectors.
Many businesses are confidently implementing the Agile methodology. Even as the world evolves at breakneck speed, organizations are making rapid strides toward expansion. Many businesses, however, are overdue for an Agile transformation. Let's take a look at some industries that can greatly benefit from going Agile:
1. In Engineering
Agile project management techniques are an excellent complement to the traditional engineering sector's linear and well-defined sequential processes.
Concept development, requirements gathering, system architecture, design and development, integration, evaluation, testing, and operations and maintenance are all stages of an engineering project.
2. In Event Planning
There are numerous factors to consider when organizing a one-time or recurring event planning. The Agile methodology allows event planners to make real-time changes to their plans and iterate more quickly to meet deadlines.
Agile's method of visualizing project tasks assists teams in tracking progress and avoiding stress caused by unnecessary blunders.
3. In Construction
Construction projects are ideal for the Agile methodology. A typical project life cycle includes design, pre-construction, procurement, development, and post-construction.
By incorporating the Agile principle of visualization, teams can eliminate waste, save time, and respond quickly to emerging issues.
4. In Product Development 
Agile project management tools are an excellent fit for the fast-paced product development environment.
While traditional product development focuses on completing the entire product prior to launch, Agile emphasizes completing work in smaller sprints.
5. In Finance
Agile can be an excellent choice for financial firms. The Agile methodology not only assists them in automating routine tasks and establishing customized internal workflows, but it also eliminates manual errors.
Agile finance teams can also implement new technologies, train their employees, and implement new ways of working.
Over to You!
So, these were the 10 best project management software benefits that you could expect from any reputable program.
Buying a virtual project management solution is an entirely different game. Before pooling in all the cash and spending it, your best bet is to evaluate the free version of the software. Is it worth it? Is the program fulfilling your company's requirements? If so, then go for it!
Meanwhile, don't forget to do your research and find out if you can expand on the aforementioned benefits in a way that can enable your team to stay Agile for years to come.