As we see in the market nowadays that much different software can perform project management processes for you, some can time track your entire team's tasks and techniques. Some can even help you collaborate with all of your team members from around the world.
This is all well and good, but if you want to have a cohesive and seamless tool that can help you perform all of the upper-mentioned processes on a single interface, you need to try out the professional services automation software that is making rounds in the market right now.
So, what are they? Let's take a journey together and find out what professional services automation software is, its benefits, advantages/ disadvantages, and the criteria to choose a professional services automation software according to your needs and requirements. Let's begin.
What is Professional Services Automation Software(s)?
Professional services automation software is incredible tool that allow you to have an alternative to the array or barrage of separate tools for operations like Collaboration, task management, project management, business intelligence, resource planning, and time tracking.
One of the best things about these tools is that they help professional service providers to manage all of the client engagements they have related to their business throughout the entire project lifecycle.
As we all know, a project starts when a sales opportunity is created for the company by the upper management or the people scouting for business opportunities.
When it is created, the deal is close between the client and the business, and all of the resources are allocated to the development team members to get started and finish the work for the company.
This whole development cycle ends when the project nears completion, the cash is collected, and all invoices are issued.
Another great benefit of having professional services automation software at your service is that you can create a consistent process of managing, planning, and measuring each project's performance throughout the project's lifecycle.
When you centralize the data and all of the processes included in the project development cycle, more services can be delivered more predictably and with more accuracy. You can also have iterative and repetitive manual processes automated and streamlined.
5 of the Best Professional Services Management Software for 2023
1. nTask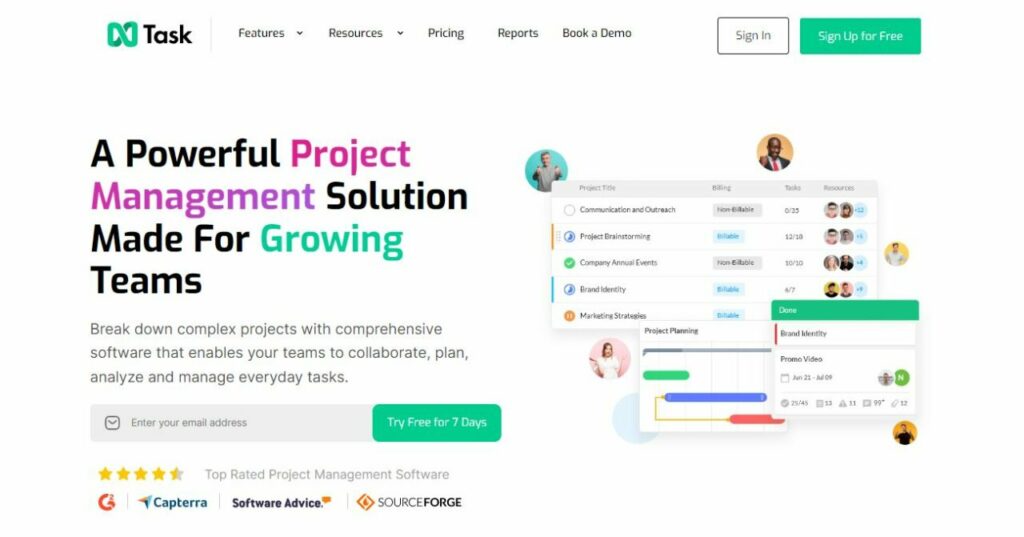 nTask Professional Services Management Software is a comprehensive software solution specially designed to cater to the needs of businesses. This powerful software is aimed at effectively managing, tracking, and streamlining all professional services operations within an organization.
With nTask Professional Services Management Software, businesses can benefit from tools designed to simplify processes and enhance accountability. These tools include features such as managing customer accounts, billing, invoicing, quotes, and more.
One of the key highlights of this software is its ability to create beautiful project proposals and contracts that comply with industry standards which, as a result, ensures that businesses can professionally present themselves when dealing with clients.
The software also offers a comprehensive tracking system that allows users to assign tasks to various team members. This feature fortifies that all work is done correctly and on time, thus improving overall efficiency levels.
Furthermore, nTask Professional Services Management Software enables business owners to track real-time income and estimates. Doing so allows them to make informed decisions and plan better for the future.
The software also offers clients access to self-service functions such as making payments online or accessing essential documents. Correspondingly, clients can interact with the business conveniently and hassle-free.
All-inclusive, nTask Professional Services Management Software helps businesses simplify processes while improving accountability within the organization.
It provides an organized way of managing resources, processes, and tasks to maximize efficiency levels within each department.
With its powerful features and user-friendly interface, nTask Professional Services Management Software is a must-have for any business looking to streamline its professional services operations.
2. Wrike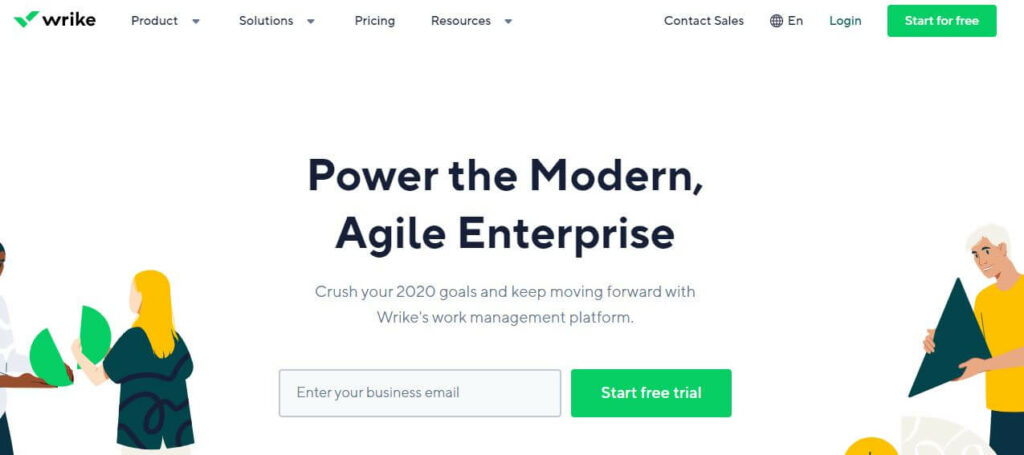 Wrike Professional Services Management Software is a comprehensive, cloud-based software suite designed to help businesses manage their professional services teams. 
It offers powerful features and functionality geared towards streamlining and optimizing the day-to-day operations of professional services firms.
It provides valuable insights into performance, customer data, resource utilization, project management and scheduling, time tracking, invoicing and billing, document management, collaboration tools, analytics, and reporting capabilities.
Additionally, it includes integrations with popular tools such as Microsoft Office 365 for document creation and storage statuses as well automated email notifications for important updates or tasks assigned to team members.
Wrike Professional Services Management Software also offers customizable dashboards making it easier for users to access essential data in one central place quickly.
Finally, yet importantly, it helps organizations improve service delivery by providing an integrated platform that meets all their needs from start to finish.
3. VOGSY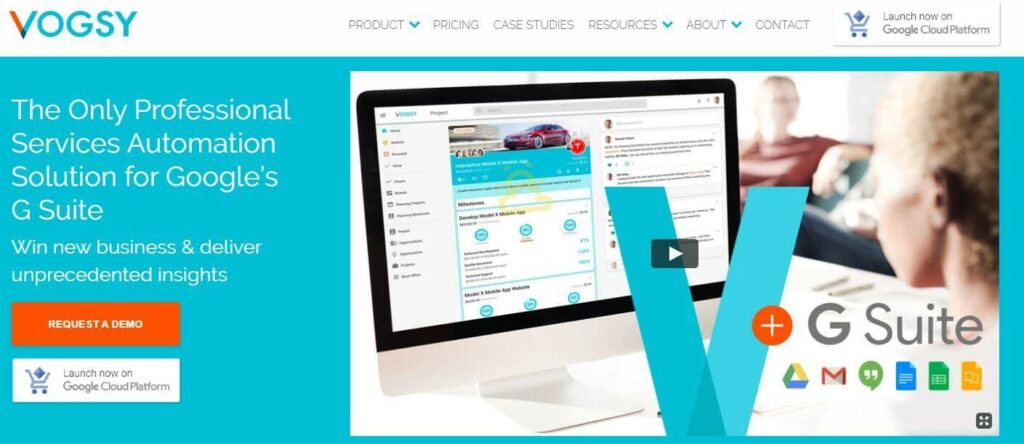 VOGSY Professional Services Management Software is a comprehensive, cloud-based solution that helps professional services organizations manage their businesses more efficiently. 
It offers streamlined tools for project management, financials, reporting and analytics, resource optimization, risk management, and client collaboration.
The software has been developed to help maximize profitability by providing critical project visibility and real-time forecasting to quickly adapt to changing client demands.
With VOGSY's intuitive dashboard, users can easily visualize their projects' progress from a single dashboard view.
Its powerful Financials module provides insight into cost optimization opportunities as well as the ability to track expenses across multiple project budgets and generate invoices with ease.
Additionally, its integrated time tracking feature allows users to accurately monitor employee activities while its automated dashboards provide detailed analytics that enables efficient resource utilization decisions.
Furthermore, VOGSY's Risk Management module enables users to identify potential risks early on and respond actively before they become more significant issues that could affect the success of projects or the organization's profitability.
Ultimately, its Client Collaboration feature provides secure client portals where customers can access documents such as statements of work and sign contracts with digital signatures in seconds without sacrificing security or quality control standards.
4. Kantata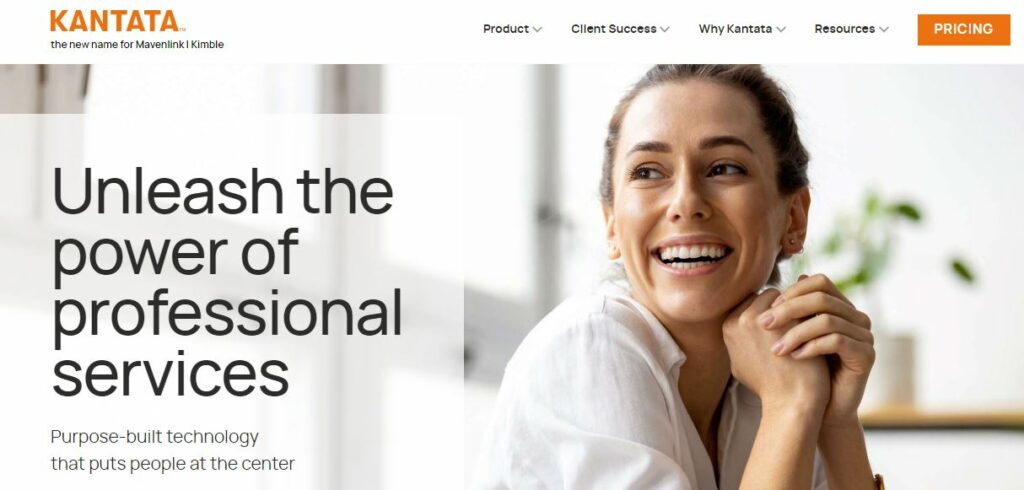 Kantata Professional Services Management Software is a comprehensive solution for streamlining the professional service project management process. 
It allows organizations to manage their budget and resources more efficiently, tracking labor costs, analyzing resource loading and usage, and improving overall productivity.
Kantata also provides robust reporting tools for executives to understand the current project status quickly, as well as analytics capabilities that provide deep insight into project trends over time.
It integrates seamlessly with other systems, such as CRM and accounting software, to improve data accuracy across multiple service platforms.
On top of that, Kantata offers a user-friendly interface that makes it easy for employees to use on any device or operating system.
With its extensive features and functionality, Kantata allows companies to take control of their professional services operations with precision and accuracy while reducing overhead costs associated with manual processes.
5. HaloPSA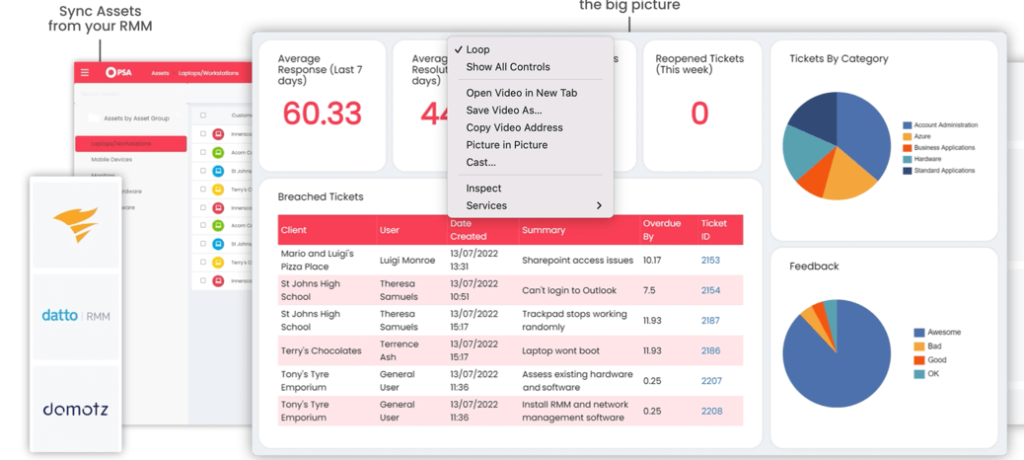 HaloPSA is a professional services management software designed to streamline and automate everyday business processes. 
It helps businesses of all sizes manage their internal operations, such as customer relationships, time tracking, project management, billing & invoicing, and resource planning in an efficient manner.
With its intuitive user interface and powerful features, it enables users to complete their day-to-day tasks quickly and easily.
HaloPSA can sync with other popular business applications like CRM systems and accounting platforms for improved integration across the board.
Additionally, users can customize workflows to match specific business needs or create custom reports based on unique criteria.
Thanks to its scalability and flexibility options, businesses can use HaloPSA in whatever best suits their particular operational requirements.
Who Benefits from Professional Services Automation Software?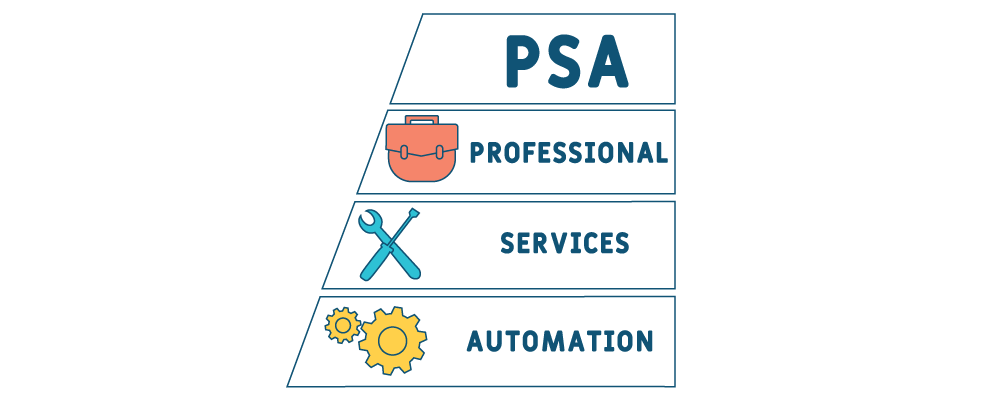 When we talk about the professional who benefits from professional services automation software, we talk about the organizations or businesses that deliver seamless billable work to their clients daily.
This software comes into its own when the project delivery data has to be centralized. The visibility of performance metrics like utilization, revenue, profit margins, and cost is greatly enhanced.
Furthermore, because the dollars you are spending on this professional services automation software grow with the headcount of the team that is using them, the financial benefits of a well-embedded PSA tool scale with the company size or the people using the software.
Fun fact: the PSA software was originally created for the professional services sector that included lawyers, consultants of various kinds who have to meet and work with many people daily, and professional service teams, among many others.
Here are some other industries that are just figuring out the benefits they can get from the professional service automation software out there in the market right now.
Marketing and Communication companies that are both facing client agencies and also their own internal departments
Business consultation firms that have to meet and perform business with a lot of different clients regularly
Information Technology companies, especially the IT services departments and firms that meet and collaborate with clients all-day
Engineering, Architecture, and Construction departments have to discuss business with various clients daily
Advantages of Professional Services Automation Software
While all of the benefits that are provided by the PSA tools are appropriately based on the capabilities that they have to offer to their clientele, and also on how those features and capabilities are used, the core benefit of using such tools is enabling professionals that are responsible for measuring and managing business performance.
The reporting features that these tools offer enable resource managers and account managers to identify all of the market trends that can help them bring value to the business and allocate all of the necessary development team members to match the demands of the clients.
Executives or upper management personnel can see all of the projections related to the business, whether or not it is performing well, and whether there are any opportunities that the company can avail to create more business and value for the company.
Some of the effective PSA tools that are ruling the market nowadays help different businesses and organizations worldwide do these three things.
They help professionals and companies to optimize the use of all of the different resources that they have at their disposal
They can easily manage all of the different projects that the company or themselves are working on by reducing the spreadsheet time that they may waste on other more straightforward tools
Also, they help them drive more substantial margins through the use of greater, more effective reporting and visibility
Disadvantages of Professional Services Automation Software
One of the most interesting things about PSA tools is that they can be commercially purchased from the market or even built in-house according to the needs and requirements of the professional or company in question.
Both of these situations require implementation, user training, and business process reengineering to cut the incurred costs that are going to happen in staff time while learning the tool or the overall budget of the projects.
Another major disadvantage of PSA tools is that they usually lack integrations and customizability options compared to other dedicated applications out there in the market.
So, if you are sure that you want to select a PSA tool for your business, you need to make sure that the application you choose has a majority of the features and functionalities that you might need in the future.
How to Choose a PSA Tool for Your Business?
All of the PSA tools showcased in the market nowadays typically advertise the same features and functionalities as their competitors. These features include resource planning, accounting management, project collaboration, etc.
But one thing that you will always note is that all of these PSA tools never go into the depth of these capabilities that we mentioned above. They just talk about the shallow details.
So, if you are looking for a professional services automation tool for your business right now, here's something you should look for in the tool, at the very least.
The application should track all of the proficiencies and the skills that are needed to improve the matching of the consultants to the projects in the market, and also help track the key financial data and information required for the project that is related to resources
The software should also include details about the future and current availability of all of the resources so that the project manager or the people in charge can have a clear idea of when help is going to be available to perform project work on a daily task level
You should always have a Single Operational System of Record
One of the biggest systems opportunities for service organizations is that they have to build all of the technology that they will eventually use around a single source of truth.
Businesses or organizations see improved predictability, visibility, and agility by connecting execution functions, core planning processes, project accounting, and analysis systems in a single unified operating paradigm.
So, when it comes to an operational record system, it enables the following functionality to happen.
Project Management to make sure that all of the tasks and processes related to the project are well-managed and looked after
Project Accounting to make sure that all of the finances associated with the project are well-looked after
Resource Management to make sure that all of the resources that are a part of the whole project development or product development process are managed and facilitated
Contextualized Collaboration to make sure that the communication and collaboration chain among the team members and the stakeholders is not broken
Real-Time Business Intelligence to make sure that all of the trends that the market is currently promoting and all of the business opportunities that the company can avail of are availed
Some of the Questions that are Necessary to Ask while Choosing a PSA
Let's look at some of the questions that you need to keep in mind while choosing professional services automation software for your team.
Would my project development or product development team enjoy using this software daily?
What is the level of security that the application is going to provide?
How does the software with all my other applications, and how many integrations will be available overall?
How will the software display the required information on its interface?
How easily my stakeholders can scour the market for business trends?
Will this app meet the critical requirements of my development team?
Conclusion
This was our guide on what professional services automation software is, what they offer, and who they benefit from in the real world. If you have something to contribute to this article, write to us, and we will get back to you ASAP.
---
Find out more: