The organizational paradigm is made up of many small cogs that have to be grasped in order to make the whole machinery function properly.
If you fail to do that, you are going to have a business that doesn't have the ability to evolve into something better or even function properly as is.
This "oiling of the cogs" in the organizational paradigm is Process Management.
What is Process Management?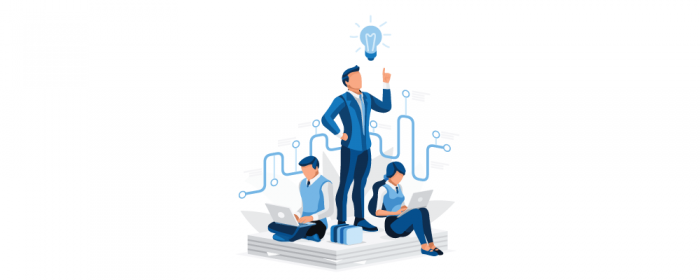 Process Management in the organizational paradigm is used by all types of companies and businesses to make sure that their work operations as a whole are working well and how they can make them run more efficiently in order to bring more value to the company.
Usually, Process Management consists of the following:
Purging any redundant and wasteful process
Improving the work processes so that work can be done in less time
Creating a work environment of continuous improvement
In this article, we are going to talk about what business process management is all about, what are the benefits of implementing a business process management routine, and what are some of the best process management software in the market that you can use in 2022.
What is Business Process Management?
Business process management is the routine or process to control, creating, transforming, and analyzing different core business processes within a business or organization.
Basically what this process helps to do is to run an organization more efficiently and become a powerful entity that is capable of meeting all of the objectives that it set out to achieve.
Importance of Process Management
There are many benefits of process management routines for your business or organization but if you don't act quickly and implement this process in your overall business or company structure, the following things are going to happen.
Employees that are working for the development team are not going to be in control of the work that they are doing
The team members are not going to have any knowledge of who's responsible for each individual process that is being performed in the project development process
There will be no way to track the progress of the tasks and processes that are being performed as part of the project development process
If there is no failsafe process in place, there will be dire complications for the business because, in that situation, even a single error can derail the entire project and shut everything down
Benefits of Implementing Business Process Management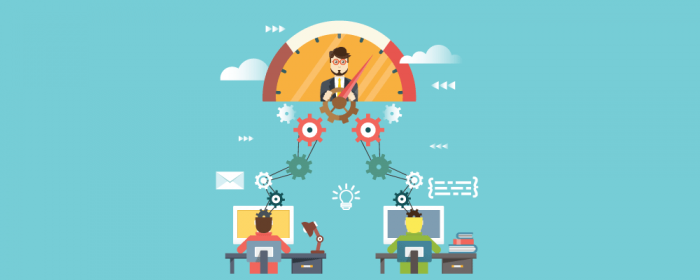 Here are some of the benefits that you and your company can have when you effectively implement Business Process Management.
1. Reduced Production Costs
One of the biggest benefits of Business Process Management and something that every single business owner in the world liked to hear is "Reduced Production Costs".
How business process management helps in reducing those costs is that the business owners can see how much the processes involved in the project development processes are costing the company and also the resources that the processes required to function properly.
So how does that help you? Well, when the business owners are able to see this information, they can make an informed decision to get rid of the processes that are not cost-effective and require automation.
2. Increased Operational Efficiency
The other major benefit of Business Process Management is that it enables the managers or the people in charge to track and solve all of the inefficient processes that are involved in the project development process.
The BPM is designed to perform this task and it helps companies identify their weak areas and helps them find different solutions to resolve them.
Top Process Management Software to Use in 2022
As with everything, there are many software in the market that you can use to infuse Business Process Management in your business structure, but we are not interested in every software there is in this category.
Let's take a look at some of the BPM tools that can help you to generate more value for the company by streamlining the project development processes.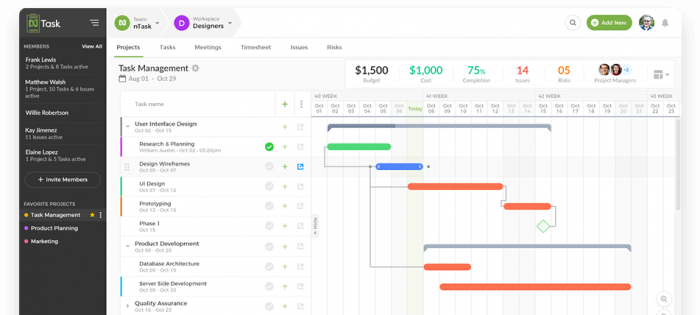 nTask is an application that can help you make your business processes smoother and align them with your business goals. It enables your team to use a single platform to manage anything in their projects, tasks, and business operations.
It gives your interactive Gantt charts, time tracking, financial summary, budget management, issue tracking, and many other incredible features for your business success.
nTask application integrates with your favorite tools, such as; Zapier, Zoom, Slack, Google Calendar, Outlook Calendar, and more.
Key Features:
Task creation and assignments
To-do lists and task progress tracking
Task timer and timesheets
Risk management
Issue tracking
Visual and interactive Gant charts
List, grid, board, and calendar view
Project planning, execution, and monitoring
Resource planning
Task dependencies and sub-tasks
Team collaboration
Document management
Pricing:
Free basic plan
Premium plan at $3/month
Business plan at $8/month
Custom Enterprise plan is available.
Use the Best Process Management App, nTask.

Manage all your tasks, projects, team collaboration and more in one place. Sign up today!
2. Monday.com

Monday.com application is an incredible project management software that you can use to perform BPM for your company or organization very easily. It enables you to perform many different business activities without indulging yourself to use the typical management tools that you generally use.
Let's take a look at the software that Monday.com can be integrated with.
Slack
Google Drive
Jira
Gmail
Dropbox
Trello
GitHub
Key Features
Customizable Fields
Email updates
Time tracking by project
Visual progress display
Workflow management
Motivational tool
Relevant updates
Activity Logging
Due date tracking
User access controls
Survey
Execution board
Pipedrive integration
Tags & Keywords
Pricing
There is a free trial available of the software for use if you want to check out the software before you make the decision to purchase the subscription
The Paid subscription to the software can be purchased for $39/per month
3. Novacura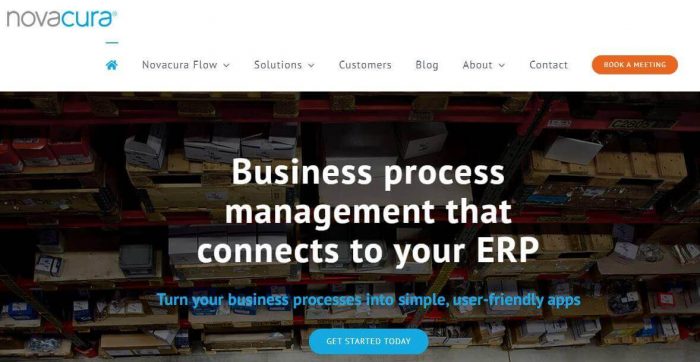 Many times in the organizational paradigm, there isn't much software that can be integrated with other applications or even ERP systems. If that's a problem too, then you should get Novacura to hook up your ERP with it.
The software enables you to generate low-code business-oriented software that you can push directly to the users. The software can be integrated with tools like MS Office and IFS applications among many others.
Key Features
Business Process Automation
Process Change Tracking
Process Mapping
Alerts/Notifications
Access Controls/Permissions
Collaboration
Process Modelling & Designing
Visual Workflow Management
Business Rules Management
Pricing
There is no trial of the software available for use
If you want to purchase a subscription to the software, you need to contact the company so that they can tailor a custom subscription for you according to your needs and requirements
4. iGrafx

iGrafx is an incredible automation tool that allows you to perform your BPM operations very easily without any hurdles. Just take a look at the arsenal of features that it provides to the users.
Key Features
Process Capture
OSHA Compliance
Customizable Dashboard
Access Controls/Permissions
Templates
PIA / DPIA
IT Risk Management
File Type Conversion
Knowledge Management
Reputational Risk Management
Discrete Event Modeling
Business Rules Management
Drag & Drop
Business Process Automation
Functions/Calculations
Risk Reporting
Visual Workflow Management
Alerts/Notifications
Audit Management
Process Change Tracking
HIPAA Compliant
File Sharing
Workflow Configuration
Drag & Drop
Reporting/Analytics
Reporting/Analytics
Document Assembly
Pricing
If you want to check out the software before you make a purchase, there is an incredible trial version to use, which has a lot less functionality than the full version, but it is an excellent demonstration of the power that this tool provides
If you want to purchase the software, you need to contact the company so that they can custom tailor a subscription for you according to your needs and requirements
5. Orchestly

One of the best BPM tools in the market right now is Orchestly. It allows the customers to manage, automate, and manage different process-related activities to make sure that the business is running smoothly, and you are generating more value.
Let's take a look at the numerous features that the software has to offer.
Key Features
Business Process Automation
Form Customization
Request Tracking
Alerts/Notifications
Flowchart Creation
Reporting/Analytics
Workflow Configuration
Access Controls/Permissions
Compliance Tracking
Process Modeling & Designing
Visual Workflow Management
Business Rules Management
Process Mapping
Third-Party Integrations
Pricing
If you want to check out the software before you make a purchase, you should use the free trial that the software offers, which has limited functionality, but you can check out the power that this tool exudes
The paid subscription of the software starts at $8/user/month
6. SAP Business ByDesign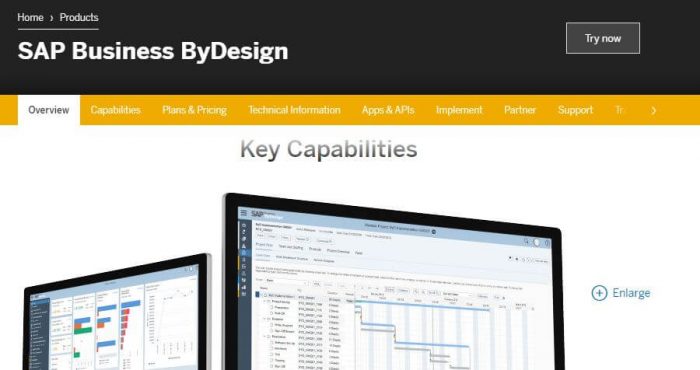 If you want to tether all of the operations that are happening in your company and also in the project development process, you need to check out the software called SAP Business ByDesign. It is an incredible tool that allows you to connect your business services in a quick-to-integrate package.
Key Features
Billings Management
Cash Management
Period Close
Automatic reordering
Order entry
End-to-end order visibility
Dashboards
Plug-ins
User-level audit trail
Customer Receipt Applications
Asset Management
Transactions Tax
Location management
Credit card processing
Order exception Resolution
Standard reports
Role-based user permissions
Automated Invoice Processing
Customer Collections
Travel & Expense Management
Subledger Reconciliations
Pricing
There is no trial of the software available if you want to check it out before making a purchase
The paid subscription of the software starts at $17/user/month
Frequently Asked Questions
1. What is the ultimate guide to business process management?
Business process management (BPM) outlines how an organization develops, evaluates, and maintains the key business processes that make up its foundation. Business process discovery, modeling, analysis, measurement, improvement, optimization, and automation fall under this category. The goal of these efforts is to improve the performance of the company while preserving its operational excellence and business agility.
2. What makes process improvement crucial?
Successful execution depends on process improvement. Additionally, continuous process improvement can foster team involvement and promote growth because businesses change continuously as a result of internal and external influences. Without excellent strategy execution, growth won't happen.
3. How can business operations be made better?
The steps below can be used to enhance a business process:
Make a process map.
Examine the procedure.
Rework the procedure.
purchase resources.
Implement the modification and inform others.
Go over the procedure.
4. How can you determine whether a method is effective?
Following the process improvement, describe the advantage to yourself and the firm. When statistics are available, mention the level of production growth. Share broad details about how the process was made more efficient if you don't have any exact figures to hand.
Conclusion
If you think that we missed something or if we mentioned something incorrect in the article, contact us and we will get back to you as soon as possible.
---
Recommended Readings: