Whether you want to raise awareness of your brand, promote an upcoming product launch, improve your SEO, or all three, you need an outreach strategy that will help you build backlinks to your website. Outreach involves finding businesses, website owners, or influencers in your niche who will be happy to promote your brand and help you with your link-building efforts.
Link building is the process of acquiring hyperlinks from other high-quality websites that are relevant to your niche — when this occurs, Google takes it as a vote of confidence in your work, your trustworthiness, and your authority. As a result, it will give you a boost on the search engine results pages (SERPs) and more people will learn about your business.
You need to have a strategy in place, though, as you'll want to reach out to the right businesses, at the right time, and in the right way to get the best results and generate better leads for your business.
Some Process Management Hacks for Your Outreach Campaign
In this article, we're going to outline how to put together an outreach strategy that involves setting goals, picking the right prospects, choosing the right content topics, and more.
1. Set your goals and keep them in mind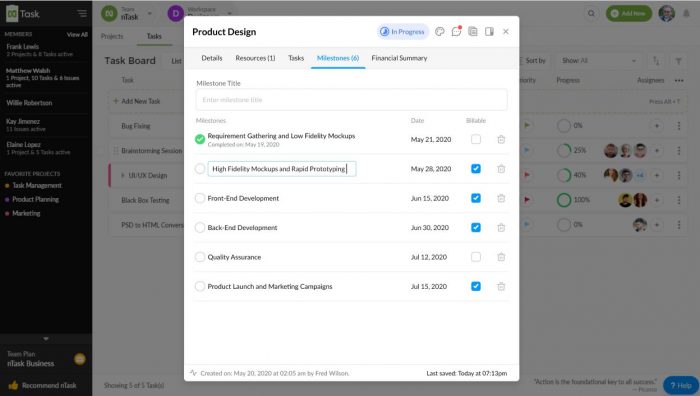 Manage Goals/Milestones in nTask
Before you begin reaching out to other businesses, set your goals. You might have a specific number of links you want to build, an area you want to improve your authority in, or a specific site you want to be featured on. These are great places to start!
One way to measure your success is by setting SMART goals. SMART goals are Specific, Measurable, Achievable, Relevant, and Time-Based. Think about how you can track your goals in this manner. What are you wanting to accomplish? How will you measure success? Is it possible to achieve it in the time that you have? Writing this down can help you stick to it.
If you need help keeping track of your goals, check out nTask's list of goal-tracking apps that will help you track and measure your success.
2. Choose your prospects carefully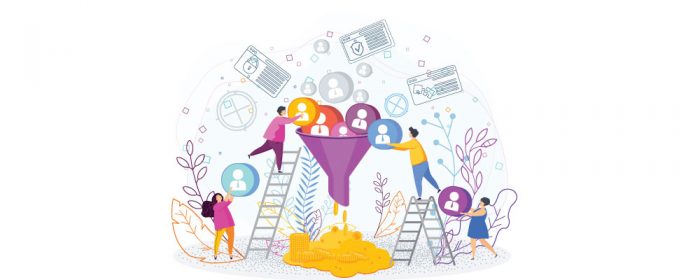 Once you've set your goals, it'll be time to pick your prospects. You want to build high-authority and relevant backlinks, so you need to choose these carefully! There are a lot of different link-building metrics you need to keep in mind. Consider the following when planning your strategy:
Domain strength or a website's authority
Page strength (similar to domain strength, but for a specific section or page)
How relevant the site is to your business
There are lots of different online tools that can help you measure these metrics. Loganix, for instance, has a free domain, and page authority checker. Plugging URLs into this tool will showcase how strong their backlinks are, how trustworthy a site is, and more.
3. Make sure you always email the most suitable person
To get the best results, it's vital to ensure you're sending your outreach emails to the right person; this is the first step of effective email communication. Look for the contact information of a lead editor or a digital marketing director. This takes research, but it's necessary.
For some websites, you might be able to find this information on a team page, or a contact us page.
Find email addresses with contact names and job titles. Moreover, you can reach out to the relevant person on social media, like through LinkedIn or Twitter. If you do this, keep it short and sweet — just let them know you're interested in creating content with them and are looking for who to contact.
4. Keep an updated list of content topics you could cover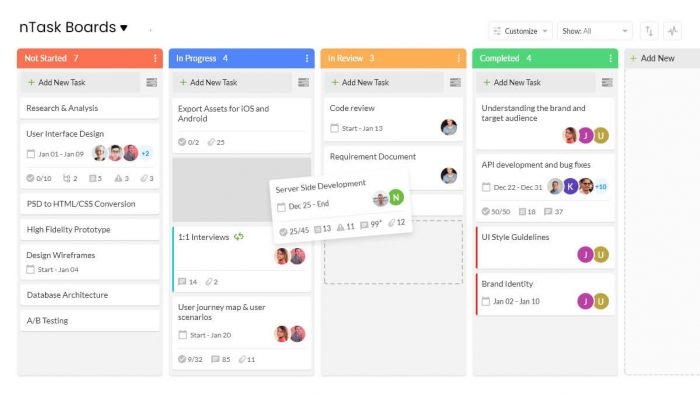 Leverage nTask Boards for Content Management
It can be helpful to keep an up-to-date list of guest post ideas on hand to help ensure you're always working towards your main goal. Plus, if an opportunity arises and someone reaches out to you, this means you'll always be prepared to write something for them!
Stay on top of news and trends relevant to your industry and jot down ideas from there. Even if there's just a theme or general concept you would like to explore, make a note and come back to it later. It's better to have a list of starting points to inspire you than nothing to work from.
For more help with creating your list of content ideas, take a look at nTask's article on the best free brainstorming tools.
5. Create a bank of high-quality linkable assets
Guest posting isn't the only way to build backlinks with an outreach campaign! It also helps to promote content that's already on your website. If it provides value, other sites might be interested in linking back to it in their blog posts or guides.
To successfully build a bank of high-quality linkable assets, you'll want to keep your outreach goals in mind whenever you're creating new on-site content.
It's a good idea to focus on creating particularly shareable types of content, so consider the following categories when creating:
Consider these types of shareable and linkable content, then think about how you could make them work for your business.
Check this out:
6. Consider setting up an email address on a separate domain
Outreach campaigns are built on trial and error. Emails can go unopened, and this could affect the deliverability of other emails, like the ones you send for marketing purposes — you don't want those marked as spam!
As a result, it can be a good idea to set up a separate inbox or an outreach-specific email address on a different domain to prevent this from happening. Bonus: this could help you to stay organized, too!
You should still make sure your new email address appears professional and legitimate, though. Add your photo and email signature to make it clear who you're working for and that your emails can be trusted.
7. Create an outreach email template that's easy to personalize
Templates will really help you to streamline what can often be a time-consuming process. That being said, if you want people to actually open and respond to your emails, you need to make sure they're personalized. Start gathering public information about your prospects to help you personalize your email, like shared interests and connections, recent achievements, or company backstories to help you form a connection.
Keep your templates short and sweet, with space for personalization. Mention who you are, what your idea is, and why you want to work with the company you're contacting. Check out nTask's tips on how to put together an email that will get more responses if you need inspiration.
8. Set out your process before you begin
You should have an outreach process set out before you begin sending your emails to ensure the campaign goes smoothly — managing your process is key to reducing unnecessary work for your employees as well as getting more done in less time.
Set up a step-by-step process to help you and your team figure out what needs to be done for each prospect. Outline when you might need help from another team member, like a writer, editor, or an expert on the topic at hand if you aren't as familiar with their niche. Incorporate this into your process from the very beginning, so people are prepared if and when you ask them for help.
You should also write down the dates when you plan to follow up on pitches, or ask when edits will be done, for instance. Keep in mind that project management tools like nTask can make easy work of keeping track of all this. Just keep in mind that, even if you plan everything meticulously, things can go wrong and jobs might take longer than expected, so you'll want to be flexible. It's just a good idea to keep a rough schedule in mind so you can keep everyone on track.
9. Use project management software to keep your team on track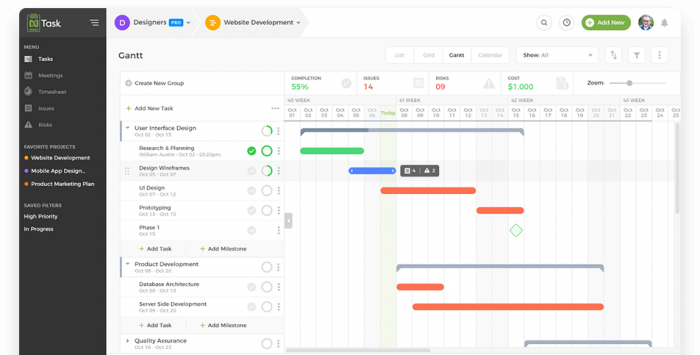 Project management software is great for helping to keep your team on track when working on an outreach campaign. This can help you see what stage you're at with each opportunity, whether you're currently pitching to a particular site, or if you have an article written and ready to go.
There are all sorts of different brands of project management tools, and all have their own benefits! nTask not only helps with project management, but makes it easy to organize tasks, meetings, risk management, timesheets, and more.
10. Use a collaboration tool to make edits and amends easy
You want the entire process, from your pitch to your final edits, to involve a lot of collaboration between departments as well as your clients. This will help to ensure everyone is always on the same page, everyone is following all of the necessary guidelines, and everyone is aware of what point you're currently at in the process.
Project management software is great for this, as it keeps everything in one place so the most appropriate people can jump in and help with a task that needs their expertise.
11. Make sure you regularly interact with your prospects
Like in most aspects of business, when you want to succeed with your outreach, networking is key.
So, before you begin to send your emails, try to build and nurture relationships with the businesses you're planning to reach out to. You can start this process through social media interaction, for instance, promoting and liking their content, or just getting in touch without asking for anything at first.
LinkedIn is one of the best tools for reaching out to people you would love to work with. Users expect to get business-related messages here, so consider reaching out to do a virtual lunch meeting, for instance, or just to swap tips and network. If you're not familiar with how you can utilize LinkedIn, you might want to consider using LinkedIn tools that can improve the experience. There are platforms that will improve your searches, build a list of leads, track sales, and so much more.
12. Track your results and tweak your process accordingly
Once you have your strategy in place and begin your campaign, you'll want to track the results. Be sure to do this as you go so you can tweak your processes accordingly. There are lots of key performance indicators you can track in a process improvement plan, like email open rates, response rates, and the number of published articles.
If you're having trouble getting people to open your emails, make sure they're not being marked as spam. You can do this by limiting your sending frequency, sending emails that are clearly relevant to the recipient or their business, and using simple subject lines. Just something like "Outreach Request from [your company name]" will do!
For better responses, you should look at your pitch. Start with a compelling idea and make sure it's apparent in your email how you can mutually benefit each other. Think about what your goal is and how it would be best achieved. Consider pitching a collaboration video, a guest post, or a case study, for instance. The more straightforward the pitch, the more likely your prospect will be to accept your work.
Keep in mind that, sometimes, you just won't be a great fit for a particular website. Rejection is a part of the process!
Summary
When you're trying to improve awareness of your brand and boost your SEO, you'll need an outreach campaign that can get you more brand links and mentions.
There are a lot of steps you need to take, from finding the right contacts to building relationships early on. But, as long as you have your goals in mind, stay organized, and monitor your results so you can tweak your processes when necessary, you should succeed.
---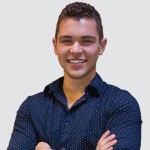 Post By: Alex Ratynski
Alex Ratynski is a Content Strategist at Loganix, an SEO fulfillment partner that works with agencies and marketers. The company focuses on helping businesses to improve their online visibility, so they can grow and reach their goals. If you enjoyed this article, visit the Loganix blog for more expert advice.